A complete guide to visiting the Greek island of Skiathos by public transport, with buses, taxis and boats making it easy to explore the beaches, towns and historic sights of Skiathos without a car.
* This site contains affiliate links, where I get a small commission from purchases at no extra cost to you.
There are so many gorgeous Greek islands to choose from, but one bonus for me is somewhere you can explore without needing to hire a car. Good public transport means lower costs, no worrying about damaging the car or driving on the other side of the road. And the Greek island of Skiathos has some of the best public transport I've found.
If you want to visit the more remote areas inland or along the north coast it is useful to have a car or moped. But you can easily visit the island's main beaches and sights without one. This guide to Skiathos public transport shows you how to get around Skiathos without a car, using the island's affordable, frequent buses as well as taxis and boats.
Getting around Skiathos by bus
Skiathos has an excellent bus network, especially connecting the beach resorts along the south coast of the island. Bus services were taken over by a new company in 2022 – Skiathos Transports – who have a fleet of modern, white buses. But there are also a few older-style green buses along the same route which are run by a different company.
Where do the Skiathos buses go?
Skiathos' main bus route runs between Skiathos Town to Koukounaries beach, travelling along the south coast of the island. The route has 27 stops – starting at stop 0 in Skiathos Town, which is next to a primary school to the north of the New Port (see map). Look out for a sign on the front of the bus saying Koukounaries (Κουκουναριές).
This route runs along the coastline via a string of beaches and small towns, including Megali Ammos, Vasilias, Achladies, Tzaneria and Troulos, until it terminates at stop 26 next to Koukounaries beach. The whole journey is only 15km, so the stops are fairly frequent, and you should have one nearby if you're staying on the south coast.
This map shows the 27 stops on Skiathos's main bus route along the south coast.
The stops are marked with green signposts with the number printed on, and some have shelters to wait in. The journey from Skiathos Town to Koukounaries takes around 30 minutes, and the bus turns round and heads back pretty much straight away.
The bus timetable varies by season. But during the summer months, services normally start around 7am and finish around 1am, with buses running every 15 minutes during the day and every 20 minutes in the early morning/late evening. You can check the current timetable at bus stops, at ticket kiosks and on the bus company's website.
The south coast buses do get busy, especially in high season from 5pm when lots of people are heading back into Skiathos Town after a day at the beach. You're most likely to get a seat if you board at an earlier stop, otherwise you might have to stand. But if the bus is completely full then there's only a 15-minute wait until the next one.
You can also travel by bus from Skiathos Town to the airport. These buses run every 30 minutes from 7am until 11pm during the summer and take less than 10 minutes.
And there are a few other, less-frequent bus services around Skiathos, which you can use to visit Evangelistria monastery or some more remote beaches:
Skiathos Town to Evangelistria Monastery: a small minibus makes the trip up into the hills to the monastery around once an hour, taking 15 minutes each way.
Skiathos Town to Xamenos beach: the monastery minibus also runs services along the edge of the airport runway to Xamenos beach three times a day in summer.
Skiathos Town to Aselinos beach: there is also a bus service to Aselinos beach on the north coast of the island which runs five times a day in summer.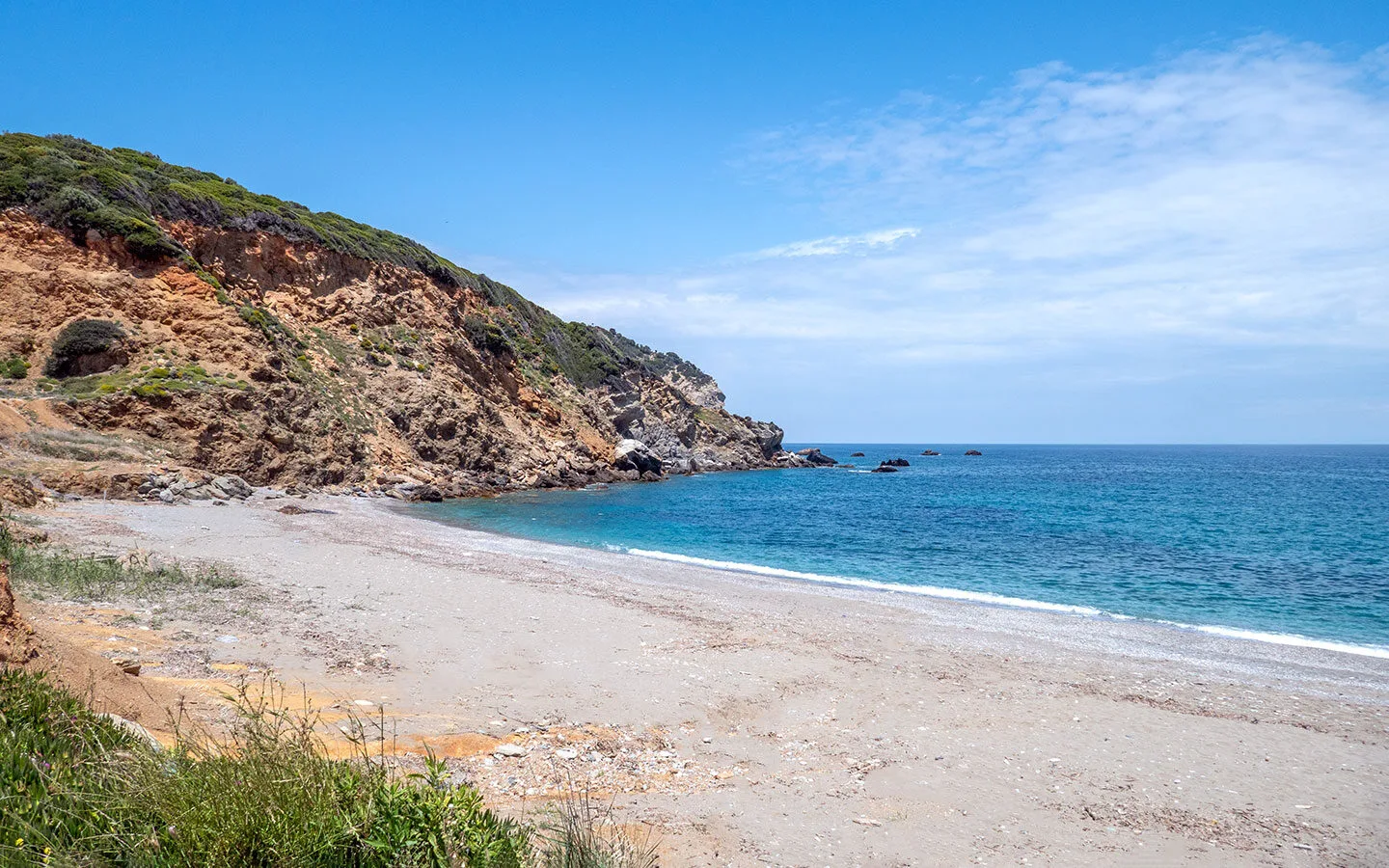 How much do Skiathos buses cost?
Skiathos bus fares depend on how far you're travelling, but are normally either €2 or €3 one way. From Skiathos Town to any stops along the south coast before Agia Paraskevi (stop 16), Evangelistria Monastery or Xanemos beach costs €2 per person.
If you're travelling further along the coast from Skiathos Town to Koukounaries (or any stops between 17 and 26), to the airport or to Aselenos beach it's €3.
Though just to make things slightly more complicated, these are the fares for the new, white Skiathos Transports buses. There are also some green buses running along the south coast route which charge a bit less – €2 from Skiathos Town to Koukounaries.
How do I buy a ticket?
You can buy tickets from the bus driver in cash. There are also ticket kiosks at stops 0, 4 and 26 where you can use cash or card (though the kiosks only sell tickets for the Skiathos Transports white buses, not the green ones – for those you buy tickets on board).
Tickets are for a single journey only, there isn't a return ticket available. And you can tell the driver/ticket clerk either the name or number of the stop you want to get off at.
Getting around Skiathos by taxi
You can also use taxis to get around Skiathos – though there's a limited supply and they get very busy in high season, so be prepared to wait, especially in the evening. There are taxi ranks outside Skiathos Airport arrivals and on the waterfront in the New Port (see map).
The route between Skiathos Town and the airport is the most popular, and costs €8–€10 going to the airport and a bit more travelling from the airport. Though if you're staying in Skiathos Town, beware that much of the old part of town is pedestrianised cobbled streets, so the taxi might not be able to get all that close to your accommodation.
The taxi rank in the New Port lists sample fares from Skiathos Town – expect to pay €10 to Evangelistria Monastery, €7 to Melagi Ammos beach, €15–17 to Troulos and €20–22 to Koukounaries. Though you often have to pay extra if you have luggage.
Getting around Skiathos by boat
Another, more scenic way to get around Skiathos without a car is by boat. There are a number of different options, from boat trips to shuttle boats and water taxis.
Shuttle boats connect Skiathos Old Port to several beaches along the south coast during the summer, including Vassilias, Achladies, Kanapitsa, Troulos and Koukounaries. These small wooden boats are a good alternative to buses, with a lovely sea breeze on a hot day.
The shuttle boats normally run once an hour, with a break around lunchtime, starting around 10am with some finishing at 5pm and others going on into the evening. You can see times and prices (around €3–€6 one way, with discounts for children) displayed on boards at the piers. You don't need to book ahead and can just buy a ticket onboard.
You can also get around Skiathos by water taxi – Skiathos Water Taxis are based in Koukounaries but cover the whole island as well as going further afield to Skopelos, Alonissos and the mainland. Or you could hire a boat* for the day to hop your way around the different beaches and visit more remote places like Kastro and Lalaria Beach.
Getting around Skiathos on foot
The final way to get around Skiathos without a car is on foot. There are over 200km of hiking trails across the island, and 26 different marked circular walking routes have been developed by German hiking enthusiast Ortwin Widmann who lives on the island.
They range from 1.8km to 11km and routes include Evangelistria Monastery to the medieval ruins of Kastro, Koukounaries to Mandraki and Elias beaches on the north coast, and a circuit around the Agios Georgios Wetland on the edge of Skiathos Town.
The routes are well maintained and marked with red and white markers. There is often a map at the nearest bus stop to show you where to go, or you can pick up a paper map. Widmann's book detailing the hikes is also available in shops in Skiathos Town.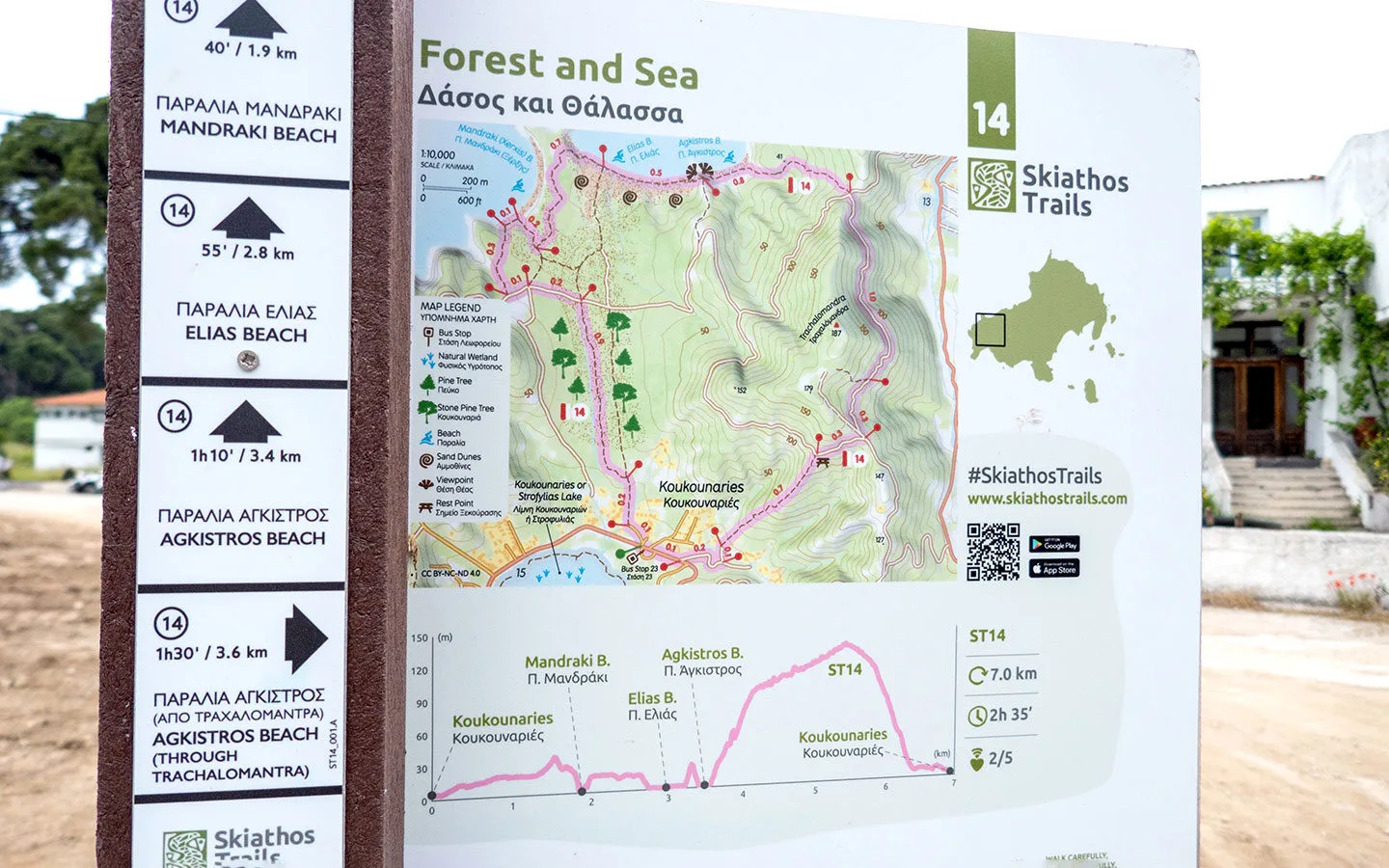 Save for later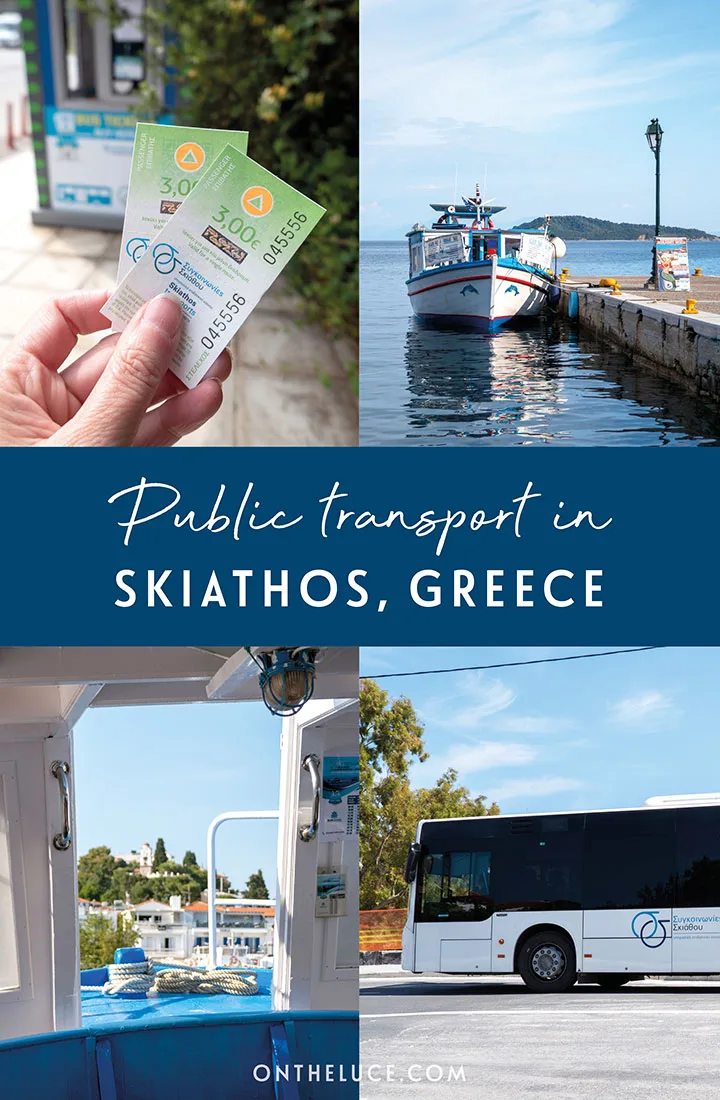 You might also like