Discover the best things to do in Skiathos, a gorgeous Greek island in the northwest Aegean Sea, from sandy beaches and hiking trails through pine forests to historic ruins and whitewashed towns.
* This site contains affiliate links, where I get a small commission from purchases at no extra cost to you.
Skiathos' golden sands, turquoise waters, green hills and whitewashed houses paint the picture of a classic Greek island. The island is one of the Sporades archipelago northeast of Athens, and along with nearby Skopelos it was a filming location for Mamma Mia!
Skiathos might only be 12km long and 6km wide, but it packs a lot into a small space, with some of the region's best sandy beaches as well as a network of hiking trails, a charming old town and plenty of historic sights including castles, churches and monasteries.
An international airport makes it easy to get to and draws in the summer crowds to the beach resorts along the south coast. But there's a quieter side to the island if you visit in spring or autumn, or head up into the hills and explore the more remote beaches of the north and west coasts. So here's my pick of the best things to do in Skiathos.
The best things to do in Skiathos, Greece
Explore Plakes, the heart of Skiathos Town
The neighbourhood of Plakes is the historic heart of Skiathos Town, and exploring its maze of narrow, pedestrianised streets is one of my favourite things to do in Skiathos. Traditional whitewashed houses with colourful balconies are draped with bougainvillea, cats slink through alleyways and you come across hidden tavernas and churches.
You can find out about the island's traditional way of life at the Skiathitiko Spiti folklore house (entry €5) which was built in 1901 and displays heirlooms from five generations of the same family. Or for one of the best views of Skiathos Town, head to the tiny pine-covered peninsula to the west of the Old Port and look back along the waterfront.
Visit the former fortress of Bourtzi
The small peninsula of Bourtzi divides Skiathos Town's harbour into two sections – the Old Port and the New Port. It was built as a fortress by the Gizi brothers in 1207 when Skiathos was under Venetian occupation, with high stone walls to protect it from invaders. Then was later used as a quarantine island before a school was built there in 1906.
The old school is now used as the Museum of Naval and Cultural Tradition (entry €2), which also hosts outdoor music, dance and theatre performances in summer. It's a peaceful place to wander around, with shady pine trees and a café-bar at the tip where you can watch the sun go down or climb down the steps to swim off the rocks below.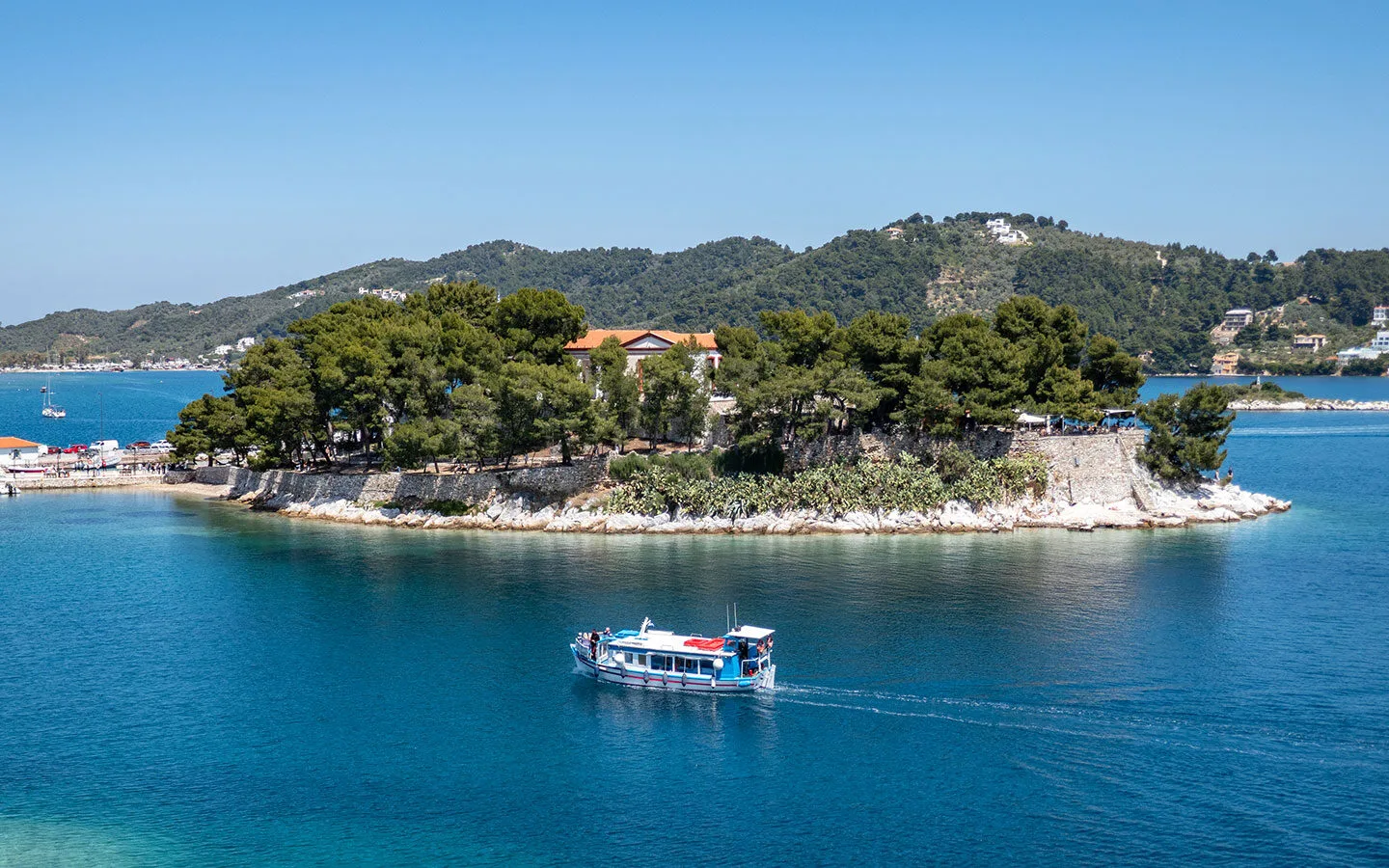 Learn about Alexandros Papadiamantis
Author Alexandros Papadiamantis is Skiathos' most famous son, with both the island's airport and its main shopping street named after him. He was born here in 1851 and was best known for his short stories, writing over 180 in his lifetime. He left Skiathos to work in Athens, but came back home for the last years of his life before he died in 1911.
The traditional two-storey house he grew up in has been converted into a museum (entry €4) where you can learn about his life and work. There's original furniture and memorabilia on the first floor, and a library of manuscripts and a bookshop on the ground floor.
See the sun set from Agios Nikolaos Church
For one of the best views on the island, head to Agios Nikolaos Church just before sunset. To get there it's a short climb up through narrow, whitewashed cobbled streets. The church was built in 1954 and is dedicated to St Nicholas, the patron saint of sailors.
It was also a location for the first Mamma Mia! film, used in the scene where Sophie posts out letters to her three potential fathers. From the terrace out front next to the clock tower you can see panoramic views of the red rooftops of Skiathos Town, across Bourtzi and the Old and New Ports, and further out over the bay to Tsougrias island.
Watch Mamma Mia! at the outdoor cinema
The beautiful scenery in the Mamma Mia! movie helped boost the Greek tourist industry. And although most of the filming took place in Skopelos and Pelion, a couple of Skiathos locations also featured. As well as Agios Nikolaos Church, the scene where Pierce Brosnan and Colin Firth miss the boat was filmed in the Old Port in Skiathos Town.
Mamma Mia! fans can take a boat trip* to visit the filming locations around Skopelos. Or you can also watch the film – and sing along – at the open-air cinema on Papadiamantis Street in Skiathos Town. It does get busy though so book in advance.
Hit the beach
Skiathos is a great place for beach lovers, with over 60 beaches to choose from, many of them sandy rather than pebbly, with clear blue waters. A string of beach resorts runs along the island's south coast, which are easy to reach by bus, and there are also more remote beaches on the west and north coasts. Here's a selection of our favourites:
Megali Ammos is the closest beach to Skiathos Town, only a 15-minute walk away, so it's a popular spot. This long, gently curving, sheltered bay has a narrow beach made up of a mix of sand and pebbles, with a row of beach bars and tavernas at one end.
Koukounaries is Skiathos' most famous beach, with soft golden sands and shallow waters backed by pine trees and the protected wetlands of ​​the Strofilia lagoon. It can get very busy in summer, with sunbeds, beach bars, restaurants and watersport equipment for hire.
Banana beach on the west coast is accessible on foot from Koukounaries beach through the ELIVI resort. It's split into two sections – Big Banana is larger with more of a party atmosphere in high season. And Little Banana is quieter with a nudist area.
Mandraki and Elias beaches lie on the north of the island, a 1.5km walk through pine forests from bus stop 21. There are golden sands, red cliff and a couple of small tavernas, but the location (and the fact it can be windy with rougher seas) keeps it quiet.
Lalaria beach is a beautiful remote spot known for its distinctive limestone cliffs, pebbly beach and natural rock archway. There are no facilities and you can only reach it by boat when seas are calm, so it's a peaceful place to relax away from everything.
Take a boat trip
The waterfront in Skiathos Town is constantly buzzing with a mix of fishing boats, yachts, ferries and tour boats. And a boat trip is one of the most popular things to do in Skiathos.
The two main operators are Poseidon and Elisabet Cruises, who run a selection of day trips. Some of the most popular are to Mamma Mia locations* around Skopelos, including the famous hilltop Agios Ioannis church (though make sure you really like ABBA as you'll hear a lot!). Or a boat trip to Skopelos and Alonissos*, with time on each island.
Trips normally run several times a week, departing the Old Port in Skiathos Town. You can also hire your own boat and explore Skiathos' coastline, visit Lalaria Beach and Kastro, or head across to Tsougrias island or Skopelos. Boats can be hired from local owners through SamBoat,* either for self-drive or with a skipper to show you the best spots.
Visit Evangelistria Monastery
Evangelistria Monastery – also known as the Monastery of the Annunciation of the Virgin Mary – dates back to 1794 and was founded by a group of Kollyvades monks from the monastery of Mount Athos. It's set up in the hills above Skiathos Town, a 4km walk or a short minibus or taxi ride away in a tranquil spot surrounded by pine trees.
There's a museum (€2 entry) with exhibits from the monastery's history including manuscripts, priests' vestments, carved crosses and icons – as well as the loom which the first Greek flag was weaved on before the 1821 Greek War of Independence.
You can also look around the monastery church (visitors are asked to cover shoulders and knees, but there are wraps you can borrow) and there's a shop selling produce from the monastery like honey, olive oil and wine, plus a café in a pretty garden.
Travel back in time at Kastro
In the more remote north of the island, Kastro was the largest medieval town in Skaithos. It was built in the 14th century on a clifftop which formed a natural fortress to help protect it from raids by pirates, and was connected by a wooden drawbridge.
But by 1830 it had been abandoned and is now a ruin with restored houses, churches and a mosque from its days under Turkish rule, with fantastic views. To get to Kastro you need to drive or take a taxi for 8km and then walk the last section – or you can reach it by boat. And as well as the ruins there's also a beach where you can cool off with a dip.
Go hiking
Skiathos is a great place for hikers, with over 200km of trails, which are well maintained and signposted with red and white markers thanks to German Ortwin Widmann. He moved to the island 25 years ago and cleared miles of old mule paths to create and map 26 different circular walking routes across Skiathos, which range from 1.8km to 11km.
You can pick up a free Skiathos Trails hiking map or Widmann has a book called Hiking in the Aegean Paradise which has local information as well as maps and route details – you can order a copy online or they're for sale in several shops in Skiathos Town.
The walks cover a mix of historic sights, mountain, wetland and beach landscapes. Some of the most popular trails are no 14 (Forest and Sea), which runs from Koukounaries beach through pine forests and sand dunes to Mandraki and Elias beaches on the north coast. And no 6 (The Roads of the Castle) from Evangelistria Monastery to Kastro.
Help the island's animals
One of the things I love about Greece is the cats, and Skiathos is no exception – you'll find them snoozing in the sun, lined up next the fishing boats in the harbour or loitering hopefully under your restaurant table (restaurant owners often ask visitors not to feed the cats, so if you want to give them food it's best to do it away from any restaurants).
Like another of my favourite Greek islands Hydra, Skiathos has a cat charity helping look after the island's strays. Skiathos Cat Welfare Association organise neutering, vet care and feeding stations. And visitors can help by donating or bringing cat treats or medication from home (if you get in touch in advance they can tell you what they need).
We loaded up our bags with Dreamies and dropped them off at the charity's shelter where we got to meet some of their gorgeous cats and kittens. Or if you're more of a dog person, Skiathos also has a dog shelter where visitors can visit and walk their dogs.
The details
When to visit Skiathos
Skiathos has hot, dry summers, with plenty of sunshine and average high temperatures of 29ºC (85ºF) in July/August. It rarely gets hotter than 35ºC (95ºF) with sea breezes to keep things comfortable. But summer is the busiest and most expensive time to visit.
Spring's cooler temperatures make it good for hiking, with lush greenery and wildflowers. Though the sea only really gets up to a comfortable swimming temperature in June. Skiathos stays warm and sunny into September with average highs of 26ºC (78ºF).
From October the weather gets cooler and wetter, though seas stay warm at around 21°C (70°F). Winter is fairly mild, with daytime average highs of 12°C/54°F and lows of 8°C/46°F, but winds can make it feel colder and it rains around 10 days a month.
How to get to Skiathos
Skiathos has an international airport – Alexandros Papadiamantis Airport – which is 4km east of Skiathos Town. There are flights from Athens year-round as well as seasonal flights from destinations across Europe, including several UK regional airports. Regular buses connect the airport to Skiathos Town or you can take a taxi for around €10.
Skiathos airport is Europe's version of St Maarten in the Caribbean, where planes come in to land right over the beach. You can stand at the end of the runway in Skiathos to watch them touch down – though beware of the kickback from the jet engines!
You can also get to Skiathos by ferry. If you're coming from Athens, there's no direct ferry service to Skiathos. Instead you would need to take a KTEL bus from Athens to Volos (3.5 hours) then catch a ferry from Volos to Skiathos. There's a mix of larger car ferries and smaller high-speed ferries on the route, taking from 1.5 to 2.5 hours.
There are also frequent ferries to the nearby islands of Skopelos and Alonissos. And less-frequent services to Agios Konstantinos, Thessaloniki and Mantoudi port in Evia.
Getting around Skiathos
You can hire a car or scooter to explore the island, but it's only really necessary if you're planning on visiting the more remote north coast or inland areas. Skiathos has a good bus service with the main bus line making 27 stops along the south coast between Skiathos Town and Koukounaries beach, running every 15 minutes and taking 30 minutes.
Buses also run from Skiathos Town to Evangelistria Monastery, Xamenos beach and the airport, and there's a taxi rank in the New Port. Or you can travel by boat, with shuttle boats connecting the main south coast beach resorts with Skiathos Town.
Read more: Exploring Skiathos without a car: Public transport guide
Where to stay in Skiathos
The best place to stay in Skiathos will depend on whether you'd rather be right on the beach, in which case there's a string of hotels and apartments running all along the south coast. Or whether you'd rather stay in Skiathos Town, where there's a better selection of places to eat, drink and shop, as well as the best transport connections.
We stayed in the lovely waterfront Koula's House, overlooking Bourtzi from the old part of Skiathos Town. There are two apartments with private balconies, one two-bed and one studio, and five rooms sharing a communal balcony. It's the perfect spot to watch the boats and an easy walk into town (via a few steps), and owner Sera is full of useful info.
If you're looking for hotel facilities, La Piscine Art Hotel* is an adults-only boutique hotel in Skiathos Town with a swimming pool and sun terrace. Its rooms and suites are decorated with artworks and the hotel has a popular restaurant and wine cellar.
Or if you want to be on the beach, ELIVI* is a luxury five-star, eco-friendly beachside resort at the west end of the island. As well as the main hotel overlooking Koukounaries there's a selection of rooms, suites and villas on Banana and Little Banana beaches, some with their own pool or hot tub. It also has a spa, several restaurants and beach bars.
Save for later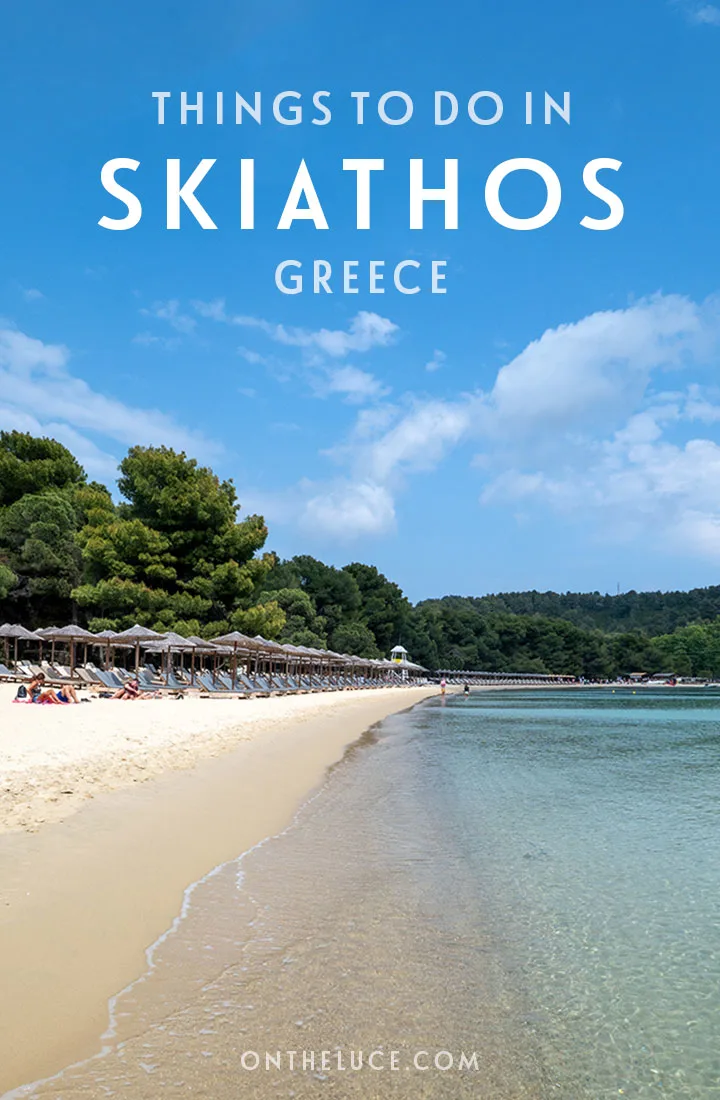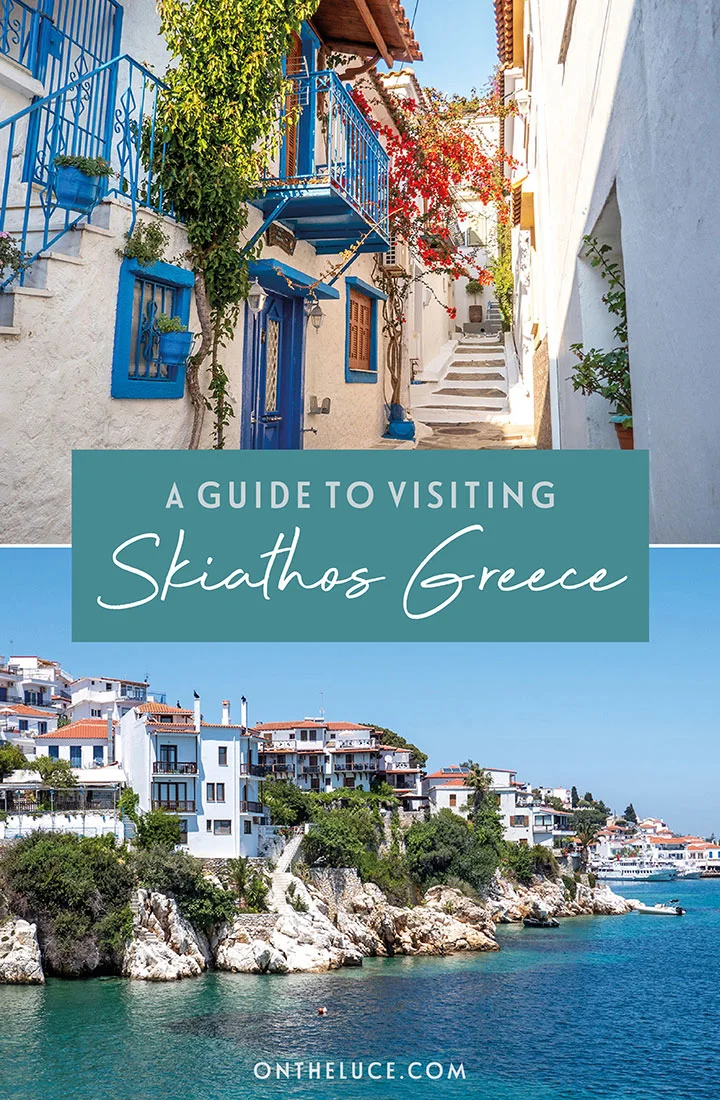 You might also like