Discover the best restaurants in Skiathos Town with this guide to the top places to eat in the main town on the Greek island of Skiathos, ranging from traditional taverns to fine-dining restaurants.
* This site contains affiliate links, where I get a small commission from purchases at no extra cost to you.
Most visitors to the Greek island of Skiathos will end up spending time in its capital Skiathos Town. And as well as having the historic district of Plakes, museums, shops and waterfront bars to explore, Skiathos Town also has some of the island's best restaurants.
Alongside traditional Greek tavernas you'll find a good selection of Italian restaurants as well as contemporary international options. So whether you want to feast on grilled meat and local wine at an inexpensive family-run taverna, or to splash out on freshly caught fish with a sea view, there will be somewhere to eat in Skiathos Town to suit you.
Here's a selection of our favourite restaurants in Skiathos Town, which are divided into categories for Greek and Italian food, special occasions and waterfront locations.
12 great restaurants in Skiathos Town
For traditional Greek food: Mesogia Taverna
I love a traditional Greek taverna, and Mesogia Taverna was one of our favourite finds in Skiathos Town. It's the oldest taverna in town, celebrating its 100th anniversary this year, and is located in the historic district of Plakes. Tables line each side of the narrow street, with checkered tablecloths and colourful pots of flowers adding to the charm.
This family-run taverna specialises in simple, classic Greek dishes, including meat and fish cooked over a charcoal grill. There's also a decent selection of vegetarian-friendly options including saganaki (fried cheese) and kolokithokeftedes (courgette fritters).
Two main courses of grilled pork chops and lamb cooked with lemon and potatoes, along with a €6 half-litre jug of red wine set us back a very reasonable €40 – and we were given free choc ices too. They don't take reservations though so get there early.
More great traditional Greek restaurants in Skiathos Town
TO PALOUKI | This lively and welcoming restaurant in the backstreets behind the Old Port reliably draws in the crowds night after night. Favourite dishes include drunken pork and a meltingly tender kleftiko (lamb and potatoes slow-cooked in parchment). And it's good value with main courses around €10–€16 and carafes of decent local wine.
1901 | 1901 is a slightly smarter take on the traditional taverna, in a lovely setting with tables under trees draped with lights. As well as Greek dishes there are a few Italian options like seafood risotto, and they serve wines from their own vineyard. Pre-booking is advised, or we called in fairly late when it was quieter and enjoyed chatting with the staff.
For Italian food: Cucina di Maria
Cucina di Maria is a relaxed Italian restaurant in Skiathos Town, in a cobbled square near the top of the bar steps. There's a big courtyard under a mulberry tree decorated with colourful murals, as well as tables inside, including three on a cute little balcony.
The menu focuses on pizzas (including calzones and white pizzas) and pasta dishes like carbonara and arrabiatta. They can also make most of the pasta dishes using gluten-free penne. Portions are generous and well-priced at around €14, and you can get a half-litre of local wine for €7.50. We were also given a complimentary fruit platter to finish.
It's a popular spot so be prepared to wait for a table at busy times – it's a good idea to book in advance for parties of more than two. And the service can be a little slow, so it's somewhere to linger over a leisurely meal and a bit of people-watching.
Other recommended Skiathos Town restaurants for Italian food
GRAVISI | In the quiet streets of Plakes, surrounded by whitewashed houses draped in bougainvillea, Gravisi has a peaceful, scenic backdrop. Their speciality is Greek-style thin, crispy pizzas, which cost around €14. Gluten-free pizza and pasta are also available, but ideally ask the day before so they can make sure they have them in stock.
LO & LA | This Italian-owned restaurant on the steps up from the Old Port has fantastic views of the harbour, especially at dusk. The menu includes salads, risottos and pasta dishes like spaghetti ai frutti di mare. But it's the super-friendly service which makes it extra special, with delicious homemade limoncello and dessert thrown in for free.
For something special: Marmita
Magical Marmita has a beautiful setting, in a traditional house with tables in the garden surrounded by trees and flowers with beams wrapped in fairy lights. It has to be one of the most romantic restaurants in Skiathos, but draws in a real mix of food-lovers.
The menu is an upscale take on traditional Greek cuisine with a few twists, using as many seasonal and local ingredients as possible. We went for the rabbit cooked in dessert wine from Samos and the sea bass en papillote, but there are also homemade pastas and Greek classics like moussaka and soutzoukakia (baked meatballs), all elegantly served.
With most main courses around €20 it's great value for a special meal. And the staff were friendly and welcoming – treating us to mastika and chocolates to celebrate the owner's birthday. You do need to book in advance though, especially in summer.
More Skiathos Town restaurants for a special meal
RICCI E POVERA | This restaurant above the Old Port serves a fusion of Mediterranean flavours, with meat, fish and vegetable tapas dishes like lemon-baked cod and samphire with feta and tomato. Prices are reasonable with five tapas and two glasses of wine under €60. It's small though so book ahead, especially if you want a table with a view.
THE WINDMILL | In a restored 1880s windmill, The Windmill has some of the best views in town (though prepare for a lot of steps). It's a favourite for romantic sunset dinners, serving an international mix of dishes like slow-cooked lamb shank and gremolata-spiced salmon. With mains around €25 it's on the pricey side for Skiathos Town. Advance booking is required, though unusually for Skiathos they have online booking.
For sea views: Siferi
Siferi is technically just outside Skiathos Town on the eastern end of Megali Ammos beach, but it's well worth the 10-minute walk to get there. There are stunning views of the beach and out to sea from the terrace (though you need to pre-book to bag a front-row seat).
It's super-convenient for lunch if you're spending the day on the beach, but is extra special in the evenings as the sun goes down, with the sound of the waves lapping the shore. There's a traditional taverna feel with a warm welcome, and the menu has a few international twists alongside the usual Greek specialities, with dishes like chicken curry.
Meat lovers also won't want to miss what are said to be the best ribs on the island. Though go hungry as the portions are big, and they usually throw in a free dessert.
Other good seafront restaurants in Skiathos Town
BAKALIKO | This popular taverna sits on the water's edge between the New Port and airport. Inside the décor is inspired by a vintage grocery store and outside there's a buzzy waterfront terrace which was packed with locals for Sunday lunch. The menu of traditional Greek dishes and seafood is perfect for sharing, with a good range of veggie options.
BU | The BU café bar is located under the pine trees at the tip of the historic fortress of Bourtzi. It comes from the same owners as Marmita, with food served all day – from eggs at breakfast to flatbread pizzas and salads then tasty tapas dishes. It's a lovely place to watch the sun go down with a cocktail, with resident cats to keep you company.
Map of where to eat in Skiathos Town
Save for later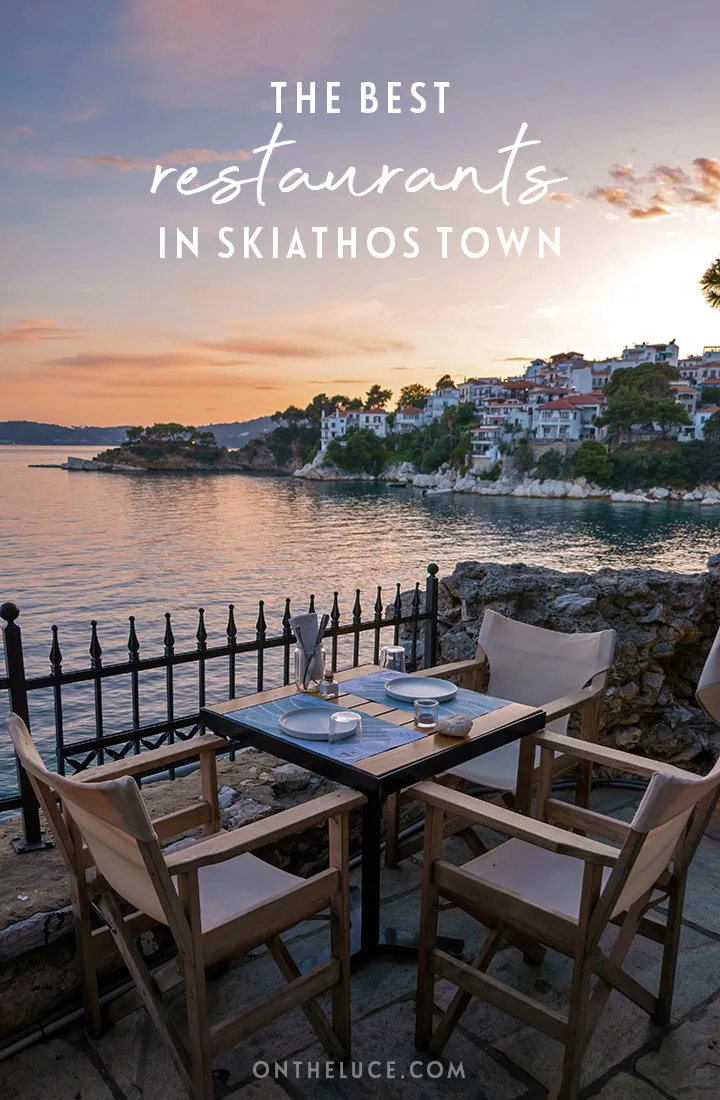 You might also like