Eight great day trips in Santorini, Greece – from unspoilt villages and buried cities to beach resorts and sunset spots – all of which you can visit independently by public transport or on a tour.
* This site contains affiliate links, where I get a small commission from purchases at no extra cost to you.
The gorgeous Greek island of Santorini is one of the country's most popular destinations, with those iconic views of clifftop villages overlooking the Aegean. But as well as soaking up the caldera views, there's plenty more to see on the island, from relaxing on black-sand beaches and visiting traditional Greek villages to boat trips to nearby islands.
Santorini's fairly compact size makes it ideal for exploring on day trips, and its bus and ferry connections mean you don't need to hire a car to get around the island. So here are eight of my favourite day trips in Santorini without a car, with details of how to visit each place independently as well as tour options if you don't want to do-it-yourself.
Note: Public transport details start from Santorini's capital Fira, so if you're staying elsewhere on the island you may need to get the bus to Fira first.
Map of day trips in Santorini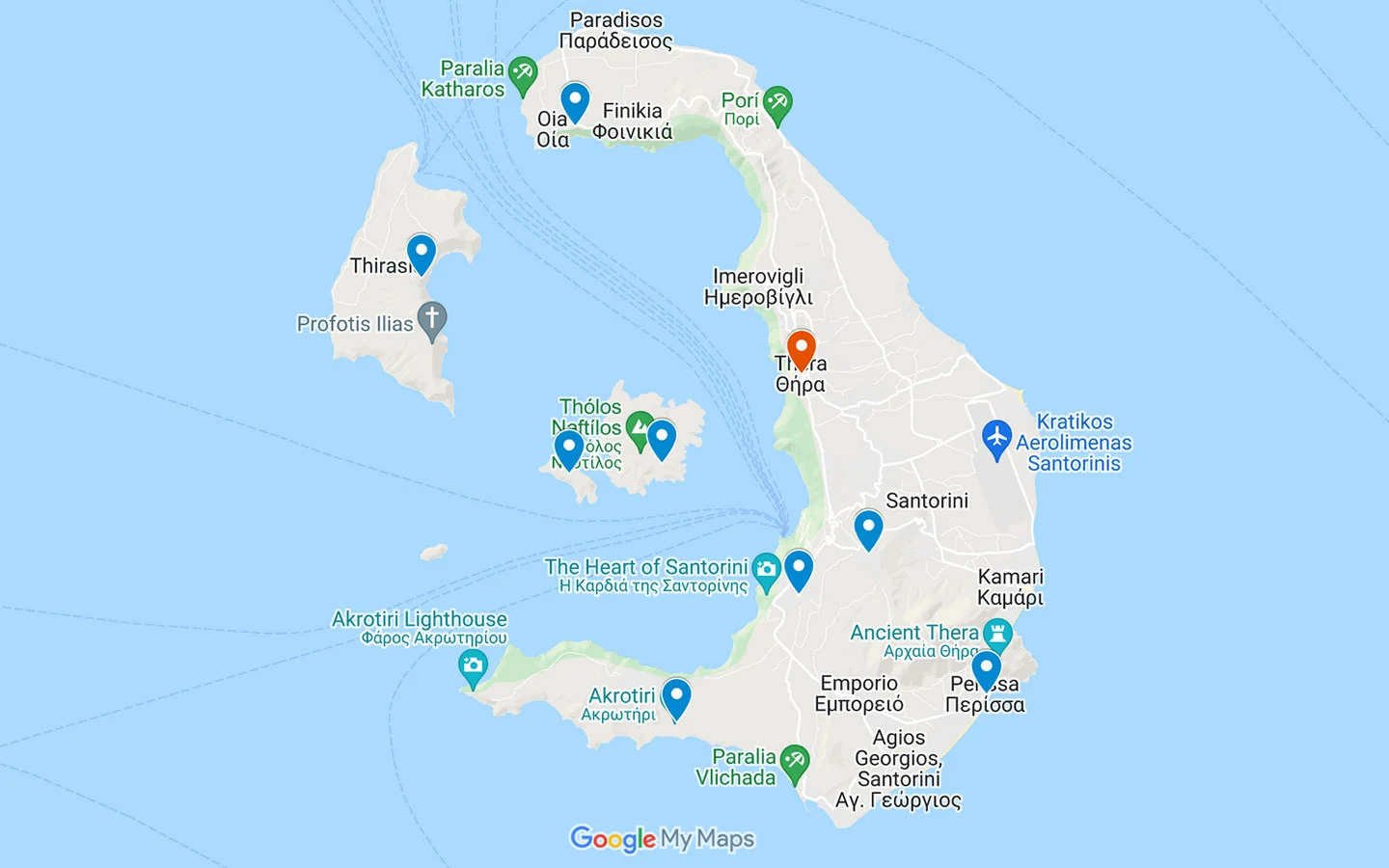 1. Oia
Beautiful Oia is Santorini's picture-perfect spot with its pastel-painted houses, windmills and domed churches spilling down the hillside. It's one of the most popular places to stay on the island, but if you're staying elsewhere it's definitely worth visiting on a day trip.
Take a stroll around Oia's narrow streets for one photo opportunity after another, from houses draped with pink bougainvillia to church towers silhouetted against the blue Aegean Sea. It's a good place to wander around and see what you find, with lots of cafés, rooftop bar, art galleries and boutique shops selling local crafts to stop off in.
There are plenty of panoramic viewspoints, including the Castle of St Nicholas and the blue-domed churches. And don't miss a famous Oia sunset, though the town is the most popular place on the island to watch the sun go down so it can get very busy.
Go independent
Oia is easy to reach from Santorini's main town Fira (Thera). Buses to Oia leave from Fira's bus station around every 30 minutes. The journey takes 25 minutes and costs €1.80 one way (cash payment only). There can be big queues for the bus in high season so if you don't want to wait you can also take a taxi to Oia which costs €30–€40 one way.
Or if you're feeling energetic you can walk the 10km/6 miles from Fira to Oia along the edge of the caldera. The walk takes around 3 hours and has fantastic views along the way.
Take a tour
Most Santorini tours include a stop in Oia. You can visit as part of a full-day island highlights trip* which ends with sunset in Oia. Or if you want to get some professional-quality holiday photos, you can also take a walking tour* with a private photographer.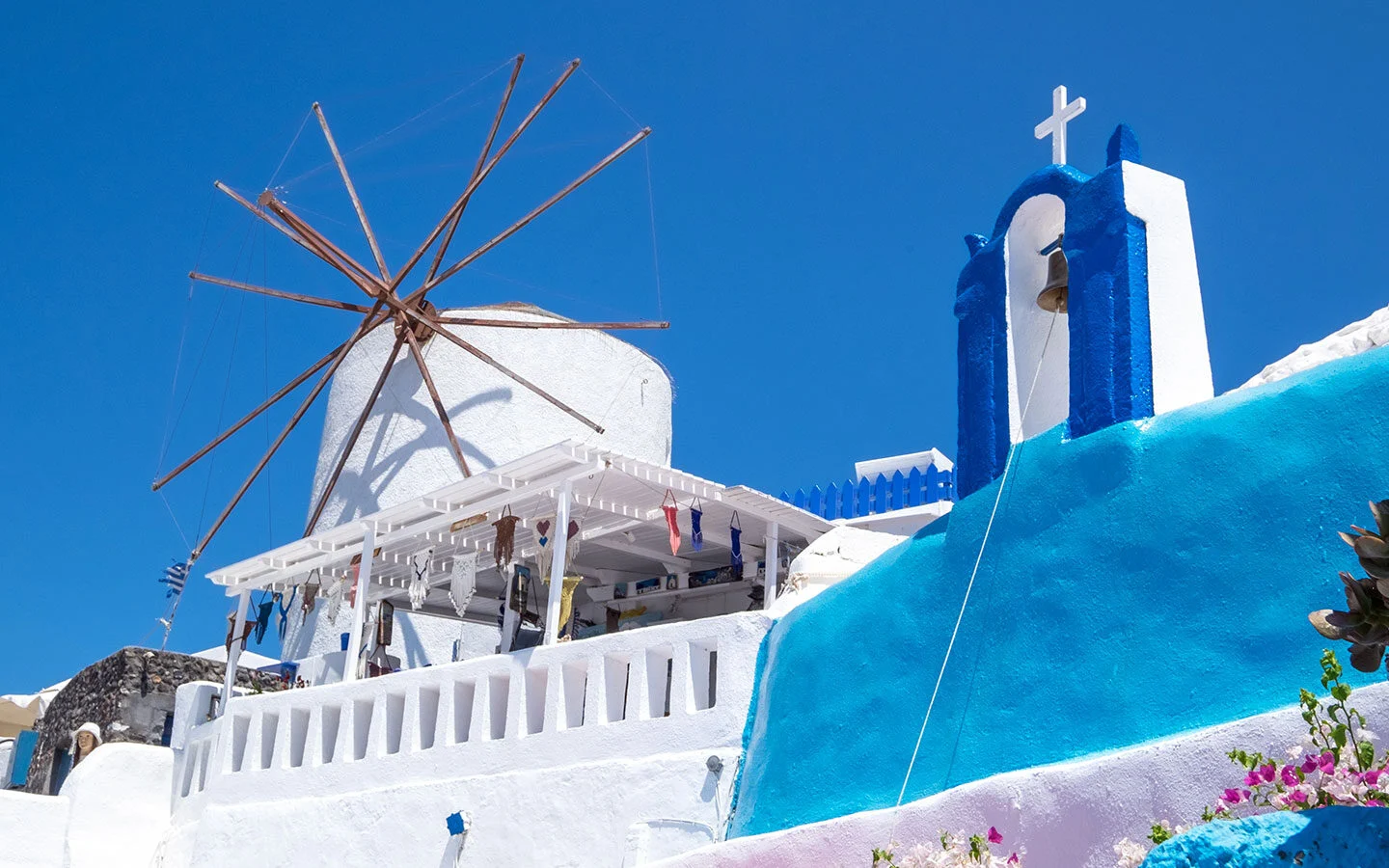 2. Akrotiri
Known as Santorini's Pompeii, Akrotiri was once a prosperous Minoan port city on a trade route between Europe and the Middle East. But around 1600 BC it was buried beneath 200 feet of ash when a giant volcanic eruption blew the middle right out of Santorini.
Akrotiri was forgotten about until the 1860s when quarry workers dug down and found some of its ancient artefacts. Excavations started properly in 1967 and are still carrying on today, with just a third of the site uncovered. The Akrotiri archaeological site is open to the public and gives a fascinating insight into what life was like for the Minoans.
The town was surprisingly advanced, with houses built over two and three storeys with underfloor heating, hot and cold running water and even indoor toilets. And the ash has helped preserve original features like frescoes and clay pots. Now open to the public, the site is one of the best day trips in Santorini to learn about the island's history.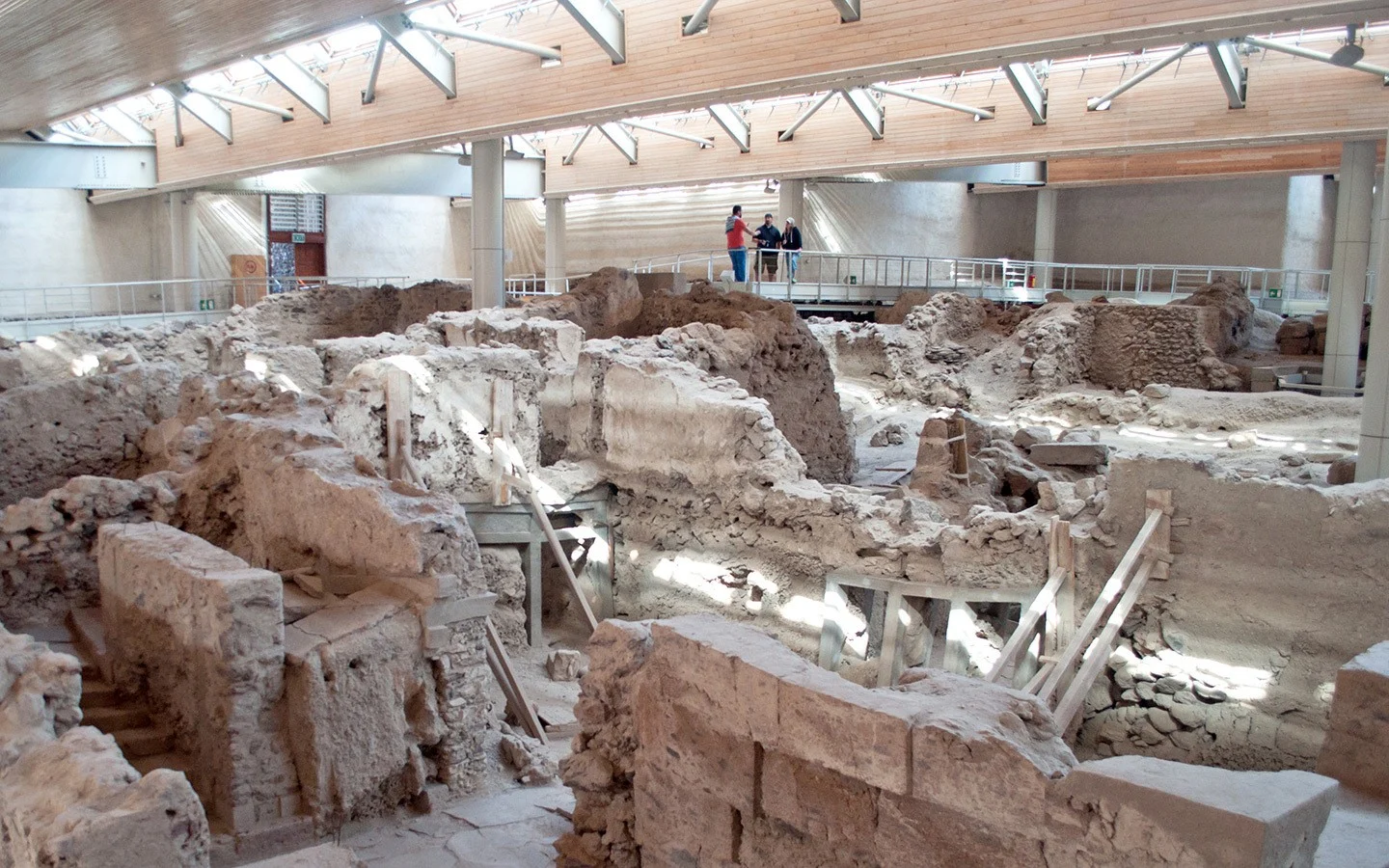 Go independent
Buses run from Fira's bus station to Akrotiri and take around 20 minutes, costing €2 each way. Entry to Akrotiri archaeological site costs €12 adults/€6 concessions. The ruins are just a short walk from the Red Beach so it's easy to combine the two.
Take a tour
You can also take a day tour* which includes bus transfers to Akrotiri with stops at the Prophet Elias Monastery, Megalochori, the Red Beach and black-sand Perivolos beach.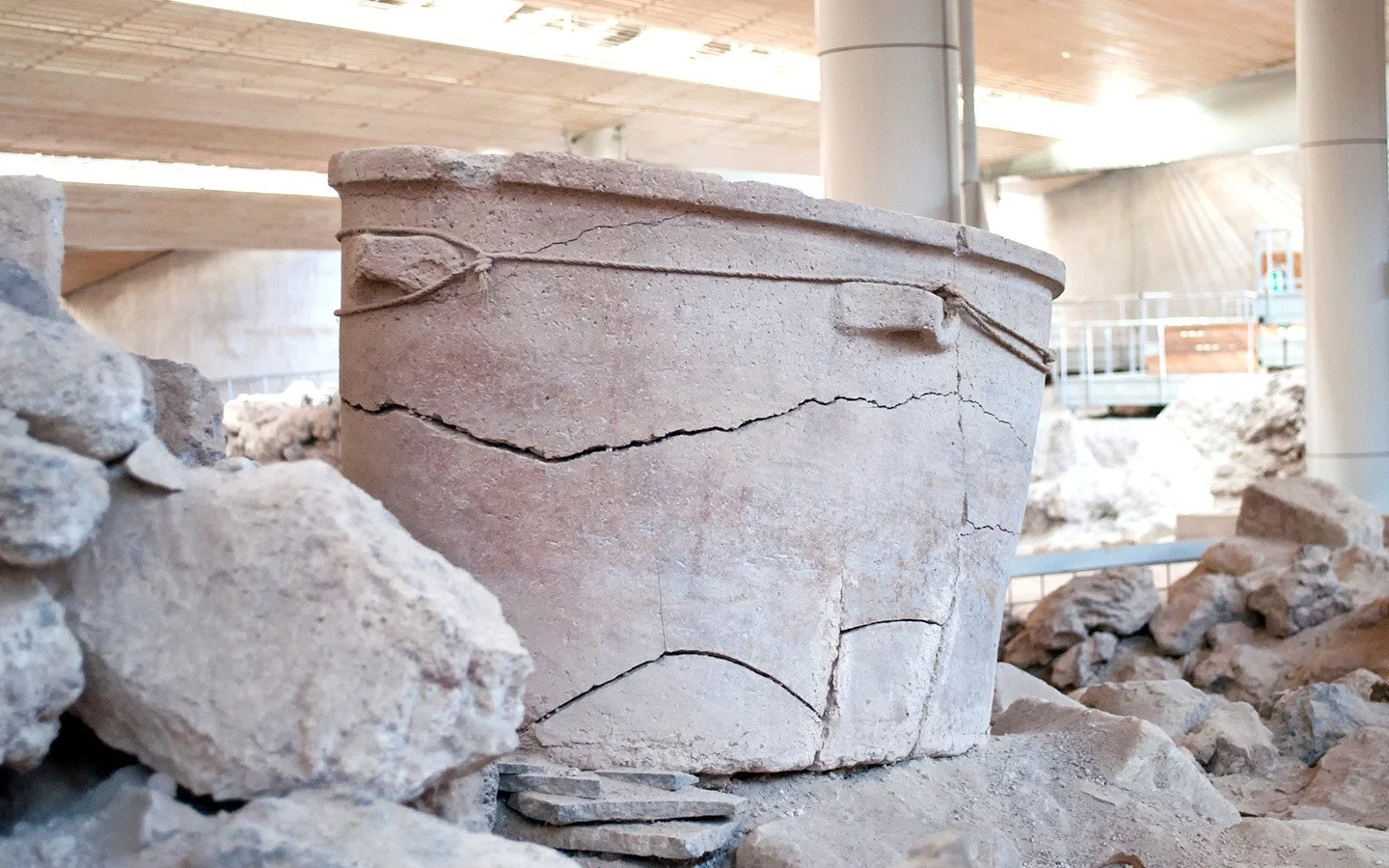 3. Pyrgos
Once the capital of Santorini, the medieval village of Pyrgos lies on the slopes of Mount Profitis Ilias, surrounded by vineyards. Pyrgos is Santorini's highest point and right at its peak is the Venetian Kasteli Castle, with 360-degree views across the island.
Pyrgos is a great place to come for sunset away from the crowds, with some good traditional Greek restaurants. There are also 40 churches around the village and the Santorini of the Past Museum, where you can find out about the island's traditional way of life.
Pyrgos is also close to Santo Wines, which is one of Santorini's best-known wineries, who make reds, whites, rosés and Vinsanto dessert wine. Their winery is set on the edge of the caldera and has stunning views of the cliffs and caldera from its terrace. You can do a wine tour and tasting for €12 and there's also a restaurant, shop and deli.
Go independent
You can reach Pyrgos by bus from Fira. Catch the regular bus towards Perissa (not the express bus which doesn't stop in Pyrgos) and it takes around 10 minutes. Buses also stop at Santo Wines, or it's a 15-minute walk from Pyrgos to the winery.
Take a tour
A visit to Pyrgos is included in a day tour* of Santorini's Venetian Castles, along with stops in Emporio, Akrotiri and Oia. Or you can take a private tour* which starts in Pyrgos before visiting the Wine Museum and doing a wine tasting before finishing in Oia.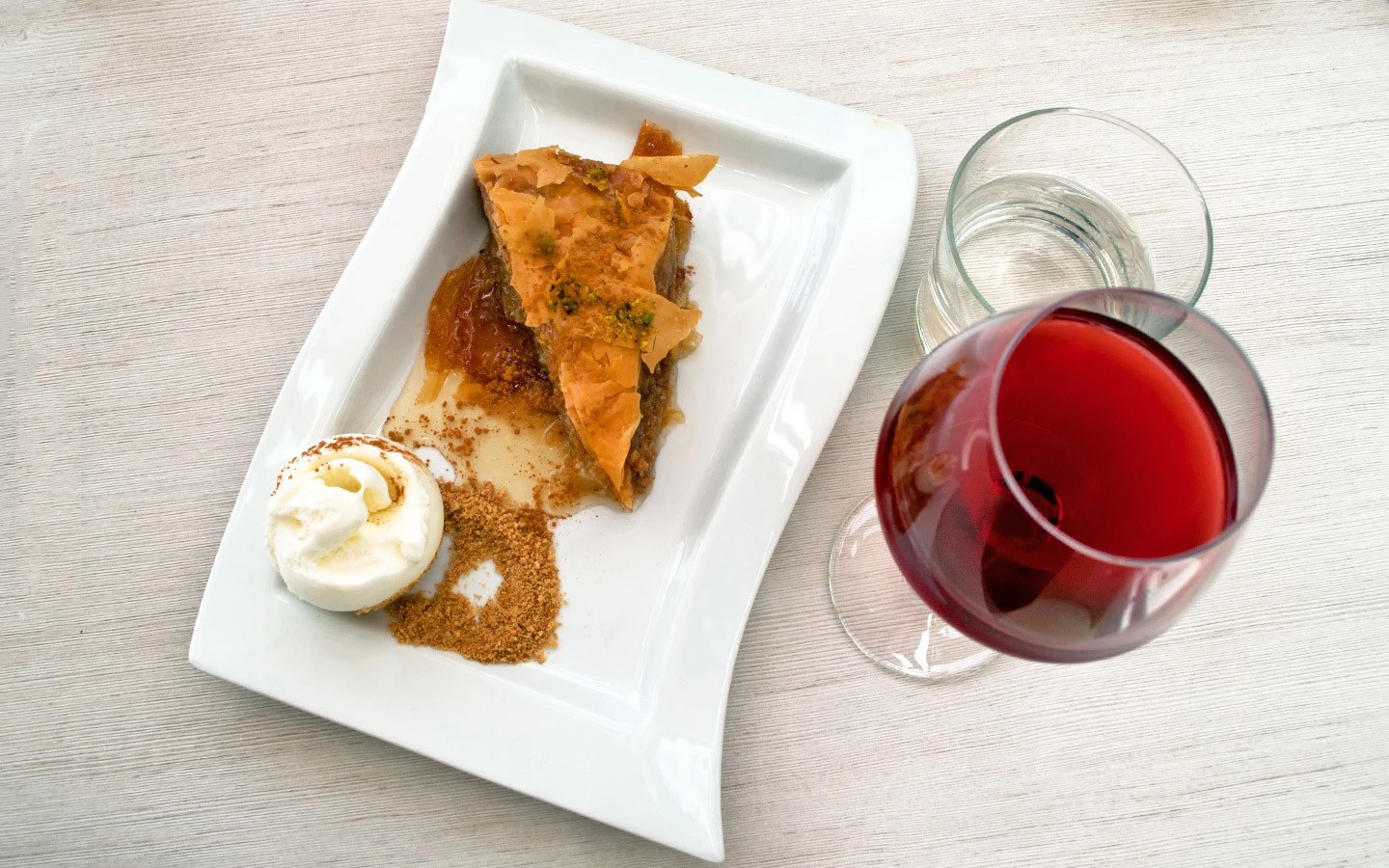 4. Megalochori
One of Santorini's lesser-known spots, the hillside village of Megalochori was once the haunt of pirates who plundered the seas around Santorini. Today it's a peaceful spot with narrow cobbled streets, squares lined with tavernas and church bell towers.
Megalochori was founded in the 17th century but many of the village's older buildings were destoyed by an earthquake in 1956. Since then it's been restored to its former glory and you can see some of the village's historic highlights like its traditional cave houses and the mansion houses built with high walls and thick walls to keep out pirates.
Just outside Megalochori is a viewpoint known as the Heart of Santorini. This heart-shaped (ish) naturally carved hole in the rock looks out across the bay and is a favourite spot for loved-up couples to take photos, especially around sunset.
Go independent
Buses from Fira to both Akrotiri and Perissa stop in Megalochori along the way, with the journey taking around 10 minutes.
Take a tour
There are no tours of Megalochori village, but you can visit the Venetsanos Winery on the edge of the village as part of a half-day wine tour*.
5. Perissa
The seaside town of Perissa sits on the southeast coast of Santorini and is one of the island's top beach resorts. Don't expect golden sands though – Santorini's volcanic geology means that instead Perissa has black sand, which contrasts with its clear blue waters.
If you fancy a beach day, Perissa is a classic beach resort, with sunbeds and umbrellas for hire and watersports like jetskiing or parasailing. The beach is lined with tavernas where you can grab lunch or a drink, and there are more bars and restaurants in town.
From Perissa you can also visit the ruins of Ancient Thera. This archaeological site on the top of Mesa Vouno Mountain was an important city in the 9th century, with the remains of buildings from the Hellenistic, Roman and Byzantine periods. To reach Ancient Thera, follow the trail from the end of the beach, which takes around an hour.
Go independent
Buses run from Fira's bus station to Perissa, with both regular and faster express services. The journey takes around 20 minutes and costs €2.40 one way.
Take a tour
You can also visit Perissa as part of a full-day island highlights tour* which also visits Prophet Elias Monastery, Emporio, Pyrgos, the Wine Museum and Oia.
6. Thirassia
Santorini's little sister, Thirassia (also known as Therasia) was created when the eruption of 1600 BC blew the centre out of the island. Thirassia is only a mile offshore from Santorini but it's a real contrast, swapping the cosmopolitan bars, hotels and restaurants for a quieter, slower pace of life, with only around 300 full-time residents.
Steps from the port take you up to Thirassia's main town, Manolas, which is built on top of the caldera. Its traditional Cycladic houses and peaceful streets feel like going back in time to what Santorini would have been like 50 years ago. There are a couple of cafés and tavernas where you can stop off for lunch with views across to Santorini.
You can also follow walking paths through the unspoilt volcanic landscape to the hilltop church of Profitis Ilias and explore traditional small villages – including Agrilia and Potamos which have cave houses and wine cellars built into the rocks.
Go independent
You can reach Thirassia by ferry from the port of Ammoudi below Oia. The ferry takes around 10 minutes to reach Rivas, Thirassia's new port. There are also larger car ferries running from Athinios, the main port in Santorini, a few times a week. Once on the island there's a local minibus which runs to Manolas and the main villages.
Take a tour
There are also lots of boat tours to Thirassia, though most don't actually give you time on the island, other than this full-day trip* which also includes Palea and Nea Kameni.
7. Palea Kameni & Nea Kameni
Volcanic activity on Santorini also created the two islands of Palea Kameni and Nea Kameni, which you can see in the middle of the caldera. Their name translates as old and new burnt island, and it's a pretty good description of their barren, lunar landscape with its black lava rocks and fumaroles emitting steaming gas, where almost nothing grows.
Palea Kamini was formed around 2000 years ago and is known for its hot springs. You can relax in the therapeutic mineral-rich waters, which are heated to 35°C and tinged a rusty yellow colour by high levels of sulphur, and cover yourself in mud.
Nea Kamini was formed more recently, with new lava flows adding to it right up until 1950 – making it one of the world's youngest islands. This uninhabited island is a protected geological park, and you can still see signs of volcanic activity all around you. Take a 20-minute hike up to the crater and you can look down at the molten lava below.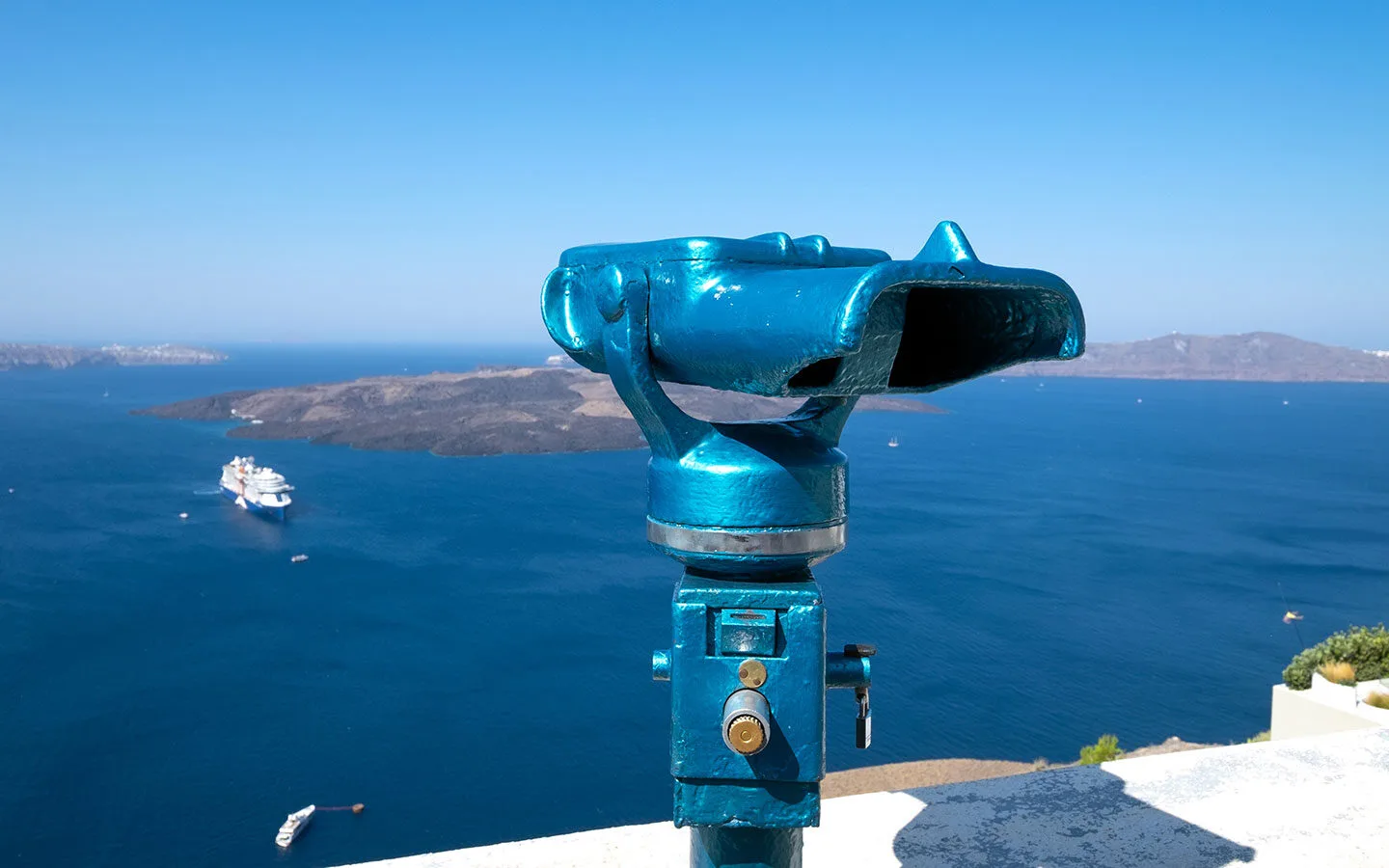 Go independent
Palea Kameni and Nea Kameni are only accessible by sea, so the only way to visit the islands independently would be to hire a boat.* A range of different size and type of boats are available to hire with or without a skipper through SamBoat. And you could also combine the islands with other spots like the Red Beach near Akrotiri or Perissa.
Take a tour
There are several day trips from Santorini to Palea and Nea Kameni, often on board traditional wooden boats. This day tour* departs from Athinios Port and stops in Palea Kameni, Nea Kameni and Thirassia with an optional Oia add-on. Or you can take a sunset cruise* to the islands which also includes dinner and a glass of wine.
8. Ios
Another of the Cyclades group of islands, Ios is one of the closest to Santorini so it's possible to visit for the day. Ios has a reputation as one of Greece's top party islands, but if you steer clear of peak season in July and August things are a lot more relaxed.
The heart of Ios is the main town, known as Chora, set on a hilltop with a maze of narrow streets, bougainvillea-draped houses and sleepy cats. Ios has 365 churches – one for each day of the year – and if you climb to the highest point in Chora you'll find four of them at the peak, with views down to the port and out over the Aegean.
Ios has some beautiful golden sand beaches, including Mylopotas Beach where you'll find beach clubs, bars and restaurants. It's also a hub for watersports, with paddleboards, kayaks and boats for hire so you can explore the coastline's smaller coves.
Read more: Off-season in Ios, Greece: Visiting in spring and autumn
Go independent
Several ferry* companies make the journey from Santorini's Athinios port to Ios. The port is 8km south of Fira, with buses connecting to two which take around 20 minutes and cost €2.30 one way. From Athinios there are a mix of regular and high-speed ferries – the quickest taking 40 minutes. Sailings get very busy in summer so book in advance.
Once in Ios there's a bus which connects the port to the main town Chora (which is up a steep hill) and Mylopotas Beach, which costs €1.80 one way.
Take a tour
There is a day trip from Santorini to Ios once a week, which includes transport to the island on a traditional Greek boat and a full day to explore independently. Or you could get the ferry to Ios then take a speedboat tour* which visits seven different beaches.
Save for later
You might also like