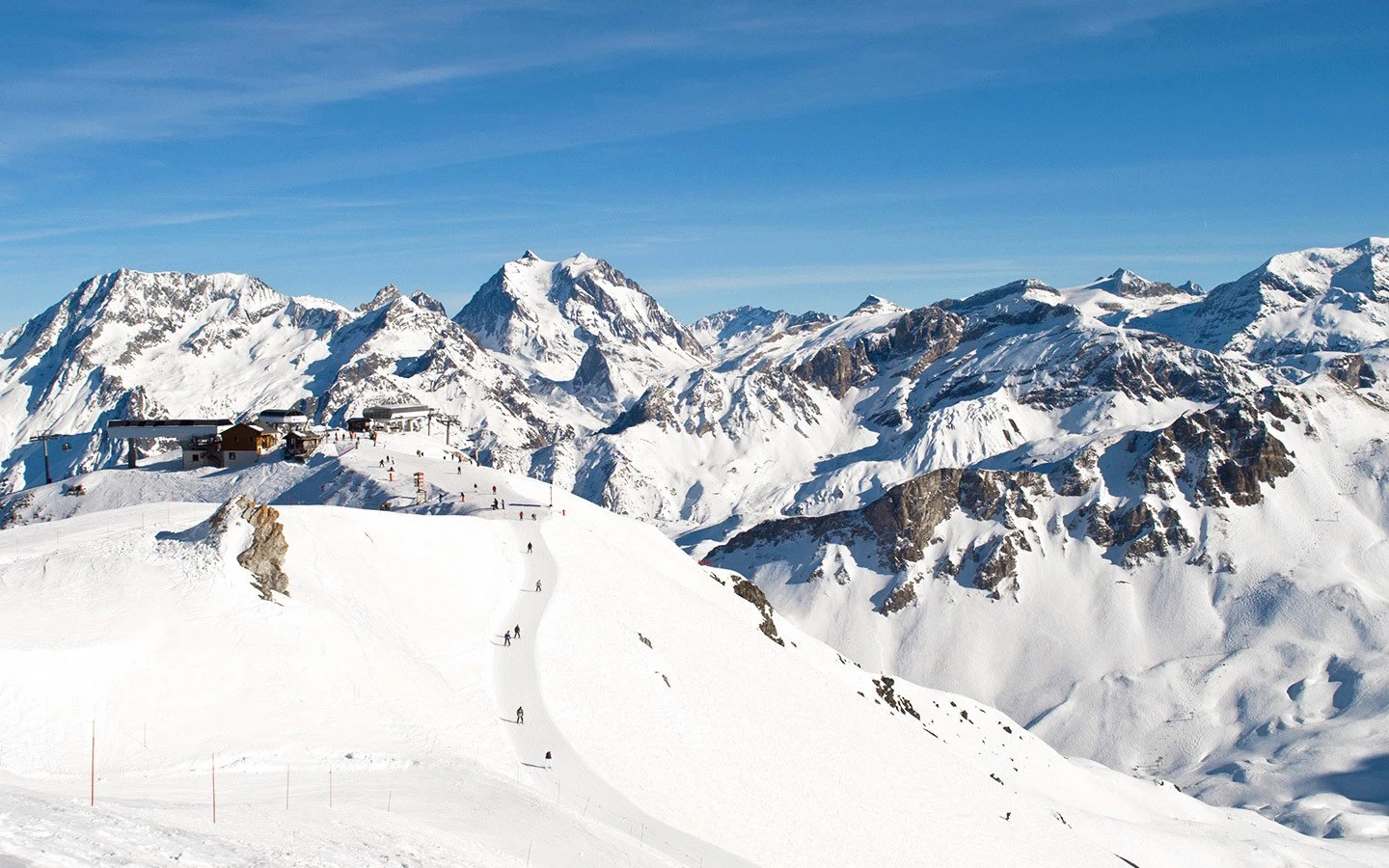 I was a bit of late starter on the slopes and didn't start skiing until my mid-30s. I don't like the cold and I'm not exactly sporty, so I didn't think it'd be my thing. But unexpectedly I loved it – the mountain scenery, the feeling of speeding down the slopes, lunch stops up among the clouds and après ski drinks by the fire. I've been back again and again since – from five weeks in the tiny resort of St Jean d'Aulps to my trip to Bulgaria last year. But your first skiing holiday is always going to be a bit of a learning curve – from what to pack to how to stay upright! So to help you get the most from your first ski trip, here are my top tips.
Read more: A ski guide to Méribel-Mottaret in the French Alps
Where's a good resort for beginners?
The Alps, the Pyrenees, Eastern Europe, the USA and Canada – there are so many different ski resorts out there, but not all of them are good for beginners, so you need to do a bit of research before you book. For a first ski trip, you want somewhere with good nursery slopes plus a few nice blue runs to progress to, decent ski schools and ideally a beginners ski pass so you don't need to buy a pass for the whole valley.
In France, Courcheval has great nursery slopes with nine free beginners' lifts, as well as plenty of longer runs to progress to. Or if you fancy somewhere smaller, Montgenévre near the Italian border has a big, fenced off nursery slope area with free lift and gentle runs back to the village. Across in Italy, Cortina is another good spot to learn, with gorgeous views of the Dolomites. Or Soldeau in Andorra has English-speaking ski instructors and large nursery slopes, though you do need a lift pass to get up the mountain first.
If you're on a budget, Eastern Europe's a really good option. Resorts are smaller so they suit beginners, and a week's trip can cost half the price of the big Alpine resorts. Poiana Brasov in Romania is great for beginners, with inexpensive English-speaking ski schools as well as cheap food and accommodation. Bansko in Bulgaria has a bigger ski area with 14 lifts across two mountains and a pretty World Heritage Site old town. Or Kranjska Gora in Slovenia has a more traditional ski resort feel with wooden chalets and good après ski.
Chalet or self-catering – which is best?
In most resorts you have a choice between self-catering apartments, catered chalets or chalet hotels (which are bigger with more facilities like pools and restaurants). Self-catering is usually the cheapest, especially if you're in a group. But prices can stack up if you eat out rather than cook – it can be hard to resist the lure of the mountain restaurants and stick to your packed lunch. Resort supermarkets are expensive so if you're hiring a car it's worth stocking up en route, before you reach the mountains.
Catered chalets are more expensive, but you do get most of your meals (except lunches and dinner one night of the week) and local wine included. Also as you know the cost upfront it can make it easier to budget. You also get your chalet hosts' local knowledge – from which slopes are the best at different times of day to where the best parties are. It's also easy to underestimate how exhausted you're going to be after a day on the slopes, so there's something lovely about having someone to make your bed and cook your dinner.
What gear do I need?
Like any new hobby, it's probably best to give skiing a try and make sure you actually like it before buying lots of specialist kit. Try to borrow or hire as much as you can. You can hire skis, poles, boots and helmets in resorts – though it's often worth booking in advance to get a better rate. The hire shop will kit you up with the right skis and poles for your height and ability. But the one thing you really want to get right is the boots. If they're too tight or rub when you try them on, they'll be agony by the end of the first day. Try a few pairs to make sure you get the right fit – and don't be afraid to go back if you find they're uncomfortable.
You'll also need some good cold-weather gear. Start with a thermal base layer – I love Uniqlo's HeatTech Extra Warm range of inexpensive tops and leggings, but if you want to invest in some really good thermals try New Zealand brand Icebreaker's merino wool gear. Then layer up with a waterproof ski jacket and trousers – if you can't find one to borrow you can pick them up cheaply at TK Maxx or there are always lots for sale on eBay. Don't forget extras like warm socks, gloves (mittens are warmer if you feel the cold), a hat, a scarf (or buff), and goggles and/or sunglasses (goggles are useful if you get caught in a blizzard).
What else should I pack?
Weather can change quickly on the slopes – often it's completely different at the top of the mountain to down in the resort. So it's useful to bring a rucksack so you can add/take off layers as you need. You can also use it to carry water, a packed lunch or snacks and sunscreen. The sun is intense on the mountains, so bring high-factor sunscreen and sun protection lip balm. Ideally look for a rucksack with chest and waist straps so it's more stable, and beware of dangling straps (I've seen someone hanging from a chairlift by their rucksack strap before!). And keep your phone close to your body as the cold can drain the battery.
Off the slopes, most restaurants and bars in ski resorts are pretty casual, so you won't need to pack smart clothes; jeans and jumpers are fine. You do need some good waterproof shoes to get around the resort though – sturdy walking boots or cheap snow boots are perfect. And a lot of chalets and resorts have hot tubs, so pack your swimming costume so you can soak some of the aches and pains away.
Do I need to have lessons?
If you're travelling with people who've skied before then someone will probably offer to teach you how to ski. It's tempting to save the cash on ski lessons but it's usually a bad idea. They won't know the proper teaching technique so you won't progress so fast, you might pick up bad habits, or even get freaked out by being pushed too far and give up altogether. Lessons aren't cheap but you will learn how to ski properly – and it's a good way to meet other people who're at the same level if you're having group lessons.
Group lessons normally take place in the morning or afternoon, last around three hours and you can choose from five- or six-day lesson packages. You'll usually get put into groups of similar ability on the first morning then stay with the same people for the week. Prices for six days range from €110 in Bulgaria to €250 in the bigger French Alpine resorts. Or you can hire a private instructor for a few hours. This is probably the quickest way to progress, but it's pretty intensive and tiring having all the focus on you, so factor in some rest time too. Prices for a two-hour session range from €65 in Bulgaria to €120 in the Alps.
How fit do I need to be?
After spending most of my year sat at a desk, I always end up hobbling around after a few days on the slopes. You'll be working your muscles hard all day – and the altitude makes it even more tiring – so it's a good idea to build your fitness up in advance. Not ending up knackered by lunchtime also means you're less likely to make mistakes and get injured (see these tips for safe ski holidays). Your legs bear the brunt of the hard work, so build them up by running, walking or cycling, and strengthen your muscles with squats, lunges and crunches. Even just a few sessions a week in the month before you go away can make a difference. However fit you are though, you're guaranteed to discover a few muscles that you didn't know you had. Stretching at the end of the day, long baths and an emergency tube of Deep Heat are always a good idea.
What if I hate it? Is there anything else to do?
Whether you've decided that skiing isn't for you or just want a day off the slopes, most ski resorts have activities to keep non-skiers occupied as well. You can try cross-country skiing if downhill is a bit too terrifying, or go walking or snowshoeing. There are sledging runs and ice rinks in lots of resorts, as well as ice climbing, snowmobile tours and horse and carriage rides. Or if you just want to take it easy, spend the morning in the hot tub, then take the cable car up the mountain for a long lunch with a panoramic view, grab a deckchair, a book and a glass of vin chaud and take up residence for the afternoon. Perfect!
So do you feel ready for the slopes – or do you have any other questions?
Pin it
This post is brought to you in association with Snowtrex.