A guide to skiing in Bulgaria in Eastern Europe – everything you need to know to plan a Bulgaria ski holiday, from which ski resort to choose and how much it costs to what the food and facilities are like.
* This site contains affiliate links, where I get a small commission from purchases at no extra cost to you.
For many people, skiing in Europe means the Alps. It's where I learnt to ski and I've been back again and again. France, Switzerland, Austria and Italy are home to Europe's best-known ski resorts, but thave a premium price tag – which only seems to be getting higher.
So it's no many surprise skiers are abandoning the Alps to their five-star clientele and €10 vin chauds and looking for better value in Eastern European destinations like Slovenia, Romania and Bulgaria. And I joined them for a week's skiing in Bansko in Bulgaria.
Bulgaria might not have the polish of the famous Alpine resorts, but it has plenty of charm and some great slopes. But what's a Bulgaria ski holiday really like?
Skiing in Bulgaria: Your questions answered
Where can you ski in Bulgaria?
There are three main ski resorts in Bulgaria, plus a few smaller, less-developed resorts. Closest to the capital Sofia is Borovets, Bulgaria's oldest ski resort. It's set on the edge of the Rila Mountains, with pine-forested pistes that could easily pass for the Alps.
Borovets has 58km of slopes at between 1300–2560 metres altitude, which are particularly good for intermediate skiers. The modern town centre is only 90 minutes from Sofia so you could easily combine a winter city break with a few days on the slopes.
An hour further away is Bansko, with a mix of a UNESCO World Heritage-listed historic old town and buzzing nightlife near the gondola. Bansko is located in the scenic Pirin National Park, 160km from Sofia, and is the biggest and most up-to-date ski resort in Bulgaria.
Bansko has fast, modern lifts, with 18 pistes covering an area of 75km. There's a mix of blue and red runs plus a couple of black runs. Bansko's slopes are located at 2000–2500 metres so it has the longest ski season and best snow record of Bulgaria's ski resorts.
Then there's Pamporovo in the east, 1.5-hours from Plovdiv. Being more southerly means a lot of sunshine but the pistes are limited at only 36km with mostly blues and greens, so it's best for beginners. It's a quieter resort with a family-friendly feel and good ski schools.
How cheap is skiing in Bulgaria?
Skiing is never going to be an ultra-low-budget holiday, but compared to previous ski trips to the Alps, Bulgaria was a bargain. You can book a cheap package holiday to Bulgarian ski resorts, but it's also easy to book flights and accommodation yourself.
Budget airlines easyJet, Wizz Air and Ryanair all have direct flights from the UK to either Sofia and Plovdiv in Bulgaria – our London to Sofia flight in February cost €35 each way (though checked luggage does cost extra and was needed for the ski kit).
Once you get to Bulgaria, you'll find prices are around a half to two-thirds of what you'd pay for the same thing in the Alps. We stayed in a hosted chalet with eco chalet company Snomads, which costs around €280 per person for a week in January, including airport transfers, an en-suite room and half-board meals with local wine.
Then take lift passes – a six-day lift pass in Bankso costs 272 lev (€139) for adults and 132 lev (€67) for children. Compare that to Morzine in France (which has a similar-sized ski area) where you would pay €191 for adults and €143 for children. And six days of ski, pole and boot hire would cost 150 lev (€77) in Bulgaria, versus €100 in France.
As ever, you pay do a premium for food and drink when you're on the slopes in Bulgaria, but lev prices were similar to what you would pay in euros in the Alps. So so 7 lev (€3.60) instead of €7 for a mulled wine or 5 lev (€2.50) for a small beer. And prices are much lower in town at 2 lev (€1) for a beer or 30 lev (€15) for a meal with wine.
Is skiing in Bulgaria just for beginners?
It's true that Bulgaria's a great place for new skiers (or seriously rusty ones like me). Instructors in the resorts speak good English and lessons are reasonably priced.
Six half-day adult lessons costs 265 lev (€135) in Bansko (versus €166 in France) or a two-hour private lesson is 135 lev (€69) (versus €96 in France). Lower prices mean it's a good place to try skiing or boarding – if you decide you don't like it you haven't lost much.
It's not all about beginners though. The slopes are pretty diverse, and both Bansko and Borovets have a good mix of blues, reds and a few black runs. The extent of slopes isn't huge though so if you're covering a lot of ground every day you might find yourself revisiting slopes, so advanced skiers might want to look at off-piste or guided ski touring.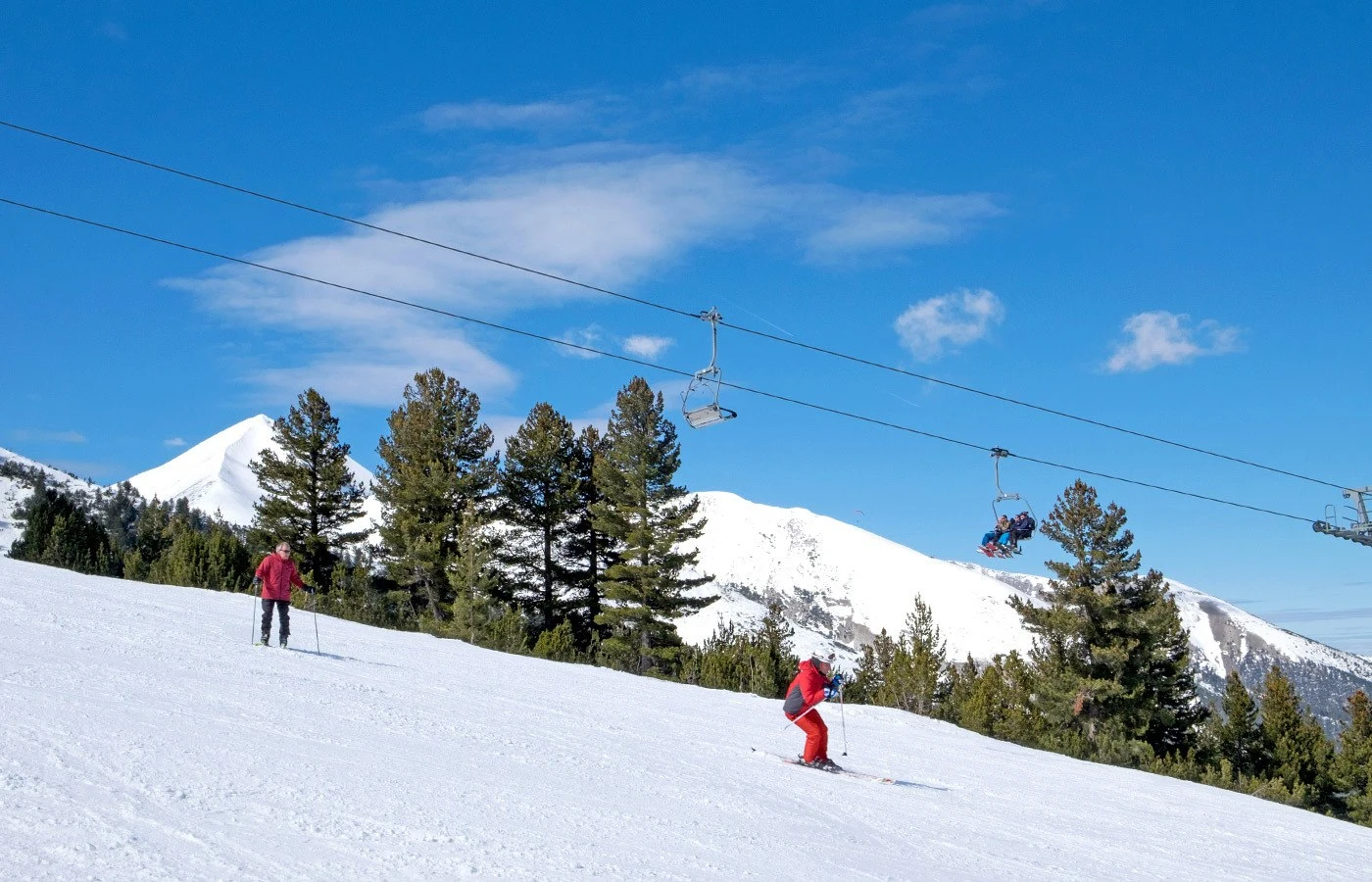 Are the facilities any good?
Apparently before 2003 you reached the slopes in Bansko in an army minibus. But things have changed a lot since then and the facilities in Bulgaria are as good as anywhere. Bansko especially has had a lot of investment recently as it's been hosting World Cup races. So there's a modern eight-seater gondola up to the ski area then fast chairlifts.
The other resorts have a mix of lifts, and there are still some older, slower chairlifts and T-bars but they're slowly being updated. There are also snowmaking facilities and some floodlit pistes. Off the slopes there's a lot of building work going on, some of the roads aren't the best and resorts aren't as chocolate-box pretty as some Alpine ones.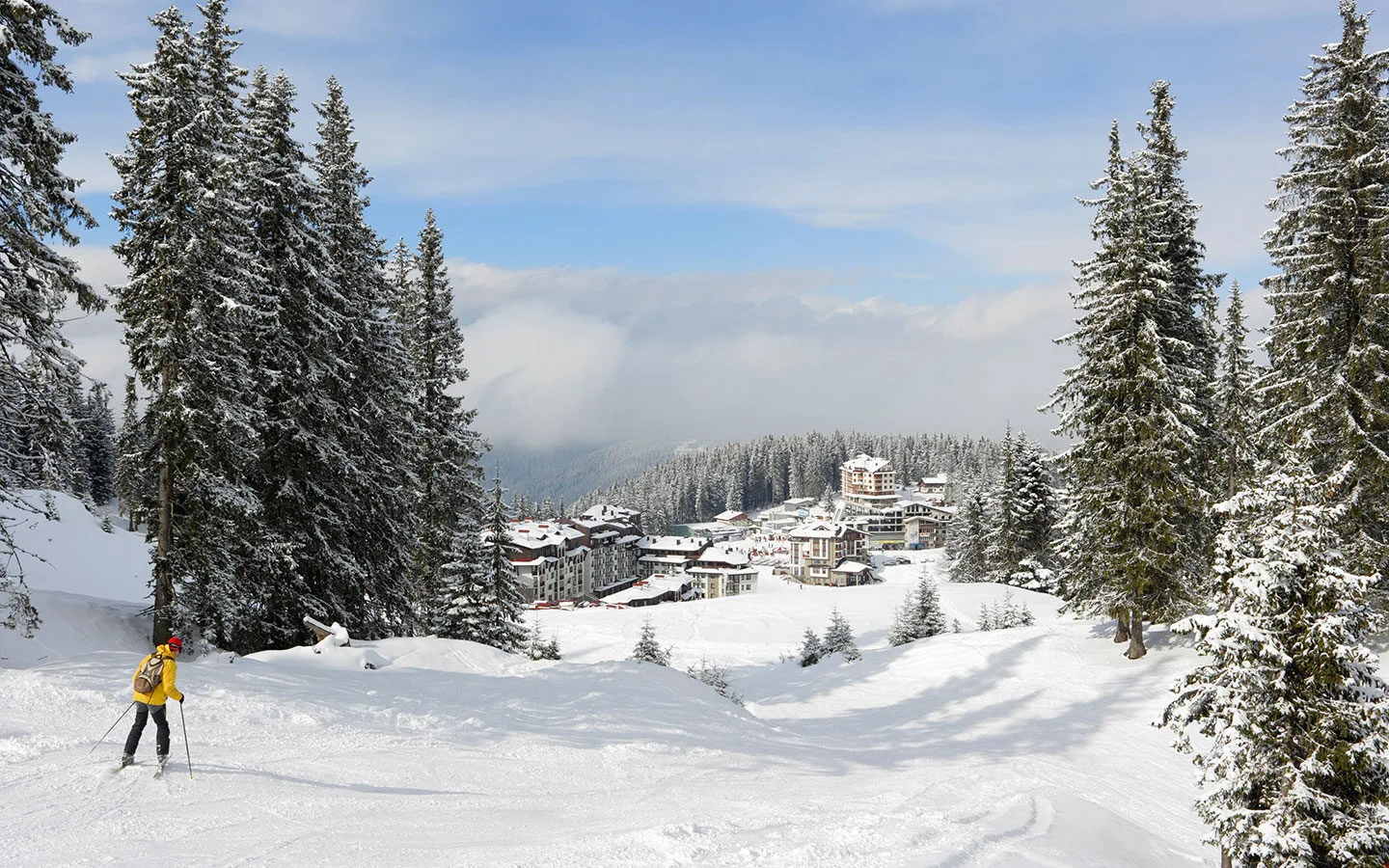 But there's a good choice of places to eat, drink and stay in Bulgaria's ski resorts, from budget apartments (especially in Bansko where you can buy one for around €10,000!) to a growing range of affordable five-star hotels like the ski-in and ski-out Kempinski Grand Arena* in Bansko or the castle-style Festa Winter Palace* in Borovets.
If you want to be looked after (even the idea of doing anything more energetic than sitting, eating and drinking after a day skiing tires me out) but without spending too much, a chalet is the way to go. We stayed in Chalet Diana-Ross which sleeps 25 and has a hot tub and sauna to relax in and chalet hosts to take care of food, drink and entertainment.
What's Bulgarian food and drink like?
One of my biggest surprises was how good Bulgarian food (and wine) was. It's a bit like Turkish food with a twist – soups served in bread bowls, barbecue skewers and pots of slow-cooked meat and vegetables. There are also good salads, yogurt dips and filo pastries. Organic, seasonal food is a big thing in Bulgaria so fruit and vegetables burst with flavour.
In our chalet everything was organic, fair trade and homemade, from the fresh bread at breakfast to the jams and pickles, and the chai tea made from locally picked herbs.
The chalet hosts work with small producers to get the best and freshest produce they can, including organic red, white and rosés wines from a nearby vineyard. We even had fresh organic trout straight from the lake at a fish farm in the Rila Mountains.
How about après-ski – is it all stag dos and shots?
I won't lie, Bulgaria's bargain beers make it a stag-do favourite (I saw men in tutus and a T-Rex costume on the slopes in Bansko). Both Bansko and Borovets are known for their nightlife so you'll find plenty of bars and clubs. And if you need something to get you going, the local shot is homemade rakia, a type of brandy that burns its way down nicely.
If you're not up for partying till dawn then there are a few quieter places to go out. There are some more relaxed bars and Bansko's old town is full of mehanas, a kind of cosy traditional tavern where they serve food and sometimes have live music. And Pamporovo's nightlife is fairly low-key, with a decent selection of family-friendly restaurants.
So, should I try a Bulgaria ski holiday?
If you're a first-timer wanting to give skiing or snowboarding a go or a mixed-ability group wanting to ski together, if you want to make the most of your money or are just looking to experience a different culture and try something new, then skiing in Bulgaria is definitely worth trying. I was pleasantly surprised by the facilities and you can't beat the value.
But if you're an expert skier who's looking for adrenaline-fuelled black runs or wants to cover lots of ground during their trip, or a luxury-lover looking for designer shops and Michelin-starred restaurants, then you might be better off sticking to the Alps.
Save for later
You might also like