Discover the best things to do in Bansko in winter – whether you're a skier or not – with a guide to visiting this Bulgarian town which combines a ski modern ski resort and character-filled old town.
* This site contains affiliate links, where I get a small commission from purchases at no extra cost to you.
AD: My trip was hosted by Snomads, but all views are my own
Skiers in brightly coloured jackets weighed down by skis stagger along the pavement, overtaken by a horse and cart and watched by old ladies chatting on a roadside bench. Not a sight you normally see in a ski resort, but Bansko in Bulgaria is a ski town with a twist.
If you're a non-skier – or just fancy a day off – the good thing about Bansko is that it's not just a resort town, so there's more to it than its slopes. On one side are the Pirin Mountains with their snow-covered peaks and the modern Bansko ski resort. And on the other is a historic Bulgarian town with cobbled streets and atmospheric restaurants.
You can party on and off the pistes and soak it off the next day in a hot spring. Or take a day out to visit a mountain vineyard or historic monastery. Whether you're happiest on or off the slopes, here's our pick of the best things to do in Bansko in winter.
Things to do in Bansko: On the slopes
Skiing and snowboarding
Bansko is Bulgaria's most popular ski resort. It's set between three mountain ranges with the ski area at an altitude of 2000–2600 metres, which means means it gets reliable snow cover from December–March (and if not most of the pistes are covered by snow cannons), as well as having some spectacular views from the top of the slopes.
Bansko's ski area has around 70km of pistes. It's not a huge area by Alpine standards, but there's a good mix of levels, with eight blue runs, 11 reds and two blacks. The piste map shows a red run on the right but the Tzarna Mogila lift connecting it hasn't been running for years, so the ski area is concentrated around Bunderishka and Shiligarnika.
Skiing and snowboarding lessons are cheap in Bansko and instructors speak good English, so it's a great place to learn or polish your skills. There's also one of the nicest beginner slopes I've skied on – the Ski Road. This gentle, tree-lined, 15km run takes you back down to town from the ski resort and is perfect for getting your ski legs (though nervous skiers might want to steer clear around 4.30pm when there's a mass exodus off the slopes).
Advanced skiers might get a bit bored with the main pistes, but there's some good off-piste and tree runs as long as there's been plenty of snow. A few companies run ski touring trips too, where you're taken out with a guide and spend the night in a mountain hut.
Bansko has had a lot of recent investment so lifts are modern and fast, with mostly chairlifts in the ski area. Though to get up there you need to take a 25-minute gondola ride. It's the resort's biggest bottleneck with the worst queues around 9am (don't be too polite when queuing or you'll never get to the front!). It's best to get there early or late to miss the worst queues – or look out for the minibuses shuttling people up to the top.
Buses are included in the lift pass and not many people know about them so there isn't so much of a line. There are plenty of cafés dotted around the slopes if you want to stop for a drink or something to eat – and a row of bars near the gondola for après-ski partying.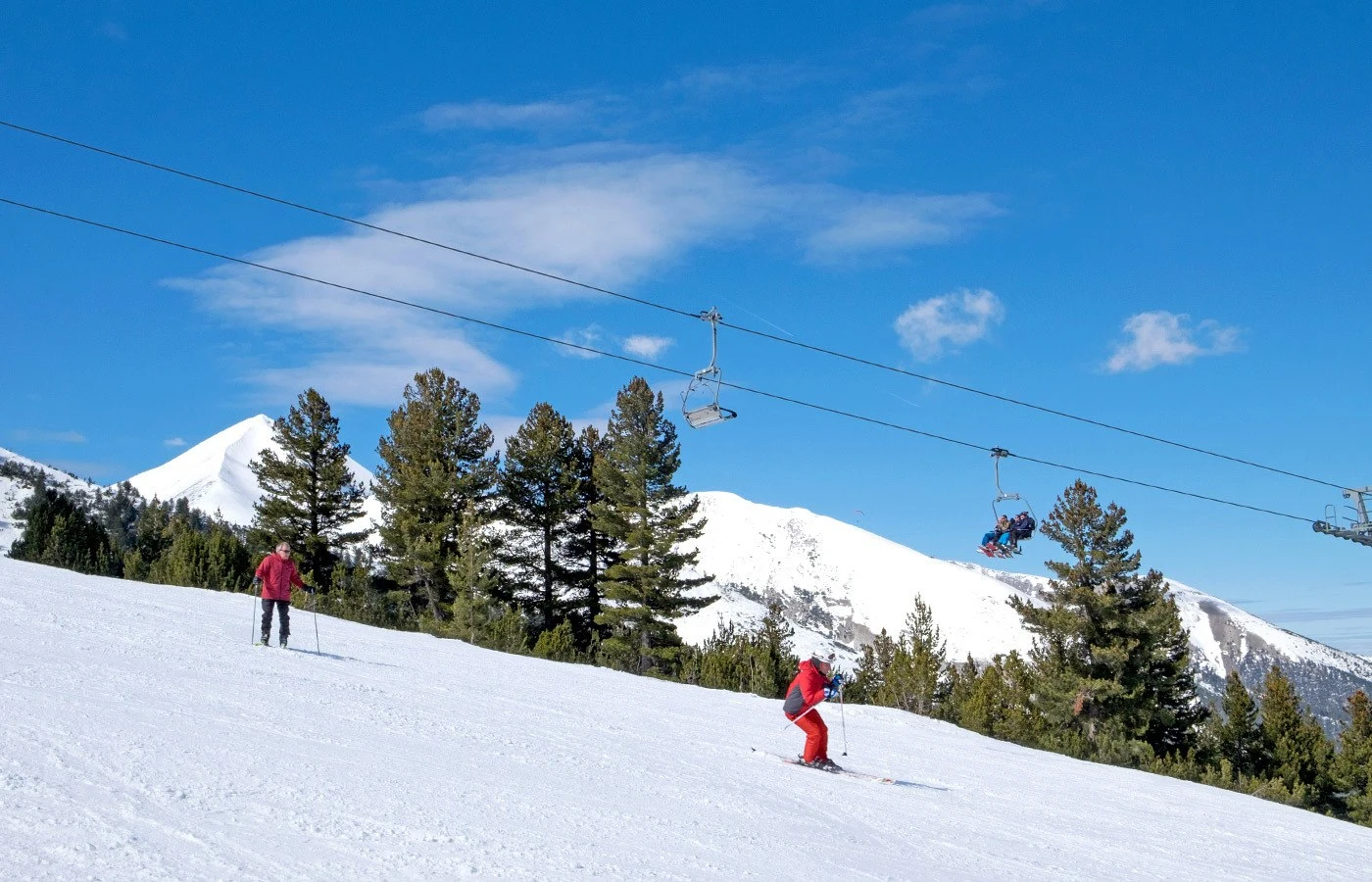 Other snowy activities
If you're not a fan of skiing or snowboarding, there are a couple of other things to do in Bansko in winter which will get you out on the slopes to enjoy the snowy mountain scenery.
You can take a snowmobile excursion through the forests of the Pirin Mountains. Or a more relaxed paced snowshoeing trip* up to one of the mountain huts. You can also rent a sledge and slide down the small hill near the bottom of the gondola.
Things to do in Bansko: Off the slopes
Explore the old town
You don't have to go far from the lift station on the edge of town with its apartment blocks and tourist bars to feel like you've gone back a few centuries. Just follow Pirin Street from the gondola end of town for around 15 minutes and you'll reach Bansko's old town, a peaceful maze of cobbled streets and traditional stone buildings.
It's the type of place to get lost and see what you find. Look out for Holy Trinity Church with its towering bell tower, streetside craft stalls, cosy restaurants and grand statues.
If you want to find out a bit more about Bansko's history and architecture, you can take a two-hour guided walking tour* (there are also free walking tours at weekends).
There are also a couple of museums, like the Velyanov House which is a traditional Bulgarian stone house decorated with 19th-century wall paintings and carved wooden ceilings. Or the house where Bulgarian poet Nikola Vaptsarov grew up has been restored to look like it would've done in his childhood in the 1910s with his poems on display.
Eat in a traditional mehana
Many of the stone building in Bansko's old town have been turned into mehanas, old-style taverns where you can try traditional Bulgarian food and wine, which often have performances from local folk musicians and dancers. Bulgarian food shares some similarities with Turkish and Greek food, with lots of local, seasonal ingredients.
If you're visiting Bansko in winter look out for hearty, warming winter dishes like Chomlek (beef stew) and Kapama (sauerkraut with chicken, veal or pork baked in a clay pot). Meat features heavily in Bulgarian cuisine but you can find vegetarian dishes like Bob Chorba (bean soup) and Sirene po Shopski (baked tomatoes, cheese and eggs).
The name mehana comes from the Persian for 'house of wine', so there's plenty of local wine too. Red wines dominate in Bulgaria but there are also some whites and rosés.
Soak in the hot springs
The area around Bansko is surrounded by natural thermal springs, which are perfect for soaking away any skiing aches and pains or just spending a relaxing afternoon. The village of Banya is a 15-minute drive from Bansko and is one of the region's centres for spa tourism, with a mix of public pools and hotels open to day visitors.
Water temperatures range from 37–57°C and there are often great views out to the snowy mountains peering out through the clouds of steam. The Izgreva spa is a bargain at the equivalent of €5 for spa entry, with three different pools, a sauna, restaurant and bar. If you don't have your own transport you can take a tour* to the spa from Bansko.
Take a day trip
A bit further afield you can also take a day trip from Bansko to the medieval Rila Monastery, a UNESCO World Heritage site that's the biggest monastery in Bulgaria and is famous for its stunning colourful frescoes. It's 100km north of Bansko but you can take a day tour* which includes transfers and gives you two hours at the monastery.
Other great local day trips include Melnik, the smallest city in Bulgaria which is known for its wine, and the Rhodope narrow-gauge railway between Septeremvri and Dobrnishte.
The details
The weather in Bansko in winter
Bansko's winter weather is cold and crisp, so pack the thermals. From December to February the average high temperatures range from 1-3°C (34–37°F) and average lows from -4–-7°C (25–19°F). The ski season normally runs from mid-December until early April, depending on snowfall. January is the coldest and snowiest month.
How to get to Bansko
Bansko is 160km or a 2.5-hour drive south of the Bulgarian capital Sofia where you'll find the nearest international airport. Many hotels and chalets offer airport transfers for their guests, otherwise there are a selection of shared transfers* available.
You can also rent a car at Sofia airport and drive to Bansko, or there are buses and a train service from Sofia to Bansko, changing at Septemvri onto the Rhodope mountain railway.
Where to stay in Bansko
We stayed at Chalet Diana-Ross, in a quiet area on the edge of Bansko's old town. It's 15 minutes' walk to the gondola, but has a minibus shuttle. The chalet's one of three in Bansko run by Snomads on environmentally and socially responsible principles. Everything's recycled, they use eco-friendly products and serve organic local food and wine.
Diana-Ross sleeps 25, with all en-suite rooms spread over four floors plus a hot tub, sauna, table tennis and cosy lounge. It's a relaxed, friendly place, run by chalet hosts who've racked up over 30 winter seasons working around Europe. It's also good value, with prices ranging from £279–£399 a week per person half-board including transfers.
Save for later
You might also like