Located on Paris' Left Bank, St-Germain-des-Prés is one of the city's most famous neighbourhoods. Over the years it's been a meeting place for intellectuals, a centre of the post-war Jazz Age and a bohemian hub for artists and writers. And nowadays it's a fashionable neighourhood full of designer boutiques and swanky restaurants. It's also my Parisian second home, where I always stay when I visit the city. So let me take you on a walking tour of my favourite spots in St Germain, Paris, past historic churches, museums and gardens. And naturally because it's Paris, there'll be some eating and drinking along the way too.
Read more: Paris walks: A self-guided Montmartre walking tour
Self-guided St Germain walking tour route
Start your St Germain walking tour at the Pont des Arts by the Seine. This was historically a favourite spot for artists, and you'll still see painters on the bridge. It's also a popular place for an summer evening picnic. The bridge was where Paris' controversial love locks trend started. The first padlock was added in 2008 and eventually they built up so much that the railings collapsed from the weight. They've now been replaced with glass panels to stop more damage.
Leave the bridge behind you and cross over the road in front of the imposing Institut de France, home to arts, humanities and science academies. Walk along Quai de Conti, then take a left turn and continue up Rue Bonaparte. On your right you'll pass l'École Nationale Supérieure des Beaux-Arts (National School of Fine Arts). You'll often see students carrying art portfolios, hoping to repeat the success of its famous previous pupils like Monet, Degas, Renoir and Sisley.
You can see work by these famous names and plenty of others on display at the Musée d'Orsay, a few minutes' walk back down towards the river. The museum is set inside a Beaux-Arts-style former railway station built at the end of the 19th century, and is famous for its clock tower. Rue Bonaparte and the streets which surround it are full of arty shops and galleries, which have everything from antique vases to bizarre modern art installations on display.
Next up is a more edible kind of artwork at Ladurée. Rue Bonaparte is one of six Ladurée stores across Paris where they sell over 15,000 of their signature macarons a day. Each season there's a different range of colours and flavours. Macarons are everywhere now but Ladurée's are the classics – light and airy with no weird flavour combinations or elaborate decoration.
Ladurée's window displays are a work of art in themselves with a rainbow of colours and elegant packaging. There's usually a queue out the door for a spot in their tea room, but you can get a macaron to takeaway for €2 (or €17 for six if you can't choose just one). Post-sugar rush, carry on walking up Rue Bonaparte towards the church of Saint-Germain-des-Prés. It's one of the oldest churches in Paris with foundations which date back to the third century.
Originally it was a Benedictine abbey surrounded by fields – known as prés in French – although it's hard to imagine it now when it's surrounded by hectic city streets. During the French revolution the abbey was used to store saltpeter, one of the ingredients of gunpowder, until it all went up in a huge explosion. It destroyed the abbey and two out of the original three towers, just leaving the current church and one of the towers still standing.
Across from the church are two of the Left Bank's most famous cafés – the Deux Magots and Café de Flore. A hundred years ago they were full of philosophers and writers debating the meaning of life, but today it's more rich housewives taking a break from designer shopping. Stop off for a drink in whichever you fancy. Follow in the footsteps of Hemingway and Sartre at the Deux Magots. Or go around the corner to Picasso's favourite Café de Flore. Try their hot chocolate made with a jug of hot milk and a jug of melted chocolate which you mix together.
Take a left down busy Boulevard St Germain then turn right into Rue des Ciseaux and left into Rue du Four. Take another right into Rue Mabillon just before Mabillon metro station and past Marche St Germain, a big covered market selling fresh fruit, vegetables, fish and cheese.
At the end of road is St Sulpice church. It's Paris' second largest church after Notre-Dame with its distinctive double towers, though if you look closely you can see that they're not quite identical. The one on the right was left half-finished and you can see right through as it's still hollow inside. Inside the church you can see a painting by Delacroix and it's also famous for its organ – call in around midday on a Sunday if you want to hear a free organ recital.
Walk on around the other side of the church and down Rue Servandoni, which gets its name from the Italian architect who designed St Sulpice's chapel. The street dates back to 1424 and has some impressive 17th- and 18th-century buildings. At the end you'll see the Luxembourg Gardens – follow the road around to the right to find the way in. The gardens are a green oasis which stretches over 22 hectares with lawns, fountains and statues as well as the Musée du Luxembourg, an art museum which is set inside a former orangery.
The Luxembourg Gardens are your classic Parisian park, full of old men playing boules and couples strolling hand-in-hand. At the centre of the gardens is the impressive Luxembourg Palace, now used by the French Senate. It was built for Italian-born queen Marie de Medicis in the 1610s. After her husband was assassinated she wanted a palace and gardens that reminded her of home, so she sent her architect over to Italy to copy details from Palazzo Pitti in Florence.
Cross the gardens and head towards Boulevard Saint-Michel and you're at the end of the walk. From here you can either head right to Luxembourg Metro station, or head left and past the Sorbonne art school and Cluny Le Sorbonne Metro station and back up to the Seine.
St Germain Paris walking tour map
To do this St Germain walk yourself, click on the map below to download a route map and directions. It's just under 2.5km and takes a couple of hours, including macaron and café stops.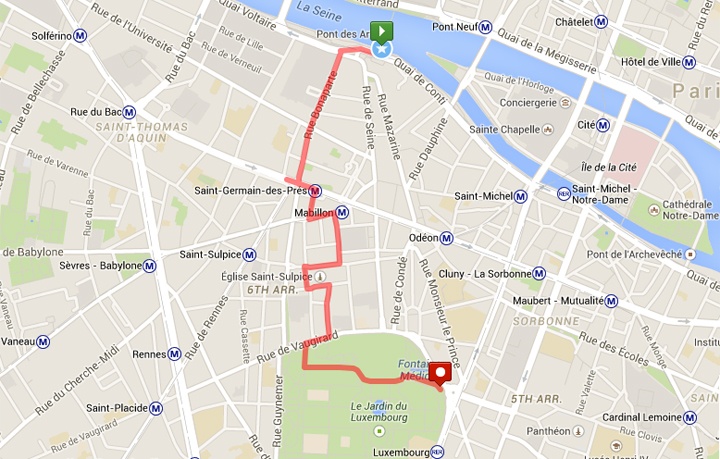 Pin it

This article contains affiliate links, where I get a small commission at no extra cost to you, thanks.