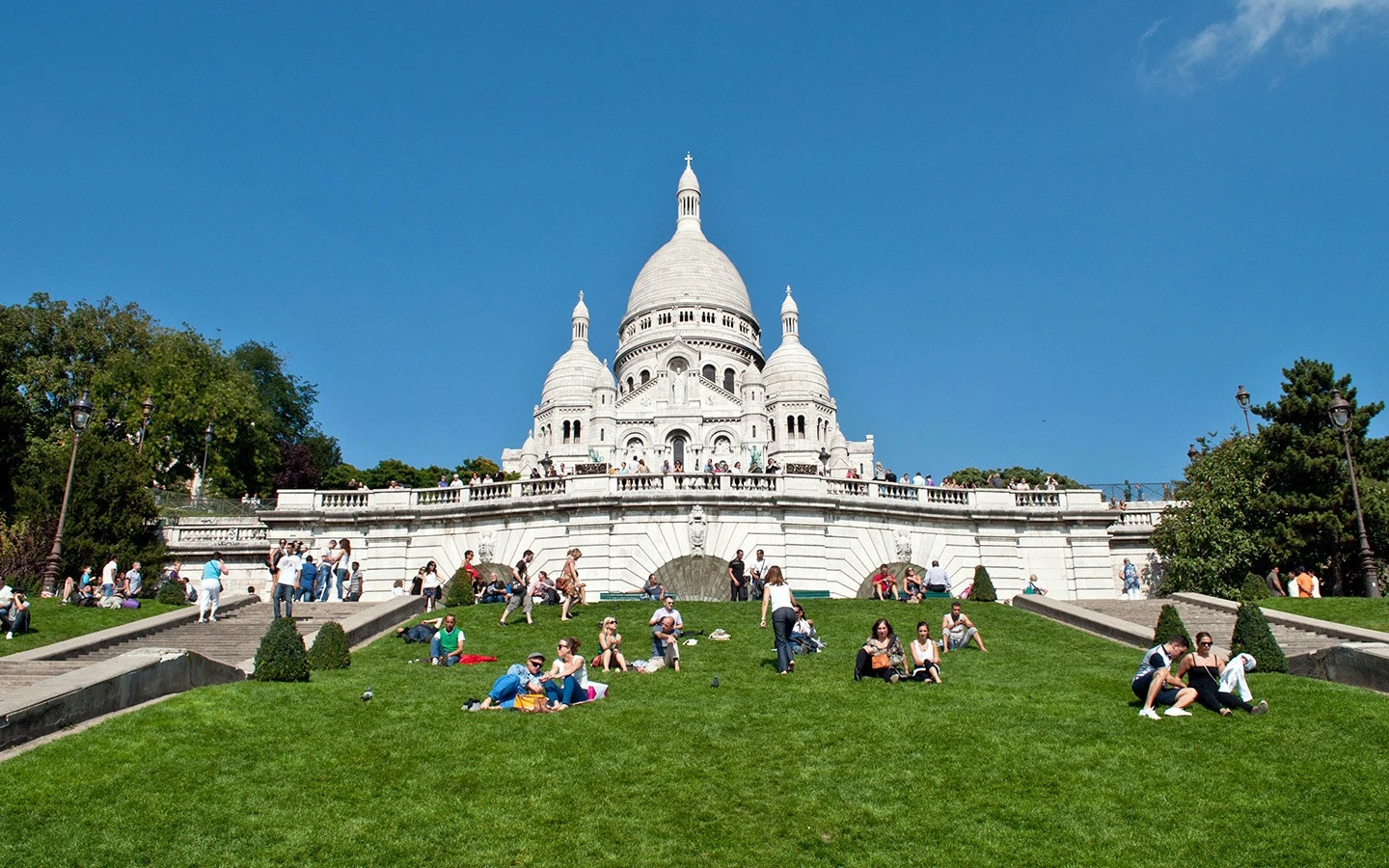 Paris is one of my favourite European cities – I've visited more times than anywhere in the world and even spent an autumn house-sitting there once. But even though I was lucky enough to have somewhere to stay, Paris is still an easy place to spend money. There are fantastic restaurants, shops and wine bars on every corner, and the entrance fees to all those world-class museums and attractions soon start to add up. So can you enjoy Paris if you're trying not to spend too much money? Here are my top tips for getting the most out of Paris on a budget.
Read more: Alternative things to do in Paris
Things to do in Paris on a budget
Paris is overflowing with beautiful, world-famous buildings and monuments – like Sacre Cœur, the Eiffel Tower, Arc de Triomphe, Pompidou Centre, Luxembourg Palace, Les Invalides and the Opéra Garnier – and going to take a look at them won't cost you a penny. You can also go and watch the artists at work in Montmartre's Place du Tertre, browse the book stalls along the banks of the Seine and take a look around Notre Dame Cathedral for free.
If the weather's good, then there are lots of parks and gardens around the city – including the Jardin des Tuileries, the botanical gardens at the Jardin des Plantes, the Promenade Plantée on an old elevated railway line, and even the atmospheric cemeteries like Père-Lachaise.
To learn a bit more about Paris, Discover Walks offer free guided walking tours. They cover different areas of the city – from the Left Bank and Marais to Notre Dame and Montmartre. Walks take about 90 minutes and off-season groups are usually small. In November, our group of three ended up with our own private guide on their Marais tour, who showed us some great local restaurants and bars as well as telling us all about the area's history, all for the price of a tip.
There are also plenty of free festivals and events going on in Paris throughout the year. There are fireworks and military parades for Bastille Day on 14 July, the Paris Plages riverside beaches during the summer, European Heritage Days in September, the Nuit Blanche all-night arts festival and the Fête des Vendanges harvest festival in Montmartre in autumn, and the Christmas lights and markets in December. Check out the Time Out Paris and Bonjour Paris websites for the latest information about what's going on where and when.
Read more: Self-guided walking tours of Montmartre and St Germain
Money-saving museums and galleries
If you time your visit to coincide with the first Sunday of each month, many museums are free to visit. They include big names like the Musée d'Orsay, Musée du Quai Branly, Pompidou Centre and Picasso Museum. Others are only free off-season (which is generally from 1 October or 1 November until 31 March), like the Louvre, Arc de Triomphe and Sainte-Chapelle. You can find a full list here. They do get really busy on free days though, so get in there early.
It's also worth checking the museums' websites for details of other discounts. Many museums, including the Louvre, Pompidou Centre, Musée du Quai Branly, Musée d'Orsay and Musée Rodin, offer free entry to under 18s as well as 18–25-year-olds who live in the EU. And you can get entry to the Rodin Museum's sculpture garden for only €4 (€2 for under 26s).
There are also plenty of lesser-known museums in the city that either have free permanent collections or are totally free all the time, like the Musée Cognacq Jay (18th-century art in a beautiful building in the Marais), the Musée d'Art Moderne (contemporary art), the Maison de Victor Hugo (the novelist's former home) and the Musée Parfum (history of perfume-making).
If you're planning on visiting a lot of attractions, a discount card can save you money. The Go City Paris Pass gives you free entry to famous spots including the Eiffel Tower, Louvre, Montparnasse Tower and the Palace of Versailles, as well as a Seine river cruise, food and drink tastings, walking tours and a hop-on-hop-off bus.
There are a couple of different versions – an All-Inclusive Pass for 2-6 days (which ranges from €114–€254, with discounts for children aged 12 and under). Or an Explorer Pass if you're only planning on visiting a few places, where you can pick and mix 3–7 attractions of your choice (€114–€299).
Top city views
There are plenty of Paris viewpoints where you can get a spectacular view across the city, but climbing to the top of the Eiffel Tower is high on the 'must do' list for many visitors. Tickets for the lifts to the top cost €25.90 (or €13 for aged 12–24s) – book in advance on their website to avoid the worst queues. But you can save money (and burn off a few pain au chocolats) by only paying €10.40/€5.20 to take the staircase up as far as the second floor.
Some of my favourite free views across the city are the steps outside Sacre Cœur, the top of the Pompidou Centre, the rooftop café at the Galleries Lafayette department store, the roof garden of the Institut du Monde Arabe and the Parc de Belleville in the 20th arrondissement.
One of the best views of Paris when it gets dark is from the top of the Montparnasse Tower. It has a prime view of the Eiffel Tower when it's lit up and sparkles on the hour. The lift up to the viewing platform on the rooftop costs €18 (€9.50 for ages 4–11 or €12.50 for ages 12–18). But for the price of a drink, you can take a separate lift up to the 56th floor where you can watch the lights from the comfort of the bar which is attached to the Ceil de Paris restaurant.
Budget food and drink
The French are passionate about food, but eating out in Paris can take a huge bite out of your budget, especially in touristy areas. But you don't need to go far off the main streets to find a bargain. For good-value meals, look out for prix fixe or formule menus in restaurants. You'll get two or three courses – from a fixed menu or with a couple of choices – for a set price.
If you want to splash out on a meal in a nice restaurant, it's a lot cheaper to eat out at lunchtime rather than in the evening. You can often get a similar meal for two-thirds of the price. You can also save on drinks by ordering a pichet (a quarter, half or full litre jug of house wine) and a carafe of tap water – mineral water and soft drinks can be more expensive than wine.
If you're staying in an apartment or hostel with cooking facilities, you can take full advantage of the great range of fresh produce in Parisian markets and supermarkets. There are streets markets like the Marché des Enfants Rouges in the Marais, the Marché Bastille, the cafés and stalls in Rue Montorgueil and the organic Marché Biologique des Batignolles. And supermarket chains to look out for include Monoprix, Franprix, Carrefour and Marché U.
Even if you don't have cooking facilities, you can always find cheap snacks and street food – like falafel in the Marais or crepes in the Latin Quarter – or pick up a picnic lunch of a baguette, cheese and wine to eat in a park or on the banks of the Seine. The river's banks and bridges turn into an informal party spot on warm evenings, lined with people chatting over a bottle of wine.
Low-cost Paris transport
Paris has an easy-to-use Metro system, but it's a really walkable city with a lot of the main sites located along the banks of the Seine. You can buy single tickets for €1.90 and day passes if you're planning on using the Metro a lot – they cost €7.50 for central Paris.
You can also buy a carnet of 10 tickets at a reduced price of €16.90 from station ticket machines. If you're travelling to Paris by Eurostar, you can also buy them on board to avoid the big queues at the Gare du Nord. It's worth making the Metro trip on Line 6 between Passy and Bir-Hakeim for amazing views of the Eiffel Tower as the Metro crosses the river on a viaduct.
Boat trips on the Seine are really popular, with everything from five-course dinners to Champagne cruises available. But for a budget way to see the sights along the river, the Batobus does a hop-on-hop-off loop between the Jardin des Plantes and the Eiffel Tower. Tickets cost €17 for one day, but better value is the pass for two consecutive days for €19 per person.
So those are my tips for seeing Paris on a budget – do you know of any more Paris bargains or have any money-saving tips?
Pin it
This article contains affiliate links, where I get a small commission at no extra cost to you, thanks.