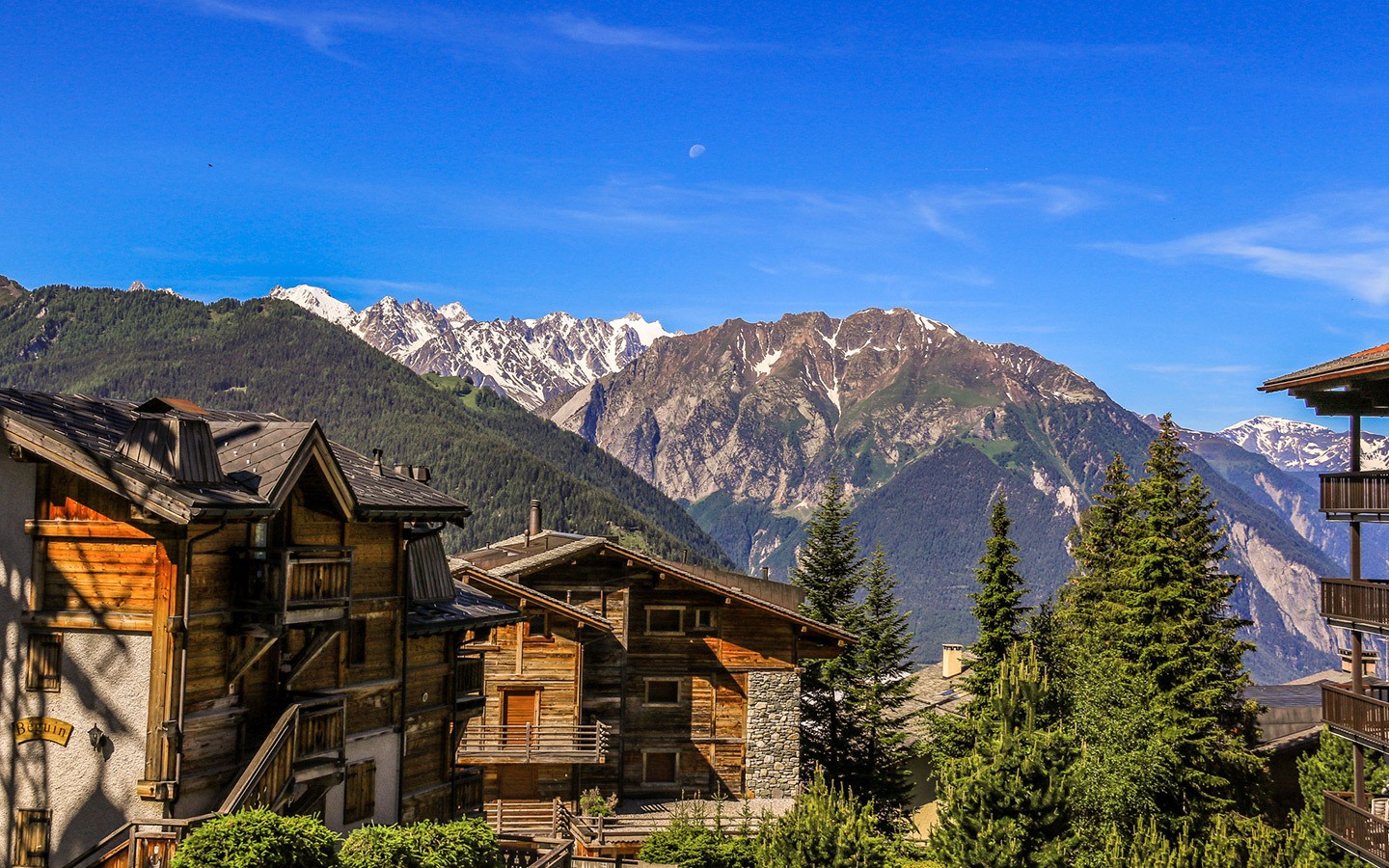 Dylan Jones from Shoot from the Trip heads to Verbier in Switzerland on assignment for On the Luce to check out what this stunning ski resort has to offer during the summer months.
Birds tweeting, cowbells clanging quietly in the distance and the occasional sound of a mountain bike whizzing past. These are the sounds that you will hear while sitting on your balcony during the summer season in Verbier, Switzerland. You may know Verbier as a luxury ski resort and winter playground, but this beautiful location in the Alps has so much to offer during the summer season. Located in the south of Switzerland and perched on a south-facing plateau 1500m above sea level, Verbier is the perfect mountain resort for a summer break.
This trip was hosted by Verbier Tourist Office, but all views are our own.
With breathtaking views across the Val de Bagnes and the surrounding mountain ranges, it's an infinite playground for those who want adventure, fun, culture and relaxation. You're unlikely to spend much time on your hotel balcony though, as there's so much to do during summer in Verbier. With over 800km of bike tracks and 500km of walking trails, there's no excuse to stay indoors. The town and the surrounding hills are packed full of restaurants offering wonderful and locally produced dishes, especially cheese. Or for those looking for a more relaxed break, there are spas and mountain yoga. It's the ultimate all-round destination.
Verbier Infinite Playground (VIP Pass)
When you stay a minimum of one night in the region and pay the tourist tax, you're issued with the Verbier Infinite Playground Pass (VIP Pass). This pass provides you with discounts to many local attractions and free access to the ski lifts for pedestrians and a 50% reduction for cyclists throughout the summer season. There is unlimited access to the region's local buses, meaning it's easy to get out and explore further afield. So whether you are an explorer, a nature-lover or a thrill-seeker, you are likely to make some great savings by using the VIP Pass.
Things to do in summer in Verbier
Outdoor activities
A visit to the Alps during the summer months is mostly focused on spending time outdoors. The bright green valleys are bathed in sunshine, sitting against the backdrop of snow-capped jagged peaks which stretch out as far as you can see on the horizon. The scenery is stunning and perfect for hiking, biking and exploring.
Hiking
Verbier and the Val Bagnes area has 500km of walking trails in the mountains, valleys and surrounding forests. From gentle hikes to more challenging climbs, there are a wide range of trails available depending on your fitness levels. For a simple family hike, the Bisse du Levron trail is perfect. The Bisse, a manmade stream constructed in 1460, transports water along the mountainside above Verbier before leading to a waterfall cascading to the valley below.
The trail can be accessed by taking the Medran lift to Les Ruinettes from Verbier. The trail follows the Bisse along the hillside with stunning views down to Verbier and the valleys below. Being so high above the town was a really peaceful experience. Apart from a few hikers we passed along the way, the only noises were the trickling of the Bisse and sounds of surrounding wildlife. The gentle cowbells of cattle grazing on the pastures and the chirping of marmots were the most prominent, along with birdsong coming from the trees.
A gentle hike completed, it was time to make a stop at a mountain restaurant. Conveniently located near the Bisse du Levron trail is the Restaurant La Marlénaz. A lovely high-altitude restaurant at 1895m with a large terrace overlooking Verbier, the service was friendly and the food was delicious. Serving rostis, fondues, raclette, meats and salads, there was a heavy focus on traditional Swiss cuisine. We all opted for rostis with various toppings, washed down with a local fruity white Fendant wine. It was all fantastic.
For a slightly more strenuous hike, it's worth taking the trail to Pierre Avoi. A tall rock formation, Pierre Avoi towers over the surrounding landscape at 2473m and provides 360-degree views of Verbier, the Rhone Valley and Mont Blanc mountain range. The Pierre Avoi trail can be reached by taking the Savoleyres mountain lift from Verbier. The hike is fairly simple until the final climb to the top of the Pierre Avoi, where ladders and chains assist hikers reaching the summit.
E-Biking
A hugely popular summer activity in Verbier is mountain biking. Verbier BikePark has more than 800km of trails and mountain roads, suitable for downhill, enduro and the slightly simpler E-biking. Bicycles are a great way to cover a lot of ground, providing optimum opportunities to see the awesome mountain scenery. If you are not in great shape though, the added assistance offered by the E-bike (a bike with an integrated motor) is perfect.
If you're a beginner to E-biking, there are guides on hand from Verbier BikePark to offer introductory sessions, who provide great technical advice. Our E-biking excursion was with a guide, who gauged our experience and recommended the best and most suitable routes for our skill level. E-bikes can be hired from many locations across Verbier. Ours were hired and collected from the Backside Verbier shop in the centre of the resort (CHF55 for half a day).
After a ride across Verbier, we then started our climb, initially heading up some winding mountain roads with stops on request for photographs, before hitting the forest and some true mountain bike-worthy paths. With the bikes in electric mountain bike mode there was some assistance which was matched to the effort put in by pedalling. This made light work of the ascent, especially useful on hill starts after pausing to take in the views. This was followed by a descent back to Verbier, but only to pass through before heading to the organised lunch spot.
The Restaurant la Croix-de-Coeur is a fine dining mountain restaurant located between Verbier and La Tzoumaz. With fantastic panoramic views of the surrounding mountains, it's a beautiful opportunity to sit out on the sunny terrace, soak up the views and enjoy the delicious dishes on offer. Lunch over, it was time to head back to Verbier after a really enjoyable experience. If you are looking for a way to see great views that change as your perspective does, challenging yourself, but with the back-up of an electric motor, then this activity is for you.
From the mines to the Alpine flavours
Another outdoor activity, and something a little unusual, was a guided walk and tour of an abandoned mine (CHF10 for adults and CHF5 for children with the VIP pass). Beginning at the Col des Planches mountain pasture, packed with summer wildflowers, we were briefed on the geological richness of the area and the history of mining at Mont-Chemin. The walk to the mine takes an hour, through meadows and forests with information boards along the way.
At the mine entrance, we were provided with hard hats and torches before heading into the dark passageways deep underground. Within seconds of entering the dark tunnel, the temperature plummeted in comparison to the balmy summer temperatures outside. It's important to have warm clothing and sturdy footwear. Although the 400-metre-long tunnel through the mine is flat, it can be a little uneven underfoot with some moisture seeping through the rock.
Once inside, it was fascinating to see the changes in the rock formations where granite, quartz and marble were intertwined with sudden flecks of blue and green minerals, used for making jewellery. Iron, lead and silver were mined from the beginning of the Middle Ages and extensive mining of fluorine took place in the 20th century. The mine tour is followed by a hike back to Col des Planches where the group have the opportunity to taste a selection of local produce from the area. You can be pretty much guaranteed that this will involve cheese!
Aerial walkway
For an adventure without leaving the resort, the aerial walkway near the Medran cable car station is ideal for the whole family. A high ropes adventure course, there are three difficulty levels and it is suitable for children from seven years of age (CHF12.50 for adults and CHF7.50 for children with the VIP pass). There are three courses, made up of a series of high walkways and zip wires. Some sections can be quite challenging, but the adrenaline rush of whizzing through the trees on the zip wires makes the hard work worthwhile.
For a slightly more challenging adventure, there are two Via Ferrata courses in the region. These are far more challenging and nerve-wracking, and you will be accompanied by a mountain guide. Rope bridges, carved steps and ladders, suspended high over deep gorges – if this sounds more like your idea of adventure then they are great options.
Food and drink
Food and drink plays a huge part in the culture of the area. The Val de Bagnes region is famed for its cheese. Raclette and Tomme cheese are popular in the area, so naturally there is the opportunity to see the production and learn about cheese-making techniques.
From Cow to Cheese
A really informative and enjoyable excursion, From Cow to Cheese is a half-day activity which takes you to a cheese-making facility before visiting the alpine pastures where the Herens cows graze, to see a more traditional method of cheese production (CHF10 for adults and CHF5 for children with the VIP pass). This is followed by a tasty lunch at a mountain restaurant.
The tour begins at Fromagerie D'Etiez in Volleges to see the production of raclette cheese from start to finish. Unpasteurised milk arrives early in the morning from local farmers before the process begins. The milk is warmed and mixed with cultures to thicken, forming a curd before being placed in circular moulds and pressed for a designated time. It's then turned and pressed again and the cycle continues to remove excess liquid to reach the correct consistency.
The cheese is the submerged in a salt bath which adds flavour as well as forming a rind. Finally, the cheese is stored in cool (and carefully monitored) temperatures on wooden shelves to age. During this aging process, the cheese is washed and turned regularly by hand. The raclette cheese is stored for at least 90 days before it is ready to be sold.
A tasting session followed, with the opportunity to sample of range of delicious cheeses produced at the Fromagerie D'Etiez. These cheeses as well as other local produce can be purchased from the store on site. No need to worry during closed hours, as there is a cheese vending machine outside. Yes, you heard it right, a cheese vending machine. Heaven!
Following the tour of the fromagerie, it was time to head to the mountain pasture at Alpage du Tronc to meet the Herens cows. These cows are a small, horned breed of alpine cattle coloured black, brown or dark red. They are bred primarily for beef but produce around 3200kg of milk per year and are well adapted to graze on high-altitude pastures. A distinguishing feature of these cows is that the females are aggressive and dominant, and there is a local tradition of cow fighting in the Valais region, which is a major tourist attraction.
The cows are herded in twice daily for milking and a more traditional cheese making process takes place here. The general process is the same as the Fromagerie D'Etiez, albeit with less machinery and more processes carried out by hand. It was interesting to compare both. The excursion was concluded with another delicious lunch involving, you've guessed it, cheese.
Brewery tour
If beer is to your tastes, then the V Bier Brewery Tour at Vie Montagne is right up your street (CHF12.50 for adults with the VIP pass and free for children under 15 with a non-alcoholic drink). Vie Montagne is a private members club with a restaurant, gym and a public bar. Located on the Rue Medran in the centre of Verbier it also has a microbrewery, with six of its own beers on tap. These beers are all brewed on site by the resident brewer, ensuring freshness is guaranteed.
The set-up is impressive with the malt being ground on site, before being mixed with water drawn from nearby Lac de Louvie, locally purified and nothing other than ingredients added. Once brewed and cooled the beers are sent to one of six dedicated fermentation tanks before being pumped to casks and served. This has to be one of the shortest travelled beers in the world, from brewery to glass in less than a hundred feet.
There are six beers on offer: Pilsner, V-Wit, Pale 3, Pale 4, Pale Ale and Red IPA. From a refreshing Pilsner, to a great Wheat Beer, a range of Pale Ales varying in strength to the final Red IPA – a flavoured beer which is infused with the earthy tasting beetroot. This surprisingly complimented the Pale Ale flavour, making for a great all-rounder.
The beers were all served in a magnificently fitted out space. Books and curiosities lined the walls, lots of wood befitting the nature of cabins in the area and great lighting (a wonderful array of lamps hanging from above into the public bar). The restaurant was a more cosy club-style with leather tub chairs and darker wood. Definitely a space worth visiting.
Relaxation and wellness
Whenever you take a trip, you should always allow some down time. Time to relax and recharge. And what better place to recharge than high up in the Alps with the fresh mountain air around you. Summer in Verbier offers plenty of options for rest and relaxation.
Mountain yoga
Spending a weekend in the mountains hiking, biking, eating, drinking and relaxing brings with it a special kind of mindfulness and reflection. However, sometimes that isn't enough. It's just the start of the journey and you need more. Wholey Cow offer a range of yoga, massage, fitness, PT and Pilates options at their premises in the centre of Verbier.
What they also offer, something extra special, is yoga at the mountain top. It's a short gondola ride on the Medran lift to Les Ruinettes, before crossing to the terrace of Le Mouton Noir Restaurant. This is where the class takes place – in front of an amazing backdrop of the Mont Blanc mountain range. This is the spectacular location for an hour-long yoga session.
The class was geared to all talents, with three options for differing yoga abilities (beginners for me). We were guided through the class and calmly given instructions and the rhythm for breathing and holding poses. The location, the exercise and the mindfulness time left me feeling really good at the end of the class. A great experience.
Spa days
For a truly relaxing and indulgent experience, head to the luxurious W Verbier hotel and visit the AWAY Spa. With 800 square metres of relaxation space including nine treatment rooms, a jacuzzi and steam rooms, you can relax, rejuvenate and feel refreshed for the remainder of your trip. Spend time in the indoor/outdoor heated swimming pool to make the most of the surroundings.
Exploring the resort of Verbier
With Verbier being geared up for the busy winter season, there is no shortage of bars, restaurants and shopping options in the resort. The ski gear may be put away but there are stores selling summer hiking and biking gear as well as accessories. We paid a visit to SunGod's Basecamp in the resort centre. If you haven't heard of SunGod before, they are a super-cool company that sell innovative and stylish sunglasses, snow goggles and accessories that are built to last and suitable for all of your outdoor adventures.
Predominantly an online retailer, their recently opened flagship store in Verbier is a space where people can come in, design their own sunglasses from a wide range of options, grab a beer or a coffee and chill out in cool surroundings. SunGod have so much confidence in their product that they carry a lifetime guarantee. They are durable and hardwearing, but also really cool and customisable – we were gifted a pair to customise to suit our tastes.
There might not be any après-ski in summer, but there's certainly the need to chill and wind down after a hard day of hiking or biking. You're never too far from a bar or restaurant in the resort. Notable restaurants to mention were Chez Martin and Millenium, both of which are centrally located. Smart and stylish Chez Martin provided a friendly welcome with a menu of local foods, meat, fish and a selection of Italian dishes. A starter of tasty beef carpaccio, followed by a saffron risotto with slow cooked beef ragu was washed down with a hearty glass of Pinot.
Millenium, on the corner of Rue Medran, has the option of outdoor or indoor seating. The interior was cosy and welcoming with low-hanging lamps, dark wood and traditional features, creating a lovely atmosphere. A perfectly cooked tuna with wasabi on blini starter, followed by Yakitori beef skewers and fried polenta as a main was beautifully presented and the flavours were divine. Alongside a glass of local Gamay, it was a really enjoyable dining experience.
Verbier accommodation
There are a range of accommodation options in Verbier, with self-catering chalets, Airbnbs and several hotels of varying star ratings. We stayed at the three-star Hotel Bristol on the Route des Creux, in the very heart of the resort. A lovely family-run hotel, the welcome was friendly and personable. The rooms have been recently decorated and are simple and stylish, with splashes of colour and wood details. They are large and airy featuring a king-sized bed, desk area, large wardrobe, mini bar and a balcony with the most stunning views of the mountains.
Breakfast is included in the room rate. A continental buffet style breakfast with hot offerings such as bacon and eggs, served in a lovely bright conservatory. The lobby area has a small bar and seating area. It's the perfect base to explore the town and surrounding area. There is no onsite restaurant, but given the location in the centre of the resort, everything is on the doorstep. Rooms from CHF173/£138 per room per night for a twin room.
How to get to Verbier
Verbier is conveniently located in the south east of Switzerland, and is well serviced by planes, rail or by road. We flew from London Heathrow to Geneva with Swiss International Air Lines – a short flight of less than 90 minutes. SWISS operates more than 170 weekly flights to Switzerland from London Heathrow, London City, Manchester, Birmingham, Edinburgh and Dublin, which start from £55 one-way (hand luggage only) or £71 one-way (all-inclusive).
From Geneva Airport, we took a scenic train journey following the Swiss edge of Lake Geneva, before arriving at Martigny. The Swiss Transfer Ticket covers a round-trip between the airport/Swiss border and your destination for £112 second class or £182 first class. A transfer at Martigny railway station onto the St Bernard Express train whisked us into the mountains to Le Chable, then you can either take a gondola, local bus or taxi to Verbier, a 15-minute journey.
Pin it