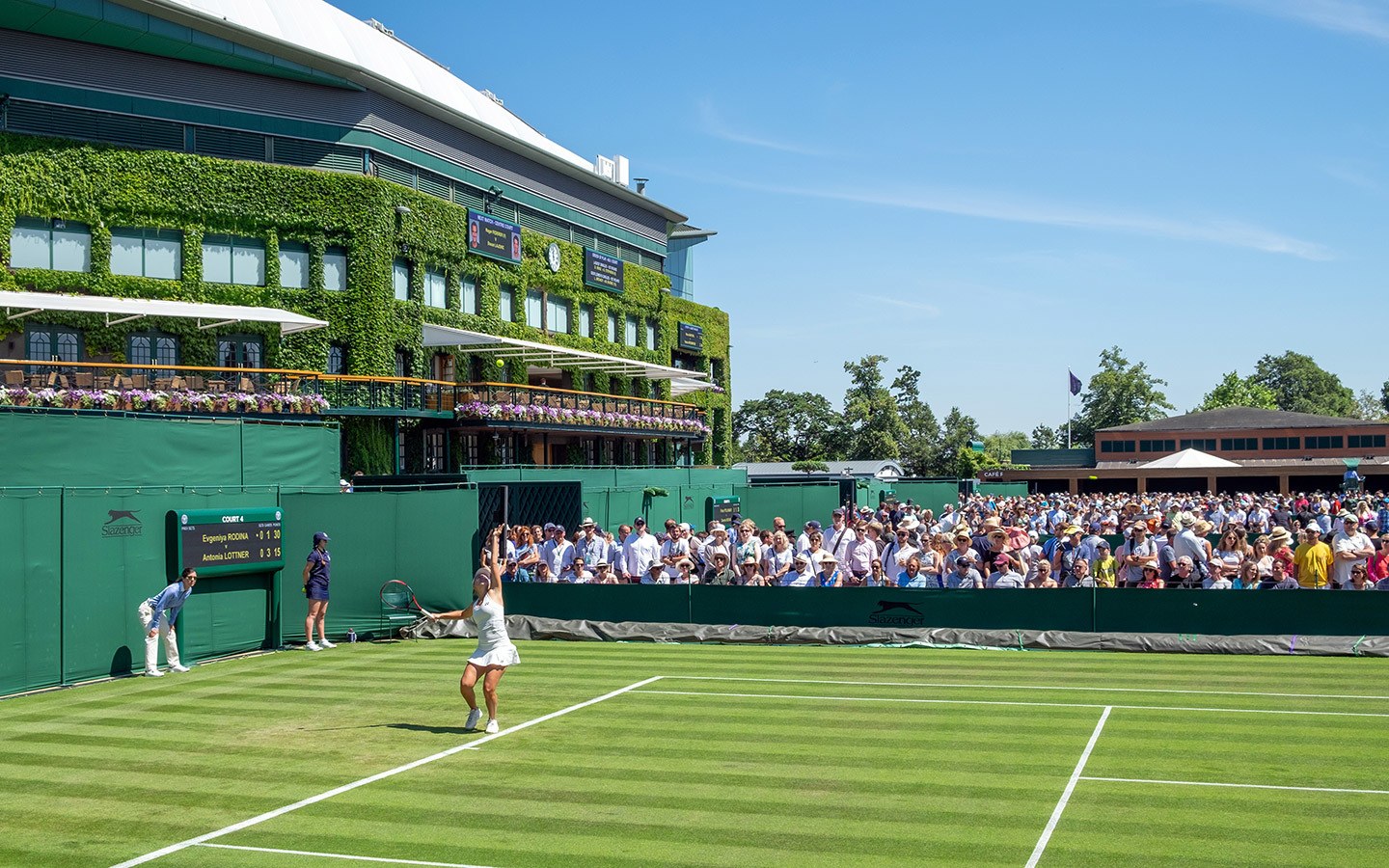 It's as much a British summer tradition as Pimms and strawberries and cream – which are in ample supply – as London turns tennis mad for two weeks each year for the Wimbledon Tennis Championships. Starting at the All England Lawn Tennis Club in 1877, its become one of the world's most famous tennis tournaments, and is the only Grand Slam played on grass.
Read more: Alternative things to do in London
From the queue to the Royal Box, Wimbledon's traditions are as much a part of the experience as the actual tennis. So whether you're a Brit like me who's grown up watching it on TV every summer (and still can't believe we finally got our long-awaited British winner) or an overseas visitor wanting to experience a uniquely British tradition, here's everything you need to know about visiting Wimbledon Tennis Championships this summer.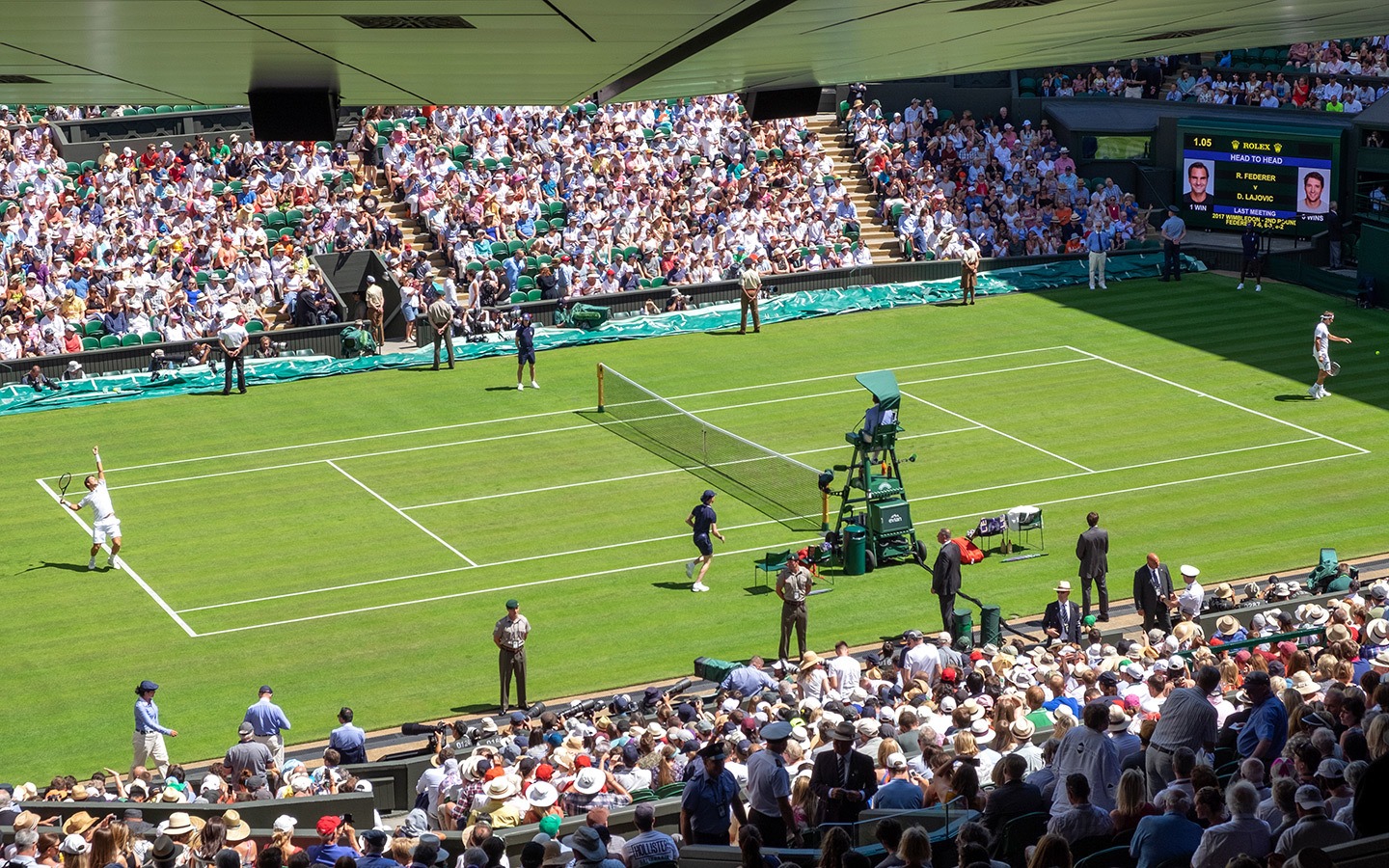 When do the 2021 Wimbledon Tennis Championships take place?
This year's Wimbledon takes place from 28 June–11 July 2021. 675 tennis matches are played on 19 courts over the two weeks of the Championships. The main events are the men's and women's singles but there are also men's, women's and mixed doubles as well as junior events (boys' and girls' singles and doubles). The grounds normally open each day at 10.30am, and matches start from 11am on the outside courts and 1pm on Centre and No 1 Courts.
How do you get tickets for Wimbledon?
There are a few different ways to get tickets for the Wimbledon Championships, but the main way is through the ballot. There's been a public ballot for the tournament since 1924, and UK residents can apply for a ticket in a lottery which is drawn at random. It's really oversubscribed though so you might not get lucky, and you need to start applying early.
Until recently the ballot was done through paper forms, but it's now run electronically. The ballot normally opens at the start of September and you need to register with myWIMBLEDON by the end of December. If you're successful, you'll start to hear back from mid-February. If you get an offer email you have a certain number of days to pay for your tickets. They range from £33–£225 depending on the day and court.
You don't get a choice on what day or court you're allocated, so if you don't want the tickets they get put back into the next ballot. Ballots for returned tickets go on right up until the tournament starts. If you're not a UK resident there's a separate overseas ballot, but it only has a few hundred tickets so you might be better off trying another way.
What if I don't manage to get a ticket in the Wimbledon ballot?
If you don't get lucky in the ballot, the other ticket options are debentures, corporate hospitality, Ticketmaster or the queue. At the pricey end of the spectrum are hospitality packages and debenture seats. Debentures are five-year season passes to Wimbledon where you get the best seats on Centre Court and No 1 Court for each day of the Championships.
Debenture owners can sell off any unwanted tickets on the Wimbledon Debenture Holders website if they can't make certain days. You are looking at around £1000 plus per ticket but you do get access to the debenture holders' fancy lounges and restaurants.
More reasonable are the tickets available on Ticketmaster, but there are only a few hundred so you need to get in there quick. There are a couple of different types – returned tickets sold off 48 hours in advance and reserved tickets sold off in the morning for the next day. Otherwise there's the legendary Wimbledon queue – an institution in its own right. Unfortunately social distancing means there's no queue in 2021 but it'll be back for 2022.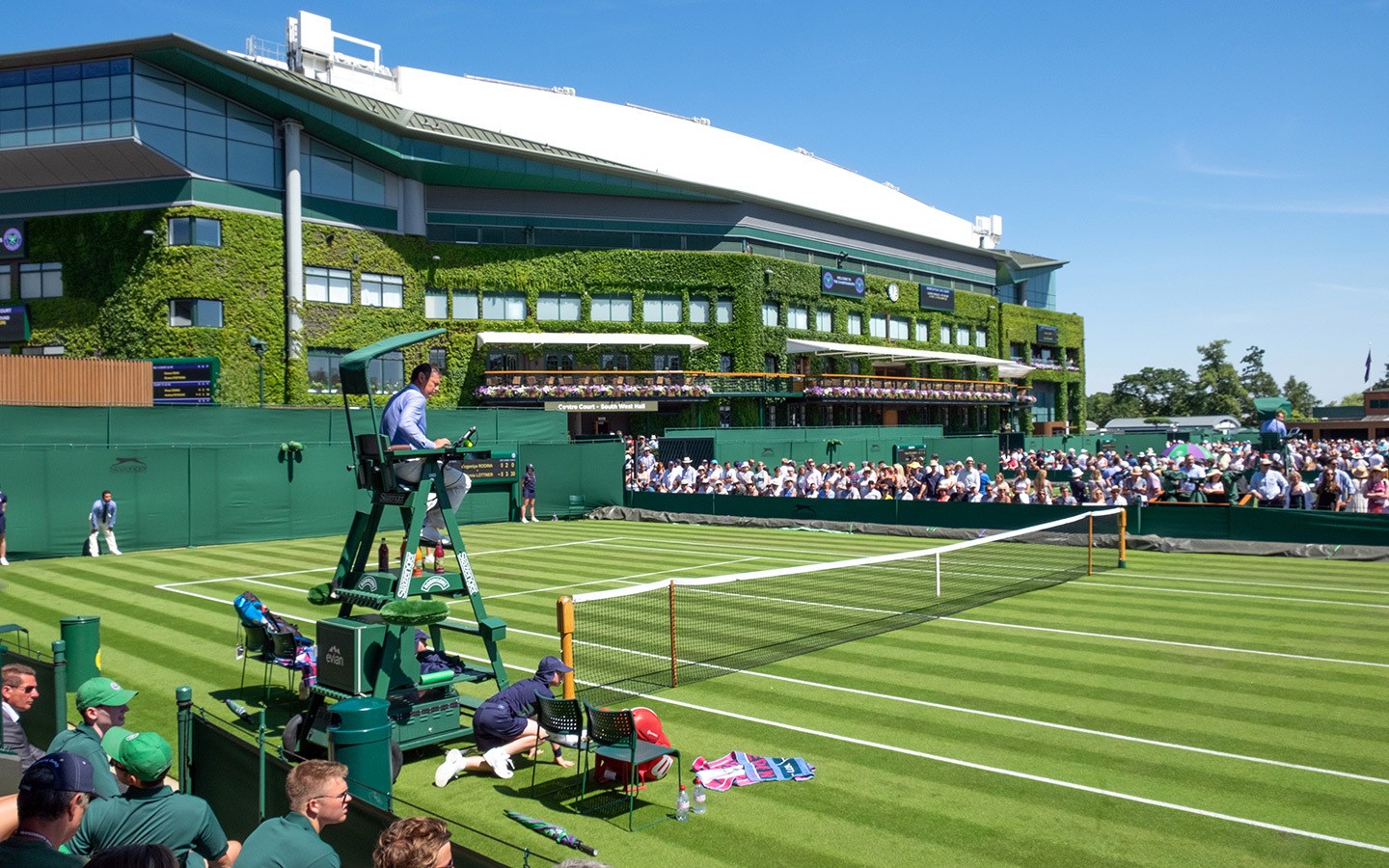 A limited number of seats for Centre Court (except during the last four days), No 1 and 2 Courts are sold off on the day of play. But if you want one you'll probably have to get there the night before and camp in the designated area of Wimbledon Park (you can store your camping gear in left luggage). You can only get one ticket per person, so if you're going with friends you all need to queue, but there's a great atmosphere. And this is a queue with its own etiquette, where you get a 'queue card' to mark your place if you need to nip out.
If you don't fancy camping, a few thousand ground passes are available on the day if you arrive early. These let you watch matches on the unreserved courts 3–18 as well as the big matches on screen from Henman Hill (or Murray Mound, depending on your age!). Or the easiest way to get a taste of Wimbledon action is to come late in the day and pick up a resale ticket, where people who've left for the day let their tickets be sold on for charity.
How do you get to Wimbledon?
The Wimbledon Tennis Championships take place at the All England Lawn Tennis and Croquet Club (London SW19 5AE). The roads get very clogged up so the best way to get there is by public transport, but be prepared for queues. The closest Tube station is Southfields, an easy 15-minute walk away straight down Wimbledon Park Road. Or Wimbledon station is slightly further away. There's a shuttle bus from either station if you need it.
What should I wear to Wimbledon – and take with me?
Unlike the players – whose all-white outfits are strictly enforced – there isn't a dress code if you're visiting Wimbledon, unless you're in one of the hospitality or members' areas. Think smart casual though, especially for Centre Court and No 1 Court.
The site's pretty big so you'll be doing plenty of walking, so wear comfortable shoes. Also as this is the UK, you never know what the weather will do, so pack clothing for all occasions – bring a jumper, umbrella, raincoat and sunglasses with you.
If you're lucky enough to get a sunny day, there's limited shade on most courts (unless you're underneath the roof overhang on Centre or No 1 Court) so bring a hat, sunscreen and water bottle. There are water refill points around the site as well as a decent array of other services like ATMs and a pharmacy. You can't take bags bigger than 40cm x 30cm x 30cm into the grounds, but you can leave bigger items at left luggage (which costs £1/£5).
And what if it rains?
This is England in the summer, so chances are there'll be rain at some point during the Championships. But the days when everything ground to a halt in the rain and we had to rely on Cliff Richard to entertain us are long gone. If you've got tickets for Centre Court or No 1 Court, both have a retractable roof which means play can carry on. It takes about 10 minutes to close the roof and another 20 to get the air conditioning conditions right.
But on the other courts rain still stops play. You can hide out in one of the restaurants or cafés, or there's the Wimbledon Lawn Tennis Museum on site which is the world's largest tennis museum and tells the story of the sport from 1555 to today – though you do have to pay extra to enter (£13 adults, £11 concessions and £8 children under 16).
Is there anything to eat other than strawberries and cream?
Pimms and strawberries and cream are an integral part of the Wimbledon experience – 23 tonnes of strawberries are served during the Championships. But they're not cheap, with a punnet of 10 strawberries £2.50 and glass of Pimms £8.50. There are lots of other eating options though, from takeaway cafés to sit-down restaurants and Champagne bars.
Centre Court and No 1 Court have a few options each and there are also plenty of places to eat around the grounds. If you're on a budget you can bring in your own supplies, including up to a bottle of wine or two cans of beer per person. If you don't want to carry a picnic in with you there's a handy M&S Foodhall opposite Southfields Tube station. You can't take hard-sided coolboxes in but you can bring bags if they're within the size limit.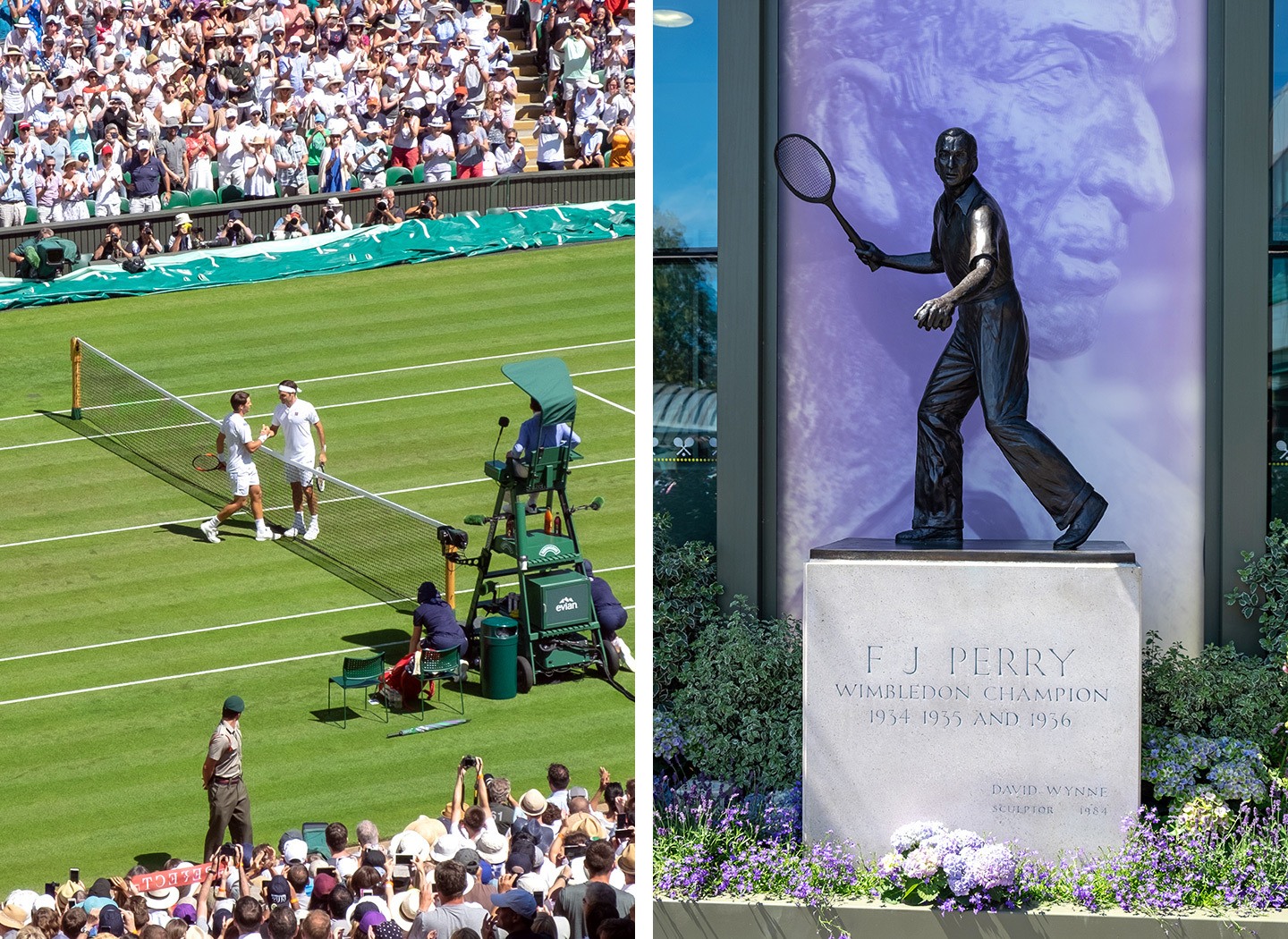 Where should I stay if I'm visiting Wimbledon?
Staying in southwest London makes things easiest – and if you're within walking distance then even better as you can avoid the crush on the Tube. Hotels in Wimbledon* get booked up really early, so you might want to look at Wandsworth, Putney or Earlsfield too, or it's easy to reach Wimbledon from anywhere in central London that's on the District Line.
Many local residents rent out their houses during Wimbledon. We rented a one-bedroom apartment 25 minutes' walk from the grounds for £144 a night for two people (including fees). Check out VRBO* and AirBnB for listings, but again nearby places get booked up early.
Have you ever visited Wimbledon or is it on your wishlist?
Pin it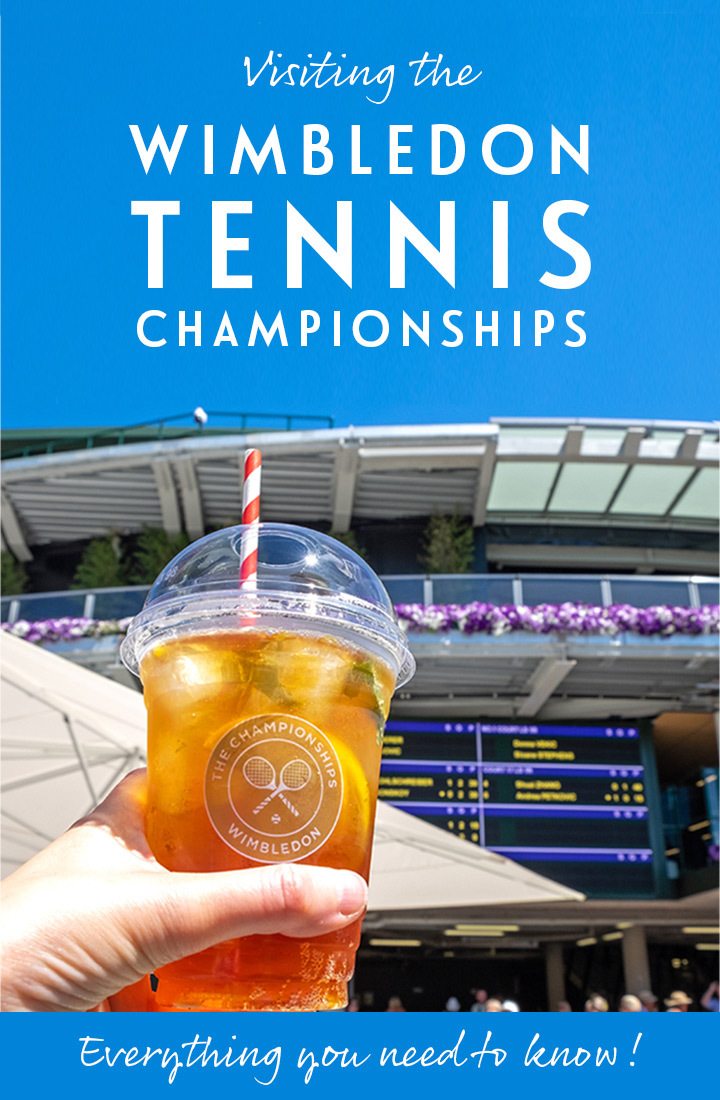 * This site contains affiliate links, where I get a small commission from purchases at no extra cost to you.