Discover the best things to do in Palma, capital of the Spanish island of Mallorca, on a sunny city break featuring historic architecture, spectacular views, seafront walks and fabulous food markets.
* This site contains affiliate links, where I get a small commission from purchases at no extra cost to you.
The largest of the Balearic Islands, the Spanish island of Mallorca (also known as Majorca) is a favourite with summer visitors. But where many people head off to a beach resort or into the mountains, the island's capital Palma also makes a great city break destination. And it's a world away from the stereotype of Mallorca's built-up beach resorts.
There's a charming, traditionally Spanish old town, historic landmarks like the Gothic Le Sau cathedral and Almudaina Palace, a waterfront promenade complete with sandy beaches, and delicious food markets. So if you're looking for a sunny destination to escape to for a few days, here are the best things to do in Palma, Mallorca.
The best things to do in Palma, Mallorca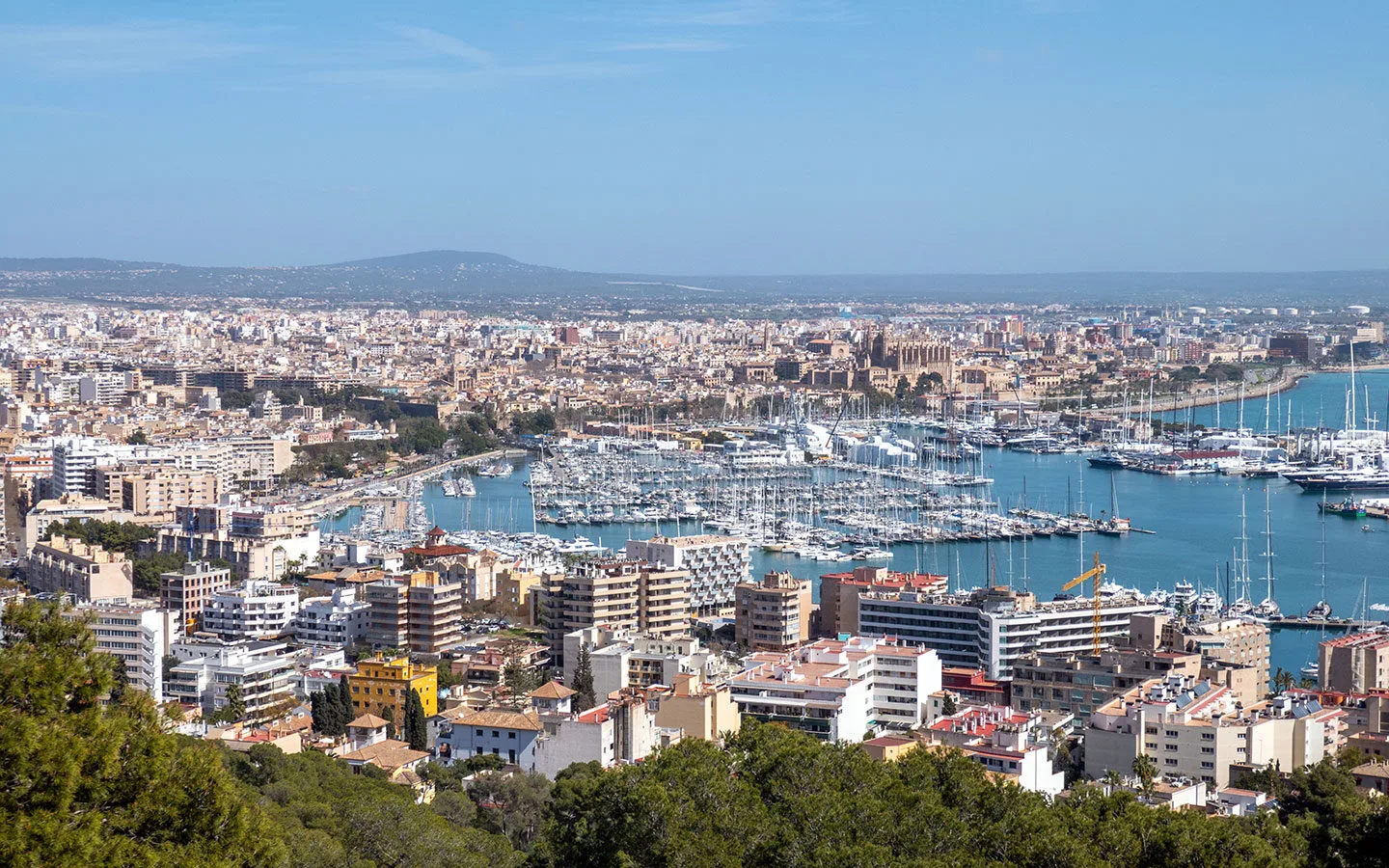 Visit the cathedral
Palma's 14th-century Cathedral of Santa Maria ('La Seu' in Catalan) dominates the city skyline, with its towering buttresses visible for miles around. It was built for King Jaume I in Gothic style and took over 350 years to finish. Since then it's been altered and added to, including by Antoni Gaudí who took over renovations in the early 20th century.
Inside you get a better idea of its vast scale, at over 110 metres long and with a nave 44 metres high. There are 61 stained glass windows, including a giant rose window 13 metres in diameter, flooding the interior with colourful light when the sun shines. You can also see Gaudí's giant, illuminated crown of thorns sculpture hanging over the alter.
A basic entry ticket costs €9 but you can add on a guided tour or access to the rooftop terraces for views over Palma. The cathedral is one of the most popular things to do in Palma though, so it's worth booking a skip-the-line ticket* to avoid queuing.
Tour the Royal Palace of La Almudaina
Just opposite the cathedral is another must-see historic monument – the Royal Palace of La Almudaina (entry €7). It was built as a Moorish palace before being taken over by the Kings of Spain, and is made up of a mix of Islamic and Gothic architectural styles.
The palace is still the official residence of the Spanish royal family in Mallorca, but they mainly only use it for functions and stay in a more modern palace nearby.
Visitors can look around the royal apartments, decorated with tapestries, furniture and artworks from across its history. There are also lovely views from the terrace and gardens.
Climb up to the Castell de Bellver
One of my favourite things to do in Palma was to climb up to the Castell de Bellver, just outside the city centre. This spectacular hilltop castle was built in the 14th century as a royal residence for King Jaume II. It's the only circular castle in Spain, and one of just a few of them in Europe, and was designed to combine a palace and a fortress.
It was so successful the castle was later used as a prison until 1915, before being turned into a museum and opened to the public (entry €4 or free on Sundays). The name translates from the Catalan as 'beautiful view' and it's certainly appropriate, with 360º panoramas out across Palma, the bay and the Tramuntana mountains from the rooftop.
The castle is 3km west of the city centre – you can walk in around 45 minutes or take EMT buses 4 or 20 (though that still involves a steep climb up through the pine forest to reach the castle). Palma's hop-on hop-off sightseeing bus* also stops right outside.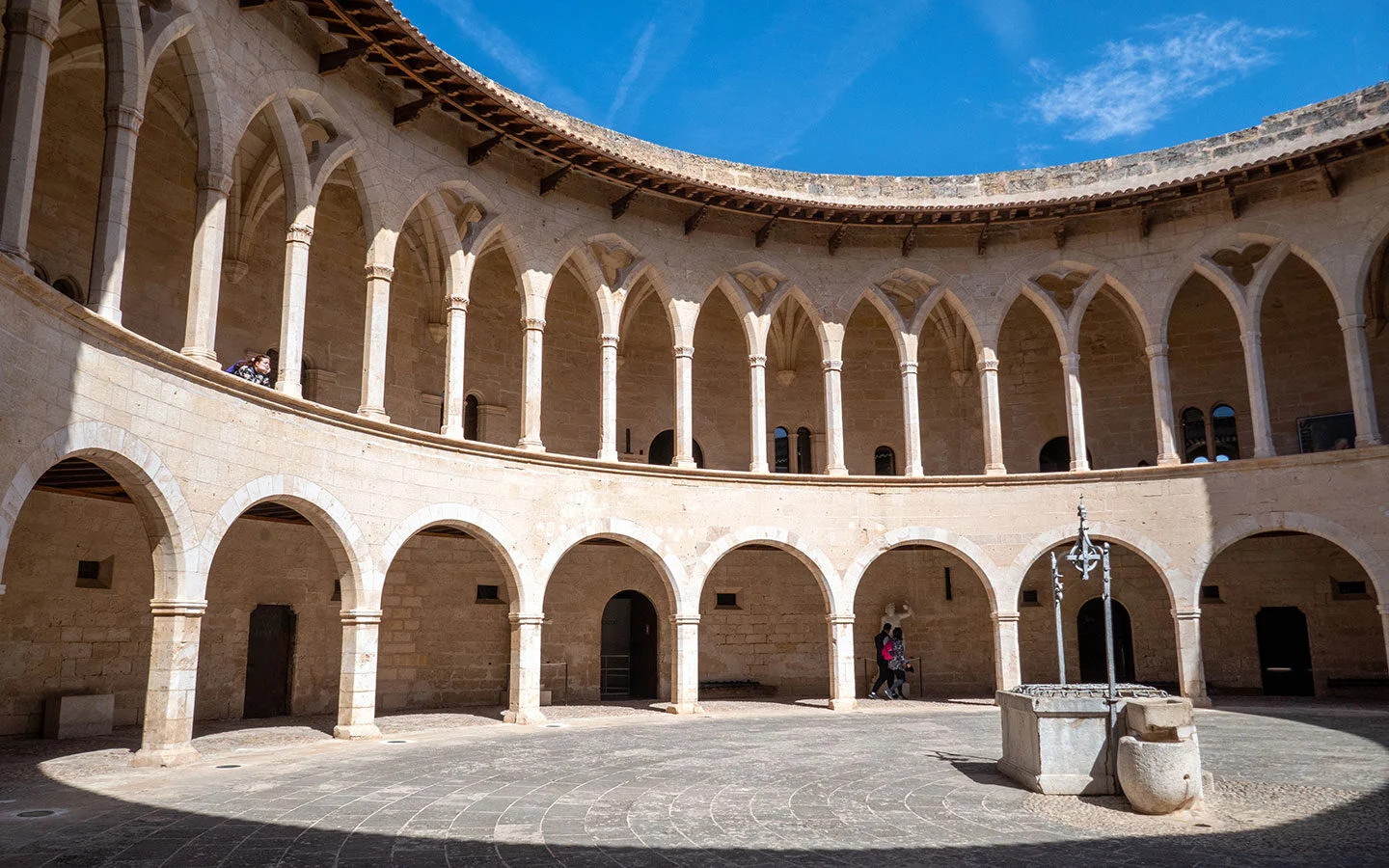 Get lost in the Casco Antiguo (old town)
Palma's old town, the Casco Antiguo, is the city's most characterful district, with a maze of narrow passageways, cobbled streets and quiet squares. It's home to many of Palma's top things to do, like the cathedral, Palace of La Almudaina and Arab Baths. But there are also lots of shops, bars and restaurants tucked away among its pedestrianised streets.
It's very easy to get lost – I never found my way back to my hotel the same way twice. But that's part of the attraction as you stumble across a cosy tapas bar, mansion house or Gothic church. It's especially beautiful at dusk when the buildings glow in the sunset.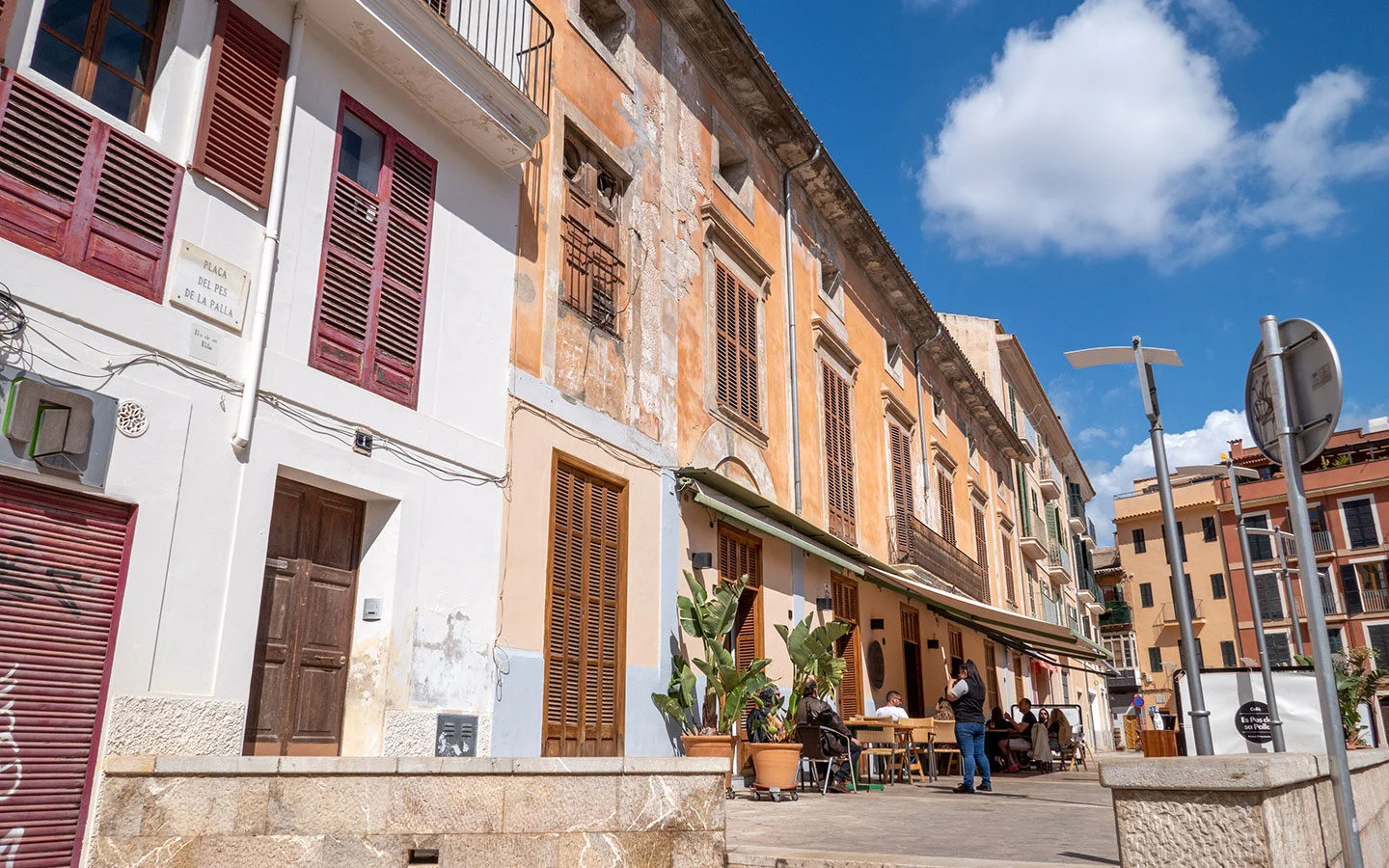 Go back in time at the Arab Baths
The Arab Baths – Els Banys Àrabs – are one of the few remnants of Palma's 300 years of Moorish occupation, when the city was known as Medina Mayurqa. They were built in the 10th century as part of a grand manor house, and there were originally bathhouses like this across the city, as well as a mosque where Palma cathedral stands today.
You can see the remains of the caldarium (steam room) with light streaming through the roof and tepidarium (warm room) with its vaulted ceiling. The site (entry €2.50) is fairly small so it doesn't take long to look around. But it's an interesting insight into a different period in Palma's history, with a peaceful shady garden to take a breather in.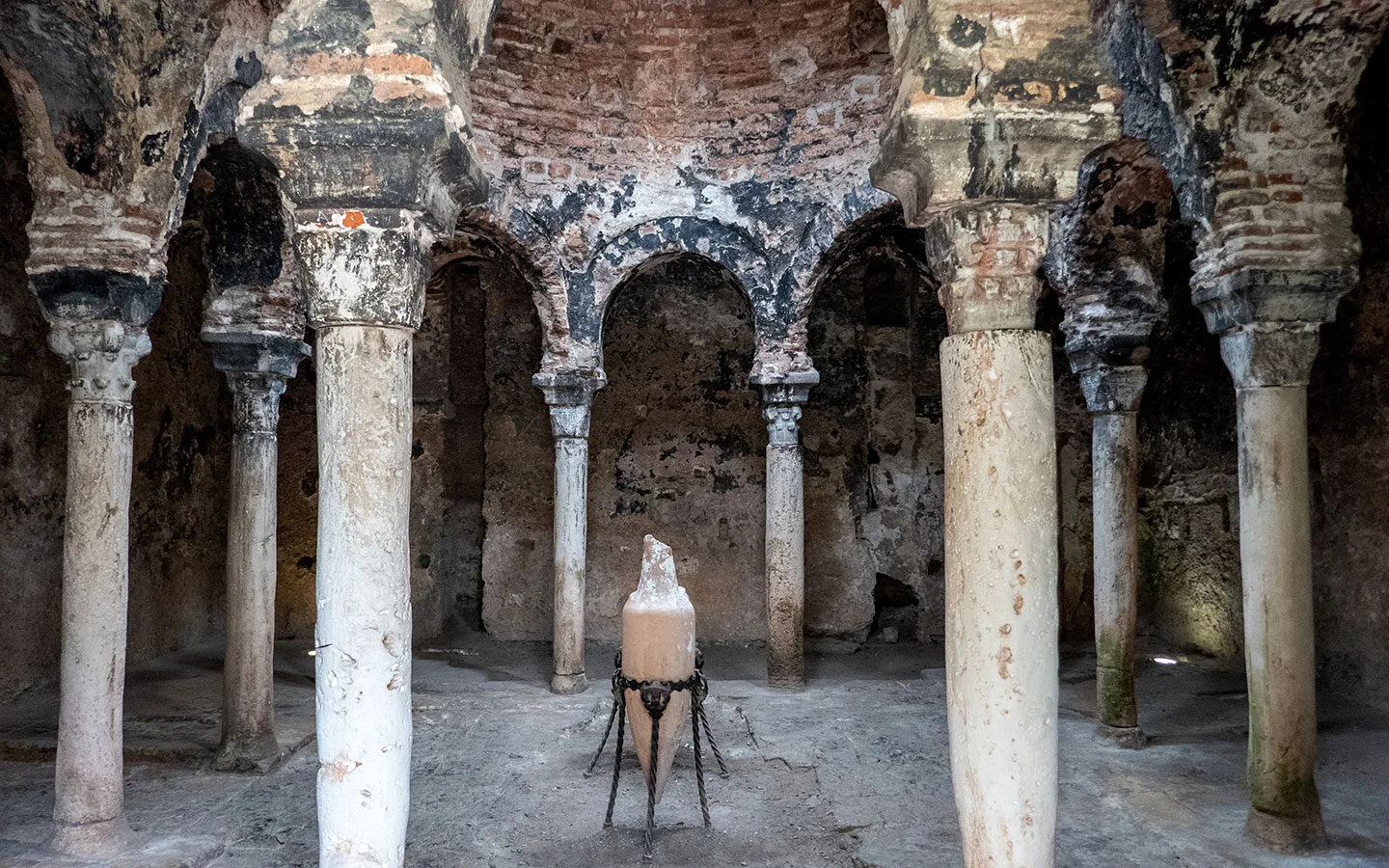 Admire art in a gallery
Artists have long been inspired by Mallorca's landscapes and culture, and you can see many of their works in Palma's art galleries and museums. Biggest and best-known is Es Baluard, the Modern and Contemporary Art Museum of Palma (entry €6). Its unusual building merges into the old city walls and holds over 700 artworks by mainly Mallorcan artists.
You can also learn more about one of the most famous local artists at the Fundació Miró Mallorca (entry €10). There are paintings, sculptures and ceramics by artist Joan Miró in this museum and sculpture garden. It's around 5km south of the city centre but you can get there using EMT buses 4, 20 or 46, or on the Palma sightseeing bus.
There's also the Museu d'art Sacre, the island's oldest museum with its displays of sacred religious artworks. Or the Palau March Museum for sculptures by Rodin and Moore alongside antique books and manuscripts in a lavish private palace.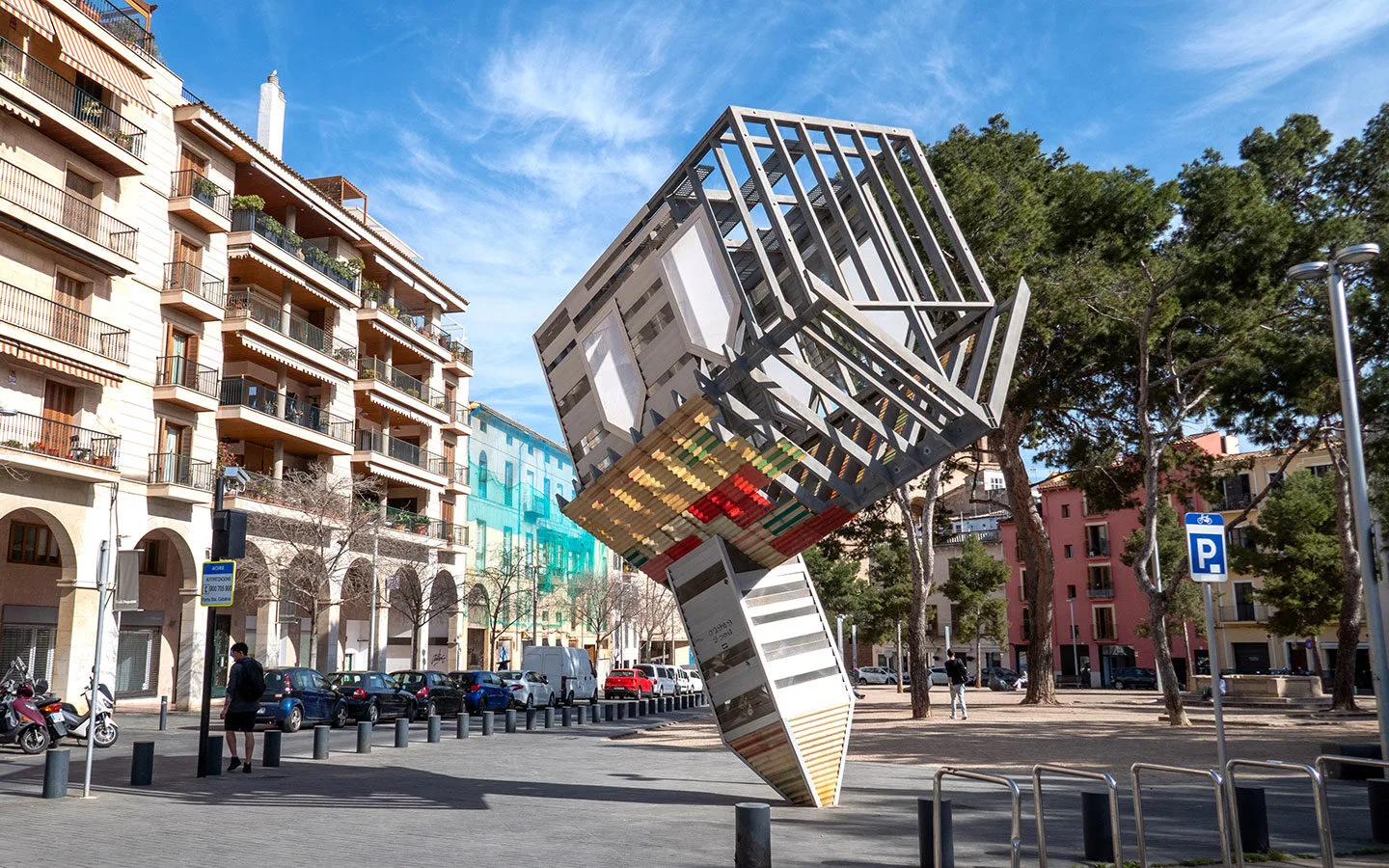 Stroll along the waterfront
Palma's coastal location is one of its biggest attractions, and you can walk for miles along the waterfront past harbours full of luxury yachts, palm trees, sandy beaches and seafront bars and restaurants. The Paseo Marítimo is a long, flat promenade which runs along the water's edge with a cycle path and a walkway which is perfect for a stroll.
Head west of the city towards the revitalised Portopí district near the harbour to dine at seafood restaurants while you watch the boats come in. Or go east towards the former fishing village of Portixol and Es Molinar with its traditional whitewashed buildings.
If you want to get out on the water yourself, you can take a boat trip* along the coast to admire the cathedral and Castell de Bellver from a different angle. Or hire a boat* for the day, with or without a skipper, and explore the Bay of Palma independently.
Hit the beach
Mallorca has plenty of beautiful beaches if you're looking for a sun, sea and sand holiday. But you can combine a city break with a bit of beach time in Palma, where there are several stretches of golden sand within walking distance of the city centre.
Closest is Can Pere Antoni, a 750-metre-long beach east of the old town where you can swim, sunbathe with a view of the cathedral or hang out at the Anima Beach Club. If you carry on walking towards Portitxol you pass other small sandy beaches. Or take a bus to the larger Playa de Palma 4km away where you'll find sunbeds and watersports.
Explore the Santa Catalina neighbourhood
The vibrant village-style neighbourhood of Santa Catalina in the west of Palma is a great place to spend an evening. Its colourful streets are dotted with bars and restaurants, with tables spilling out onto the pavements and partying long into the night.
Santa Catalina was originally home to fishermen and later flour millers. And you can still see windmills around the area, including a row along Carrer de la Indústria. Over 3000 windmills were built across Mallorca between the 16th and 19th centuries. Some have crumbled away, but others have been turned into museums or restaurants.
Feast at a food market
One of the biggest attractions of Santa Catalina is the Mercat de Santa Catalina. It was built in 1920 and is Palma's oldest food market, with stalls piled high with fresh fruit and vegetables, meat and fish. It's a popular haunt for local chefs and foodies. You can pick up delicacies like serrano ham, cheese and olives, or just call in for tapas and a glass of wine.
Or for a more rustic market experience, visit the Mercat de l'Olivar near the Plaça d'Espanya. This big, busy market also has a mix of produce stalls and bars and restaurants where you can eat in. You can also find local crafts and souvenirs to take home.
The details
When to visit Palma
Palma has a Mediterranean climate, with hot dry summers and mild winters. July and August are the hottest months with average high temperatures of 31ºC (88ºF) and plenty of sunshine – though it can get a bit too hot for sightseeing.
Spring is a great time to visit Palma, with average highs of 20–23ºC (68–73ºF) in April and May. Temperatures are similar in autumn, with the bonus of warmer sea temperatures. September and October are the rainiest months though so expect showers – but on average it only rains five or six days a month so you should still see some sunshine.
Winter in Mallorca doesn't get very cold, with average daytime highs of 15°C/59°F and nighttime lows of 5°C/41°F, making it a good off-season city break. Or if you want to stay longer, some hotels offer discounted monthly accommodation packages.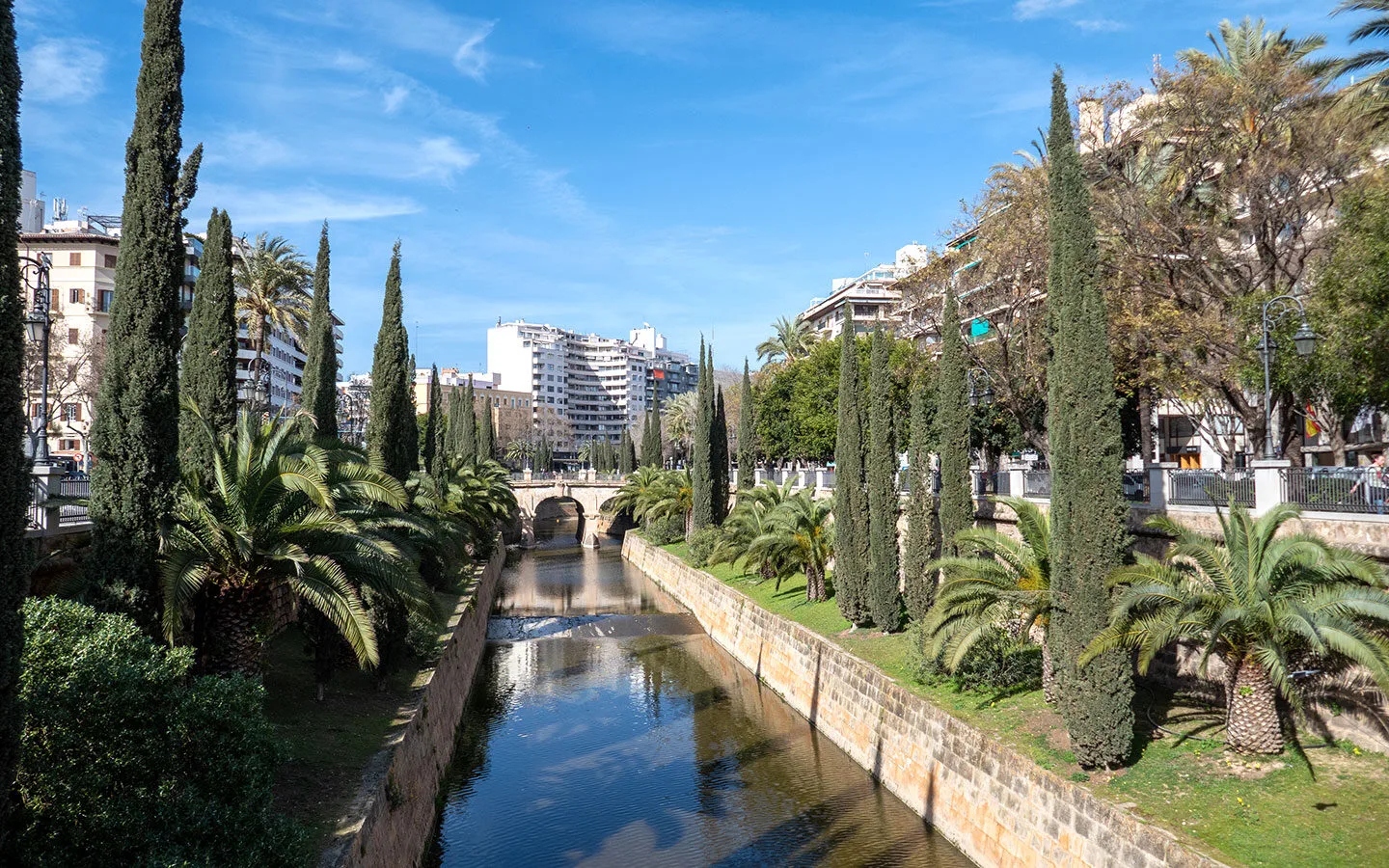 How to get to Palma
Palma has an international airport located 8km east of the city. To reach the city centre you can take the EMT A1 bus. Its main stops are the Plaça d'Espanya and Es Baluard art museum (more convenient if you're staying in Santa Catalina) and the journey takes around 30 minutes. Tickets cost €5 one-way and can be bought from the driver.
You can also prebook a private transfer with an English-speaking driver with Welcome Pickups* to take you direct to your hotel. Or a taxi to the city centre costs around €25.
You can reach Palma by ferry* too. Ferry services run from the Puerto de Palma de Mallorca to the Balearic islands of Menorca, Ibiza and Formentera (taking 3–5 hours). Or you can reach Valencia and Barcelona on the mainland in 7–8 hours.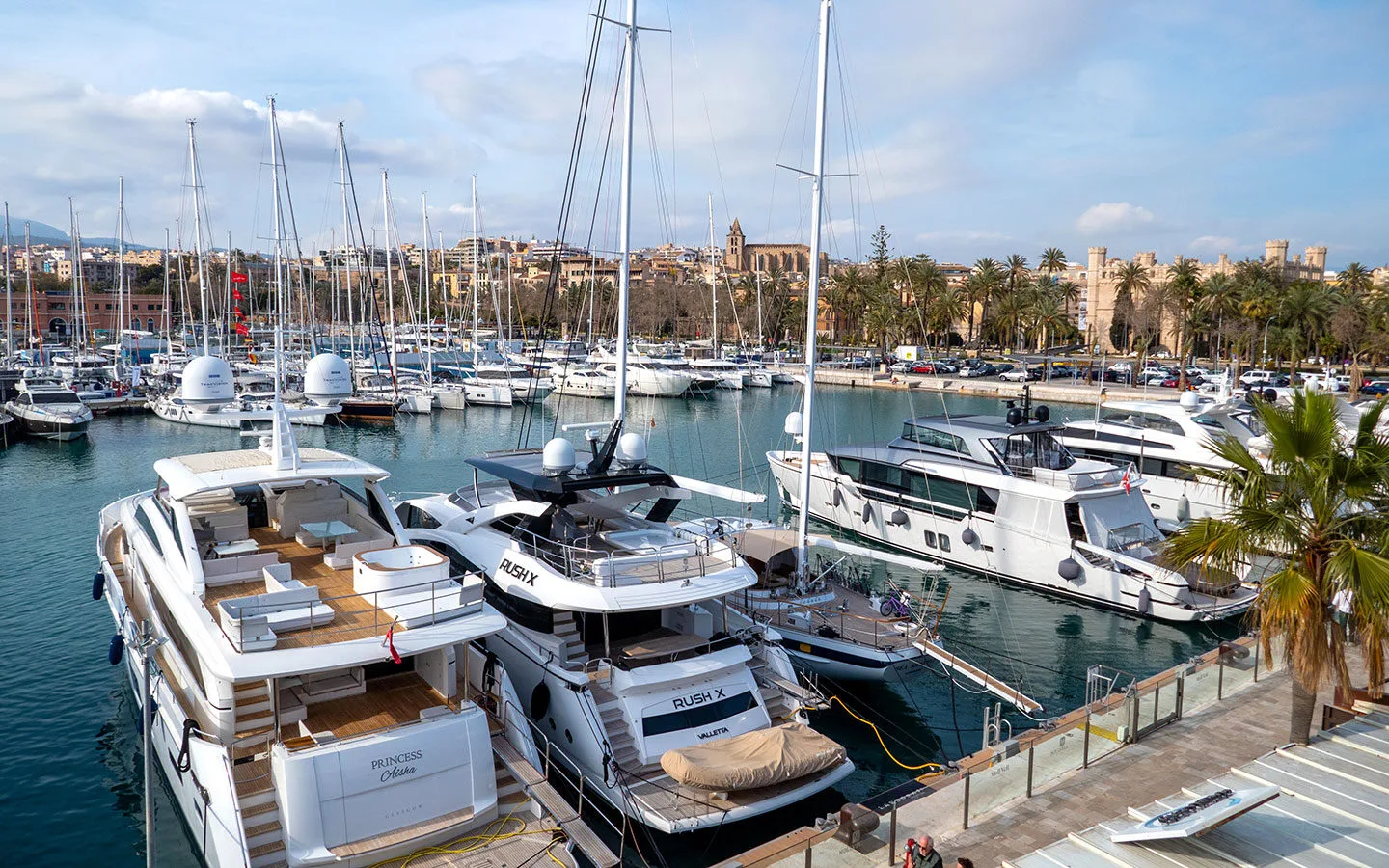 Where to stay in Palma
The Palma Suites* have a great location in the heart of the old town. Each of their 35 suites comes with its own separate kitchen and lounge area, there's a communal gym, roof terrace and nightly happy hour in the ground-floor bar. Make sure to visit the fabulous Cascall restaurant across the street if you stay there, it was my best meal in Palma.
If you'd rather be close to the sea, El Llorenç Parc de la Mar* is a luxurious, adults-only hotel. It's sleek and stylish, with 33 rooms, some with sea-view balconies. The roof terrace spreads over three levels, with an infinity pool, cocktail bar and sunloungers to relax on. There are also two restaurants and a spa with pool, sauna and steam room.
Or you can't miss the Hotel Artmadams,* where the whole of the building's facade has been decorated with colourful abstract patterns. This good-value hotel has 80 rooms, a spa and outdoor pool, and common areas with modern artworks by Majorcan artists.
Save for later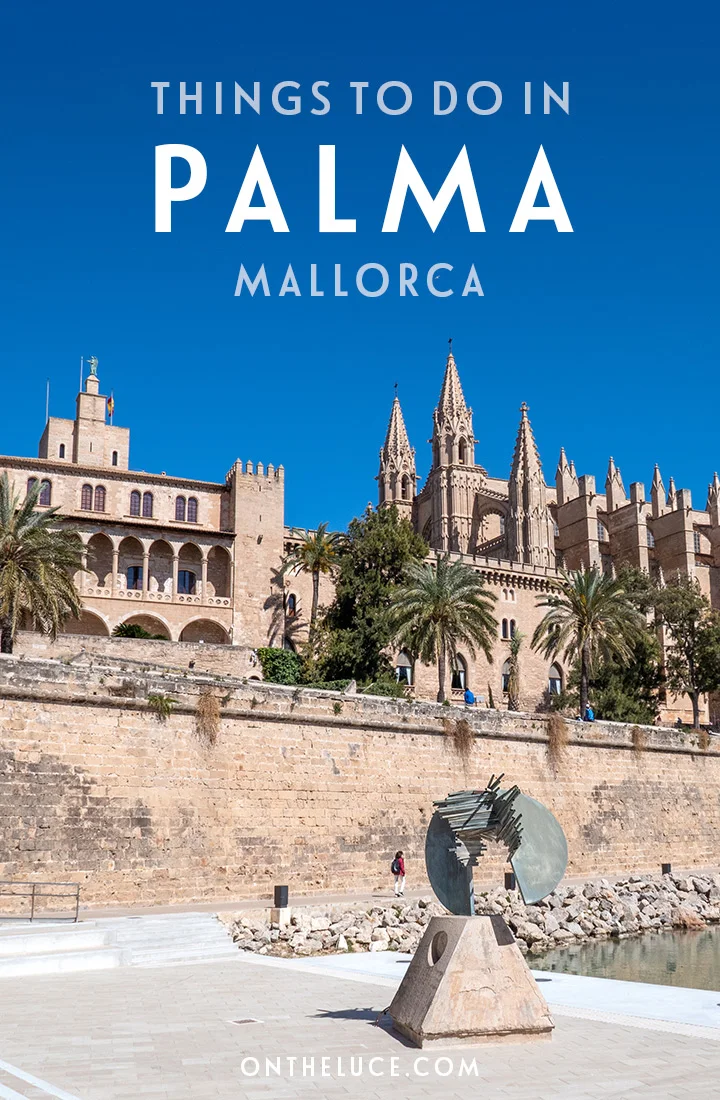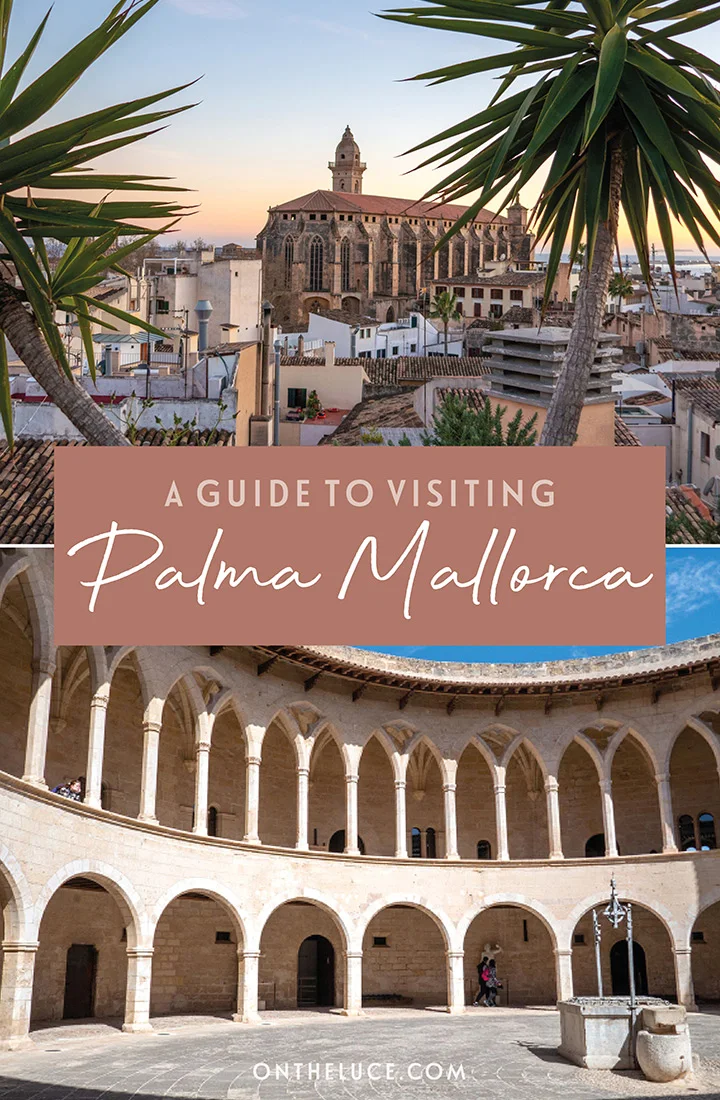 You might also like