How to spend a weekend in St Ives, Cornwall: Discover the best things to see, do, eat and drink in St Ives in this two-day itinerary featuring sandy beaches, art galleries, harbour views and coast walks.
* This site contains affiliate links, where I get a small commission from purchases at no extra cost to you.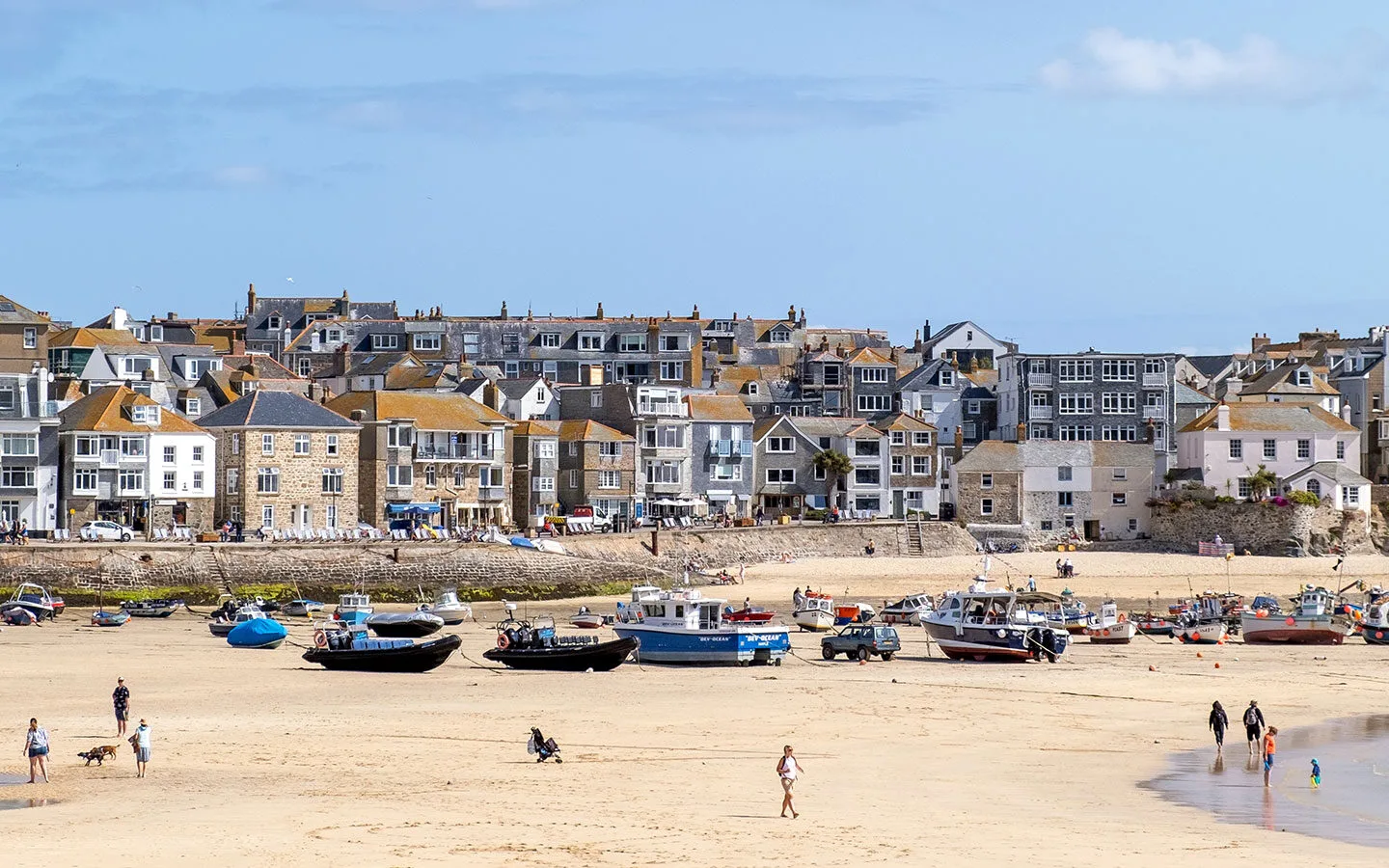 St Ives is a Cornish seaside town with an arty side, with painters and sculptors from JMW Turner to Barbara Hepworth drawn in by its clear light and scenic views. And it's proud of its artistic heritage, with museums and art galleries to visit, as well as two weeks of music, arts and literature events during the annual St Ives Festival each September.
But there's a lot more to St Ives too, with five sandy beaches, a historic harbour, wildlife-spotting boat trips, coastal walks and some fantastic local seafood. So if you're looking to spend a few days in Cornwall, here's my two-day itinerary to help you plan the perfect weekend in St Ives, with what to see as well as great places to eat, drink and stay.
How to spend a weekend in St Ives
Friday evening
Check into your accommodation, then start your weekend in St Ives with a stroll around the harbour. St Ives has a long history as a fishing port, and the old heart of the town lies in the narrow, cobbled streets running off the harbour, known as the Down-a-long.
The fishing industry is much smaller today but you'll still see boats in the harbour, protected by Smeaton's Pier. The pier was built in 1767 and is unusual in having two lighthouses – the original Smeaton's lighthouse halfway along and another at the end, built in the 1890s when the pier was extended by 300 feet so the harbour could hold more boats.
Head to Silco Bar & Kitchen on the edge of Harbour Beach for dinner. This restaurant and bar is run by the St Ives Liquor Co and serves their local gins as well as small plates to share, with dishes like St Ives Bay mackerel and Sri Lankan lentil fritters.
Saturday morning
The following morning, start the day on Porthmeor Beach. It's one of five beaches around St Ives and lies on the northern coast, with a long stretch of golden sand between two rocky headlands. (If you're travelling with a dog, note they're not permitted on Porthmeor or most of St Ives' other beaches between 15 May–30 September, 10am–6pm.)
Porthmeor is rated as one of Cornwall's best surfing beaches, and you can usually spot a few surfers in action. If you fancy joining them, St Ives Surf School run a mix of group and individual surf lessons on Porthmeor Beach, starting from complete beginners.
Otherwise if the weather's not looking good or you prefer a more relaxing start to the weekend, call into the Tate St Ives overlooking the beach (open from 10am). This Cornish outpost of the famous London art gallery opened in 1993 inside a former gasworks.
It's worth visiting just to explore the building, which was expanded in 2017 by digging into the hillside behind it to make more space. But it's the artworks which draw in the crowds. There's a focus on twentieth-century British works, including many by artists who were inspired by St Ives, as well as a varied mix of temporary exhibitions.
Then head across the road to the Porthmeor Beach Café for lunch. The café has a fantastic location on the beachfront, with a terrace for sunny days and a glass-walled dining area and cosy alcoves where you can wrap up with a blanket when it's cooler.
The menu is a mix of lunch dishes like salads and frittatas, alongside a bigger tapas menu with internationally inspired options, like salt and pepper squid, chipotle chicken tacos, and lemon and ricotta arancini – made using local produce wherever possible.
Saturday afternoon
After lunch, take a walk along the coast eastwards towards the 'The Island' – which despite the name isn't an island at all. It's really a small peninsula connected to the mainland, and is a popular place to spot seabirds. Species like guillemots, Manx shearwaters and gannets are all commonly seen here, as well as the occasional puffin.
St Nicholas Chapel sits on top of the island, and is dedicated to the patron saint of sailors. This simple stone church dates from the 15th century and has been used as a lookout both by smugglers and by revenue officers who were trying to catch them.
Continue along the path and you'll pass the lookout for the National Coastwatch Institution – a voluntary organisation that keep watch over the coastline. If they're not too busy the volunteers are happy to show you around. Then carry on along the edge of sheltered Porthgwidden Beach with its block of white beach chalets available to hire.
On the way into the harbour you pass the St Ives Museum at the end of Smeaton's Pier, where you can learn about local history. It covers a bit of everything, from tin mining and fish curing to a recreated traditional Cornish kitchen and wartime memorabilia.
The waters around St Ives are home to a colony of Atlantic grey seals. We spotted one swimming off the island, but the best chance to see them is on boat trip to Seal Island, a small rocky island 3.5 miles west of St Ives. Trips depart from the harbour, last around an hour and run several times a day (weather permitting), and you might see dolphins too.
That evening, have dinner at the Cellar Bistro, a cosy underground restaurant with a friendly feel that serves big portions of tasty dishes like steaks, butternut squash tagine and their signature dish – Parmesan and herb-crusted Cornish hake.
Then finish the evening off with a drink in one of St Ives' historic pubs. There's the Pilchard Press Alehouse, a micro-pub in a stone-walled cellar once used to process fish, tucked away down an alley near the Lifeboat Inn. Or The Sloop on the harbourfront, which is one of Cornwall's oldest pubs from 'circa 1312', with low ceilings and wooden beams.
Sunday morning
After breakfast, head out on a coastal walk along a stretch of the South West Coast Path. The whole pathway is 630 miles long and runs all the way from Minehead in Somerset, along the coasts of Devon and Cornwall to Poole Harbour in Dorset.
Start by catching the train from St Ives. If you want a short, fairly flat walk it's only 1.2 miles from Carbis Bay to St Ives, with the coast path running above the railway line. Trains from St Ives to Carbis Bay take 10 minutes and usually run every 30 minutes. And you can explore Carbis Bay's wide golden sands or paddle in the bay before setting off.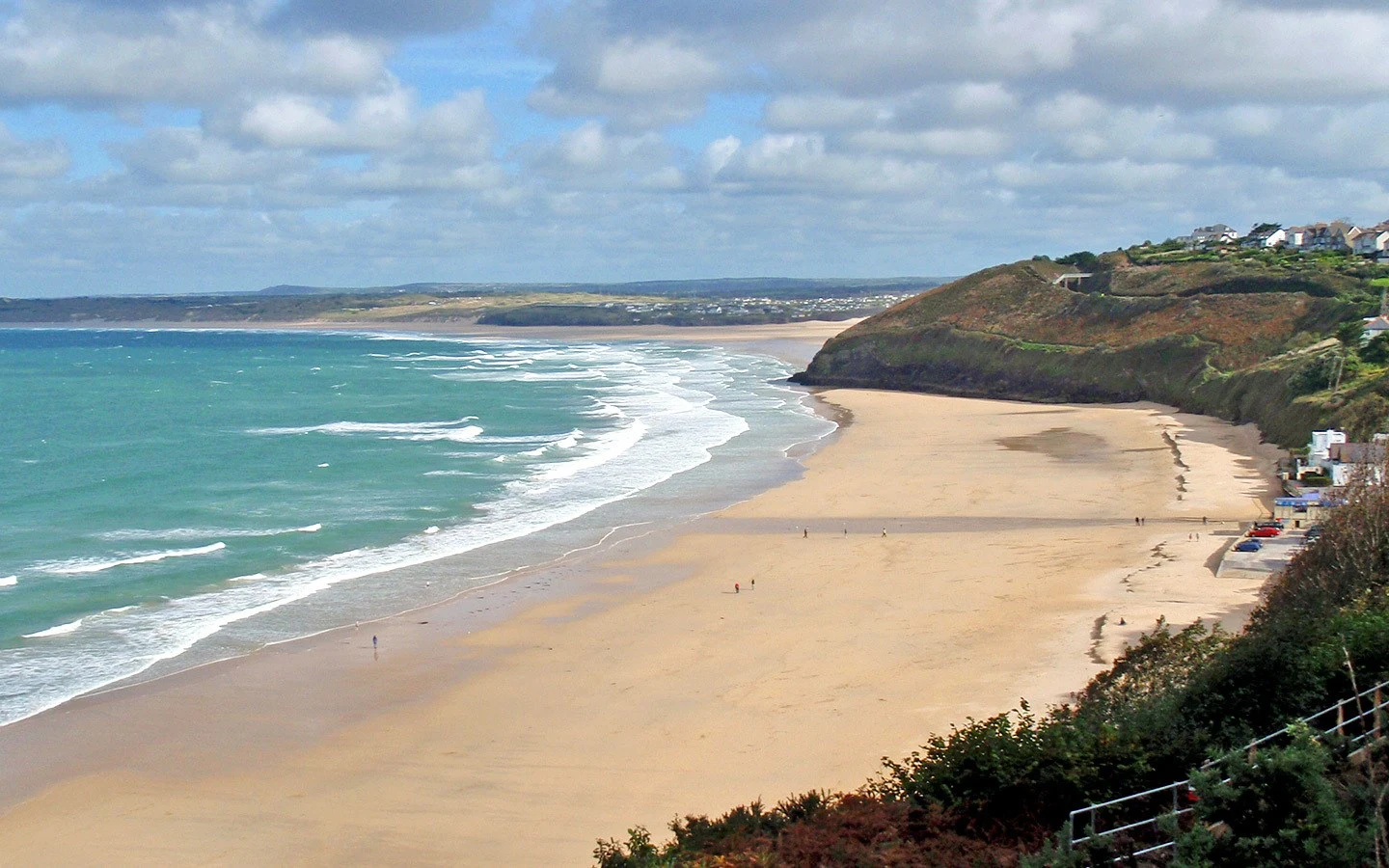 If you fancy a longer walk, you can stay on the train to the next stop in Lelant. From there it's a 4.2 mile-walk back to St Ives along part of the St Michael's Way, running through a nature reserve near Hayle, across sand dunes and along Carbis Bay.
Back in St Ives, head to the Porthminster Beach Café for lunch. This upscale beach restaurant looks out across sandy Porthminster Beach towards St Ives harbour in one direction and Godvrey Lighthouse in the other. It's a popular spot on a sunny afternoon (so book ahead), but they do also have a heated terrace if the weather's not so good.
The kitchen takes fresh local seafood and produce they've grown or foraged themselves and adds Asian and Mediterranean touches. Look out for the delicate Cornish lobster on the menu as well as Porthilly oysters, Fowey mussels and a fragrant fish curry.
If you have any room left after lunch, the Moomaid of Zennor on the way back towards the harbour does fantastic ice creams, made using milk from Friesian Holstein cows farmed in nearby Zennor. Flavours include Cornish clotted cream and the 'Shipwreck' with its dulce de leche caramel and honeycomb, and there are dairy-free sorbets too.
Sunday afternoon
Next pay a visit to the Barbara Hepworth Museum and Sculpture Garden. Barbara Hepworth was a 20th-century Modernist sculptor who lived at Trewyn Studio in St Ives with her husband, fellow artist Ben Nicholson, from 1949 until her death in 1975.
Her former studios have now been turned into a museum, where you can see her workshops and over 30 sculptures made from stone, bronze and wood. The highlight is the sculpture garden where giant bronzes are tucked in among lush subtropical plants.
Artists still flock to St Ives today. And if you want to pick up a St Ives artwork to take home with you, head to Fore Street where you'll find galleries selling paintings, sculptures and photographs by local creatives – Porthminster Gallery is one of our favourites.
Finally, finish your weekend in St Ives with a local classic – a freshly baked Cornish pasty from St Ives Bakery. Pasties were originally made for tin miners to take down the mine for lunch. The traditional recipe has golden pastry stuffed with minced beef, potato, swede and onion, but you can find lots of different versions now, including vegetarian.
Just watch out for the seagulls – St Ives' gulls are notoriously greedy and aggressive, and will happily snatch a pasty right out of your hands if you're not careful!
Map of things to do in St Ives, Cornwall
The details
How to get to St Ives
You can get to St Ives by train* in 5.5 hours from London or 4 hours 45 minutes from Bristol. To get there you need to change at St Erth onto the local trains which shuttle back and forth to St Ives, with some fantastic views over Carbis Bay along the way.
You can also take the Night Riviera Sleeper overnight train from London Paddington to Cornwall, which leaves London at 11.45pm (11.30pm on Sundays) and arrives into St Erth at 7.42am, where you change for the 10-minute train journey to St Ives.
If you're driving, St Ives is 77 miles from Plymouth, 190 miles from Bristol or 305 miles (around 5.5 hours) from London. Traffic can be very slow going though, especially during the summer. There's paid overnight parking at Barnoon Long Stay (TR26 1JF), Park Avenue (TR26 1QE), Trenwith (TR26 1DD) and the Station (TR26 2BH).
Parking spaces can be hard to find in St Ives, so another option would be to park at St Erth station (TR27 6JW), where there's a big car park, and take the train into St Ives.
The nearest airport is in Newquay (other than Land's End which only really has flights to the Isles of Scilly), 40 miles away, where you can hire a car or take the A5 bus into Newquay to catch the train to St Ives, which takes 2.5 hours with changes at Par and St Erth.
Getting around St Ives
St Ives is small and easy to get around on foot – though be prepared to climb a few hills. If you want to explore further afield, there are decent local bus services, including the Lands End Coaster which departs from Malakoff bus station and does a big loop around the coast via Penzance, Mousehole, Porthcurno, Land's End, St Just and Zennor.
Where to stay in St Ives
The Pedn Olva* hotel has a great position on a rocky headland overlooking the sea, with Porthminster Beach in one direction and St Ives harbour in the other. There are 30 bedrooms decorated in a light and bright, seaside-inspired style, a terrace bar with fantastic views (open to non-residents), a restaurant and small heated outdoor pool.
Or nearby Trevose Harbour House* is a family-run guesthouse with six stylish en-suite rooms. There's a friendly welcome, with a cosy bar and terrace garden for guests. A cooked breakfast is included, which uses mainly local, seasonal and organic produce.
If you prefer self-catering, Aspects Holidays have rental properties all over St Ives, sleeping between two and 10 people. Some of our favourites are the cute Quarterdeck (sleeps 2), which is right on the harbourside so you can watch the boats go by, or the Sea Garden (sleeps 4) with its hillside terrace garden and summerhouse with sea views.
Save for later
You might also like