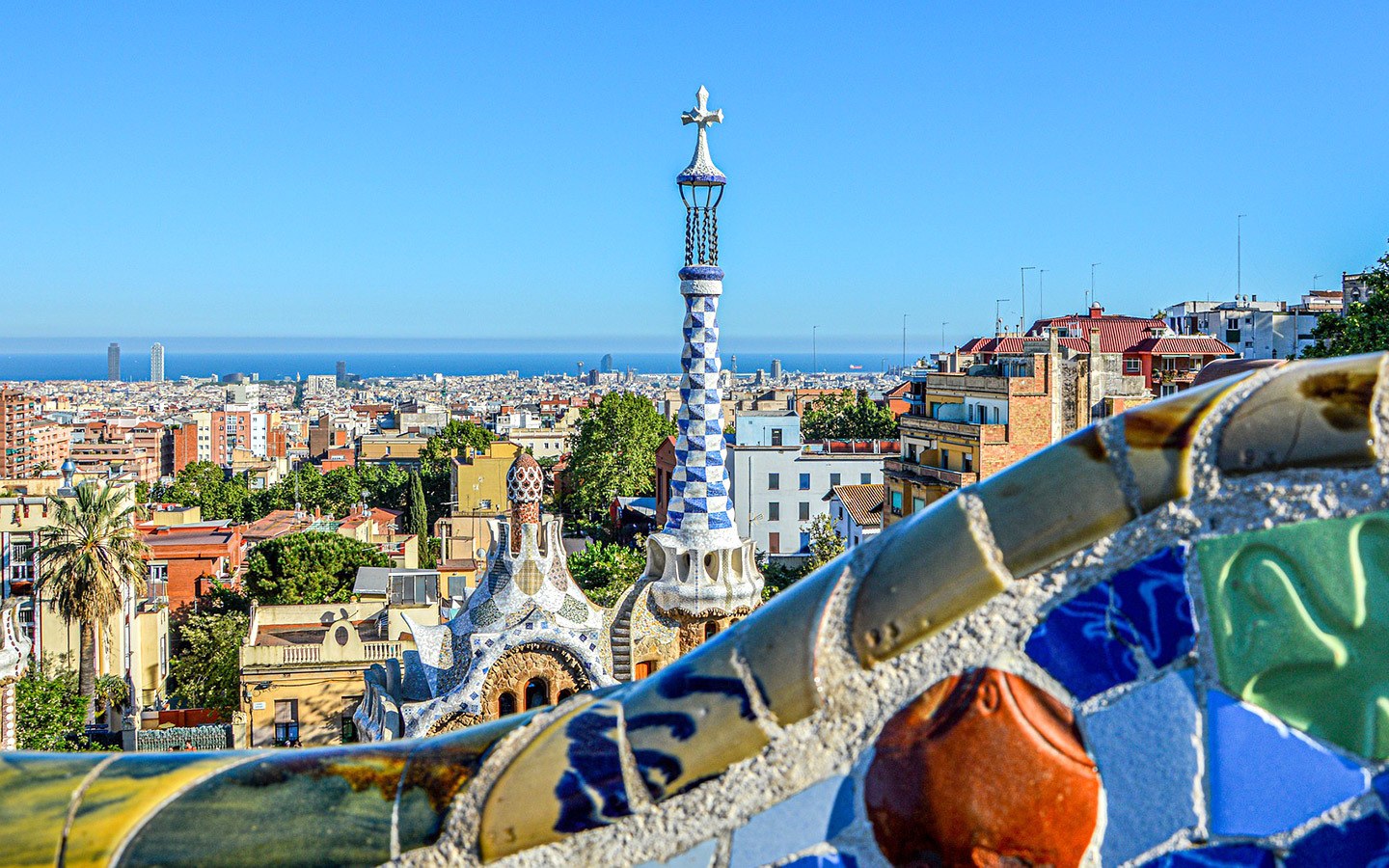 From paella to port, churros to custard tarts – eat and drink your way through two countries as you travel across Spain and Portugal by train. This one-week rail trip takes you from the Mediterranean to the Atlantic, starting in Barcelona and Valencia before heading inland to the Spanish capital Madrid and across to Lisbon and Porto. The itinerary will show you which trains to take, how much they cost, how to book and what to see – with quirky architecture, world-class artworks, golden sand beaches, river boat trips and plenty of tapas along the way.
Read more: Five great one-week rail trip route ideas for Europe and Britain
One-week Spain and Portugal by train itinerary
Day 1: Barcelona
Start your journey across Spain and Portugal by train with a full day in the seaside city of Barcelona. The Catalan capital's 2000 years of history, impressive art and architecture, and inventive culinary scene have helped make it one of Europe's most popular city break destinations – and it can feel like it when you're walking down the bustling Las Ramblas.
Architect Antoni Gaudí left his mark across the city with his unique take on Art Nouveau, and you can see his handiwork at Parc Güell, Casa Batlló, Casa Milà and the endlessly unfinished Sagrada Família (currently scheduled to be done by 2026). Stock up on local cheese and jamón at La Boqueria food market. And take the cable car to Montjuïc to watch the sun set over the city or toast the evening with a glass of cava at a beachside bar in Barceloneta.
Where to stay in Barcelona: The Motel One Barcelona-Ciutadella is a stylish budget hotel near the main city sites, with a rooftop terrace overlooking Ciutadella Park. Rooms are small but bright, with splashes of colour in the chain's signature turquoise and murals by a local artist.
Day 2: Barcelona > Valencia
Next morning, take the 3 hour 20 minute Talgo high-speed train journey south along the coast to Valencia, departing Barcelona Sants at 09.00 and arriving at Valencia's Estacion del Norte (north station) at 12.20. Spain's third-largest city, Valencia hosts the famous Las Fallas festival each March. This month-long fiesta of fireworks, bonfires, puppets and street parades celebrates the start of spring – you can find out more about it at the Museum of Las Fallas.
Take a walk around the Ciutat Vella, or old town, past some some of Valencia's most impressive historic buildings, including the Lonja de la Seda medieval silk market, Torres de Serrano city gates and Valencia Cathedral – where you'll allegedly find the Holy Grail, and will definitely find impressive views over the city and out to sea from the top of the Micalet belltower.
If you fancy an afternoon on the beach, Valencia has a string of wide, sandy Mediterranean beaches stretching north and south of the city. Admire the tiled buildings in the traditional fisherman's district of Cabanyal-Canyamelar. Then take an early evening stroll along the seafront promenade before trying some traditional local dishes, like Fideuà (seafood noodles) and the original Paella Valenciana, made with chicken, rabbit, snails, garrafó beans and rice.
Where to stay in Valencia: The Hotel Balandret is right on the beach, 30 minutes from the old town by public transport, with views of the ocean or marina from many rooms and a sunny terrace restaurant. The owners are proud of their local heritage, with sculptures and a giant mural made from 1000 botijos (traditional water jars) decorating the reception area.
Day 3: Valencia > Madrid
Spend your last morning in Valencia at the futuristic City of Arts and Sciences. This complex of buildings, bridges and turquoise pools looks like something from a sci-fi show – and it's been a location for Doctor Who and the film Tomorrowland. But in real life it's actually part of a park built in the late 1990s to redevelop an old dry riverbed, and its unique buildings are home to a planetarium, science museum, aquarium, sculpture garden and opera house.
Then take the short 1 hour 45 minute AVE high-speed train to Spain's capital Madrid in the afternoon. The 14.10 service from Valencia Joaquín Sorolla arrives into Madrid Atocha station at 15.54. Along the way it climbs upwards from sea level to 700 metres, through tunnels and across bridges with views of the Contreras Reservoir and Hoces del Cabriel Nature Reserve.
Start your evening in Madrid at the top of the Círculo de Bellas Artes, an arts and cultural centre with a rooftop terrace bar that's the perfect spot to watch the sun go down over Madrid with a cocktail. Then head out on a food and drink-filled tour of the city's tapas bars. Or visit the beautiful glass Mercado de San Miguel, with stalls selling tasty treats from across Spain.
Where to stay in Madrid: The Palacio Plaza Conde Miranda apartments are inside an 18th-century building in a quiet square close to the San Miguel market. They're smart and modern, with one or two bedrooms and a kitchen/lounge area, and each is themed around a couple from films, TV series or books – from Elizabeth and Mr Darcy to Homer and Marge Simpson.
Read more: Visiting Madrid on a budget
Day 4: Madrid > Lisbon
Then you have the whole of the next day free to explore Madrid before catching the overnight train to Lisbon. Admire the city's architecture in the Plaza Mayor, take a walk down the Gran Vía and people-watch in one of the cafés in Puerta del Sol square. Refuel with churros con chocolate – sticks of deep-fried dough rolled in sugar and dipped into thick hot chocolate.
Art-lovers are spoilt for choice in Madrid's 'Golden Triangle', with modern art at the Reina Sofia museum, European art at the Thyssen-Bornemisza and Spanish art at the world-famous El Prado (though it's a good idea to book in advance as it can get busy). Or you can overdose on gold, marble and frescoes at the elaborate Palacio Real. It's the largest palace in Europe and the official residence of the Spanish Royal Family, though they actually live outside the city.
Take a breather and stop for a picnic in one of Madrid's parks – choose from the Retiro Park with its lawns, lakes and glass Palacio de Cristal, the Parque del Oeste with its Egyptian temples, or the giant Casa del Campo park – which you can reach by cable car on the Teleférico de Madrid. Or football fans can take a tour around Real Madrid's Santiago Bernabéu Stadium.
The Lusitania overnight train leaves Madrid Chamartin at 21.50 and arrives into Lisbon Santa Apolónia at 07.30 the next morning. There's a choice between reclining seats (which probably aren't the best if you actually want to get much sleep), 4-berth sleepers (which are shared with other travellers unless you book all the seats) and 1- or 2-berth cabins, either with a washbasin (preferente) or with a private shower and toilet (gran clase), as well as a café-bar on board.
Day 5: Lisbon
The Lusitania arrives in Lisbon at 07.30 – if you need to store your luggage until you check in to your hotel, there are coin-operated storage lockers at Santa Apolónia station. Then you have the rest of the day to spend in the Portuguese capital. Wander through the grand Praça do Comércio square and explore the narrow winding cobblestone streets of medieval Alfama, the city's oldest district, where you'll find Lisbon's Cathedral and the hilltop São Jorge Castle.
Prepare for a workout as Lisbon is one hilly city – though that does make for some great views. Climb to the top of the Miradouro São Pedro de Alcantara or the Miradouro do Graça (or you can catch the funicular or tram) to look out across Lisbon's red rooftops. You can also take a budget city sightseeing tour on board one of Lisbon's bright yellow retro No 28 trams.
Take a boat trip down the Tagus River to Belém, where you'll find the Jerónimos Monastery and Belém Tower. And make sure to try some Portuguese specialities, like bacalhau (salt cod), ginjinha (cherry liqueur) and of course the infamous – and delicious – pastéis de nata custard tarts. You can try dishes from top local chefs at the Time Out Market food hall.
Where to stay in Lisbon: Boutique Brown's Central Hotel in Chiado features stylish vintage-meets-modern touches like Roberts radios and retro lamps. It's close to metro and tram stops and has a brasserie and Art Deco-style cocktail bar hosting exhibitions and performances.
Day 6: Lisbon > Porto
Finish your trip across Spain and Portugal by train by travelling north up the Portuguese coast to the city of Porto, a journey that takes just under 3 hours. Catch an Alfa Pendular high-speed tilting train from Lisbon Santa Apolónia at 09.00 and you'll arrive into Porto's Campanha station at 11.50. Then spend the rest of the day exploring this laid-back riverside city.
Get lost in the Ribeira, Porto's medieval old town, with its maze of narrow streets running up into the hillside. Cool off in the shady Jardins do Palácio de Cristal gardens and grab a drink by the riverside in the colourful Praça da Ribeira square. Visit the ornate Lello Bookshop – whose lavish staircase was the inspiration for the Hogwarts library in the Harry Potter books – and admire the traditional blue and white painted azulejo tiles at São Bento train station.
Head across the River Duoro on one of the six bridges which link Porto with neighbouring Vila Nova de Gaia – including the arching Dom Luís I bridge. Vila Nova de Gaia is the home of port-making, and you can visit the cellars of well-known brands like Taylor's, Graham's and Croft for a tour and tasting. Or take a trip on the Duoro in one of the old rabelo port barges.
Where to stay in Porto: If you fancy splashing out, the luxurious Yeatman is set on a hillside in Vila Nova de Gaia with one of the best views in town and five-star service. From the decanter-shaped infinity pool to the grape-based spa treatments, they've gone all out with the wine theme. There's also a two-Michelin-starred restaurant and an extensive wine cellar.
Read more: Exploring the Ribeira: Getting lost in Porto old town
Day 7: Porto
Spend the last day of your journey through Spain and Portugal seeing more of Porto. Or if the sun's shining you could visit one of the sandy beaches just outside the city – take a local train to the resort town of Espinho or a tram to Matosinhos beach. Then if you're flying back home, Porto's airport is connected to the city by metro, which takes around 25 minutes.
More time?
If you've got more time, you could take the scenic train ride through the Duoro Valley, following the river from Porto past vineyards and port lodges through the villages of Régua, Pinhão and Pocinho. And from June to October you can take a historic steam train on part of the route. Or if you feel like relaxing on the beach, backtrack to Lisbon and head south to the Algarve coast (6 hours). And if you want to go further, a ferry connects the Algarve with the island of Madeira during the summer – taking 24 hours to travel between Portimao and Funchal.
How much does it cost?
When you're planning a European rail trip, you can either book individual tickets or get a railpass, which can be a better deal if you're under 28, want more flexibility or are booking late. Here's how the prices break down for the two different options on this route.
Individual tickets
Ticket prices vary depending on how early you book, with a limited number of cheap tickets available. So book as early as possible – on most routes you can book 3–4 months in advance – but beware these tickets are non-transferable so you're tied to a specific train. Using the cheapest fares available, the total cost for trains on this route starts at €69.50 per person.
Barcelona > Valencia: from €12
Valencia > Madrid: from €13
Madrid > Lisbon: from €33 (in a 4-berth sleeper)
Lisbon > Porto: from €11.50
The railpass option
InterRail (for European residents) and Eurail (for non-European residents) have a range of rail passes, which cover individual countries or the whole region and are valid for different periods of time. The Spain and Portugal by train itinerary involves four travel days across two countries, so the best option is the Global Pass for 4 travel days within 1 month. This costs €246 for adults, €185 for youths (aged 12–27) or €221 for seniors (aged 60+) in second class.
As well as the pass, you also need to pay an extra compulsory reservation fee for all trains in Spain and for high-speed or sleeper services in Portugal. For this trip, the reservation fees come to €51, broken down as below, meaning the overall railpass cost starts from €236.
Barcelona > Valencia: €6.50
Valencia > Madrid: €10
Madrid > Lisbon: €29.50 (in a 4-berth sleeper)
Lisbon > Porto: €5
How to book
There are a variety of websites where you can book European train journeys, but often the best deals are though the official railway company sites for each country. For this trip these are:
Or if you want an easier option you can book tickets for journeys in Spain via Rail Europe – the advantage is the site's in English, you can use international credit cards and often print your own tickets, but there is a small booking fee. Trains within Portugal can only be booked through Portuguese Railways, so you'd need to book the Lisbon to Porto journey separately.
Pin it
This article contains affiliate links, where I get a small commission at no extra cost to you, thanks.