Head to the Andalusian hills for a spectacular city break in Ronda, Spain. Discover the best things to do in Ronda with its spectacular views, historic bridges, Roman baths and tasty tapas.
* This site contains affiliate links, where I get a small commission from purchases at no extra cost to you.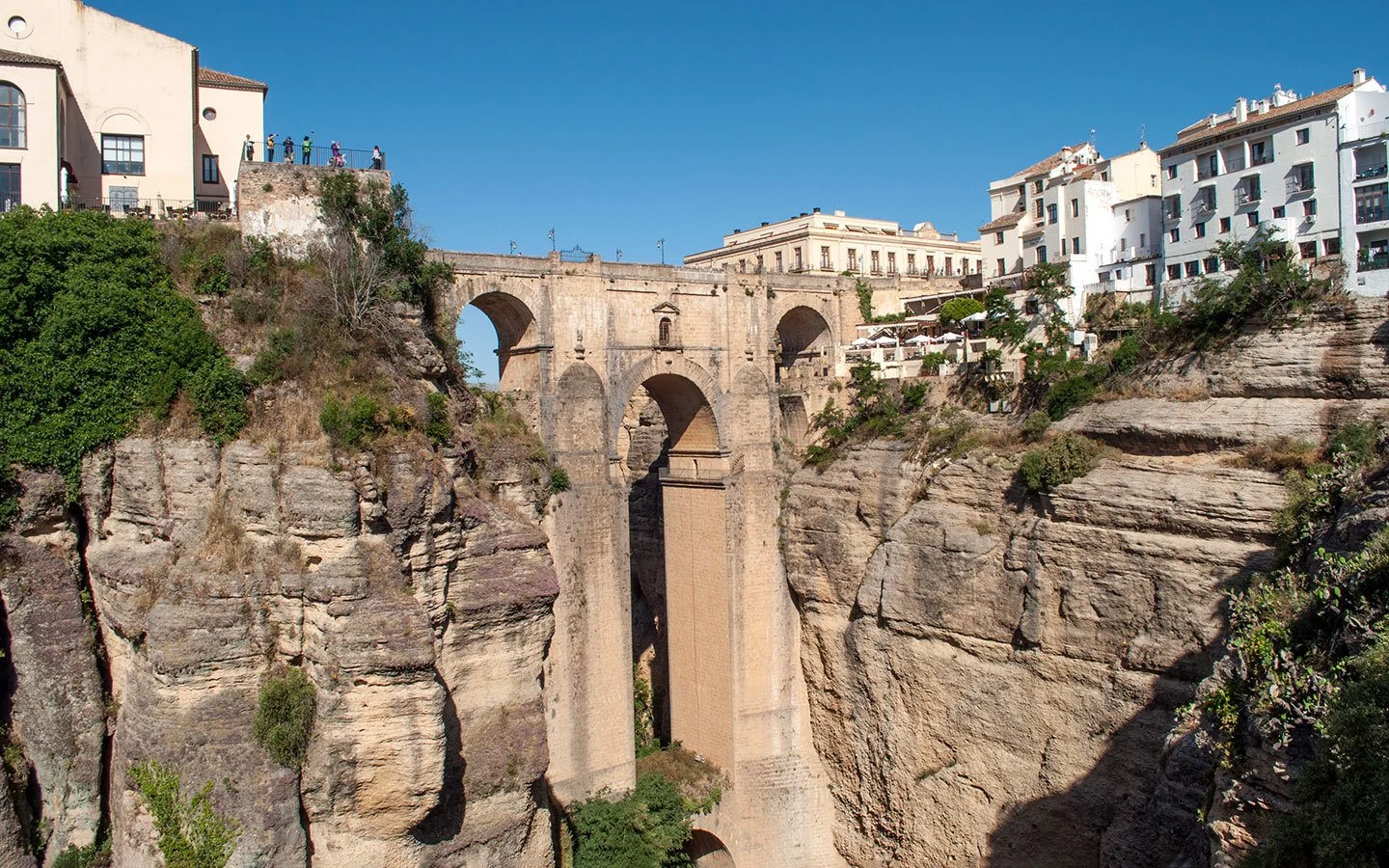 AD: This post is brought to you in association with ETIAS Spain
Set on an Andalusian mountain plateau, the town of Ronda is just over an hour – and a world away – from the beach resorts of Spain's Costa Del Sol. This pueblo blanco (white town) has one of the most beautiful settings around, perched precariously on the edge of a gorge surrounded by rolling hills, whitewashed buildings, orange trees and olive groves.
Ronda is one of Spain's oldest towns. It was first settled by the Celts and later inhabited by the Romans and Moors, and you can feel its history all around you in its cobbled streets, old mansions and stone churches.
It was a favourite with the 19th century Viajeros Romanticos (romantic travellers) – artists and writers like Orson Welles, Alexander Dumas and Ernest Hemingway who searched for inspiration in Europe's most unspoilt destinations.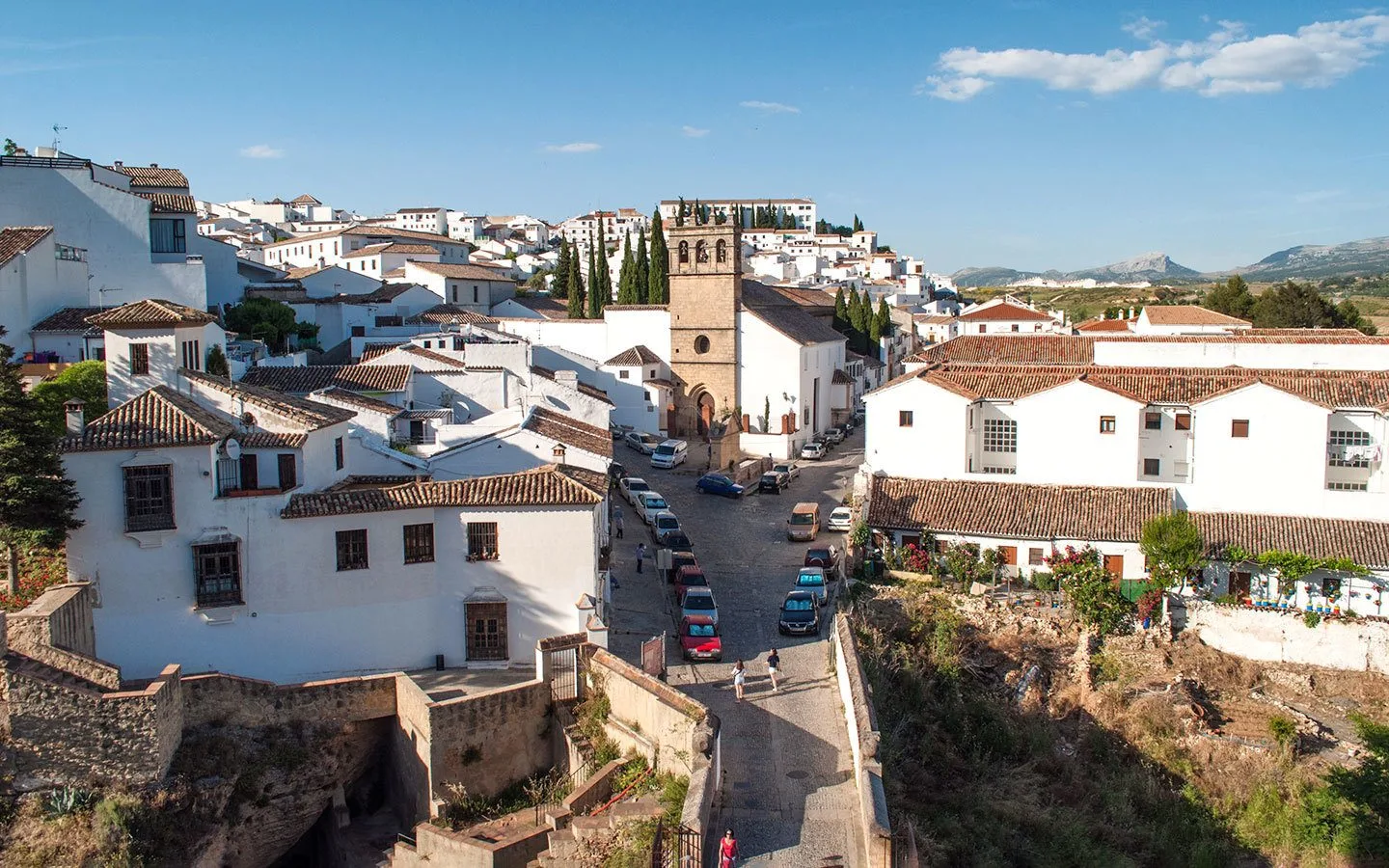 Today Ronda may be a bit more on the tourist trail, but it's still kept plenty of its original charm. It's still got that small town feel, with no high-rises or big branded hotels, and if you walk for 20 minutes in any direction you'll find yourself out in the countryside.
Ronda is close enough to Seville or Málaga for a day trip, but as well as stunning views, there's more than enough to see and do to make it worth staying a night or two. So if you're looking for a spot for a relaxed Spanish city break – or an add on to a trip to Seville, Granada or the coast, here are some of my favourite things to do in Ronda.
The best things to do in Ronda, Spain
See the famous Puente Nuevo (new bridge)
The heart of Ronda is the El Tajo gorge, a rocky drop plummeting over 100 metres to the Guadalevín River. The gorge cuts right through the centre of Ronda and splits the town in two. On one side is the Moorish old town and on the other is the 15th-century El Mercadillo 'new' town, and three bridges cross the gorge to connect them.
The Puente Nuevo or New Bridge is Ronda's most famous landmark and its classic postcard shot – a giant triple arch with columns stretching 120 metres down into the depths of the gorge. Despite the name it's over 230 years old (new by Ronda standards) and opened in 1783 after taking 40 years to build. Extra care was taken after the previous bridge on the same spot collapsed only six years after it was finished, killing 50 people.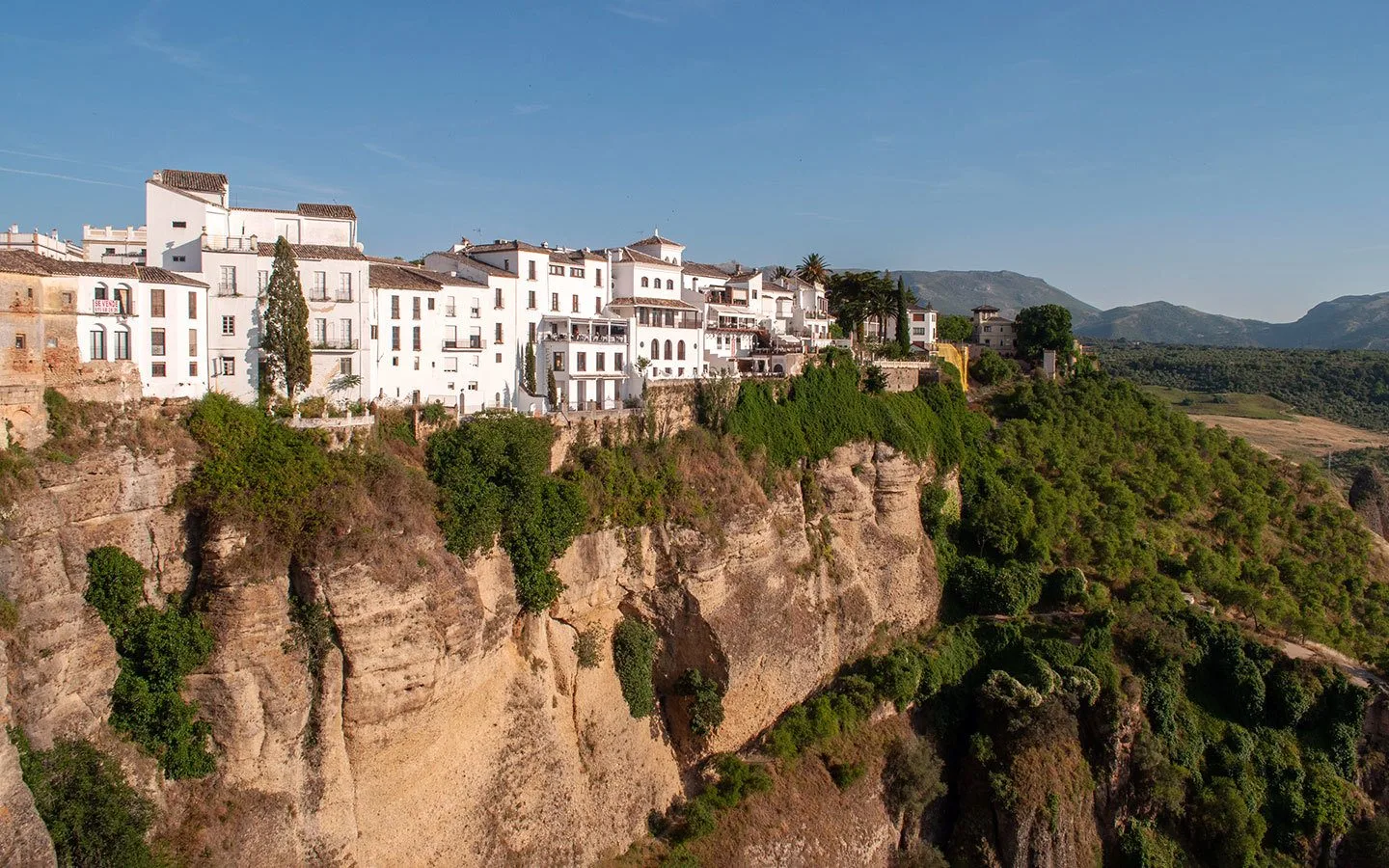 There are gory stories of Nationalist sympathisers in the Spanish Civil War being thrown off the bridge – inspiring Hemingway who used the idea in his book For Whom the Bell Tolls. And there's a chamber above the bridge's central arch which was allegedly a wartime torture chamber and prison, and now houses an exhibition about the bridge's construction.
Admiring the Puerto Nuevo is one the most popular things to do in Ronda, but it's not the only bridge in town. It's also worth checking out the other two – the Puente Viejo (Old Bridge) and smaller Bridge of San Miguel (also known as the Arab Bridge). Take a walk over each of them for a different view of the gorge and the town's historic buildings.
Walk down into the El Tajo gorge
One of the best ways to see the Puerto Nuevo is to get down below and look up to really get a sense of the scale of this spectacular piece of engineering. To reach the bottom of the El Tajo gorge, start in the pretty Plaza de Maria Auxiliadora square where there's an unpaved road you can follow, which isn't too strenuous but turns steep and rocky in parts.
Along the way there are plenty of viewpoints where you can see the Puerto Nuevo from different angles, including a view of the waterfall below it. And once you're at the bottom of the gorge you can follow the Guadalevín River or see ruined flour mills on the Carretera de los Molinos, which were destroyed by an earthquake in 1917.
Visit one of Spain's oldest bullrings
As well as designing the Puente Nuevo, architect Jose Martín de Aldehuela was also responsible for creating Ronda's Plaza del Toros – one of Spain's oldest and most impressive bullrings. It was built in 1785 and could hold 5000 spectators, and is unusual in that all the seats are covered by two-storey arched galleries. Although I'm not a fan of the sport, it's still an impressive place to visit, and a big part of the town's history and culture.
As well as exploring the arena, there's a museum where you can learn more about Ronda's bullfighting tradition, and the famous local Romero and Ordóñez families who produced a string of champions in the 18th century. Only one fight a year is a held at the Plaza del Toros now, as part of the Feria de Pedro Romero festival each September.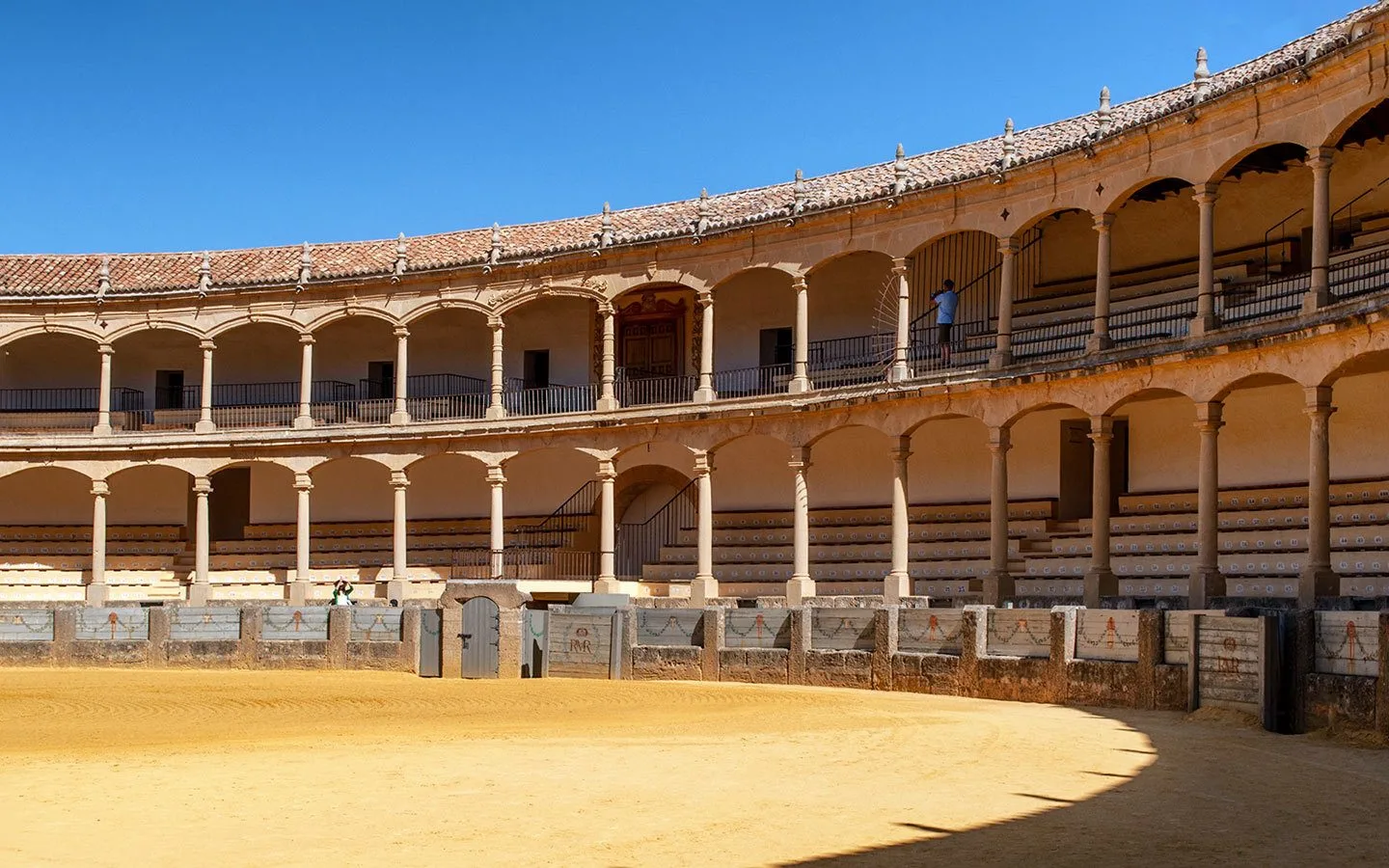 Explore the historic Arab Baths
Ronda's Arab Baths are some of the best preserved in Spain. They were built during the town's 12th-century Moorish period and were used by Muslims to purify themselves before visiting the mosque. The design is similar to a Roman bathhouse, with separate hot, warm and cool rooms where people would gather and socialise.
The baths were built partially underground to control the temperature and heated by a network of underground chambers and furnaces. You might not be able to take a dip any more, but you can find out how they worked, and explore the arched ceiling rooms with their star-shaped roof vents designed to let steam out and light in.
Try delicious local food
The altitude and sunny weather make Ronda great for growing fruit and vegetables, with tomatoes, peppers and broad beans bursting with flavour. You'll also find rabbit from the hills and seafood from the coast, along with Spanish classics like Iberico ham.
The perfect way to try a bit of it all is at the town's tapas restaurants. Some of our favourite spots were the tiny De Locos Tapas, with quirky dishes like tuna tataki and belly pork on the menu – though make sure to book in advance. And Entrevinos, a wine bar come tapas restaurant with a great selection of wines from the nearby Sierras de Málaga.
Or if you want to splash out, Ronda is also home to Michelin-starred Bardal, which offers a choice of tasting menus paired with wines from their cellars.
Climb the stairs at the Casa del Rey Moro
Despite a name that means 'the home of a Moorish King', the Casa del Rey Moro only dates back to the 18th century, though it was built on the site of an original Moorish well. Although the mansion itself isn't open to the public, you can visit the beautiful gardens which were designed by French landscape gardener Jean-Claude Forestier in 1912.
The gardens stretch across three terraces built into the hillside, with fountains, streams and pools, decorated with colourful flowers and ceramic tiles. There's also an original staircase which runs from the gardens down 200 steps to the bottom of the El Tajo gorge, and was originally used to fetch water when Ronda was under siege.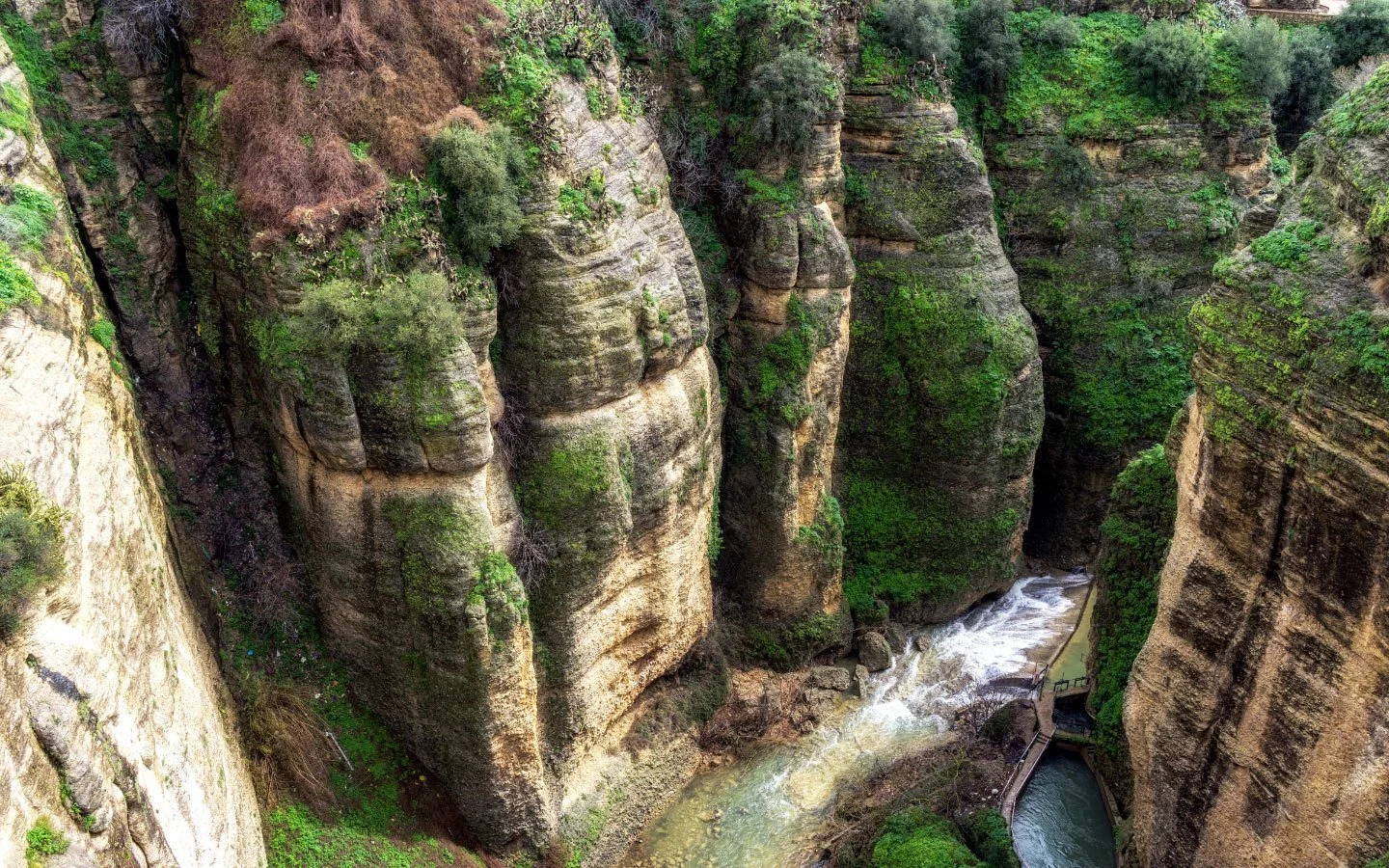 Admire the views from the Alameda del Tajo
With panoramic views of the surrounding countryside, watching the sun rise or set at the cliffside Alameda del Tajo gardens is one of the essential things to do in Ronda. This 19th-century park is laid out with five avenues lined with trees leading to the cliff edge.
On the edge of are viewpoints which jut out over the gorge – so make sure you've got a head for heights. On a sunny day the Alameda del Tajo gardens are a social hub for Ronda's residents, who gather beneath the shady trees to catch up with each other.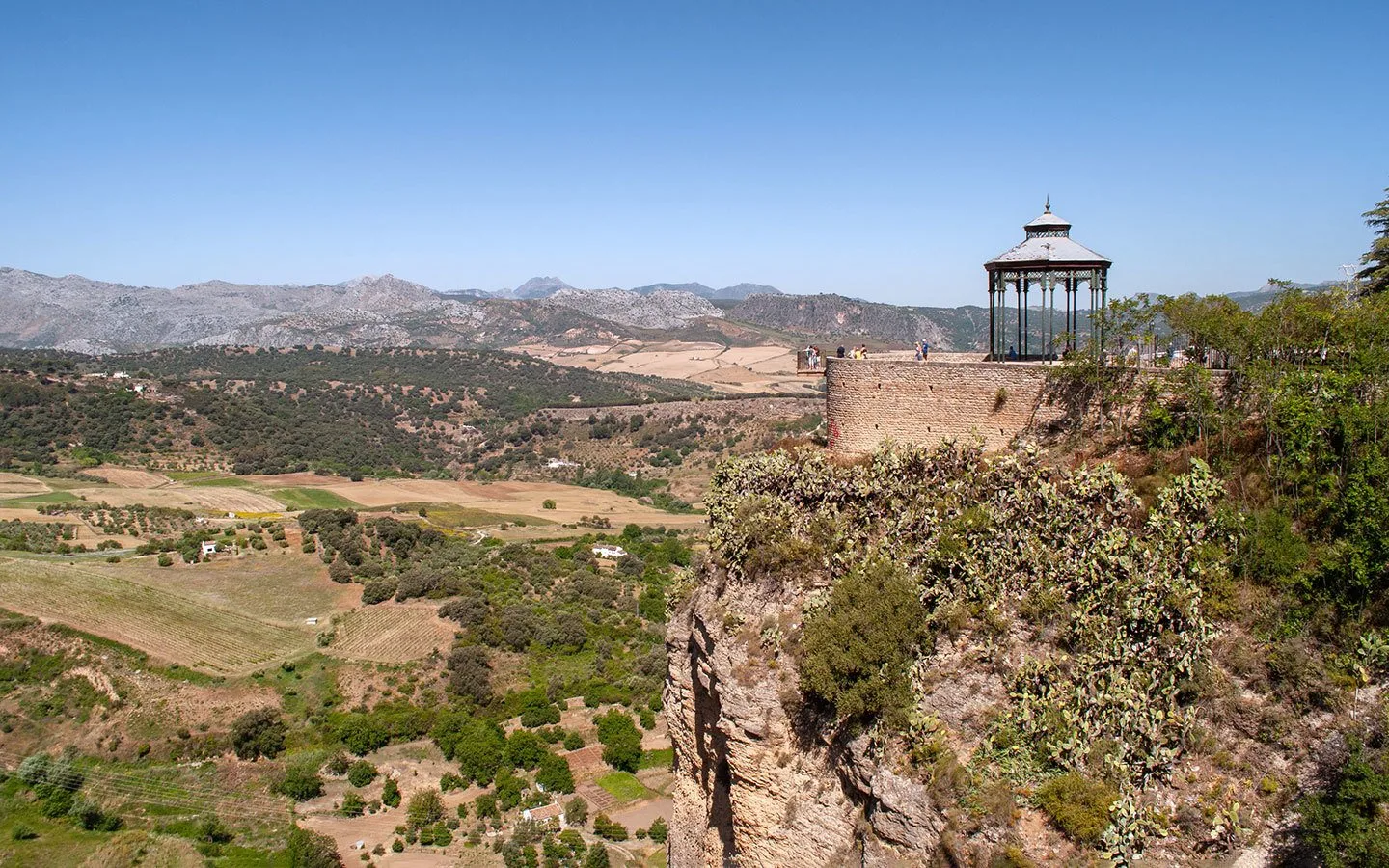 Stroll through the Old Town
Ronda's historic old town lies to the south of the El Tajo gorge and is criss-crossed by narrow cobbled streets. Take a wander through them and you'll find sections of the old city walls, white and yellow-painted churches, tiled fountains and tucked-away cafés.
And if you think Ronda is beautiful in the daytime, just wait until you see it at night. The town is a popular spot for day-trippers from the coast, but once the sun starts to go down and the tour buses head off, wrought iron lamps light the narrow streets and tapas restaurant tables spill out onto the pavements giving it a peaceful, magical feel.
The details
Travelling to Spain
From 2023, visitors from 60 non-EU countries will need to obtain an ETIAS (European Travel Information and Authorisation System) before visiting Spain. This new electronic travel authorisation system allows US citizens to travel to Spain, as well as other nationalities like Canadians, Australians, New Zealanders and Brits. You can apply using a simple online form and the ETIAS is valid for three years for stays of up to 90 days.
When to visit Ronda
Summers in Ronda are long, warm and dry. Unlike many Spanish destinations, July and August aren't uncomfortably hot either, with average highs around 26–30°C (79–86°F). But summer is peak season, so it's when Ronda is busiest and most expensive.
Ronda's winters are short and mild, with daytime average highs of 14°C/57°F and lows of 8°C/46°F. Rainfall peaks from November to January, but there are usually only around five days of rain a month. And the spring and autumn shoulder seasons are a great time to visit – normally pleasantly warm and dry but not so busy as the summer.
How to get to Ronda
Ronda is located in Andalusia in southern Spain, an hour west of Málaga on the coast. Málaga is where you'll find Ronda's nearest airport, but it's also fairly close to Seville, Jerez and Gibraltar airports. If you're travelling by road, it's around 105km (1 hour 15 minutes) from Málaga, 130km (1.5 hours) from Seville and 178km (2 hours) from Granada, though allow time to check out the views of the mountain scenery and pueblos blancos.
Ronda's roads are narrow and street parking is limited, but there are several underground car parks – most major hotels have parking, or can advise you on the nearest place to park. Once you arrive, Ronda is fairly small and easy to get around on foot.
If you're travelling by public transport, the bus and train stations are a 10-minute walk from the centre of town. Trains to Ronda are infrequent and usually involve a change at Antequera-Santa Ana. It takes around 2 hours from Málaga or 3 hours from Seville. There are also bus services from Málaga, Marbella, Seville, Granada and Cadiz.
Where to stay in Ronda
The Alavera de los Banos* is a Moroccan-style hotel in Ronda's old Jewish quarter, next to the Arab Baths. It's a peaceful spot with 11 rustic rooms – some with their own terrace – surrounded by flower-filled gardens with a swimming pool with views of the Roman Bridge. A tasty homemade breakfast of pastries, fruit, local cheese and ham is included.
Or the luxurious, modern Hotel Catalonia* is in the heart of Ronda, with a wow-factor infinity pool overlooking the Plaza de Toros. The 80 rooms are stylishly decorated with high-tech accessories, and there's a roof terrace bar and restaurant, spa, sauna and gym.
Save for later
You might also like