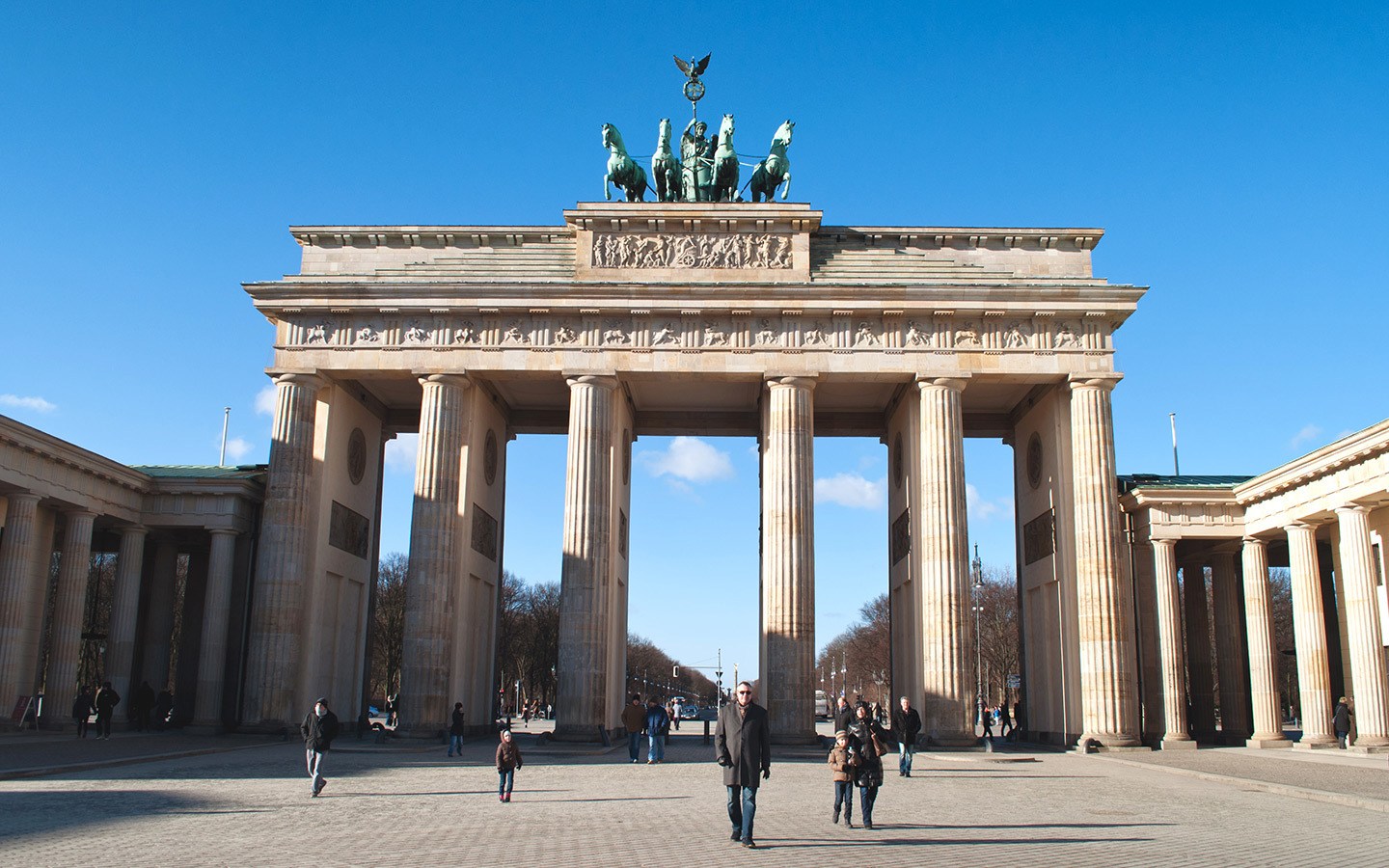 When it comes to city breaks, Berlin's got something for everyone. It's got fascinating history, both the recent stories of the Berlin Wall but also its wartime history and museums artifacts dating back thousands of years. Then there's the modern vibrant, multicultural culture of street art and global music. And there's the great nightlife, whether you're looking for a lazy afternoon in a biergarten or a clubbing marathon. Berlin is one of Europe's cheaper capital cities, but prices can still start to add up. So here are my top tips for making the most of Berlin on a budget.
Read more: Following the stories of the Berlin Wall
Things to do in Berlin on a budget
Many of Berlin's most famous sights are free to visit, including the Brandenburg Gate, the Holocaust Memorial sculpture, Checkpoint Charlie and the East Side Gallery – an open-air art gallery along a section of the old Berlin Wall. You can also get free entry to the Reichstag building and the Berlin Wall Memorial on Bernauer Strasse.
For a good introduction to the city, there are a few different companies which offer free walking tours where you just tip your guide. For general city tours, Sandeman's New Europe have a 2.5-hour tour from Starbucks at Brandenburg Gate multiple times a day and Brewer's Berlin Tours also have a 2.5-hour tour from Rosenthaler Platz at 10am and 2pm every day. Or for something a bit different, Alternative Berlin Tours run a 3-hour tour of street art and subculture in the Kreuzberg district, starting from the Alexanderplatz TV Tower at 11am, 1pm and 3pm.
If you're in Berlin in summer, head to the huge Tiergarten park for a picnic among its 600 acres of lawns and lakes. Or for an afternoon on the beach, take a 20-minute train ride south-west of the city to Strandbad Wannsee, a lido with over a kilometre of sand. There's also the smaller Strandbar Mitte urban beach along the River Spree by Museum Island from April to September.
For classical music fans, there are free lunchtime concerts at 1pm on Tuesdays in the foyer of the Berlin Philharmonic from September–June. They're performed by members of the orchestra and music students and last around 40 minutes. Get there early as they're limited to 1500 spaces. There's also the annual Fête de la Musique in June with free music concerts, from classical and jazz to reggae and punk, performed in over 100 venues across the city from 4pm to 10pm.
Money-saving museums and galleries
Berlin's Museum Island is a UNESCO World Heritage Site which is home to five museums with artifacts from 6000 years of history. Each museum charges €10–12 for entry (half price for concessions). But better value is the combined one-day Museum Island area ticket which costs €18 (€9 for concessions). Entry is free to all the museums for under 18s.
There are also a couple of city passes which give you discounts on museum entry as well as other attractions and public transport. The Museum Pass lasts three days and gives entry to over 30 museums and exhibitions, including those on Museum Island, for €29 (€14.50 for students). Or there's the general Berlin Pass which gives you free entry to 50 museums and attractions, as well as a hop-on-hop-off bus tour. You can also get a version with city transport included. A 3-day pass costs €89 or €115 with travel (€54/€71 for children under 15).
Many of the city's other museums are free to enter, including the Palace of Tears, Allied Museum and Topography of Terror – see this full list. Other museums have free entry on certain days. The Märkisches city history museum, Nikolaikirche church, Ephraim-Palais and Bröhan museum of art nouveau and art deco all have free entry on the first Wednesday of the month.
Top city views
For one of the best Berlin views, head to the glass dome on top of the Reichstag parliament building. Entry's free but you need to book in advance either on the their website or at the office on Scheidemann Strasse. It's is normally open daily from 8am to midnight (last admission at 10pm), but can be closed if the weather's bad or when parliament is sitting.
The city's tallest viewpoint is the Fernsehturm or TV Tower, but it's also one of the priciest. A fast view ticket with timed slot costs €19.50 for adults or €12 for children aged 4–14. But there are cheaper €15.50 (€9.50 for children and 20% student discount) tickets available where you might have to queue. Cheaper options where you can get great city views which include the TV Tower are the Panoramapunkt Tower for €7.50 (€11.50 to skip the queue), the Victory Tower in the Tiergarten for €3 or the Park Inn Alexanderplatz's viewing platform for €3.
Budget food and drink
Berlin has the largest Turkish population outside of Turkey, so it's easy to find a cheap meal of a döner and pitta for a couple of euros, particularly in Kreuzberg. Or for a home-grown street snack, try a currywurst – pork sausage fried and coated with curry sauce and curry powder.
On Thursday evenings the Markt Halle Neun holds a Street Food Thursdays from 5pm–10pm featuring food from around the world. There are also street food stalls at the Sunday Flea Market in Mauerpark, Berlin's largest open air market, with karaoke to entertain you as you eat. Or if you're self catering then there are supermarkets across the city – the main chains are Aldi, Lidl and Netto, but you'll also find plenty of small organic supermarkets.
Another good budget eating option is Berlin's student canteens. They serve good-value meals and are open to everyone, not just students. You can have a meal with a free panoramic city view at the Technical University's Skyline TU Cafeteria which is located on the 20th floor of the Telefunkenhochhaus tower (open 7.30am–4pm from Monday to Friday).
Germans take their beer seriously, and in some places it's cheaper than a bottle of water. On summer evenings, Berliners head to one of the city's biergartens, or beer gardens, to cool down with a drink. You'll find them all over the city, but some of the best-known are the historic Prater, the Café am Neuen See b a lyake in the Tiergarten and the Turkish-style Burg am See.
Low-cost Berlin transport
For travel in the city, the Berlin Pass gives unlimited free travel on Berlin's S-Bahn, U-Bahn, buses, trams and ferries. Otherwise the city's divided into three zones – a single ticket for zones AB costs €2.80 (see a map of the zones). If you'll be travelling around a lot, you can get a Day Ticket for €7 that's valid until 3am the next morning. Or a Seven-Day Ticket for €30 that's valid for any seven consecutive days – both cover one adult and up to three children aged 6–14.
You can get a sightseeing tour for the price of a single bus ticket on city bus route 100 – the first bus route to connect East and West Berlin after reunification. The route starts at Alexanderplatz and runs past Museum Island, the Reichstag, Brandenburg Gate, Tiergarten, Victory Tower and Kurfürstendamm shopping street before ending at the zoo. There's also a good city view from the raised platform of the S-Bahn train between Zoologischer Garten and Alexanderplatz.
Berlin's public transport passes can also be used on the city's ferries. Most are only short journeys but the trip across Lake Wannsee makes a good day trip on a sunny day. Take the S-Bahn to Wannsee station then the ferry across to Kladow, which runs every hour and takes 20 minutes. Kladow has good walking and cycling routes plus restaurants and beer gardens.
So those are my tips for seeing Berlin on a budget – do you know of any more Berlin bargains or have any money-saving tips?
Pin it
This article contains affiliate links, where I get a small commission at no extra cost to you – thanks.