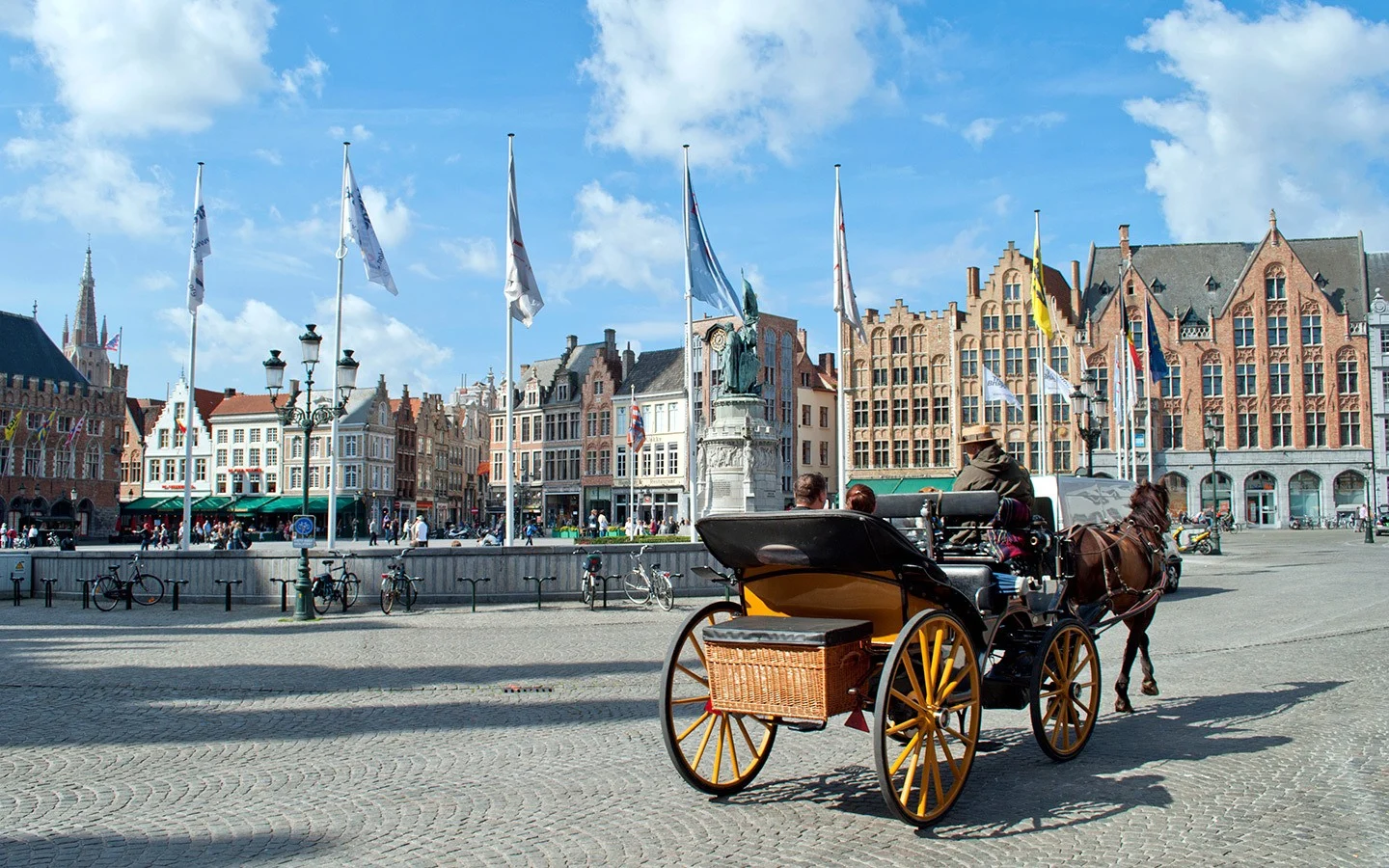 With its cobbled streets, crooked bridges, meandering canals and World Heritage-listed medieval buildings, the Belgian city of Bruges is so pretty it's almost too good to be true. But anywhere where you can drink 12% alcohol beer and which inspired a film about hit men and dwarves has got to be more than just a pretty face. And Bruges is just perfect for a weekend break – easy to get to and explore on foot, and bursting with charming streets, fantastic beers, boutique chocolate-makers and canalside bars. So if you fancy a sweet couple of days, here's how to spend the perfect weekend in Bruges with my 48-hour city break itinerary.
A weekend in Bruges: 48-hour itinerary
Friday evening
Bruges is only 45 minutes from Brussels, so it's easy to get there directly by train (with Eurostar trains running from London to Brussels in 1 hour 48 minutes) or from Brussels airport. Once you arrive, the city's compact and easy to get around by foot. Check into B&B Bariseele, with just three en-suite rooms in a quiet street a 10-minute walk along the canals from the Grote Markt. Friendly owner Benny knows all there is to know about Bruges and the B&B is eco certified. Rooms start from €130 and come with a big continental breakfast (chocolate included).
Or if you want to be right along the canals, the four-star boutique Hotel Prinsenhof is a family-run hotel with lots of luxurious touches. Standard rooms start at €172, but the superior rooms (from €220) have a bit more wow factor, with their own jacuzzis. Guests also get a free two-hour guided city tour. Head to Tom's Diner for dinner, an informal spot serving international dishes made with local ingredients, like Ardennes tenderloin and stuffed zucchini.
Saturday morning
Start the day right in the heart of Bruges at the Grote Markt or market square. This pedestrianised square (though watch out for horse-drawn carriages) is surrounded by historic buildings. Towering above them all is the medieval Belfort belfry. It was built on the 13th century and its 47 bells were used to announce the time, fire alarms and festivals. And if you've seen the black comedy In Bruges, it's also where one of the characters come to a messy end.
You can climb to the top of the 83-metre belfry tower up 366 narrow, steep spiral stairs (entry adults €12, concessions €10). It's not one for the claustrophobic, but the 360-degree views across the city at top are spectacular. From the Grote Markt, head out into the side streets to explore Bruges' pretty squares. In the Burg you'll find the Staduis (City Hall) with its impressive golden vaulted ceiling and painted walls which tell the story of the history of Belgium.
There's also the Basilica of the Holy Blood, a double-decker chapel which has a Romanesque church down below and a neo-Gothic church up above. When you get thirsty call into 2be, a bar and beer shop which sells brews from all across Belgium, and has them displayed in a huge 'wall of beer' along the side of the building. If the sun's shining then it has a terrace overlooking the canals, which is one of the best vantage points to watch the tour boats sail by.
Saturday afternoon
Along with beer, Belgium's other famous export is chocolate, and there are plenty of opportunities to try it in Bruges. There's even a museum dedicated to it – Choco-Story tells the history of cocoa and chocolate-making, right back to the Maya, with samples to try too. Of if you fancy trying something more unusual than plain, dark or white, The Chocolate Line shop does amazing handmade chocolates with sometimes bizarre flavour combinations, like Miss Piggy (bacon and quinoa), Green Tokyo (wasabi) and Havana (tobacco leaves).
Call into 't Brugs Beertje for a pre-dinner drink. This beer bar is less pub, more tasting room where you can sample 300 beers from around Belgium. There are a mix of draught and bottled beers, classic, seasonal and one-off brews to choose from. Then head on to Pomperlut bistro for dinner. They serve Mediterranean-inspired dishes and tapas – grab a spot on the terrace in summer or in the cosy dark-wood restaurant draped with chandeliers in winter.
Sunday morning
Start the day with brunch at That's Toast, with breakfast served all day, from healthy granola and orange juice to Tiramisu French toast and mimosas. Then head out through the medieval Kruispoort city gate to an area of parkland on the outskirts of the old town which is scattered with a series of old windmills. Originally there were 25 windmills all the way around the city but only four are left now. To find them just follow the river in the north of the city.
Bruges is full of places to drink beer, but if you want to see how it's made, then you need to visit De Halve Maan – aka The Half Moon. This family-run brewery offers 45-minute tours for €12 which take you along narrow passageways and up ladders to the brewery's roof for views across the city. You'll see how they make their beers and end up by tasting their Brugse Zot Blond beer. For lunch, the brewery restaurant uses their brews in traditional dishes like carbonnades flamandes (beef and beer stew) or lapin á la gueuze (rabbit cooked in beer).
Sunday afternoon
Bruges has more canals than roads in its old town, so one of the best ways to finish off your weekend in Bruges is on a boat trip. Trips around the canals last half an hour and run from five landing stages around the city centre (adults €10, children up to 11 €6). The Rozenhoedkaai stop is where you want to head to get that postcard perfect shot of the canals, swans and boats. But if the queues there are too long, try one of the quieter spots a bit further out of the centre.
Or why not get out of the city centre and explore a bit further afield with a boat trip out to the nearby town of Damme? The historic river boat Lamme Goedzak sails from Bruges to Damme four times a day and takes about 35 minutes each way (tickets cost €10.50 single/€14.50 return for adults, €10/€12.50 for seniors and €9/€11.50 for children up to 11).
The boat leaves from just outside Bruges' city walls and follows a long, straight canal – which was originally built so that Damme could be used as a port for Bruges – for the four miles to Damme. The town has a good book market and a pretty central square surrounded by restaurants. Try a hot chocolate and a pancake oozing with Nutella from the crêpe stall – and if you're feeling energetic you can walk back into Bruges along the canalside path.
Pin it
This article contains affiliate links, where I get a small commission at no extra cost to you, thanks.