How to spend a weekend in Canterbury: Discover the best things to see, do, eat and drink in Canterbury in a two-day itinerary of historic buildings, museums and scenic boat trips in this cathedral city.
* This site contains affiliate links, where I get a small commission from purchases at no extra cost to you.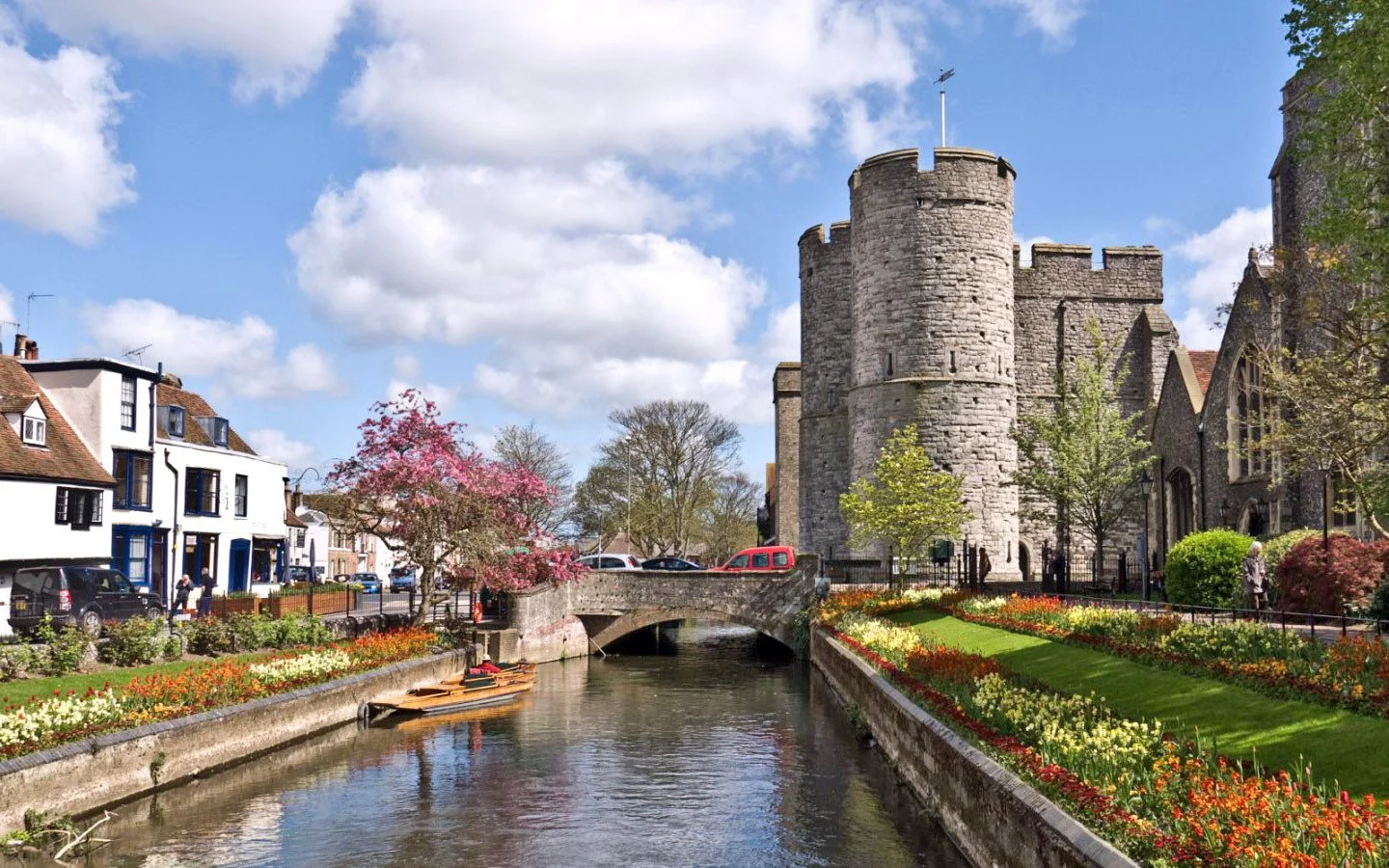 With its UNESCO World Heritage historic centre and cathedral attracting visitors from around the world, Canterbury in Kent makes a popular day trip. But it's worth staying longer to see what else the city has to offer, with boat trips along the River Stour, waterside gardens, Roman ruins, city tower viewpoints – and even a few resident ghosts.
If you're looking for an easy escape from London, high-speed trains can get you to Canterbury in less than an hour. So here's my two-day Canterbury itinerary to help you plan the perfect weekend in Canterbury, with what to see, where to eat, drink and stay.
How to spend a weekend in Canterbury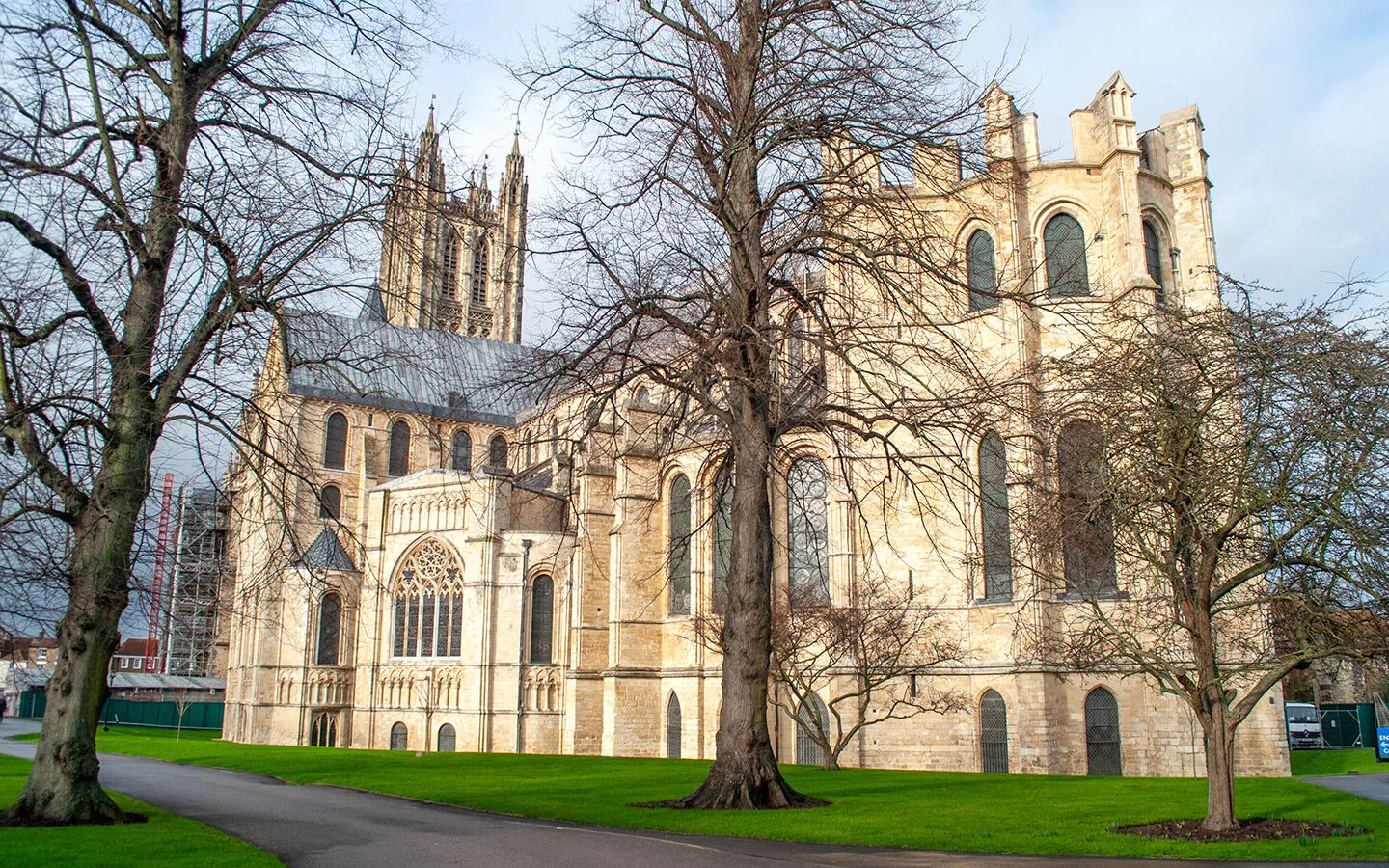 Friday evening
Check into your accommodation then start your weekend in Canterbury with an early dinner at the Café des Amis. This colourful restaurant has been serving tasty Mexican dishes for over 35 years. On the menu are classics like fajitas, enchiladas, burritos and ceviche, served with homemade salsas using 10 different types of chilli.
Then join the 8pm Canterbury Ghost Tour, which departs outside Alberrys on St Margaret's Street. The tour lasts 90 minutes (prebooking required) and is led by local author and historian John Hippisley – he's easy to spot in his black top hat and cloak.
The tour is a mix of history, haunting stories and a few jokes, as you're taken through the dark city streets in search of Canterbury's spooky side. Then call into The Parrot for a post-tour drink. This 14th-century pub is said to be city's oldest and has plenty of character, with wooden beams and open fires in winter and a walled beer garden in summer.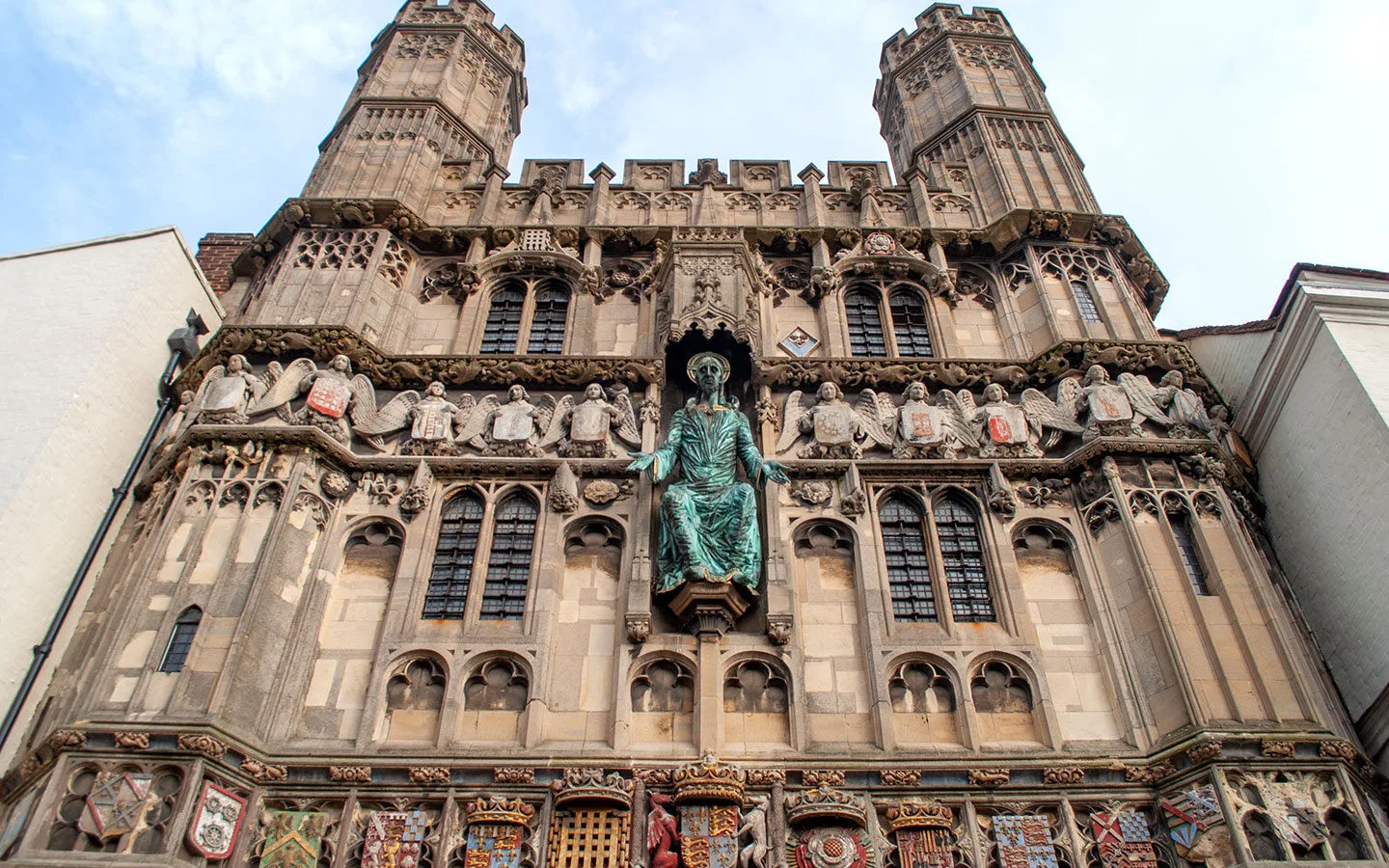 Saturday morning
The following morning, start the day with a visit to Canterbury's most famous building – its cathedral. It's a good idea to get there early in the morning or book a skip-the-line ticket* to miss the worst of the day-trip crowds who come down from London.
England's largest cathedral is the heart of the Church of England and the seat of the Archbishop of Canterbury. It was founded in 597 AD by missionary St Augustine, and was rebuilt by the Normans after a fire. The crypt is the only surviving part of the original cathedral, an atmospheric underground chamber decorated with stone carvings.
You can stand on the spot where Thomas Becket was murdered in 1170, see Henry IV and the Black Prince's tombs, and admire impressive medieval stained glass windows. There are also cloisters and gardens, so allow a few hours to look around it all.
Next pay a visit to another of Canterbury's much-loved historic buildings, the Beaney House of Art & Knowledge, a few minutes' walk away. This free museum and art gallery is set inside a beautiful Tudor-style building, which was built in the 19th century. Inside is a mix of exhibits including works by local artists and archaeological finds.
Then head to the Goods Shed for lunch. This farmers' market and food hall is located in an old Victorian railway shed. It sells fruit and vegetables from around the 'Garden of England' as well as organic meat, cheeses, wines and homemade bread and cakes.
There's a restaurant right on site, with a light and bright dining room upstairs and a garden for sunny days. The menu uses produce from the market stalls to create seasonal dishes like wild sea bass with mussels and Jerusalem artichokes with lentils.
Saturday afternoon
Spent the afternoon going back in time at Canterbury's Roman Museum. It takes you back to the days when the city was known as Durovernum Cantiacorum. It was originally a military base but later became an important trading and administrative centre thanks to its position on Watling Street, the main Roman road from the southeast to London.
The museum is built around the remains of a Roman town house complete with original mosaics, some of which were uncovered after the city was bombed during the Second World War. There's also Roman jewellery, pottery and glassware on show.
Have dinner at the Café du Soleil, in a converted 18th-century wool mill on the riverside. They serve a mix of Mediterranean dishes including chicken saltimbocca, seafood risotto and homemade ravioli, as well as pizzas cooked in their wood-burning oven.
Then finish the evening with cocktails at The Pound bar. Canterbury's former police station and jail has been restored and turned into a cocktail bar, with plenty of quirky design touches as a nod to its former life. You can reserve one of their cells as a private room for up to eight people. Or sit out on the riverside terrace on a warm evening.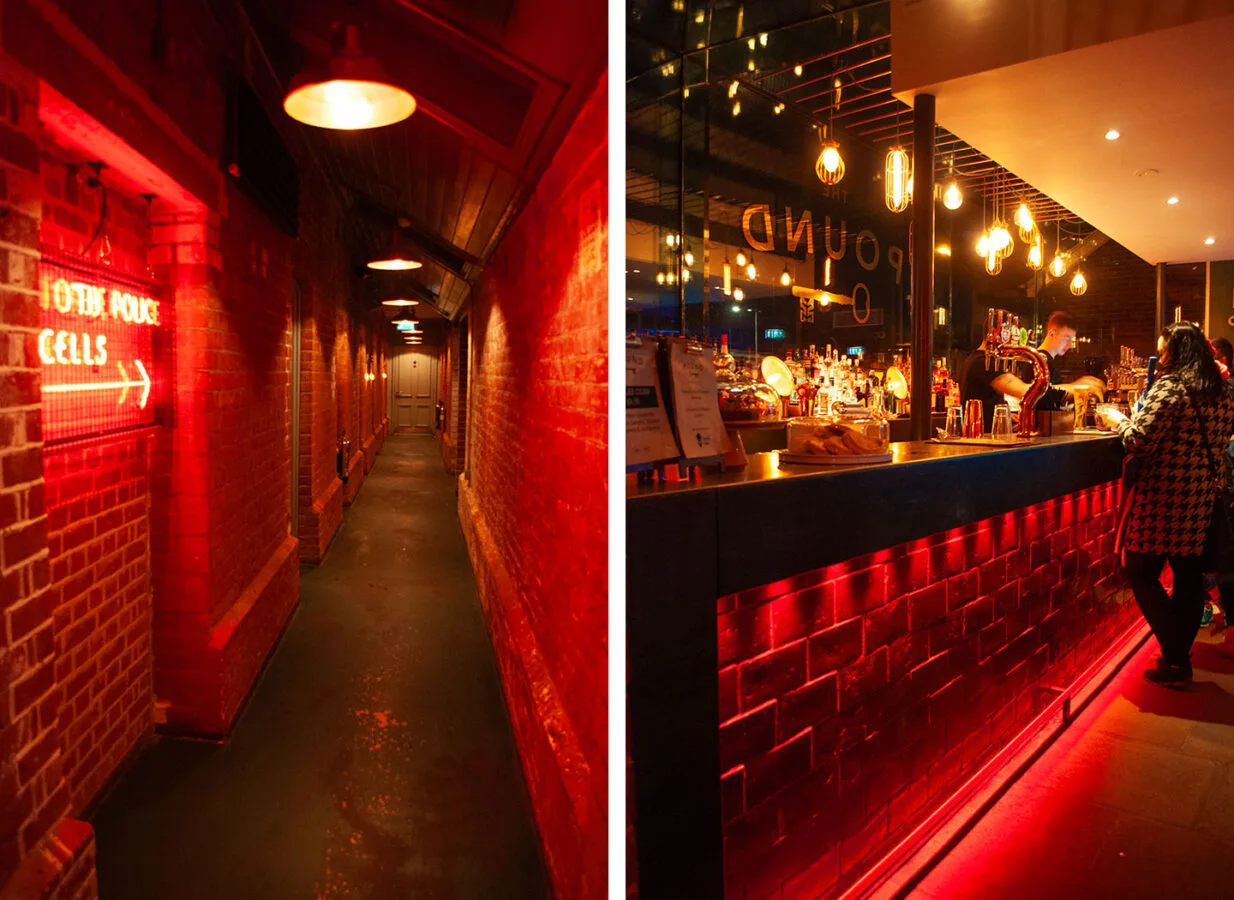 Sunday morning
After breakfast, take a walk to St Augustine's Abbey, part of Canterbury's UNESCO World Heritage site along with the cathedral and St Martin's Church. St Augustine's was built as a burial place for Anglo-Saxon kings and became a powerful, influential abbey until it was destroyed during Henry VIII's Dissolution of the Monasteries.
Today it's a peaceful, atmospheric ruin just outside the city walls. You can wander around the remains of the stone walls and visit its small museum, where some of the finds which were unearthed during excavation works at the site are on display.
St Martin's Church is just a short walk away too. It's part Roman and part Saxon, and is the oldest church in the English-speaking world in continual use. It was once the private chapel of Queen Bertha of Kent, and is where St Augustine was based before building the abbey.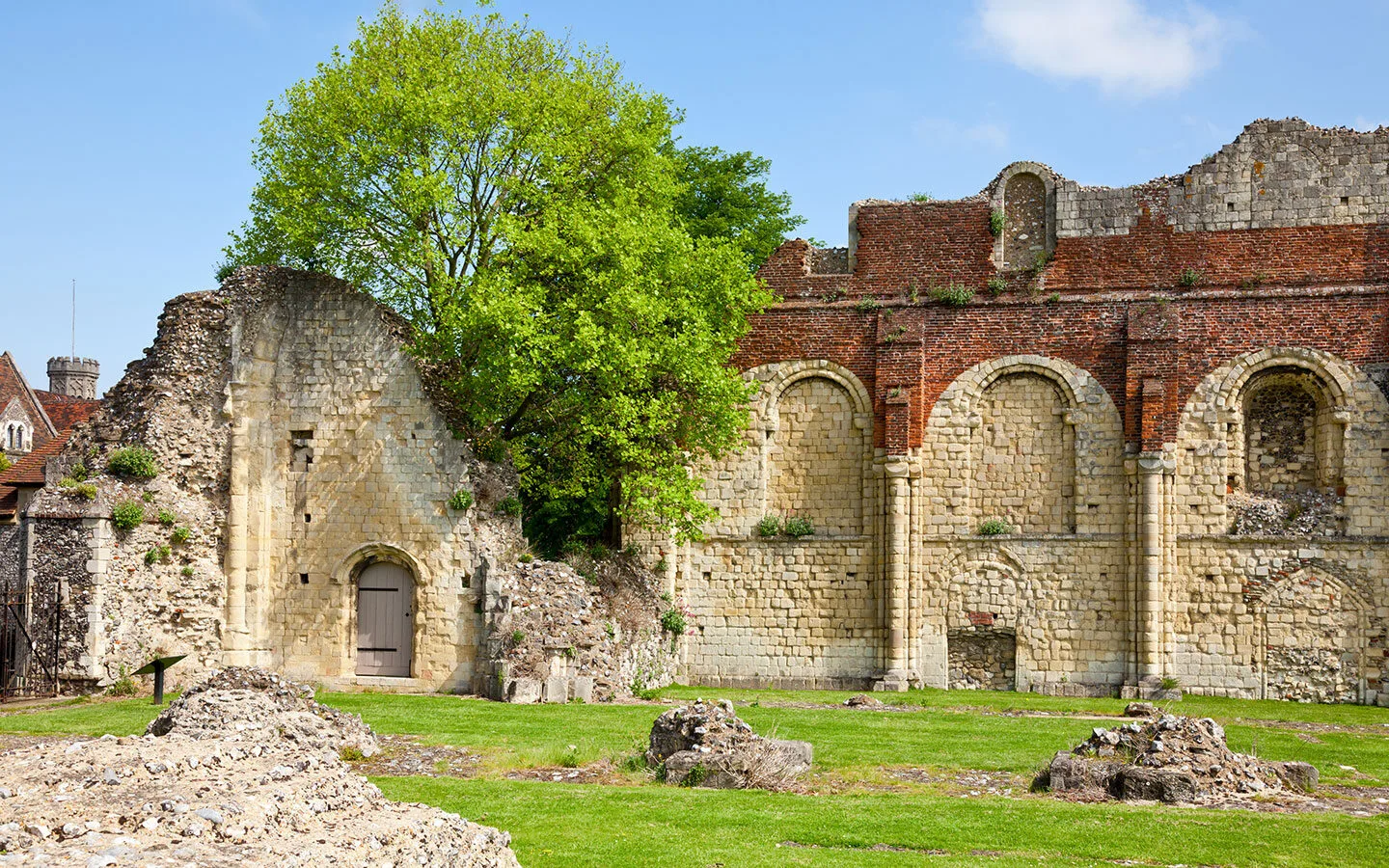 Next walk back into the city centre via King Street where you'll find the Catching Lives Bookshop – better known as the Crooked House. This 17th-century building has looked like it's about to fall over for centuries, but is still standing (thanks in part to a steel frame now). And its wonky appearance has made it a favourite photo opportunity.
Then call in to The Refectory Kitchen in St Dunstan's Street for food. This family-run café serves brilliant all-day brunches as well as soups and sandwiches, all using fresh local ingredients. I loved their Stateside waffles with bacon and maple syrup.
Sunday afternoon
After lunch, take a walk through the riverside Westgate Gardens and climb up the Westgate Tower (open 12pm–3.45pm on Sundays). The tower was built during the Hundred Years' War in the late Middle Ages and is the only one of Canterbury's original seven city gates that's still standing – as well as being the largest surviving city gate in England.
It was later used for defence in the First and Second World Wars as well as being part of the city jail, before finally being retired and converted into a museum. You can also climb the tower for views over the city rooftops and across to the cathedral from 60 feet up.
Next take a boat trip from Kings Bridge by the Old Weavers' House. Canterbury Historic River Tours run 40-minute tours, with the guide doing the hard work so you just have to soak up the views of Greyfriars' Island, the cathedral and King's School.
Then finally finish your weekend in Canterbury with afternoon tea at Tiny Tim's Tearoom on Saint Margaret's Street. This traditional tea room does a classic English afternoon tea spread with dainty sandwiches, cakes and pastries, and freshly baked scones. They also have a ghost room on the top floor you can visit if you're feeling brave!
Map of things to do in Canterbury
The details
How to get to Canterbury
Canterbury has two train stations: West and East (which despite the names are in the north and south of the city). They're less than a mile apart so it doesn't matter which you use.
It takes 55 minutes–1 hour 45 minutes to get to Canterbury from London by train*, depending on which station you depart from. Direct services from St Pancras are quickest, but there are also trains from London Bridge, Victoria, Charing Cross and Waterloo East. You can also reach Dover, Margate or Folkestone in under an hour by train.
If you're driving, Canterbury is around 60 miles (1.5 hours' drive) south of London. Overnight car parking is available at Castle Row (CT1 2PT), Holman's Meadow (CT1 3JB) and St Radigund's (CT1 2AA). Or there are two park and ride car parks.
The nearest airports to Canterbury are London Southend Airport and London Gatwick, both of which are around 1.5 hours' drive away. If you're travelling by public transport you'd need to take a train into London first then connect on to Canterbury.
Getting around Canterbury
Canterbury is fairly compact with the main attractions all close together so it's easy to get around on foot, but there are also local buses and taxis.
Where to stay in Canterbury
You can stay right in the cathedral grounds at Canterbury Cathedral Lodge.* They have 34 en-suite bedrooms, many with cathedral views. There's a lounge and private Campanile Garden for guests to relax in. And room rates include entry to the cathedral.
The Falstaff* is a traditional 15th-century coaching inn near the Westgate Tower. They have a mix of historic rooms with wood panelling and timber beams, and more modern rooms in a separate building. Rooms range from cosy doubles to family suites with sofa beds, and there's a smart cocktail bar and restaurant which does a good afternoon tea.
Or the ABode Canterbury* is another historic building-turned-hotel, this time from the 12th century. It has a great central location on the High Street, with medieval windows and fireplaces. There are 72 bedrooms decorated in muted colours, including the 'Fabulous Suite' with its own roof terrace. Plus there's a Champagne bar and restaurant.
Save for later
You might also like