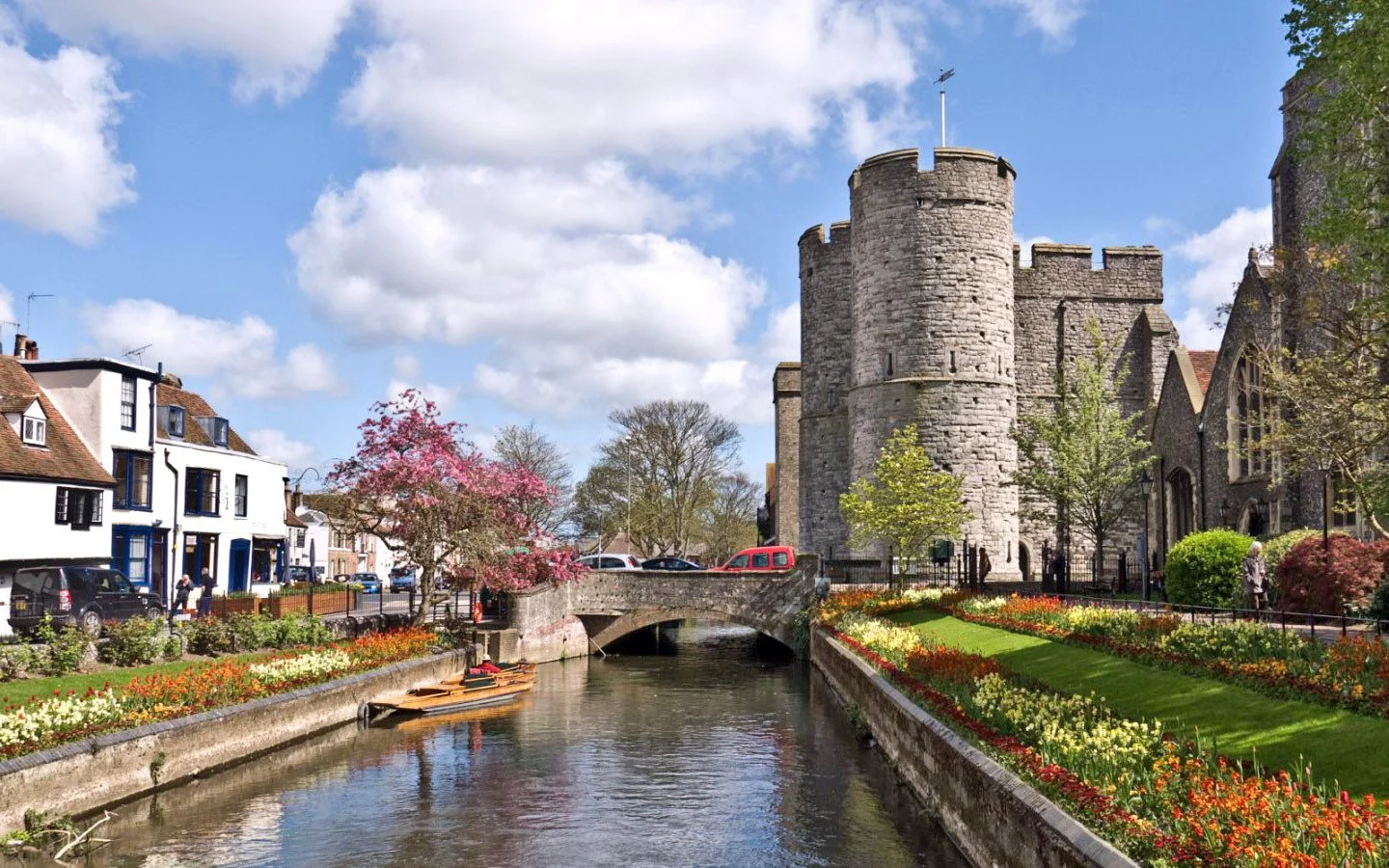 As a long-time resident of south-west England, the south-east of the country is still a bit of a mystery to me. Even when I lived nearby in London I'd usually head west for my weekends. So I thought it was time to check out what I'd missed, starting with the city of Canterbury in Kent. Its UNESCO World Heritage historic centre and cathedral attract visitors from around the world. But as well as the traditional pilgrims, thanks to new high-speed Javelin trains which speed visitors from London in under an hour, it's attracting a different kind of visitor – weekend breakers. So here's my 48-hour itinerary for spending a weekend in Canterbury.
Read more: 10 Great British weekend break ideas
How to spend a weekend in Canterbury
Friday evening
Check in to The Falstaff, a traditional 15th-century coaching near to the Westgate Tower. It's recently been redeveloped with a smart bar and restaurant, and has a mix of historic wood-panelled rooms and more modern ones in separate buildings. Rooms from £70 a night.
Or you can stay right in the grounds of the cathedral at Canterbury Cathedral Lodge, which has 35 rooms, many of which have cathedral views. Rooms start from £95 a night, including entry to the cathedral and discounts at local restaurants. Have an early dinner at Café des Amis, which mixes up Mexican and Mediterranean styles to create dishes like confit duck fajitas and pulled pork enchiladas, with homemade salsas made using 10 types of chilli.
Then join the 8pm Canterbury Ghost Tour (£10 adults, £9 children or £9.50 concessions). The tour lasts for 90 minutes and is led by local author John Hippisley – he's easy to spot in his black top hat and cloak. With a mix of history, haunting stories and a few jokes, you're taken through the dark city streets in search of Canterbury's spooky side. Then call into The Shakespeare for a post-tour drink, with a choice between a spot in the pub or the adjoining wine bar.
Saturday morning
Start the day with a visit to Canterbury's most famous building – the Cathedral (open from 9am, £12.50 for adults, £10.50 for students or £8.50 for under 18s). If you get there early in the morning you'll miss the worst of the day-trip crowds who travel down from London. England's largest cathedral is the heart of the Church of England. It was founded in 597 AD by missionary St Augustine, and has been rebuilt by the Saxons and Normans over the years.
You can stand on the spot where Thomas Becket was murdered in 1170 as well as checking out the crypt, tombs of Henry IV and the Black Prince, and the impressive medieval stained glass windows. From the cathedral head to Kings Bridge for a boat trip along the River Stour with Canterbury Historic River Tours (£11 adults, £9.50 concessions and £7 for under 17s).
The tours last 40 minutes at a leisurely rowing boat pace. Your guide does all the hard work so you just need to soak up the views along the waterside, with gardens, the Cathedral and Greyfriars Chapel. After the tour head to The Refectory Kitchen in St Dunstan's Street, a family-run café serving dishes like soups and sandwiches using fresh local ingredients.
Saturday afternoon
Spend the afternoon at Canterbury's Roman Museum (£9 for adults or £7 for concessions). It takes you back to the days when the city was known as Durovernum Cantiacorum. The museum is built around the remains of a Roman townhouse complete with original mosaics that were uncovered after the city was bombed in the Second World War.
Have dinner at the Café du Soleil, in a converted 18th-century wool mill. The food is Provençal style with dishes like chicken saltimbocca and cassoulet, as well as pizzas cooked in their wood-burning oven. Then finish off with cocktails at The Pound bar. Canterbury's former police station and jail has been turned into a cocktail bar, with plenty of design quirky touches to reflect its former life. You can reserve a private cell in winter or try the riverside terrace in summer.
Sunday morning
After a leisurely breakfast, head to the Canterbury Tales exhibition when it opens at 10am (£10.95 for adults, £9.95 for students and £8.95 for children under 15). Geoffrey Chaucer's 14th-century book The Canterbury Tales tells the stories of pilgrims on their way to Canterbury Cathedral. The exhibition's costumed guides take you through a recreation of the sights, sounds and smells from five different pilgrims stories. It's a bit on the cheesy side but is an interesting glimpse back in time (and a lot easier to get through than the book itself).
When you're hungry, move on to the Goods Shed farmers' market. Set in an old Victorian railway shed, the market sells fruit and vegetables from around the 'Garden of England' as well as organic meat, dairy and homemade baking. Have lunch at the restaurant above the market, which uses produce from the stalls to make seasonal dishes like roast venison and bouillabaisse.
Sunday afternoon
Burn off your lunch with a walk through the riverside Westgate Gardens and a climb up the Westgate Tower (£4 for adults, £3 for students/concessions or £2 for children under 15 – you can also get a joint ticket including the Canterbury Tales). It's the only one of Canterbury's original seven city gates still standing and the largest surviving city gate in England.
Look out over the city and across to the Cathedral from 60 feet up at the top of the tower. There's also an original 1830s prison cell in the attached museum which you can take a look around. Then finish off your weekend in Canterbury with afternoon tea at Kitch (closes 5pm), a café with great homemade cakes including gluten- and dairy-free options.
Have you visited Canterbury? Do you have any tips to add on what to see, do and eat?
Pin it
This article contains affiliate links, where I get a small commission at no extra cost to you, thanks.