All you need to know before visiting the beautiful Cinque Terre region in Northern Italy – the first-time visitor's guide to when to go, where to stay, what to do and how to get around the Cinque Terre.
* This site contains affiliate links, where I get a small commission from purchases at no extra cost to you.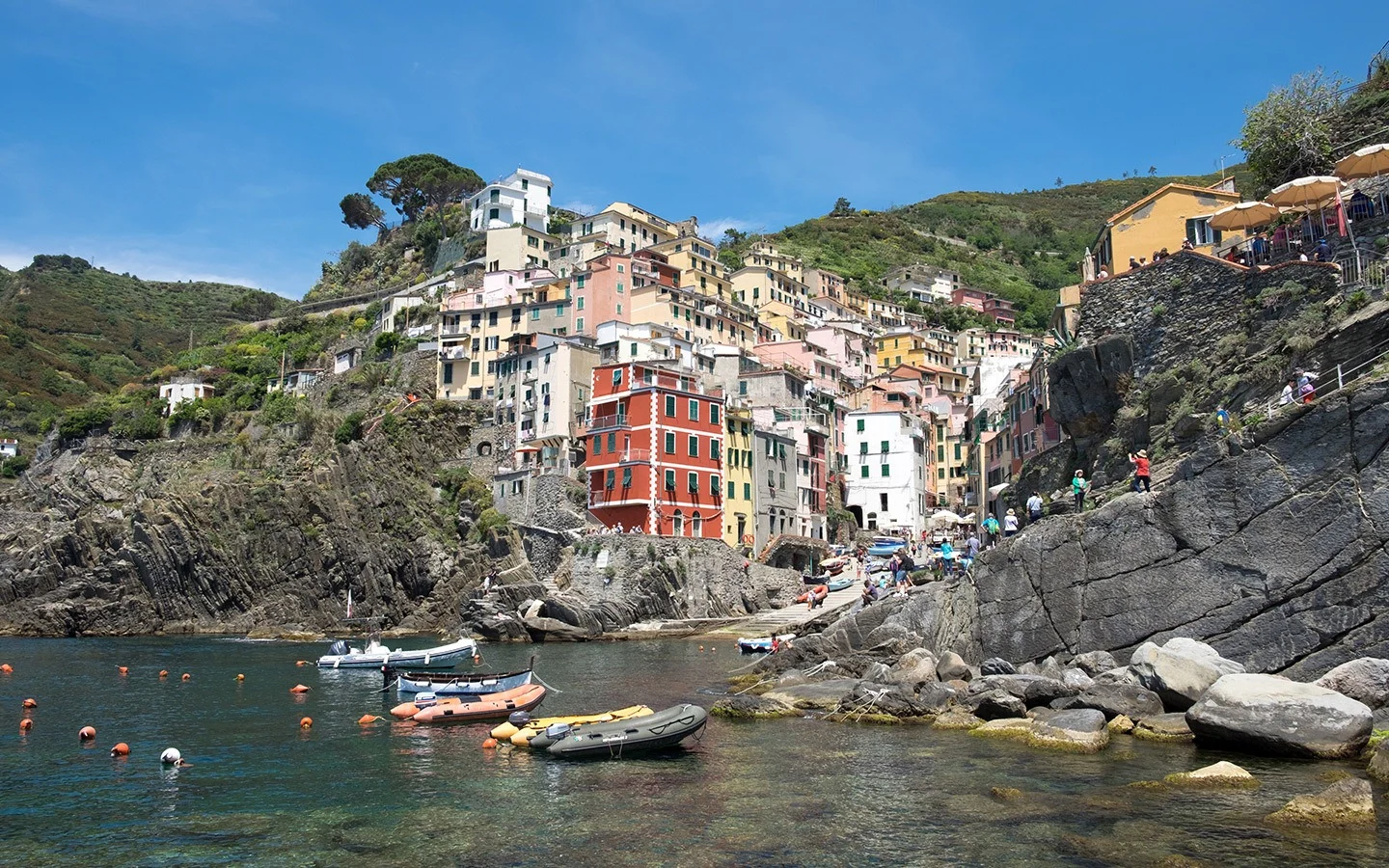 From five sleepy Italian fishing villages to one of the most famous coastal landscapes in the world – the Cinque Terre has been through a few changes over the years, but it still looks every bit as gorgeous as you'd imagine. It's now a National Park and a UNESCO World Heritage Site, with up to 2.4 million people a year visiting the Cinque Terre to walk, boat and train their way through its dramatic cliffs and pretty coastal villages.
But what do you need to know if you want to tick a Cinque Terre trip off your travel wishlist? This Cinque Terre travel guide has everything you need to know to plan your holiday and make the most of your time visiting this beautiful stretch of coastline.
Read more: The Cinque Terre in one day: A day trip itinerary
What you need to know about visiting the Cinque Terre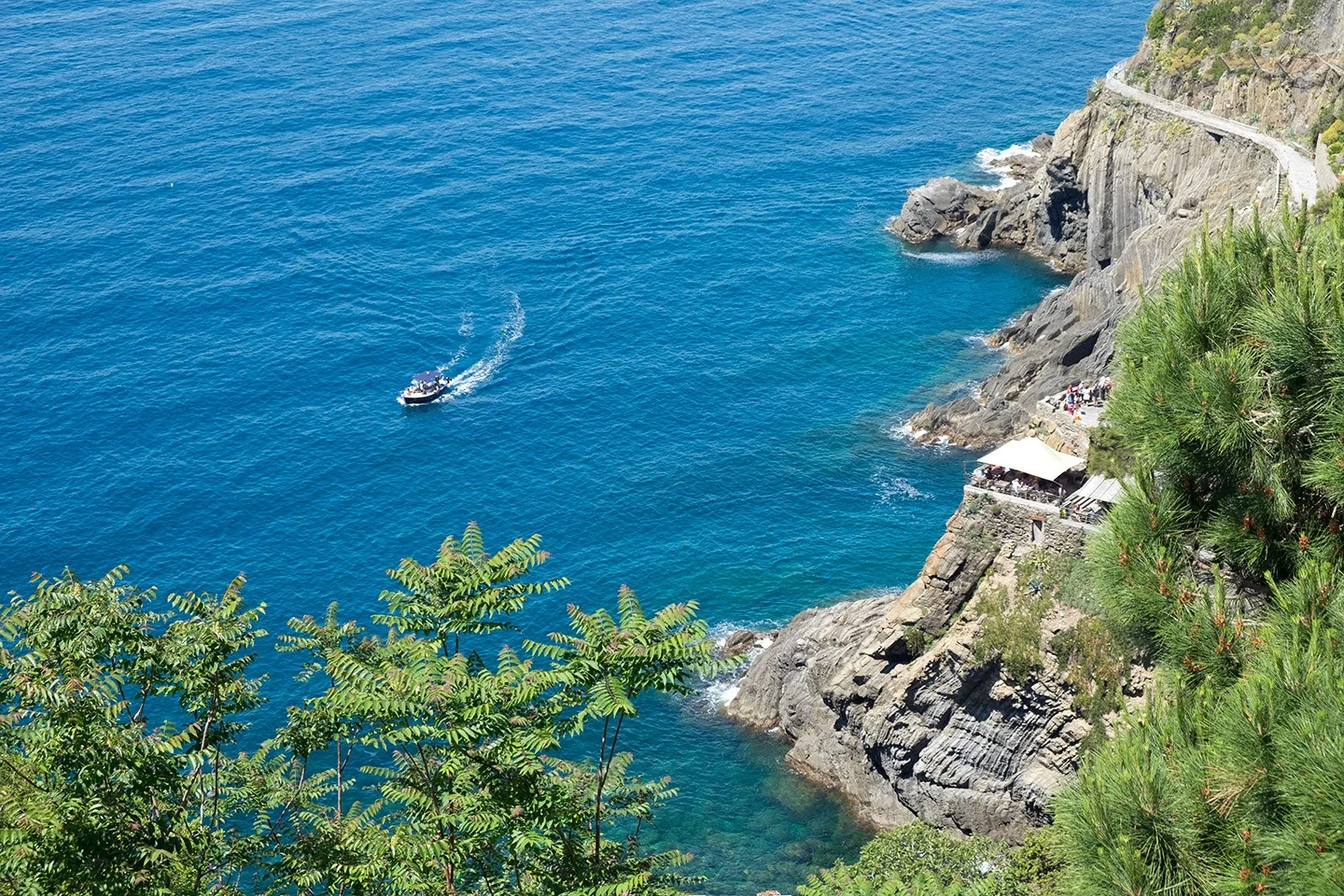 What and where is the Cinque Terre?
The Cinque Terre National Park is the smallest and oldest National Park in Italy, and was designated back in 1999. It covers an area of only 15 square miles but packs plenty of gorgeous scenery into a small space, with a mix of rocky cliffs, scenic coves, clear blue waters, terraced vineyards and olive groves linked by a network of footpaths.
The Cinque Terre is located just south of Genoa in northwest Italy. It's within easy reach of the airports at Genoa, Pisa, Rome, Florence and Nice by mainline train, and there's a local train between La Spezia and Levanto which stops at each of the villages.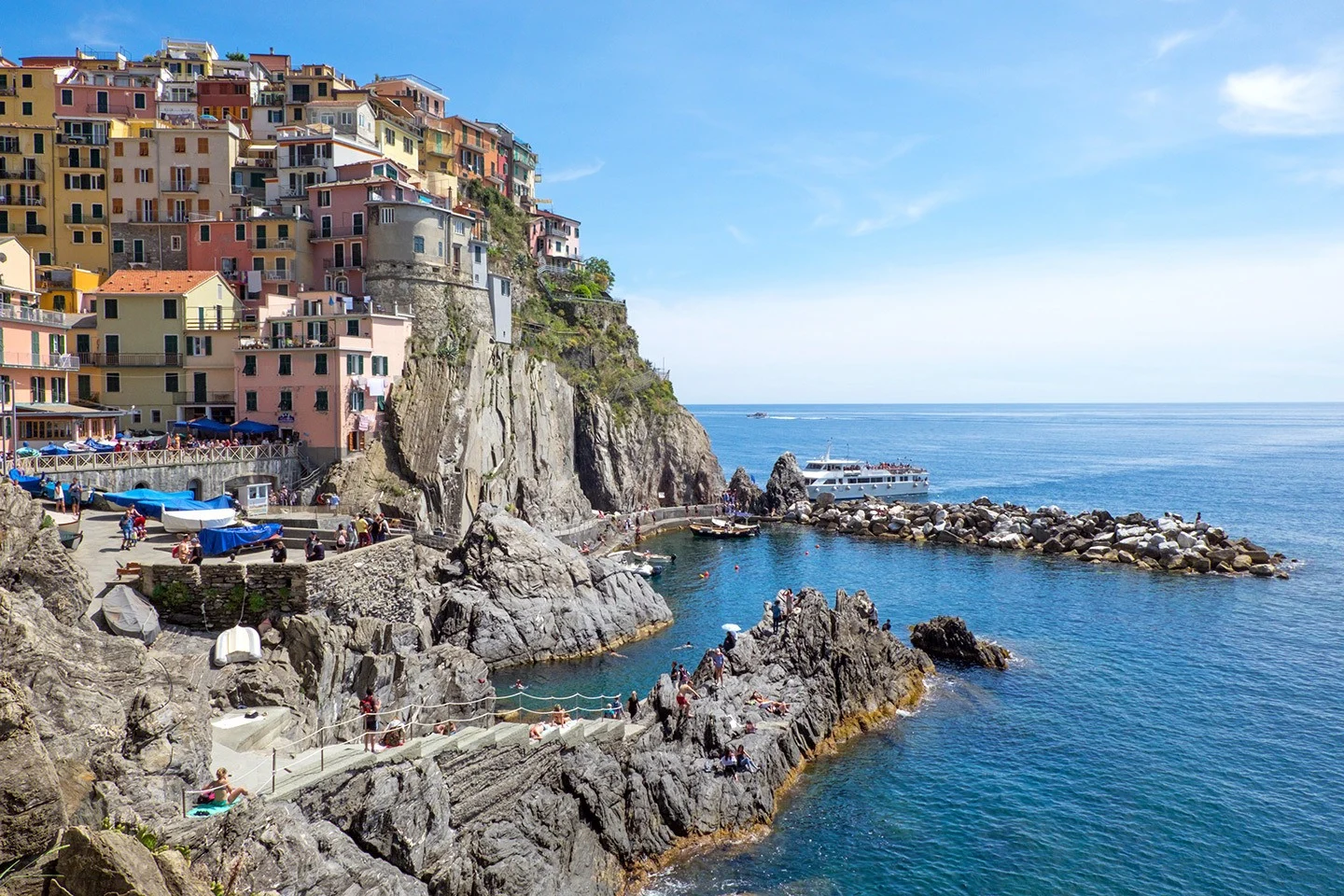 People often talk about the Cinque Terre like it's one place, but it's actually a stretch of Italian Riveira coastline made up of five separate villages – known as the Five Lands or Cinque Terre in Italian (which is pronounced cheen-kweh teh-rreh).
Running from north to south the villages are Monterosso, Vernazza, Corniglia, Manarola and Riomaggiore. Each one of the five is a beauty, with pastel buildings tumbling down the hillsides and sparkling sea views, but each has its own different character.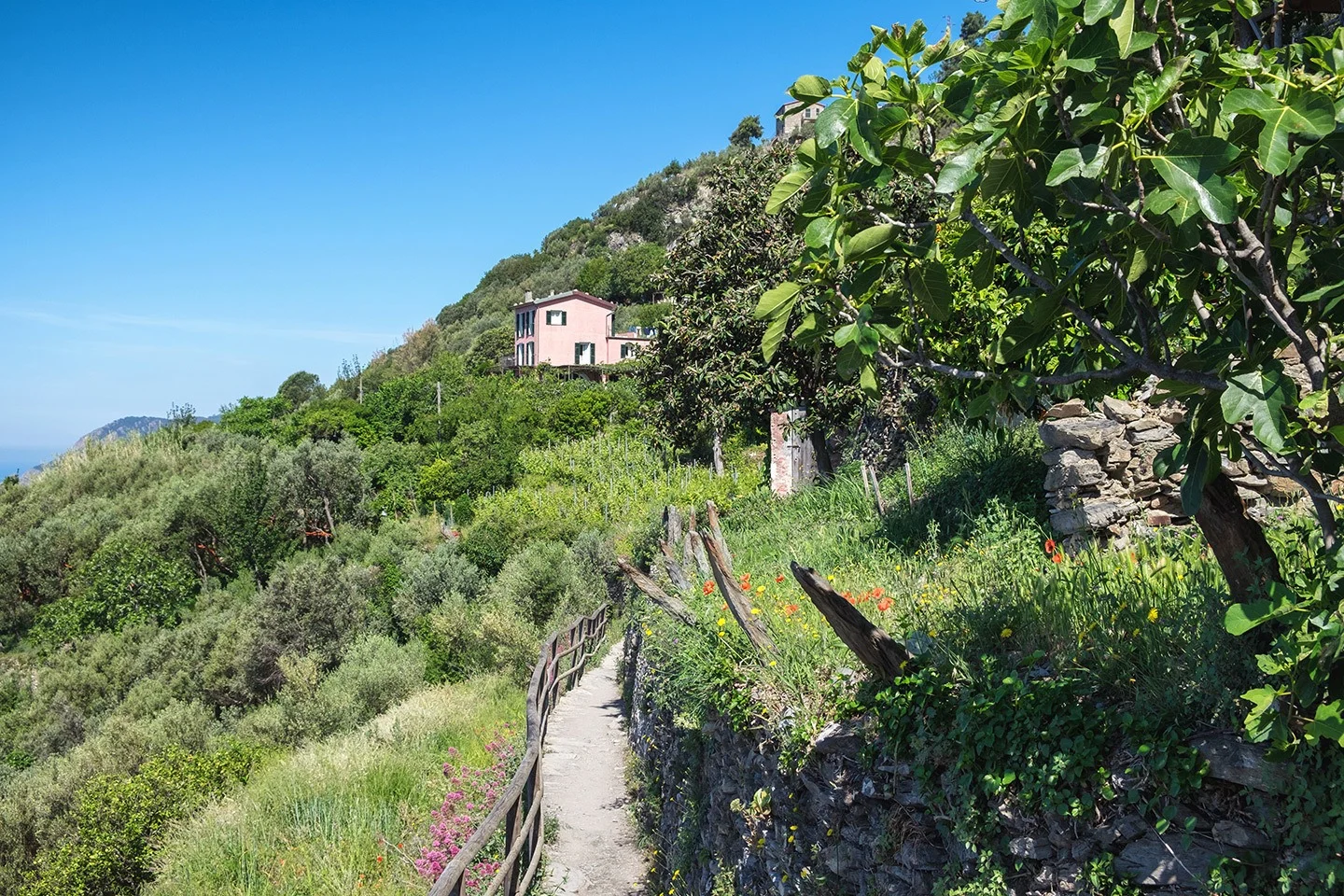 How long should I spend there?
If you're tight on time, it's possible to get a taste of the Cinque Terre in one day by taking the train or boat from one village to the next and spend around an hour in each. Or starting early and walking straight through from one end to the other. There are also day tours* available from other Italian cities like Florence or Pisa which include travel.
But you wouldn't be really doing it justice, and you'd be missing out on the best time of day. Between 10am and 4pm villages are packed with day-trippers – the train platform in Monterosso at 4pm took me right back to commuting on the London Tube in rush hour. But come the evenings things calm down and there's much more of a relaxed feel.
Ideally you'd want to spend three or four nights visiting the Cinque Terre to give you time to explore each village, do a couple of half-day walks and a boat trip along the coast. The villages have a different atmosphere at different times of day, so staying for a few days gives you time to decide on your favourite and go back for sunset or dinner.
And if you've got more time, there are plenty more walks you can do, or you could travel further afield and visit the neighbouring towns of Portovenere, Levanto or La Spezia.
When's the best time to visit the Cinque Terre?
The Cinque Terre's never exactly quiet – peak season runs all the way from Easter until October. But to avoid the worst of the crowds, steer clear of July and August. Accommodation gets booked up really far in advance in the summer and it can be really hot and dry, with average highs of 29ºC/84ºF, so isn't the best time for walking.
Shoulder season – May and September – is a good time for visiting the Cinque Terre, with warm days around and fewer people than in peak season. Spring sees average high temperatures around 17–21ºC/63–70ºF and is mostly dry. October and November are the wettest months and there's a risk of heavy thunderstorms causing landslips.
Or if you want to risk the off-season you can get a bargain and have the paths to yourself in December and January. Though some restaurants and accommodation closes down in winter, and you risk boats being suspended and hiking trails closed in bad weather.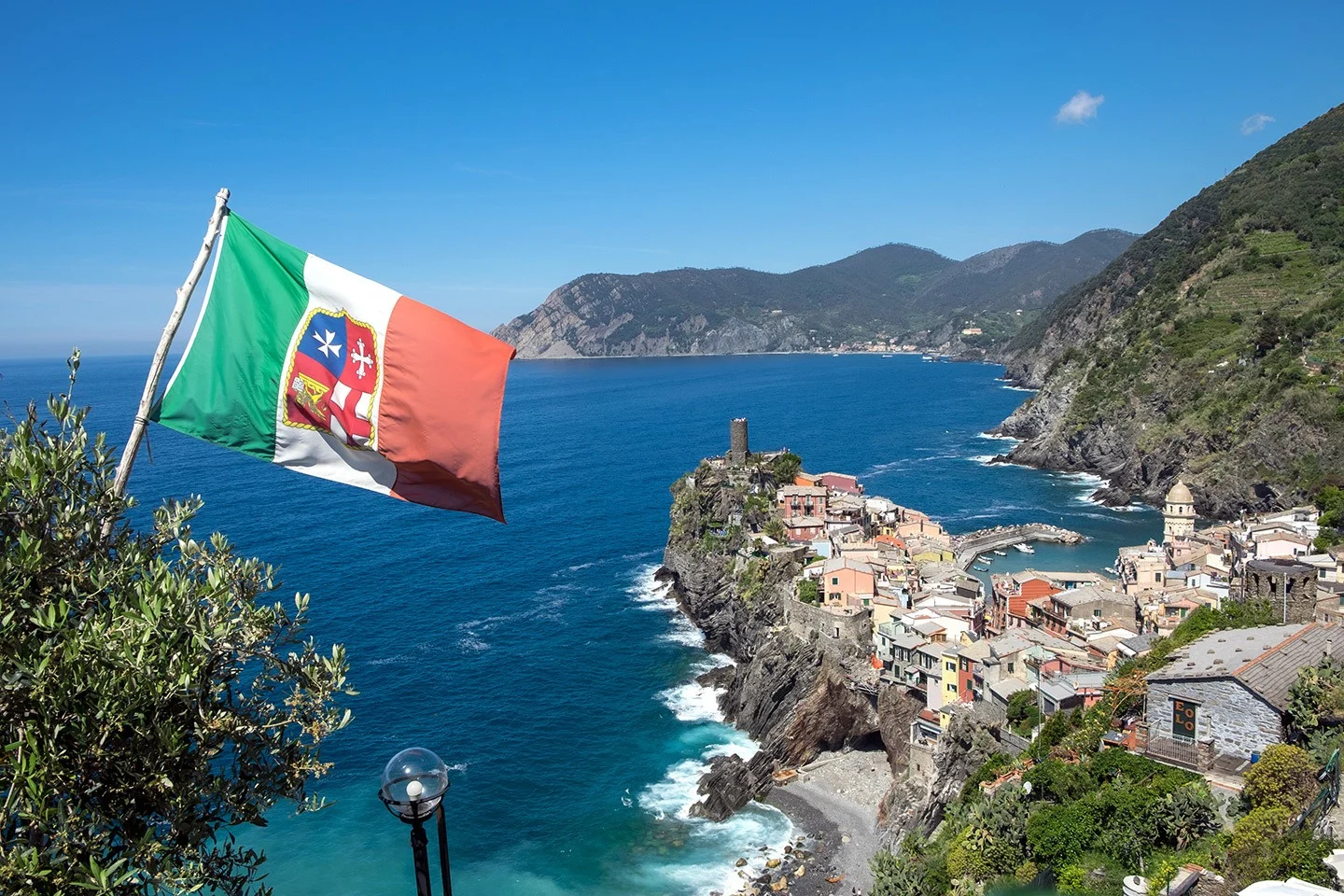 Where should I stay in the Cinque Terre?
Staying in one of the five villages means you don't have to travel in each day and can soak up the atmosphere in the evenings. But because it's so popular, accommodation is pricey – even for pretty uninspiring places – so book early. There aren't many hotels except in larger villages Monterosso and Riomaggiore, so it's mostly guesthouses and apartment rentals.
The villages are so close together that there isn't really any one with a better position than the others. And as you can get between them so easily it's not really worth moving around and staying in a couple of different villages if you're just staying for a few days.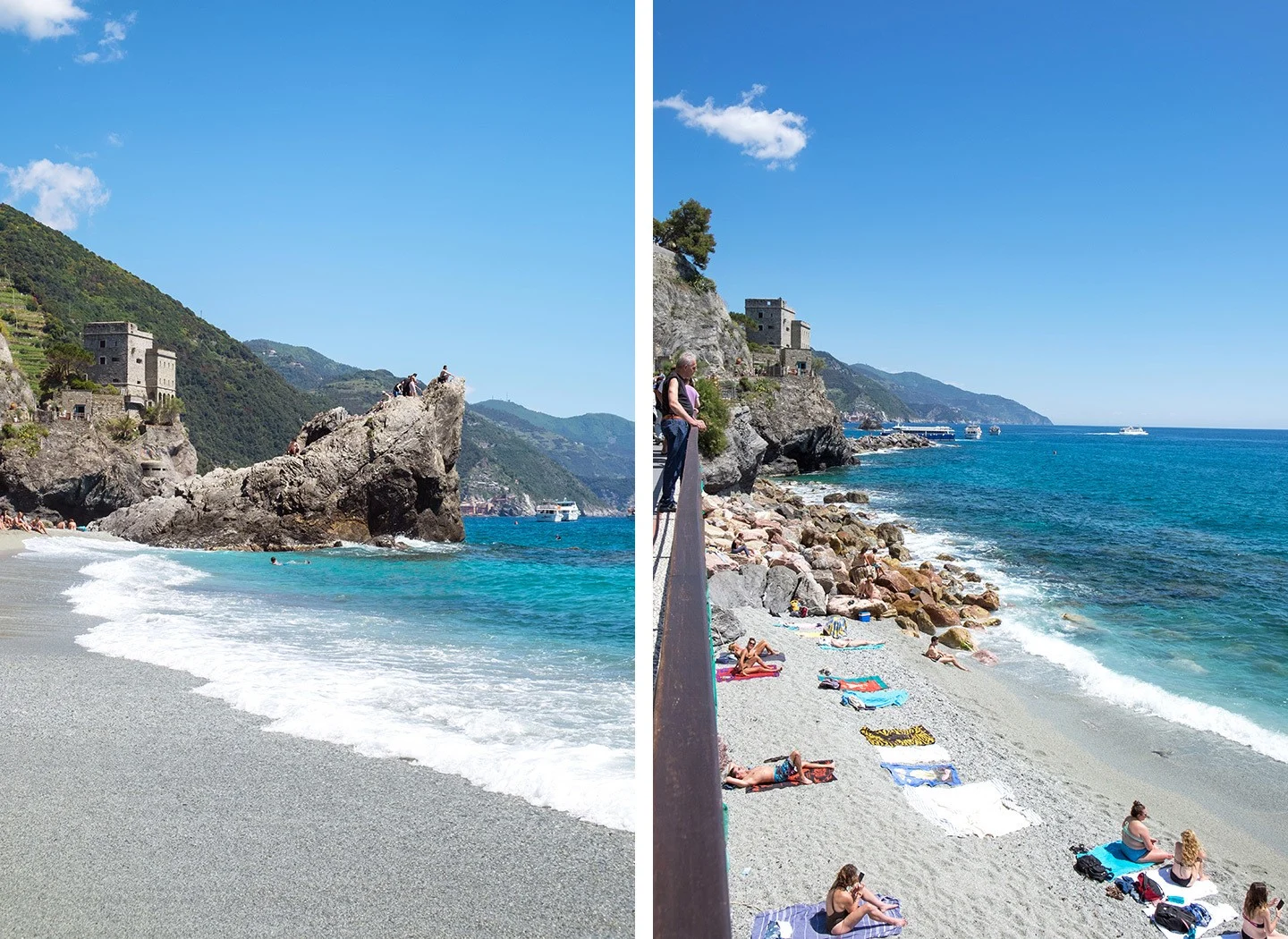 It's more a case of picking the village which has the right character (and has the best accommodation available to suit your budget) for you.
The largest and furthest north of the villages, Monterosso is the easiest to get to so can be very busy – especially at weekends. It's split into two sections linked by a short tunnel with an old town and resort-style beachfront area. Monterosso is the only Cinque Terre village with a proper beach and seafront promenade. It has the widest selection of accommodation and best hotels*, and is the least hilly so it's the most accessible, but can be expensive.
At the other end of the Cinque Terre is Riomaggiore, another larger village which has a gorgeous setting with brightly coloured houses set around the harbour. Riomaggiore has a good selection of places to stay, with a couple of hotels. It also has lots of restaurants and the best nightlife – though it's still fairly relaxed – but brace yourself for plenty of hills.
Vernazza and Manarola are both smaller and are arguably the most beautiful of the Cinque Terre villages. Manarola is surrounded by vineyards and has is a good place to watch sunset, and Vernazza has a pretty harbour and tiny beach. Neither have hotels so you're looking at guesthouses or self-catering accommodation.
Finally Corniglia is the central village of the five. It's the smallest village and the hardest to get to, as there's no sea access and a huge flight of steps leads up to the village from the train station. This makes it the quietest – especially in the evenings – and its position high up on the rocks means you get great views (I stayed here and loved it).
Otherwise a cheaper option is to stay in neighbouring Levanto* or La Spezia*. Both of these towns are on the Cinque Terre train line so it's easy to get around, but accommodation, food and pretty much everything else is cheaper as you're not in the 'proper' Cinque Terre. They also have a more authentic, local feel as they're not so overrun with visitors.
How hard are the Cinque Terre hikes?
For centuries, the only way you could get between the Cinque Terre villages was on foot, and it's still the best way to get around, with a constant stream of gorgeous sea views. There's a mix of coastal and hillside paths to choose from. Though the coast paths aren't just a walk along the seafront – at least not the part that's open.
The one flat stretch of coast path from Corniglia to Riomaggiore is closed for the foreseeable future after it was damaged in landslips back in 2011. Other paths involve lots of ups and downs with some rocky ground with a few big drops and steps.
You don't need to be really fit but do need to be be comfortable walking uphill and have decent shoes – most people were wearing hiking boots or sturdy trainers.
The distances involved aren't huge, but it can take longer than you'd guess from the distance as it's so hilly. Plus you often end up waiting for people to pass on narrow stretches which slows things down. So start early or late if you can to miss the peak of walkers.
The Sentiero Azzurro or Blue Trail starts from Monterosso and takes around two hours to reach Vernazza and another 45 minutes on to Corniglia. From Corniglia to Manarola you have to take the high route via Volastra – it takes around three hours and involves some serious climbs but the views at the top through the vineyards are well worth it.
Then from Manarola you can walk on to Riomagiorre via Beccara in around 90 minutes, though there's another big climb to start with.
As well as the main walks there are quieter hill paths, like the Sentiero Rosso or Red Trail from Portvenere to Levanto. Shorter sanctuary walks also run steeply uphill from the villages. And even if you're not hiking there are lots of hills and steps in the villages.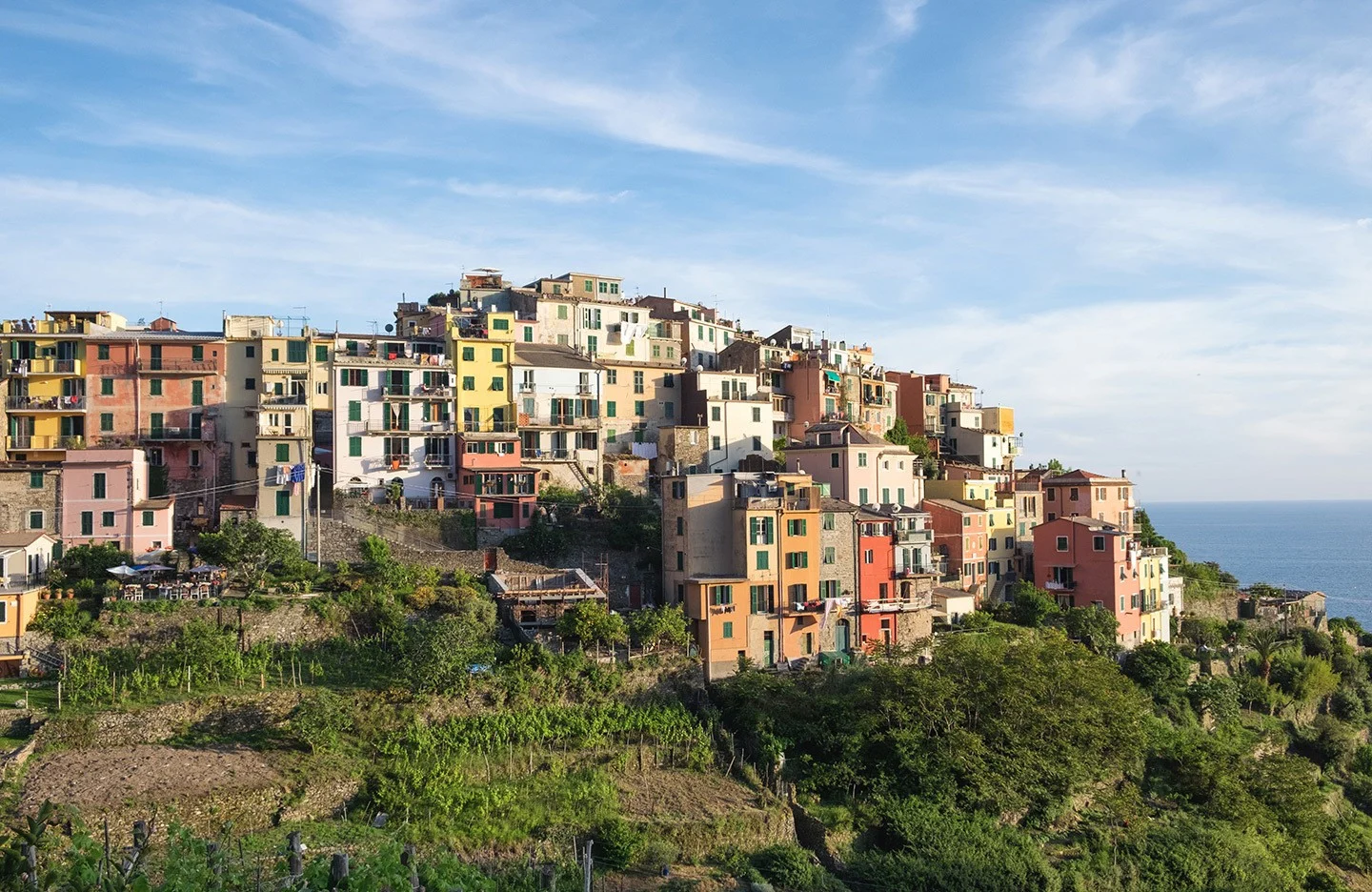 Do I need a permit?
To walk the coast path from Monterosso to Corniglia you need a Cinque Terre Card. You can get them in villages and from huts at the start of each section of the path. If you're walking between Corniglia and Riomaggiore via the hill path you don't need a permit.
Cinque Terre Cards cost €7.50 (1 day) or €14.50 (2 days). They include free wifi, local buses and toilets (€1 otherwise). Or there's a train version which also includes unlimited train travel on the Cinque Terre line between Levanto and La Spezia. They cost €18.20 (1 day), €33 (2 days) or €47 (3 days), with discounts for children, families and off season.
How do I get around the Cinque Terre?
The Cinque Terre is a National Park, so vehicle traffic is restricted to residents only in the villages and it's best to avoid taking a car if you can (not least because the roads are terrifyingly narrow and winding with sheer drops). If you are driving around, you can park in La Spezia or Levanto then catch the train into the Cinque Terre.
Trains are the easiest way to get to and around the Cinque Terre, running between La Spezia and Levanto and stopping at each village. You can also connect to Genoa, Pisa, Rome and beyond. It only takes about five minutes from one village to the next. Tickets cost €5 for a single journey (free with the Cinque Terre Train Card), irrespective of how far you go.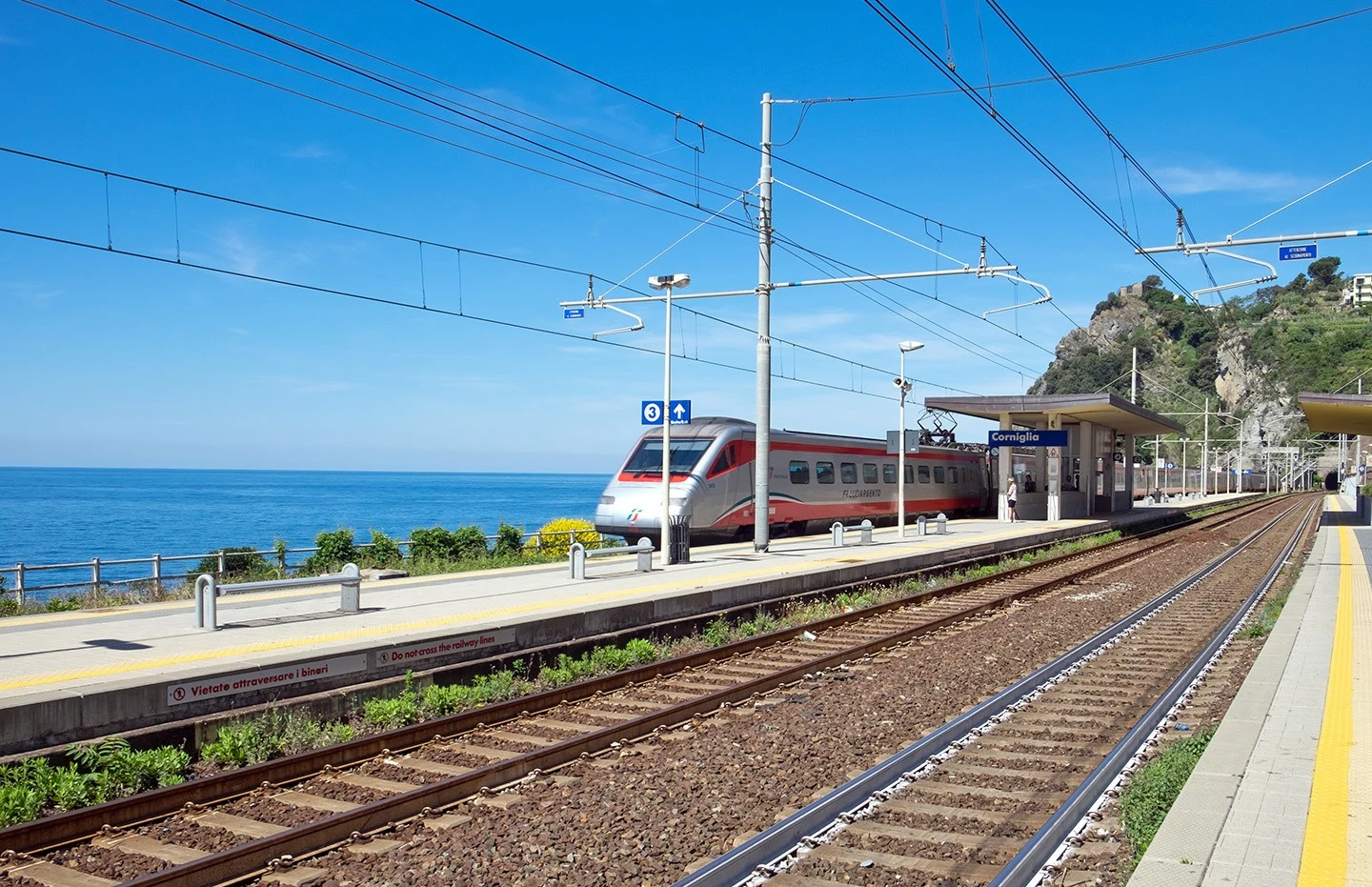 You can't reserve seats and the queues on the platforms can be crazy, but trains are long and they often use double-decker carriages so can squeeze a lot of people in. Trains run up to three times an hour in each direction from 5am–11.30pm, and you can pick up or print out a timetable. And don't forget to validate your ticket before boarding.
There's also a ferry connecting the villages (other than Corniglia) with Portovenere, La Spezia and Levanto from March to November. It's worth a trip to check out the views. A day ticket with unlimited journeys costs €35 adults/€20 children, or you can get cheaper afternoon or single tickets. You can also rent a boat or take a sailing trip.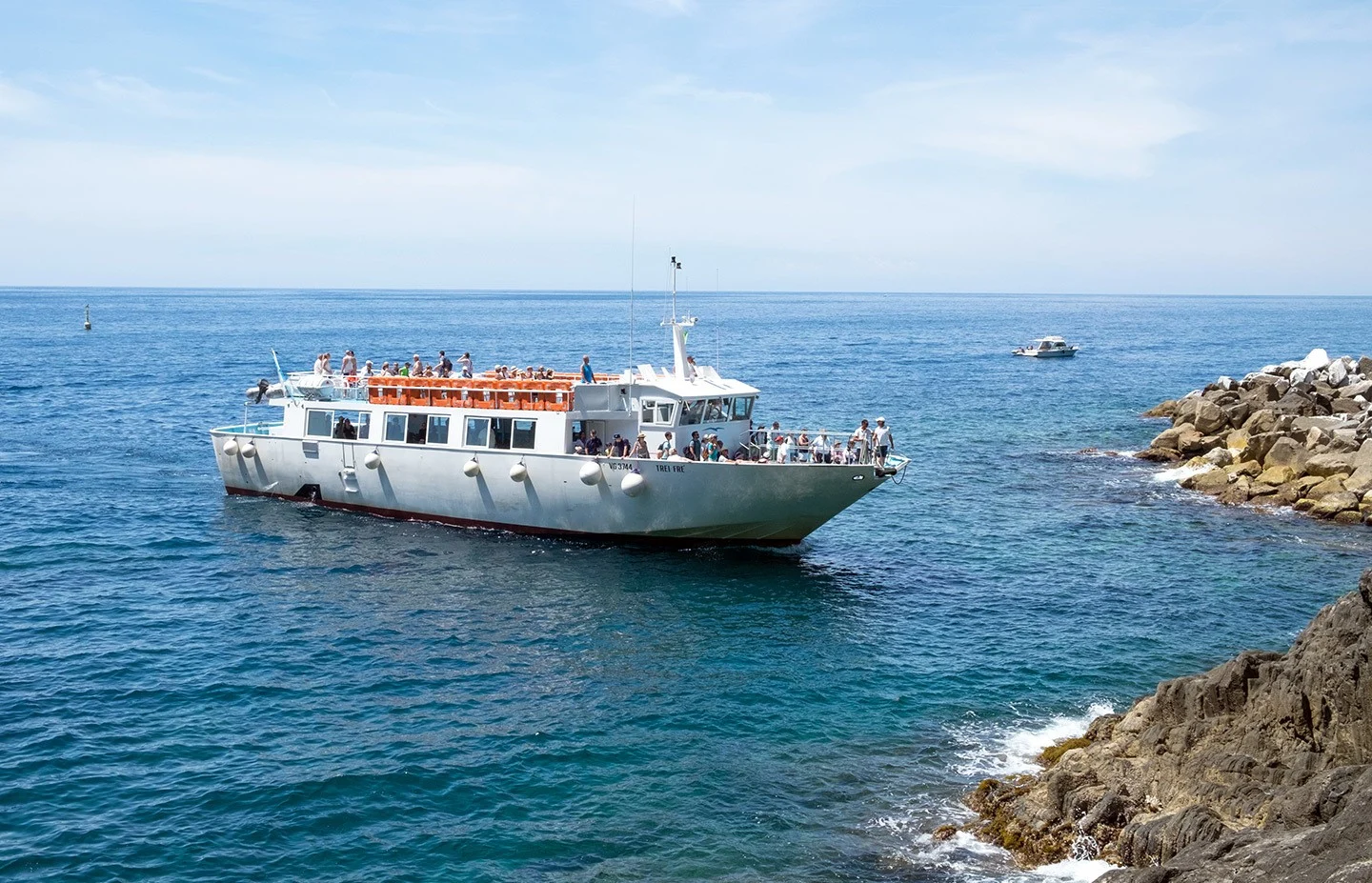 What else is there to do?
There are a few churches and monuments you can visit around the Cinque Terre but it's mostly all about the outdoors. As well as walking you can get out on the water – go sailing*, swimming, take a kayaking trip* or go diving and snorkelling from Riomaggiore.
Don't miss trying the local seafood, with cones of fried calamari, shrimp and anchovies available everywhere. It goes brilliantly with the local white wine. The hills behind the villages are covered in vineyard terraces and you can do a tasting at some of the wineries.
And look out for some of the annual festivals, like Saints' Days, Easter processions, the lemon festival in May and anchovy festival in June, the grape harvest festival and Monterosso's bizarre cuckold festival in November.
What should I bring with me?
Not too much! Chances are you'll have to climb a hill or a flight of stairs to reach your accommodation, so try to bring as little as possible. If you're walking don't forget decent shoes as well as a hat of scarf in summer, as there's not a lot of shade on the paths. Also pack a water bottle as there are free water taps in each village where you can refill.
Although Monterosso's the only village with a real beach, you can swim from each of the villages – amazing after a hot day walking – so bring your swimmers. If you forget sunscreen etc there are shops in each village, but because it's a touristy area they do charge a premium. And if you're stuck English is widely spoken around the Cinque Terre.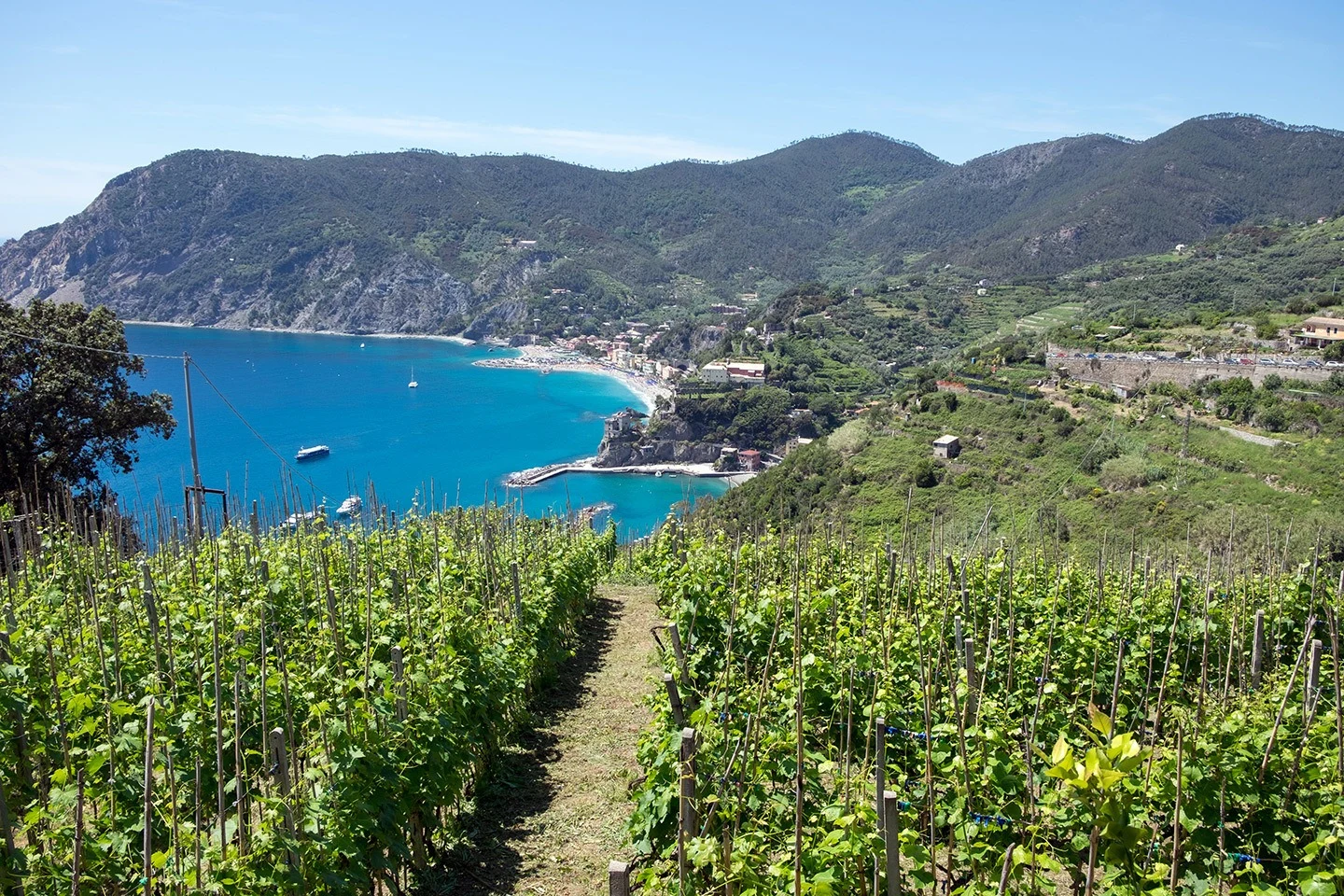 Save for later
You might also like