A guide to visiting Corniglia, the quiet village at the heart of the Cinque Terre in Northern Italy. Discover the best things to do in Corniglia, from walks to wine tastings, as well as where to stay, eat and drink.
* This site contains affiliate links, where I get a small commission from purchases at no extra cost to you.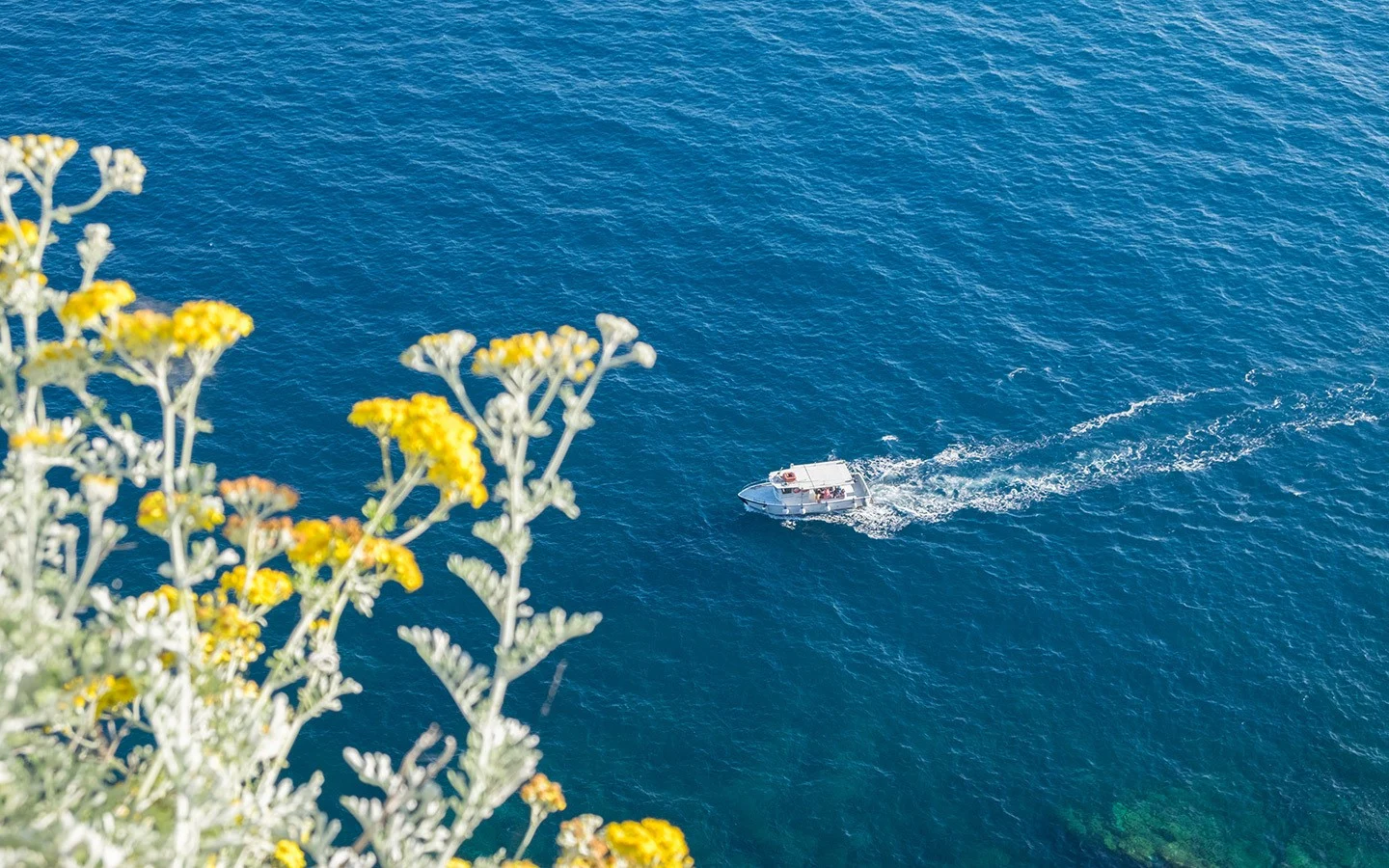 Italy's Cinque Terre is a bit like a beauty pageant, with one village after another competing to have the most charming backstreets, cutest pastel buildings and most spectacular views. Just when you think you've found the best, another one comes along and blows you away. But like real-life beauty queens, each of the five villages has different charms.
Some are showy and others more subtle – like Corniglia. It might not have Monterosso's beach or Riomaggiore's colourful harbour, but it has its own understated beauty, which is why we chose it as our base in the Cinque Terre. So whether you're staying there or just visiting for the day, here's our guide to what to do, where to stay and eat in Corniglia.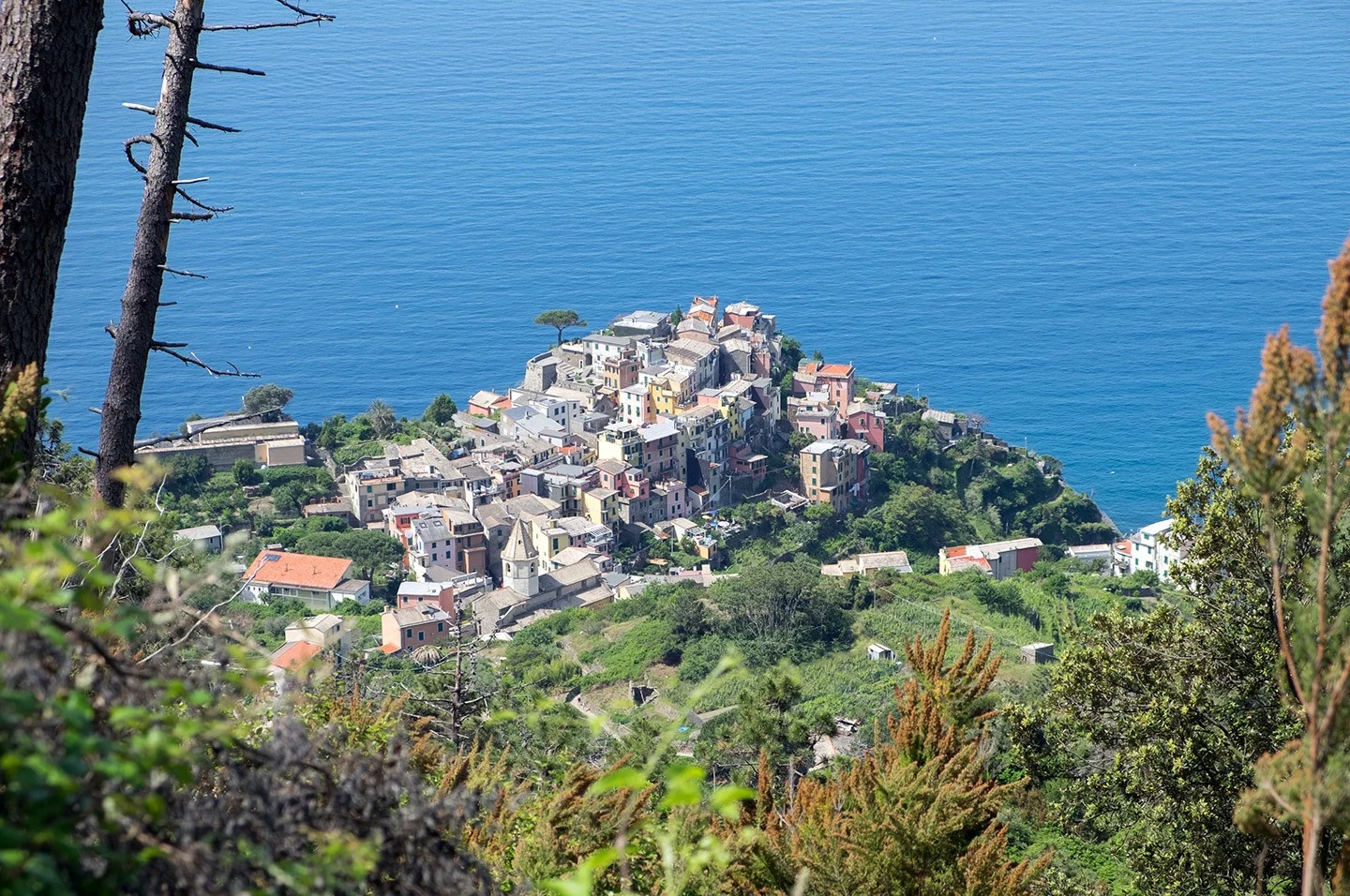 Visiting Corniglia in the Cinque Terre
There's no such thing as a quiet Cinque Terre village, but Corniglia is as near as you get. It's in the middle of the five villages, and has managed to keep a more laid-back, local feel than the others by being the hardest to get to. The other villages have harbours, but Corniglia is perched on high with no sea access and 380 stairs to get to the village.
For visitors just coming to the Cinque Terre for the day, the extra effort involved means Corniglia is the first to be knocked off the to-visit list. But if you do make the effort in visiting Corniglia, your prize is a quieter, less commercialised Cinque Terre village, with bars and restaurants tucked into cobbled streets and knockout coastal views.
That's not to say there isn't a constant flow of people passing through during the day. But come late afternoon everything slows down and Corniglia retreats back to a sleepier state. The Cinque Terre train network makes it so easy to get around that it doesn't matter too much where you're staying as you can easily get from one village to another.
But there was something really nice about coming back to Corniglia and having space to relax after a day of battling through crowds. Our apartment had a roof terrace where we'd watch the sunset with a glass of prosecco each night. Sitting out there in the evening almost felt like we had the Cinque Terre to ourselves – even if just for a few hours.
Things to do in Corniglia
Climb the Lardarina
What makes Corniglia different to the other Cinque Terre villages is its hilltop location. And because the train line runs along the coast, you're going to have to climb to reach it. So the first thing most people do in Corniglia is head up the stairs.
A staircase called the Lardarina connects the train station with the village. It zig-zags its way up 380 steps to reach the top and can be a hot and sweaty climb in summer. Though the steps are wide and shallow and there are plenty of places to stop and catch your breath.
Once you get to the top you're rewarded with fantastic views out to sea and along the coast to Manarola. But if you can't or don't want to climb the Lardarina, there is also a shuttle bus which runs from the train station to the village. It departs around every 20 minutes and costs €2.50 one way, just prepare yourself for long queues at peak times.
Explore the village
Corniglia might be small but it still has its share of pretty backstreets to wander around, which are especially atmospheric in the early evening when the crowds have gone. Look out for colourful buildings, peeling shutters, pots of lemons and draped laundry.
Via Fieschi is the heart of the village, where you'll find most of the bars, shops and restaurants. Look out for the La Torre viewpoint at the end of the street (marked on maps as View Point Corniglia) for panoramic views along the Cinque Terre.
There are also a couple of churches to visit. The Chiesa di San Pietro dates from the 14th century and has Baroque interiors and a white Carrara marble rose window. You also get a good view over the village from its doorway. Or the Oratorio dei Disciplinati di Santa Caterina is a tiny chapel with its ceiling painted to look like the sky.
Have a dip in the sea
Corniglia's hilltop location might mean that you can't reach the village by ferry, but it doesn't mean you can't swim in the sea. Although there's no 'proper' sandy beach in Corniglia, there are a couple of places where you can take a dip off the rocks.
There's a shallow bay below the village, accessible down a flight of stairs from the end of Via Fieschi – follow the handwritten signs for the Marina. At the bottom there's a concrete platorm where you can sunbathe and jump off into the clear blue waters.
Nearby Guvano Beach was a popular spot for 1970s hippies and nudists. This pebbly cove just outside Corniglia is accessed via a 1.5km-long disused railway tunnel. But the tunnel is currently closed as it's unsafe, so you only can reach the beach by boat or kayak.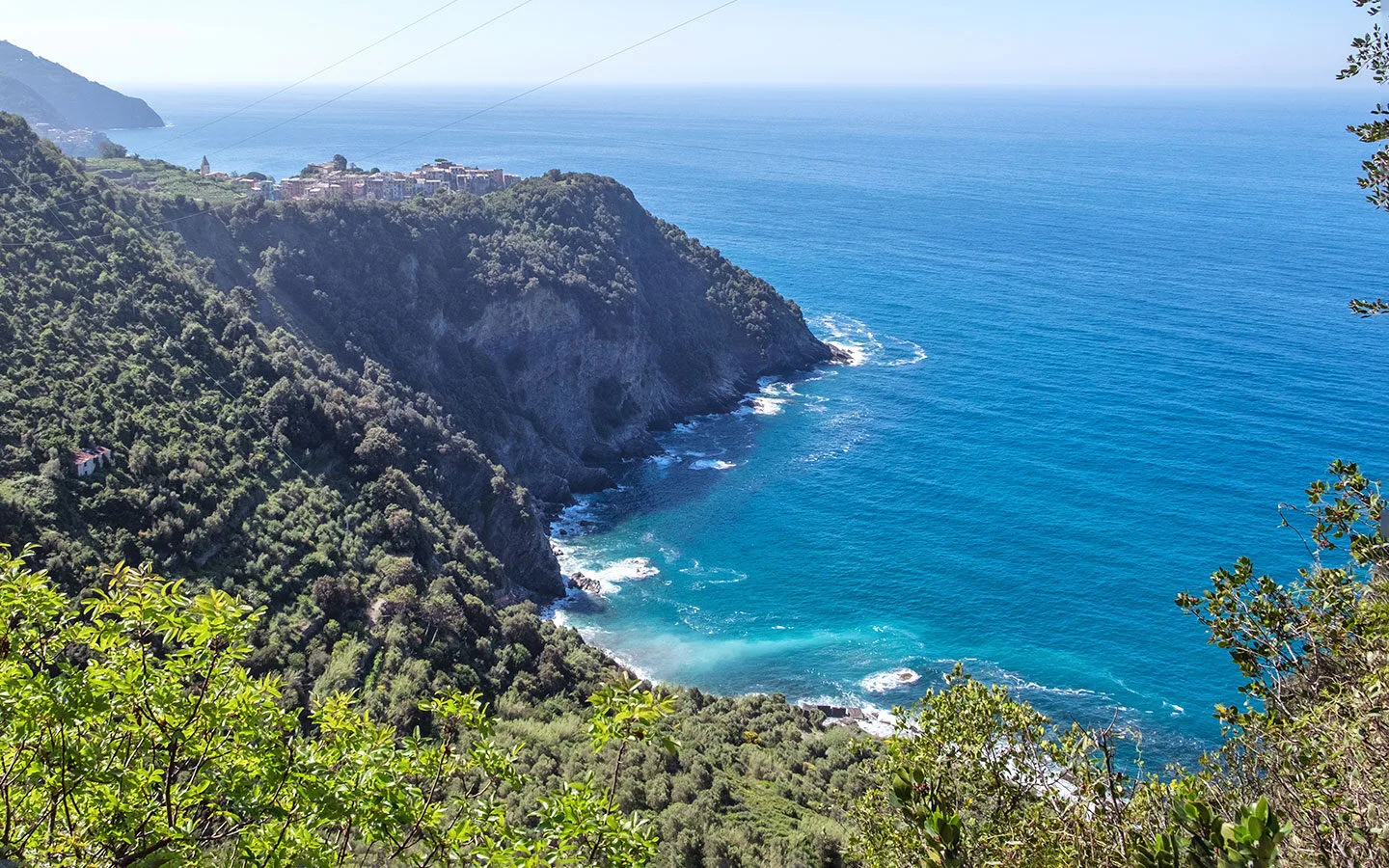 Take a hike
The Cinque Terre is famous for its walks, and the paths through the hills were originally the only way people could get from one village to the next. Corniglia's position in the middle of the five villages makes it an ideal starting point for walks in both directions.
You can walk the whole route through in one day or divide it up into sections, using the trains to get to and from your starting point. The walks (particularly along the Blue Trail) aren't too difficult but are hilly and you'll need hiking boots or trainers.
The Blue Trail (Sentiero Azzurro): The Blue Trail is the Cinque Terre's best-known hike, a 7.6km route connecting Corniglia to Vernazza and Monterosso with some stunning views. And starting in Corniglia means you're already well above sea level so there's less of a climb to do, and if you get out early in the morning the paths are fairly quiet.
For most of the way the path runs across the side of the steep hills which overlook the coast, teasing you with just one more corner to go around until you get your first view down to Vernazza, which takes around 1.5–2 hours to reach. Then from there it's another couple of hours on to Monterosso where you can cool off with a dip in the sea.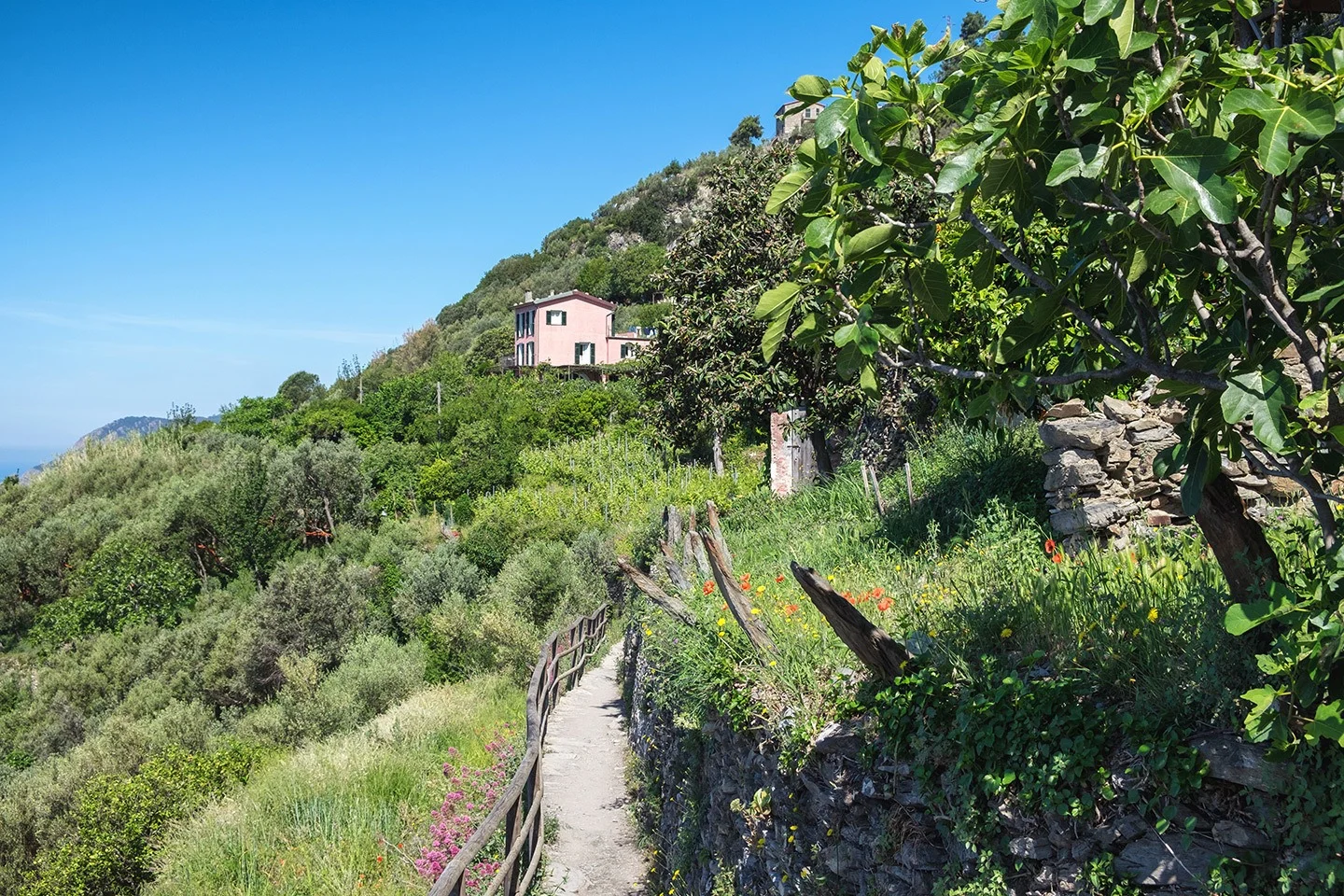 You need to buy a Cinque Terre Card to walk the Blue Trail, which are available in the village and from huts at the start of the path. The card costs €7.50 for one day, and includes buses and toilets. Or there's another version which also gives you unlimited local train travel for €18.20 (one day), with discounts for children, families and off-season.
The Vineyard Path: Previously you could continue along the Blue Trail on a flat coast path to Manarola and Riomaggiore, including the famous Via dell' Amore. But it was damaged by landslides in 2011 and isn't planned to reopen for the foreseeable future. So instead of an easy stroll you have to work harder on the high path via Volastra.
Known as the vineyard path, this 5.5km walk took us three hours to reach Manarola. It starts near the Chiesa di San Pietro with a steady 45-minute uphill climb until Corniglia looks like a tiny model village way below. It then runs through the Cinque Terre vineyards to the village of Volastra before descending back to sea level in Manarola.
From Manarola you can carry on to Riomaggiore via Beccara, which takes around 90 minutes and involves a steep climb up over Corniolo hill which divides the two villages.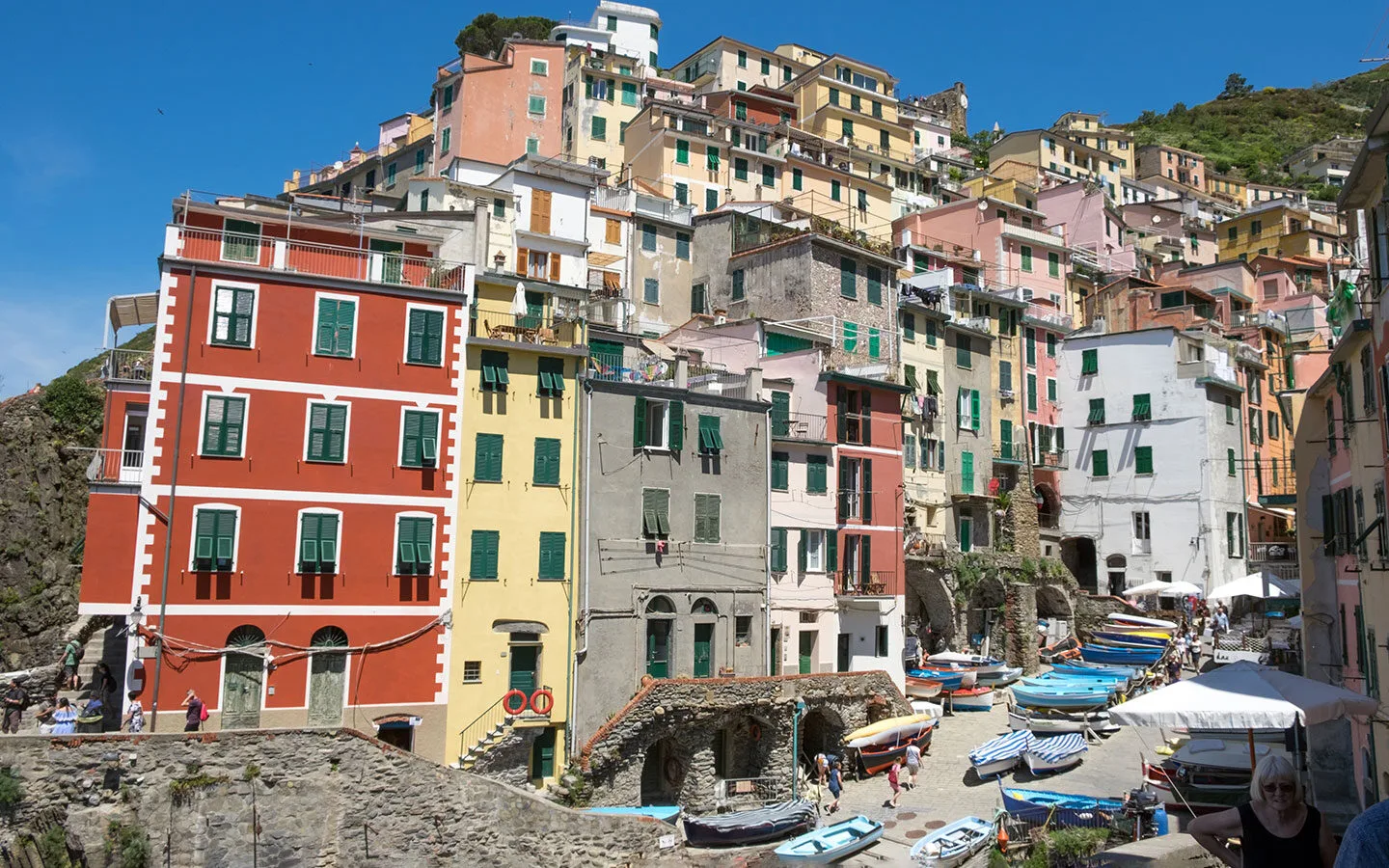 Taste some local wine
The hills of the Cinque Terre are covered in terraced vineyards built on the rocky slopes. The area has a long history of wine-making which goes back to the Romans. But the steep terrain makes it a labour-intensive process, with everything done by hand. The vines are grown close to the ground, with dry stone walls to protect them from wind.
Three local wines worth trying are Cinque Terre DOC, a dry refreshing white made with Bosco, Albarola and Vermentino grapes. The super-local Vernaccia de Corniglia, a white wine which has been made here since the 1300s. And the Sciacchetrà DOC, a sweet dessert wine with flavours of honey and apricot made using partially dried grapes.
Our favourite spot for an evening glass of wine was Terra Rossa Corniglia Winebar (Via Fieschi 58), a friendly place with a great local wine list, including organic and biodynamic wines. The knowledgeable owners can give you advice about what to try. It also has a lovely little garden draped with flowers and decorated with colourful lanterns.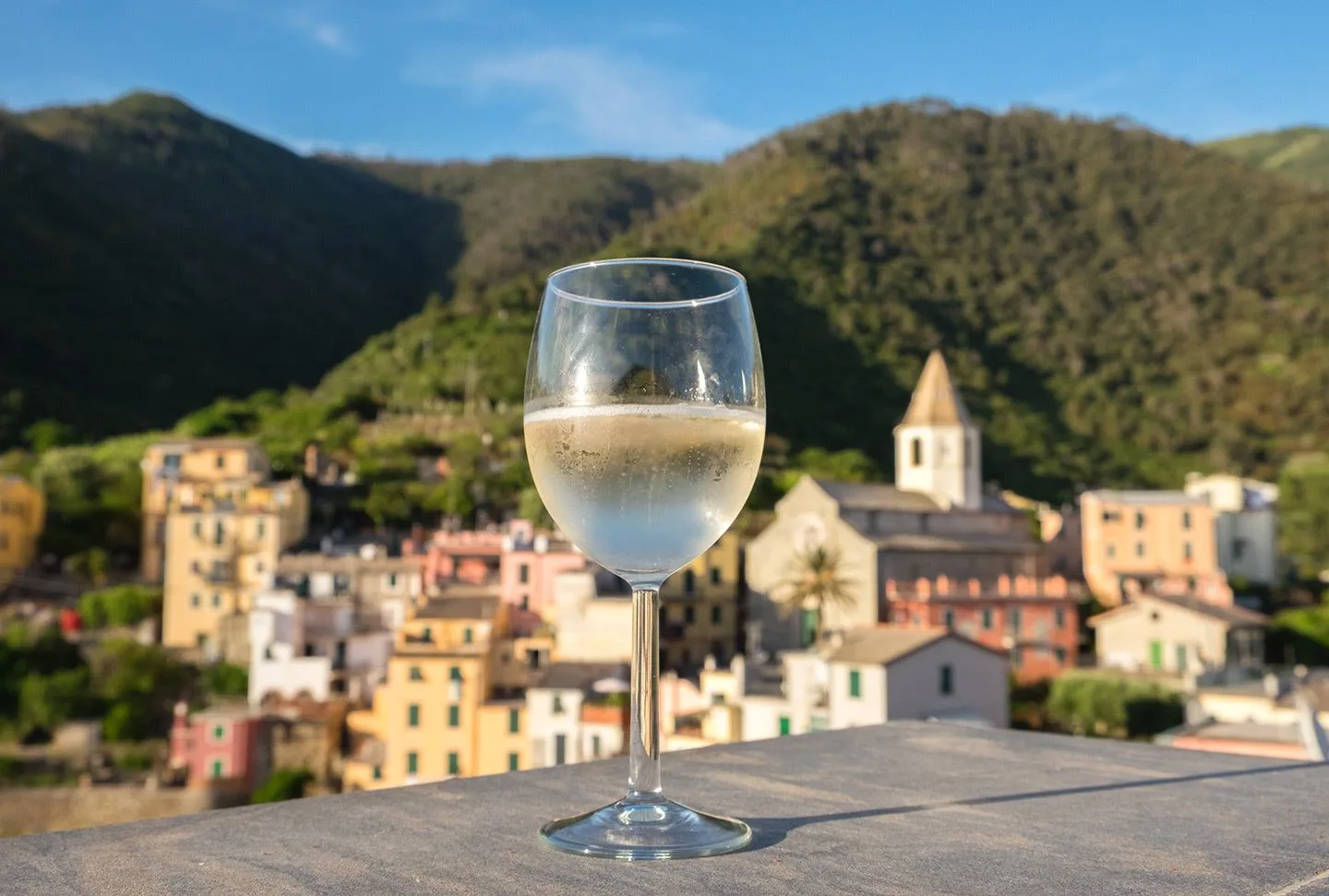 The details
How to get to Corniglia
Unlike the other Cinque Terre villages, Corniglia's hilltop location mean there's no ferry service. The village is also closed to non-resident vehicles, and although there's a small car park just outside Corniglia it's expensive and spaces are limited. So if you're driving, the best option is to park in La Spezia or Levanto then catch the train to Corniglia.
Frequent train services run through the Cinque Terre from Levanto in the west to La Spezia in the east, stopping at each village. Trains run from 4.30am–11.30pm in summer and the journey from one village to the next only takes around five minutes.
A single train journey costs €5 (or is free if you have a Cinque Terre Train Card), but don't forget to validate your ticket before boarding or you can be fined. Once you reach Corniglia station there's a shuttle bus up to village every 20 minutes which costs €2.50 (free with a Cinque Terre Card), but there can be big queues at peak times.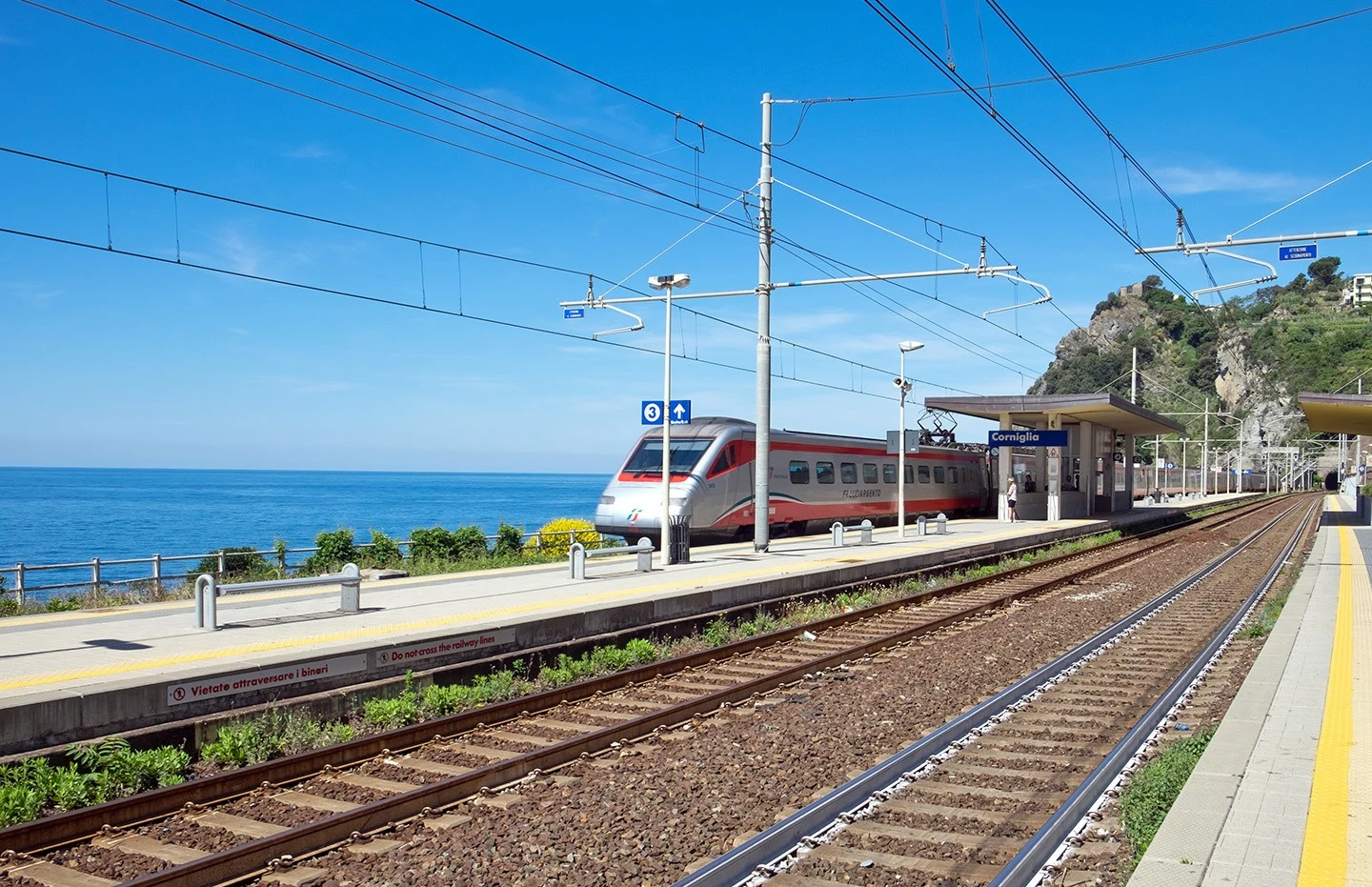 Where to stay in Corniglia
There aren't any hotels in Corniglia, but there are a few small guesthouses and apartment rentals. We stayed in BILO3 Vista Mare, a good value apartment sleeping up to four, with one bedroom and a sofa bed in the lounge. It's compact but well designed with a little kitchen, a private balcony overlooking the village and a shared roof terrace.
Locanda Il Carugio* is the closest Corniglia gets to a boutique hotel, with a traditional warehouse building which has been transformed into three stylish contemporary rooms (two doubles and a quad). Two of the rooms have balconies and there's a communal roof terrace. Breakfast is included in the price and there's also free parking.
Or Amare Il Mare Affittacamere* is a guest house in a villa dating back to the 1800s which has three themed rooms, each of which have views along the coast towards Manarola. The Wine room is a small double, the Stone room is a larger double with a balcony, and the Starfish suite has a four-poster bed and big private terrace.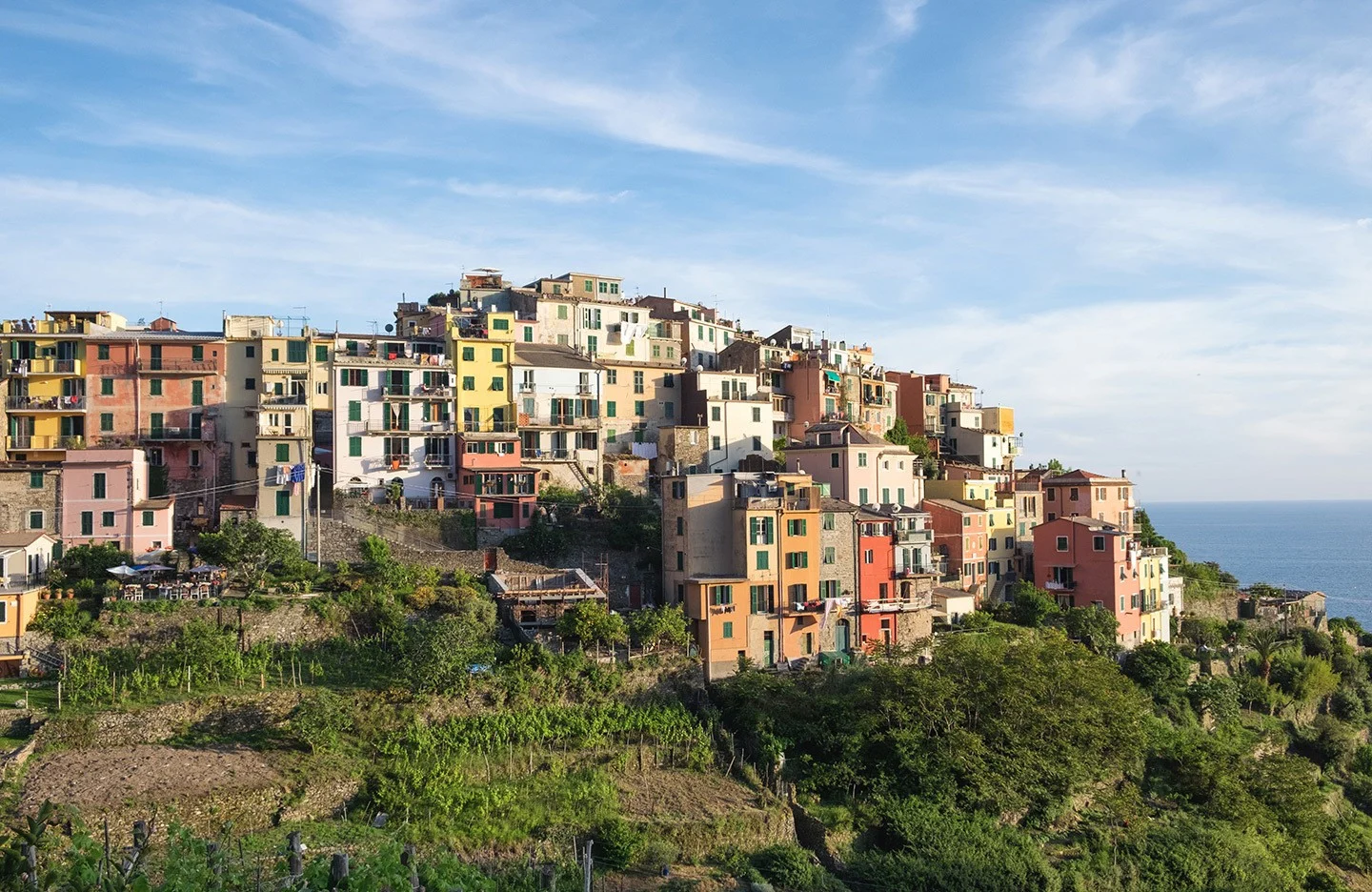 Where to eat and drink in Corniglia
There are three little grocery stores in Corniglia, selling a limited range of fresh produce as well as bread, pasta and wine. Each was a better for some things than others, so we usually ended up popping into them all (not too much of a problem as Corniglia is so small).
For a small village, Corniglia has plenty of places to eat, these were our top picks:
Pan e Vin (Via Fieschi 123): A good spot for breakfast or lunch, with tasty foccacias and sandwiches, including vegan options. It's a tiny spot with just six tables but if you can bag one of the outside tables it's a good place for an evening glass of local wine.
KM0 (Via Fieschi 151): Another casual restaurant doing lunchtime sandwiches and salads. KM0 also does gluten-free paninis and stocks some gluten-free products. And they have a charming flower-filled courtyard just opposite the restaurant.
Cantina De Mananan (Via Fieschi 117): This restaurant in a historic stone-walled wine cellar only seats 20 people, so it's a good idea to book in advance for dinner. The day's menu is listed on a blackboard, with traditional dishes like anchovies stuffed with herbs made with locally caught seafood and vegetables grown in the village.
Ristorante La Posada (Via Stazione 11): Right on the edge of the village, La Posada is a welcome sight at the top of the stairs from the station. This seafood restaurant has a big terrace surrounded by olive trees with sweeping views over to Manarola.
Bar La Terza Terra (Via Fieschi 215): This bar has another great view with a just a few tables overlooking the sea – walk right through the village until you reach the viewpoint. It's a great spot for a sunset Spritz and they also serve salads and light dishes.
Alberto Gelateria (Via Fieschi 74): And don't miss a gelato or two from Alberto Gelateria, where we worked our way through a couple of different flavours each night. Their specialities include the lemon basil, made with basil grown in the owner's garden, and the miele de Corniglia with local honey. They also do a refreshingly icy lemon granita.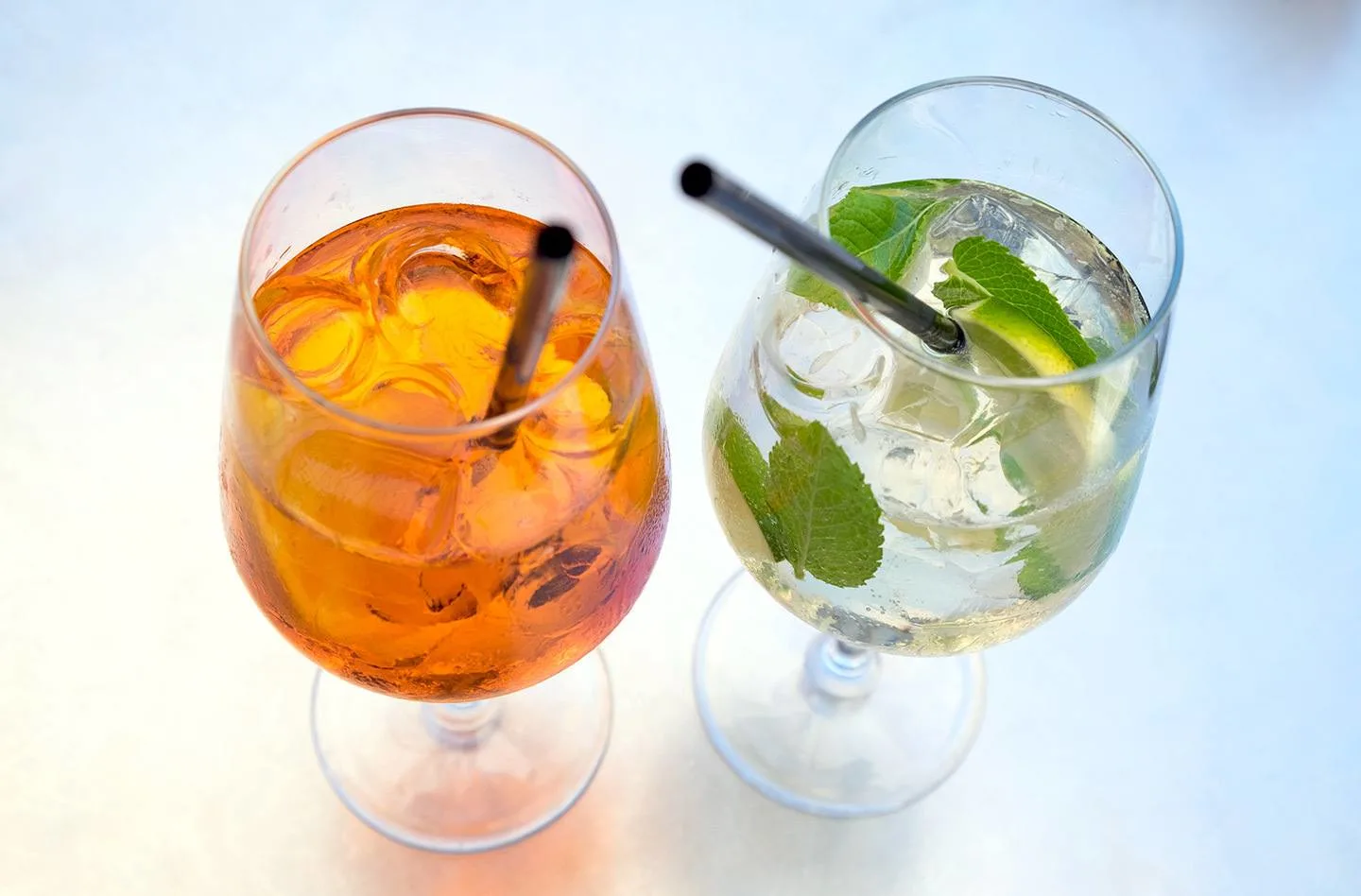 Save for later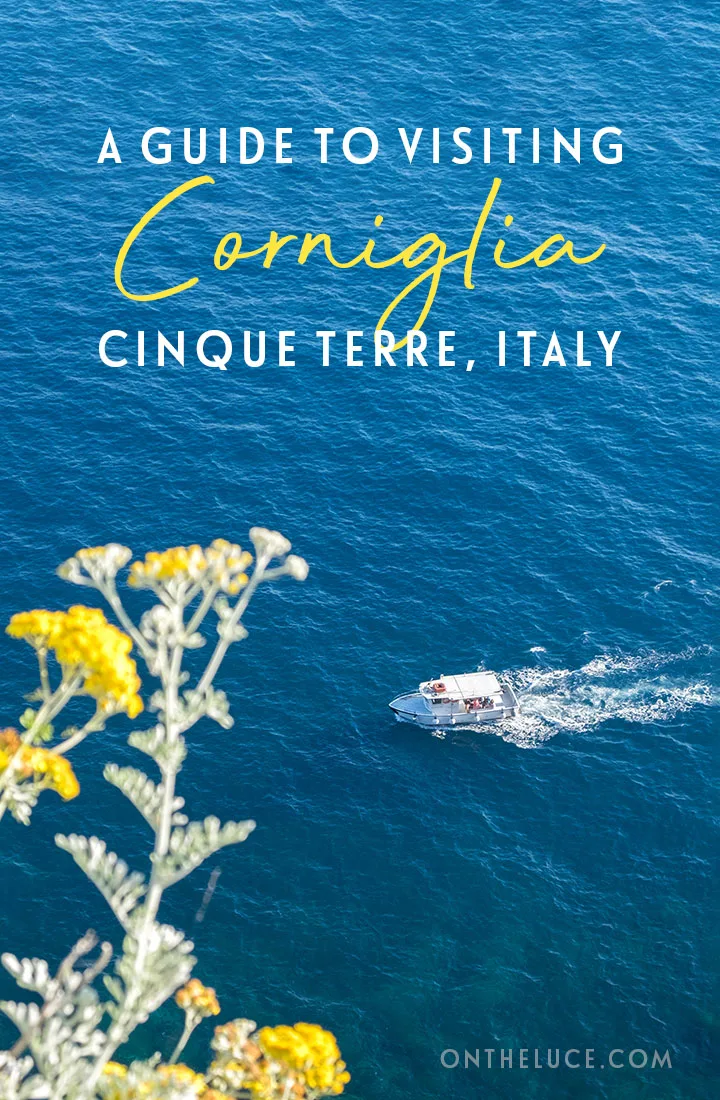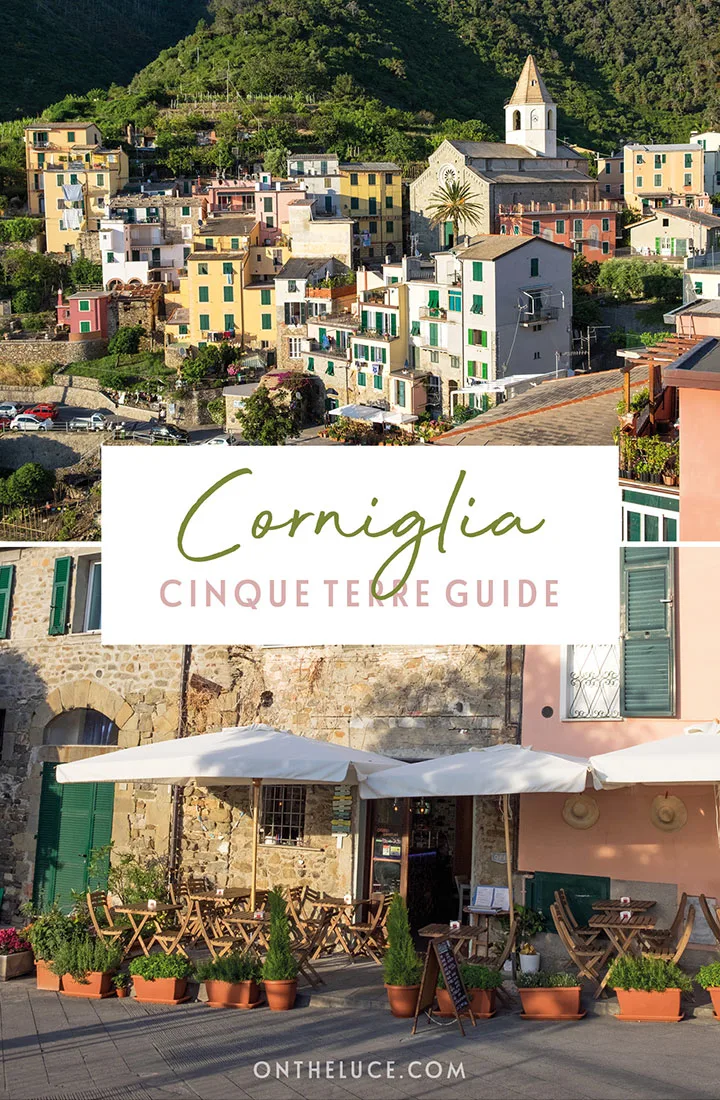 You might also like