Get a taste of the beautiful villages of the Cinque Terre in Northern Italy even if you're short on time with this detailed itinerary, which shows you how to plan the perfect Cinque Terre day trip.
* This site contains affiliate links, where I get a small commission from purchases at no extra cost to you.
The colourful cliffside villages and rocky coves, hillside walking paths and blue seas of the Cinque Terre have made it one of Italy's most popular destinations. The Cinque Terre National Park is made up of five villages – Monterosso, Vernazza, Corniglia, Manarola and Riomaggiore – and is located just south of Genoa in Northern Italy.
This stretch of coastline has enough villages, vineyards, swimming spots and seafood restaurants to easily fill a few days. But what if you only have one day to spare? This Cinque Terre day trip itinerary shows you how to see the best of the region in just one day, with details of how to get around, what to see and tips for planning your visit.
Is one day long enough in the Cinque Terre?
The Cinque Terre is Italy's smallest National Park and frequent train services along the coast mean it's easy to get around. So although a day trip to the Cinque Terre isn't long enough to thoroughly explore the area, it will give you a taste of each village.
It'll be a fairly long day though, especially if you're travelling from a city outside the region like Florence or Pisa. So if possible it's best to stay at least one night, either in one of the villages or nearby (Levanto* or La Spezia* are both on the Cinque Terre train line).
This means you can get out early and miss the worst of the crowds, but also helps the area get more benefits from tourism as it's become so popular that it suffers from the negative impacts of overtourism, like overcrowding, high prices and erosion.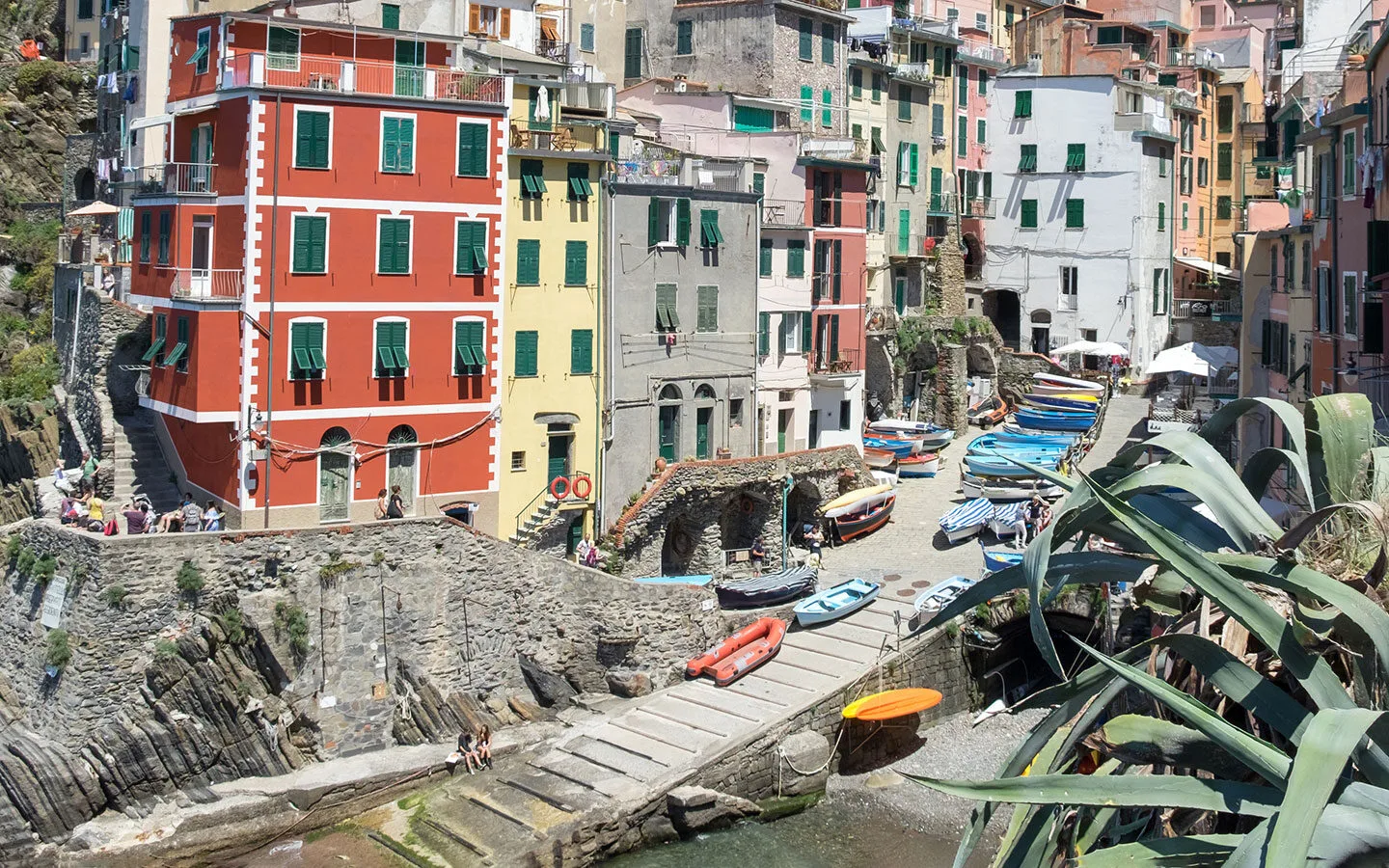 The best time for a Cinque Terre day trip
The Cinque Terre sees visitors year-round, but peak season is July/August, when it can get uncomfortably hot and busy. With average high temperatures of 29ºC/84ºF, head out early in the day if you want to do any hiking as there's limited shade along the paths.
The shoulder months of May/June and September are a great time for a Cinque Terre day trip. Temperatures are warm but not too hot at around 17–21ºC/63–70ºF and it's usually fairly dry, making it ideal weather for walking and sightseeing. And although it's still likely to be busy, the crowds and queues aren't as bad as in the summer.
Spring is cooler and quieter still, so March/April isn't a bad time to visit if you don't mind the occasional shower. But October and November can be quite rainy and stormy – and some paths can be closed off, as well as restaurants and hotels shutting up for winter. The ferries along the coast also stop running between November and March.
How to get to and around the Cinque Terre
The Cinque Terre train line runs along the coast between La Spezia and Levanto, stopping in each of the five villages along the way. If you're travelling from further afield, you can connect to the Cinque Terre line by taking the train from Pisa (1 hour) or Florence (2.5 hours) to La Spezia, or from Genoa (1 hour) or Milan (3 hours) to Levanto.
Trains run up to three times an hour and the journey from one village to the next takes around five minutes. A single journey costs €5 or you can get a one-day Cinque Terre card for €18.20 which includes unlimited train travel plus access to hiking trails (see below).
There's also a ferry which connects the villages (other than Corniglia as it's on a hill so doesn't have a port) with La Spezia and Portovenere. It runs from March to November and single journeys start from €7 or a one-day unlimited ticket from €30.
Cinque Terre in one day itinerary
This one-day Cinque Terre itinerary is a taster of each of the five villages. It runs from north to south – meaning you can do any walks early in the day before it gets too hot and end in Riomaggiore which is a beautiful spot for sunset. But you can also do it in reverse, which may be a better option if you want to end with a swim in the sea.
So how long does it take? Giving yourself around an hour to explore each village, an hour for lunch and travel time between each village, I would allow at least eight hours for this Cinque Terre day trip. If you want to do the hikes between the first two villages you'll need to add a couple of extra hours or cut down on your time in each village.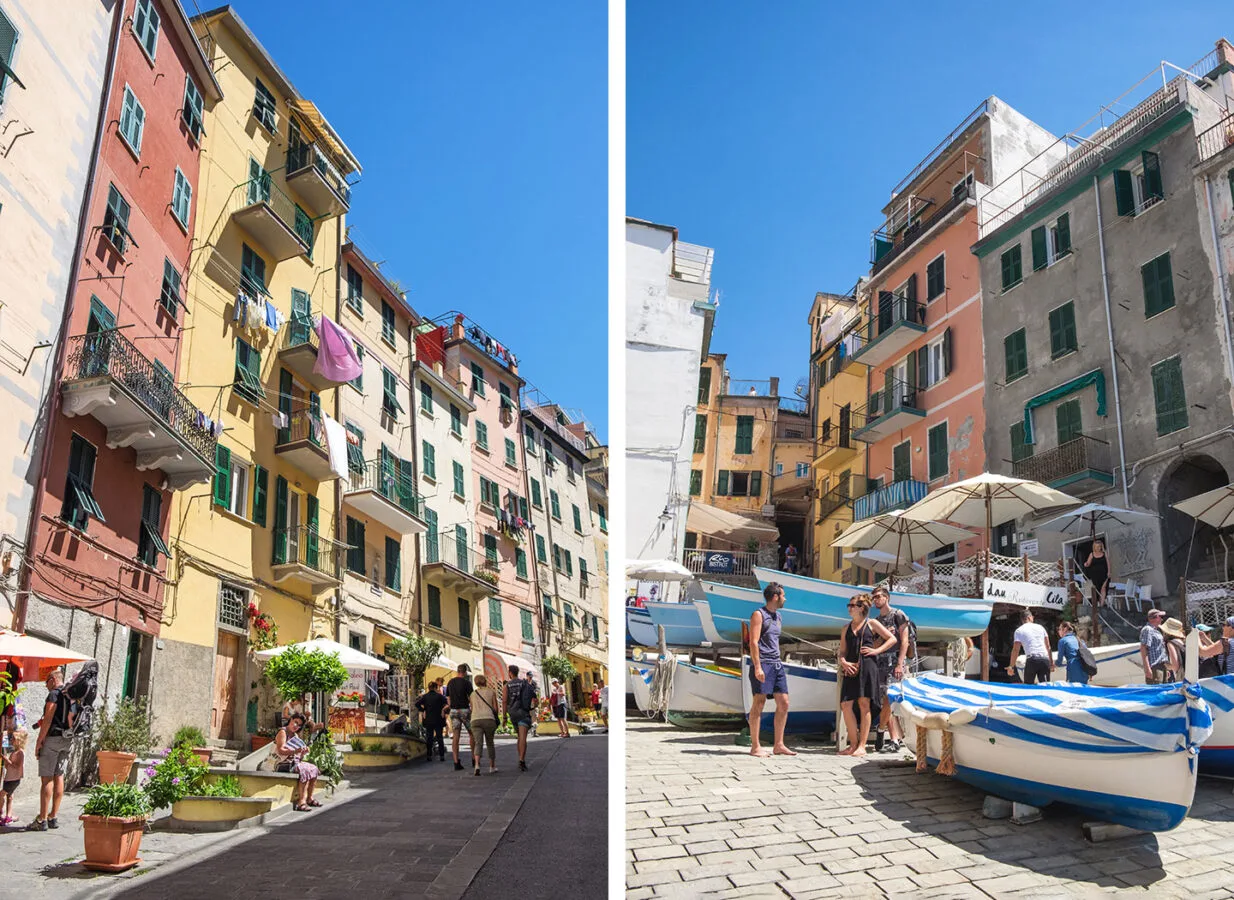 Monterosso
Start your day in the Cinque Terre in Monterosso al Mare, the furthest north and largest of the villages – and home to the Cinque Terre's only real sandy beach. It's split into two sections connected by a tunnel, with the old town on one side and the more modern Fegina on the other, which is where you'll find the train station and beach.
Climb up to the Torre Aurora – the last of a series of defensive towers – to check out the views, stroll along the seafront promenade, have a dip in the sea, shop for handmade ceramics or soak up the sunshine over a coffee before heading to Vernazza.
There are two ways to reach Vernazza – on foot or by train. The quickest way is to take a southbound train for one stop. Or the more scenic route is along the Sentiero Azzuro (Blue Trail). This path originally ran all the way along the Cinque Terre, but the section from Corniglia to Riomaggiore has been closed since a 2011 landslide.
The path from Monterosso to Vernazza is 4.2km/2.6 miles and takes around two hours at a leisurely pace. It's steep in sections, particularly the climb up into the vineyards outside Monterosso, but has some spectacular views – the view of Vernazza just before reaching the village is well worth the climb even if you're not doing the whole hike.
Note that hikers need to buy a Cinque Terre Card to access the path. There are two versions of the card – one which just covers the path (€7.50 for one day) and one which also includes unlimited local train travel (€18.20), which is a good option if you're exploring the Cinque Terre in one day.

You can buy the pass online, at tourist information offices in train stations or from checkpoints on the trail. But you may have to queue at busy times.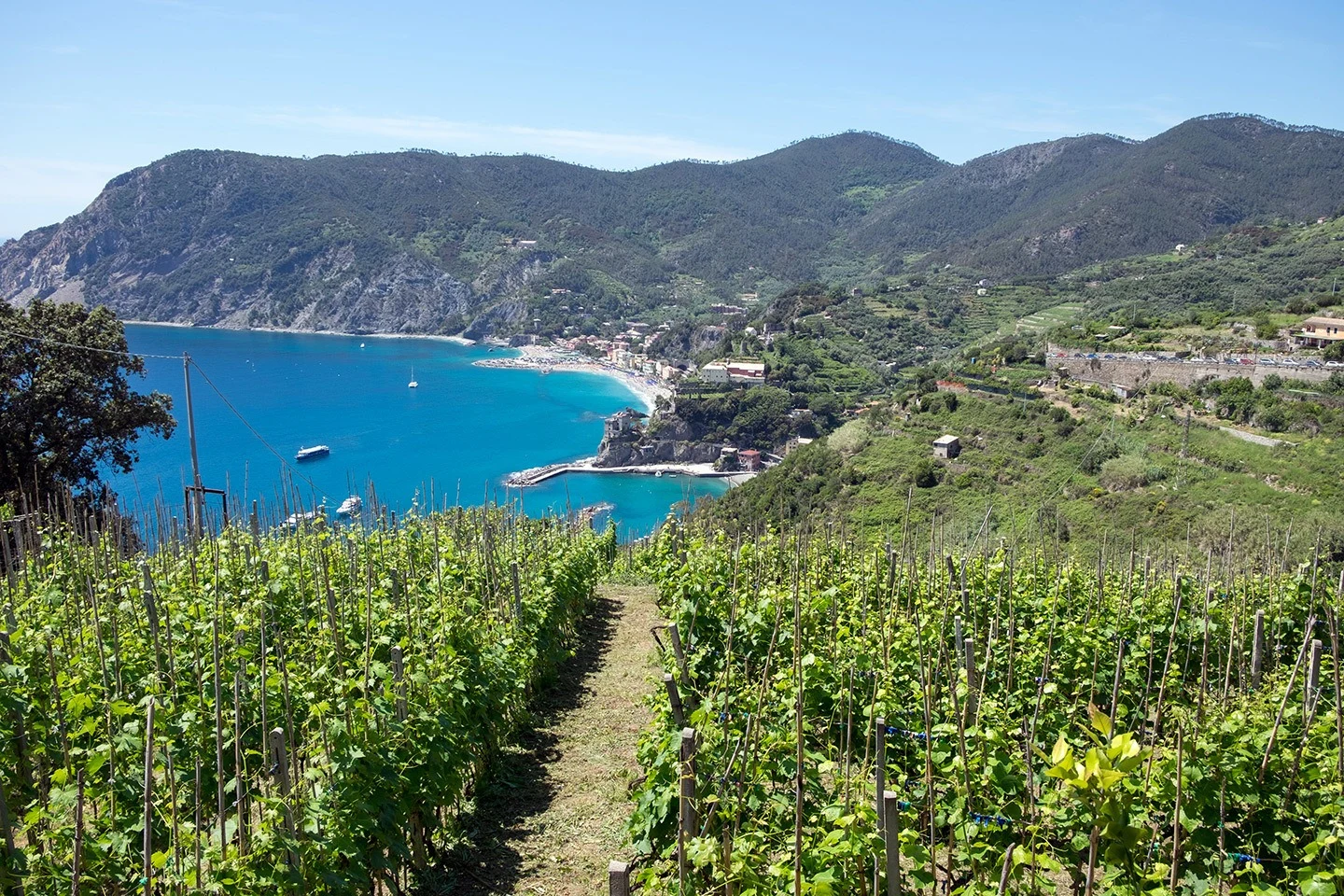 Vernazza
Gorgeous Vernazza is set around the Cinque Terre's only natural harbour. The waterfront is a great place for people- and boat-watching – preferably with a cone of ricotta and fig gelato from Gelateria Vernazza – and there's a small pebbly beach where you can cool off your feet. There's also the remains of 11th century Doria Castle to explore.
From Vernazza, you again have the choice of taking the train or walking on to the next village – Corniglia. This stretch of the Blue Trail is another hilly one, but the hike is shorter at 3.4km/2.1 miles so it only takes around 45 minutes.
If you only have time for one hike then I would choose this one over the Monterosso to Vernazza stretch as the views just edge it. Make sure to look back just after leaving Vernazza for another great view of the village and the tower above it.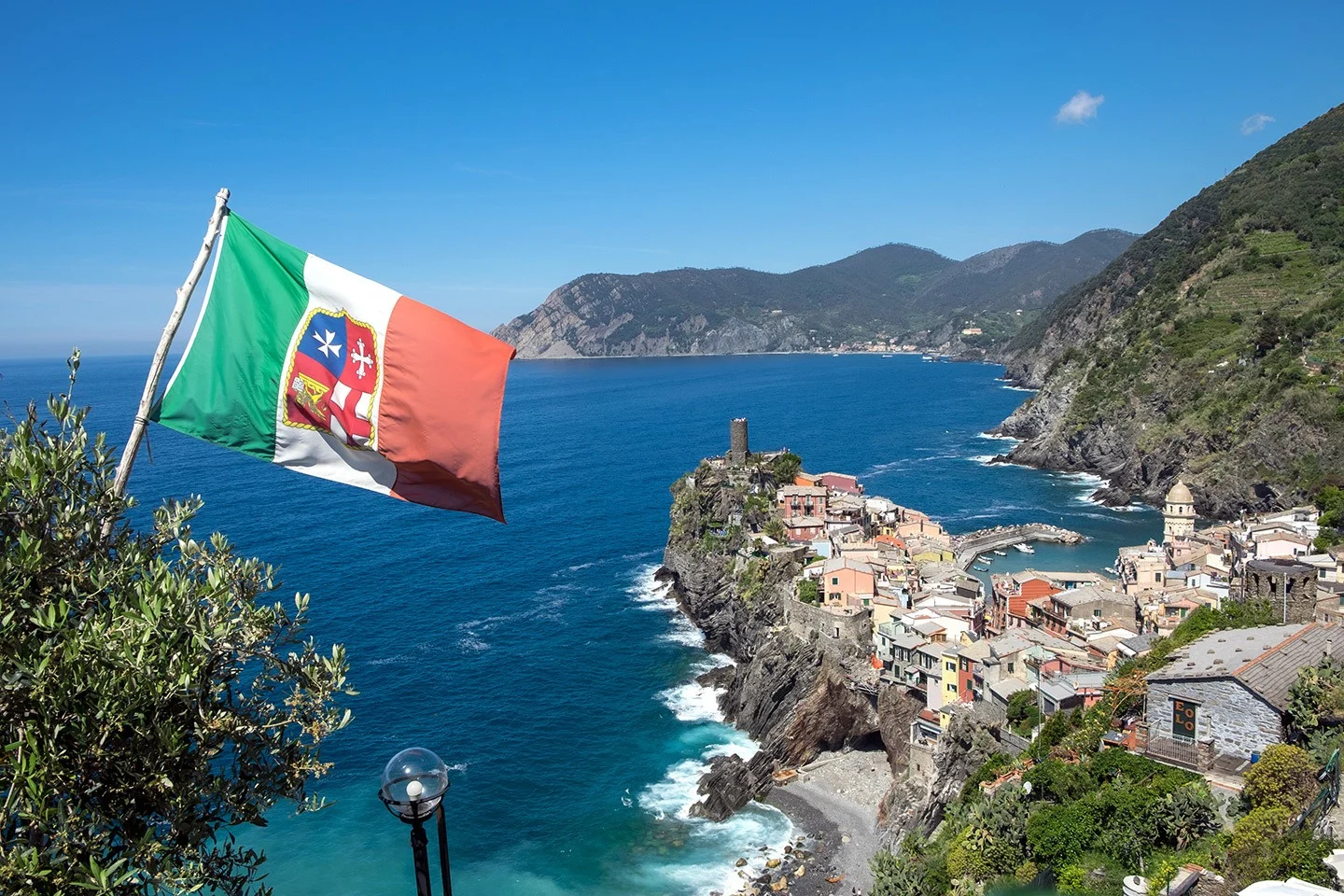 Corniglia
Corniglia is the smallest and quietest of the Cinque Terre villages. Unlike the others it's on top of a hill rather than on the waterfront, so you can't reach it by boat, and the climb to the top puts some people off from visiting. But I think Corniglia is worth the effort.
If you're walking, the path from Vernazza finishes on the edge of the village. But if you're arriving by train, the station is at sea level so you have to climb up to reach Corniglia. You can get there by climbing a 380-step staircase called the Lardarina. Or there's a shuttle bus from the station to the village, though there can be queues at busy times.
Once at the top, head to La Torre viewpoint to look out along the coast, visit the 14th-century Chiesa di San Pietro or try some local Vernaccia de Corniglia wine.
By now you're probably feeling hungry so stop off for lunch. Some of our favourites spots in Corniglia are Cantina De Mananan for traditional dishes in a converted wine cellar, Ristorante La Posada for local seafood on a big terrace overlooking Manarola, or Pan e Vin for tasty sandwiches (see our Corniglia guide for more reastaurant ideas).
Then head back down to the train station, either via the stairs or using the shuttle bus, for the short train journey on to Manarola.
Manarola
Manarola is another of the Cinque Terre's most picturesque villages, centred around its marina. There are stone jetties you can swim off, or just sit and watch the boats. There's also the medieval Church of San Lorenzo and shopping on Via Renato Birolli.
The viewpoint overlooking the harbour is where you'll find one of the most iconic Cinque Terre views. To get there, just follow the narrow walkway to the west along the water's edge. Beware it can get very busy though, especially around sunset.
There's a restaurant just above the viewpoint called Nessum Dorma that's a perfect spot for an afternoon Aperol Spritz – though it's super popular so prepare for a 30-minute plus queue. Alternatively you can download the Nessun Dorma app and join their 'virtual queue', so you can explore the village until they let you know there's a free table.
Manarola is the Cinque Terre's most popular place for sunset, which is part of the reason why I'd recommend ending the day in Riomaggiore instead, which is just as pretty but not so packed. To get there, either catch the train or take the ferry – this short boat trip gives you fantastic views of the villages and down the coast from the water.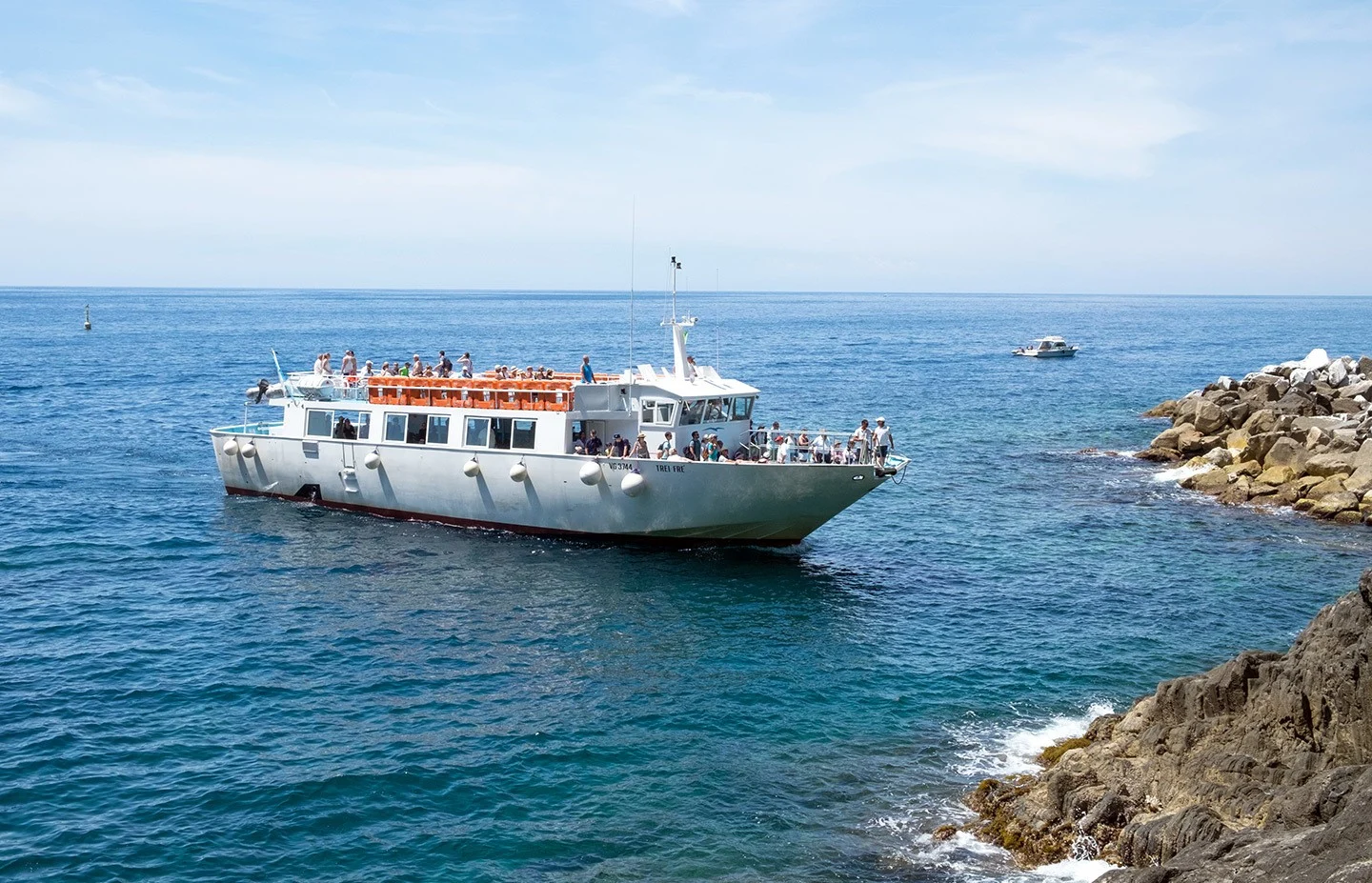 Riomaggiore
Finally, end your tour of the Cinque Terre in one day in Riomaggiore. It's one of the larger villages, known for its brightly painted houses around the harbour. Take a stroll along Via Colombo with its shops and restaurants, admire the views from the piazza outside the Church of San Giovanni Battista, and pick up a cone of fried fish to snack on.
If you're staying for sunset (the sun doesn't go down until after 9pm in summer so you may need to head off before then if you're not staying locally), the best spots to see it from are Riomaggiore Castle or the breakwater in front of the harbour.
Then from Riomaggiore, you can take the train to Levanto or the train or ferry to La Spezia to start your return journey.
What if…
I've got less than a day in the Cinque Terre?
If you're really tight on time, I'd recommend concentrating on just one or two villages rather than trying to see too much. Riomaggiore, Manarola and Vernazza are probably the most charming. And if you have time to fit in a boat trip, then it's a great way to see the coastline and get a glimpse of the other villages, albeit from a distance.
For example, with half a day you could take the train to Riomaggiore and spend an hour looking around the village. Then travel on by train to Manarola and have lunch there before catching the ferry the rest of the way along the coast to Monterosso.
Or hikers could take the train to Corniglia and walk from there to Vernazza, have lunch there then take the train to Monterosso and end with a swim.
I've got more than a day in the Cinque Terre?
If you have more time, you could spread this itinerary out over two days, add in some time on the beach in Monterosso, a local wine-tasting or extra walks – the three-hour vineyard route from Corniglia to Manarola via Volastra has breathtaking views.
When looking for somewhere to stay, frequent trains mean the villages are equally convenient so it's more about the style of place that suits you. For the widest selection of accommodation head to Monterosso or Riomaggiore, for somewhere peaceful head to Corniglia, or for scenic views and a village feel head to Vernazza or Manarola.
I'm visiting in winter?
The Cinque Terre is open year-round – and you'll have it almost to yourself in winter. Many places close for winter but there are usually a couple of restaurants open in each village. Prepare for some grey days and rain, but there are sunny winter days too.
From November until March the hiking trails are free and you don't need a Cinque Terre card. But paths are sometimes closed after heavy rain. The ferries don't run November to March, but trains run all year and tickets are reduced to €2.50 in winter.
I'm not sure if I'm fit enough to do the walks?
Apart from the fairly flat section from Corniglia to Riomaggiore – which is closed for the foreseeable future after a landslip – the hikes through the Cinque Terre are graded as medium difficulty as there are lots of ups and downs, particularly from Monterroso to Vernazza. But they are do-able for anyone with a reasonable level of fitness.
The distances covered aren't all that great, but you need to be comfortable climbing up and down steps and walking on narrow rocky paths. Make sure to pack trainers or walking shoes as it's not suitable for sandals, as well as water, sunscreen and a hat.
If you don't want to hike, you can easily get around the Cinque Terre by train or boat instead. There is a long flight of stairs to get up to Corniglia, but you can avoid the climb by either by taking the shuttle bus from the station or skipping the village.
I have a mobility issue?
With its hillside towns, stairs and cobbled streets, the Cinque Terre isn't the easiest place for people with mobility issues. There are usually a few steps at each of the train stations and you need to negotiate narrow gangways to get onto the ferries at some ports.
Monterosso is most accessible village as it's the flattest and has a boardwalk along the seafront. It's also the easiest place to get on and off the ferry, so one option for visitors with limited mobility is to take a boat trip along the coast from Monterosso.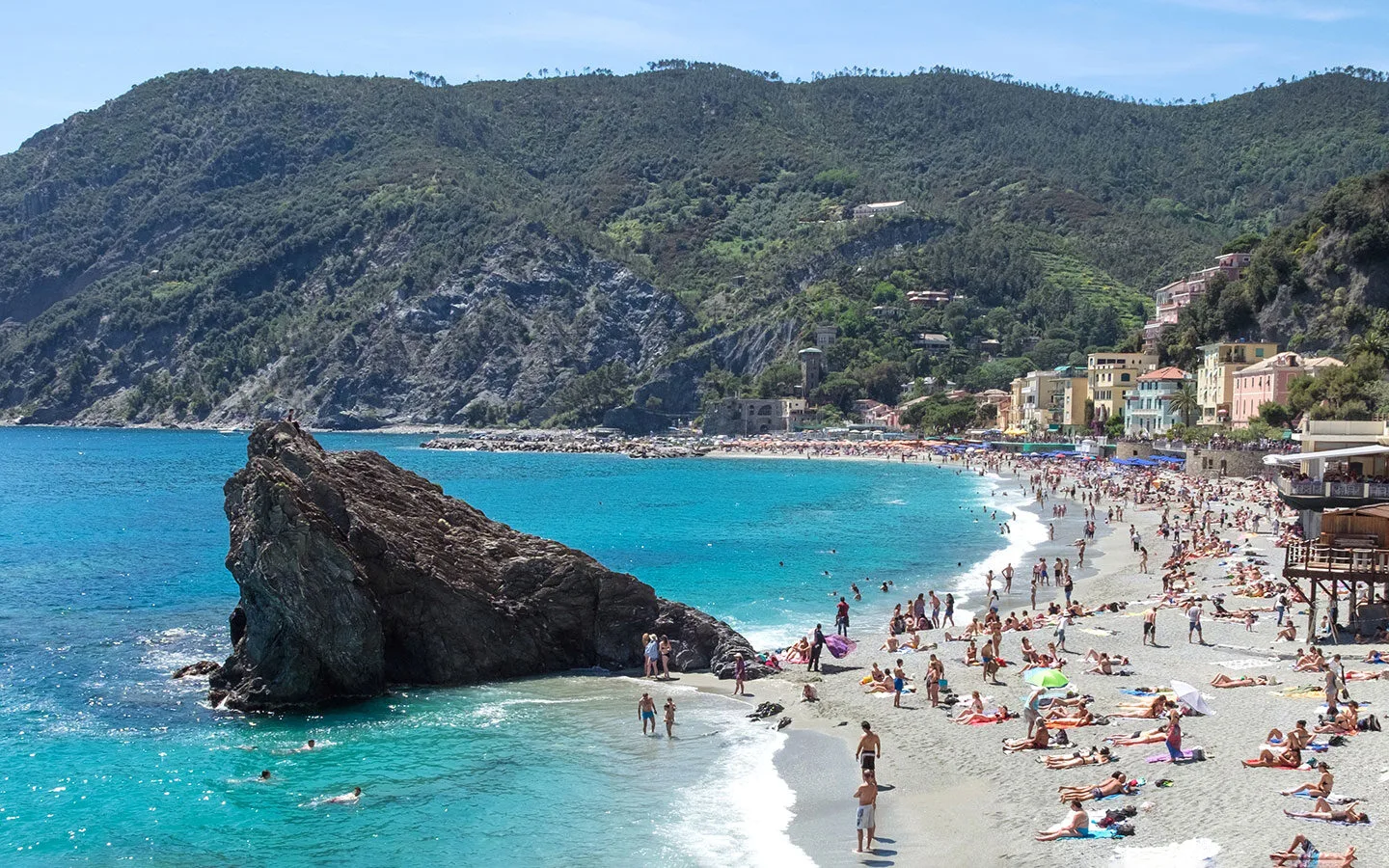 I don't want to organise the trip myself?
The Cinque Terre is fairly easy to get around. But if you don't want the hassle of planning a Cinque Terre day trip yourself, there are a selection of organised tours available.
They include transport to and around the Cinque Terre from nearby cities like Florence or Pisa, or from the cruise port in La Spezia. There's usually a combination of train and boat travel around the Cinque Terre and some include an optional hike or lunch.
Do double check the itinerary to see how long you actually get in the Cinque Terre though – some tours spend most of the day travelling or only see the villages from the water on a boat trip and don't actually stop. These are some of the better options:
From Florence*: bus transfer to La Spezia (2 hours) then train to each of the villages, with an optional lunch, boat trip and hike from Corniglia to Vernazza.
From Pisa*: minibus transfer to Riomaggiore (1.5 hours) then boat (or train in bad weather) to Manarola, Vernazza and Monterosso.
From La Spezia cruise terminal*: Walk to train station (20 mins) then train to Vernazza, Monterosso and Riomaggiore, with limoncello tasting.
Save for later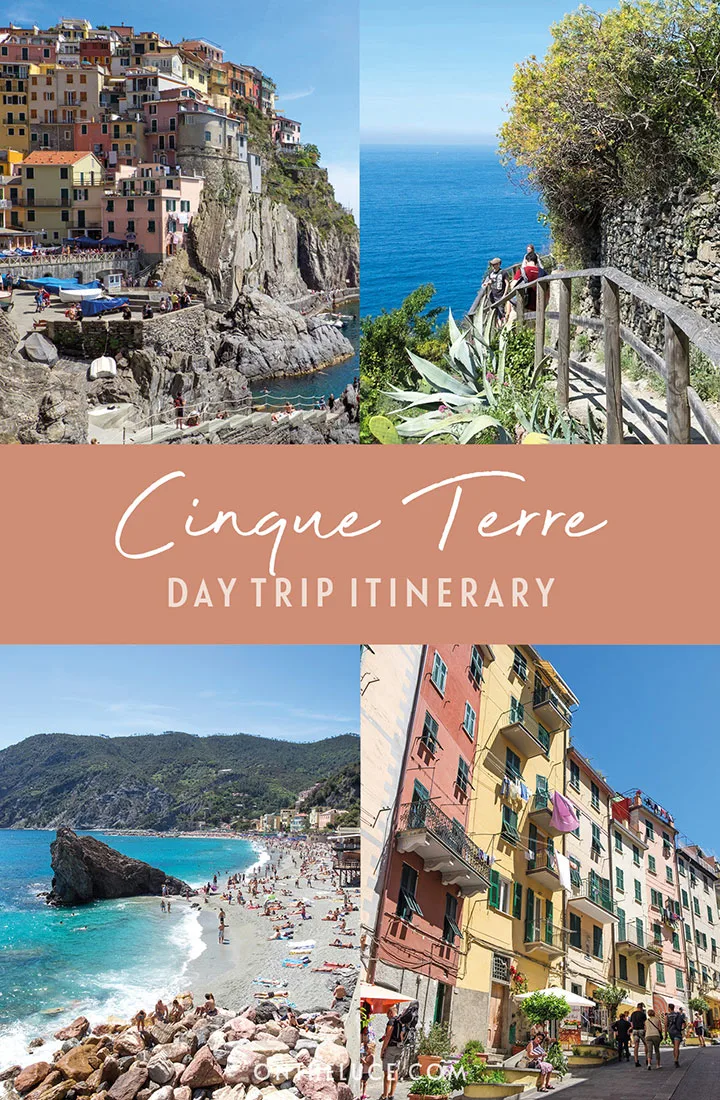 You might also like