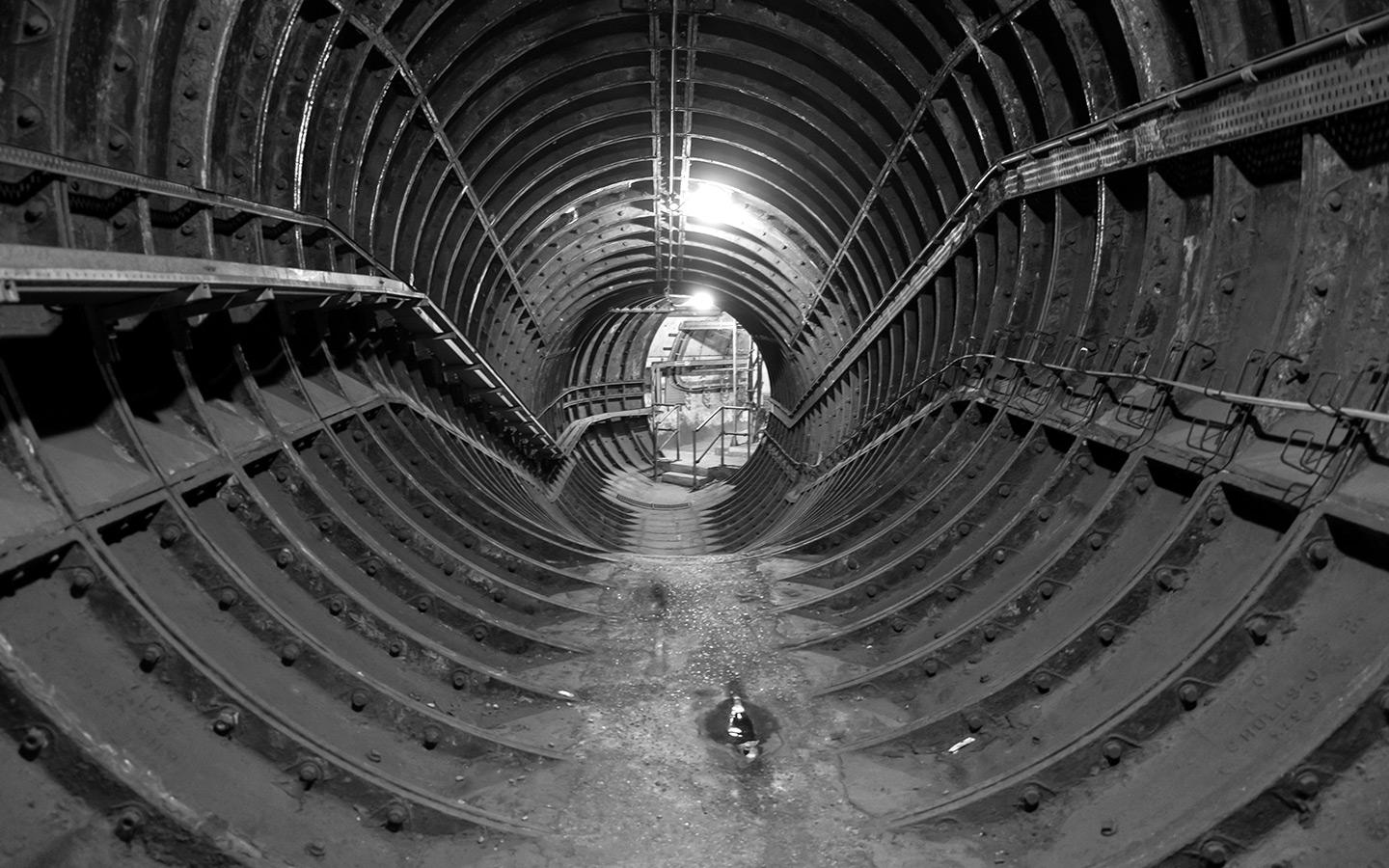 For years I commuted to work in London on the underground to Euston station. I'd walk through its miles of tunnels and down to the Northern Line every day – usually on autopilot and hardly noticing where I was. But I never knew I'd been walking right past the entrance to a network of deserted underground tunnels, some of which have been sealed off for over 100 years. Most of the time these secret tunnels are locked away and inaccessible to the public, but every now and then the London Transport Museum runs special Hidden London tours where you can get a glimpse into the hidden tunnels and ventilation shafts right below our feet. When I found out I couldn't resist a trip underground to uncover Euston's secret tunnels.
Read more: Dover Castle's underground secrets
Euston station opened in July 1837 as the terminus of the new London & Birmingham Railway, which connected London and the Midlands for the first time. Back in those days the station only had two platforms – one for arrivals and one for departures. Later on more routes were added to Manchester, Liverpool, Glasgow and Edinburgh, and passenger numbers grew and grew. In 1903, two rival underground railway companies were given permission to build stations at Euston so they could take advantage of all this extra traffic. But they weren't allowed an entrance inside the station. Instead two stations were built, with one on each side of the station and a shared underground ticket office built in the middle of them.
In 1914, the two companies merged and the station buildings were closed. The City and South London Railway building was demolished, but the Charing Cross, Euston & Hampstead Railway's original station is still standing – and was the starting point for our tour. Located in Melton Street to the west of Euston, I'd probably walked past it plenty of times over the years without ever noticing it. But it still has that classic London Underground look, designed by architect Leslie Green who's responsible for a lot of the old Tube stations with their arched windows and ox-blood red tiles. The building's still in tact from the outside, but all that's left inside now is a huge ventilation shaft that helps cool the Victoria Line platforms down.
Before setting off on the tour, our group were kitted out in yellow high-vis jackets. You're also advised to wear closed shoes – and probably want to avoid wearing white as it's grimy underground. Our trip into Euston's secret tunnels started in one of the less mysterious ones – the Bank branch of the Northern Line. But we left the commuters behind on the platform and followed our guide through an unassuming door at the end of the platform. When we emerged on the other side, we'd gone back in time. Inside was a network of old tunnels and ventilation shafts. Some were abandoned in the 1960s and some go even further back. Some are brightly lit and piled up with tools and spares, and others are dark, deserted and dusty.
The tunnels are like a time capsule of what was happening when the platforms were closed. Posters from the 1960s show the films, plays and products that were being advertised then – from Psycho to perms. There's even a poster announcing the station redevelopment that led to these tunnels closing. 'London Transport regrets any inconvenience caused' – some things never change! The tour takes you through different sections of tunnels, with a guide to explain what each was used for and when it was closed. We were on a special photography tour, so our group of eight was split into four pairs and had 20 minutes in each section, long enough to really explore each area and uncover – and photograph – its hidden details.
First up was the old lift shafts, which are now used as ventilation shafts for the Tube. They stretch 18 metres high, with a maintenance ladder running to the top. There's a hatch up there and I could imagine someone scaring the passengers by suddenly popping up out of the ground. Walking on through the tunnels, we came to one of Euston's unique quirks, its underground ticket hall. It was the crossover between the two original underground railways, where passengers had to pay to swap from one line to the other. And if they tried to sneak by, the office had windows built into the sides so the ticket inspector could spot any fare-dodgers. It's really well preserved with all the original tiling – and I couldn't resist trying out the window.
As well as the old passenger tunnels and platforms, we also got to walk through some of the ventilation tunnels. These were never designed to be seen by the public, so there were no posters or tiles, just an industrial landscape of metal tubes and bolts, coated with years of grime. With just a few bulbs hanging down and no one else around they felt spookily atmospheric. In some sections we had to find our way by torchlight, past bricked up doors and dead ends – you could imagine how claustrophobic it'd be down there if you didn't have someone guiding you. Our final stop was a zig-zag walkway with ventilation grills looking down on the Victoria Line platform, where you could see trains coming and going, and passengers getting on and off. So if you ever feel like someone's watching you on the Tube platform, they could be!
Two hours later, we emerged back onto the Northern Line platform, shook off the dust, handed back our high-vis jackets and were back in the 21st century. It was a fascinating look into some of the Tube's secrets and how much it's changed over the years. The twists and turns of Tube station tunnels start to make sense when you look at the history and how its grown. And it's always evolving – new HS2 and Crossrail lines mean Euston is being redeveloped again, and the station layout keeps changing. Even the old Melton Street building is scheduled for demolition, so there might not be many more chances to uncover its secrets.
The details
The Euston's Secret Tunnels tour is one of the London Transport Museum's Hidden London tours. Tickets cost £35 for the 75-minute regular tour, or £100 for the 2.5-hour photography tour. Tickets go on sale a few times a year and sell out really quickly, so it's worth signing up to the Hidden London mailing list to get notified when the next batch are available – and make sure you're online to join the queue. As well as Euston, the museum also run underground tours of Charing Cross, Aldwych, Down Street and Highgate.
Pin it