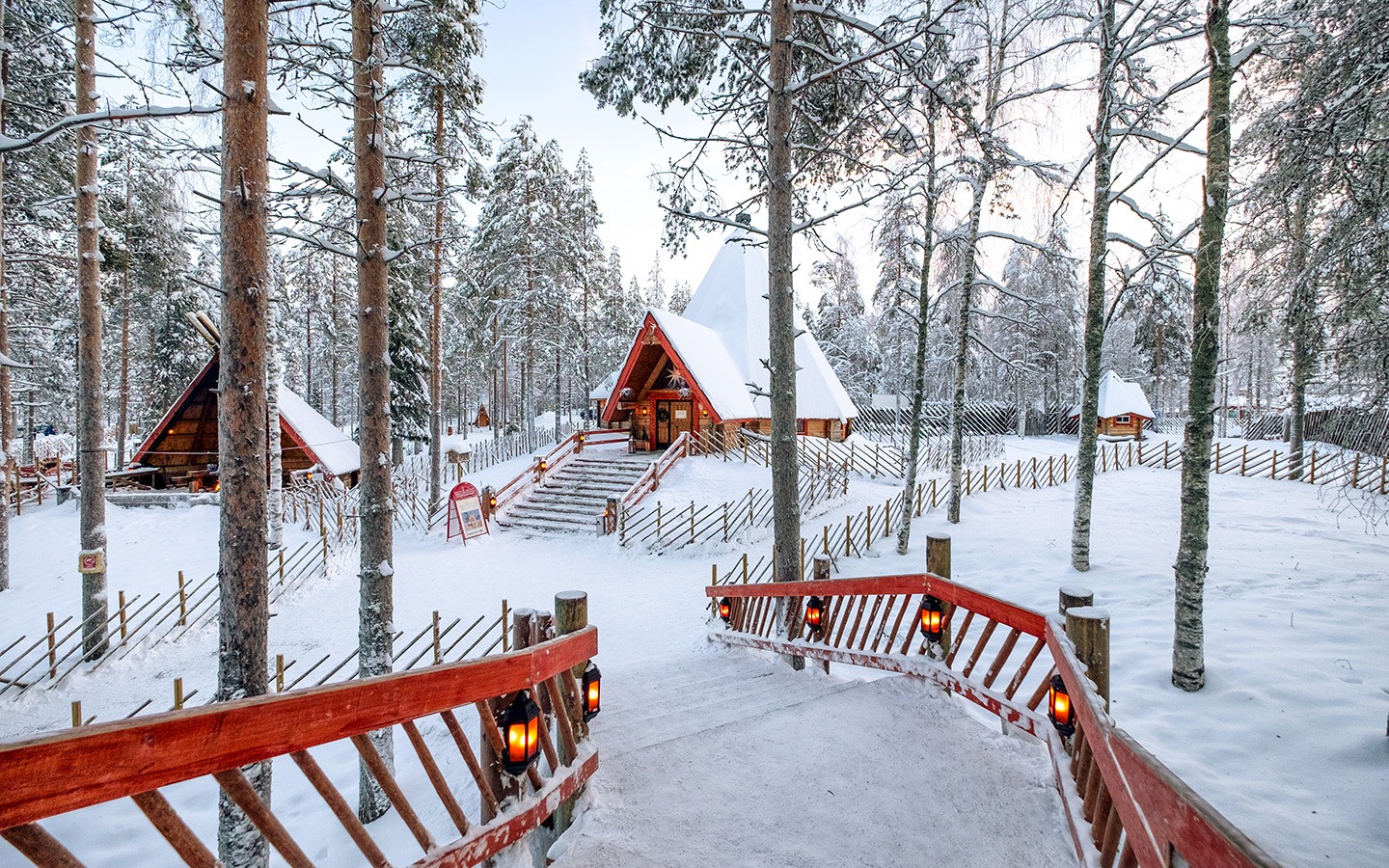 If you're looking for a winter long weekend break that ticks all the boxes – snow, Santa, saunas and sleigh rides included – then a trip inside the Arctic Circle to Lapland is just what you need. This part of the world is like a Christmas card come to life. But Scandinavia has a reputation for being one of the most expensive places to travel in, so how much does it really cost to visit Lapland? Here I share my budget breakdown for four nights in Rovaniemi in Finland.
Note: these costs are based on my travel style – mid-range with a touch of affordable luxury – so I keep costs down where I can to can splash out on special experiences. There's usually a mixture of hotels and apartment rentals, cooking and eating out, free activities and paid excursions.
Read more: A winter wonderland trip to Rovaniemi, Finnish Lapland
Budget breakdown for four days in Lapland
Accommodation
Accommodation in Lapland is really mixed – on one end of the spectrum there are inexpensive hotel rooms in the main centres like Rovaniemi for around €110 a night. Or there's an array of bucket-list-worthy places to stay like forest cabins and glass igloos where you won't get much change from €500 a night. Prices vary through the winter too – the period before Christmas is peak season so you'll pay a premium versus visiting between January and March.
We were visiting Lapland as a group of eight so it made sense to rent a house so we had a lounge to hang out in together, and could also cook some of our meals. We booked a five-bedroom house through AirBnB which sleeps up to 11 people and cost €1789/£1511/$1955 for four nights (including AirBnB fees). The location was perfect – quiet but only 10-minutes' walk to Santa Claus Village where there are lots of activities, a few restaurants and a bus into town.
Total accommodation cost: €224/£189/$244 per person – €56/£47/$61 a day each on average.

Transport
There are direct flights from London to Rovaniemi with Norwegian and easyJet, as well as indirect Finnair flights via Helsinki. We paid £100 return for easyJet flights from London Gatwick, booked three months in advance. But that was a new route and prices rose to over £300 a month before, so it's good to book as early as you can as flights are limited.
Rovaniemi airport is only around 9km outside of town and 3km from Santa Claus Holiday Village. There's a bus service which connects all three of them and an airport shuttle, but we pre-booked a minibus taxi to take us to our rental house, costing €23 each way. We also travelled into central Rovaniemi by taxi (€15 each way) and bus (€3.50 each way).
Total transport cost (excluding flights): €23/£19/$25 per person – €6/£5/$6 a day on average.

Activities
I don't usually spend a lot on activities when I travel, but Lapland is one of those places where there are a ton of cool things to do to tempt you – snowmobiling, husky or reindeer sledding, Northern Lights tours, ice fishing, snowshoeing and cross-country skiing. None of them are cheap though (think €100 per person for a half-day excursion or €55 for a 30-minute snowmobile safari) and prices can really add up if you want to try everything.
So we picked a couple of things we really wanted to do – a visit to the husky farm (€10), a short 500m ride on a husky sled (€30) and a 15-minute reindeer sleigh ride (€29). We also visited the Moomin Snowcastle ice sculpture park (€30) and the Arktikum environment and culture museum in Rovaniemi (€12). Unfortunately the weather conditions weren't good for the Northern Lights so we gave that a miss, but a tour would've cost €99 per person.
There are lots of free things to do in Lapland too – cross the Arctic Circle, meet Santa Claus and visit the Christmas Museum, go for a walk through the forest, warm up in a sauna, sit by the campfire, watch one of the gorgeous pink sunrises or sunsets, go sledging (a lot of accommodation has a sled you can borrow), build a snowman or have a snowball fight.
Total activities cost: €112/£95/$122 per person – €28/£24/$31 a day each on average.

Food and drink
Our original plan was to mix up self-catering and eating out in the evenings, but we didn't take into account how hard it would be to drag ourselves back out in the cold after it'd gotten dark by 3pm and we had a nice roaring fire going! So we we did a big food shop at the large K-Citymarket superstore in Rovaniemi at the start of the week (€57/£48/$62 per person) which gave us enough food for four days of breakfasts and dinners plus a few snacks.
Our house came with an amazing BBQ hut in the garden, so we cooked a side of salmon over the fire out there one night. We did eat out for lunch and warmed up with a hot chocolate a few times when we were out and about (total €34/£29/$37 per person)  If you want to eat out more, an average main course at a restaurant will set you back €25–€30 in the evenings, or there are often special offers at lunchtime, with simple dishes like burgers for around €16.
This wasn't my first trip to Scandinavia, so I already knew that alcohol was going to be pricey, so I stocked up on a couple of bottles of wine in duty free on the way out (€18/£15/$20). Finland sells alcohol through state-run Alko shops, which are the only place you can buy spirits, wine and beer over 5.5%. Or a bottle of wine in a restaurant costs around €30.
Total food and drink cost: €109/£92/$119 – €27/£23/$30 a day each on average.

The grand total
The overall cost for our four days in Lapland came in at €467/£395/$510 per person. This works out at around €117/£99/$128 a night each, not including flights (funnily enough almost the same as I paid for my last trip to Scandinavia, visiting the Norwegian fjords). It was a really magical trip with some of the most beautiful scenery I'd ever seen, so was well worth it.
Lower budget? Lapland's not easy to visit on a low budget. There's a hostel in Rovaniemi but a dorm bunk still costs €50 a night, so unless you're travelling solo, an apartment rental is likely to be the cheapest option. You could save by cooking your own food and avoiding alcohol.
Higher budget? If you've got cash to splash then Lapland is a great place to do it. You can sleep under the stars (and the Northern Lights if you're lucky) in a glass-roofed igloo, do a day on the ski slopes at Ounasvaara Ski Resort or take a private aurora hunting or husky sled tour.
Pin it
This article contains affiliate links, where I get a small commission at no extra cost to you, thanks.