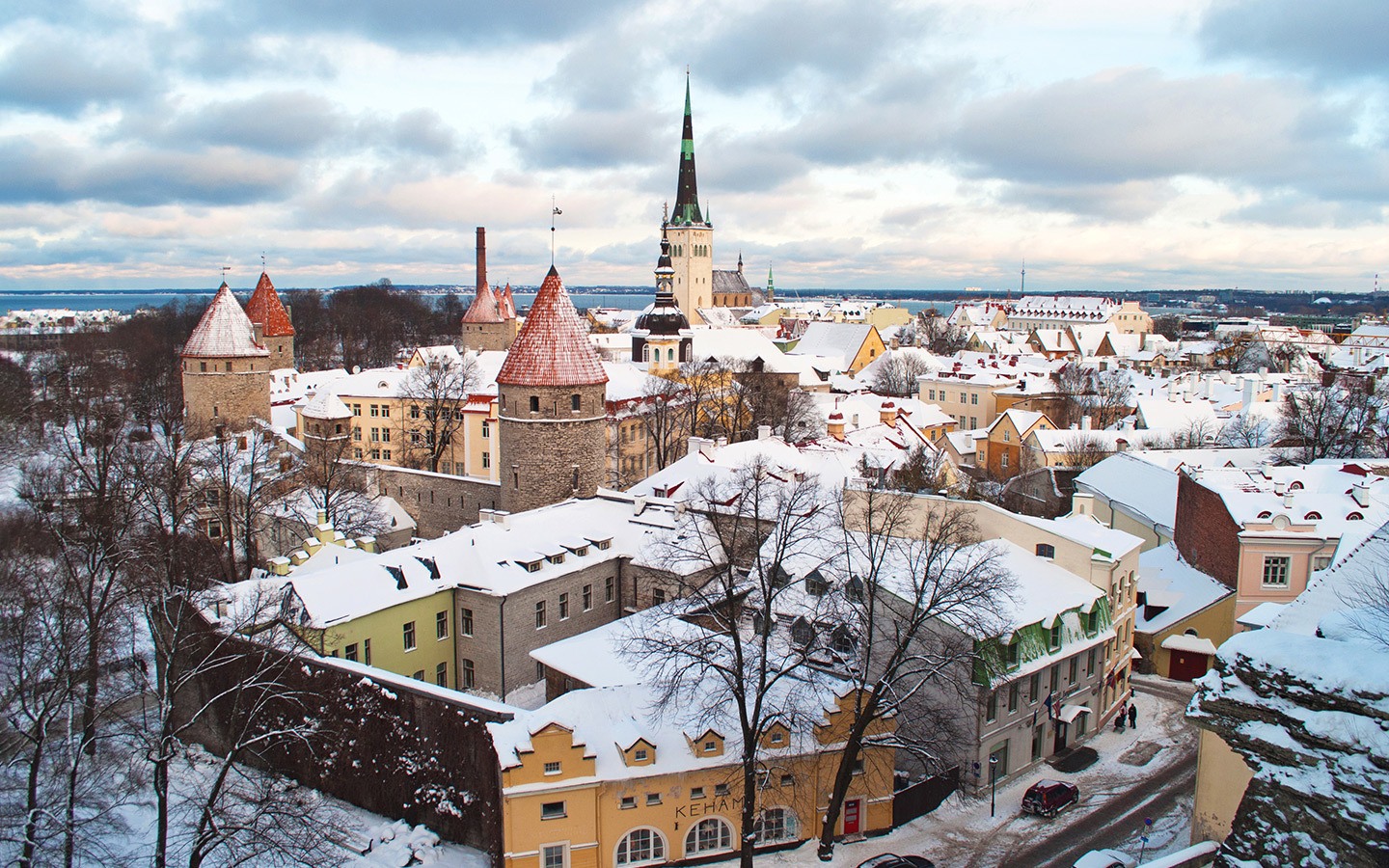 A thick layer of snow crunched underfoot and tiny snowflakes swirled around a skyline filled with Gothic church towers and castle turrets. Arriving in Tallinn was like walking into a wintry fairytale. Europe's best preserved medieval city is a beauty at any time of year, but in the short, cold days of winter, snow adds an extra touch of magic. In summer it's a favourite for stag parties drawn in by cheap beer and budget flights. But in Tallinn in winter its narrow cobbled streets, grand merchants houses, medieval walls and hidden courtyards are almost deserted.
Estonia leads the way in Europe for high-tech industries – it was the first country to allow voting online and has the most start-up companies per person anywhere in the world, including famous names like Skype. And its capital Tallinn is a modern coastal city, with trendy neighbourhoods, street art, shopping malls and office blocks. But once you enter the walls of the city's Old Town you're transported back in time to the 13th century, when medieval Tallinn was Hanseatic trading post known as Raval, run by a league of German merchants.
Its original buildings are so well preserved that the Old Town has been designated a UNESCO World Heritage Site. And its survival is particularly amazing when you look at the turbulent history it's been through. Tallinn's been invaded by the Danes, Swedes, Teutonic Knights and Russians, fought the Great Northern War and been bombed in WWII, as well as battling the Nazis, Soviets, a Great Fire and an outbreak of plague. But the Old Town is still standing proud. So layered up against the -10 temperatures, we headed into its snowy streets to explore.
As we walked through the Old Town streets took me a while to work out what was missing – cars. The centre of the Old Town is pedestrianised so you can walk wherever you like, and the lack of traffic left the snow a pristine white and the streets peacefully quiet. Snow was piled high along the edges of the pavements, and there were temporary barriers set up outside buildings whenever the layer of snow balanced on the rooftops or the four-foot-long icicles which dangled from the gutters threaten to detach themselves onto passers by below.
Things to do in Tallinn in winter
Old Town Hall Square
If you walk around Tallinn long enough you're guaranteed to end up in the Old Town Hall Square. This was the heart of medieval Tallinn and started life as a market for the city's Hanseatic merchants. They built their houses and warehouses around it, still standing and painted in pretty pastel shades of pink, blue and yellow. In December it's filled with Christmas market stalls, but in January just the Christmas tree and festive white lights draped across the streets were left.
In the centre of the square there's a stone with a compass rose marked on it – or at least there would've been if it hadn't been covered in snow. It marks the centre of Tallinn, and if you stand on the spot you can apparently see the tops of Tallinn's five most famous church spires.
Old Town walls
One of the reasons the Old Town has survived so well is the ring of walls and guard towers that stretch around it, protecting it from yet more invasion. The original medieval walls were 2.4km long and there are still 1.9km of them left standing. Only a few of the 66 original defensive towers still remain, but you can climb up to the top of some of the ones that do.
With the cold starting to bite we headed up the spiral staircase to the wooden walkway which runs along the top. This was originally where the city guards would wait, looking out for any sign of invaders. But today looking inward you get a beautiful view of the city.
Kiek in de Kök
One of the biggest towers is the wonderfully named Kiek in de Kök. It's a six-storey cannon tower turned museum that protected Tallinn during the Livonian War. It did its job well as there are nine cannonballs still embedded in the walls. The name means 'Peep into the Kitchen' because soldiers said they could see into the kitchens of the houses below.
Cosy cafés
As my feet started to go numb in the cold, we retreated indoors into one of the Old Town's cafés. A lot of the cellars of the merchants' houses have been turned into cafés and restaurants, with the domed ceilings and candlelight making them a cosy escape from Tallinn's winter chill. Especially if you warm up with a hõõgwein – Estonian style mulled wine with fruit and nuts.
Toompea Hill
With the hõõgwein radiating, we headed away up onto Toompea Hill. Where the lower part of the old town was a bustling merchant town, Toompea Hill above it was home to the gentry and political elite, heavily fortified to keep commoners out. The heart of Toompea was the castle, which has been home to Estonia's various rulers since 1229. It's the site of the Estonian Parliament now and has changed a bit since its early days as a wooden fortress. Now there's an ornate pink baroque building at the front with an earlier castle tucked away behind.
Alexander Nevsky Cathedral
Toompea Hill is also home to one of Tallinn's most distinctive buildings, Alexander Nevsky Cathedral. With its onion-domed roof and gold details it could be straight out of St Petersburg. It was built at the end of the 19th century when Estonia was part of the Russian Empire. It nearly didn't survive the anti-religious Soviet Era, but was restored when Estonia became independent. The interiors are lavish, decorated with mosaics, carvings and gilt, with three altars.
Kohtuotsa and Patkuli viewing platforms
But one of Toompea Hill's biggest attractions isn't its buildings but the space in between them. Tucked down narrow sidestreets are the Kohtuotsa and Patkuli viewing platforms, where a panoramic view of the Old Town opens out below you. Looking out onto Tallinn's snow-covered roofs, red-tiled turrets and pointy-spired churches was just magical. It's also a good spot to watch sunrise, and it's not until 9am in Tallinn in winter you don't need to be up too early.
Vabamu Museum of Occupations and Freedom
Just inside the city walls, Tallinn's Vabamu Museum of Occupations and Freedom shows a different side to the city's history – and it's modern architecture is a real contrast to the medieval Old Town (as well as being a good place to warm up when the cold got a bit too biting). It tells the story of the city under five decades of occupation, with artefacts and personal stories from people who lived through life under Soviet control, which only ended in 1991.
The details
The weather in Tallinn in winter
Tallinn's winters are cold and snowy, with only six hours of daylight in December. Average temperatures stay below freezing from December to March, with January and February being the coldest months with average lows of -5°C (23°F). It can get much colder though, getting down to -18°C at night when I visited in January. So pack layers, thermals and hand warmers.
Where to stay in Tallinn
We stayed at the Merchants House Hotel. A pair of original merchants' houses – as you'd probably guess from the name – has been converted into a hotel with lots of original features and friendly staff, right on the edge of the Old Town Square. Rooms from €120 a night.
Where to eat in Tallinn
The Old Town has a spate of medieval-themed restaurants – all serving wenches and elk soup – like Olde Hansa or III Draakon which are extra cosy in winter. But for more contemporary Estonian food, our highlight was Rataskaevu 16 with its modern take on traditional local ingredients. We also liked Porgu, a cellar restaurant with a great beer selection near St Nicholas Church. And if you're an 80s music fan don't miss the Depeche Mode-themed DM Baar.
Pin it
This article contains affiliate links, where I get a small commission at no extra cost to you, thanks.