Discover the best things to do in Rovaniemi in winter with this guide to Finnish Lapland's winter wonderland, where you'll find the Northern Lights, reindeer, huskies, Santa Claus and plenty of snow.
* This site contains affiliate links, where I get a small commission from purchases at no extra cost to you.
A winter wonderland of pink skies, husky sled rides, frosty fir trees, steaming hot chocolate and twinkling lights – Finnish Lapland is where all your snow-filled fantasies come to life. And right at the heart of it is Rovaniemi, perched on the edge of the Arctic Circle and the official home of Santa Claus (and he's got to know the best place to live).
From the Northern Lights to reindeer sleigh rides, winter in the far north is full of magic, and Rovaniemi makes for a great Arctic adventure. So here's our pick of things to do in Rovaniemi in winter, plus how to get there, where to stay and what to pack.
What's the Rovaniemi winter weather like?
The two big questions I had about visiting Rovaniemi in winter were: How cold is it going to be? And will it be dark all the time? The winter season in Lapland runs from December until March. When you get to the shortest day on 21 December, the sun rises around 11am and sets at 1.20pm, giving you less than two-and-a-half hours of full daylight.
But that doesn't mean it's pitch black the rest of the day. It's twilight between 9.30am and 3.30pm so you can still see to get around, and there are beautiful long sunrises and sunsets. The days get longer quickly too, with nine hours of daylight by the end of February.
January and February are the coldest months, with average temperatures ranging from daytime highs of -7°C (19°F) to night-time lows of -14°C (7°F). These are also the best months for seeing snow, with an average of 32cm of snowfall each month.
Rovaniemi did hit an icy -24°C/-11°F at one point during our visit in January. And although that sounds scarily chilly, it's a crisp, icy cold that doesn't penetrate in quite the same way as damp does. So if you're covered up in a good set of winter clothing (see below for a guide to what to pack) and head inside to warm up every now and then, it's bearable.
Things to do in Rovaniemi in winter
See the Northern Lights (or at least try to)
The Northern Lights – or Aurora Borealis – are one of the big reasons that people come to Lapland. But it's also the one thing you can't guarantee you're going to see. The Northern Lights season in Lapland lasts from mid-August until early April, and you're most likely to see them at the beginning or end of the season rather than in midwinter.
You need the right atmospheric conditions for the Northern Lights to be visible, which happens around every other night or 150 days a year on average in Rovaniemi – but unfortunately not while we were there (I guess it gives me a reason to go back!).
If you want to try aurora hunting, there are a variety of Northern Lights tours* available from Rovaniemi which take you out to more remote areas where you have a better chance of seeing them. Some tours also include a campfire BBQ* where you can try Lappish specialities, a ride on a snowmobile* or a trip on a sleigh pulled by huskies.*
You can also download an app like Aurora Alert or Northern Lights Alert which alert you if there's a good chance of seeing the aurora to save you from waiting in the cold.
Visit Santa Claus Village
Located 8km outside of the city centre, Santa Claus Village is the epicentre of all things festive in Rovaniemi, whether it's Christmas or not. The park is super busy in the run up to Christmas, but calms down after the New Year – making it a good time to visit.
You can visit Santa Claus in his office and have your photo taken with him, send letters with a special Arctic Circle postmark from the village Post Office, or visit the Christmas exhibition. The line of the Arctic Circle also runs right through the middle of the village – you can see it marked with a row of lanterns and strip of blue lights.
They've gone all out with the Christmas theme but it's not tackily done, with a range of different accommodation and eating options, including an ice bar and Lappish teepee which sells tasty baked salmon. There are also tons of wintery activities available all in one place – including husky sledding, reindeer sleigh rides and snowmobiling.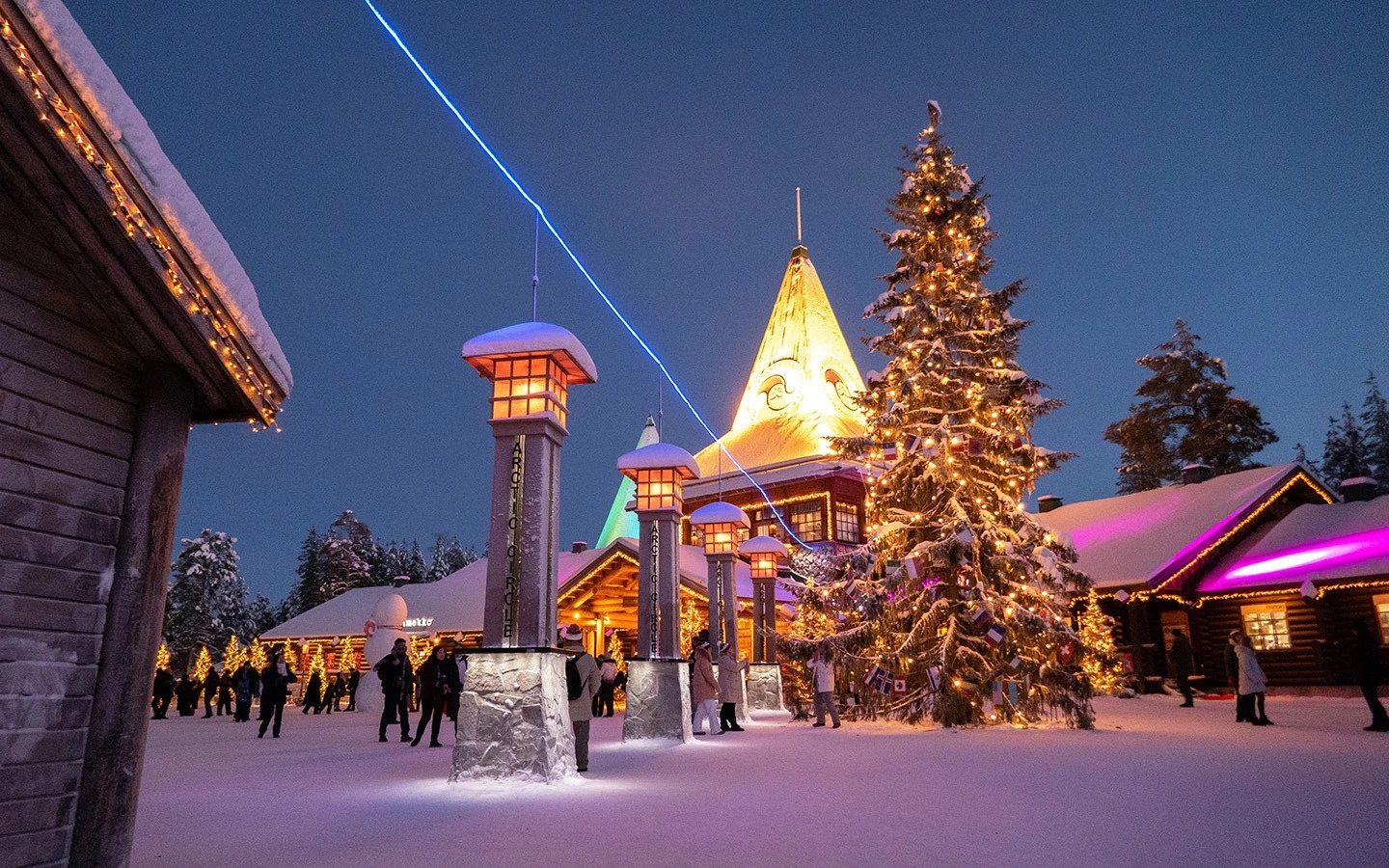 Go husky sledding
Speeding through a forest of snowy pine trees behind a team of Siberian Huskies topped my Lapland wishlist, and it didn't disappoint. There are lots of husky sledding tours available in and around Rovaniemi, depending on how long and how much you want to spend.
At the Husky Park next to Santa Claus Village you can meet and stroke the huskies, and get a taster of what it's like on a husky sled. They do circuits of 500 metres, 2km or 5km which don't need to be booked in advance. The dogs can really move, so hold on to your hats (literally) and the cold wind can be brutal at top speed so wrap up warm.
If you want to take a longer husky sled ride, you can head outside the city to Apukka Resort. They offer a tour* which include a 5km to 10km route through the trees where you can have a go at 'mushing' the pack yourself as well as spending time with the dogs.
Take a reindeer sleigh ride
If you want time to soak up the scenery, a reindeer sleigh ride is a lot more sedate and relaxed, as well as being a chance to get up close to these amazing creatures. Finnish Lapland has a population of over 200,000 reindeer – more than there are people.
Similar to the huskies, you can take a short reindeer sleigh ride at Santa Claus Reindeer in Santa Claus village. There are 400-metre, 1km and 3km routes. Sleighs can hold up to two adults and you're wrapped up in reindeer hides so you stay nice and warm.
Or for a more authentic experience, you can visit one of the reindeer farms* just outside Rovaniemi. You can find out about the reindeer's important in Lappish culture, learn how they're looked after and feed them, as well as taking a short sleigh ride.
Try snowmobiling
If you fancy a bit more adrenaline-fuelled way to explore, you can speed across the Arctic landscapes on a snowmobile.* You cover a lot more ground than you can in a sled so it's a chance to get out to some of the remote forests and lakes around Rovaniemi.
You need to have a valid driving licence if you want to drive a snowmobile yourself, but kids or non-drivers can ride in a sledge that's towed behind the guide's snowmobile.
Get out in the snow
The snowy landscapes are what makes a winter trip to Lapland so magical, with that powdery white snow draped over every surface. So we stayed out in the snow for as long as we could manage – walking through the forests, making snow angels, sledging down the hills or having snowball fights until we had to go and warm up with a hot cup of glögi.
There are also other snowy activities you can try out. Like an ice-fishing trip* where you get to drill a hole in the ice to catch a fish which is later cooked over a BBQ. Or a shoe-shoe hike* across the Arctic Circle (which is a lot harder work than it looks).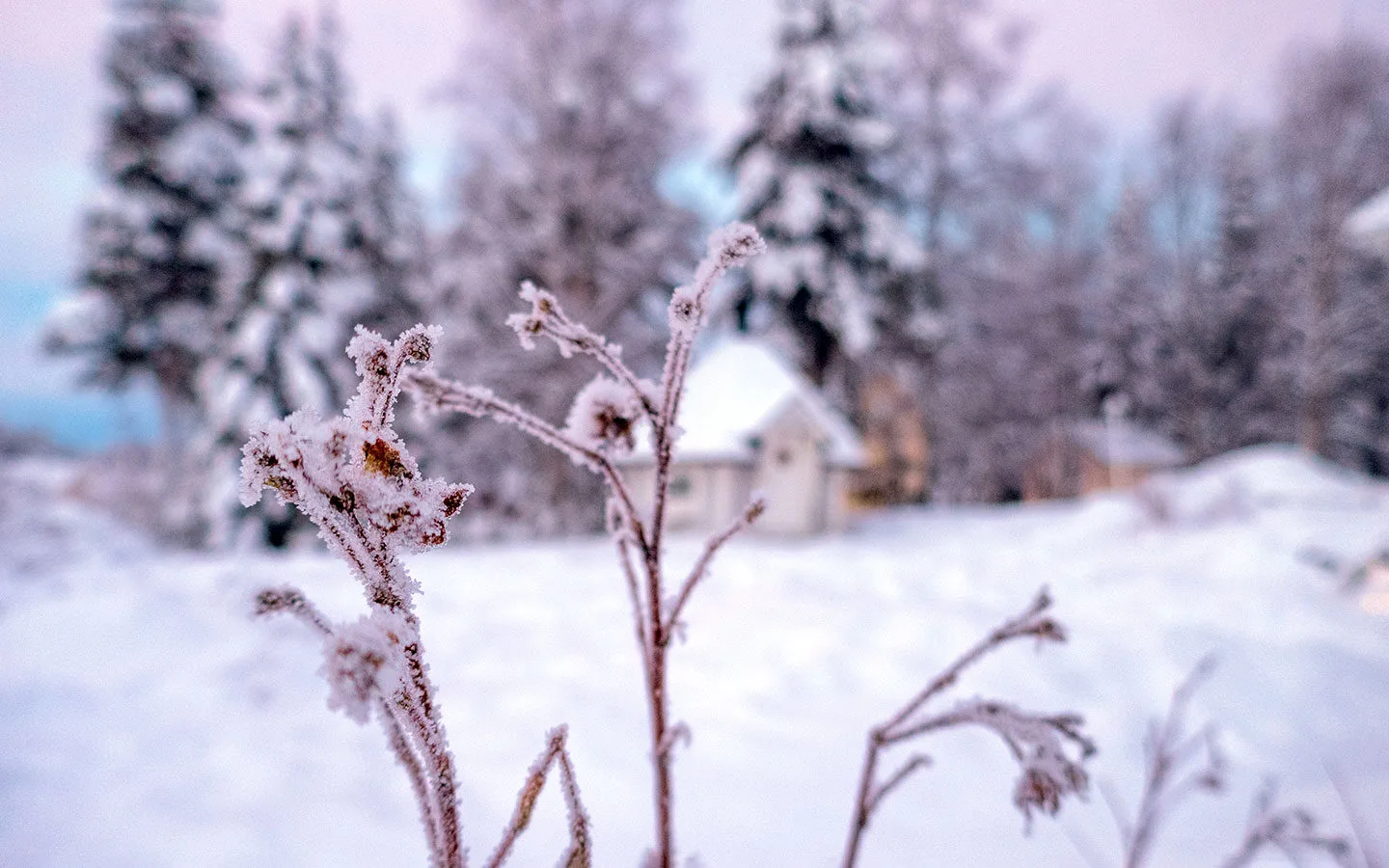 Visit the Arktikum museum
If you fancy doing something a bit warmer, don't miss a visit to the Arktikum museum and science centre in central Rovaniemi. It's housed inside a spectacular modern building overlooking the river which uses local materials like granite and pine.
The museum is split into two sections and focuses on the people and landscapes of the Arctic Circle. On one side are natural history exhibits about geology, wildlife and climate change. And on the other are cultural history exhibits covering Lappish history, society, architecture and lifestyle. It's a beautiful setting to spend a few hours in.
Relax in a sauna
The art of sauna is an integral part of Finnish culture – and a great way to warm up after a day in the snow. Many Finns have their own saunas at home and you can find them in a lot of hotels and apartment rentals. Or you can join a sauna excursion, with a mix of options from a log cabin* in the woods to a sauna and jacuzzi at the Snow Hotel.*
For the full experience you should combine your sauna with a plunge into the snow afterwards. Or if you're feeling really brave (a lot braver than me) and want to get the endorphins flowing, you can jump into the ice-cold water of a semi-frozen lake.
The details
How to get to Rovaniemi
Rovaniemi has an international airport with direct winter flights from various European destinations, including London, Bristol, Manchester, Paris and Dublin. There are also domestic flights from Helsinki where you can connect to flights all over the world.
Rovaniemi airport is around 8km northeast of the city centre. You can travel between the two using the airport express shuttle (€8 per person) or a taxi (around €20).
You can also travel to Rovaniemi by train from Helsinki, with trains running year-round – however snowy it gets. Daytime trains take 8–9 hours. Or you can take the overnight Santa Claus Express sleeper train to Rovaniemi. This takes 12 hours, with double-decker carriages and a choice of seats or sleeper compartments for one or two people.
Getting around Rovaniemi
You can hire a car at Rovaniemi airport, but if you don't fancy driving in the snow (the main roads are kept fairly clear but other drivers do drive pretty fast) you can easily get around the city using a combination of buses and taxis (around €2.50 per kilometre).
The no 8 and Santa Claus Bus both connect the city centre and railway station with Santa Claus village. The regular buses cost €3.60 one way and the Santa Claus bus €4 (or €1.80/€2 for children under 16) and you can buy tickets on board the bus.
Where to stay in Rovaniemi
Most visitors to Rovaniemi stay in one of two main areas. First is the city centre, which has a good selection of hotels and apartment rentals, including some budget options. The bonus is you have easy access to the shops, restaurants and transport, but you're in the middle of a city so it's not quite the full idyllic Rovaniemi winter wonderland experience.
Good accommodation options in the city centre include the HAAWE Boutique Apart Hotel*, a stylish modern space decorated in tones of grey, whose apartment-style rooms come with their own kitchen. Or the good-value Hostel Café Koti* which has private rooms as well as dorms, along with a communal kitchen, lounge and sauna for guests.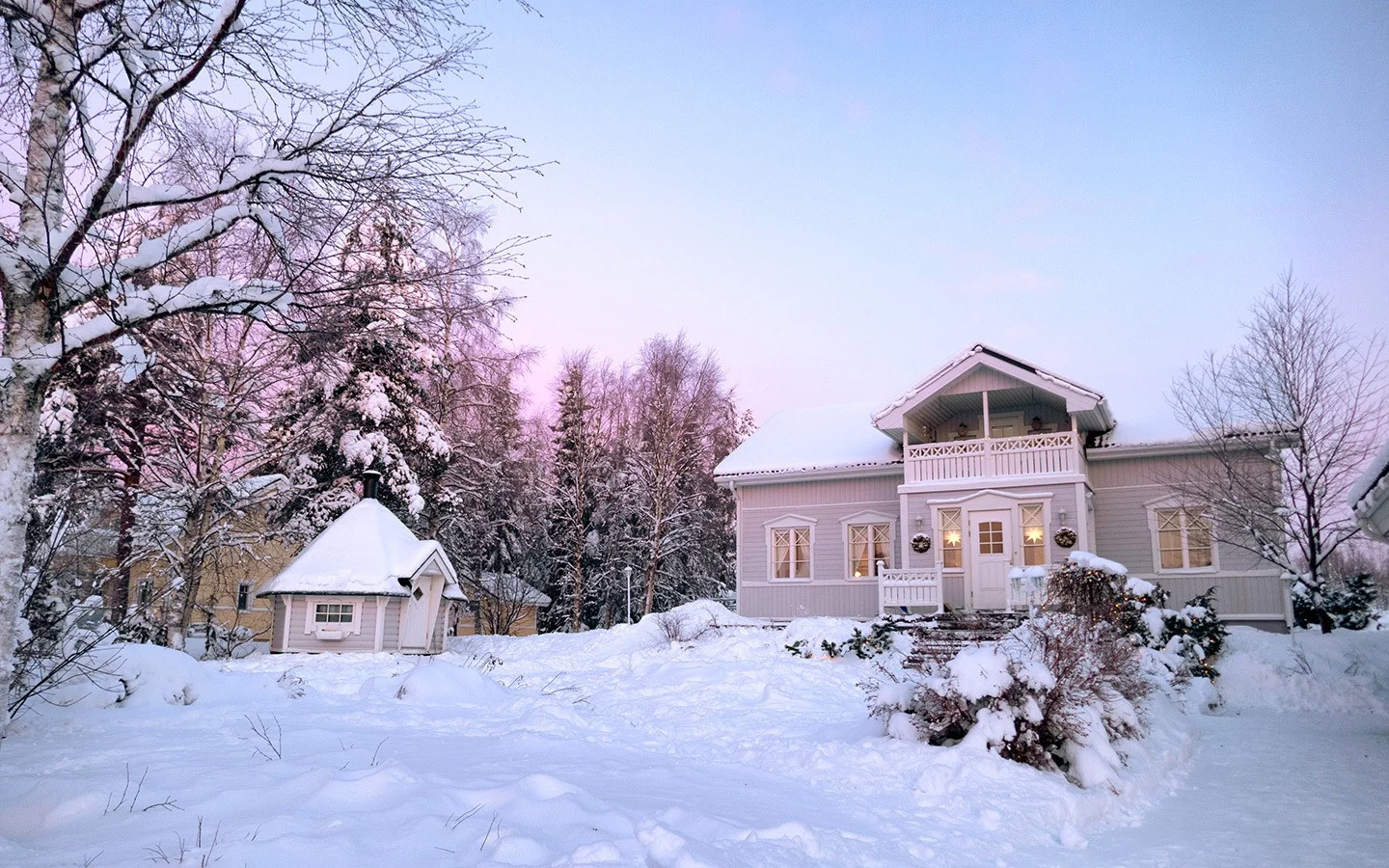 Or you can head outside the city where you'll find the beautiful snowy forest scenery, and less light pollution so you're more likely to see the Northern Lights. We rented a five-bedroom house a 10-minute walk from Santa Claus village so we didn't need to hire a car, which came with underfloor heating, a fire, sauna and a BBQ hut in the garden.
Santa Claus village itself is one of the biggest accommodation providers outside the city. There's a mix of different places to stay, from standard wooden cottages* to hotel rooms.
If you're looking to splash out, there are some amazing places to stay near Rovaniemi too, including the Treehouse Hotel* and Northern Lights Glass Igloo Getaway.*
What to pack for Rovaniemi in winter
Getting kitted up for cold weather is all about layering. Start with a base layer of thermals, with a long-sleeved top and leggings/long johns – Uniqlo and Icebreaker are some of my favourites. Then add a fleece or woolly jumper, pair of waterproof ski trousers and warm coat (I've invested in a Rab coat* but any ski jacket or thick down coat would work).
Hands and feet are usually the parts of the body which feel the cold first. Merino wool ski socks are warm but breathable, topped with snow boots or other warm waterproof boots to keep your feet dry. Finally add gloves – I used two pairs, with a thin wool pair underneath and waterproof ski mittens on top – plus a scarf and woolly hat.
Hand warmers* are a good idea – tuck a pair inside your gloves so they stay warm if you have to take them off, and if it's really cold you can put them inside your boots. Keep your phone and camera close to your body as the cold drains the battery. And take tissues (your nose will run from the cold), lip balm and a good moisturiser* as the air's very dry.
Save for later
You might also like