How to spend a weekend in Cambridge: Discover the best things to see, do, eat and drink in Cambridge in a two-day itinerary featuring this university city's colleges, museums, punts and parkland.
* This site contains affiliate links, where I get a small commission from purchases at no extra cost to you.
There's long been a rivalry between the great British university cities of Oxford and Cambridge. And after living in Oxford, I thought I knew where my loyalties lay – and who to cheer for in the boat race. But my first trip to Cambridge started to sway me.
Like Oxford, Cambridge has a fascinating history, beautiful buildings, punts on the river, cobbled streets and enough museums and libraries to feel like you're getting cleverer by osmosis. But the river running past the colleges adds an extra level of prettiness that had me considering switching allegiances. So if you're planning a visit, here's my 2-day Cambridge itinerary to help you plan the perfect weekend in Cambridge.
How to spend a weekend in Cambridge
Friday evening
Check into your accommodation then start your weekend in Cambridge with a pre-dinner drink on the Varsity Hotel's Roof Terrace. It has a 360º view over the college rooftops which you can enjoy with a cocktail, mocktail, wine or beer. Or in winter or if the weather's bad, head one floor below to SIX brasserie and bar, whose views are almost as good.
Then have dinner at the Cambridge Chop House. This historic corner building looks out onto King's College Chapel. The menu focuses on traditional British comfort food, and it's a favourite with meat-lovers for its 28-day aged steaks and pork chops. But you'll also find a few fish and vegetarian options – and they have gluten- and dairy-free menus.
Saturday morning
Start the day at the heart of Cambridge – its university. The University of Cambridge was founded in 1209 by a group of scholars from its famous rival Oxford, who set up a new university after a dispute with Oxford locals. Since then it's become one of the world's most prestigious universities, educating 14 British prime ministers and 47 heads of state.
Get a glimpse into Cambridge student life with a tour of its colleges. The university is made up of 31 independent colleges, where students live and study. Most of them are open to visitors to take a look around at least part of the time – though opening times vary, and can be limited during exam periods, so check in advance.
The University's three big-hitters are King's, Trinity and St John's, but don't discount the smaller colleges which each have their own stories and secret spots. King's College is famous for its Gothic Chapel, which has a rare fan-vaulted ceiling and huge stained-glass windows. It's got fantastic acoustics and you can hear the chapel choir sing during services.
Trinity is the largest and wealthiest college. It's home to the Wren Library, designed by Christopher Wren in 1676 and housing historic books like Isaac Newton's notebook and the manuscript of Winnie-the-Pooh (normally open 10.30am–12.30pm on Saturdays but currently closed to visitors – check their website for the latest on reopening).
St John's has beautiful grounds, and is where you'll find the Bridge of Sighs. It's also where a lot of the film The Theory of Everything, about Stephen Hawking's life, was filmed (although in real life he actually studied at Trinity Hall). Or if you want to get an insiders' view of Cambridge life, you can take a tour the colleges* with a past student.
Stop for lunch at the Michaelhouse Café, in a converted medieval church. The daily menu features simple, fresh food like soups, sandwiches, homemade quiches and cakes. Then grab an ice cream from Jack's Gelato – they have a whole range of constantly changing flavours, from strawberries and cream to Chelsea bun or roasted banana.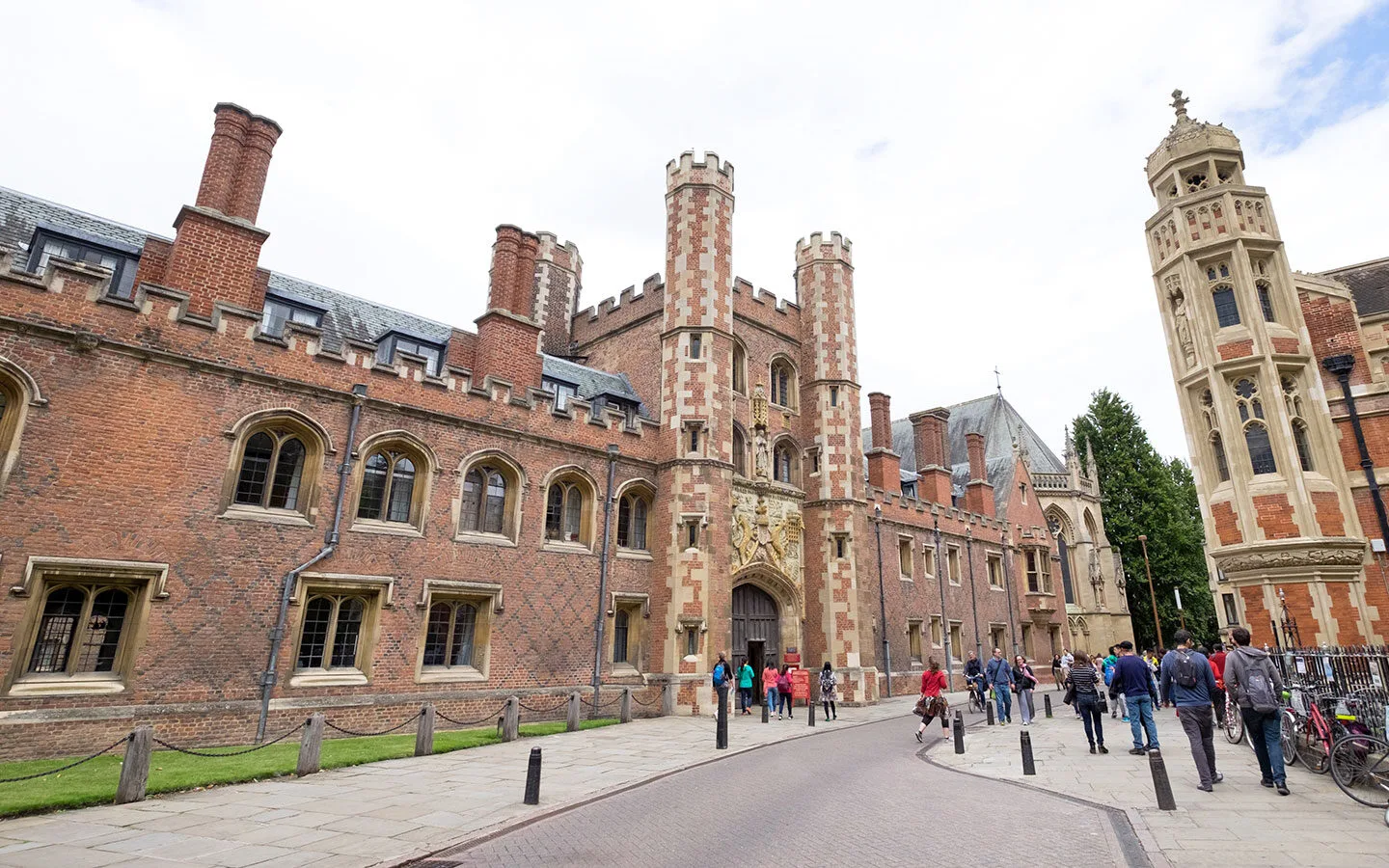 Saturday afternoon
You can't visit Cambridge without getting out on the water in a punt. The River Cam runs through the centre of the city, and one of the most scenic stretch is known as the Backs. This is where seven of the colleges back onto the river, and you get a great view of their buildings, bridges and well-manicured grounds as you sail by.
Scudamore's are Cambridge's oldest punt hire service and run a range of different tours. You can take a 45-minute private or shared tour* with a chauffeur giving a guided commentary, or hire a hire a punt for up to six people and do it yourself.
Some of the highlights of the backs are the views of King's College Chapel and the Wren Library. You also pass a string of bridges, including the Bridge of Sighs (named after the bridge in Venice) and the Mathematical Bridge, which was designed in the 18th century and looks like an arch despite only being made up of straight pieces of wood.
Finish the day off with a view of Cambridge from above at Great St Mary's Church. It's known as the University Church and over the last thousand year it's seen riots, royal visits and even been burnt down and rebuilt. It also has one of Cambridge's best views if you climb up the 123-step spiral staircase to the top of the church tower.
Then head to The Eagle pub on Bene't Street, which has been serving drinks since 1667. The pub was where scientists Crick and Watson announced they'd discovered DNA in 1953. And when you're at the bar, look up and you'll see the RAF ceiling, where pilots coming back from the Second World War signed their names and squadron numbers.
Finally have dinner at The Oak Bistro, a friendly, independent bistro on the site of an old coaching inn with a courtyard garden that's perfect for summer evenings. Their menu features British and European dishes like pan-fried sea trout, aubergine parmigiana and confit duck leg. There's also a diverse wine list with some unusual options.
Sunday morning
Start the day with a morning walk or cycle ride into Cambridge's parks and meadows. Cambridge has a higher proportion of cyclists than anywhere else in the country, and its 80 miles of cycle routes (and lack of hills) make it a good place to join them. You can hire a conventional bike or a motorised ebike if you want to take it easy.
Grab a picnic before you leave – or stop for lunch afterwards – at Aromi. This Sicilian café is a little taste of the Mediterranean in Cambridge, using authentic Italian ingredients to make tasty sourdough pizzas, focaccias, paninis and creamy cannoli.
You can head south along the river on a 2.5-mile route to nearby Grantchester, which has been made famous by the detective series of the same name that's set in the village during the 1950s. The route runs south out of Cambridge across Skater's Meadow and through the peaceful Grantchester Meadows flood plain where you'll see cattle grazing.
Or take the 6.6-mile route east to Waterbeach, which runs through Midsummer Common and along the banks of the River Cam, past canal boats and rowers. And if you want to go further afield you can also download cycle route maps from the local council website.
Sunday afternoon
After lunch, head to the Fitzwilliam Museum, a stunning building that houses art and antiquities from around the world and is free to visit. It was built in 1848 to house the vast collection of objects that Viscount Fitzwilliam had bequeathed to the University of Cambridge. And today it has over half a million objects in its collections.
Take a wander around some of the galleries – there's an a eclectic range of exhibits to choose from, including Egyptian tombs, Turner's watercolours, Michelangelo's bronze sculptures, Virginia Woolf's hand-written manuscript and a suit of armour for a horse.
Then finish off your weekend in Cambridge in genteel style with afternoon tea at Fitzbillies, whose original branch is located on Trumpington Street near the museum. This Cambridge institution is famous for its extra sticky, spiced Chelsea Buns. They've been made to the same recipe since 1922, and they now produce over 160,000 of them each year.
They also do a traditional afternoon tea of delicate finger sandwiches, scones with jam and cream, and mini cakes and macarons, which you can have with or without a glass of Champagne. And there are vegan and gluten-free versions available too.
Map of things to do in Cambridge
The details
How to get to Cambridge
Cambridge is 50–90 minutes from London by direct train*, depending on which station you depart from – there are frequent services from London Kings Cross, St Pancras, Liverpool Street, London Bridge, Blackfriars and City Thameslink stations.
If you're driving, Cambridge is around 60 miles (1.5 hours' drive) north of London. Overnight car parking is available at the Grand Arcade (CB2 3QF), Queen Anne Terrace (CB1 1ND), Grafton East (CB1 1PS) and Grafton West (CB1 1HE) car parks.
Or if you want to avoid the city centre traffic you can use the Park and Ride car parks on the edge of the city at Milton, Madingley Road, Trumpington, Newmarket Road and Babraham Road. Parking is free, you just pay for the bus in and out of the city.
The nearest airport is London Stansted, 27 miles to the south. It's a 30-minute drive away or direct trains from Stansted Airport to Cambridge also take 30 minutes.
Getting around Cambridge
Cambridge is easy to get around on foot. If you want to explore by bike you can hire them from Rutland Cycling at Cambridge train station, with a choice of standard bikes (£15.99 for four hours) or electric bikes for a power boost (£24.99 for four hours).
Where to stay in Cambridge
Splash out on a luxury stay at The Varsity*, tucked between St John's and Magdalene colleges on the banks of the River Cam. It has stylish, boutique-style rooms in the modern main building, named after different colleges, with balconies on the higher floors. There's also a spa and restaurant in a 19th-century warehouse conversion next door.
The University Arms* is Cambridge's oldest hotel, in a former coaching inn dating back to 1834. It's been recently redeveloped with a huge 192 rooms and suites, painted in Cambridge Blue with leather-padded desks and bookshelves to give it that collegiate feel. There's also an aromatherapy spa and Parker's Tavern brasserie and bar.
Or get a taste of Cambridge student life with University Rooms, who rent college accommodation out to visitors. There's a mix of double, twin and single rooms with shared bathrooms or en-suites, some with breakfast included. Availability is mainly in the Easter and summer holidays, with rooms available to book two–three months in advance.
Save for later
You might also like