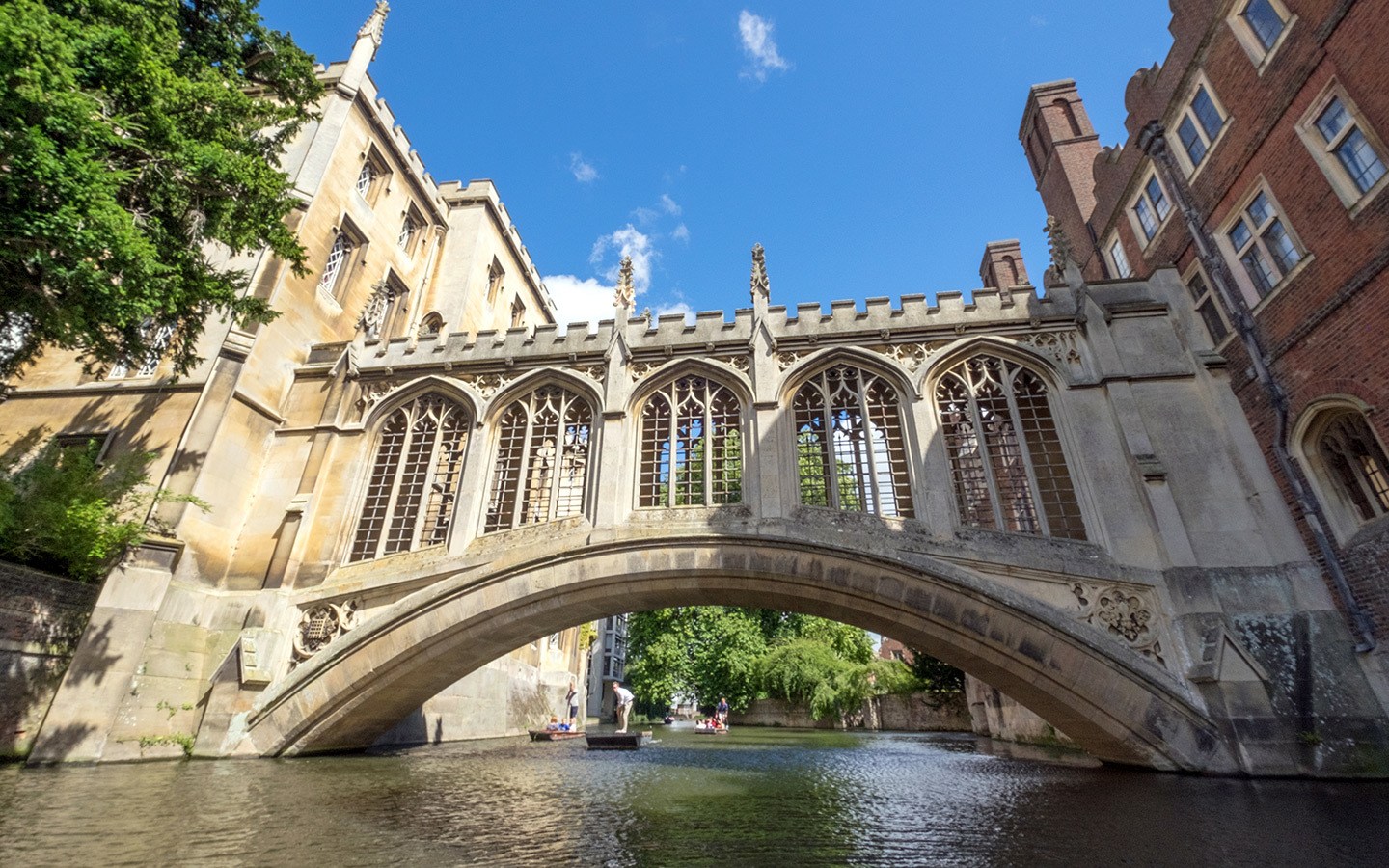 After living in Oxford for a few years, I always thought I knew exactly where my loyalties lay – you'd never find me cheering Cambridge in the boat race. But my first trip to Cambridge started to sway me. Like Oxford it's got a fascinating history, beautiful architecture, punts on the river, cobbled streets full of bikes and enough museums and libraries to feel like you're getting cleverer by osmosis. But the river running right past the colleges adds an extra level of prettiness that had me considering defecting. It turns out that Cambridge University was founded by students from Oxford though, so I think we can justifiably class it as an extension of Oxford! So if you're planning a visit, here's my guide to spending 48 hours in Cambridge.
Friday evening
Get a glimpse behind the closed doors of Cambridge's colleges with University Rooms, who rent student rooms out to visitors. The money helps with upkeep and you get to wander through their gardens, eat in their dining halls and drink in the student bar. Prices start from a bargain £40 a night B&B, with a choice of en-suites or shared bathrooms, and lots of single rooms so it's great for solo travellers. You can book two–three months in advance, with most availability during the summer, Christmas and Easter holidays.
Or splash out on a luxurious stay at The Varsity, tucked between St John's and Magdalene colleges on the banks of the River Cam. It has stylish, boutique-style rooms in the modern main building, named after different colleges and with balconies on higher floors. There's also a spa and restaurant in a 19th-century warehouse conversion next door. Standard rooms start from £115 B&B. Even if you're not staying there, head up to their rooftop bar at sunset for a drink with a 360-degree city view. Then have dinner at the Cambridge Chop House, which serves traditional English food with a great view across to King's College.
Saturday morning
Start the day with a tour of the heart of Cambridge – its colleges. There are 31 to choose from, and most are open to visitors at least part of the time (opening times vary, especially around exam time, so check in advance). Cambridge University's three big-hitters are King's, Trinity and St John's, but don't discount the smaller colleges which each have their own character, stories and secret spots. King's College (£9 adults/£6 concessions) is famous for its Gothic Chapel, which has a rare fan-vaulted ceiling and huge stained-glass windows. It's got fantastic acoustics and you can hear the chapel choir sing during services.
Trinity is the home of the Wren Library, designed by Christopher Wren in 1676 and housing historic books like Isaac Newton's notebook and the manuscript of Winnie-the-Pooh (free entry, open Saturdays 10.30am–12.30pm in term-time). St John's (£10 adults/£5 concessions) has beautiful grounds, and is where you'll find the Bridge of Sighs. It's also where a lot of the film The Theory of Everything, about Stephen Hawking's life, was filmed (though there's a bit of artistic licence as in real life he studied at Trinity Hall).
Stop for lunch at the Michaelhouse Café, in a converted medieval church. The menu changes daily and features simple, fresh food like soups, sandwiches, casseroles, homemade quiches and cakes. Then grab an ice cream from Jack's Gelato on Bene't Street – they have a whole range of weird and wonderful flavour combos, from salted balsamic caramel or Chelsea Bun to beetroot and cumin or roasted rice.
Saturday afternoon
You can't visit Cambridge without getting out on the water in a punt. Scudamore's are Cambridge's oldest punt hire service and run a range of different tours. Head along the Backs – the area where several of the colleges back onto the River Cam – for the most scenic stretch of water. You pass a string of bridges, including the Bridge of Sighs (named after the bridge in Venice) and the quirky Mathematical Bridge, which looks like an arch despite only being made up of straight pieces of wood. A 45-minute guided tour with commentary costs £19 adults/£17.50 concessions (though you can save £3 if you book online in advance). Or you can hire a punt seating up to six for £27.50 per hour if your balance is up to doing it yourself.
Finish the day off with a view of Cambridge from above at Great St Mary's Church. A 123-step spiral staircase takes you to the top of the church tower for a panoramic view over the college rooftops (open until 5.30pm/4.30pm in winter, £4 adults/£3.50 concessions). Then head to The Eagle pub on Benet Street,  where scientists Crick and Watson announced they'd discovered DNA. Look up and you'll see the RAF ceiling, where pilots coming back from the Second World War signed their names. Have dinner at Cambridge's oldest restaurant, Varsity, with dishes like duck breast and slow-roast pork belly on the menu.
Sunday morning
Cambridge has a higher proportion of cyclists than anywhere else in the country, and its 80 miles of cycle routes (and lack of hills) make it a good place to join them. New cycle hire scheme ofo recently launched in the city with 150 bikes – its first location outside China. Its bright yellow bikes are different from most cycle schemes in that they don't need docking stations. Instead you download their app and use it to locate a bike, scan the bike's code and get a pin number to unlock it. Then when you're finished you just park it up and lock it. It's really easy to use and inexpensive at 50p for 30 mins (though it's free at the moment).
There are some nice waterside cycle paths through Midsummer Common and along the Cam, past canal boats and rowers, or head out of the city to one of the surrounding villages. You can download cycle route maps from the local council website. Stop for lunch (or grab a picnic) at Aromi on Bene't St, a Sicilian-style café which uses authentic Italian ingredients to make pizzas, focaccias, paninis and cannoli.
Sunday afternoon
Head to the Fitzwilliam Museum, a stunning building that houses art and antiquities from around the world (open 12pm–5pm on Sundays, free admission). Take a wander around some of the galleries – you can take your pick from medieval manuscripts, Egyptian carvings, Turner's watercolours, Michelangelo's sculptures as well as a few thousand more exhibits. Then finish off your weekend in genteel Cambridge style with afternoon tea at Fitzbillies, across the street from the museum. This Cambridge institution is famous for its sticky Chelsea Buns, which have been made to the same recipe since 1922. They also do a traditional afternoon tea of finger sandwiches, scones and mini cakes (with or without a glass of Champagne).
Have you visited Cambridge? Do you have any tips to add on what to see, do and eat?
Pin it
Many thanks to ofo for hosting me in Cambridge. This article contains affiliate links, where I'll get a small commission at no extra cost to you – thanks.