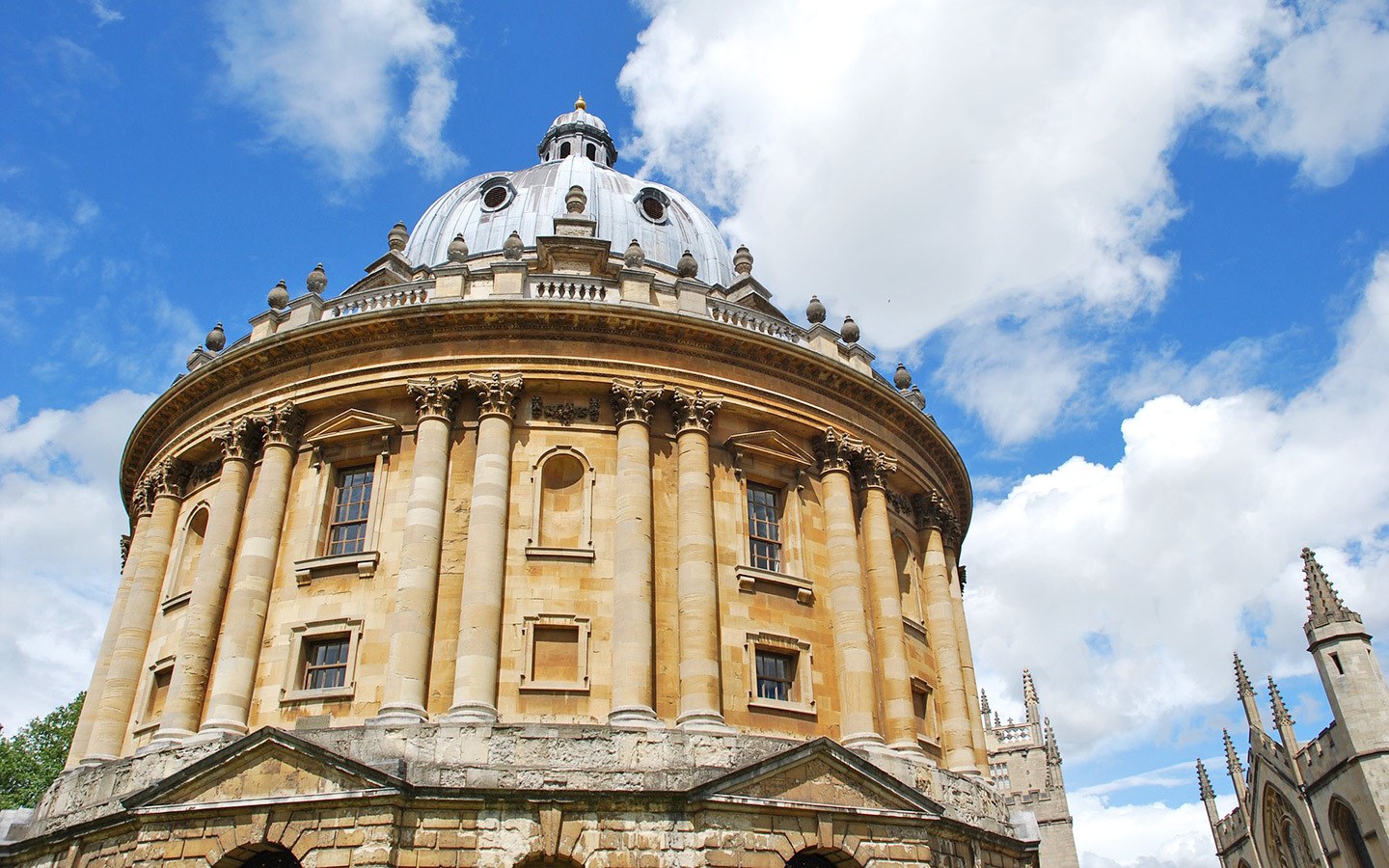 I'm a big fan of a weekend escape – you can pack a lot of adventure into two days all without having to use up any holiday time. And one of my favourite UK destinations is a city I called home for two years – Oxford. The city of dreaming spires, punts on the river and gowned academics on bikes is perfect for a weekend break. There are hundreds of years of academic and literary history, with museums and colleges which have been passed through by famous scientists, philosophers, authors and politicians. But it's got a modern side too, with tons of bars and restaurants to explore. So here's my 48-hour itinerary for a weekend in Oxford.
Read more: 10 Great British weekend break ideas
How to spend a weekend in Oxford
Friday evening
Check in to the Oxford Malmaison, a castle-turned-prison-turned-hotel. It's packed with character, with rooms set around the prison's original wrought-iron stairs and walkways. You can spend the night in the cells – though guests get three to themselves now, with two knocked through to create the bedroom and one for the bathroom. Inside things are a lot more luxurious than they were, with roll-top baths, mood lighting and flatscreen TVs. Rooms from £125 night.
Or if you're on a budget you can get a taste of Oxford student life with Oxford Rooms. They rent out rooms in historic college buildings during vacations, giving you an insiders' glimpse into their hidden corners. Prices start from £45 a night, some including breakfast. There are lots of single rooms it's great for solo travellers. They're usually available two–three months in advance, with most availability during university holidays, and a few rooms are available all year.
Wherever you stay, pop into the Malmaison for a pre-dinner cocktail in the old prison's visitors room. Then take a short walk around the corner to Côte Brasserie for French bistro-style food. The menu's inspired by Parisian brasseries with dishes like moules frites and beef Bourguignon.
Saturday morning
The University of Oxford has 38 colleges dotted around the city. Many are open to visitors, so start the day with a sneak peek inside (though check opening hours, especially around exam time). The best-known college is Christ Church – as much for its role as Hogwarts in Harry Potter as for its famous alumni like Lewis Carroll, Albert Einstein and 13 British prime ministers.
You can take a tour (£8–£10 per person) around its quads, grand staircase, dining hall and college chapel, which doubles as Oxford's cathedral. Other good colleges to visit include Merton, Magdalen (pronounced 'mawd-lin'), Corpus Christi, Hertford, All Souls and Oriel.
To get an insight into the weird and wonderful world of Oxford academia, take a guided tour led by a former student. Oxford Walking Tours run 90-minute tours which take you around some of the oldest colleges. Along the way you get insider information about the university's history and rituals (tours cost £12.95 for adults, £11.95 for students/seniors and £5.95 for under 16s).
Saturday afternoon
As you'd expect from a university city, Oxford is full of museums, and the city's biggest is the Ashmolean Museum. Oxford's answer to the British Museum has a mix of art and archaeological exhibits, which include everything from Greek and Roman statues to paintings by Turner and Canaletto. Before tackling the exhibits, have lunch in the glass-walled rooftop dining room for panoramic city views over the city. There's a good-value lunchtime set menu (two courses for £14 or three for £20), which are often designed to match the current exhibitions too.
Once you're all cultured out, take a walk just up the road to one of Oxford's most historic pubs. Sink a pint in a snug at the Eagle and Child (aka the 'Bird and Baby') where writers like CS Lewis and JR Tolkien used to meet in the 1930s. Then have dinner at Gees, a short walk out of the city centre. It's a little patch of the Mediterranean in Oxford, with Spanish- and Italian-inspired dishes served up in a Victorian glasshouse filled with olive trees. Then afterwards head into nearby Jericho for post-dinner cocktails at Raouls or the Duke of Cambridge.
Sunday morning
After breakfast, head to another of Oxford's museums – the quirky Pitt Rivers Museum. This anthropological museum was founded 125 years ago with 20,000 items that were donated by archaeologist Augustus Pitt Rivers. Since then it's grown to encompass weird and wonderful exhibits from around the world. It's a treasure trove of the bizarre, with totem poles, nose flutes, voodoo dolls, shrunken heads and a witch in a bottle among its half a million exhibits, each with a story to tell. Entry's free and the museum's open from 10am–4.30pm on Sundays.
When you get hungry, head to the Covered Market, with over 50 stalls selling local crafts, food and drink (open 10am–4pm on Sundays). Either eat in at one of the market's cafés or grab a picnic to eat by the river in the Botanical Gardens. Or take a scenic 45-minute stroll across Port Meadow to The Trout Inn, a 17th-century riverside pub that featured in the Inspector Morse books and does gastropub-style food, served by the fire in winter or on the terrace in summer.
Sunday afternoon
You can't come to Oxford without trying punting – it's one of the city's classic experiences. There are two rivers in the city, the Cherwell and the Thames (which confusingly is known as the Isis when it's in Oxford) and a couple of places where you can test your punting skills – and balance. Underneath Magdalen Bridge by the Botanic Gardens you can hire a punt for up to five people for £22 an hour, or get a 'chauffeur' to do the hard work for you (£32 for 30 minutes).
Or during the summer there's a good punting spot set a bit further upriver near the Cherwell Boathouse. As you're a bit further out of town here the river isn't quite as busy. You can also get a jug of Pimms from the Boathouse's Teahut Bar to take out on the water with you. Punt hire costs £17 an hour during the week or £19 per hour at weekends.
Make your way upriver for about 30 minutes and you'll reach the Victoria Arms pub, which has a big beer garden and plenty of space where you can park your punt. Then paddle back to the Boathouse for an early dinner along the river's edge before leaving Oxford and heading home.
Have you visited Oxford? Do you have any tips to add on what to see, do and eat?
Pin it
This article contains affiliate links, where I get a small commission at no extra cost to you – thanks.