How to spend a weekend in Oxford: Discover the best things to see, do, eat and drink in Oxford in a two-day itinerary featuring colleges, churches, museums, pubs and punts in the city of dreaming spires.
* This site contains affiliate links, where I get a small commission from purchases at no extra cost to you.
The city of dreaming spires, punts on the river and gowned academics on bikes – Oxford is a place I called home for two years, and one of my favourite spots for a weekend break. It has hundreds of years of academic and literary history, with museums, colleges and libraries visited by famous scientists, philosophers, authors and politicians.
But Oxford has a more modern side too, with rooftop bars, creative restaurants and quirky shops to uncover. So here's my two-day Oxford itinerary to help you plan the perfect weekend in Oxford, with what to see as well as great places to eat, drink and stay.
How to spend a weekend in Oxford
Friday evening
Check into your accommodation then start your weekend in Oxford with a pre-dinner drink at The Varsity Club. This rooftop bar on the High Street has views out over the city's dreaming spires – time it right and you'll see them silhouetted at sunset. There's a good range of cocktails (or mocktails) and gins available, along with beers and wines.
Then have dinner at No.1 Ship Street, a five-minute walk away. This award-winning, cosy brasserie serves modern British dishes with a French twist. There's lots of fish and seafood on the menu, as well as grilled meats and a few vegetarian options – share the surf and turf for two with côte de boeuf and a whole lobster if you're feeling hungry.
Saturday morning
Oxford University is the heart of the city. The first teaching took place in 1096, making it the oldest English-speaking university in the world (just losing out on the overall title to the University of Bologna). Alumni include everyone from Albert Einstein and Stephen Hawking to J.R.R. Tolkien and Oscar Wilde, as well as 30 UK prime ministers.
Start the day at the University Church of St Mary the Virgin, just off the High Street, which was the seat of the university's governing body in the 13th century. Today you can climb to the top of the church tower for great views of the circular Radcliffe Camera.
First grab a coffee and croissant or tuck into a 'Full Oxford' breakfast at the Vaults & Garden, an eco-friendly café by the church using locally sourced, sustainable ingredients. Then tackle the tower (open from 9.30am on Saturdays), climbing 127 spiral stone stairs to the top for views over the Radcliffe Camera, All Souls and Brasenose Colleges.
Oxford University doesn't have a central campus, instead there are 39 colleges dotted around the city. Back on ground level, you can take an 11am walking tour* led by a former student to learn more about the university's history and its quirky traditions.
Otherwise explore independently and admire famous buildings like the Sheldonian Theatre and Bodleian Library. If you want to look inside the library, 30-, 60- and 90-minute guided tours are available – they also include Duke Humfrey's Library and the Divinity School, which were both used as filming locations for the Harry Potter movies.
Each Oxford college has its own character and history, and many are open to the public to visit (though check opening hours, especially around exam time). My favourite colleges close to the Bodleian Library are Balliol, All Souls, New College (another Harry Potter location) and University College, which are all either free or a few pounds to visit.
Saturday afternoon
Next visit the Ashmolean, Oxford's answer to the British Museum. As you'd expect from a university city, Oxford is full of museums, and the Ashmolean is the biggest, with a mix of art and archaeology exhibits from Greek statues to paintings by Turner and Canaletto.
Before tackling the exhibits, head upstairs to the Ashmolean's glass-walled rooftop dining room, where there's a big terrace for sunny days which has views out over the city skyline and a seasonal lunch menu of dishes like salads, risottos and fishcakes.
Then take a look around the museum. There's a lot to see, so if you don't know where to start you can follow the self-guided Spotlight trail using your phone. This includes 12 highlights from across the collection, including Egyptian mummies, Guy Fawkes' lantern, Turner's painting of Oxford High Street and a Japanese samurai suit of armour.
After visiting the museum, take a walk down St Aldates to Christ Church Meadow. This tranquil open space bordered by the rivers Cherwell and Isis (the alternative name given to the Thames when it flows through Oxford) is a popular spot for walks and picnics.
Christ Church is probably Oxford University's best-known college – not least for its role as Hogwarts in Harry Potter. You can visit its quads, cloisters, grand staircase, dining hall and chapel, which also doubles as Oxford's cathedral, on either a guided tour or a self-guided multimedia tour (tickets can be booked online or from their visitor centre).
Next call into the Turf Tavern for a late afternoon drink. This historic pub dates from 1381 and has been a haunt of past students like Bill Clinton and Australian Prime Minister Bob Hawke, who set a World Record for downing a yard of ale here. It's a bit hidden away, so look for the alleyway just past the Bridge of Sighs at Hertford College.
Then finish the day with dinner at Gees, a short walk out of the city centre. The restaurant is a little patch of the Mediterranean in Oxford, with Spanish- and Italian-inspired dishes served up in a Victorian glasshouse filled with olive trees. And if you fancy a post-dinner cocktail, head into nearby Jericho to the Duke of Cambridge or Raoul's.
Sunday morning
After breakfast, explore more of Oxford's museums. The conjoined Pitt Rivers Museum and Oxford University Museum of Natural History (open from 10am on Sundays) lie close to the University Parks. The Natural History Museum has thousands of specimens on display, from dinosaurs to dodos, in a spectacular glass-roofed Victorian building.
And the Pitt Rivers is an anthropological museum founded 125 years ago by archaeologist Augustus Pitt Rivers, who donated over 20,000 items he'd collected. It's a real treasure trove, now with 600,000 weird and wonderful exhibits from around the world densely packed in, including totem poles and a witch in a bottle, each with a story to tell.
When you get hungry, head to the Covered Market, making a pit stop at Blackwell's bookshop along the way. Oxford has no shortage of bookshops – including four branches of Blackwell's – but the Broad Street branch is by far the most impressive.
Although it might look like a regular bookshop when you go inside, head downstairs and you'll find the vast Norrington Room in the basement. Named after Sir Arthur Norrington, President of Trinity College when it opened, it has a record-breaking 160,000 books over three miles of shelves, making it the largest room of books for sale in the world.
The Covered Market was founded in the 1770s and now has 50 stalls selling local crafts, food and drink. There's lots of different options to choose from for lunch – some of our favourites are the freshly baked baguettes from The Oxford Sandwich Company, aromatic Thai food from Sasi's, and cookies warm from the oven from Ben's Cookies.
You can either eat in at one of the market's cafés or pick up a picnic and eat it by the river in the Oxford Botanic Garden and Arboretum. It's the UK's oldest botanic garden, with 5000 different plant and tree species spread over 130 acres. As well as a kitchen garden, orchards and ponds there are riverside glasshouses recreating the tropics and deserts.
Sunday afternoon
Punting is one of the classic Oxford experiences not to be missed, meandering along the river on a flat-bottomed boat. There are two rivers in the city, and a couple of places where you can test your punting skills – and balance (it's harder than it looks!).
Beneath Magdalen Bridge by the Botanic Gardens you can hire a punt for up to five people for £30 an hour, or get a 'chauffeur' to do the hard work for you (£40 for 30 minutes). Depending on how far you want to go, you can do a circular route via the Botanic Gardens, Christ Church Meadows and St Hilda's College, or continue on to join the Isis.
And if the sun's out, make sure to call into George & Danver on St Aldates to finish off your weekend in Oxford. It's a local institution with unusual flavours like Jaffa Cake and Ferrero Rocher alongside regular varieties like vanilla, chocolate and fruit sorbets.
Alternatively, you could travel up to the north of the city and pick up a punt from the Cherwell Boathouse instead. It's further out of town so the river isn't quite as busy, and you can get a jug of Pimms from their Tea Hut bar to take out on the water with you.
Punts are available from the Boathouse between March to October. They seat up to six and cost £22 an hour on weekdays or £24 per hour at weekends to hire. If you make your way north up the River Cherwell for about 30 minutes you'll reach the Victoria Arms pub, which has a big beer garden and plenty of space where you can park your punt.
Map of things to do in Oxford
The details
How to get to Oxford
Oxford is around an hour by train* from London, with direct trains from both London Paddington and Marylebone stations (trains from Marylebone are about 20 minutes slower). You can also take the Oxford Tube coach from London Victoria coach station to Oxford. Buses run up to every 10 minutes day and night and take around 2 hours.
If you're driving, Oxford is about 60 miles (1 hour 45 minutes) west of London or 80 miles (2 hours) south of Birmingham. Overnight car parking is available at Gloucester Green (OX1 2BN), Oxpens Road (OX1 1RQ) and Worcester Street (OX1 2BQ).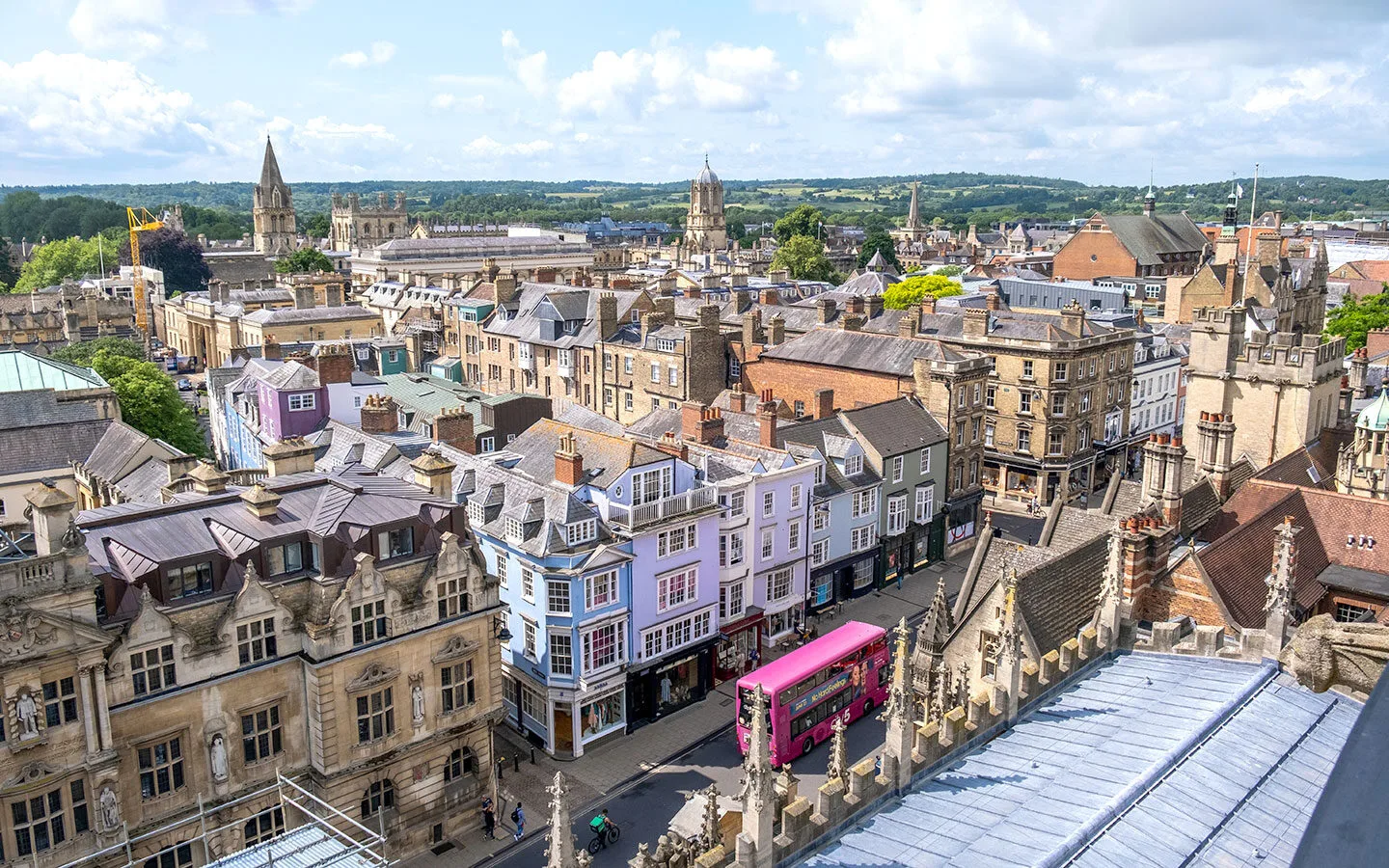 Or if you want to avoid the city centre traffic you can use the Park and Ride car parks on the edge of the city. There are five of them – Oxford Parkway, Pear Tree, Redbridge, Seacourt and Thornhill. Parking is free, you just pay for the bus in and out of the city.
The nearest airport is London Heathrow, 47 miles or an hour's drive southeast of Oxford. The easiest way to get from Heathrow to Oxford by train is to take the Heathrow Express to London Paddington then the train to Oxford. Or there are direct Airline buses from both Heathrow (90 minutes) and Gatwick (2.5–3 hours) airports to Oxford.
Getting around Oxford
Central Oxford is easy to get around on foot. Though if you want to get the full Oxford student experience you can also hire a bike to explore a wider area around the city. You can hire bikes from Donkey Republic, a bike sharing scheme where you locate the nearest bike with their app, use Bluetooth to unlock it and keep it for as long as you like.
Where to stay in Oxford
The Malmaison Oxford* is a castle-turned-prison-turned-hotel. It's packed with character, with rooms set around the prison's original wrought-iron walkways. Spend the night in a cell in A Wing (it's a bit more spacious now with three cells combined to create each en-suite room) or in the more modern wing. And there's also a bar and brasserie.
The Head of the River* is a historic Oxford pub, in a scenic riverside spot next to Folly Bridge, an easy walk to the main sights. It has 20 bedrooms, from cosy to indulgence, which are all individually designed to make the most of the space, some with river views.
You can also get a taste of student life with University Rooms. They rent out rooms in college buildings during vacations, giving you a glimpse behind the scenes. There's most availability during university holidays but a few rooms are available year-round. They're good value, with lots of single rooms for solo travellers, and some include breakfast.
Save for later
You might also like