Discover the best things to do in Hydra, a charming car-free island only two hours by ferry from Athens, with a picturesque harbour, hillside mansions, sparkling seas and a relaxed arty feel.
* This site contains affiliate links, where I get a small commission from purchases at no extra cost to you.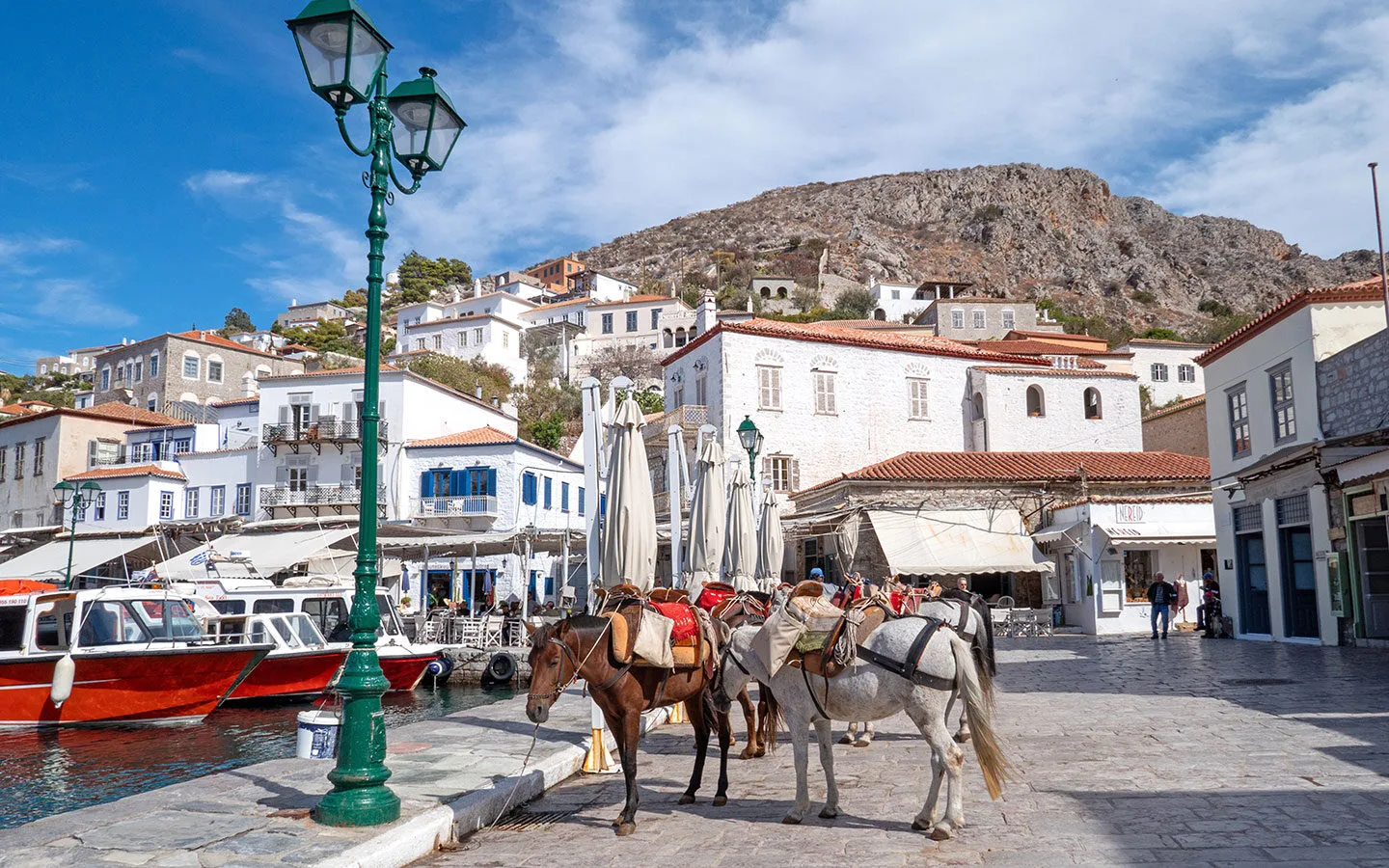 Mules braying, boat sails clanking, cats meowing and the clink of glasses – all part of the soundtrack to life on the Greek island of Hydra. This small island south of Athens is one of the Saronic Islands and you can only reach it by boat. After sailing along its rocky, deserted coastline you round the corner into the harbour and the town suddenly appears, amphitheatre-shaped with red-roofed buildings stretching up into the hills.
Rich merchants built grand stone mansions on Hydra in the late 18th and early 19th centuries, and it became a major naval power in the Greek War of Independence. In the 1960s writers and artists started to arrive, followed by the 1970s jet set.
But Hydra hasn't lost any of its charm. Strict architecture codes mean there are no modern buildings. And instead of cars, Hydra's cobbled lanes are home to cats and the mules and horses who are used to transport goods around the island.
Hydra's proximity to Athens makes it a popular destination for day trips or weekend breaks, and its small size means you can see a lot, but it's a good place to relax and take it easy. And I'm still finding new things to do in Hydra even after spending three weeks there. So here's everything you need to know about visiting this beautiful Greek island.
The best things to do in Hydra, Greece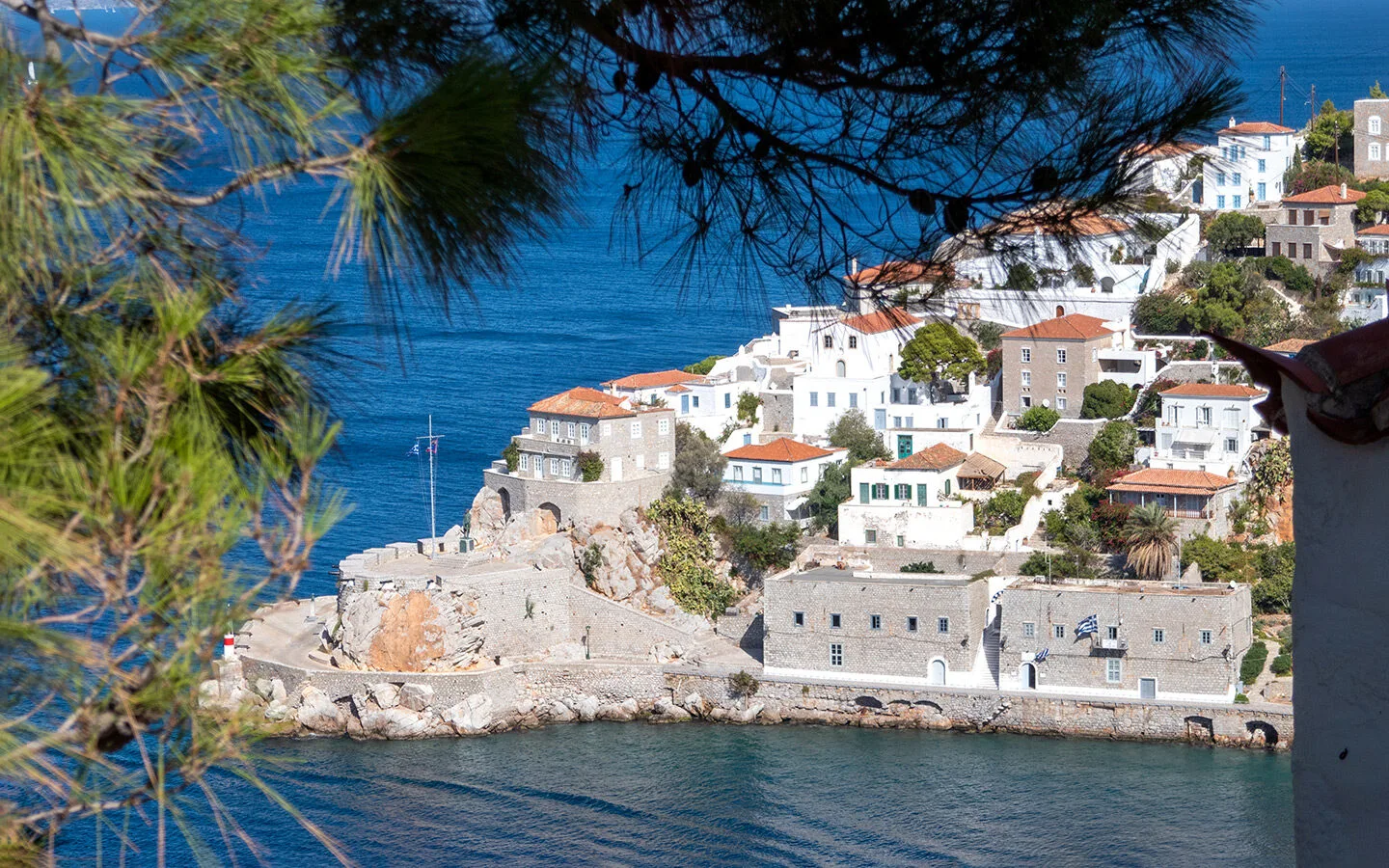 Watch the boats in the harbour
The harbour is the heart of Hydra, and there's always something going on. Get there early in the morning as the sun rises to see the fishermen come in with the day's catch, turning their boats into fish stalls with locals coming to buy and cats queuing for scraps.
Watch the ferries coming and going, unloading the latest arrivals and taking away the reluctant departures, and the water taxis zipping up and down the coast. Or admire the multi-million-Euro superyachts mooring up in the harbour for the night.
Hydra's harbour is surrounded by boutique shops and cafés and restaurants with tables spilling out onto the pavement, making it the perfect spot for people-watching with a morning cup of Greek coffee, afternoon beer or late-night metaxa. Some of our favourite spots were Tassos and Pirate Bar on one side of the harbour and Isalos on the other.
Get lost in the backstreets
The harbour is the busiest part of Hydra, but you don't need to go far to lose the crowds. A maze of narrow cobbled streets leads up into the hills. Getting lost in them was one of my favourite things to do in Hydra. You never know what you'll find – whitewashed churches, crumbling mansions, sleeping cats, colourful doors draped with bougainvillea.
Some of our best discoveries were Rafalias pharmacy, one of the most beautiful pharmacies in the world which was founded in 1890 and still sells products made to traditional recipes. A tiny door in a wall marked 'poems' with a book of poetry submitted by locals and visitors inside (found here). And a street so narrow I could only just squeeze my way through.
Or if you prefer your walks a bit more organised, Maria's Historical Tours is run by a local historian and offers several different walking tours of Hydra's art and history.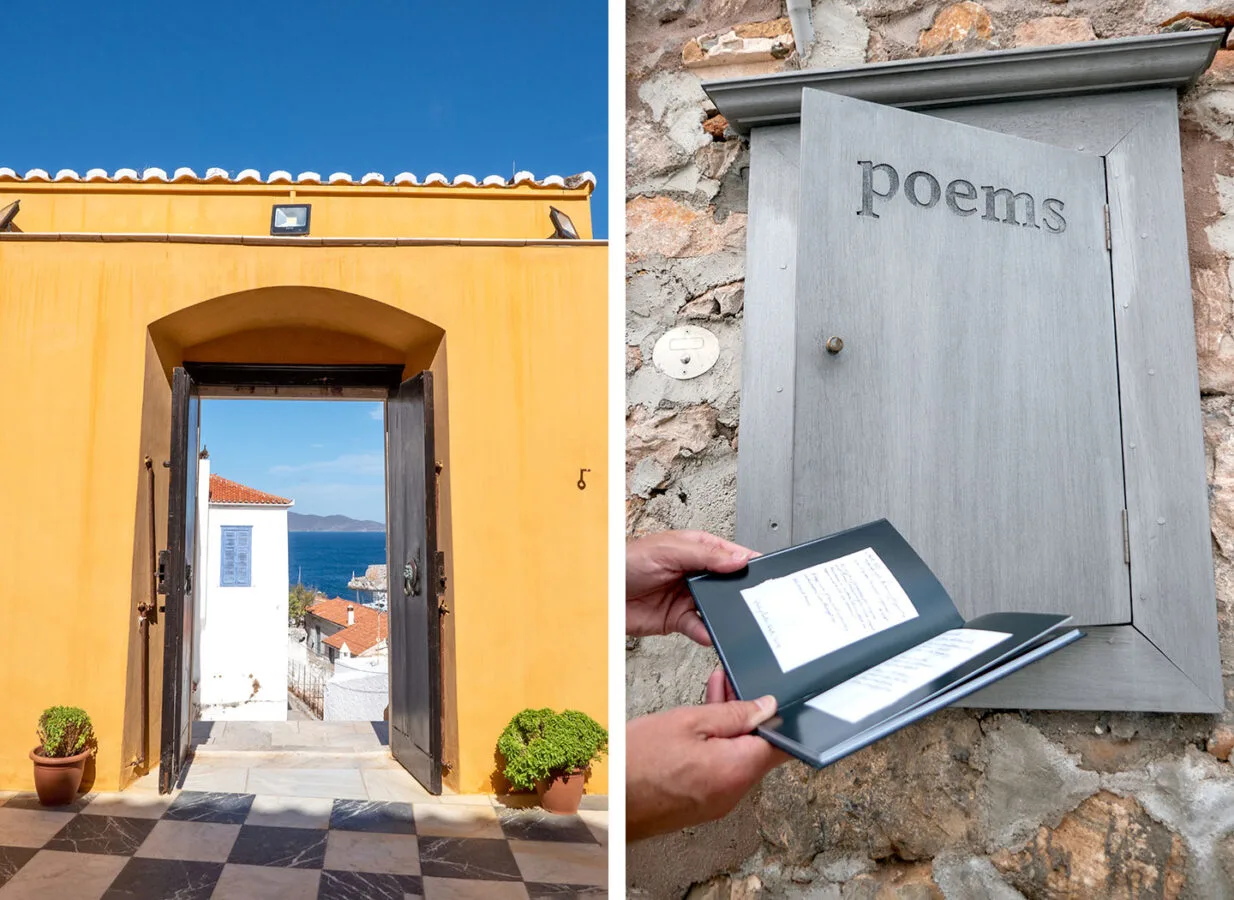 Visit the island's museums
If you want to find out more about Hydra, there are a few small museums you can visit. The Church of the Assumption of the Virgin beneath the clocktower in the harbour was originally a 17th-century monastery. It's home to Hydra's former prison, which is now an Ecclesiastical Museum displaying Orthodox icons, manuscripts and vestments.
You can't miss the deep yellow Lazaros Koundouriotis Historical Mansion overlooking the harbour (entry €5 adults/€3 concessions). This 18th-century mansion belonged to a shipping magnate who played an important role in the Greek War of Independence.
It's been turned into a museum showing how he lived, with furniture and family portraits, a display of local handicrafts and traditional clothing, and fantastic views from its terrace.
The Historical Archives Museum in the harbour explores the island's history, with rare documents and books in the archive and a museum with objects from the First, Second and Balkan Wars as well as ships' figureheads, paintings and carvings.
And the Panagiotis Tetsis House and Atelier is the former home and studio of a popular local artist – ask at the Lazaros Koundouriotis Historical Mansion if you'd like to visit.
Swim in the sea
Hydra is surrounded by the clear turquoise waters of the Aegean Sea, and there are plenty of places where you can take a dip. The beaches on the island are mostly pebbly, but you can pick up cheap, waterproof beach shoes from many of the shops in the harbour which make getting in and out of the water a lot less painful on the feet.
The closest places to swim near town are the Spilia and Hydronetta swimming platforms, where you can dive straight into the water from the rocks. Then a string of beaches runs south of town, connected by the coast path. They start with tiny Avlaki and carry on to the more gently sloping, family-friendly Kamini, Vlychos and Plakes.
Or follow the coast path north of town and you'll find the island's only real sandy beach at Mandraki Bay. And further afield are the remote, unspolit beaches of Bisti, Agios Nikolaos and Limnionizia, which you can reach by boat or on a long hike.
Read more: Where to find the best beaches in Hydra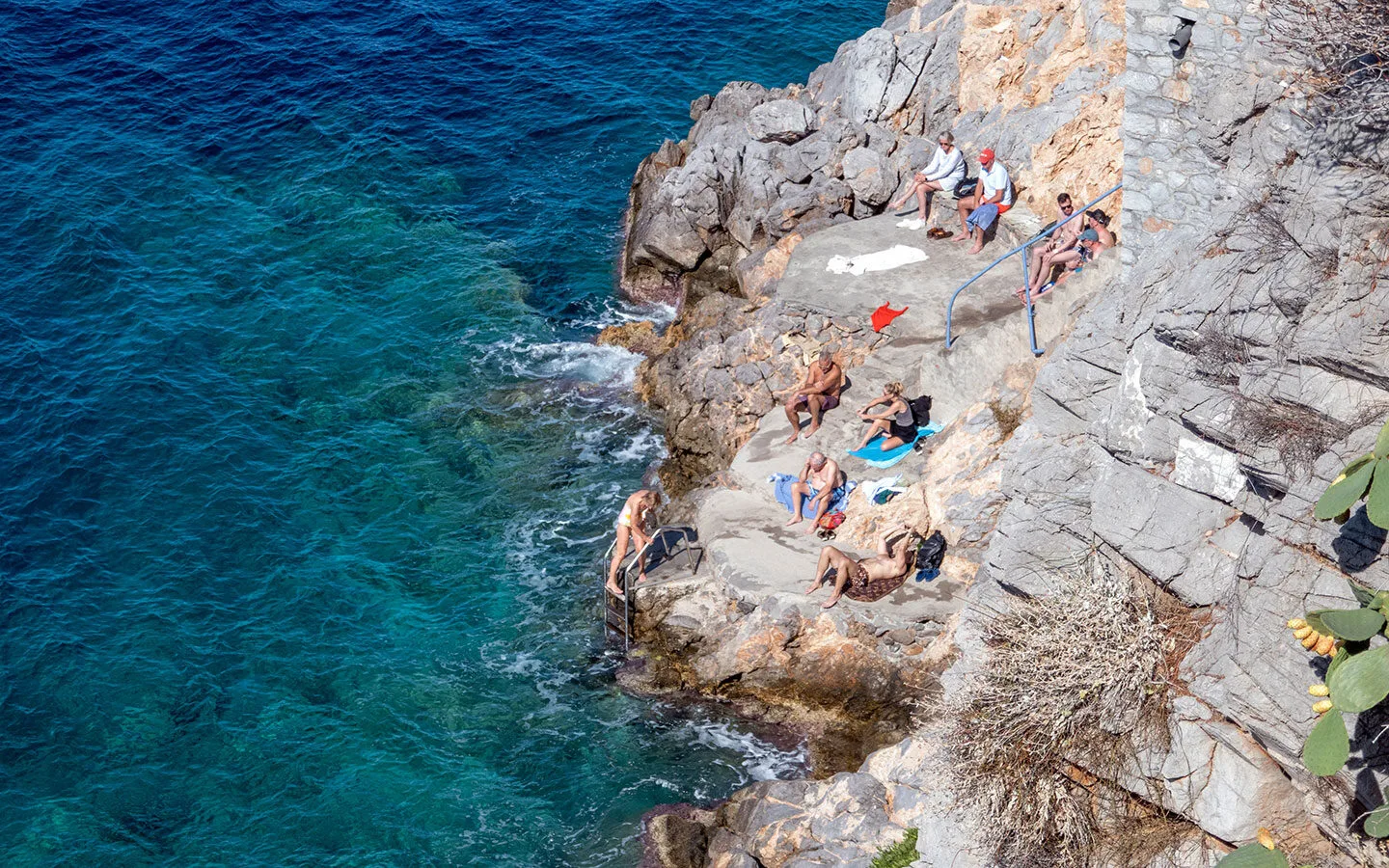 Follow in the footsteps of Leonard Cohen
In the 1960s, Hydra was a gathering place for writers, poets and artists, drawn by its bohemian atmosphere and beautiful scenery. The most famous was Canadian singer Leonard Cohen, who fell in love with the island which inspired his song Bird on a Wire.
He had a lot of friends on the island and there's a bench dedicated to him on the path to Kamini, funded by locals and fans to celebrate what would've been his 80th birthday.
Cohen bought a house in Hydra which he owned until his death in 2016, and fans still come to pay their respects. You'll find it close to the Four Corners grocery shop on the western hillside above the harbour. Walk past the shop and look out for a street on your left now named Leonard Cohen Street and a house with a grey door.
But it's not Leonard Cohen's only haunt in Hydra. When Cohen first arrived on the island he stayed with Australian writers Charmian Clift and George Johnson, sleeping and writing on the terrace of what was nicknamed Australia House.
This house by the well is down a side street by Taverna Gitoniko. Old photos also show Cohen playing the guitar against a tree outside Douskos tavern and swimming at Spilia.
If you're interested in Hydra in its 1960s arty heyday, the book A Theatre for Dreamers* by Polly Samson is an evocative read that's full of well-researched details. Or Charmian Clift's Peel Me A Lotus*, about her time in Hydra, has also recently been republished.
Climb up to the Greek flag
I always have the compulsion to climb up something high whenever I visit somewhere new, and Hydra was no exception. The harbour is surrounded by hills so it's easy to get a view from above, but one of the best – and quietest – viewpoints is from a Greek flag which you can see flying on top of a hill on the west side of the harbour.
To get there, follow the steps uphill from the corner of the harbour, opposite the sign for Sunset Restaurant. At the top of the path ignore the first set of steps on the right and take the next set up between houses. It's a short but steep climb, and at the top you're rewarded with panoramic views of the harbour and down the coast to Kamini.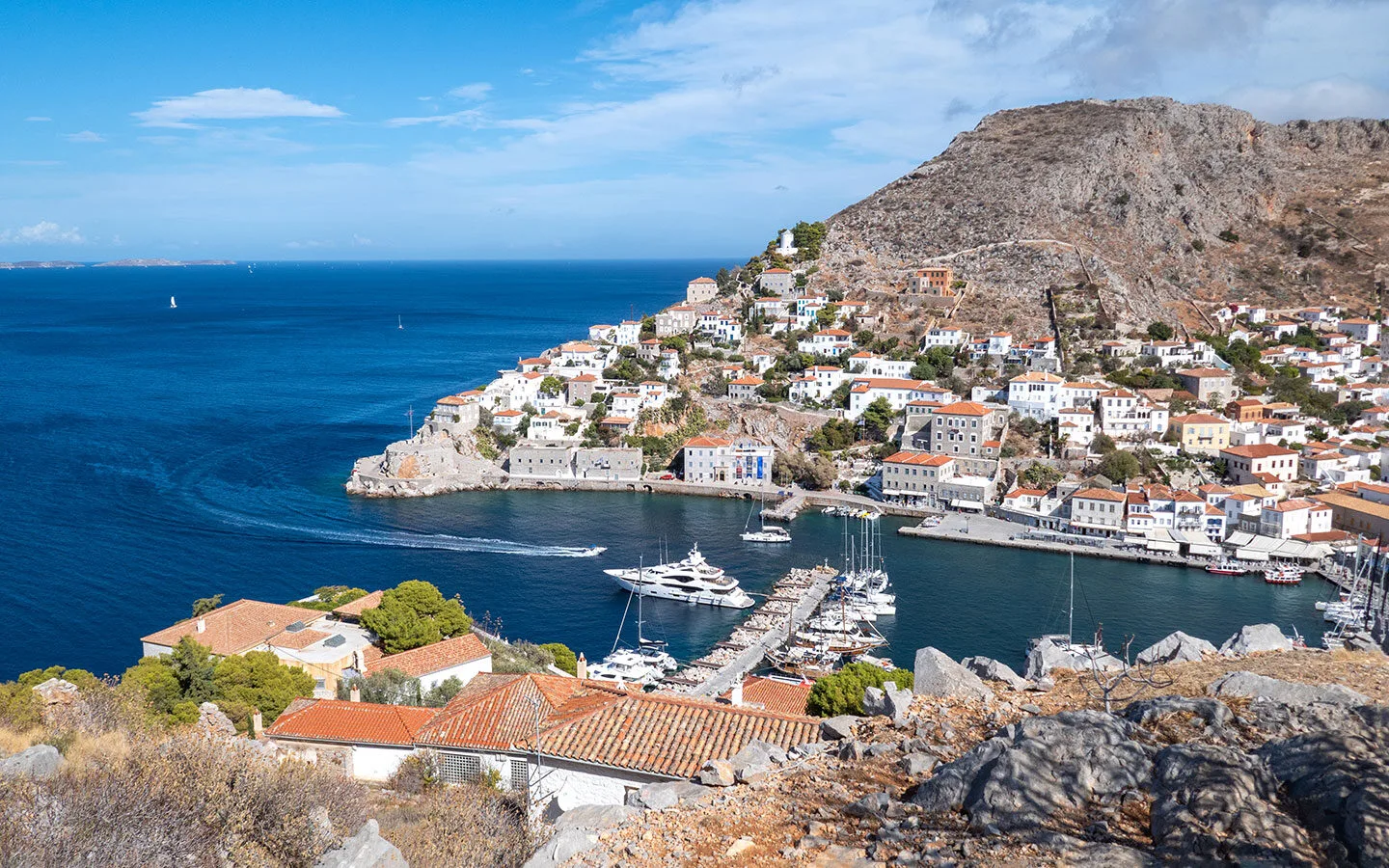 Walk the coast path to Kamini
Another way to get away from the crowds in the harbour is to take a walk along the coast path to neighbouring Kamini. This traditional fishing village has a small harbour full of colourful boats and a small pebbly beach next to an old fort. There are also a couple of good traditional Greek tavernas to stop at for lunch – Kodylenia's and Christina's.
The walk to Kamini only takes 15 minutes. Along the way look out for the old windmill, and behind it a statue of a boy riding a dolphin, erected to commemorate the 1956 film Boy on a Dolphin with Sophia Loren which helped made Hydra famous. And if you want to walk on, the path continues to the beaches at Vlychos (20 minutes) and Plakes (30 minutes).
Take a hike
If you want to explore further afield, there are several hiking routes in Hydra. They're best attempted outside of summer when the weather isn't so hot and are fairly remote so take the usual precautions – tell someone where you're going, take a mobile phone (though signal is patchy) and plenty of water, and wear sturdy shoes, a hat and sunscreen.
There are four long-distance hiking routes across the island, which are numbered and marked with yellow and black signs, and blue and black striped markings on rocks.
One of the most popular hikes is to Profitis Ilias monastery on the slopes of Mount Eros, the island's highest peak. It takes around 1.5 hours each way with great harbour views. From the monastery you can carry on to the top of Mount Eros in another half an hour.
You can also try a longer hike to one of the island's remote beaches. We hiked to stunning Limnionizia beach on the other side of the island. It took two hours each way, with a big climb out of Hydra and past two hilltop monasteries and then a scramble down a rocky hill to the beach. You can also hike to Bisti beach in around four hours.
Explore the island on horseback
If that sounds a bit too energetic, you can also explore Hydra by horse. Harriet's Hydra Horses is run by Harriet Jarman, a bilingual Brit who's lived on the island since she was 10 years old. Her focus is on animal welfare and the horses in her stables on the edge of Hydra town are well-treated, with some rescued from abusive owners.
There are 10 set itineraries available, ranging from a 30-minute trip up into the hills behind the harbour to an eight-hour trek to the end of the island. You can even go swimming on horseback. One of the most popular trips is along the coast path to Kamini, Vlychos and Plakes, which takes two hours and costs €60 per person.
Watch the sun set
Golden hour in Hydra is extra magical, as the sun dips into the sea and the harbour buildings glow in the last of the light. Enjoying an island sunset is one of the best things to do in Hydra, and makes it well worth staying at least one night.
The bastions on each side of the harbour, built to protect it from Turkish invasion in the 18th century, are a great place to watch the sun go down. Or walk along the coast path towards Kamini and you'll find Sunset Restaurant and the Hydronetta Bar on the rocks below it, both with uninterrupted sunset views. You can also take a sunset boat trip.
Stroke a cat or two
Hydra is the island of cats – you can't walk far (or eat anything) without at least one appearing. You'll find them in the harbour gathered around the fishing boats hoping for scraps or waiting outside the pet shop. Most are used to people and will happily come over for a head stroke, and the friendly black cats at Pirate Bar would even sit on my lap.
The cats are mainly looked after by locals but the Hydra Ark charity also cares for the island's stray cats, with feeding stations around Hydra to supply them with food and water.
And although there's no vet on the island, the charity treats the cats for parasites and organises TNR (trap neuter return) days when cats are sterilised to keep the population under control – you can make a donation or volunteer to help.
The details
When to visit Hydra
Hydra's summers are hot and dry, with average high temperatures of 30°C (86°F) and some much hotter days. It can get very busy, especially at weekends, so book well in advance. Spring is cooler which makes it good for hiking, with pretty wildflowers. Autumn can be a bit stormier but seas stay warm into October at around 23°C (73°F).
Hydra's location close to Athens means it sees visitors year-round, but winter is very quiet and many shops and restaurants close from November to March. Winter sees around 10 days of rain a month but is fairly mild, though you might see a sprinkling of snow on the highest hills, with daytime average highs of 13°C/55°F and lows of 9°C/48°F.
How to get to Hydra
Hydra is easy to reach by ferry from Athens, which takes 1 hour 10 minutes to 2 hours each way. Ferries for Hydra depart from Gate E8 at Athens' Piraeus port, which you can reach by metro, bus, train or taxi from Athens airport or city centre. Or pre-book a transfer from the airport to Piraeus with an English-speaking driver through Welcome Pickups.*
Hellenic Seaways run the run the Flying Cat and Aero Highspeed (which have recently replaced the old Flying Dolphin hydrofoils) services which connect Piraeus with Hydra several times a day throughout the year. Both are catamarans which only carry passengers not cars, but Aero Highspeeds are smaller and slightly faster than Flying Cats.
Alpha Lines also run a catamaran on the same route twice a day from April to October. Most ferries from Piraeus call at the neighbouring island of Poros on the way to Hydra, but there are a few direct services in peak season. They also continue on to Spetses.
You can buy ferry tickets online which cost €36 each way. Previously you had to collect your tickets from the ticket office at Piraeus before travelling, but you can now choose to download your tickets and either print them off or show them on your phone.
If you're short on time, you can also take an organised day trip* to Hydra from Athens, which includes hotel transfers. Though these are usually combined with stops at the other Saronic Islands of Poros and Aegina so you only get a few hours in Hydra. If you want a full day in Hydra you could easily book your own ferry and transfer to Piraeus.*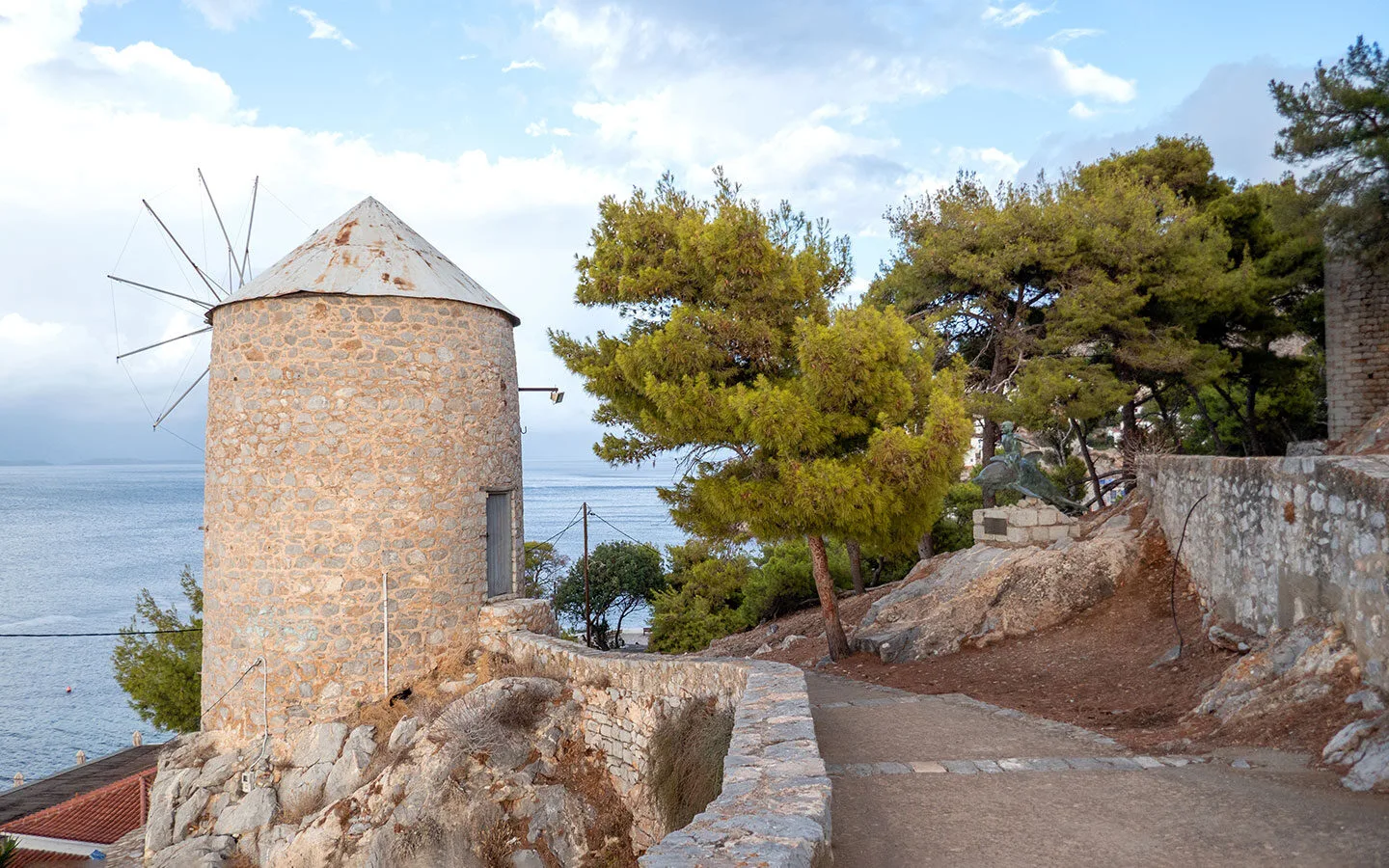 Getting around Hydra
The ferry arrives into Hydra's harbour and the town is small and easy to get around by foot. It is pretty hilly though, so if you have heavy bags or are staying up in the hills there are usually mules waiting to meet arriving ferries which can carry your luggage.
If you're staying in one of the other villages, or want to visit them or the more remote beaches like Bisti and Agios Nikolaos, you can take a water taxi. These small boats nip up and down the coast of Hydra on demand. There is a water taxi stand stand outside the Corner Café – with a phone next to it if there aren't any boats waiting.
Water taxi prices are set by the association and depend on the destination and how many people they're taking. A cheaper option are the shuttle boats from Hydra to the Four Seasons Resort in Plakes and the Mandraki Bay Resort (€10 return) or the beach boats which run day trips to Bisti and Agios Nikolaos beaches (€15/€18 return).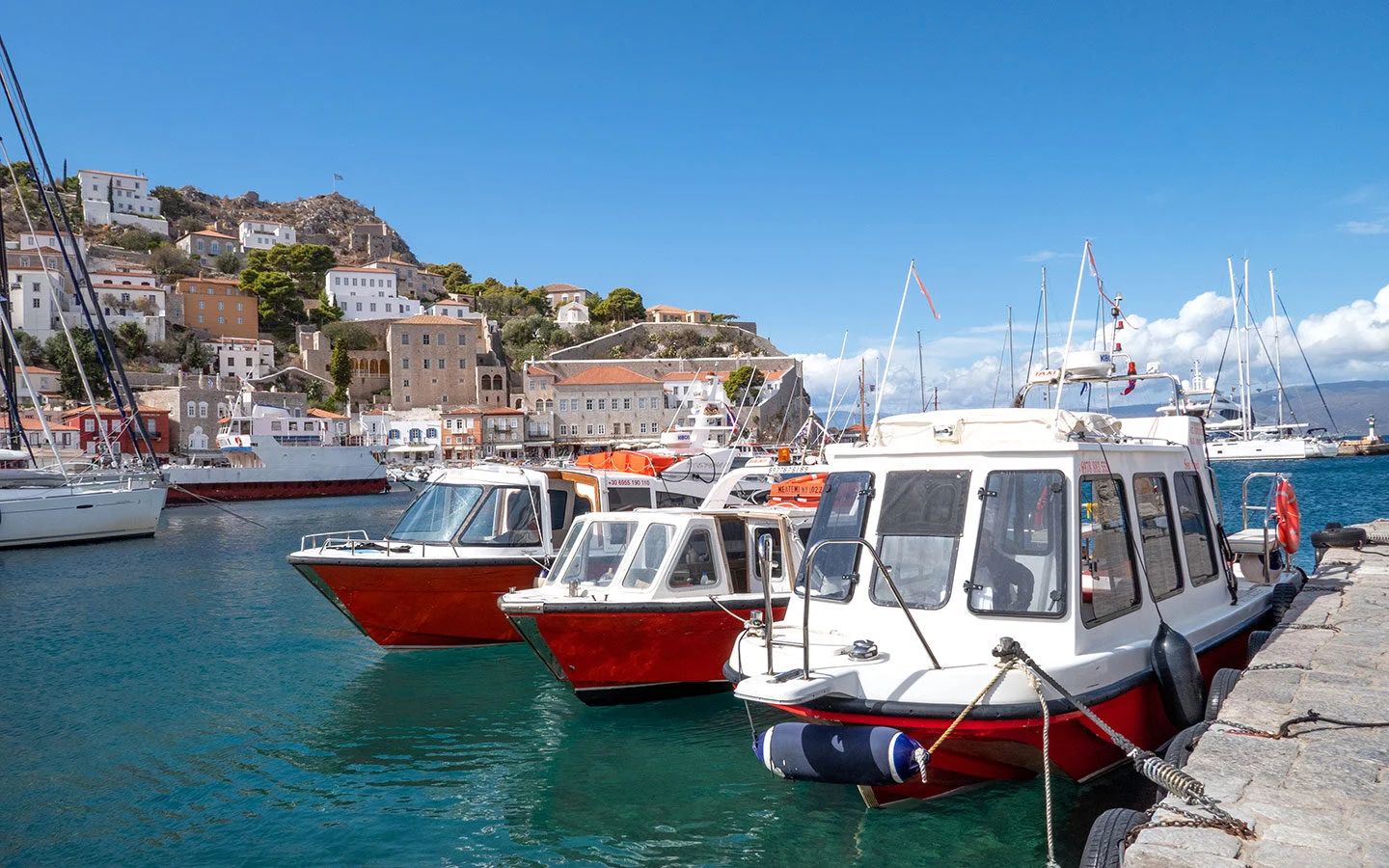 Where to stay in Hydra
There's a good selection of places to stay in Hydra, with a mix of hotels and apartments. Most are concentrated around the harbour, though hills rise up steeply in all directions so check how far up they are, especially if you have limited mobility as there are lots of steps.
We stayed in the Hydra's Chromata apartments, a few minutes' (step-free) walk from the harbour, in a quiet area with restaurants and a supermarket. They have four spacious one- or two-bedroom apartments with a terrace or balcony (the Azure apartment has a prime harbour view) and you get daily cleaning and breakfast supplies every morning.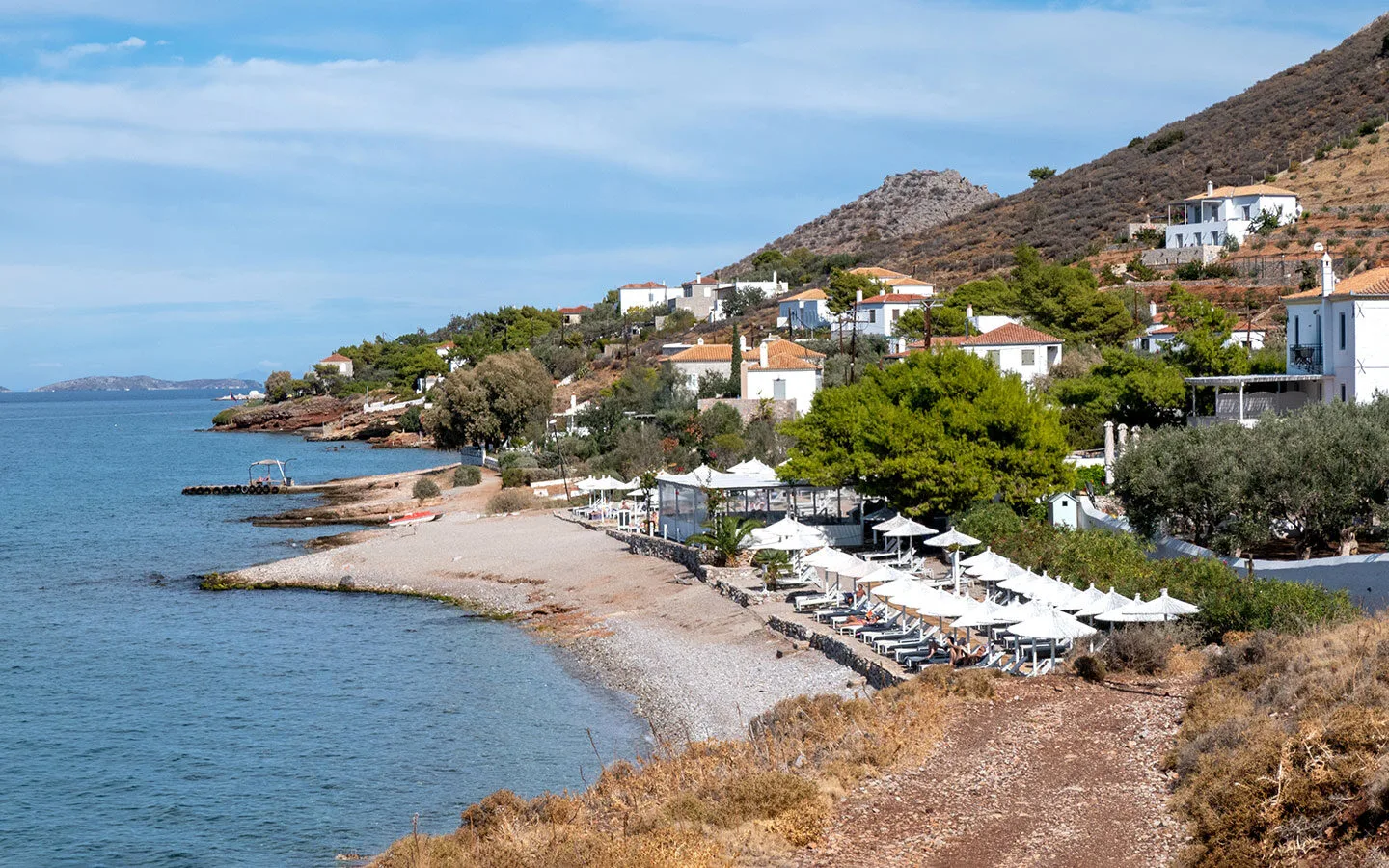 If you're looking for more facilities, the four-star Bratsera Hotel* is in a former sponge factory built in 1862 that's tucked away down a side street. It has 25 bedrooms, ranging from doubles to suites with a terrace. The Bratsera is one of the few places in Hydra with a swimming pool, and also has pretty gardens and a good restaurant.
Or if you want to get away from it all and spend time on the beach, there are a few resorts in the quieter coastal villages, including the Four Seasons Hydra*. With only six luxury suites it's set on peaceful Plakes beach, a 45-minute walk or 10-minute boat ride from Hydra town, and has a pebbly beach with sunbeds and beachside restaurant and bar.
Save for later
You might also like