Take a scenic rail journey through the Norwegian fjords on board the Flamsbana or Flam Railway, a spectacular day trip by train through the mountains from Myrdal to Flam on the banks of the Sognefjord.
* This site contains affiliate links, where I get a small commission from purchases at no extra cost to you.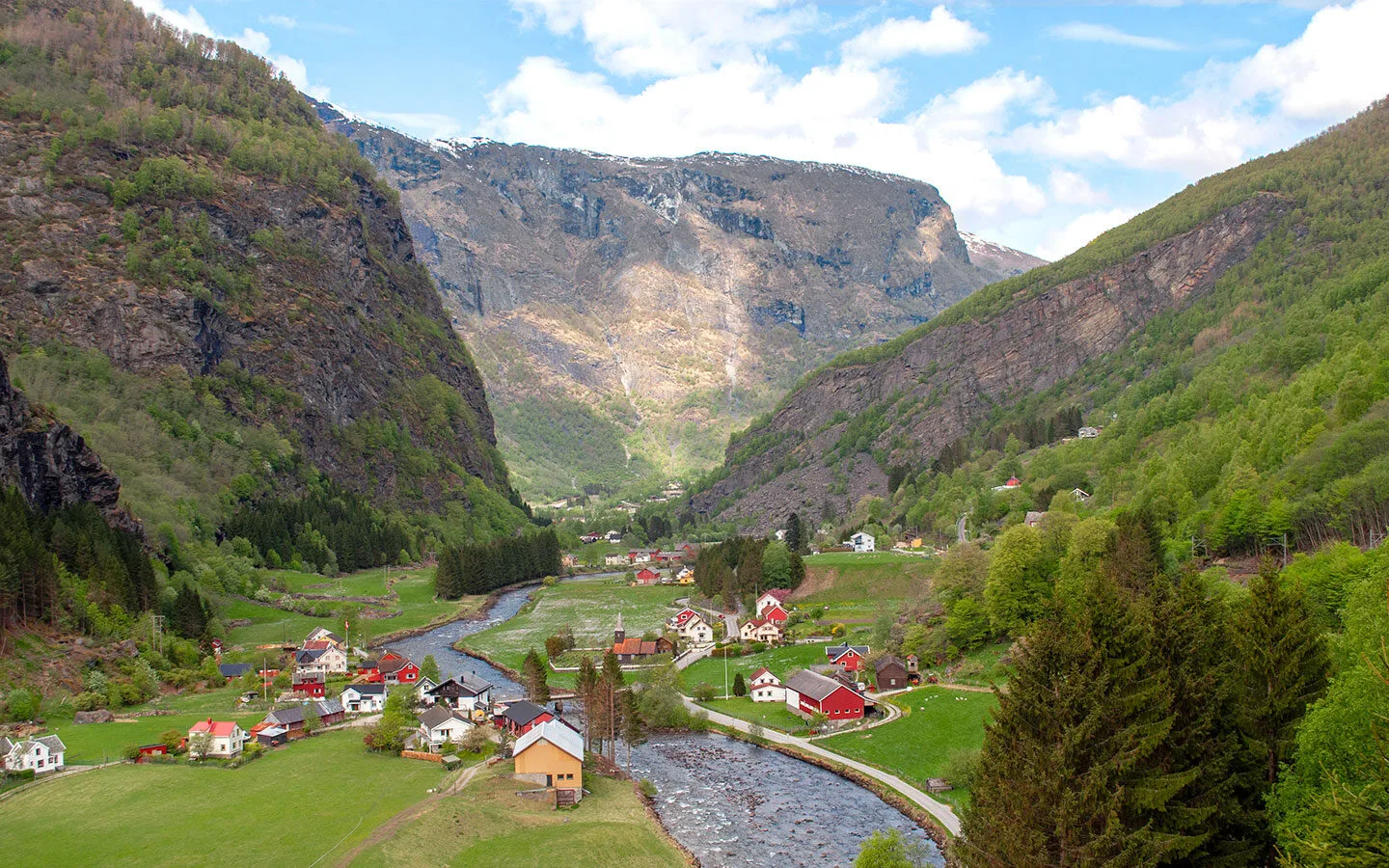 Snapshots of Norway's scenery flash past the train window – snow-sprinkled mountains, steep rocky cliffs, deep blue lakes, lush green meadows and neatly painted red clapboard houses. It might only be 20km long, but the Flam Railway (or Flamsbana) packs a seriously scenic punch, and is ranked as one of Europe's most spectacular rail journeys.
The Flam Railway has been transporting passengers from the mountains to the fjords since the 1940s, and has kept its vintage-style charm. Today it's a hugely popular day trip from Bergen, and was one of the highlights of my trip to the Norwegian fjords. So if you're planning a trip on the Flam Railway, here's everything you need to know.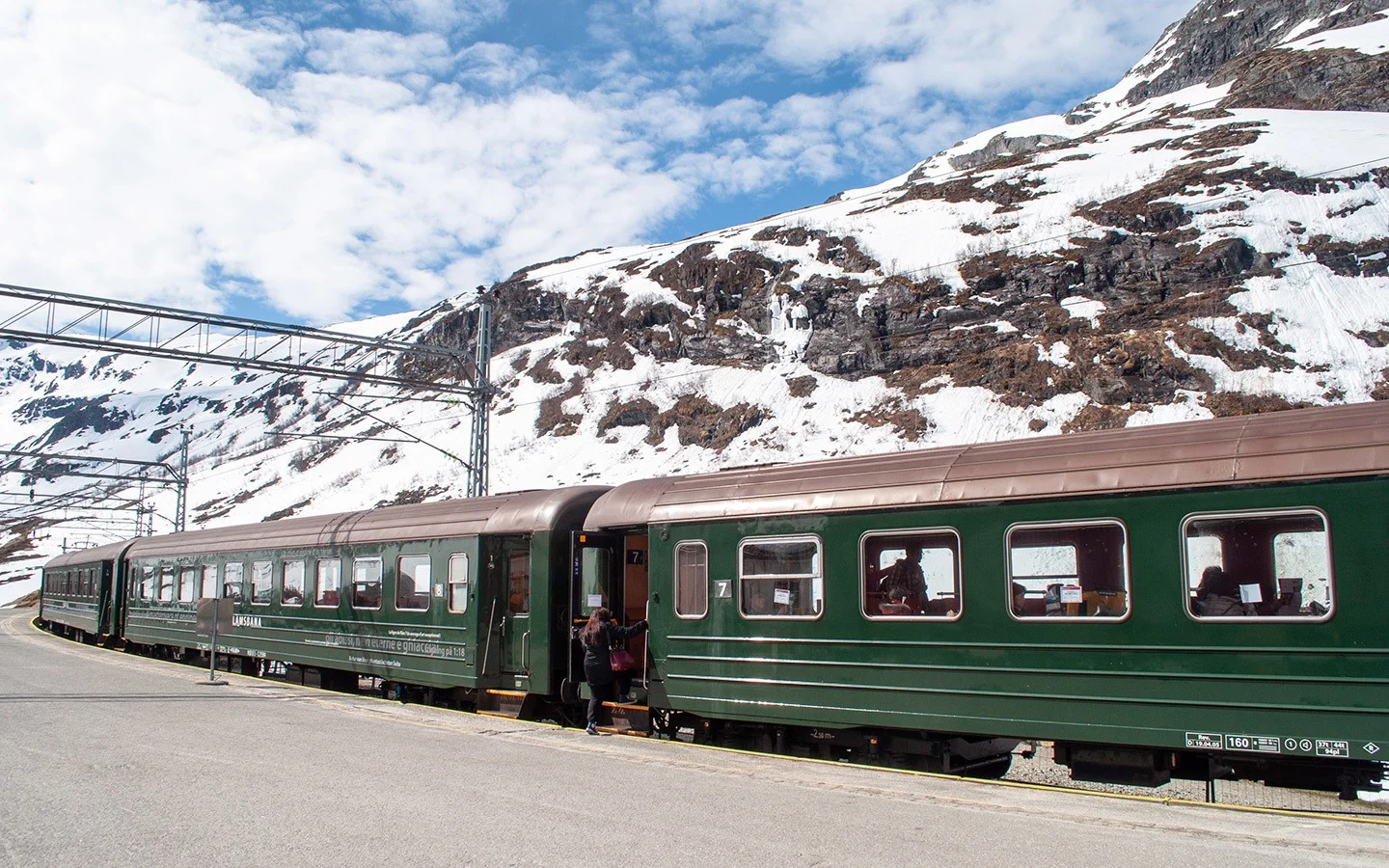 The history of the Flam Railway
The idea for a train route to the fjords was first proposed in 1871, and in 1908 the Norwegian Parliament approved plans to build a standard gauge railway on the route between Myrdal and Flam. But the steep gradient made it a huge engineering challenge from the start. Construction didn't start until 1924 and the line finally opened in 1940.
The finished line is only 20 kilometres long, but it travels a huge distance in height from 863 metres at Myrdal to sea level at Flam. Most of the route runs at a gradient of 5.5%, which makes it one of the world's steepest standard gauge lines.
Around 200 men worked on the site at a time and it was tough work, with 10 stations, 20 tunnels and a bridge to build. Eighteen of the tunnels were painstakingly dug out by hand, including one which does a 180-degree turn inside the mountain. It took around a month of work to dig just one metre of tunnel, with almost 5700 metres of tunnel in total.
The gradient wasn't the only challenge though, the steep rocky cliffs and river gorges didn't help – the construction team even had to redirect the river through tunnels inside the mountain. And this was all designed and planned on paper, long before computers, in an environment where landslides could wipe out weeks' worth of work.
Construction was almost finished in 1940 when Norway was invaded by the Germans, but they ordered the line to be finished and goods trains started running. Passenger services were soon added, and by the 1950s over 115,000 passengers a year used the line. It's now one of Norway's top tourist attractions with over 700,000 visitors a year.
You can find out more about the railway's history in the free Railway Museum in Flam.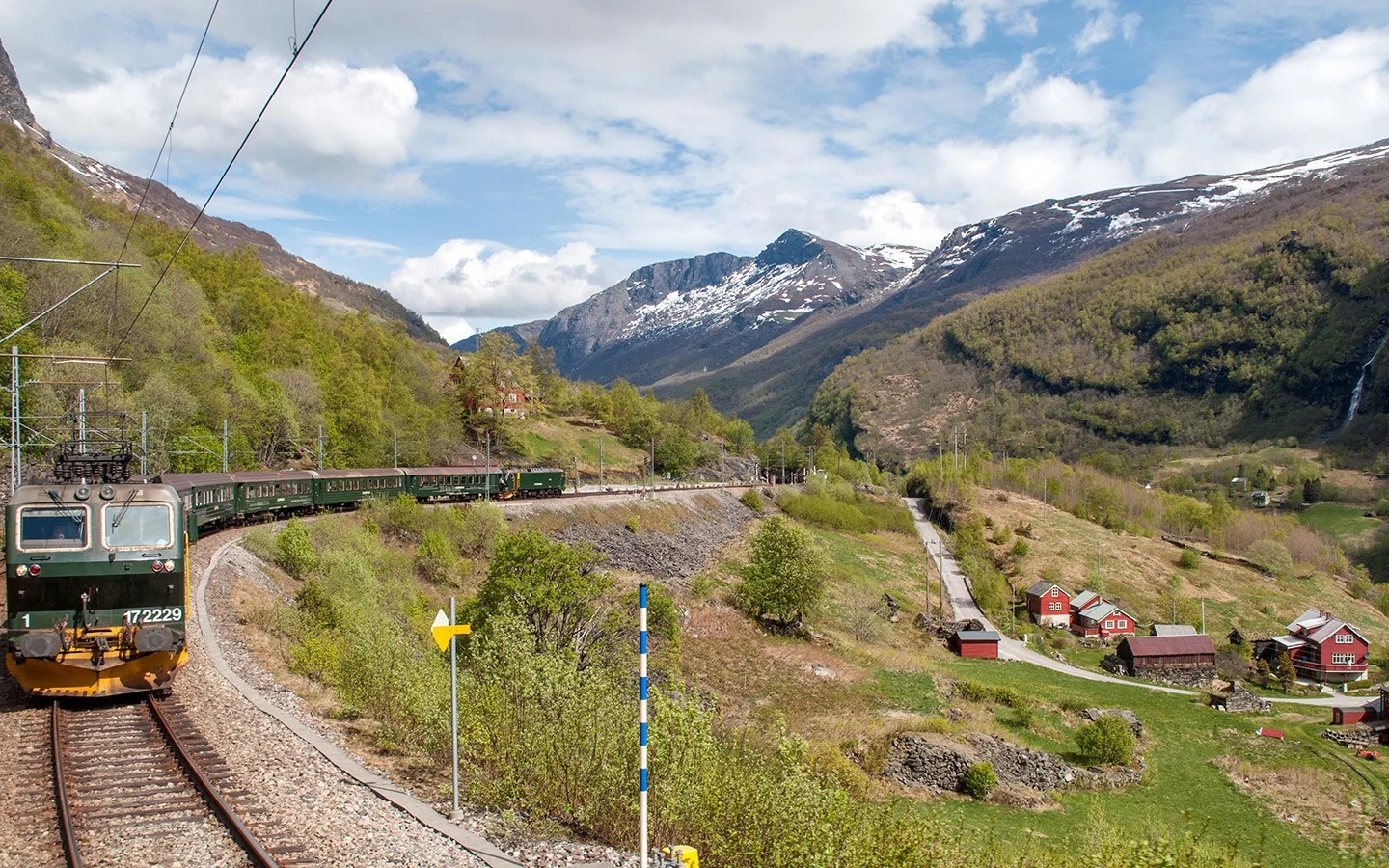 How often does the Flam Railway run?
The Flamsbana runs year-round, but the timetable and number of services per day varies through the seasons. During the low season (December–March), there are four services in each direction per day. But at the peak of high season (May–September) there are nine trips in each direction every day. You can check the current timetable online.
The journey takes 50 minutes each way. The first trains normally leave at 8.30am–9.30am, and the last trains are around 5pm in low season and 7pm–8pm in high season.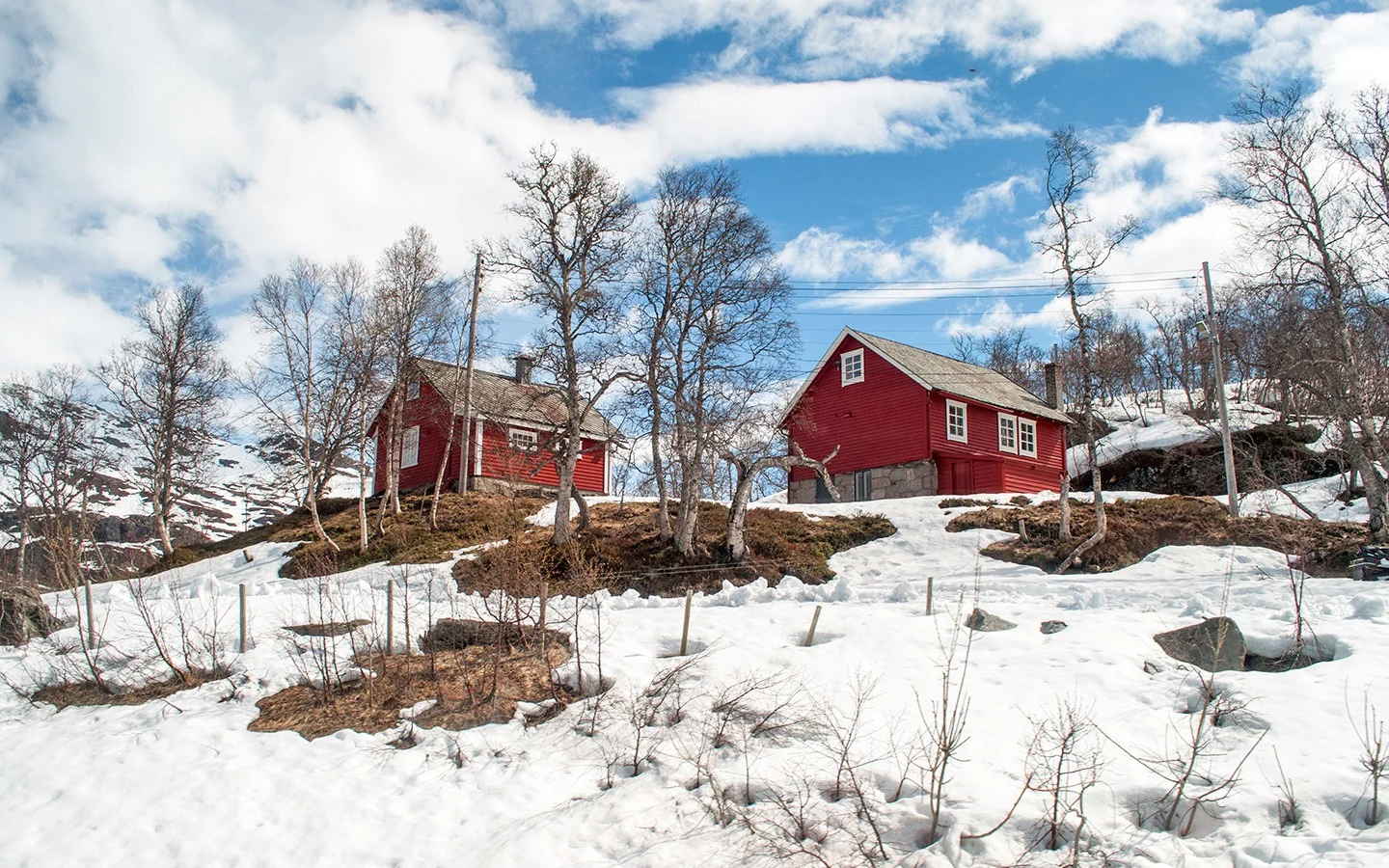 Can I do the Flam Railway in a day from Bergen or Oslo?
One of the easiest ways to experience the Flam Railway is on the hugely popular self-guided Norway in a Nutshell day trip. This customisable package tour includes tickets for the train from Oslo or Bergen to Flam, a boat trip along the Nærøyfjord from Flam to Gudvangen, then a bus to Voss for the train back to Oslo/Bergen (you can also do it in reverse).
It is also possible to do the trip independently. The train journey from Bergen to Flam takes around three hours, so if you take an early train you would arrive late morning and have time to explore Flam and take a fjord cruise before heading back to Bergen.
There are a couple of different route options for a combined Flam Railway and fjord cruise day trip from Bergen, depending on whether you want to retrace your steps and do the Flam Railway twice or take the slightly quicker but less scenic route via Voss.
Option 1
Mainline train from Bergen to Myrdal (2 hours)
Flam Railway from Myrdal to Flam (50 minutes)
Fjord cruise from Flam to Gudvangen (2 hours)
Bus from Gudvangen to Flam (20 minutes)
Flam Railway from Flam to Myrdal (50 minutes)
Mainline train from Myrdal to Bergen (2 hours).
Option 2 (can also be done in reverse)
Mainline train from Bergen to Myrdal (2 hours)
Flam Railway from Myrdal to Flam (50 minutes)
Fjord cruise from Flam to Gudvangen (2 hours)
Bus from Gudvangen to Voss (1 hour 20 minutes)
Train from Voss to Bergen (1 hour 15 minutes).
If you're travelling from Oslo to Flam, the train journey is around six hours each way so it would be better to stay overnight in Flam or Bergen if you can. It is possible in a day if you left Oslo at 08.25 (arriving in Flam at 14.05 and departing at 16.40) and arrived back there at 22.27. It's a very long day though and doesn't give you time for a fjord cruise.
What's it like on board the Flam Railway?
Carriages on the Flam Railway have a vintage feel, with their exteriors smartly painted in dark green with gold lettering. And inside there are wood-panelled walls and chrome luggage racks. But there are mod-cons too, like the screens at the end of the carriage which tell you what you're seeing and give information about the history of the line.
Seats are set up in blocks of four or six – if you want to get a window seat get there early, particularly in high season when you'll need to queue up before boarding. Not all the windows open so try to bag one that does if you want to take photos to avoid reflections (though there are a lot of tunnels so don't hang cameras or phones out of them).
The Norway in a Nutshell trip gets really busy. So a good tip if you are doing the trip independently is to check out the Norway in a Nutshell timetable and avoid the trains they use and travel early or late in the day instead – we got a carriage almost to ourselves!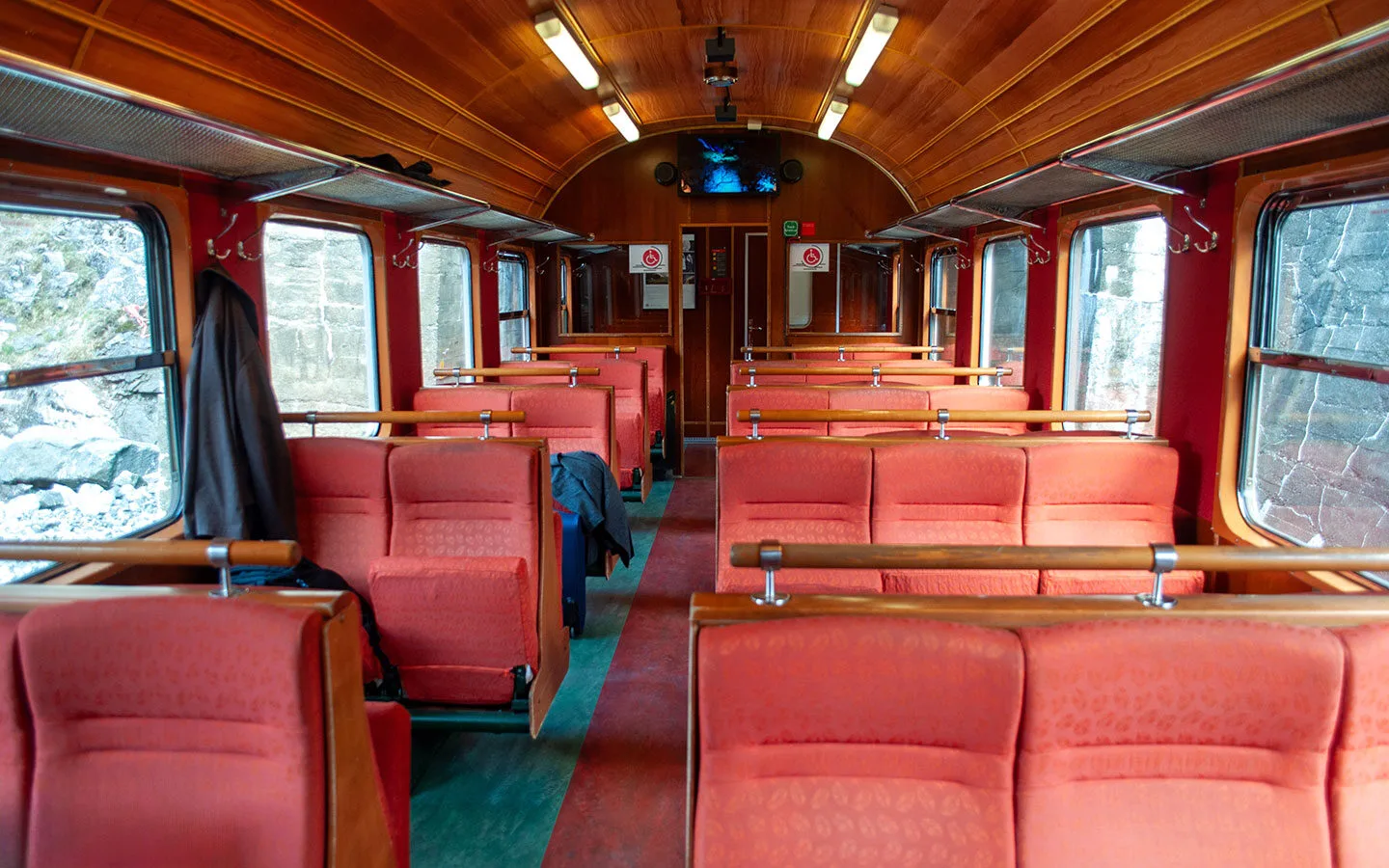 Which direction is best?
Generally the most scenic views are on the left-hand side of the train if you're travelling from Mydral or the right-hand side if you're travelling from Flam. But it's still beautiful in each direction so ideally you would sit on both sides if you're doing a return trip.
We did the journey in both directions and although you see the same scenery, you do get a different experience. Travelling downhill from Myrdal–Flam was a much smoother journey and better for taking photos. Travelling uphill from Flam–Myrdal you could feel the train working hard so you get a lot more squealing of brakes and and lurching around.
What can you see on board the Flam Railway?
Our scenic Flam Railway journey started off at its highest point in Myrdal, and even in May the ground was still covered in a thick layer of snow. The track zigzags down a gradient of 5.5%, meaning it descends one metre in height for every 18 metres it travels.
The beginning of the route runs through a snowy forest, dotted with red and yellow wooden houses. It passes the Reinungvatnet mountain lake, which was just starting to thaw after being frozen for months. The track then starts to descend steeply and disappears into the first of many tunnels before a five-minute stop off at the Kjosfossen waterfall.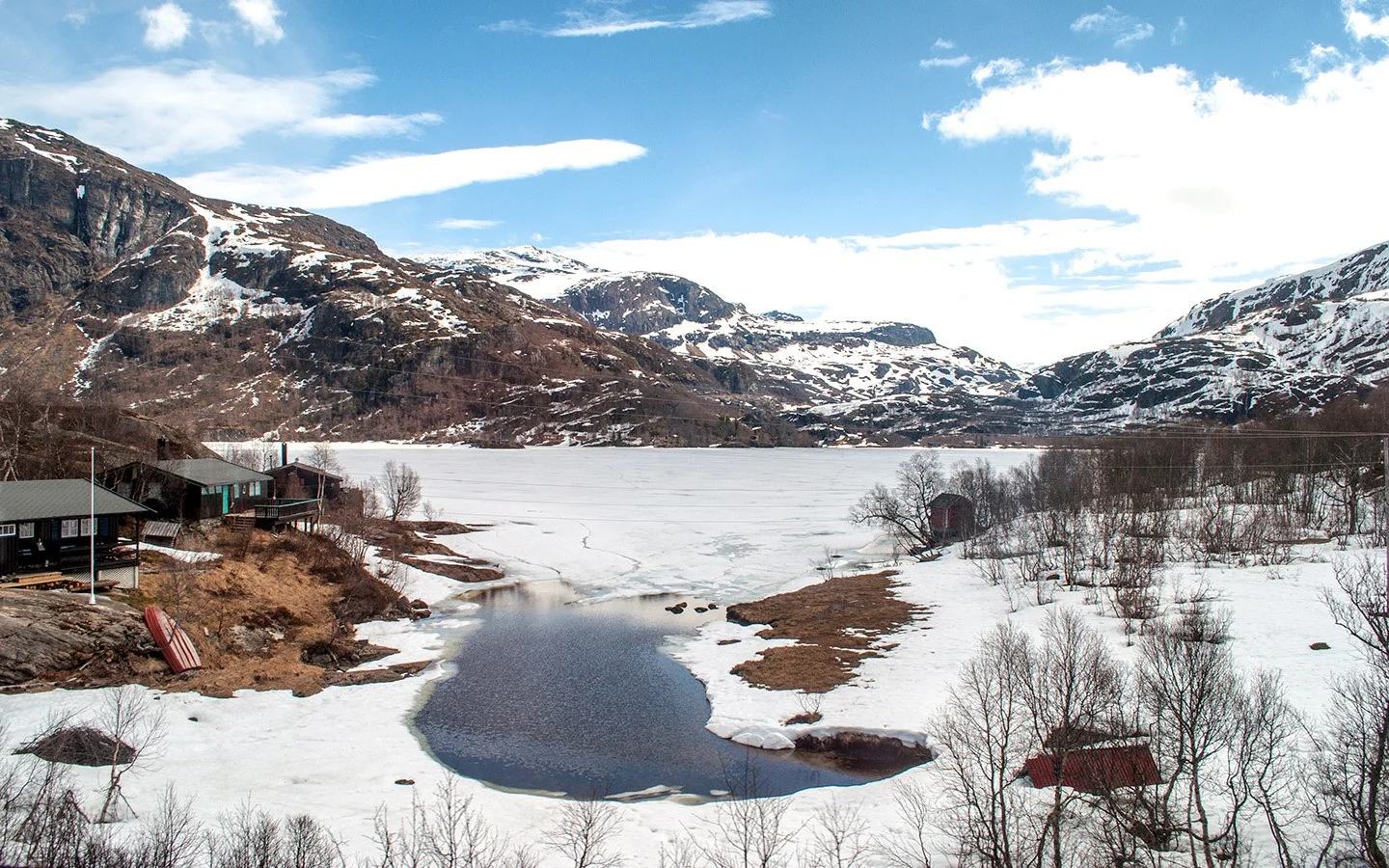 The waterfall is over 90 metres tall and according to Scandinavian fokelore, it's home to mythical creatures called the Huldra – beautiful sirens who bewitched passing men with their song and lured them into the woods. Keep an eye out as you might spot one dancing among the waterfalls (though they only seem to appear on busier train journeys!).
Back on the train, windows cut into the tunnel walls give you flashes of the view down the valley and across the valley to the sinuous Rallarvegen. The name roughly translates as the 'navvies road' and it was originally built as a construction and access road for the railway track works. Today it's used as a mountain biking track with 21 twists and turns.
By this point we had descended almost halfway and the snow had disappeared, replaced by green fields and cascading waterfalls. At Breikvam the track splits in two so that the Flambana trains travelling in opposite directions can pass each other. Then towards the end of the journey, the gradient smoothes out and the valley starts to open up.
Looking down on the old part of Flam it seemed like a model village, with miniature houses and a tiny wooden church on the riverbank. The newer part of Flam lies further downriver, along the banks of the Sognefjord, at the end of the line for the Flamsbana.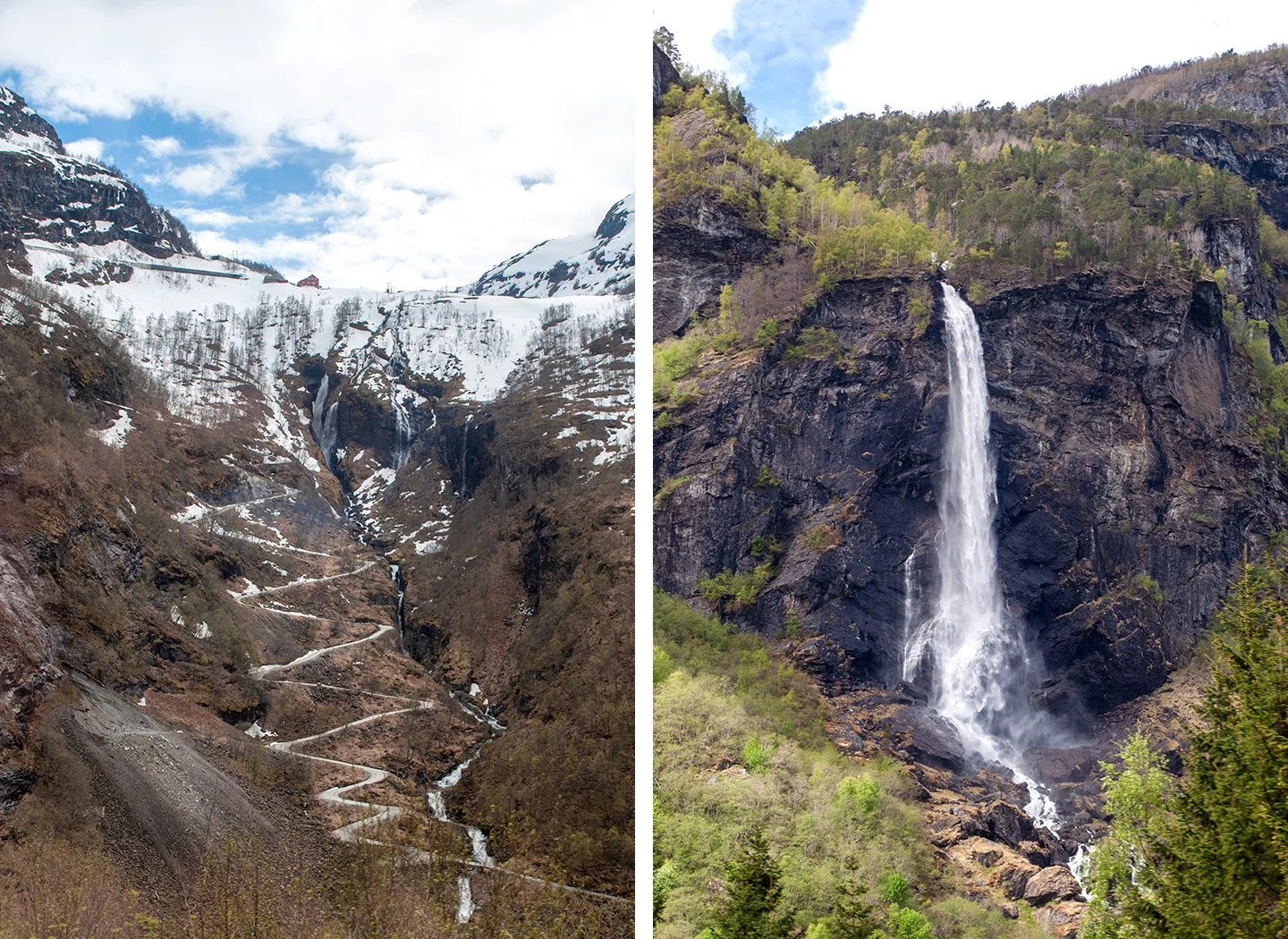 What is there to do in Flam?
Flam is a fairly small town and doesn't have a huge amount of things to do, but the setting is beautiful and it's really peaceful in the evenings when the day trippers and cruise ships have headed off. We spread the trip out over two days and spent a night in the Fretheim Hotel,* doing some walks around Flam on day one and a fjord cruise on day two.
Flam is a popular jumping off point for exploring the fjords by boat. You can take a two-hour cruise through the Aurlandsfjord and Nærøyfjord – two branches of the huge Sognefjord – to Gudvangen, where it's just a 20-minute shuttle bus trip back to Flam.
You can also explore the fjords using smaller RIB boats, kayaks or stand-up paddleboards, take a short hike to the Brekkefossen waterfall (20 minutes each way), visit the Fretheim Cultural Park behind the Fretheim Hotel and try local beer at the Ægir Brewery.
How much is the Flam Railway trip?
The cost of tickets for the Flamsbana varies by season, with the highest prices during the peak summer season. Adult prices range from 350–470 NOK (€30–€40/£26–£35/$32–$42) one way or 500–680 NOK (€42–€57/£37–£50/$45–$61) return.
There are reduced fares for children aged 6–17 years old as well as a 30% discount on one-way fares if you have an Interail or Eurail pass.
How do I book a trip on the Flam Railway?
Flam Railway tickets can be booked via the VY (Norwegian Railways) website. This includes tickets all the way from Bergen and Oslo as well as just the Flam Railway itself.
If you have an Interail/Eurail pass you can't buy discounted tickets online so would need to either book tickets in a train station in Norway or phone the VY call centre.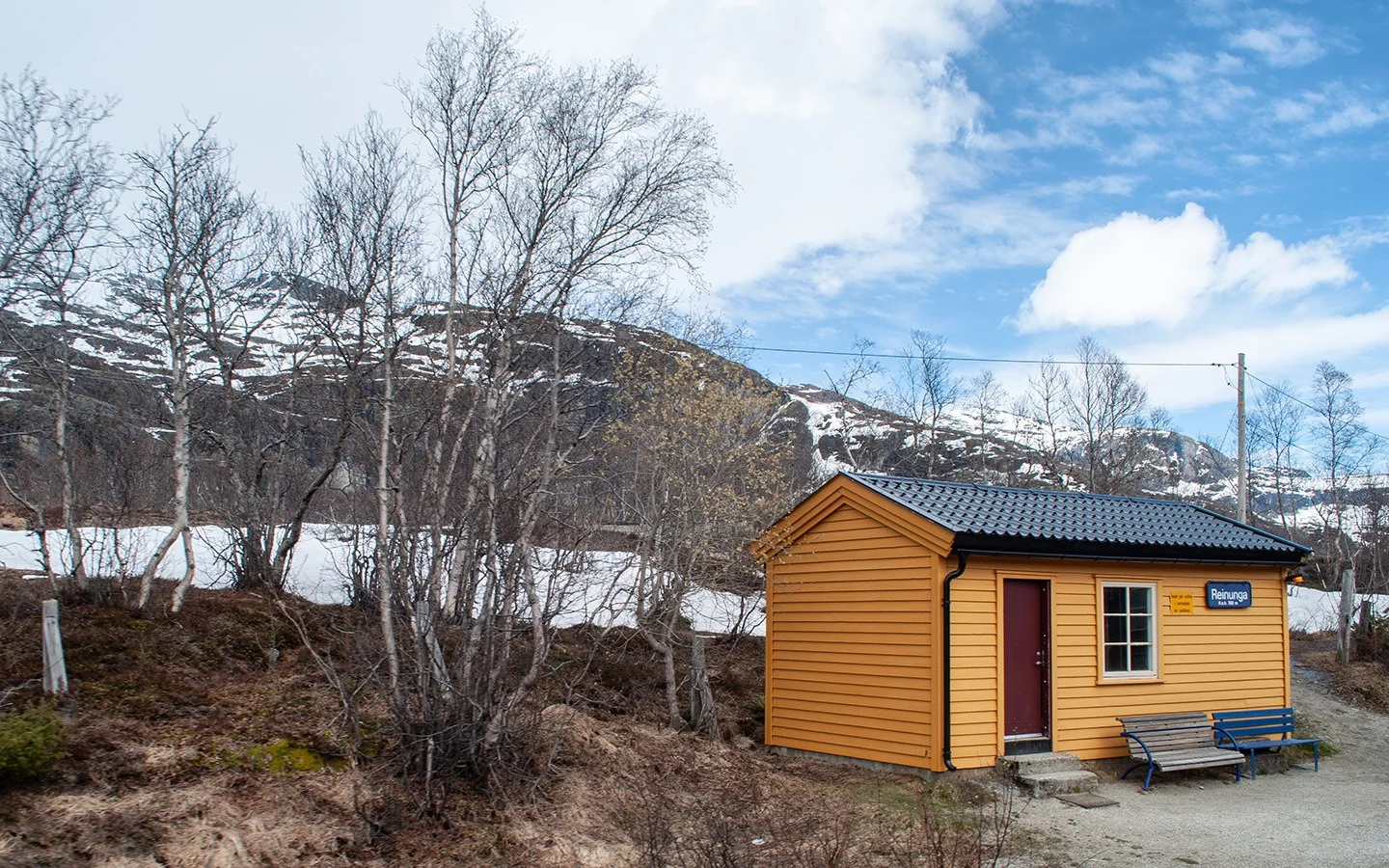 Save for later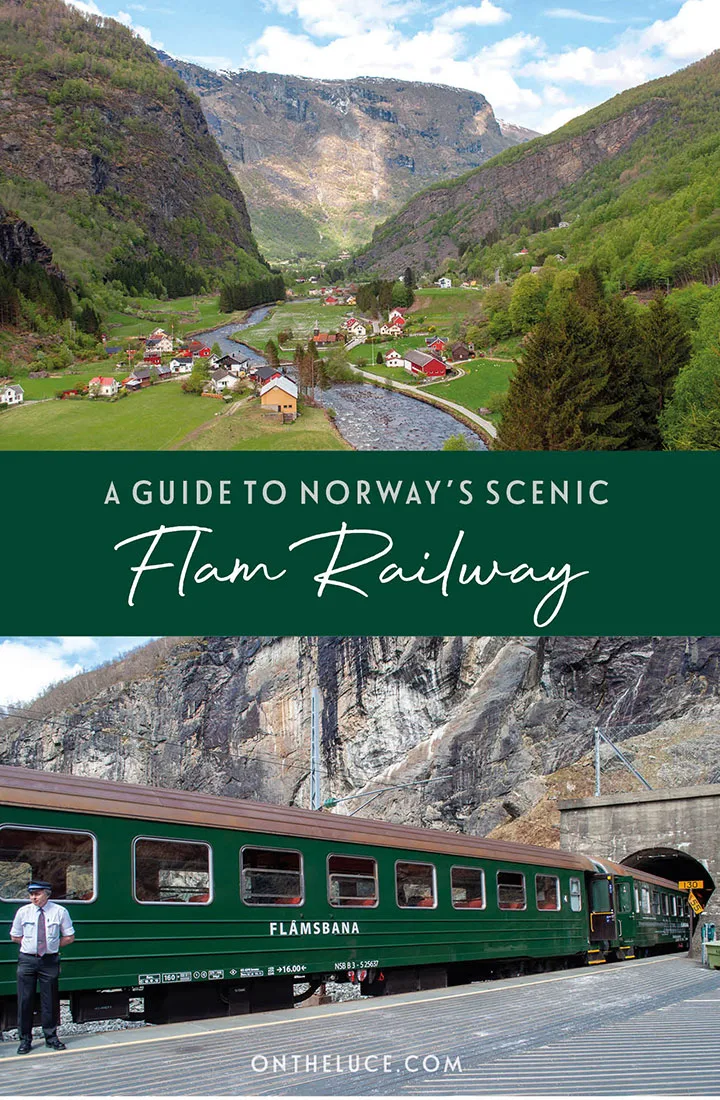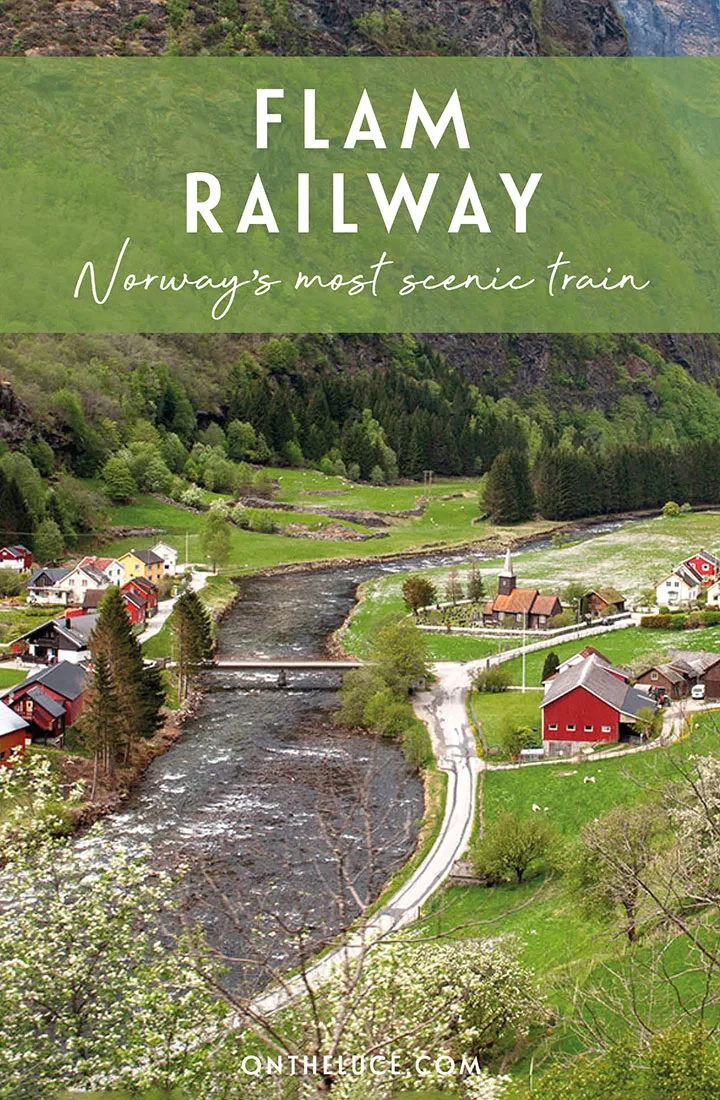 You might also like