Explore Scandinavia by train in just one week on this rail itinerary which takes you from the cosmopolitan capital cities of Copenhagen, Stockholm and Oslo to the spectacular Norwegian fjords.
* This site contains affiliate links, where I get a small commission from purchases at no extra cost to you.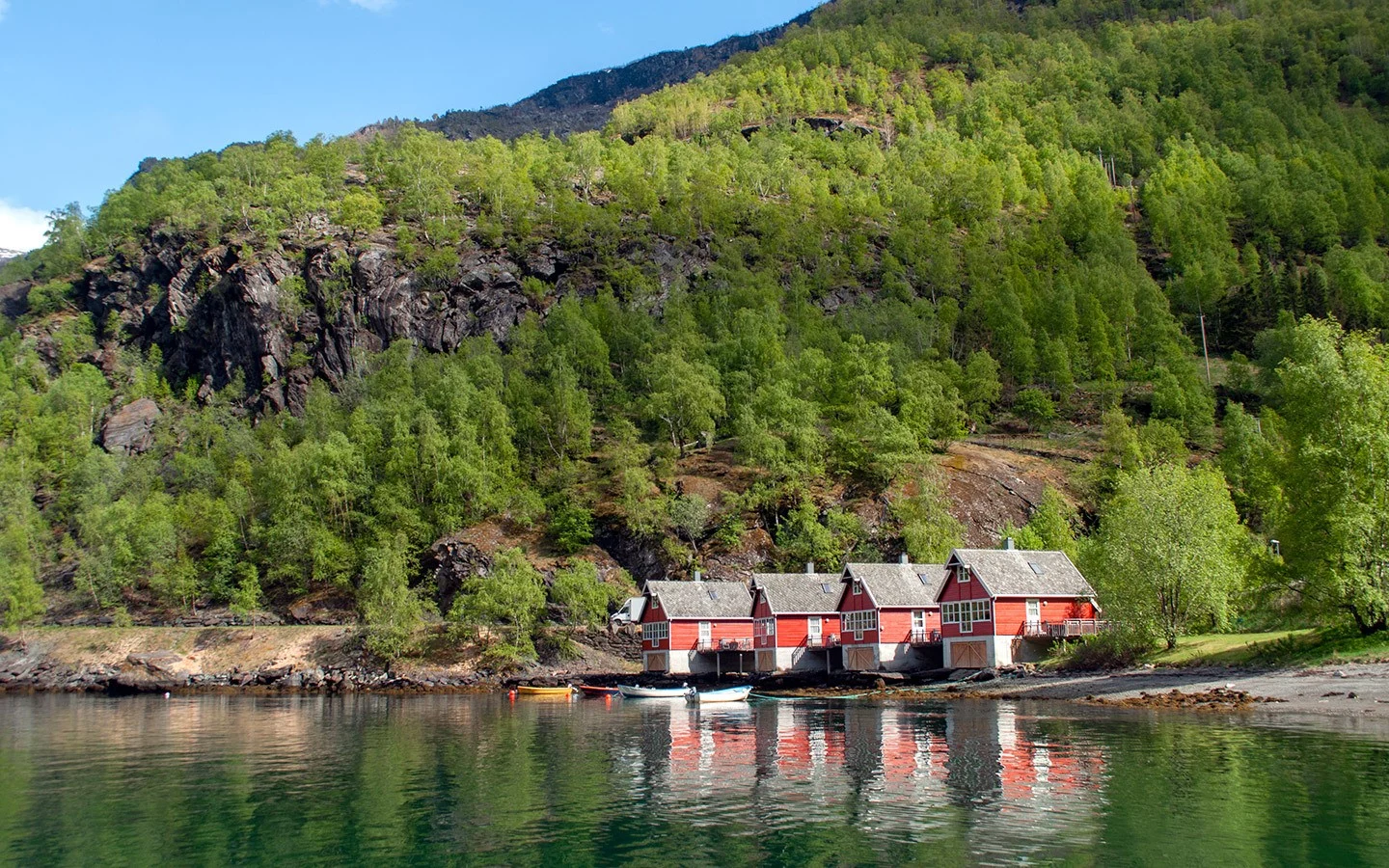 Get a taste of three different countries within one week and experience a smörgåsbord of Scandinavian delights as you travel across Scandinavia by train – from Michelin-starred restaurants and world-class museums in the region's cities to fjord boat trips and scenic mountain railway journeys through its stunning landscapes.
Travelling through Denmark, Sweden and Norway, you'll visit Copenhagen, Stockholm, Oslo, Flåm and Bergen. This Scandinavian rail itinerary will show you which trains to take, how much they cost, how to book and what to see and do at each stop.
One-week Scandinavia by train itinerary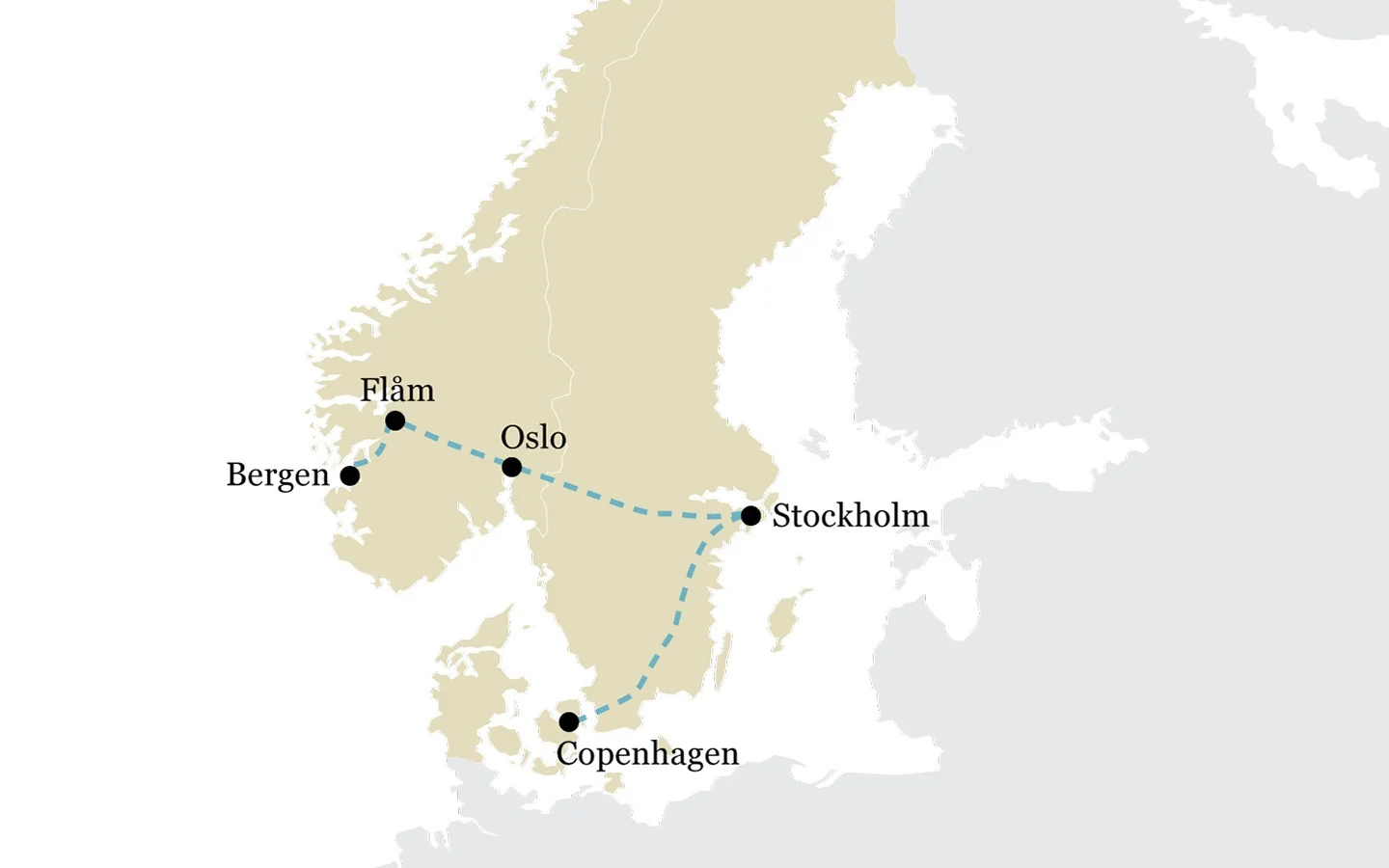 Day 1: Copenhagen
Start your Scandinavia by train trip with a full day in the Danish capital Copenhagen. Head to the colourful harbour district of Nyhavn and join the crowds on the waterfront for drinks on a sunny afternoon. Or take a boat trip* through the canals past the Christiansborg and Amalienborg Palaces and the (surprisingly small) Little Mermaid statue.
Climb to the top of the Rundetårn (Round Tower) for views across the city – instead of steps it has a spiral ramp. Or try out the rides and rollercoasters at the Tivoli Gardens*, the world's second-oldest amusement park, which is beautifully lit up at night.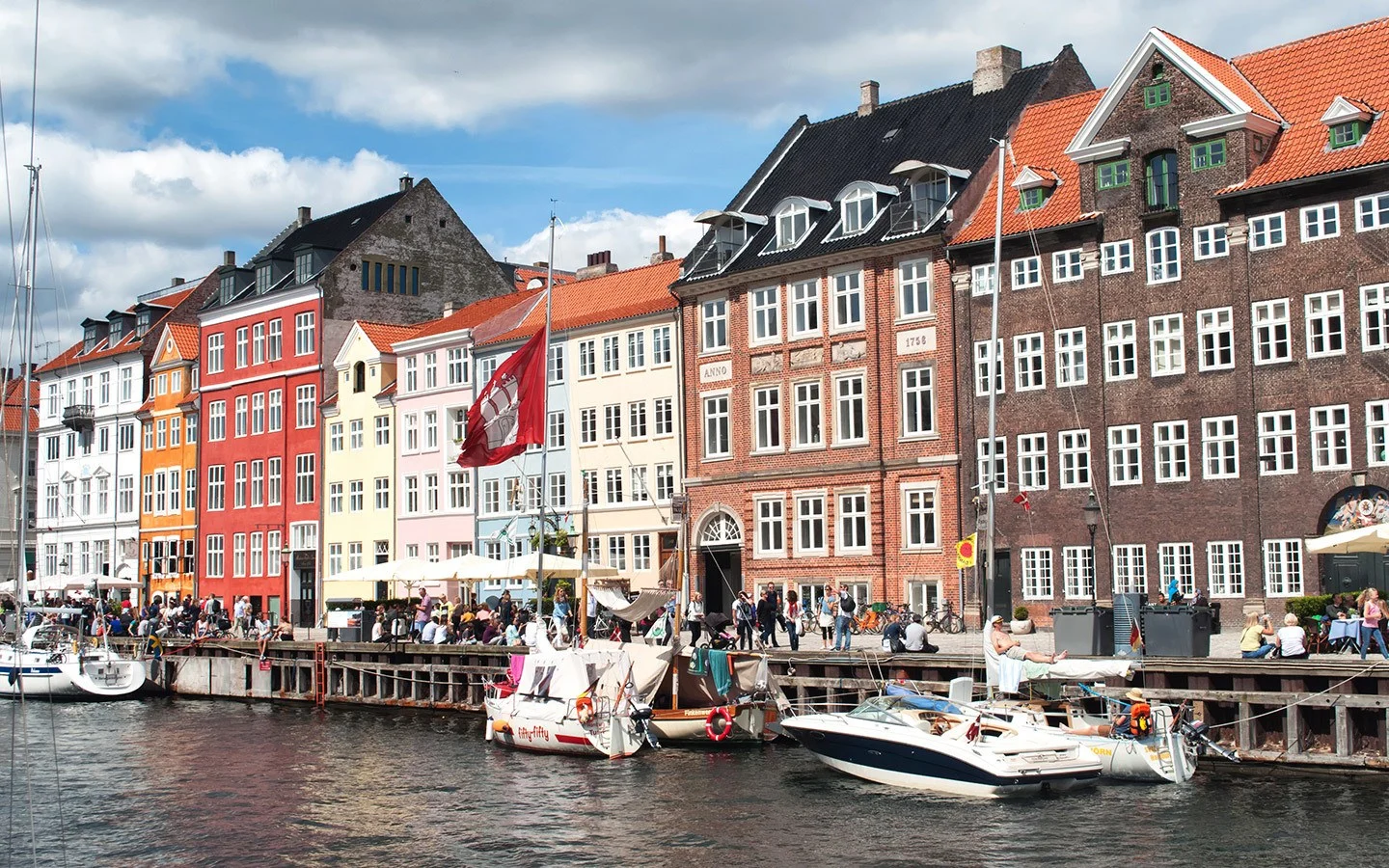 Copenhagen is famous for its restaurant scene and is a great place to splash out on a special meal, with 16 Michelin-starred restaurants to choose from, including three-star Geranium. Or you can shop for cool Scandi-style clothes and homewares in the mix of high-street and designer boutiques on Strøget – the longest pedestrian shopping street in Europe.
Where to stay in Copenhagen: Located close to the train station in Vesterbro, the Absalon Hotel* is one of Copenhagen's oldest family-owned hotels. Its 161 rooms have been decorated with pops of colour and luxurious fabrics by the Designers Guild, and there's a cocktail bar and communal lounge, plus a courtyard with a mini golf course.
Read more: Visiting Copenhagen on a budget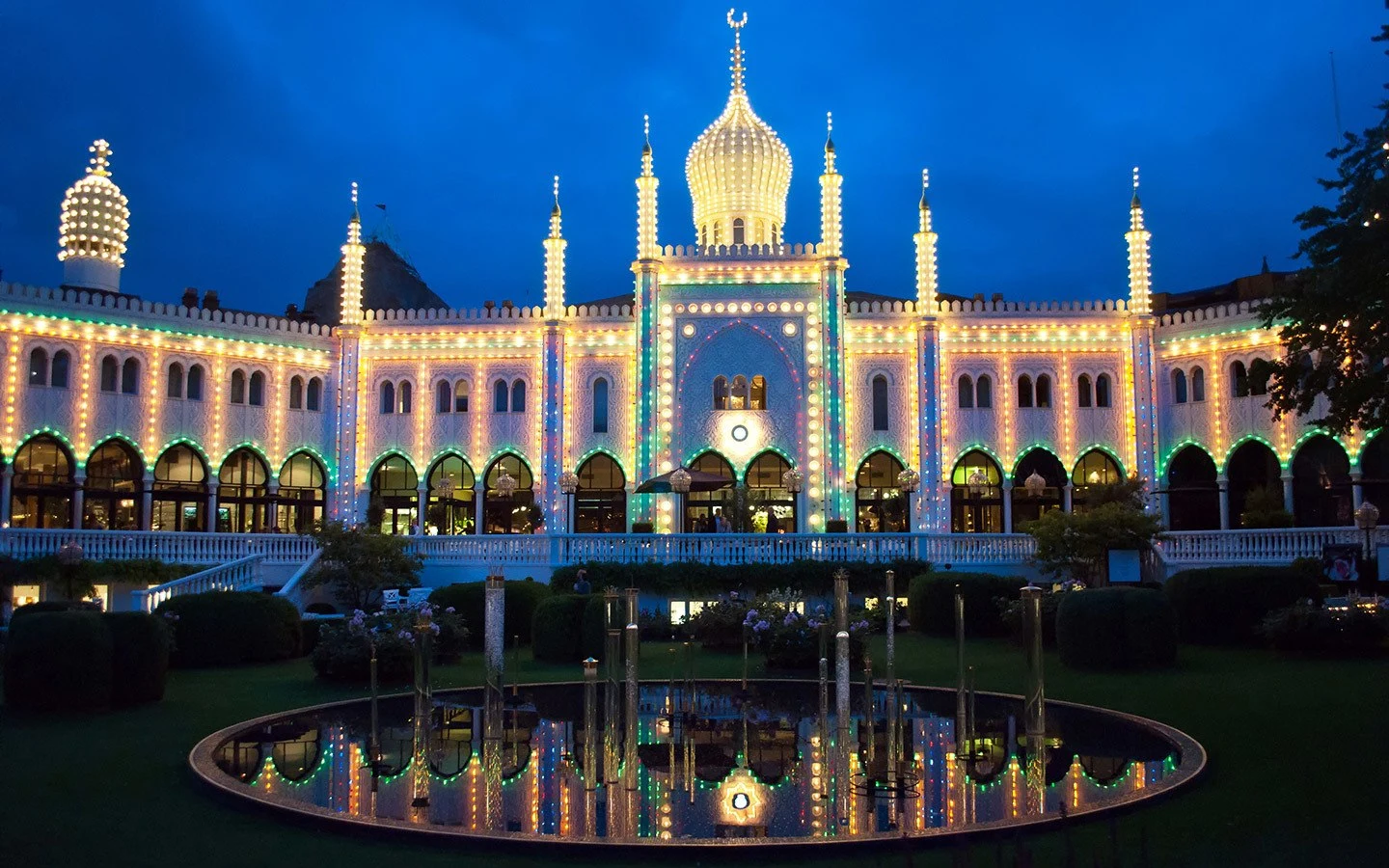 Day 2: Copenhagen > Stockholm
Next morning, take an early train for the 5 hour 30 minute journey to Stockholm, travelling along the Öresund Link – a huge bridge-turned-tunnel which straddles the border between Denmark and Sweden. Catch the 08.19 high-speed tilting train from Copenhagen Central (København Hovedbanegård) which arrives into Stockholm Central at 13.34.
Then spend the afternoon in the Swedish capital. Get lost in the cobblestone streets of medieval Gamla Stan, Stockholm's old town. It was founded in 1252 with gold-painted buildings mixed with churches, palaces, museums and squares. Spread across four islands, the area is also home to the Storkyrkan cathedral, Swedish Parliament and Royal Palace.
Go back in time with a journey through the history of Sweden at the Skansen Open Air Museum. Or learn more about Sweden's biggest exports (other than IKEA) at the ABBA Museum and the Nobel Prize Museum. And don't miss the metro – even if you're not planning on travelling anywhere, this underground art gallery is worth a visit.
Where to stay in Stockholm: For a quirky change from a hotel, why not stay on board a 1920s yacht once owned by a Woolworths heiress married to Cary Grant? The Mälardrottningen Yacht Hotel & Restaurant* is anchored a short walk away from Gamla Stan. Cabins have bunks or double beds, porthole windows and private bathrooms.
Day 3: Stockholm > Oslo
Finish your time in Stockholm by exploring the Stockholm Archipelago. Around 30,000 islands lie in the waters of the Baltic Sea off the coast of Stockholm, with all shapes and sizes from tiny uninhabited rocky islets to whole island communities.
You can take a sightseeing boat trip* around the archipelago's waterways on board a vintage ship. Or catch one of the public ferries to Fjäderholmarna. It's only 20 minutes from downtown Stockholm and has art and craft studios to visit, forest and coast walks, and the harbourside Fjäderholmarnas Brewery pub to call into for a drink.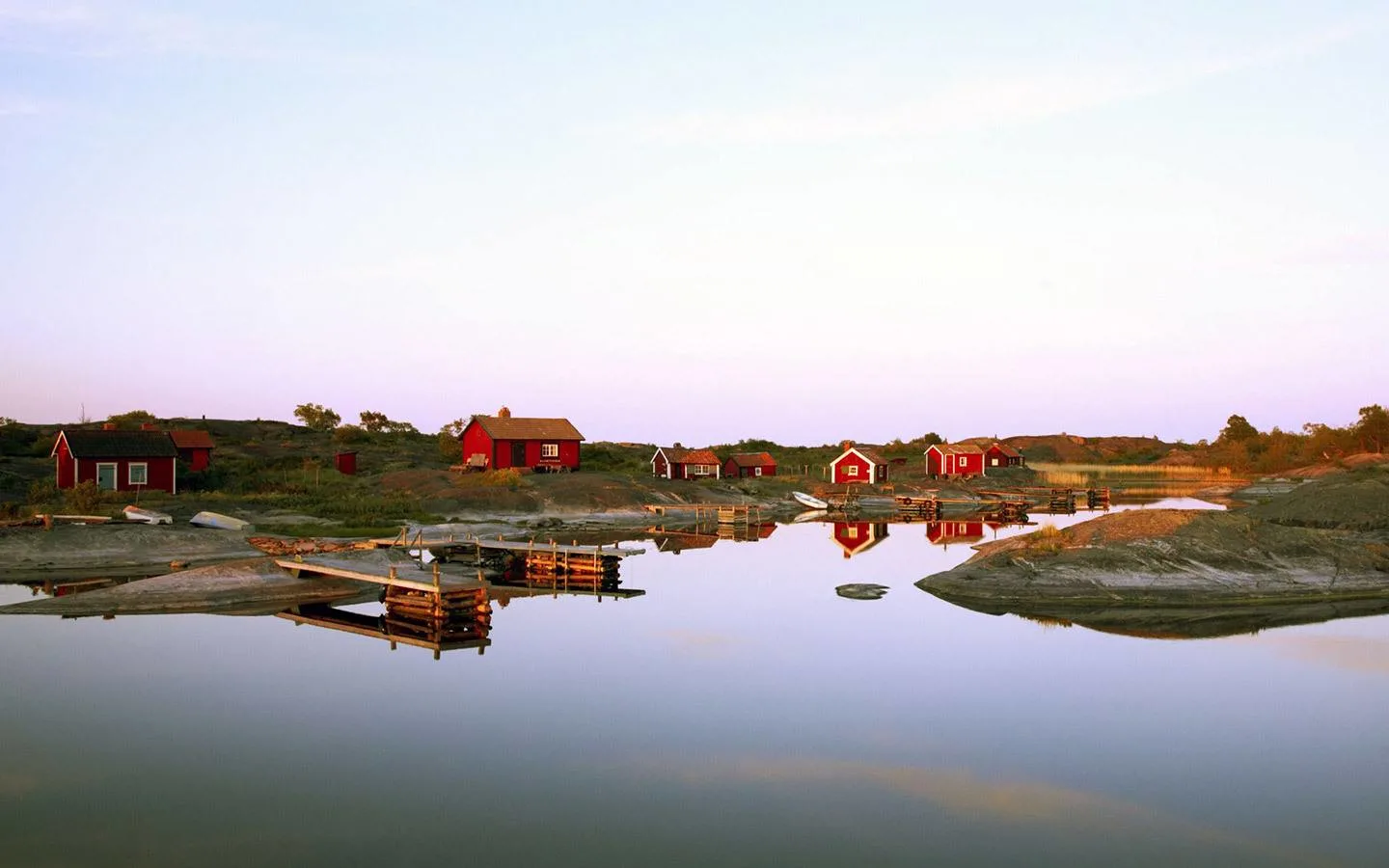 Then head back to Stockholm Central to catch the afternoon train across the border to Oslo in Norway. It's a 6-hour journey so you might want to stock up on some kanelbullar (Swedish cinnamon buns). Take the 15.29 direct Intercity train from Stockholm Central and you'll arrive into Oslo Central station at 21.24, in time for a late dinner.
Where to stay in Oslo: A couple of minutes' from the train station, the environmentally friendly Clarion Hotel The Hub* is one of the biggest hotels in Oslo. As well as its 812 rooms there is a good range of facilities, including a pool, gym and sauna. There's also an urban garden and rooftop bar and restaurant which has great views across the city.
Day 4: Oslo
Today you have a full day to spend in Oslo. See Edvard Munch's famous painting The Scream at the Norwegian National Gallery, or check out some of his other works at the new Munch Museum. Catch a performance at the modern Oslo Opera House – or just climb up onto its roof to check out the views of the Oslofjord at sunset.
You can also also take a look around the 13th-century Akershus Fortress, a medieval castle which was built to protect Oslo from Swedish invaders and provide a royal residence.
Or catch a ferry from Oslo harbour across the bay to the Bygdøy Peninsula to learn more about Norway's maritime history at the Viking Ship Museum, Norwegian Maritime Museum and museums dedicated to the Fram and Kon-Tiki ships. Then head to Aker Brygge, an old shipyard with brick warehouses turned into waterfront restaurants.
Day 5: Oslo > Flåm
The following day, head west towards the coast on the 6-hour journey from Oslo to the Norwegian fjords. Start by taking the Bergensbanen (Bergen Line) from Oslo to Myrdal, departing Oslo Central at 08.25 and arriving in Myrdal at 13.05.
The Bergen Line was built at the end of the 19th century and travels through gorgeous scenery, along river valleys, past waterside villages and mountain peaks, reaching its highest point at 1237 metres near Finse before descending to Myrdal.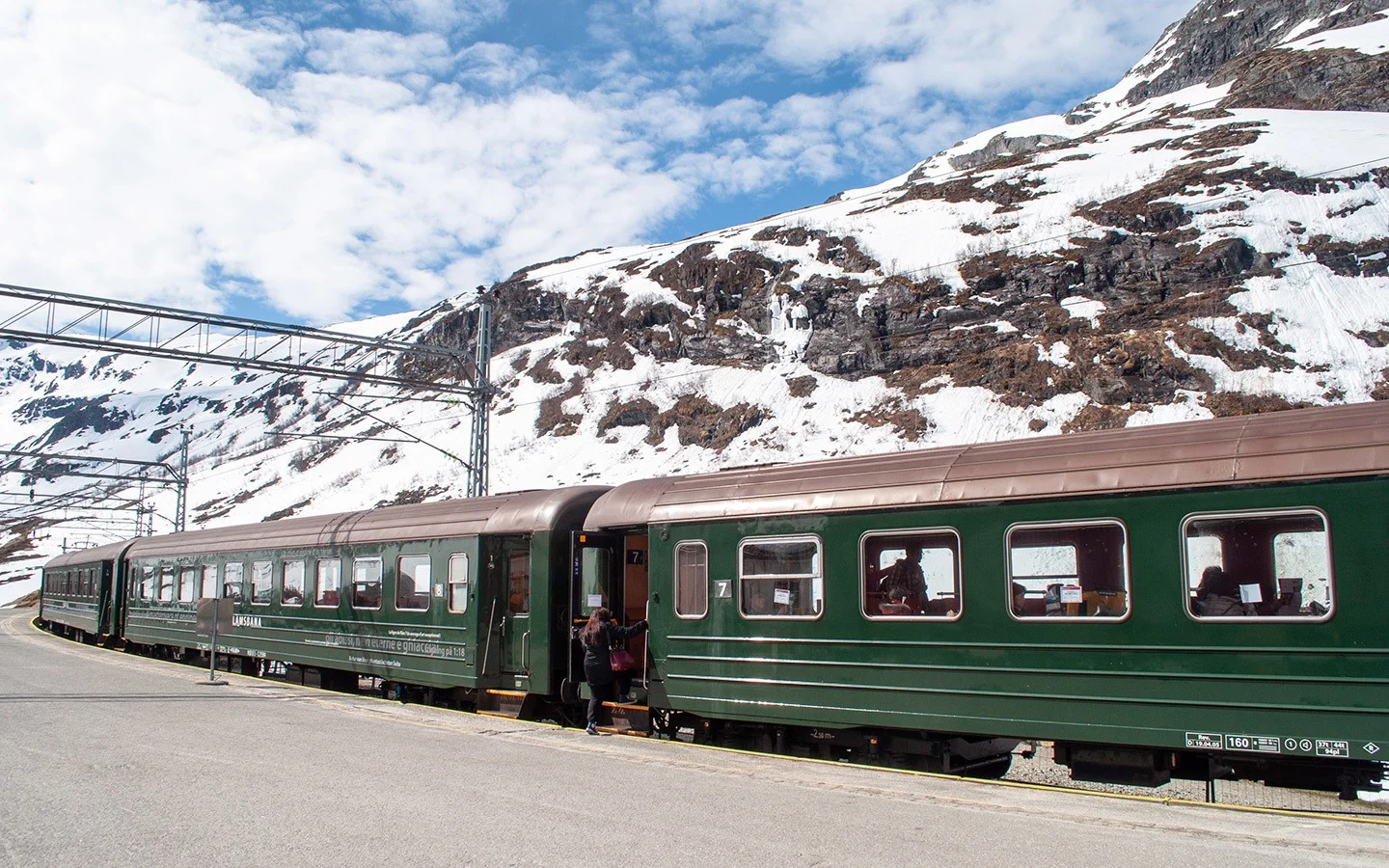 From Myrdal, catch the scenic Flåmsbana mountain railway for the 50-minute journey to Flåm, on the edge of the fjords. The train departs from Myrdal at 13.58 and arrives into Flåm at 15.01 from April to October (or if you're travelling off season, it departs from Myrdal at 13.22 and arrives into Flåm at 14.10 – see the full timetable).
The Flåmsbana was built in the 1920s, and its steep gradient meant that each of its 20 tunnels had to be dug out by hand. Since then it's become one of Norway's top visitor attractions. Prepare to get dizzy from checking out the views from each side of the train as it zig-zags past lakes, waterfalls, rocky cliffs, green valleys and wooden churches.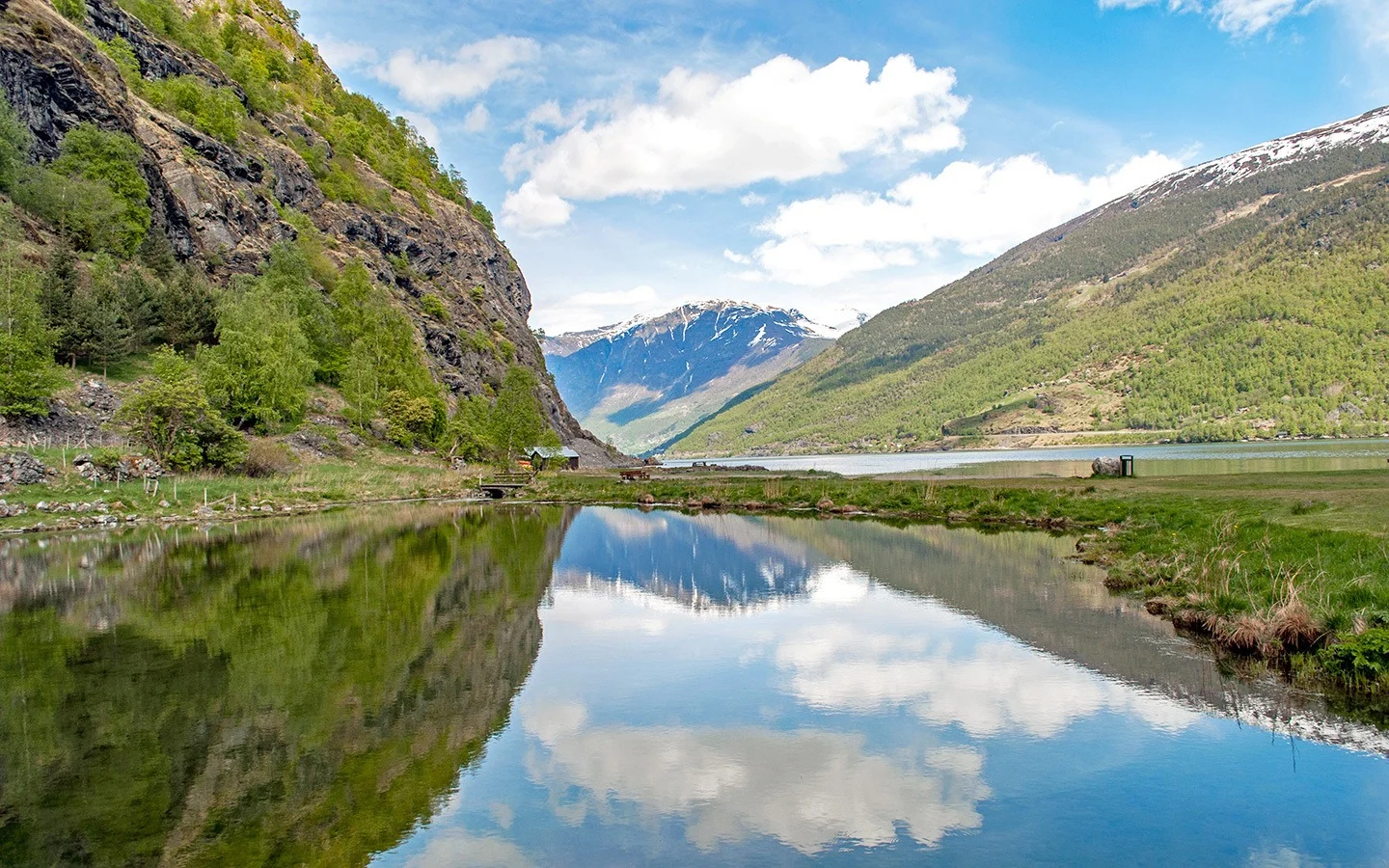 The tiny village of Flåm lies on the banks of the Sognefjord – the longest fjord in Norway. Spend the afternoon taking a look around the village. Follow the pathway along the water's edge to soak up the views, visit the Flåm Railway Museum to find out how the Flåmsbana was built, and try local craft beer and traditional dishes at the Ægir brewery.
Where to stay in Flåm: The Fretheim Hotel* has welcomed visitors to Flåm since the 19th century. Get a taste of those days in its Historic Wing, where rooms have antique furniture, china tea sets and clawfoot baths. The hotel's a cosy mix of pine, tartan and log fires, with huge windows in the restaurant to make the most of the views.
Read more: The Flam Railway: Norway's most scenic train journey
Day 6: Flåm > Bergen
Start the day with a 2-hour cruise along the fjords to Gudvangen. The trip takes you through two different branches of the Sognefjord – the Aurlandsfjord and Nærøyfjord. Along the way the shoreline is dotted with colourful farming villages backed by steep rocky peaks, and keep your eyes out for seals and porpoises in the fjord's green waters.
If you take the 09.30 cruise you can catch the shuttle bus back to Flåm from Gudvangen at 12.00, which takes 20 minutes. Back in Flåm, retrace your steps back to Mydral on board the Flåmsbana, then change onto the Bergensbanen for the 2-hour journey to Bergen.
From April to October you can catch the 12.50 train from Flåm and then change in Myrdal onto the 14.14 service to Bergen, which arrives at 16.29 (or in the off-season you depart Flåm at 14.35, change in Myrdal at 15.56 and arrive in Bergen at 18.25).
Spend the evening in Bergen. Explore the colourful wooden houses in the UNESCO World Heritage listed Bryggen district, which were built for the merchants of the Hanseatic League. They now house shops and restaurants, including the Unicorn Fish Restaurant which specialises in local seafood – or you can pick some up from the Bergen Fish Market.
Where to stay in Bergen: Det Hanseatiske Hotel* is right at the historic heart of Bryggen, next door to the Hanseatic Museum. The building dates back to 1703 and is full of character, with original features, moody lighting, three restaurants and a library-style bar.
Read more: A Norwegian fjords boat trip from Flåm
Day 7: Bergen
Then spend the final morning of your Scandinavia by train trip seeing more of Bergen. You can take the Fløibanen funicular railway to the top of Mount Fløyen for views across the city and out into the fjords. Or get up even higher on board the Ulriken cable car, which takes you to the peak of Bergen's tallest mountain at 643 metres high.
Then if you're flying back home, Airport Express buses connect the city centre with Bergen Airport, running every 10 minutes and taking 20 minutes.
More time?
If you've got more time, you could extend your trip by heading north up through the fjords on board one of the Hurtigruten ferries. They're a mix between a cruise and ferry, and shuttle locals as well as tourists up the Norwegian coast. The full journey from Bergen to Kirkenes – in the far north of the country, close to the border with Russia – takes a week.
But you can also stop off at destinations along the way. The cities of Ålesund and Trondheim are just a day or two by boat from Bergen, or you can cross the Arctic Circle and spot the Northern Light in Bodø, Tromsø or the spectacular Lofoten Islands.
How much does it cost?
When you're planning a European rail trip, you can either book individual tickets or get a railpass, which can be a better deal if you're under 28, want more flexibility or are booking late. Here's how the prices break down for the two different options on this route.
Individual tickets
Ticket prices vary depending on how early you book, with a limited number of cheap tickets available. So book as early as possible – on most routes you can book 3–4 months in advance – but beware these tickets are non-transferable so you're tied to a specific train. Using the cheapest fares, the cost of trains on this route starts at €223 per person.
Copenhagen > Stockholm: from 515 SEK (€48)
Stockholm > Oslo: from 305 SEK (€29)
Oslo > Flåm: from 799 NOK (€78)
Flåm > Bergen: from 699 NOK (€68)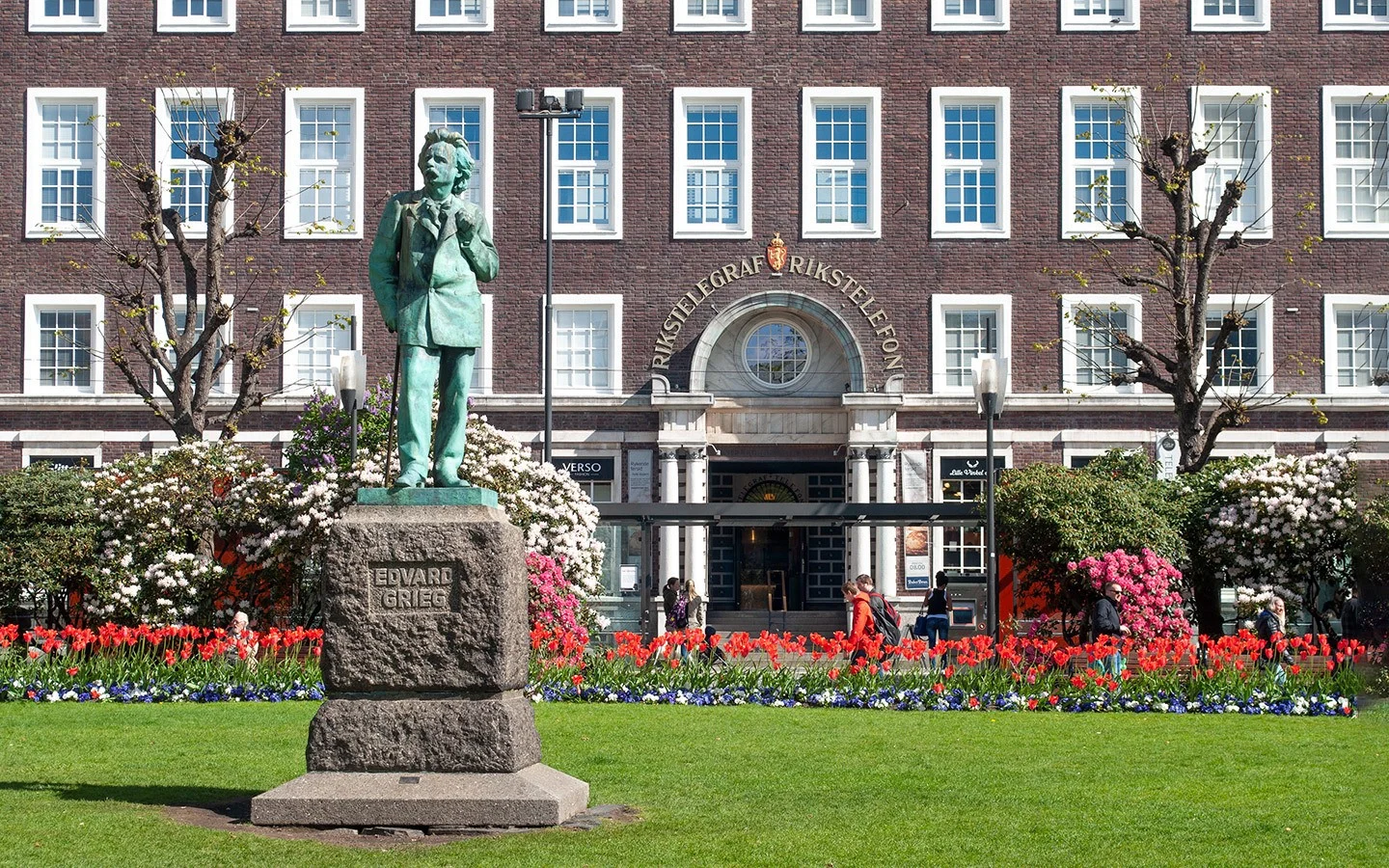 The railpass option
There are also various rail passes available through InterRail (for European residents) and Eurail (for non-European residents), which cover individual countries or the whole region and are valid for different periods of time, varying from four days to three months.
The Scandinavia by train itinerary involves four travel days across three countries, so the best option is the Global Pass for 4 travel days within 1 month. This costs €246 for adults, €185 for youths (aged 12–27) or €221 for seniors (aged 60+) in second class.
As well as the pass, you also need to pay an extra compulsory reservation fee in some countries and for certain trains – usually high-speed or sleeper services.
The Flåm Railway is a special tourist service so isn't covered by InterRail/Eurail passes, but passholders get a discount of 30% off the cost of the full fare. For this trip, the extra fees come to €63, broken down as below, meaning the overall railpass cost starts from €248.
Copenhagen > Stockholm: €7
Stockholm > Oslo: €3
Oslo > Myrdal: €5.40
Flåm Railway: €42 (429 NOK return after discount)
Myrdal > Bergen: €5.40
Reservations can be made at any train station and online through SJ (Swedish Railways) for free, or via the InterRail/Eurail reservations service for a fee of €2.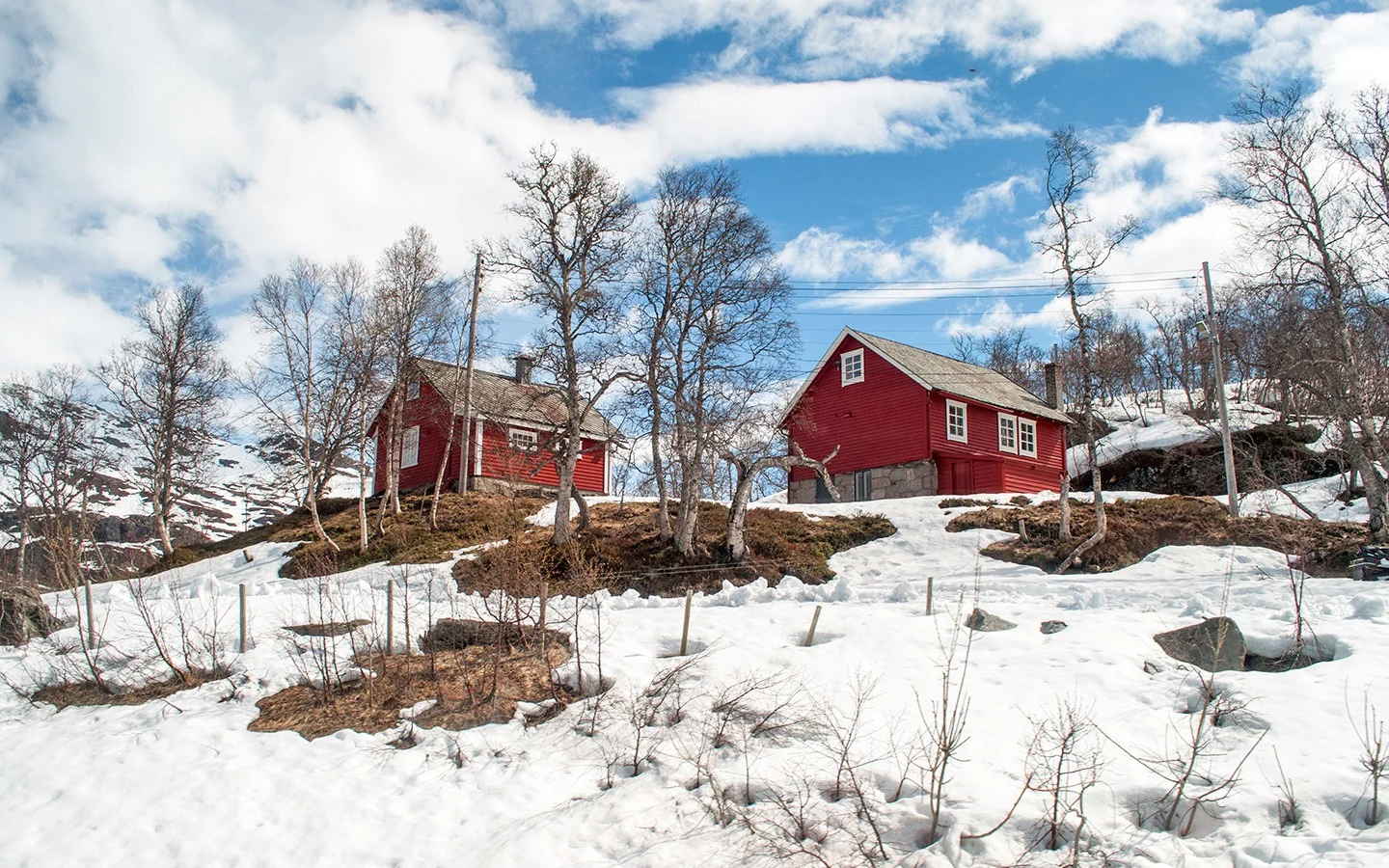 How to book
There are a variety of websites where you can book European train journeys, but often the best deals are though the official railway company sites for each country. For this trip these are SJ (Sweden) and VY (Norway), both of which have websites in English.
You can also book tickets for Scandinavian trains with Omio* or The Trainline. The advantage is they cover multiple countries, you can see prices in €, £ or $, use international credit cards and print or use mobile tickets, but they do charge a small booking fee.
Save for later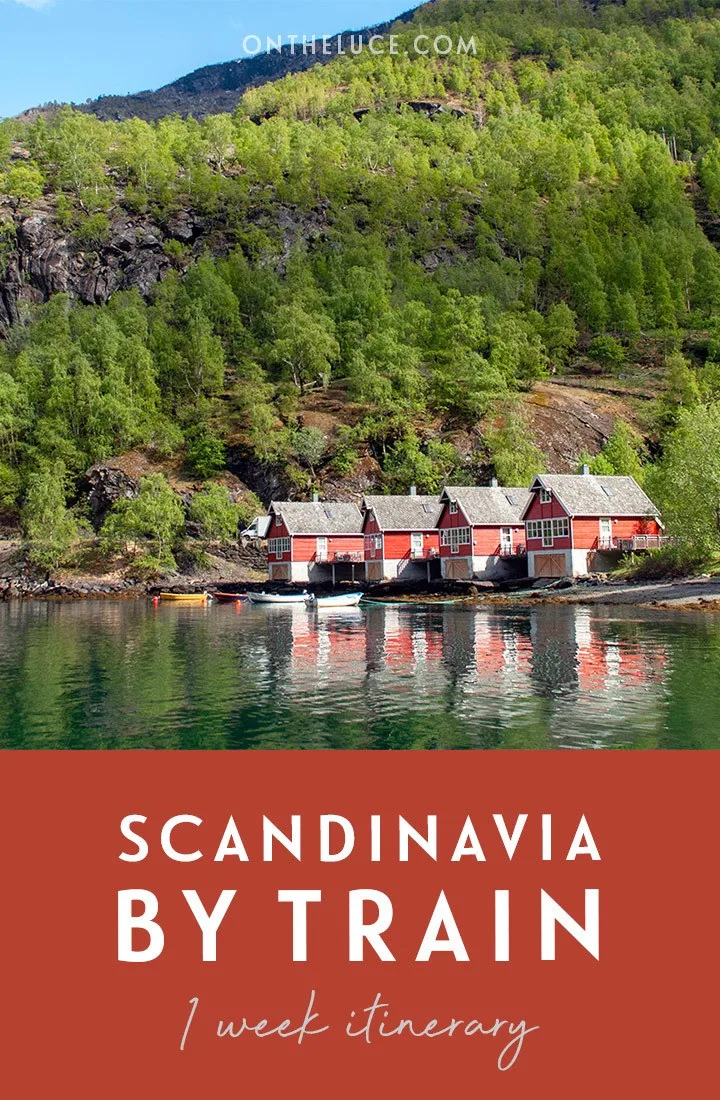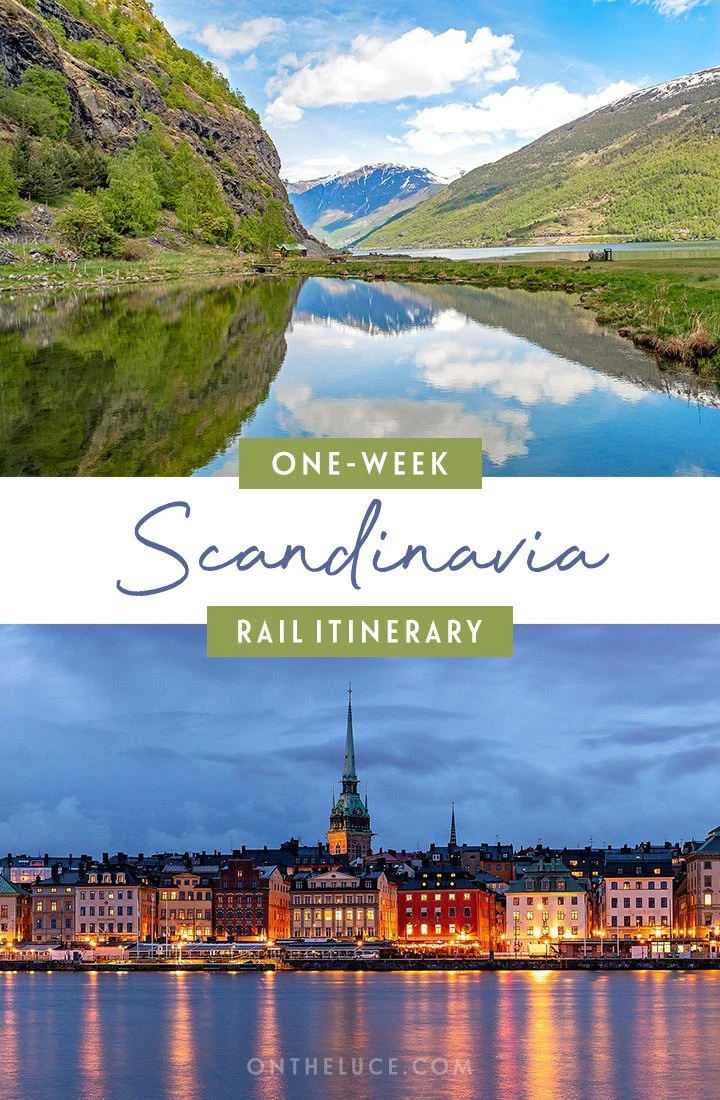 You might also like