Discover the best things to do in Gozo, the unspoilt island that's just a short ferry ride away from Malta, from Neolithic temples and historic citadels to red sand beaches, dive sites and scenic coast walks.
* This site contains affiliate links, where I get a small commission from purchases at no extra cost to you.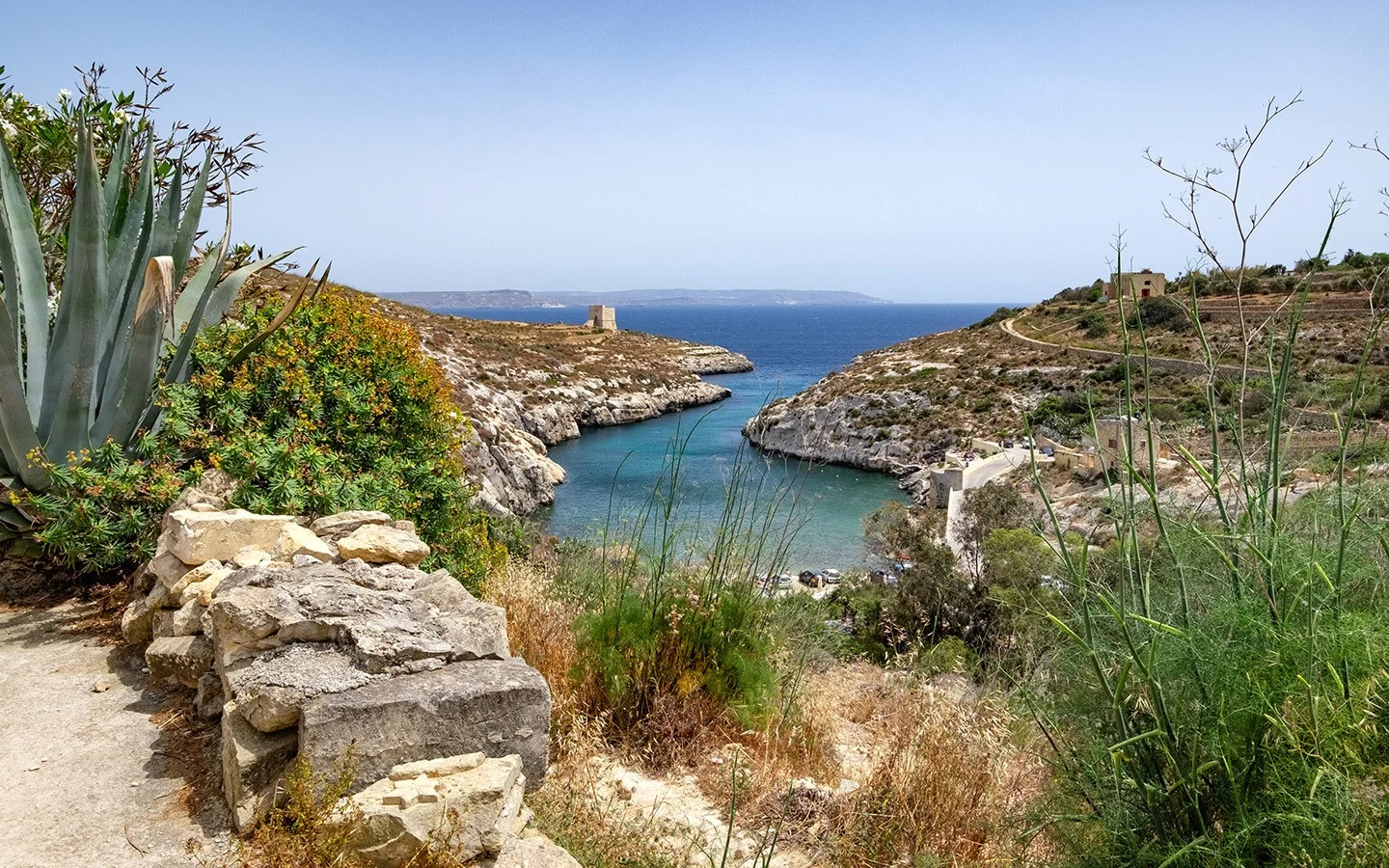 With its unspoilt landscapes of turquoise pools, limestone cliffs, red beaches and green hills, all surrounded by the waters of the Mediterranean sea, Gozo is a riot of colours. Malta's smaller neighbour is wilder and more remote than the mainland, with less visitors and a more laid-back feel, even though it's only 25 minutes away by ferry.
Gozo's proximity to Malta make it a popular day trip, but it's worth staying longer if you can to see the sights and soak up the relaxed island atmosphere. And there's plenty to see, with sandy beaches and great snorkelling and diving on the coast, and historic temples, towers and cathedrals inland. So here's our pick of the best things to do in Gozo.
The best things to do in Gozo, Malta
Explore Victoria's citadel
Gozo's capital Victoria (also known as Rabat in Maltese) is a beautiful fortified city with an ancient fortress at its heart. The Il-Kastell citadel sits on top of a steep hill and has spectacular views from its ramparts out over Victoria and the surrounding countryside.
The hill the citadel lies on has been fortified since the Neolithic period, but the current fortifications were built by the Knights of St John to protect the city from Ottoman attacks, and until the 17th century all residents would have to sleep inside its walls.
Inside the citadel's maze of narrow streets you'll find the 17th-century Baroque Gozo Cathedral, as well as the remains of an old prison. There are also museums dedicated Gozo's archaeology, folklore and nature, and shops selling local lace and crafts.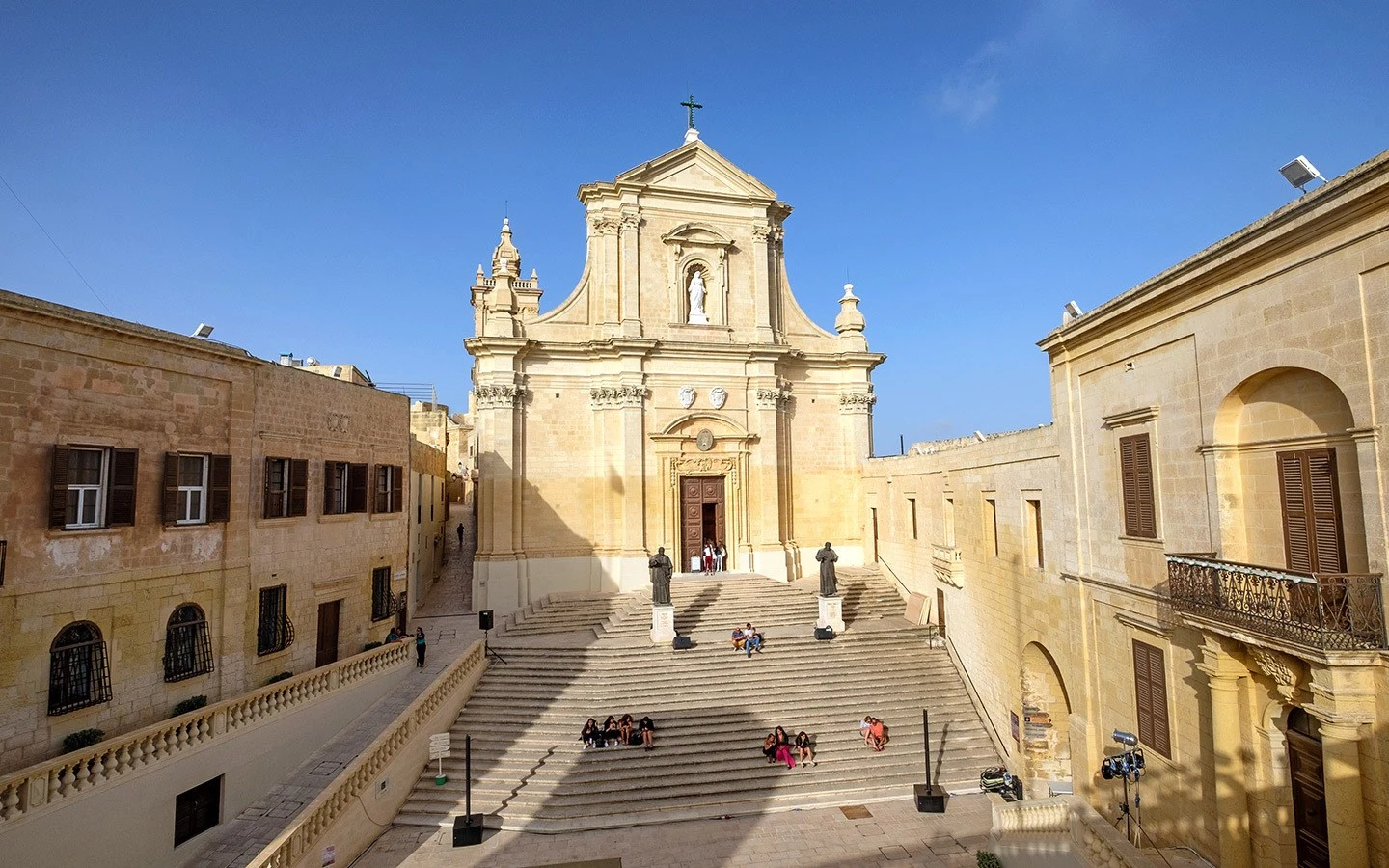 Visit Dwejra's Inland Sea and Blue Hole
Dwejra was best-known for the Azure Window – a 28-metre-high natural rock arch which was one of the icons of Gozo (and a filming location for Game of Thrones). But it was slowly being eroded by the sea, and finally collapsed after a storm in March 2017.
But even without the window, Dwejra is well worth a visit for its dramatic limestone cliffs and clear blue waters. Divers can head into the Blue Hole, an enclosed pool linked to the sea by an archway eight metres below the surface. It's home to parrotfish, eels, lobsters and octopus – and you can also see the underwater remains of the Azure Window.
Or you can take a boat trip on the Inland Sea. The sea is really a lagoon is surrounded by steep cliffs, but small boats can squeeze their way through a 100-metre-long cave to reach the open sea, where you can see a rock formation known as Fungus Rock at the entrance of Dwejra Bay. Boat trips take around 15 minutes and cost €4 per person.
Discover the Ġgantija Temples
The Ġgantija Temples are a UNESCO World Heritage site over 5500 years old – older than both the Pyramids and Stonehenge. They're the biggest and best preserved of 20 Neolithic temples in Malta, with two of them next to each other – north and south.
They're built from giant slabs of limestone, some of which are five metres long and weigh over 50 tons, and no one is sure how they got there. Ġgantija means 'giant' and comes from the giants who were thought to have built them. They date back to 3600–3200 BC but fell out of use around 1000 years later, and were only uncovered again in the 19th century.
The visitor's centre takes you through the history of the temples and has sculptures and artifacts discovered at the site. The temples are also near Ta' Kola Windmill, one of the last original windmills on Gozo from 1725 which is now a museum of country life.
Hit the beach at Ramla Bay
With its red-gold sands, Ramla Bay in the north-east of Gozo is one of the prettiest beaches on the island. It's one Gozo's few sandy beaches, set on a long curving bay backed by rocky cliffs. The water is fairly shallow and calm so it's a good spot for swimming, with toilets and a few cafés along the edge of the beach where you can get food and snacks.
For spectacular views of Ramla Bay from above, climb up to Tal-Mixta cave. You can reach the cave from the bay in around 40 minutes, though it's quite a steep walk, and when you reach the top the cave mouth creates a natural window framing the bay.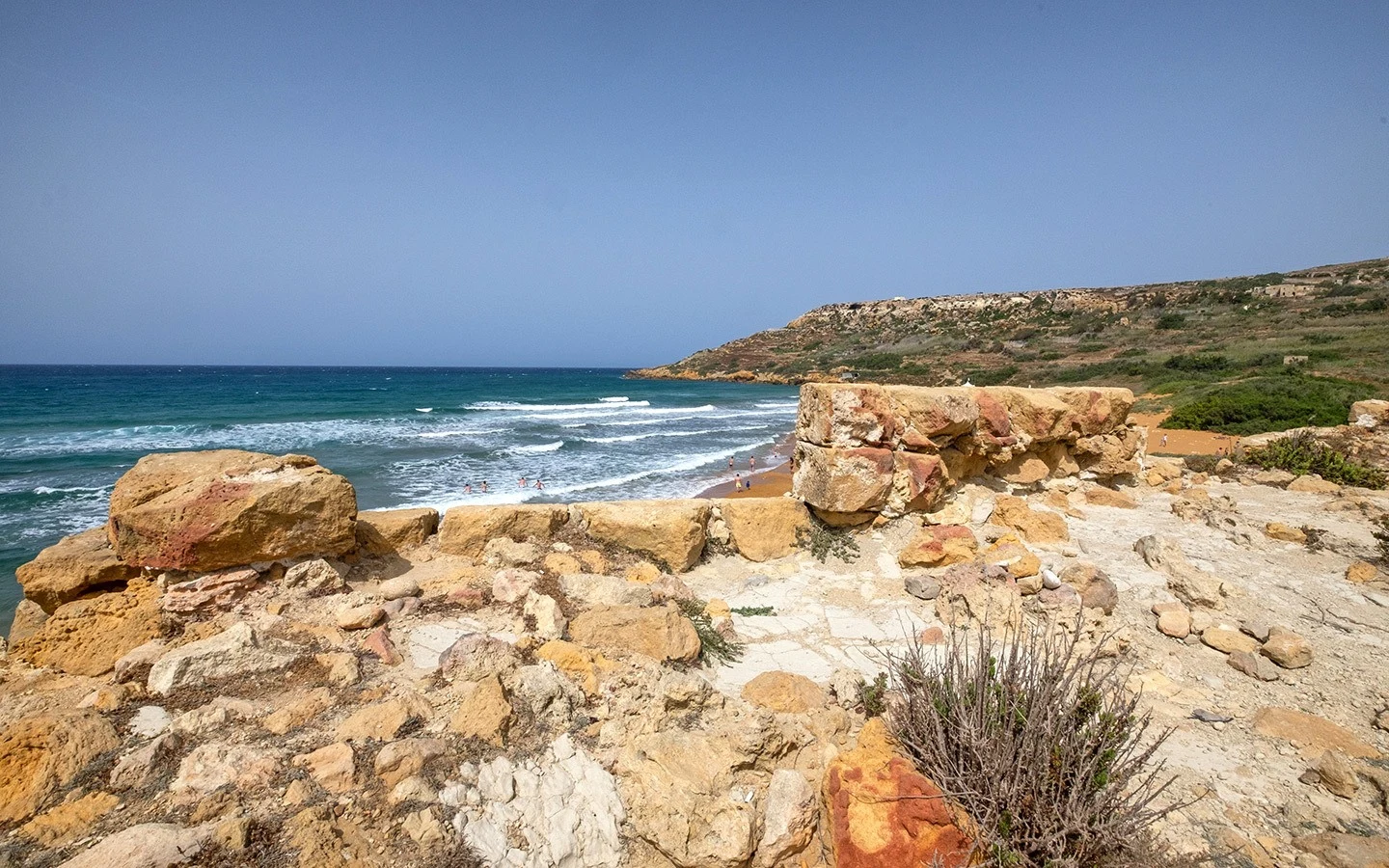 See the salt pans at Marsalforn
Marsalforn is a popular holiday resort on the north coast of Gozo. But head a kilometre west of town and you'll find the other-worldly landscape of the Marsalforn salt pans. These tessellating pools stretch for 3km along the coast and have been carved into the golden limestone rocks, creating a beautiful contrast with the deep blue of the sea.
The salt pans were originally built by the Phoenicians to farm salt, which was a valuable commodity. And they still work in the same way – from April to August sea water is pumped through a series of pools which concentrates the salt as the water evaporates until its ready to harvest. Most salt is used by locals, but you can buy some from roadside stalls.
Have a dip in Xlendi Bay
A former fishing village turned resort town, Xlendi is a secluded inlet surrounded by steep cliffs. Its turquoise waters make Xlendi Bay is a popular place to swim, snorkel and dive, with platforms where you can jump into the water as well as a small sandy beach.
You can also walk along the coast path to the Torri ta'Xlendi tower, which was built in 1650 to protect the bay from pirate attacks, with some beautiful views. And the town has a stretch of cafés and restaurants where you can have a seafood dinner by the water.
Admire Ta' Pinu Sanctuary
Built on a remote hill with almost nothing around it, the Basilica of Ta' Pinu is an impressive sight. There's been a chapel here since at least the 16th century, but it became an important pilgrimage site after 1883 when a local woman heard the Virgin Mary speak to her from a painting in the chapel, which is said to have started off a series of miracles.
Visitors flocked to the chapel, which was replaced by a grand Romanesque building in the 1920s. Outside you can see mosaics and 14 marble statues representing the Stations of the Cross running up Ghammar Hill opposite. And inside you can see the original chapel behind the altar, as well as offerings made to the Virgin Mary by pilgrims.
Hike along the coast
At only 14km long and 7.3km wide, Gozo is fairly compact, and the coastal paths around the island are a great way to explore its unspoilt scenery. Gozo's buses make it easy to walk in one direction and catch the bus back. Though it gets very hot in summer and there's not much shade, so spring and autumn are better if you plan to do a lot of walking.
We hiked west along the coast from Mġarr harbour to sheltered Mġarr ix-Xini bay (4km one way). You can carry on past the dramatic Ta'Cenc Cliffs (8km), which are a good spot for sunset, to Xlendi Bay (11km). Marsalform to Ramla Bay (8km) is another good route. Or you can even walk all the way around the island on the 50km Gozo Coastal Walk.*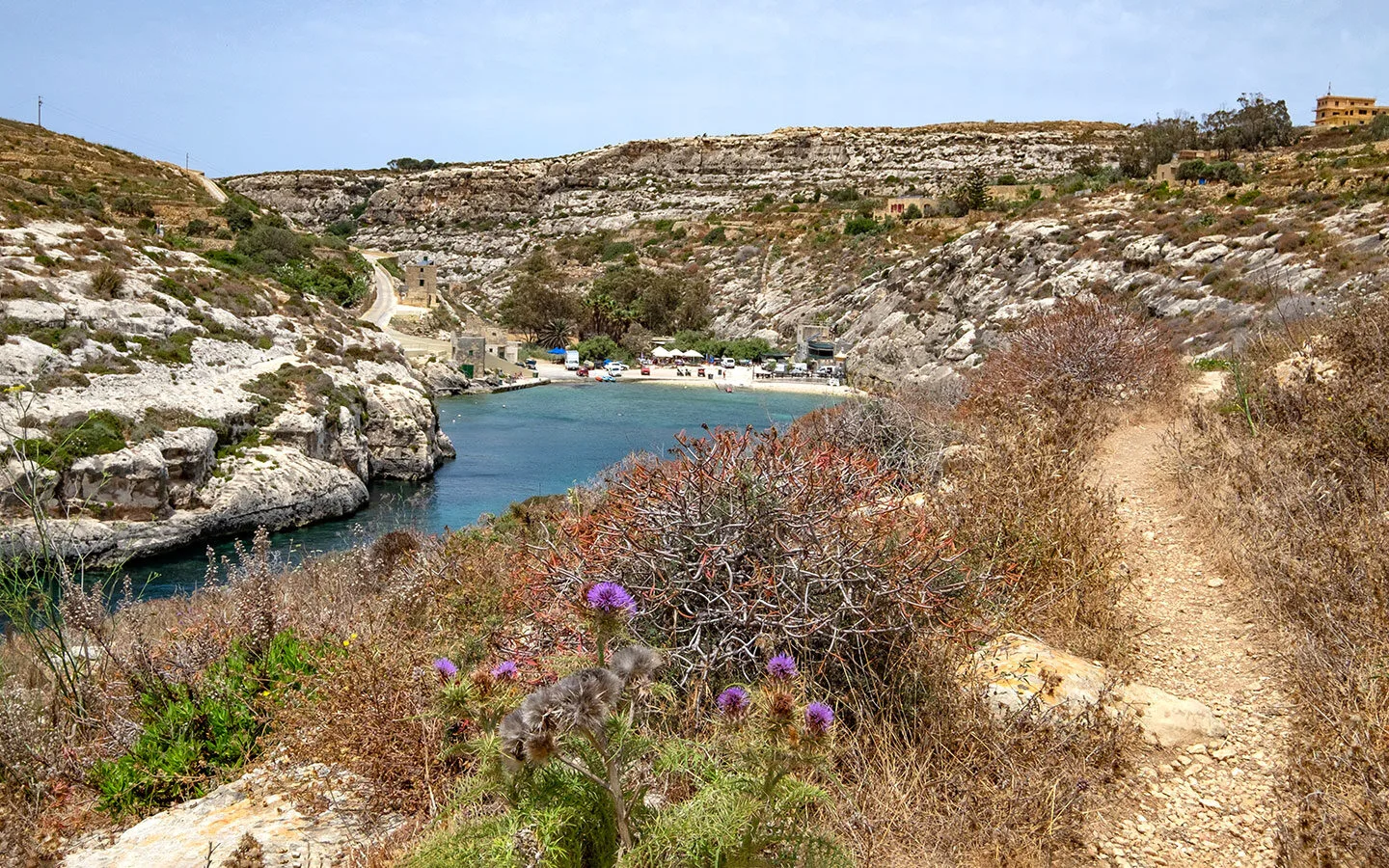 Take a boat trip to the Blue Lagoon
Gozo's neighbour Camino is the smallest of the three Maltese islands, and is best known for the Blue Lagoon. This shallow, sheltered bay has bright blue waters and is a popular spot for swimming and snorkelling. Comino is almost uninhabited other than having one hotel so most people visit on a day trip, which is easy to do from Gozo as it's so close.
There are ferries from Gozo's Mgarr Harbour to Comino which take 15 minutes and cost €8–€10 return. But beware the Blue Lagoon gets very busy, especially from 10am–4pm during the summer months, and there isn't much shade on hot days.
You can also rent your own boat (with or without skipper) using SamBoat* if you want to visit Comino outside the busy times, or to explore more of the coast of Gozo.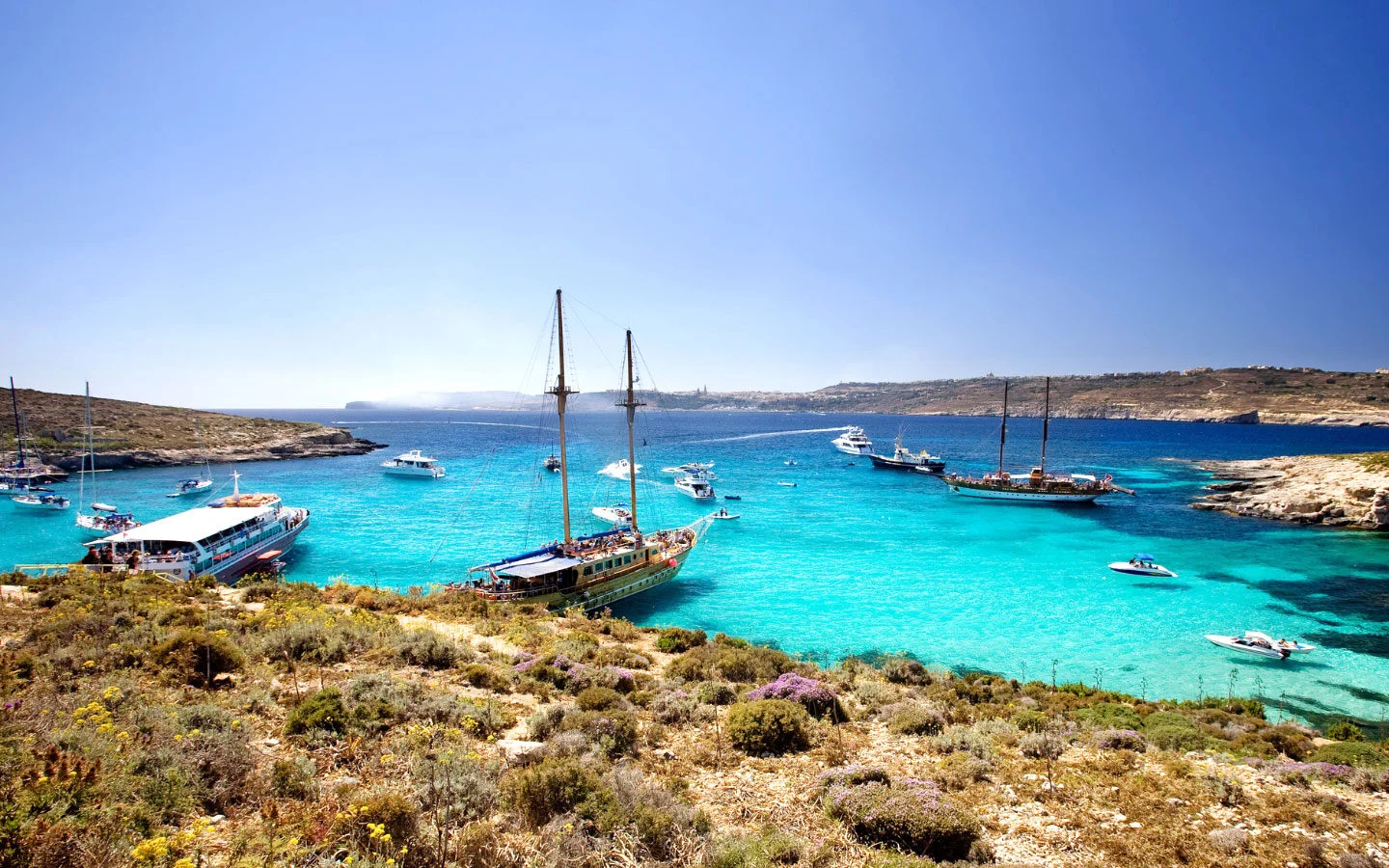 Map of things to do in Gozo
The details
When to visit Gozo
Malta and Gozo have a Mediterranean climate, with hot dry summers, mild winters and plenty of sunshine year-round. Summer is peak season on the islands and can be busy and hot, with average high temperatures over 30°C/86°F in July and August.
Spring and autumn are great times to visit Gozo – visitor numbers and prices are lower but it's still warm and sunny, with over eight hours of sunshine a day and average highs of 20–27°C/68–81°F. Spring is good for walking and wildflowers, and autumn for swimming, with sea temperatures staying around 21°C/70°F into November.
Malta is a popular winter sun destination and Gozo never gets too cold, with average daytime highs of 15°C/59°F and nighttime lows of 9°C/48°F in January. But the island gets most rain December–February and ferries can be cancelled due to rough seas.
How to get to Gozo
Gozo is easy to reach from Malta by ferry, with two different routes. The main one is run by Gozo Channel Line and goes from Ċirkewwa in the far north of Malta to Mġarr harbour in southeast Gozo. The crossing takes around 25 minutes with frequent departures year-round. You can travel as a foot passenger or take your rental car over to Gozo.
If you don't have a car you can reach Ċirkewwa by bus from Valletta (routes 41 and 42), Sliema (route 222) and Luqa Airport (route X1), which takes around an hour.
You don't need to buy a ticket to travel from Ċirkewwa to Gozo, but only for the return journey. Tickets can be bought from Mġarr harbour and cost €4.65 for adults, €1.15 for children aged 3–12 and €15.70 for a car and driver.
The other option is the fast ferries from Valletta to Gozo, run by Virtu Ferries Gozo and Gozo Fast Ferry, which are for foot passengers only. They depart from Lascaris Wharf Terminal in the Grand Harbour, take 45 minutes and cost €7.50 per person each way.
Or if you're short on time, you can also take an organised day trip* to Gozo from Malta, which includes hotel transfers, lunch and an island tour. Or there's also a combined Gozo and Comino tour* which adds on visits to the Blue Lagoon and swimming in Comino.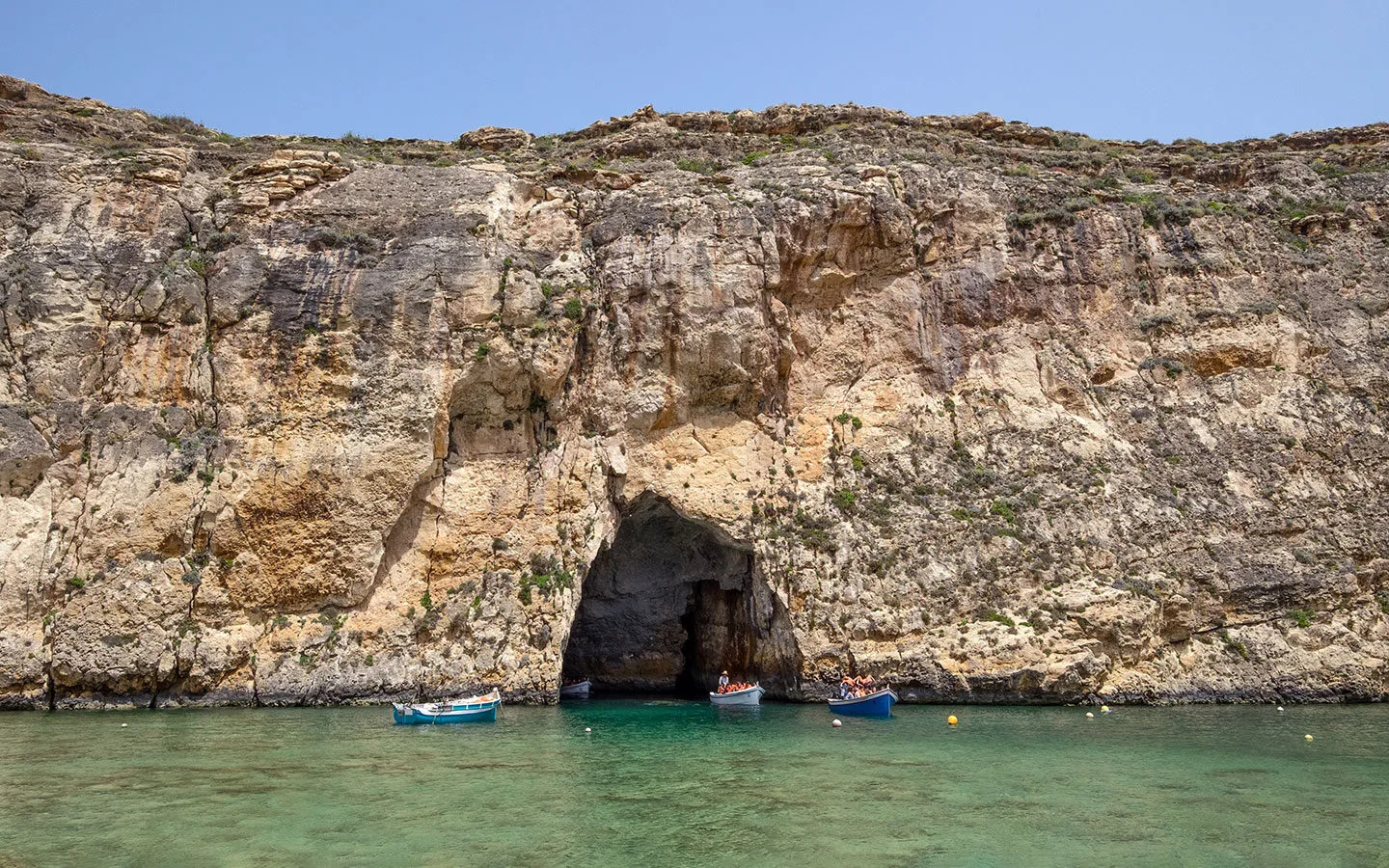 How to get around Gozo
Like Malta, Gozo has a good bus service, with 15 routes running across the island, normally once an hour in each direction (twice an hour for the Victoria to Mġarr service). The most useful routes for visitors connect Victoria with Mġarr harbour (301/303), Ramla (302), Ġgantija Temples (307), Marsalforn (310), Dwejra (311) and Xlendi (330).
There's also a Gozo hop-on hop-off sightseeing bus* which connects the main sights so is a good way to see the island if you're limited on time. It has two circular routes which meet in Victoria, and a 24-hour ticket costs €18 adults/€10 children aged 5-14.
You can also hire a car – though it's a good idea to choose a small one as the roads on Gozo are narrow – or a moped or quad bike, or take a tuk tuk tour* around the island.
Where to stay in Gozo
The Duke Boutique Hotel* is in the heart of Victoria, located on top of a shopping complex with views over the citadel. It has a smart contemporary décor and many rooms come with a balcony or terrace, some of which also have their own private hot tub. It's only 200 metres from the main bus station so makes a great base for exploring the island.
Or if you prefer somewhere a bit more peaceful, Cesca's Boutique Hotel* is a stylish four-star property a 15-minute walk from Xlendi Bay. It has 18 rooms, including three suites with period features like stone walls and Maltese tiled floors. There's a restaurant and bar, and an outdoor pool and terrace which looks out over the tranquil Xlendi Valley.
Save for later
You might also like