Eight great day trips in Malta – from Neolithic temples and historic fortified cities to sandy beaches and turquoise bays – all of which you can visit independently by public transport or on a tour.
* This site contains affiliate links, where I get a small commission from purchases at no extra cost to you.
The Mediterranean islands of Malta might only be 27km long and 14.5km wide, but it packs a lot into a small space, with historic forts and walled cities, prehistoric caves and temples, beaches and rocky bays. Not to mention the 3000 hours of sunshine a year.
Malta's compact size means it's easy to base yourself in one place and take trips out around the island – and beyond. Plus the island has a great bus network so you don't need to hire a car. So here's our pick of eight great day trips in Malta, with details of how to visit each place independently as well as tour options if you don't want to do-it-yourself.
Note: Public transport details start from Malta's capital Valletta, so if you're staying elsewhere on the island you may need to catch a bus to Valletta first.
Map of day trips in Malta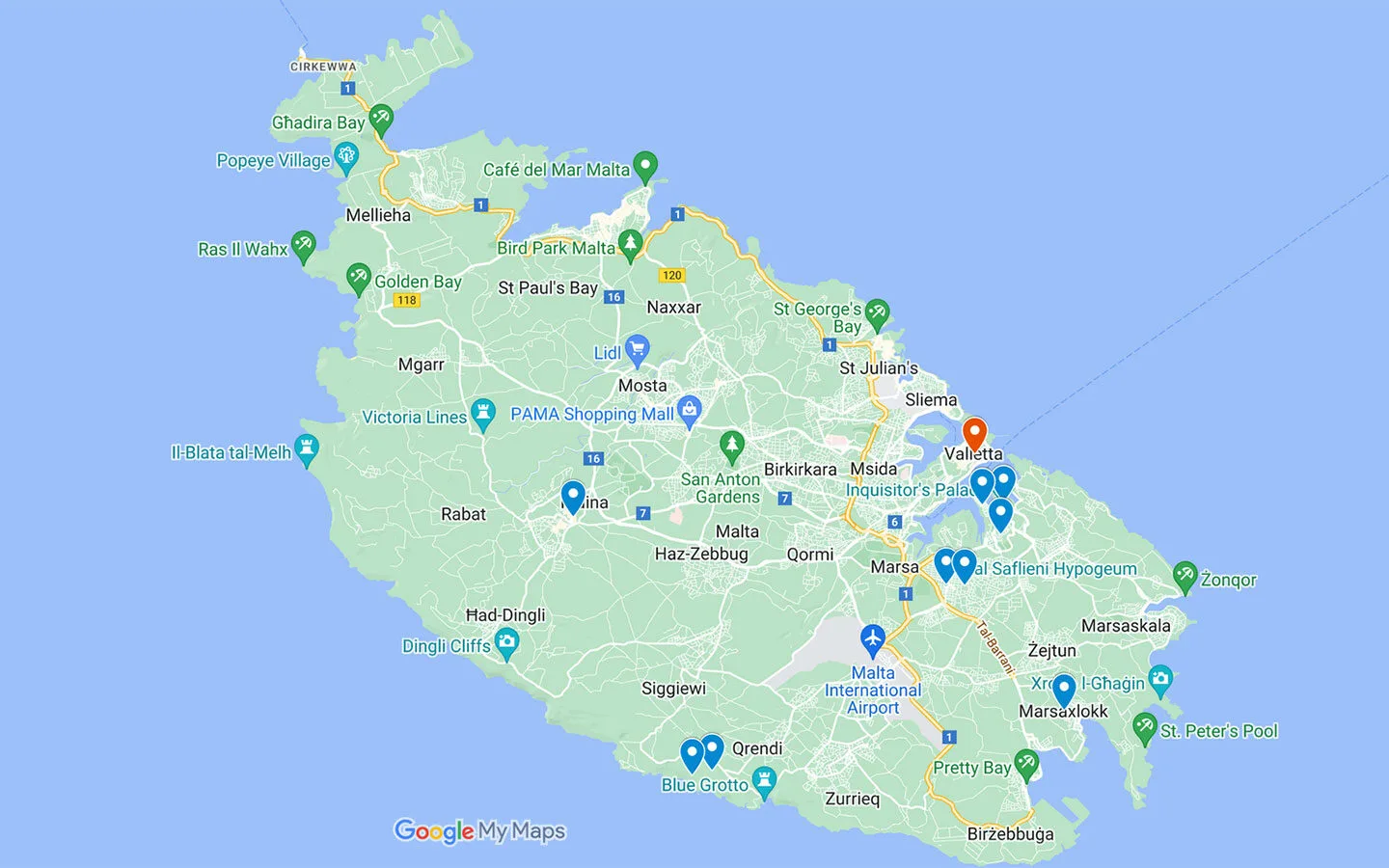 1. The Three Cities
The Three Cities of Vittoriosa, Cospicua and Senglea (also known as Birgu, Bormla and L-Isla) lie just across the harbour from Valletta. They were used as a base by the Knights of Saint John while they built Valletta, so are among the oldest cities in Malta.
Take a tour around Fort St Angelo at the tip of Vittoriosa to learn about its history, and admire the views across to Valletta. Also in Vittoriosa are the Malta at War Museum, telling the story of the island during the Second World War, the Maritime Museum and Inquisitor's Palace. And in Senglea the Gardjola Gardens look out over the Grand Harbour.
But the Three Cities are also a great place to just wander around the peaceful back streets, with their photogenic churches, painted doors, wrought ironwork and tubs of flowers. It's a contrast to the waterfront, which is lined by restaurants and cafés where you can watch the boats go by, with everything from traditional rowing boats to superyachts.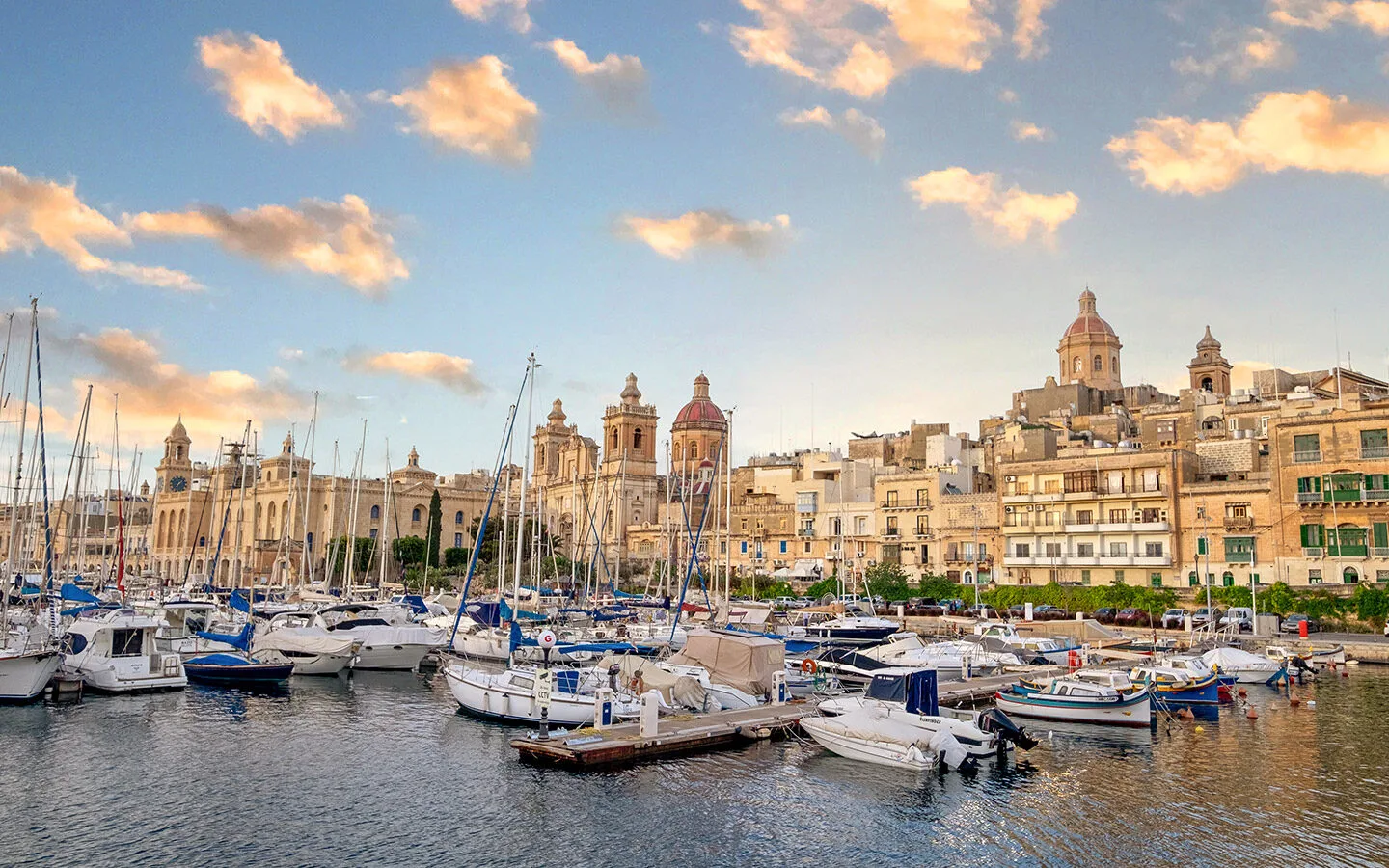 Go independent
The Three Cities are easy to reach from Valletta by bus or boat. Ferries connect Valletta with Cospicua, and cost €1.50 one way/€2.80 return. They leave from the waterfront beneath the Upper Barrakka Gardens and only take around five minutes.
You can also travel across the harbour on a dgħajsa – a tiny wooden fishing boat. A one-way trip costs €2, leaving next to the ferry stop in Valletta and going to the Maritime Museum in Vittoriosa. Or a slightly less scenic route to the Three Cities is on board the number 1, 2, 3, 4 or 213 buses from Valletta, which take around 15 minutes.
Take a tour
You can take a half-day tour* which combines a visit to the each of the Three Cities with a tasting of local wine, bread and cheese at Marsovin Cellars.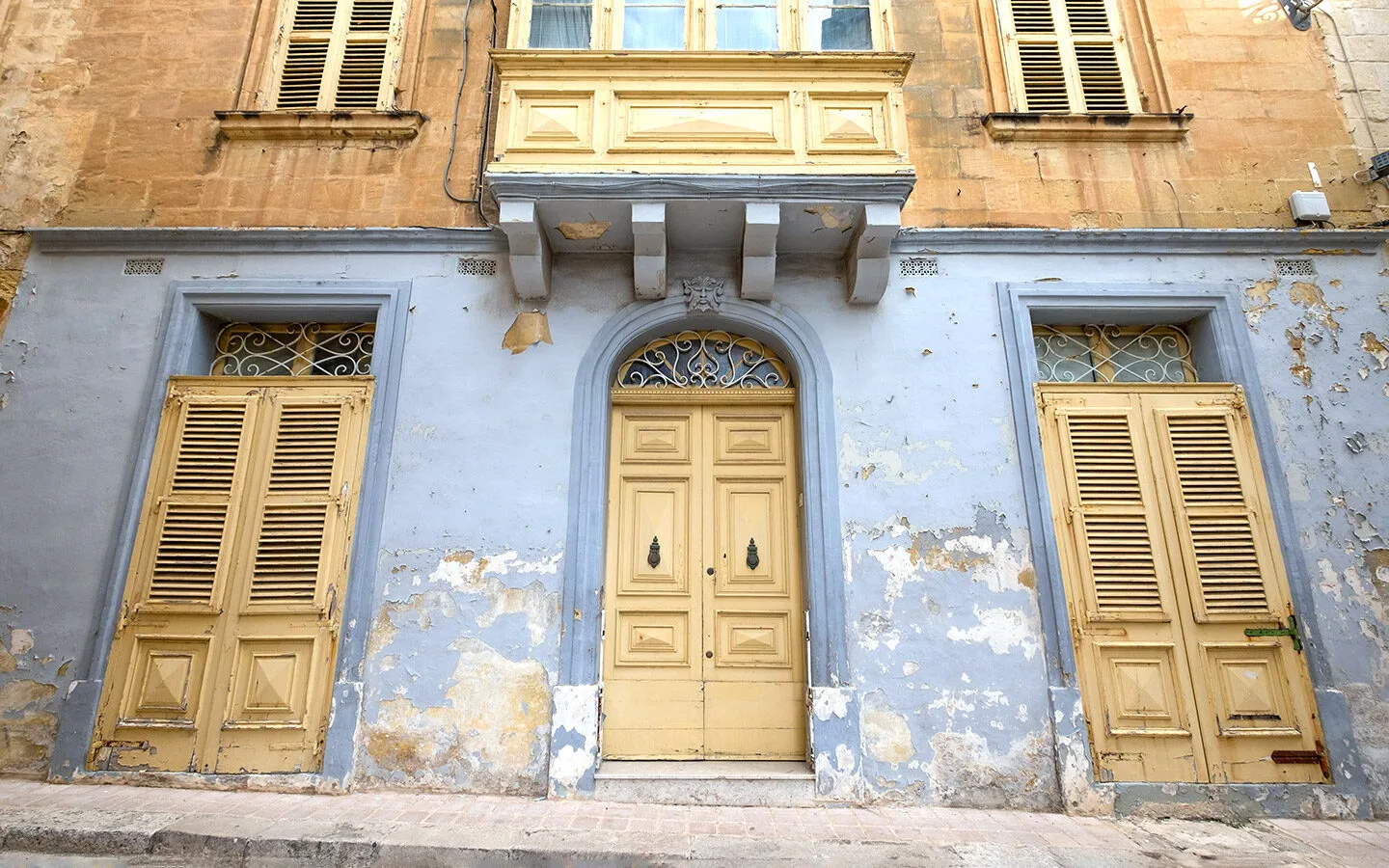 2. Mdina and Rabat
Perched on a hilltop in the centre of Malta, Mdina was the country's ancient capital until the Knights of Malta arrived in 1530. This petite walled city is an atmospheric place with its maze of narrow streets and honey-stone buildings. It's one of the most popular day trips in Malta but if you stay after dark you'll see how it got its 'silent city' nickname.
Take a look around Baroque St Paul's Cathedral, with its gold details, marble tombs and ornate frescoes depicting the life of St Paul. Check out the views from the city walls – and stop for tea and cake with a view on the roof terrace of the Fontanella tea garden.
Mdina's quieter, more modern neighbour Rabat is only a few minutes away so it's easy to combine the two. It's where you'll find St Paul's Catacombs, which were used as an underground cemetery by the Romans, and St Paul's Church and Grotto.
Go independent
The number 53 bus runs from Valletta to Rabat (there's no bus station in Mdina but it's only a short walk from Rabat's bus stop to the Mdina Gate).
Take a tour
A half-day tour* of Mdina and Rabat is available from Valletta, which includes guided tours of both cities and visits to St Paul's Catacombs and the San Anton Palace and Gardens, a 17th-century villa which is the official residence of the President of Malta.
3. Marsaxlokk
The small fishing village of Marsaxlokk in southeast Malta is famous for its Sunday market, when hoards of locals and tourists descend on the town. As well as fish and seafood, you can pick up local produce like jam, honey, pastries and wine, and souvenirs.
But if you visit Marsaxlokk on any other day of the week it's a much quieter place. Take a walk along the waterfront and you'll see fishermen mending their nets and traditional fishing boats known as luzzu, which are decorated in bright colours and have the eye of Horus (an ancient Egyptian symbol of protection) painted on the bow.
Marsaxlokk is also one of the best places in Malta for seafood, with restaurants all along the harbour. It's a particularly popular spot for locals to come for Sunday lunch, who tuck into freshly caught tuna, swordfish, squid and lampuki.
Go independent
Marsaxlokk is around 45 minutes from Valletta on the number 81 or 85 bus. Beware that buses travelling back to Valletta can get very busy on Sundays after lunch, so visit early or late in the day if you want to miss the worst of the crowds.
Take a tour
There's a combined half-day tour* of Marsaxlokk and the Blue Grotto on Sundays. It starts at the Blue Grotto, a series of sea caves about 25 minutes east of Marsaxlokk where the water glows blue in the morning sun, then visits Marsaxlokk's Sunday market.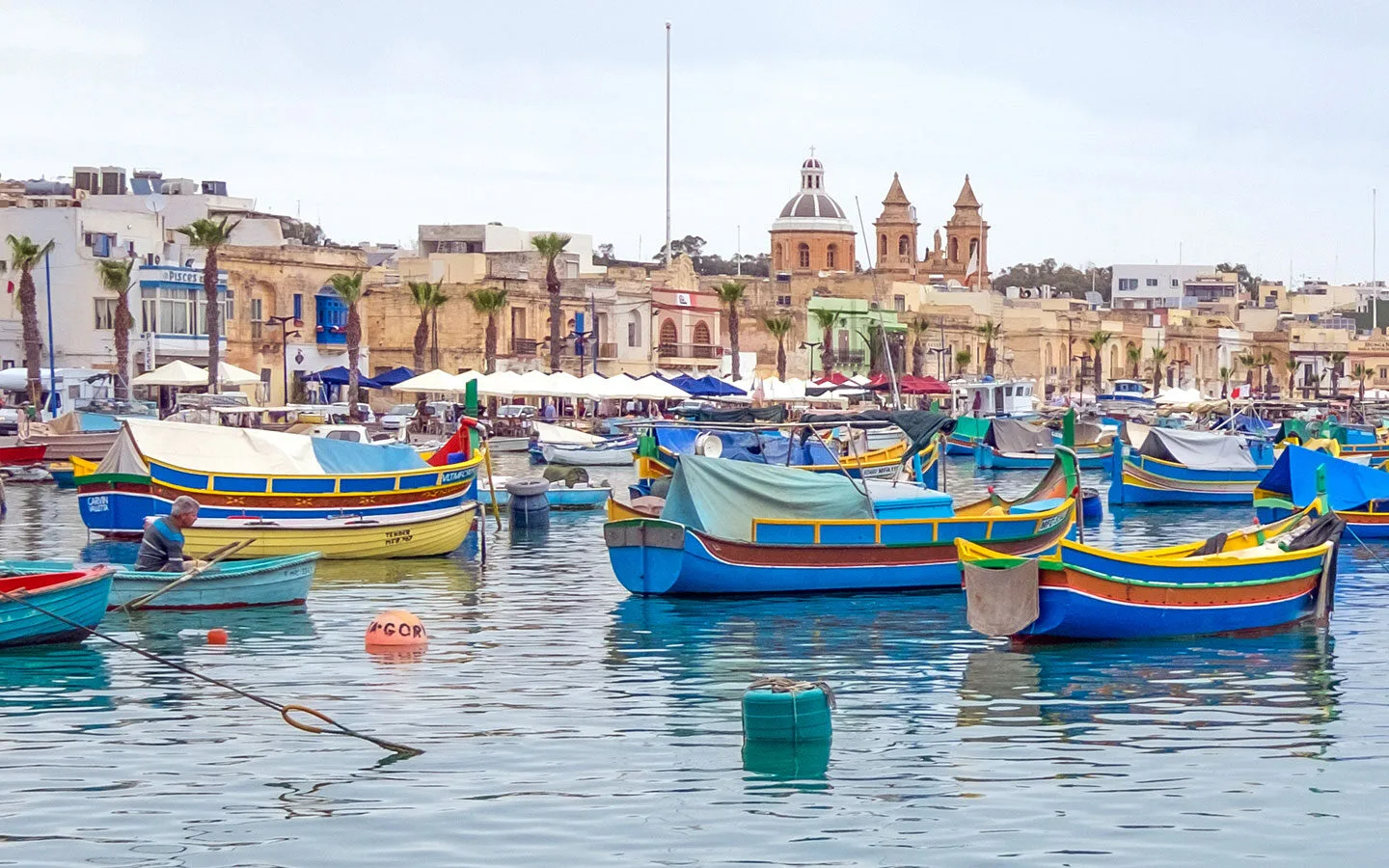 4. Ħal Saflieni Hypogeum and Tarxien Temples
Just south of the Three Cities, Ħal Saflieni Hypogeum is an underground burial chamber which dates back over 6000 years. This prehistoric necropolis was discovered in 1902 and has a network of chambers and passages stretching over three levels carved into the rock. It was first used as a place of worship then stored over 7000 bodies.
Visitors can explore the chambers and see red ochre wall paintings. Though numbers are strictly limited to only 80 people a day after carbon dioxide from visitors was damaging the Hypogeum's fragile limestone walls, so you need to book well in advance.
Also nearby are the Tarxien Temples, four megalithic structures made from giant blocks of rock which were discovered by a farmer in 1913. They were built around 3000–3600 BC and are the largest prehistoric site in Malta, decorated with art and sculptures.
Go independent
Bus lines 81, 82, 83, 84, 85 and 88 all pass close to the Ħal Saflieni Hypogeum and Tarxien Temples and take around 20 minutes from Valletta.
You can book tickets for the Hypogeum online. It's recommended to book at least a few weeks in advance, though there are a few tickets available for the following day's 12pm and 4pm tours from Fort St Elmo in Valletta. Tickets cost €35 for adults, €20 for students/seniors and €15 for children aged 6–11 (under 6s not admitted).
You don't need to book tickets in advance for the Tarxien Temples, which cost €6 for adults, €4.50 for students/seniors and €3 for children aged 6–11.
Take a tour
Because tickets have to be booked in advance, the Hypogeum isn't included in tours. But you can visit the Tarxien Temples on a private tour* which also includes Ħaġar Qim and Mnajdra (see below), Marsaxlokk and the Blue Grotto.
5. Ħaġar Qim and Mnajdra
Ħaġar Qim and Mnajdra are another two of Malta's megalithic temple sites, located on cliffs above the sea in the west of the island. They were built around 3600–3200 BC as places of worship by Stone Age people who'd come to Malta from Sicily.
Ħaġar Qim is a single temple whose name means 'standing stone', and has a 20-tonne huge slab of rock guarding its entrance. Mnajdra is more elaborate with three structures built in different periods, one of which was built to line up with the sun on the solstice.
The two temple complexes are close together so you can easily visit them both in the same day. There's a visitor's centre which tells you more about their history and significance. And canopies have been built over the temples to protect them from the elements, which also has the bonus of providing shade on a hot summer's day.
Go independent
You can take bus 74 from Valletta to Ħaġar Qim, which takes around 40 minutes. Then Mnajdra is only a short walk away. Entry to Ħaġar Qim and Mnajdra costs €10 for adults, €7.50 for students/seniors and €5.50 for children aged 6–11.
Take a tour
The Prehistoric Temples of Malta Tour* is a five-hour tour which visits Ħaġar Qim, Mnajdra, the Hamrija Tower and Ghar Dalam prehistoric cave.
6. Gozo
Malta's smaller, wilder and more laid-back neighbour, Gozo is known for its beautiful landscapes of limestone cliffs, turquoise waters, salt pans and red beaches. The island has been occupied since the Neolithic period, and you can see the mysterious 5500-year-old temples at Ġgantija, which are older than both Stonehenge and the Pyramids.
At the heart of Gozo's capital Victoria is the citadel, a fortified city built by the Knights of St John. The citadel is set on the top of a steep hill, with great views out over Victoria from its walls, and Gozo's cathedral, an old prison and several museums inside.
Diving fans can explore the Blue Hole and Inland Sea at Dwejra. Or if you want to hit the beach you can head to the red-gold sands of Ramla Bay or take a dip in Xlendi Bay. And don't miss the unusual landscapes of salt pans along the coast near Marsalforn.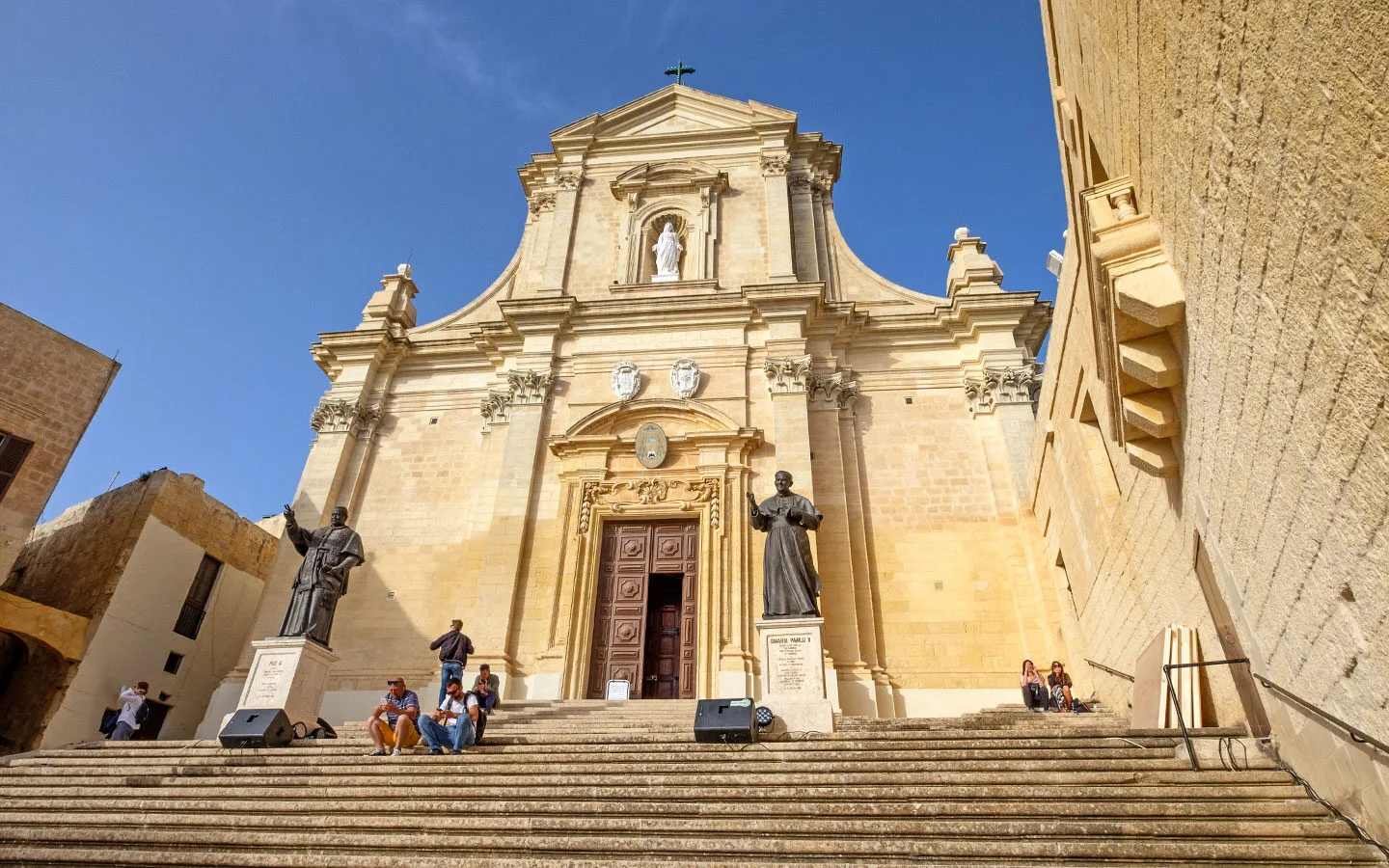 Go independent
There are a couple of different ferry options to reach Gozo. The ferry from Ċirkewwa in the far north of Malta (which you can reach on the 41/42 bus from Valletta in around an hour) to Mġarr harbour on Gozo takes around 25 minutes and costs €4.65 return.
Or there are direct ferries from Valletta's Grand Harbour to Gozo, which take 45 minutes and cost €7.50 each way. Once you arrive on Gozo there's a decent bus service, or you can take the hop-on hop-off sightseeing bus* which stops at all the main sights.
Take a tour
You can also take a full-day tour* of Gozo from Malta, which includes the return ferry, lunch and visits to Victoria, Xlendi Bay, Dwejra Bay and Ta' Pinu Basilica. Or there's a combined Gozo and Comino tour* which also includes the Blue Lagoon.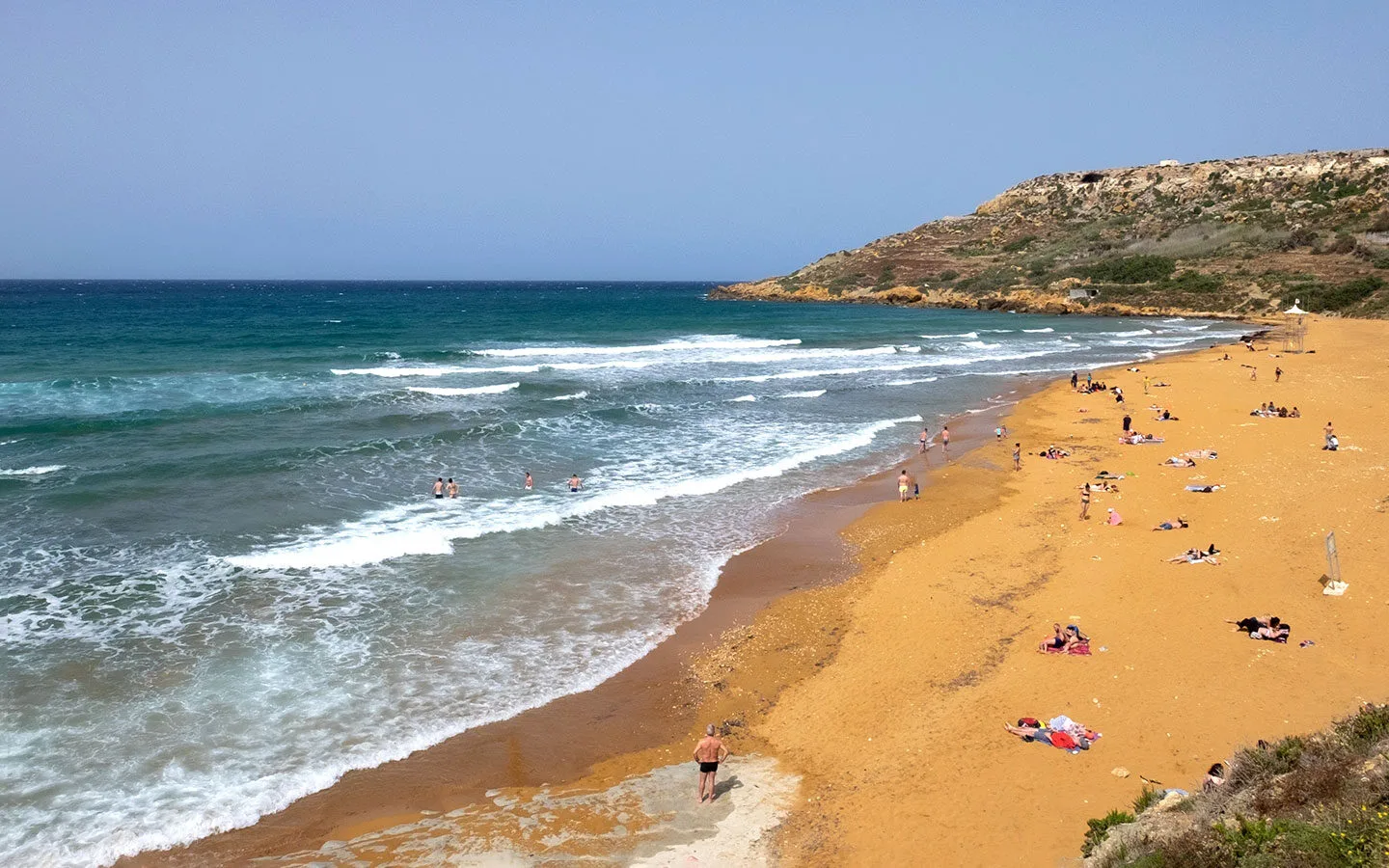 7. Comino and the Blue Lagoon
The third of the Maltese islands, Comino is the smallest at only 3.5 square kilometres and is uninhabited except for one hotel. But it's a popular place for a Malta day trip because of the Blue Lagoon, a stunning sheltered bay with clear turquoise waters.
The Blue Lagoon is one of the most famous sights in Malta, and is a great spot for snorkelling and swimming. It can get very busy though, especially in summer, and there's not a lot of shade so it's a good idea to get there early or late in the day.
As well as the Blue Lagoon, Comino also has a Crystal Lagoon and there are small sandy beaches at San Niklaw Bay and Santa Marija Bay. You can also walk to Saint Mary's Tower, which was built by the Knights of St John in 1618 and used as a watchtower. It's open to look around when the flag is flying, with views across the island from the top.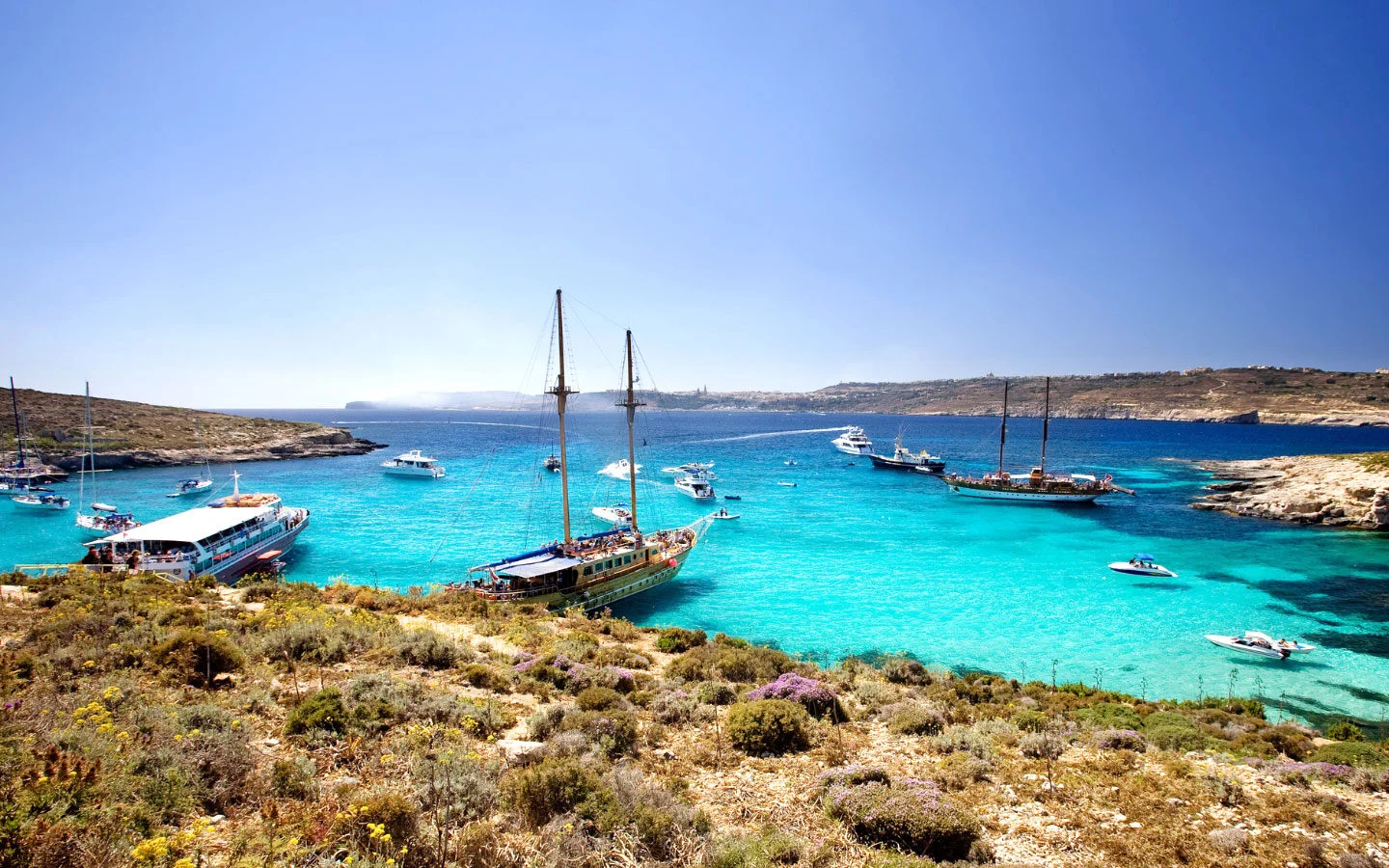 Go independent
You can reach the Blue Lagoon by ferry from Ċirkewwa and Marfa in the north of Malta. The journey takes around 25 minutes and costs €12 return. There are also ferries to Comino from Mġarr on Gozo. And a hop-on hop-off ferry service which runs from Sliema and Bugibba to the Blue Lagoon and Gozo and costs €20 for a day ticket.
Take a tour
Many Comino tours depart from Bugibba, including a catamaran trip* which visits the Blue Lagoon and Crystal Lagoon. There's also an evening sunset tour* which is a good option for avoiding the crowds, and several tours combining Gozo and Comino.*
8. Sicily
As well as exploring Malta, you can also visit a whole different country by taking a day trip to Sicily in Italy. Ferries run from Valletta to the fishing port of Pozzallo in southern Sicily in under two hours. Pozzallo is surrounded lovely golden sand beaches, with clear shallow water, palm trees and a seafront promenade to stroll along.
Or you can use Pozzallo as a jumping-off point to see some of Sicily – though the island is a lot bigger than Malta so it's probably best to stick to the southeast corner if you don't want to spend your whole day there travelling around.
Southeastern Sicily is full of charming historic cities, and has two UNESCO World Heritage Site – Syracuse and Val di Noto. Head to Ragusa or Noto for spectacular Baroque palazzos and churches. Visit hillside Modica for chocolate and cannoli. Or explore Syracuse's impressive Greek theatre and the island old town of Ortigia.
Go independent
Virtu Ferries run services from Valletta's Grand Harbour to Pozzallo several times a day from May to September. The journey takes 1 hour 45 minutes and an adult day return costs €68 (May–June) or €78 (July–September). From Pozzallo you can take a train to Modica (30 minutes), Noto (30 minutes), Ragusa (55 minutes) or Syracuse (65 minutes).
Take a tour
You can also take a day trip* from Malta to Sicily, which includes the ferry, coach transfers to Taormina and Mount Enta, and a wine tasting.
Save for later
You might also like