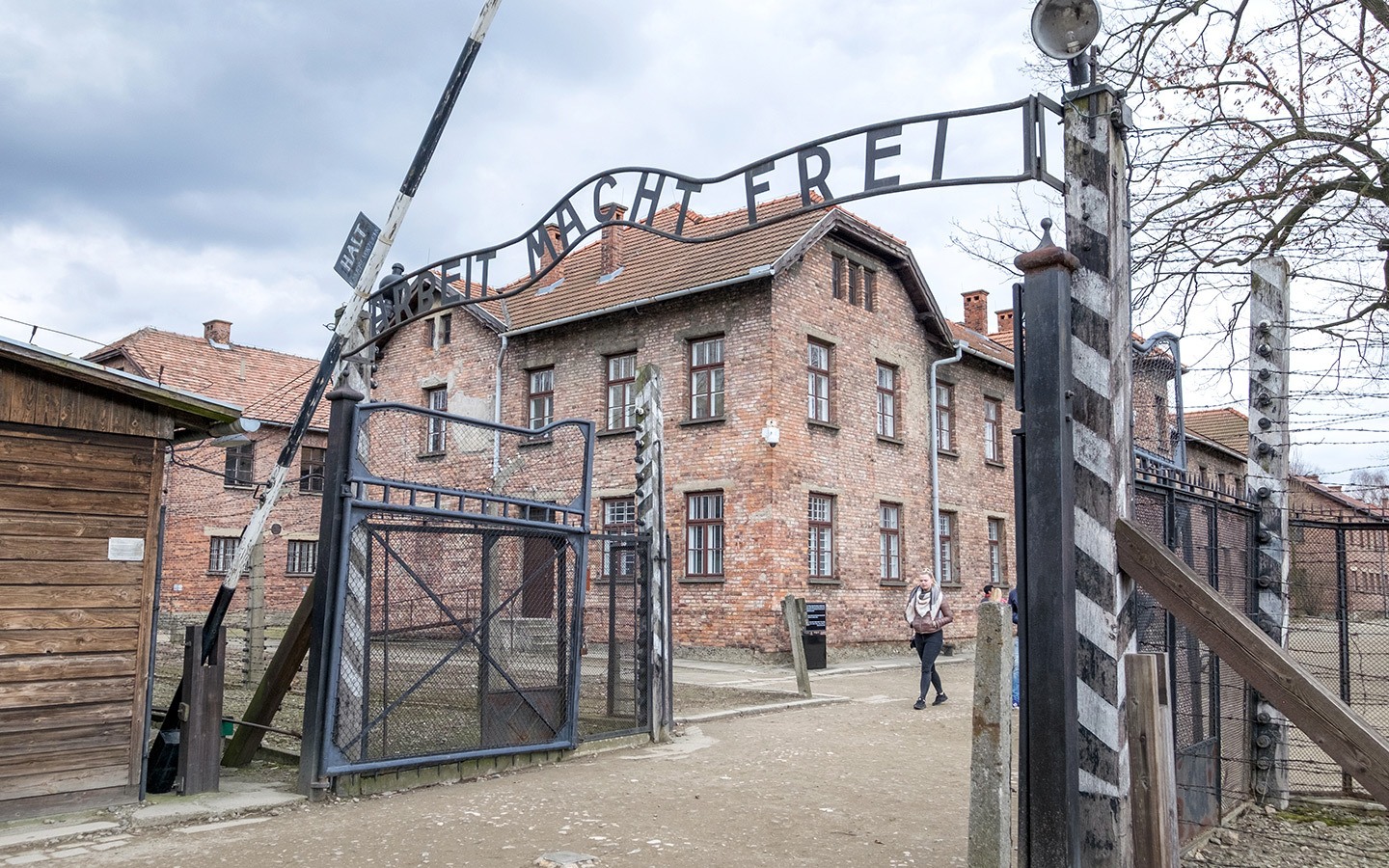 The skies are dark and moody as we pass through the gates of Birkenau, part of the infamous Auschwitz concentration camp not far from Kraków in Poland. As we walk across this huge, bleak stretch of land a cold wind whistles by and somewhere in the distance I'm sure I can hear the sound of voices singing. At first it's so faint I think I might've imagined it, but the wind picks up the tune and carries it through the barbed-wire fences, past the ruined buildings and over the roofs of the wooden huts. It's a haunting sound in a place where ghosts are all around you. As I get closer I can see a group of Jewish men and boys, holding onto each other and singing a hymn in Hebrew as they walk along the railway tracks. I can't understand the words but I can feel the emotion coming through and I can't stop a shiver running down my spine.
Read more: 5 reasons to visit Kraków
Auschwitz-Birkenau – the site of one of the greatest mass murders in history. If you grew up sometime in the last 40 years you've probably studied the Second World War at school, you've watched Schindler's List, you've read The Boy in the Striped Pyjamas. Like me you probably feel you know about the Holocaust, you know about Auschwitz. But arriving in the place where it all happened and walking through those gates made me realise I didn't know anything. That knowing the facts doesn't mean you know the story. And that even the facts take on a different aspect when you're standing in the spot where it all took place.
The name Auschwitz is synonymous with the worst things human beings can do to each other. It was the largest of the Nazi concentration camps, where over 1.1 million people were killed. Most were Jews but there were also Poles, Hungarians, gypsies and anyone else unlucky enough to catch the attention of the Nazis. The Nazis took a Polish army base in the town of Oświęcim and turned it into a multi-site concentration camp that practiced mass murder on an industrial scale. And today two of those sites have been turned into a museum, a memorial to those who lost their lives. Auschwitz-Birkenau isn't somewhere you 'want' to visit, but it's somewhere that you should, somewhere that's guaranteed to have an affect on you.
Birkenau
Most tours start with the original Auschwitz camp, but our guide took us first to Auschwitz II – or Birkenau. It's the largest of the three main Auschwitz camps, built in 1941 to house up to 200,000 prisoners after the original camp got too overcrowded. Birkenau is where the scale of the horrors that went on here start to hit you. It stretches over 425 acres of bleak, barren landscape, with lines of barbed-wire fences and watchtowers stretching off into the distance in each direction. It's a huge extermination camp where the Nazis industrialised death, building four gas chambers to dispose of Jews as efficiently as possible.
Running through the middle of the site is the railway track where trains would arrive, carrying prisoners from all across Europe. It's where the guards selected who would live and who would die – the fit would be sent to work and the sick, elderly and children would go straight to the gas chamber. Most of Birkenau's buildings were destroyed in 1945 when the Nazis tried to hide the evidence from the approaching Soviet army. But you can walk around piles of brick and twisted metal where the gas chambers once stood, and go inside recreations of the wooden huts where people would sleep, up to 1000 packed in like cattle.
Even in March the cold and damp made it uncomfortable outside for too long. I couldn't imagine what it would be like to live through a winter here, working 12 hours a day in thin clothes and wooden shoes on minimal food. Fighting disease, exhaustion and abuse every day to stay alive. Visiting Birkenau isn't like a museum, you're mostly left with your thoughts. Left to soak it all up and try to make sense of what took place here. A lot of people worry that they'd get too upset visiting the camps, but I found I came through it almost numb, like it was too much to take in, too much for me to possibly comprehend.
Auschwitz
Where Birkenau brings the scale to life, at Auschwitz I it's all about the details. The original Auschwitz camp was a Polish army barracks that was converted into a prison camp for political prisoners in 1940. So much of the Nazi's first and smallest camp has been preserved, right from the entrance gate where 'Arbeit macht frei' is carved into wrought iron. 'Work will set you free' – a horrendous irony in a place so many came to die.
You can walk through the camp's rows of brick huts, each of which had a different function. There's Hut 20, the so-called 'hospital' which was more a lab where doctors like Dr Mengele used prisoners as guinea pigs as they experimented with different ways of killing them more efficiently. There's Hut 11, the prison within a prison where guards would come up with new and more horrific ways to torture the prisoners who dared to rebel – by starvation, suffocation or being forced to stand in a tiny cell one metre square for days.
Most heartbreaking of all there are the piles of belongings – huge stacks of suitcases, shoes, cups and bowls that people brought with them when they thought they were just being sent away to work and someday they'd be going home. Then there are the eerie piles of glasses, wooden legs and human hair. Taking people's clothes, belongings and shaving their hair all helped the Nazis strip them of their humanity. But walking along the hut corridors you can see lines of faces looking down at you. In the early days of the camp every new arrival was photographed and recorded, until the numbers got too big to keep it up.
Looking into their eyes, you can see a mixture of fear, horror and defiance. Seeing their faces, reading their names, their nationalities, their ages and their occupations brings humanity back to the people who've been dehumanised. It helps you to translate those abstract numbers into real people. You can't help imagine how you would have coped if you were in their place – would hunger, cold and disease have seen you off before the gas chamber did, or would you be one of the few that made it through? Because in among all the horror there are stories of defiance and survival, of people who made it through despite the odds.
Auschwitz asks as many questions as it answers. And the big one is should thousands of visitors – from stag parties to school groups – be visiting a place where so many people died? For me it was a sombre experience that's been hard to shake off, but one that was so important to have. As a quote on the wall at Auschwitz says: "Those who do not remember the past are condemned to repeat is". Looking at the camps 70 years on it's hard for us to imagine how this could have ever happened. But in a world that's still filled with hate, is it really that impossible? Coming to Auschwitz and seeing it for yourself is something you'll never forget – an experience to take away and hold onto like as a talisman that it will never happen again.
The details
The Auschwitz-Birkenau Memorial and Museum is around 65km from Kraków, on the edge of the town of Oświęcim. It's open from 7.30am every day, with the last entry time varying through the year (from 2pm in December to 7pm in June, July and August), and closing time is 90 minutes later. The site is free to enter – you can reserve a timed ticket either with or without a guided tour on their website.
There are a few different options for getting there and touring the site. If you want to visit independently, you can catch the train from Kraków Glowny (the city's main train station) to Oświęcim, which takes around 1 hour 40 minutes and costs 15.60 złoty (£3). The station is about 2km from the camp so it's 25 minutes' walk or you can catch a local bus. Or there are buses direct from Kraków's main bus station, Dworzec MDA, which is behind the train station. They take around 1 hour 40 minutes and cost 10–12 złoty each way. There are several different companies along the same route so buying single tickets gives you more flexibility. Auschwitz and Birkenau are 3.5km apart, so you can either walk between them or take the free shuttle bus which runs every 10 mins from April–October and every 30 mins the rest of the year.
It can be helpful to have a guide, especially if you don't know too much of the history. You can join a small group tour when you get to Auschwitz which take 3.5 hours and is run in lots of different languages. They cost 50 złoty (£10.50) and you need to book well in advance in high season. Or you can take a tour which includes transportation. There are tons of these advertised around Kraków from 100 złoty, but groups can be big and you do get marched around a bit. We had a driver and private guide for the day (165 złoty/£34 each) which meant we could walk around at our own pace but had someone to answer any questions.
Pin it