Explore Eastern Europe by train in just one week on this rail itinerary which takes you from Budapest to Bratislava, Vienna, Ljubljana and Zagreb, with plenty of culture, history and music along the way.
* This site contains affiliate links, where I get a small commission from purchases at no extra cost to you.
Head east to explore five of Europe's cultural capitals in just one week on this Eastern Europe by train itinerary. Experience world-class art, architecture and music as you travel from Budapest to Bratislava, Vienna and Ljubljana before finishing in Zagreb.
This Eastern European rail itinerary will show you which trains to take, how much they cost, how to book and what to see along the way. You'll visit picturesque hilltop and island castles, soak in steaming thermal baths, take a boat trip along the River Danube, tour an underground military bunker, watch live opera and party in ruin bars.
One-week Eastern Europe by train itinerary
Day 1: Budapest
Start your Eastern European rail trip with a day in Budapest. The city straddles the River Danube and was originally two separate cities, with Buda on the west bank and Pest on the east. Climb Castle Hill (or take the funicular) to see some of the city's most impressive monuments, including the Royal Palace, Matthias Church and Fisherman's Bastion.
Relax with a massage, steam and sauna in the thermal waters of the Neo-Baroque Széchenyi Baths, heated by one of Europe's largest natural hot springs. Or take a sunset boat trip* along the Danube to see the grand Hungarian Parliament building all lit up.
Then party the night away in the ruin pubs in Budapest's 7th District, where dilapidated old buildings have been given a new lease of life and are now cool courtyard bars, decorated with colourful lights, graffiti, flea market furniture and quirky curios.
Where to stay in Budapest: The Pest-Buda* boutique hotel located in Budapest's Castle District. It describes itself as a design hotel but comes without the designer price tag, with 10 rooms mixing historic features with modern comforts and artworks by local artists. There's also a restaurant and a summer terrace overlooking Matthias Church.
Day 2: Budapest > Bratislava
The next morning, take the 2 hour 25 minute EuroCity train journey on to Slovakia, departing Budapest's Nyugati (west) railway station at 07.29 and arriving into Bratislava Hlavna at 10.03 (if you need to store your bags until you can check in to your hotel, there are luggage lockers available on platform 1 at Hlavna station).
Then spend the rest of the day exploring Bratislava. Take a wander around the grand squares of Bratislava's old town, passing palaces, churches and fountains. Learn about the history of Slovakia at Bratislava Castle, perched on a hill overlooking the old town, and visit the Church of St Elizabeth (known as the blue church after its bright paintwork).
Visit Gothic St Martin's cathedral, where Hungarian monarchs were crowned, and climb to the top of the tower at the Old Town Hall – the oldest stone building left in Slovakia.
Head to the observation deck of the 'UFO' Bridge for views over Bratislava from almost 100 metres – or if you like your views with more adrenaline you can dangle off the edge on the bridge's Skywalk. Or discover the city's 20th-century history with a trip to the B-S-8 military bunker or a tour* of Bratislava's Communist-era buildings in an vintage Skoda.
Where to stay in Bratislava: The four-star Loft Hotel* is next to Bratislava's Presidential Palace, within easy reach of the train station. It's home to a popular craft brewery pub and wine bar, with an industrial-inspired décor of exposed brick, leather sofas and retro prints. There are 111 rooms, ranging from standard to suites.
Day 3: Bratislava > Vienna
Head west into Austria on the one-hour journey from Bratislava Hlavna station to Vienna Hauptbahnhof by Regional Express train. Trains leave every hour at 17 minutes past the hour, so you can leave as early as you like. Or for a change from trains, there's also a fast ferry along the Danube from Vienna to Bratislava which takes 1 hour 15 minutes.
Austria's historic capital is packed with grand buildings – take a walk around the Ringstrasse for a mini architecture tour past the city's Imperial Palace, Parliament, City Hall, Votive Church and Vienna State Opera. Vienna is the city of music, and you can tour Mozart's house and the House of Music museum, or grab a last-minute opera ticket.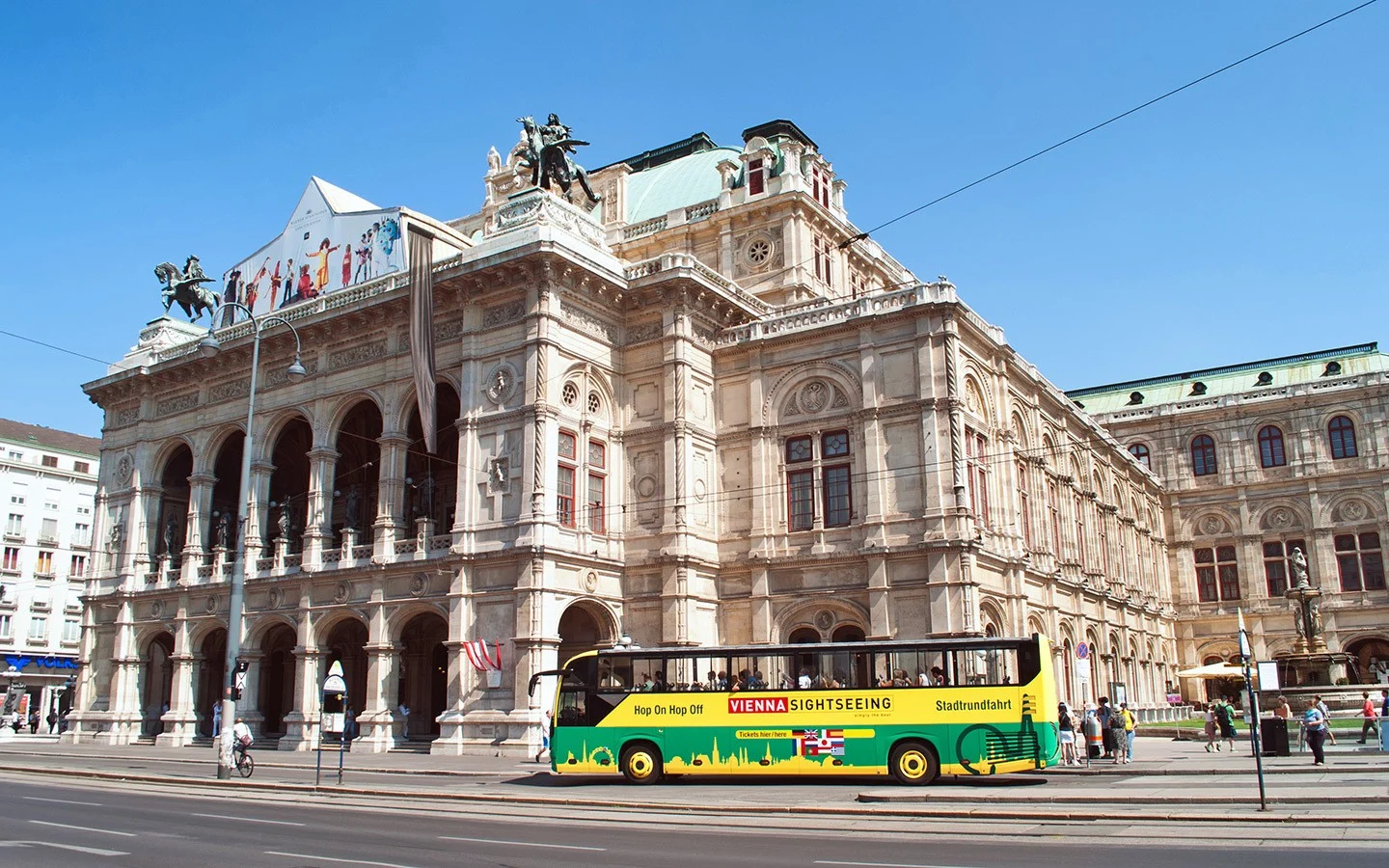 Be dazzled by Vienna's palaces with a tour around the Hofburg Palace's imperial apartments. Or head to the lavish Schönbrunn Palace, just outside the city centre – Austria's answer to France's Palace of Versailles is dripping with gold, paintings and crystal chandeliers and is surrounded by 435 acres of beautiful gardens.
And don't miss the impressive moves of the Lipizzaner horses at the Spanish Riding School* and a slice of chocolatey sachertorte at one of Vienna's traditional coffee houses.
Where to stay in Vienna: The 25hours Hotel Vienna* is surrounded by the museums and galleries of the city's Museums Quartier. The converted tower block is quirky and colourful inside, with circus-themed design touches. There's also an Italian restaurant and a rooftop terrace bar which has amazing views out over Vienna.
Read more: Visiting Vienna on a budget
Day 4: Vienna > Ljubljana
Make an early start for the 6-hour journey to Ljubljana in Slovenia. The direct EuroCity Emona service departs Vienna Hauptbahnhof at 07.58 and arrives in Ljubljana at 14.00, following the route of the scenic Semmering Railway. It was one of the first mountain railways when it was built in 1854, and was made a UNESCO World Heritage Site for its impressive feats of engineering, with 16 viaducts and 15 tunnels.
Spend the afternoon exploring Ljubljana. Slovenia's compact capital is a beauty, with an old town full of cobbled streets, pavement cafés, pastel-painted houses and Baroque churches. Take a walk along the banks of the River Ljubljanica, which is crossed over by 17 bridges, including the famous Triple Bridge and Art Nouveau Dragon Bridge.
Take the funicular to Ljubljana's 15th-century castle for the best view of the city from the top of the castle tower. Ljubljana is one of Europe's greenest capitals, with plenty of parks for a picnic on a sunny day. End the day with sunset drinks at one of the riverside bars.
Or head out of the picture-perfect old town to the edgy Metelkova district, a former military barracks turned squat that's known for its street art and nightlife.
Where to stay in Ljubljana: Ljubljana Center Apartments* are located in a historic building at the heart of the old town, around 15 minutes' walk from the train station. The cosy apartments sleep two or four people and are clean and bright, with Scandi-style décor, a lounge, dining area and kitchenette with stove, fridge and dishwasher.
Read more: 5 reasons to visit Ljubljana
Day 5: Day trip to Lake Bled
Head out of Ljubljana for a day trip to beautiful Lake Bled, with its blue-green waters and island church against the backdrop of the peaks of the Julian Alps. Catch a direct EuroCity express train from Ljubljana at 09.23 which arrives into Lesce-Bled station at 10.02.
The station is around 4km from Bled's old town but buses link the two around every half an hour. Take a boat trip out to the island Church of the Assumption of Mary – or if you're there in winter when the lake freezes you can ice skate over – and follow the 6km waterside path around the lake on foot or by bike to admire the church from all angles.
Climb up to the hilltop 12th-century Bled Castle for a panoramic view over the lake. And make sure to try a creamy custard Bled Cake before heading back to Ljubljana – a mix of EuroCity and local services leave around once an hour and take 40–60 minutes.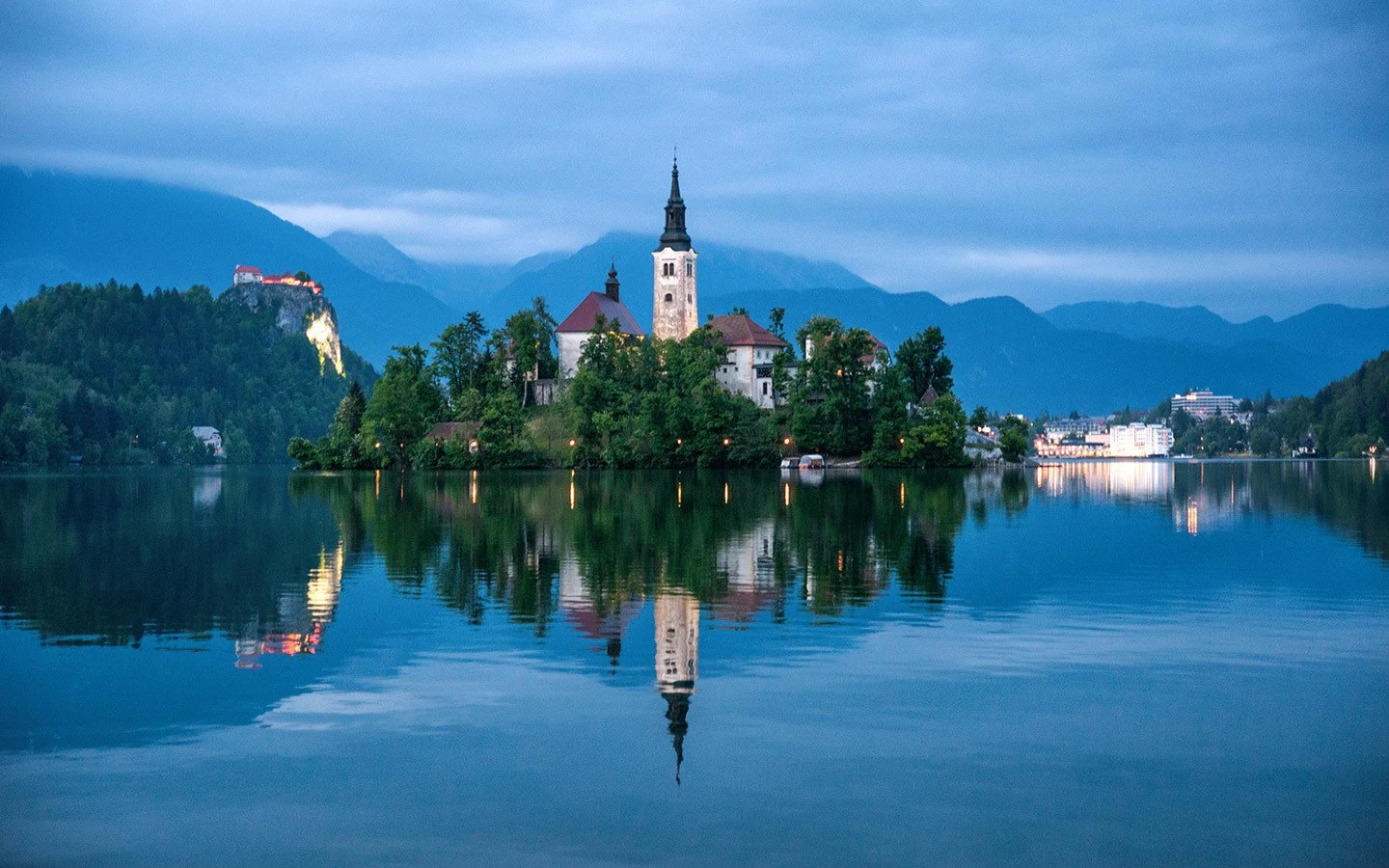 Day 6: Ljubljana > Zagreb
The final leg of your Eastern Europe by train trip takes you into your fifth country – Croatia. The journey from Ljubljana to Zagreb takes around 2 hours 10 minutes. Catch the 08.30 EuroCity train from Ljubljana which arrives into Zagreb's Glavni Kolodvor station at 10.39 (if you need to store luggage there are lockers in the station's main hall).
Take a walk through the cobbled streets of Zagreb's Upper Town. The city's oldest district is home to the Lotrščak Tower, the last of Zagreb's 13th-century watchtowers where a cannon's still fired at noon each day, as well as St Mark's Church with its colourfully tiled roof, which is decorated with the Croatian and Zagreb coats of arms.
The Upper Town is also where you'll find the quirky Museum of Broken Relationships*, with remnants of break-ups donated from all over the world on display.
If the sun's shining, stock up on picnic supplies at Dolac Market and find a shady spot in peaceful Maksimir Park, just outside the city centre, or wander through the statues at Mirogoj Cemetery. Head underground at the Gric Tunnel, a former World War II bomb shelter, before finishing the day with a local craft beer at the bars on Opatovina Street.
Where to stay in Zagreb: Head back to the Golden Age of rail travel with a night at the opulent Art Deco Esplanade Hotel.* Zagreb's grandest hotel was built in 1925 for passengers on the Orient Express and hosted A-listers like Orson Wells, with 208 luxurious rooms, multiple restaurants, a newspaper reading room and ornate ballroom.
Day 7: Zagreb
Spend you final morning in Zagreb – and if you're in need of a caffeine hit there's no problem as this city of coffee-lovers has over 4500 cafés to choose from.
Then if you're flying back home, the 290 ZET bus service connect Zagreb's Franjo Tuđman airport with the city centre, running every 35 minutes and taking 30 minutes. Or you can book an airport transfer with an English-speaking driver through Welcome Pickups.*
More time?
If you've got more time, you could take a day trip from Zagreb to the Plitvice Lakes.* Or head west to Pula in Croatia's Istrian Peninsula (there's an indirect train but the 4–5 hour bus ride is quicker and easier), where you can catch a ferry across to Venice in Italy.
You can also take the 6-hour daytime train south from Zagreb to Split, home of the UNESCO World Heritage-listed Diocletian's Palace and where you can each the Dalmation Islands of Hvar, Vis, Brac and Korcula by ferry. Or why not add in an extra stop along the way in the historic Austrian city of Graz, located between Vienna and Ljubljana.
How much does it cost?
When you're planning a European rail trip, you can either book individual tickets or get a railpass, which can be a better deal if you're under 28, want more flexibility or are booking late. Here's how the prices break down for the two different options on this route.
Individual tickets
Ticket prices vary depending on how early you book, with a limited number of cheap tickets available. So book as early as possible – on most routes you can book 3–4 months in advance – but beware these tickets are non-transferable so you're tied to a specific train. Using the cheapest fares, the cost of trains on this route starts at €67.70 per person.
Budapest > Bratislava: from €10
Bratislava > Vienna: €9.80 (fixed price)
Vienna > Ljubljana: from €24.90
Ljubljana > Lake Bled: €7 each way (fixed price)
Ljubljana > Zagreb: from €9
The railpass option
There are also various rail passes available through InterRail (for European residents) and Eurail (for non-European residents), which cover individual countries or the whole region and are valid for different periods of time, varying from four days to three months.
The Eastern Europe by train itinerary involves five travel days across five countries, but it's cheaper to pay for the cheapest fixed price ticket in cash and get a four-day rail pass. The best option is the Global Pass for 4 travel days within 1 month. This costs €246 for adults, €185 for youths (aged 12–27) or €221 for seniors (aged 60+) in second class.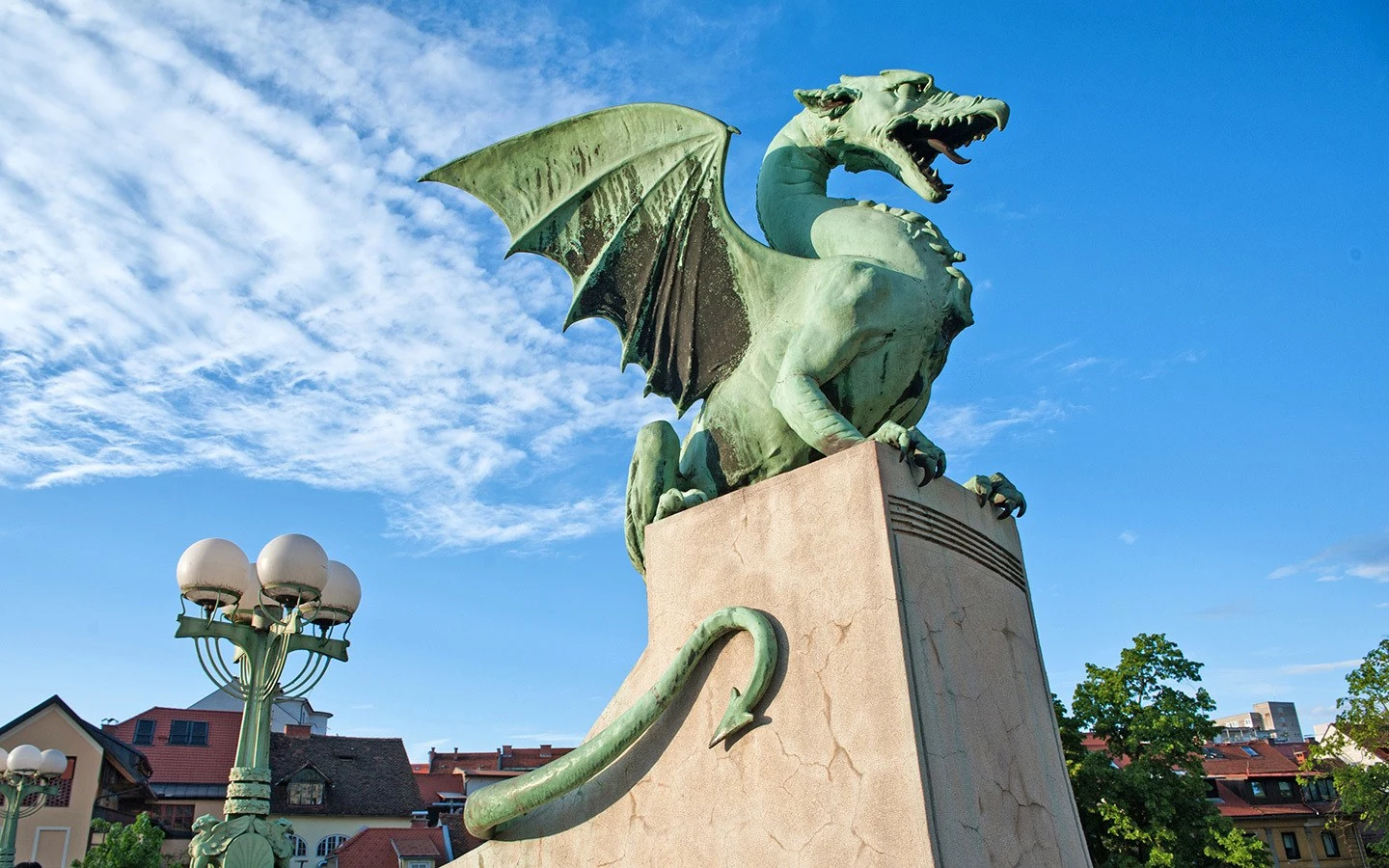 As well as the pass, you also need to pay an extra compulsory reservation fee in some countries and for certain trains – usually high-speed or sleeper services.
The only journey passholders need to make a reservation for on for this itinerary is Budapest to Bratislava, which costs €6. Reservations can be made at any train station or online through the InterRail/Eurail reservations service for a fee of €2.
How to book
If you're not using a rail pass, the two trips worth booking in advance are Budapest to Bratislava and Vienna to Ljubljana, as there are cheap advance tickets available. Other tickets you can buy at the station on the day for the same price, though if you buy your ticket from Ljubljana to Zagreb the day before it cuts the price down from €18 to €9.
There are a variety of different websites where you can book European train journeys, but often the best deals are though the official railway company sites for each country. For this trip, these are Hungarian Railways and Austrian Railways.
You can also book tickets for European trains with Omio* or The Trainline (excluding in Hungary which much be booked directly with Hungarian Railways). The advantage is they cover multiple countries, you can see prices in €, £ or $, use international credit cards and print or use mobile tickets, but they do charge a small booking fee.
Save for later
You might also like