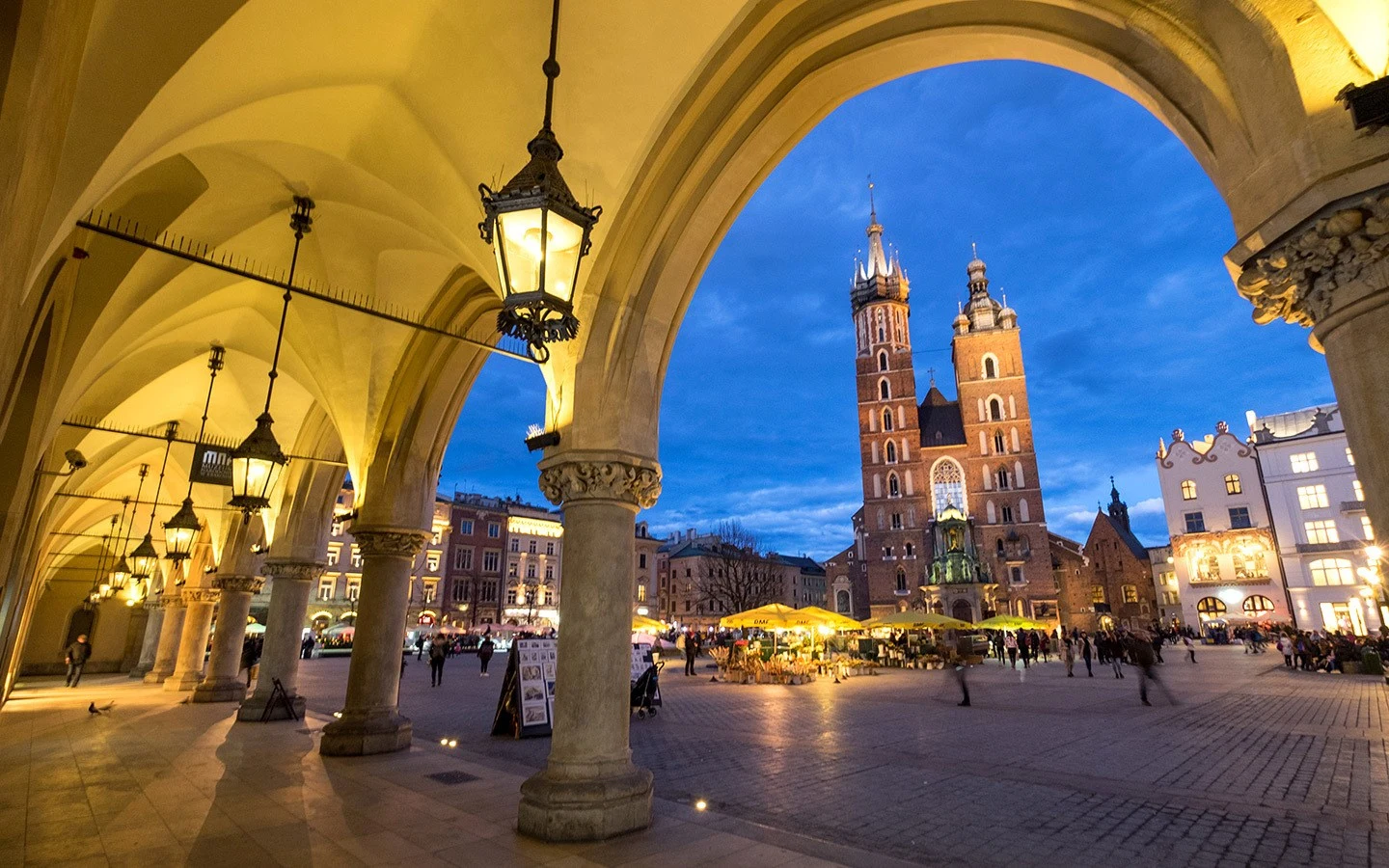 When you book a spring weekend away in northern Europe you never know what you're going to get. Rain, sun, snow – a bit of everything? So you need a destination that ticks a few boxes. Small enough not to be overwhelming when you just have a few days there, but big enough to have things to do outside if it's sunny and inside if it's not. And a visit to Krakow ticks the lot.
Set on the banks of the Vistula (Wisla) River, Poland's second city is a bit under the radar for a weekend city break, but it shouldn't be. It's one of the country's centres for art and culture and is packed full of beautiful building, but there's a cooler edge to it too and a fascinating recent history to discover. Here are five reasons why I loved Krakow – and think you would too.
Why should you visit Krakow?
1. The architecture
The city's beautiful architecture is what first made me want to visit Krakow. Beyond the city walls you'll come across patches of Communist-era concrete, but the whole of its old town has been listed as a UNESCO World Heritage Site. It's filled with a mix of Gothic, Renaissance and Baroque churches, towers, archways and cobbled squares.
And right in the heart of Krakow's old town is the main square, or Rynek Glowny. It's Europe's biggest market square and on a sunny spring day it was full of flower stalls, bagel-sellers and people on horse and carriage rides. It was just warm enough to grab a table at one of the cafés around the edge of the square and sit with a beer watching people wandering by.
On one side of the square is St Mary's Basilica, built in 1397 and famous for its wooden carved Veit Stoss altarpiece and an amazing ceiling painted in dark blue and gold to look like the night sky. If you're passing by on the hour listen out for the trumpet signal from the top of the tallest tower – it cuts off partway through to commemorate the 13th-century trumpeter who was shot in the throat while he was sounding the alarm after the Mongols invaded the city.
On the other side of the square there's the Sukiennice cloth hall, with a covered market underneath and a museum above, and the Town Hall Tower. It's all that's left of Krakow's old town hall and you can climb to the top and look out over the square from 70 metres up.
2. The history
Krakow has had a long and pretty dramatic history. Legend has it that back in the 13th century it was founded on the site of a dragon's lair after a Polish prince defeated him and built a palace on top. That palace is Wawel Castle and you can still see a fire-breathing dragon beneath its walls (though this one is made of bronze and breathes fire regularly every five minutes).
Wawel Castle was home to the kings of Poland and is one of Europe's largest royal castles, a huge complex with a mix of styles as it grew over the years – adding a turret here and a golden dome there. There are five different museum sections you can visit, as well as gardens and the cathedral where Pope John Paul II was archbishop before he became Pope.
Krakow handed over the job of Polish capital to Warsaw in 1596 and was later fought over by the Russian, Prussian and Austrian empires. But it's the period of history around the Second World War that most people know Krakow best for. The city was invaded just five days after the war started and it became the capital of the German Central Government.
The Nazis took over Wawel Castle and forced the Jewish residents first into a ghetto and later shipped them to concentration camps like nearby Auschwitz. It was a dark period of history for Krakow, but there were a few patches of light, like the story of Oskar Schindler.
Schindler ran an enamelware factory in Krakow which employed over 1000 Jews. When the German authorities started clearing the ghettos, he argued that he needed his employees to keep working at the factory. So he was allowed to relocate his Jewish staff to a new factory in Bohemia, saving 1200 of them from death in the gas chambers.
He spent his whole fortune on bribes and the black market to keep them alive, and his story was made into the film Schindler's List (some of which was shot nearby). His old factory has now been turned into a museum. It's more about the history of Krakow under occupation – which is fascinating in its own right – but there's a section about Schindler too and the people he saved.
3. The people
I've been to European cities where you feel like tourists are being barely tolerated, but all the Poles we met in Krakow were friendly and welcoming – despite not seeing Brits abroad at their best as it's a favourite for stag weekends! You do have to run a gauntlet of people selling sightseeing and Segway tours in Rynek Glowny, but it all felt good-natured and never pushy.
As well as the general friendliness we had a few standout moments during our visit to Krakow. There was the manager in Fiorentina restaurant who set up an impromptu Polish wine-tasting session for us after my dad mentioned that he'd never tried any. Or the old guy in the t-shirt shop who dug out his album of photos with Roger Waters and threw in a free badge when my friend went in to buy a Pink Floyd shirt. And our Auschwitz tour guide Damien who guided us through the horrors of this traumatic site so carefully and respectfully.
4. The food and drink
I didn't know much about what to eat in Krakow when I decided to visit, other than a fondness for pierogi (filled dumplings). But we were introduced to a few other local specialities like zapiekanka (a kind of baguette pizza) and obwarzanek (a thin bagel). We also tried traditional Polish food like potato pancakes with creamy mushroom sauce at Miod Malina, and discovered a modern take on traditional Polish ingredients at the glamorous Szara Gęś (Gray Goose).
The Gray Goose was a bit of a random find as we were walking around, but had amazing food and desserts that were almost works of art. There was a perfectly crafted chocolate acorn full of dark chocolate and peanut butter, and a giant goose egg made from white chocolate mousse with a mango puree yolk. Almost too pretty to eat (but not quite).
Krakow's stag do reputation might make you think that it's all jugs of beer and Irish pubs. But we found some more low-key gems in the old town – creative cocktail concotions at Movida and a sampling board of different vodka flavours at Wódka. But for the best nightlife you need to head to the Kazimierz Jewish quarter. Krakow's hipster hub is the sort of place where you can drink at a bar where each table is an old Singer sewing machine, with lots of quirky drinking spots.
5. The value for money
When it comes to architecture and culture, Krakow is up there with places like Prague and Vienna, but the one big difference we noticed was the prices. It's not an ultra-cheap budget destination, but it is one of those places where you get a lot for your money.
So if you want to treat yourself to a bit of luxury on a budget then it's perfect. Accommodation is really good value – we stayed in an apartment which cost us £46/€55 a night for four people but you can also find rooms in four- and five-star hotels for around £100/€120 a night.
A meal in a high-end restaurant cost us £30/€36 each and a traditional Polish meal around £20/€24, both including two courses, wine and service charge. And that was in the old town where things are priciest. A lot of the joy of a trip to Krakow is wandering around those beautiful streets, but if you want to visit museums, it won't set you back too much.
Entry to the Town Hall Tower was free the day we visited but would normally be 9 Zloty (£2/€2), and the different sections of Wawel Castle and Schindler's Factory only cost 20 Zloty (£4/€4.50) each. Because it's such good value we could add on things like private airport transfers rather than getting the train, making the trip feel that bit more luxurious.
So have I convinced you to visit Krakow yet?
Pin it
This article contains affiliate links, where I get a small commission at no extra cost to you, thanks.