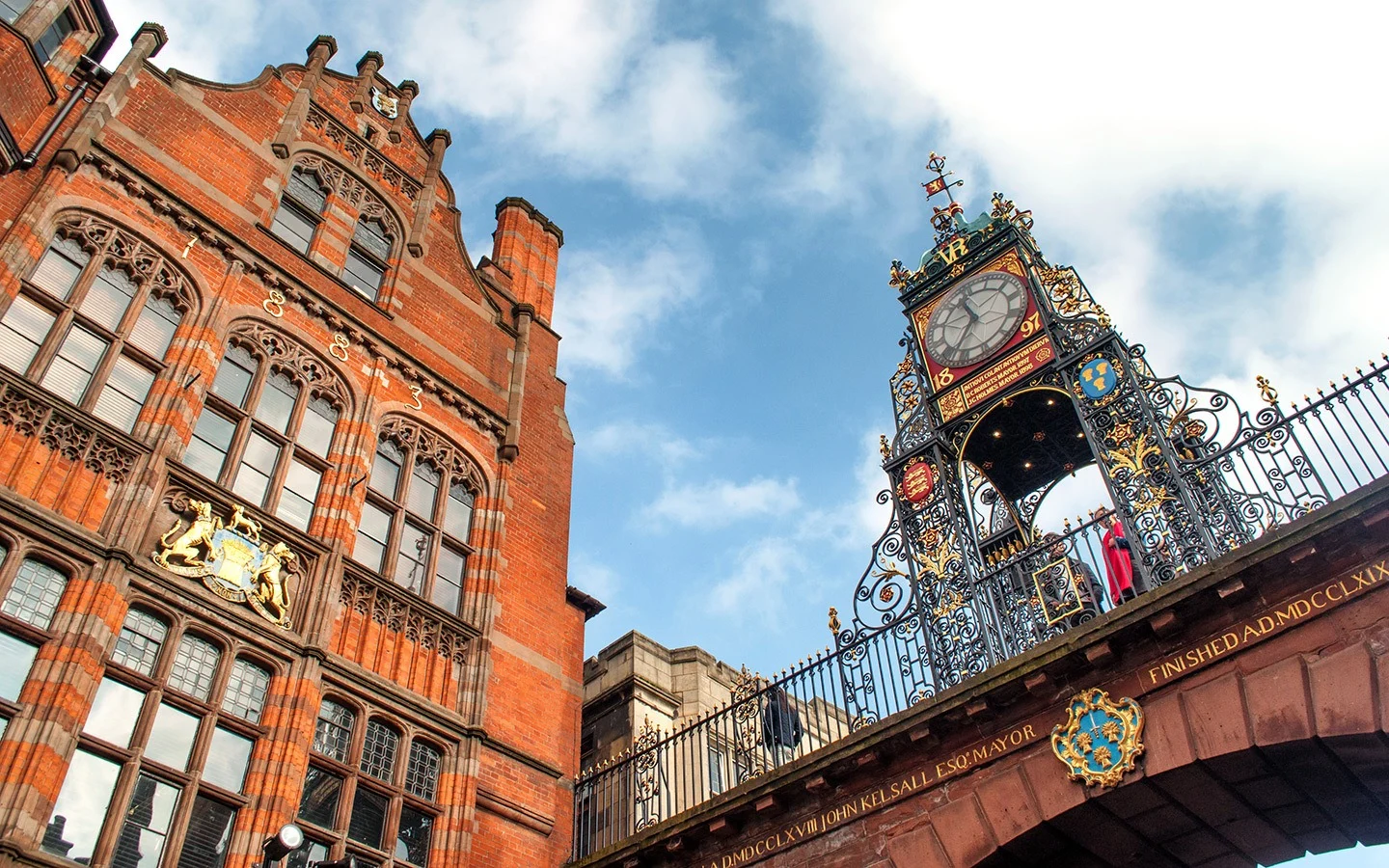 It was my first trip to Chester, but as I walked around I started to feel a sense of déjà vu. It was like someone had taken the best bits from cities around the UK and spliced them together. The Roman walls could've been from York, the riverside from Bath, the cathedral from Canterbury and the canals from Birmingham. It was like a highlights reel from my weekend breaks.
Chester's location means it could easily be overshadowed by bigger, brasher neighbours Manchester and Liverpool. But this city has plenty of character, history and style of its own, and packs a lot into a small space. So here's my 48-hour itinerary for the perfect weekend in Chester.
Read more: 10 Great British weekend break ideas
How to spend a weekend in Chester
Friday evening
Check into the Roomzzz Chester City, a modern apartment-style hotel located close to the racecourse. Each room comes with a mini-kitchen with a hob, fridge and dishwasher if you want to whip up your own food. There's also a 'grab and go' breakfast included, where you can help yourself to pastries, fruit, juice and coffee. Rooms start from £60 a night.
Or if you want to splash out, then head to the Grosvenor. This place is a Chester institution, set in a historic black and white building right in the heart of the city. It's real old-fashioned luxury, from the top-hatted doorman and the lobby with its crystal chandeliers to the Michelin-starred restaurant and spa and thermal suite. Rooms start from £135 a night.
Have dinner at Upstairs at the Grill, a two-storey New York-style steakhouse near the racecourse. As you'd guess from the bame they specialise in steak, with a range of different cuts of local meat dry-aged for five weeks. If you're not a steak fan there are dishes like rump of lamb, Canadian lobster and slow-baked cauliflower steak on the menu too.
Saturday morning
Start the day with a big breakfast and get your comfy walking shoes on for a circuit of the city walls. The first walls were built by the Romans back when Chester was a fortress known as Deva Victrix, and they've been extended over the years. Chester's city walls run for two miles in a circuit around the old city, passing medieval gates and towers along the way.
You pass under the ornate Eastgate Clock, built on top of a bridge to celebrate Queen Victoria's diamond jubilee. It's England's second-most-photographed clock, beaten only by Big Ben's clock tower. There are some remnants of Chester's Roman history around too, including Britain's largest Roman Amphitheatre and fragments from the old Baths in the Roman Gardens.
Next head inside Chester's most imposing building – the cathedral. It started life as an abbey before becoming a cathedral in 1541, and you can climb the tower for one of the best views of Chester. There are a couple of different tower tours. There's a 30-minute tour (£6 per person) at 12.30pm and 3.30pm which visits the tower and bell-ringing chamber. Or a one-hour tour (£8 adults or £6 children) at 11am and 2pm, which also goes up into the cathedral galleries.
Then walk just around the corner from the cathedral for lunch at the Chef's Table on Music Hall Passage. This independent restaurant's interiors are simple and stripped down so the focus is all on the food. Their website lists all the UK suppliers they get their ingredients from, which are turned into tasty dishes like spiced cod loin and confit abalone mushrooms. A set lunch costs £18 for two courses or £22 for three, with gluten-free, dairy-free and vegan options.
Saturday afternoon
Chester is home to the original medieval version of a shopping mall – the Rows. These double-decker shops are unique to Chester (and a good place to hide out if it happens to rain). Each black and white building has a layer of shops or restaurants on the ground floor, then another level raised above them. The shops are perfect for browsing, with a mix of High Street favourites and local independents. Or if you're a serious shopper then head just out of town to Cheshire Oaks – a big designer outlet village which has over 145 fashion brands.
Have a pre-dinner drink in the Secret Garden at Oddfellows hotel, with cocktails in summer and hot toddies and an outdoor fireplace in winter, before dinner at Porta. This cosy tapas bar under the Northgate Bridge is owned by the brothers who set up popular deli-restaurant Joseph Benjamin next door. The menu includes traditional tapas dishes croquetas, patatas bravas and lentil and chorizo stew, plus a selection of Spanish sherries, wines and cavas.
Sunday morning
Take a morning boat trip on the River Dee (adults £7, concessions £6.50 and children £2.50, with a discount if you book in advance online). Their half-hour city tours departs at least once an hour from The Groves. They take you upstream under the Queen's Park suspension bridge, past Grosvenor Park and through the meadows. Along the way you get background on the city's history as well as some great views – keep an eye out for kingfishers and cormorants too.
Next talk a walk along the Shropshire Union Canal, which runs along the edge of the city. The canal runs for around 60 miles from Ellesmere Port on the River Mersey through Staffordshire and Shropshire to Wolverhampton. The towpath walk passes Chester's city walls as well as converted industrial buildings, and warehouses, locks and narrow boats.
Then refuel with Sunday lunch at Artichoke in a former mill on the canalside (it gets busy though so it's a good idea to book a table in advance). If it's sunny, grab a spot outside by the water, or head inside where it still has the original bare bricks and iron columns from its days as a warehouse. As well as a choice of roasts there are Mediterranean-style salads and pizzas on the lunchtime menu, as well as a selection of craft beers and an immense gin list.
Sunday afternoon
Finish off your weekend in Chester with a trip to the zoo. Chester Zoo is on one of the largest zoos in the country with over 20,000 animals (entry for adults costs £24 and children £20 on the gate, but you can save about 30% if you book online in advance). The zoo is just outside the city and if you don't have a car it takes about 20 minutes on the number 1 or X8 bus.
Chester Zoo was founded in 1930 and focuses on conserving endangered species and keeping the environment as natural as possible. You can visit the Elephant House, a Black Rhino reserve, Monkey Island and the Realm of the Red Ape, and there are lots of activities for kids. There's a monorail to take visitors around the site as well as a boat trip through islands which are home to endangered species from South East Asia, including Sumatran tigers and Malayan sun bears.
Have you visited Chester? Do you have any tips to add on what to see, do and eat?
Pin it
This article contains affiliate links, where I get a small commission at no extra cost to you, thanks.