How to spend a weekend in Chester: Discover the best things to see, do, eat and drink in Chester in a two-day itinerary featuring this historic city's Roman walls, museums, cathedral and canal walks.
* This site contains affiliate links, where I get a small commission from purchases at no extra cost to you.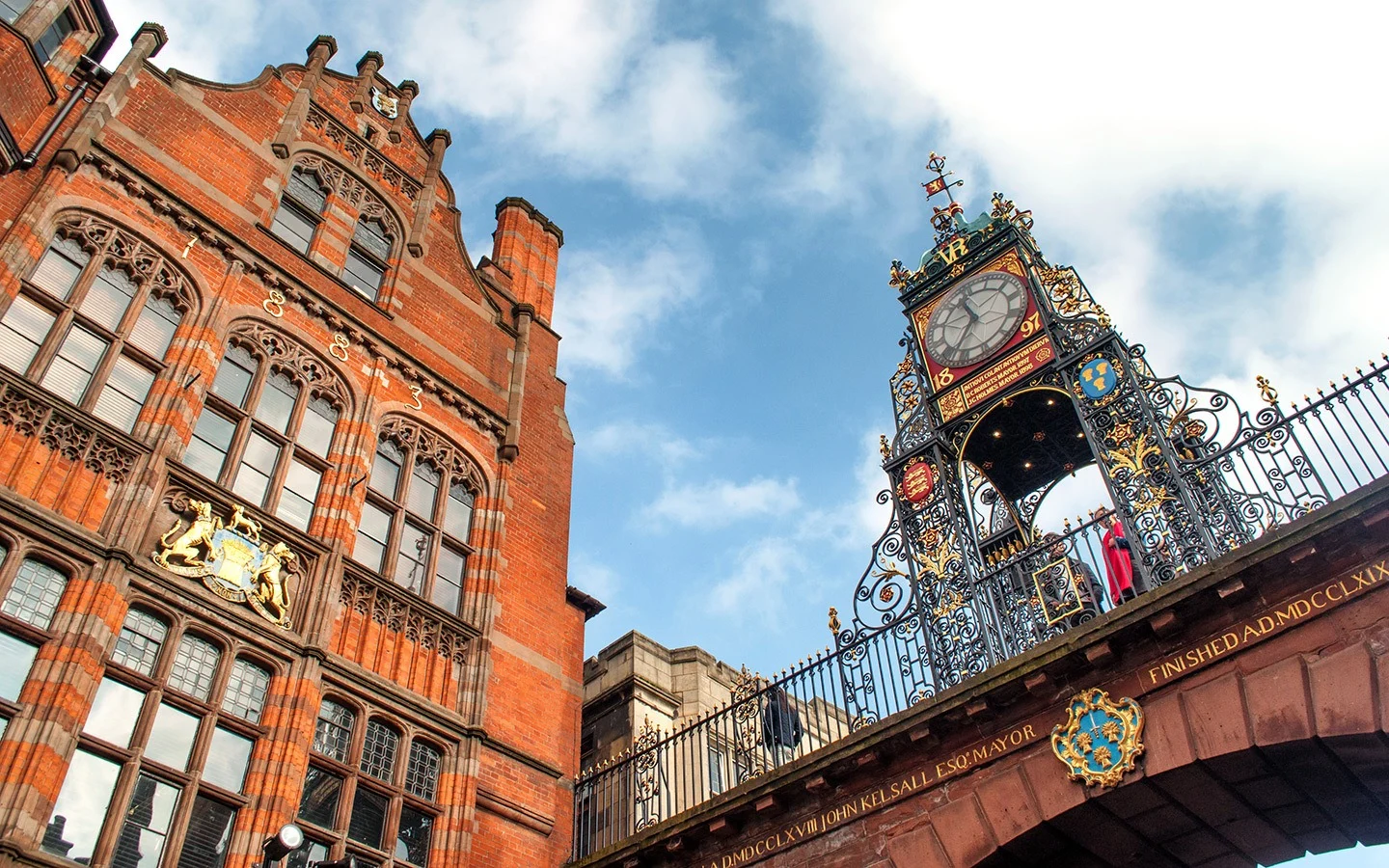 Located in northwest England close to the border with Wales, Chester has been pulling in visitors since the Romans, who founded the city in 79 AD. It's known for its cathedral, castle and Eastgate clock. But as well as a historic side, it's the perfect place to celebrate the finer things in life, from boutique shopping and afternoon tea to a day at the races.
Chester's location means it could easily get overshadowed by its bigger neighbours Manchester and Liverpool. But this city has plenty of character, history and style of its own, and packs a lot into a small space. So here's my two-day Chester itinerary to help you plan the perfect weekend in Chester, with what to see, where to eat, drink and stay.
How to spend a weekend in Chester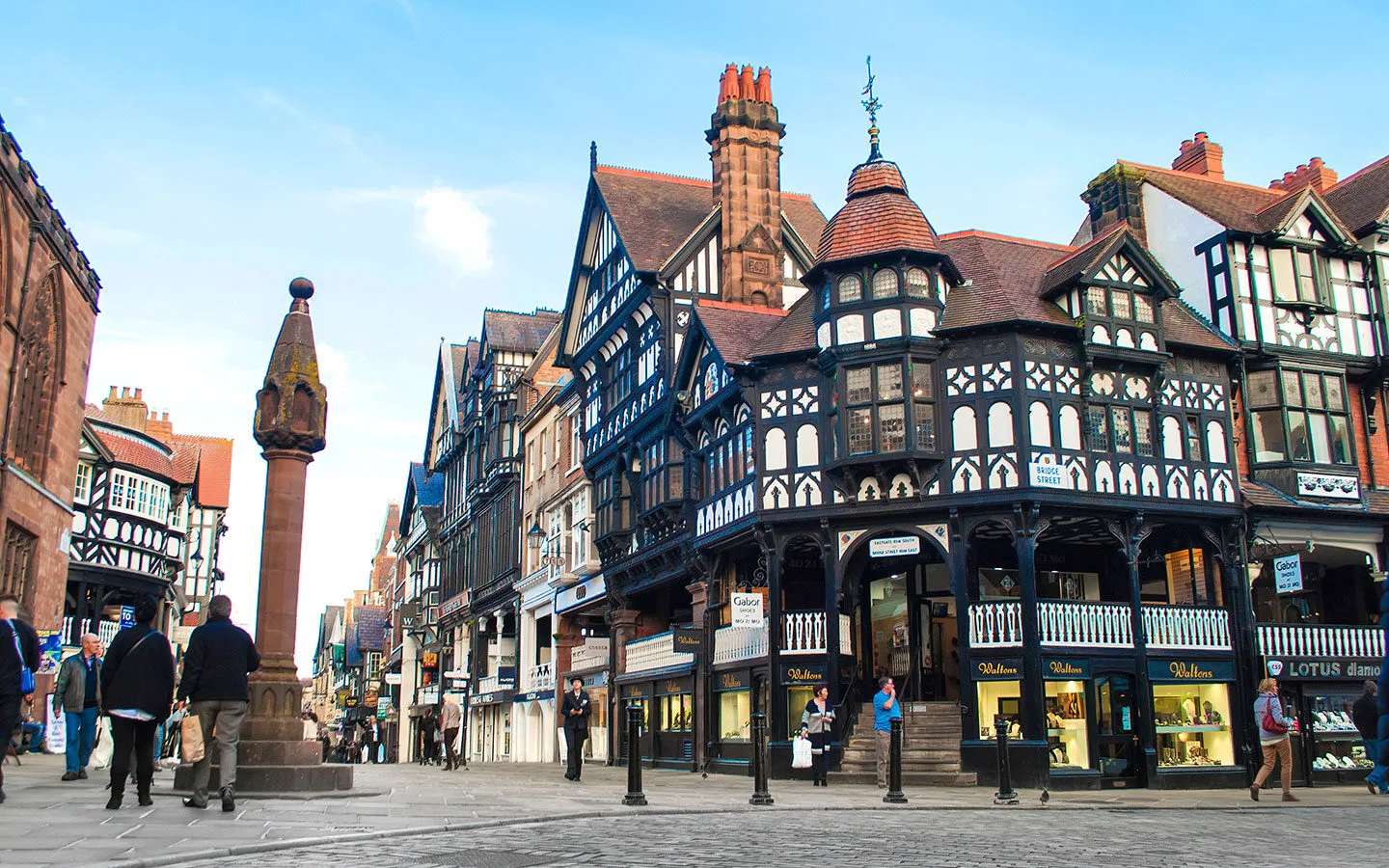 Friday evening
Check into your accommodation, then start your weekend in Chester with a pre-dinner drink at Prohibition on Watergate Street. This underground, speakeasy-style bar has a decadent, vintage feel – their creative cocktail list is served up from menus hidden inside old books, there's antique furniture and curios, and live jazz and blues playing.
Then have dinner at Upstairs at the Grill, a two-storey New York-style steakhouse almost next door. As you'd guess from the name they specialise in steak, with a range of different cuts of local meat dry-aged for five weeks. If you're not a steak fan there are dishes like rump of lamb, Canadian lobster and charred cauliflower steak available too.
Saturday morning
Start the day by heading back in time to Roman Chester, to the days the city was a fortress known as Deva Victrix. You can see the remains of Chester's Roman Amphitheatre on the edge of Grosvenor Park. It's the largest Roman amphitheatre in Britain, built in the late first century to entertain up to 7000 visitors with gory gladiatorial contests.
Next to the amphitheatre is the Roman Gardens, which has fragments from Roman baths and buildings on display. From there you can climb up onto Chester's city walls. The first walls were built by the Romans around 70–80 AD, and they were extended over the centuries, finally being completed after the Norman Conquest in the 12th century.
The walls run for almost two miles in a circuit around the old heart of the city past medieval gates and towers, with great views of Chester's most famous sites. After passing the Bridge Gate, you'll see Chester Castle, built using the same sandstone as the city walls.
The castle's Agricola Tower was built in the 12th century and was the original castle gateway. Inside the tower, the Chapel of St Mary de Castro displays some well-preserved wall paintings from 1240 (normally open 11am–2pm at weekends and free to visit).
Next you pass Chester Racecourse, also known as the Rhodee. Horse races have been held here since 1539, but it was built on the site of an old Roman port, which closed after the River Dee silted up. As you walk on along the walls you pass two towers built to defend the port – the Water Tower and Pemberton's Parlour (named after a local mayor).
The path then runs alongside the Shropshire Union Canal past the Northgate, the highest point in the city. You get good views of Chester Cathedral, before reaching the ornate Eastgate Clock. This was built to celebrate Queen Victoria's diamond jubilee and is England's second-most-photographed clock, beaten only by Big Ben's clock tower.
Once you get back to the Roman Amphitheatre, walk just around the corner to the Chef's Table on Pepper Street for lunch. This independent restaurant's interiors are simple and stripped down so the focus is all on the food. A lot of the produce comes from their own farm, with the menu changing every four to six weeks to keep it seasonal.
Dishes include roast grouse served with celeriac and blackberries, or belly pork with crackling, apple salsa and black pudding. There's a set lunch deal which costs £30 for two courses or £35 for three, including gluten-free, dairy-free and vegan options.
Saturday afternoon
After lunch, visit Chester's most imposing building – the cathedral. It started life as a Benedictine abbey in 1092 and was later rebuilt in Gothic style in the 13th–14th centuries before being made a cathedral in 1541. It's free to visit to admire its stained glass windows, carved choir stalls and the chapels designed by Sir George Gilbert Scott's son.
For one of the best views of the city – and out across five counties – take a tour of the cathedral tower (tours normally run at 1pm and 3pm on Saturdays and take an hour). The climb to the top takes you up 216 steps to a height of 125 feet, and the tour also includes the former Bell Ringing Chamber and gallery views of the cathedral interiors.
Next learn more about Chester's history at the Grosvenor Museum. It take you all the way from prehistoric fossils to 1920s interiors. The Roman gallery is one of the highlights, with rare Roman tombstones, and there are also works by local artists and Chester silver.
Have a pre-dinner drink in the Secret Garden at Oddfellows hotel, a walled garden bar with G&Ts in summer and hot toddies in one of their heated huts in winter. Then head to Porta for dinner, a cosy wine and tapas bar on Northgate Street run by two brothers.
The menu includes traditional tapas dishes like croquetas, patatas bravas, jamon Iberico and lentil and chorizo stew, plus a selection of Spanish sherries, wines and cavas. They don't take reservations though so it's a good idea to get there early.
Sunday morning
The following morning, take a walk around the Rows. These double-decker shops – the medieval version of a shopping mall – are unique to Chester. Each half-timbered black and white building has a layer of shops on the ground floor, and another level above.
A few are original 13th century buildings, including the Three Old Arches in Bridge Street which is believed to be the oldest surviving shopfront in Britain, but many others are Victorian copies. They're perfect for browsing – especially if it's raining as they're undercover – with a mix of High Street names and local independent businesses.
Some of our favourites include Powells Vintage Jewellery, Harriet & Dee for gifts, Harley's Vintage Boutique and The Cheese Shop, which stocks over 200 tasty cheeses.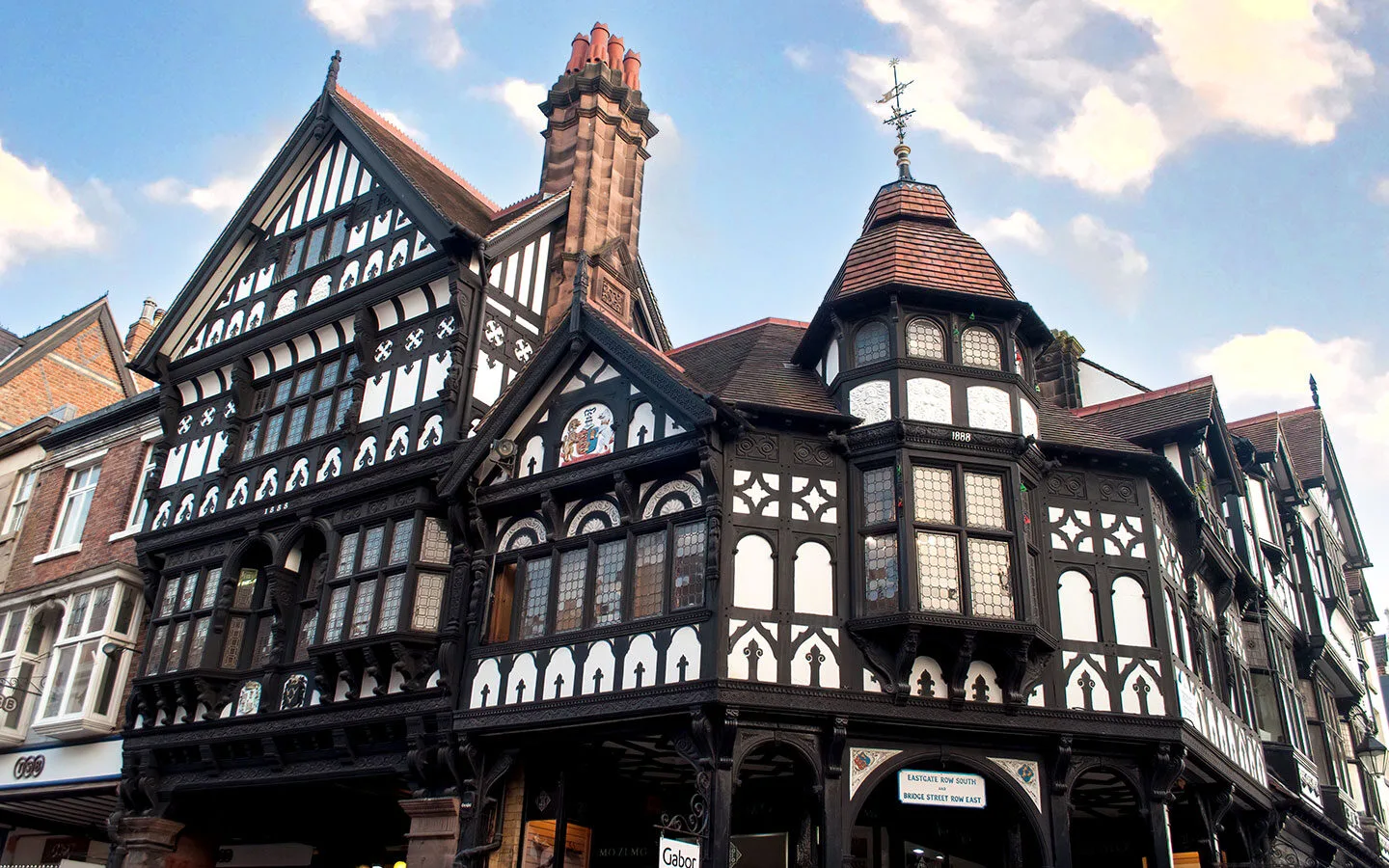 Then head out on the water – first with a boat trip along the River Dee. These half-hour tours normally depart around once an hour from The Groves, starting at 11am. They take you upstream under the Queen's Park suspension bridge, past the Boathouse Inn, Grosvenor Park and the suburb of Boughton, then on through the Meadows.
Along the way you'll learn about the history of Chester and the River Dee, and there are some lovely views. Keep an eye out for local wildlife as you float by – kingfishers, cormorants, swans and moorhens are all found living on the banks of the Dee.
Next stroll along the Shropshire Union Canal, which runs along the edge of the city. The canal runs for around 60 miles from Ellesmere Port on the River Mersey through Staffordshire and Shropshire to Wolverhampton. The towpath walk passes Chester's city walls as well as converted industrial buildings, locks and narrow boats.
Then have Sunday lunch at Chez Jules. This local favourite French bistro has been running for over 25 years in a former fire station, and puts a Gallic spin on a traditional Sunday roast. Think demi roast chicken and braised shoulder of lamb alongside roast beef and Yorkshire puddings. Plus veggie options like tempura banana blossom.
Sunday afternoon
Then head out of the centre of Chester to the zoo. Chester Zoo is one of the largest zoos in the country, with over 35,000 animals and 500 different species. The zoo is a 10-minute drive north of the city – if you don't have a car it takes around 20 minutes to get there on the Stagecoach X1 bus from Chester train station or Chester bus interchange.
The zoo was founded in 1930 and focuses on conserving endangered species and keeping the environment as natural as possible. There's the Asiatic Lion habitat, lemurs in Madagascar and the Realm of the Red Ape, as well as elephants, rhinos and cheetahs.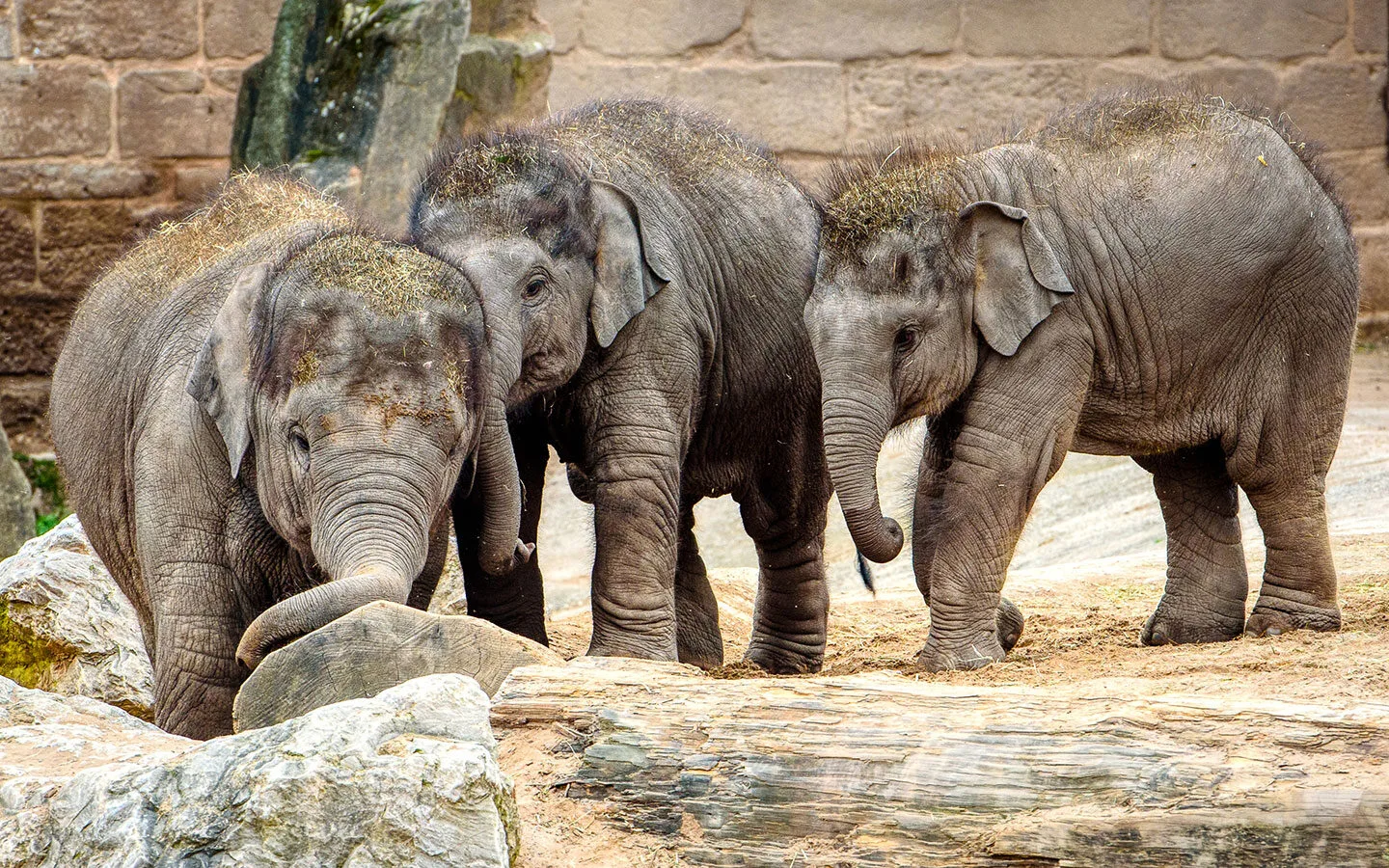 A monorail transports visitors around the site and you can take a boat trip through islands which are home to endangered species from South East Asia, including Sumatran tigers and Malayan sun bears. And there are lots of hands-on activities available for kids.
Finally, finish your weekend in Chester back in the city centre with afternoon tea at The Grosvenor hotel. This grand hotel has been the place for well-heeled visitors to take tea since 1882, with delicate finger sandwiches, scones and dainty pastries served with tea and coffee (and an optional glass of Champagne) in the Arkle Bar and Lounge.
Map of things to do in Chester
The details
How to get to Chester
Chester is around two hours by direct train* from London Euston, and it's also easy to reach Liverpool (45 minutes), Manchester (1 hour) and Birmingham (1.5–2 hours) by train. Or you can take a National Express coach to various destinations around the UK.
If you're driving, Chester is 210 miles (4 hours' drive) from London, 28 miles from Liverpool or 40 miles from Manchester. Overnight car parking is available at Brook Street (CH1 3HU), Watergate Street (CH1 4JH) and Chester Browns Yard (CH1 3LY).
There are also four park and ride car parks on the edge of Chester at Boughton Heath, Sealand Road, Upton and Wrexham Road, which are useful if you want to avoid driving into the city centre. Parking is free, you just pay £2 for the bus in and out of the city.
The nearest airports are in Manchester (45 minutes' drive) or Liverpool (35 minutes' drive). Direct trains run from Chester to Manchester airport. But for Liverpool airport you'd need to take a train into Liverpool then either catch the Arriva 500 bus from Lime Street station, or get the train to Liverpool South Parkway then take a short bus ride to the airport.
Where to stay in Chester
The Grosvenor* is a Chester institution, set in a historic black and white building right in the heart of the city. It's the place to splash out for a special stay, with a real sense of old-fashioned luxury, from the top-hatted doorman to the lobby draped with crystal chandeliers. There's also a Michelin-starred restaurant and a spa and thermal suite.
The Roomzzz Chester City* is a more affordable option, with 64 modern apartment hotel rooms located close to the racecourse. Each room comes with a lounge area and a mini-kitchen with a hob, fridge and dishwasher, and some have balconies. A 'grab and go' breakfast is included, where you can help yourself to coffee and croissants.
Or the Hotel Indigo Chester* is a stylish, colourful boutique hotel close opposite Grosvenor Park. Its 75 rooms are split into three categories – Standard, Deluxe and The Grosvenor with its four-poster bed and balcony – and all have Hypnos beds, wet rooms with rainfall showers and complimentary nibbles. There's also a restaurant and bar.
Save for later
You might also like