Explore the Borders and Wales by train on this one-week itinerary, which features the best of the region – from castles and cable cars to steam trains and seaside towns. Starting in Cardiff, the route takes in the unpoilt Welsh Marches on its way to Shrewsbury before crossing back into Wales and travelling up the coast past Victorian seaside resorts and Snowdonia's mountains on its way to Chester. This itinerary shows you which trains to take, how much they cost, how to book and what to see and do along the way.
Read more: Five great one-week rail trip route ideas for Europe and Britain
The Borders and Wales by train map
Day 1: Cardiff
Start your Borders and Wales rail trip with a day in the Welsh capital, Cardiff. Travel through 2000 years of history at Cardiff Castle, which has been a Roman Fort, Norman Castle, Victorian mansion and Second World War bomb shelter. Take a peek at its ornate interiors with a tour of the Castle Apartments, and check out the views from the keep.
Visit the city's Victorian and Edwardian arcades with their independent shops – cheese-lovers don't miss Madame Fromage in the Castle Arcade. Wander through Bute Park's arboretum and learn more about Welsh history at the National Museum of Cardiff. This two-for-one museum has a natural history gallery on the ground floor and an art gallery with paintings, sculpture and ceramics from Wales and beyond upstairs.
Travel just outside the city centre to Cardiff Bay, where the former industrial docklands have been redeveloped. Explore the mix of modern architecture and historic buildings, like the Welsh Assembly's Senedd parliament building, copper-fronted Millennium Centre, red-brick Pierhead building and wooden Norwegian Church (Doctor Who fans might spot a few filming locations from the series too), before grabbing a drink in Mermaid Quay.
Where to stay in Cardiff: Boutique hotel Cathedral 73* is a 15-minute walk from Cardiff city centre in a smart, leafy neighbourhood. This Victorian townhouse has been decorated in luxurious style with cool art and furnishings. There's a lounge and piano bar – and you might get taken for a spin in the hotel's yellow Rolls Royce if you ask nicely.
Day 2: Cardiff > Shrewsbury
The following morning, catch the train north across the border into England and the market town of Shrewsbury. The journey takes around two hours, departing Cardiff Central at 08.50 and arriving in Shrewsbury at 10.50. Set among the Shopshire Hills nine miles from the Welsh border, Shrewsbury is a laid back, peaceful town once home to Charles Darwin.
Head back in time to the red brick 13th-century Shrewsbury Castle, where you'll find the Shropshire Regimental Museum and views over the town from Laura's Tower. Explore more of Shrewsbury's history on the Shrewsbury Historic Church Trail, including St Chads, the largest round church in the UK. Or visit the Shrewsbury Museum and Art Gallery.
Shrewsbury lies in a loop of the River Severn and you can take a 45-minute boat trip from the English Bridge in one direction to the Welsh Bridge in the other. Or explore The Quarry, a 29-acre riverside park, and shop for local gifts and produce at the Market Hall.
Where to stay in Shrewsbury: The 16th-century Lion & Pheasant Hotel* has plenty of character, with oak beams, flagstone floors and fireplaces, combined with a neutral contemporary décor. It's only a few minutes' walk from the riverside and abbey, and has a 2 AA Rosette restaurant, cocktail bar and secluded courtyard garden.
Day 3: Shrewsbury > Aberystwyth
Next head back into Wales and the coastal town of Aberystwyth. The journey takes around two hours, leaving Shrewsbury at 09.30 and arriving in Aberystwyth at 11.21. With its long sandy beach, Aberystwyth has been a seaside holiday favourite for generations.
Take a stroll along Aberystwyth's mile-long Victorian promenade and visit the oldest pier in Wales, built in 1864. Grab an ice cream and try your luck on the slot machines, and look out for the impressive starling murmurations on summer evenings. Visit the seafront ruins of Aberystwyth Castle, built by the English in the 13th century to keep the Welsh out.
Climb up Constitution Hill for sunset, or take the easier route to the top on board the Aberystwyth Cliff Railway, a electric funicular dating back to the 1800s. Constitution Hill is also home to the world's largest Camera Obscura, which gives you a 360-degree view along the coast. Or visit the National Library of Wales to see the world's smallest book.
Where to stay in Aberystwyth: The Gwesty Cymru Hotel & Restaurant* is right on Aberystwyth's seafront, overlooking the pier and just a short walk from the train station. Rooms are smart and neutrally decorated, with local artworks and oak furniture to add character, and they have a café and wine bar with a seafront terrace.
Day 4: Aberystwyth > Harlech
Then catch the scenic Cambrian Coast Line for the three-hour journey north to Harlech. Depart Aberystwyth at 09.29, change at Dovey Junction near Machynlleth half an hour later and arrive into Harlech at 12.26. Look out for the stunning views along the way as you travel through Snowdonia National Park and cross the estuary at Barmouth.
Explore Harlech Castle, one of the country's most impressive medieval castles, built by Edward I in the 13th century and perched on top of a cliff to protect it from invaders. Take a walk on Harlech's huge sandy beach, which has been made a National Nature Reserve for its sand dune ecosystem. Or play a hole or two at beachside David's Golf Club.
Or take an afternoon trip to the Italian-style village of Portmeirion – the closest station is at Minffordd, 15 minutes from Harlech. Portmeirion was the creation of eccentric Sir Bertram Clough Williams-Ellis, who rescued old buildings from around the UK which were due to be demolished and created a unique, colourful village, with a hotel and restaurant.
Where to stay in Harlech: You can't get a better location than the Harlech Castle Apartments. These five apartments next to the gatehouse each sleep two, with fantastic views of the castle and the sea and mountains beyond. They've been recently converted, and have an en-suite stylish bedroom, cosy lounge and fully-equipped kitchen.
Day 5: Harlech > Llandudno
The next day, take the train from Harlech for the 25-minute journey to Porthmadog, where you can change onto the Ffestiniog Railway's historic steam trains to former mining town Blaenau Ffestiniog. The 'Mountain Spirit' route takes 1 hour and 15 minutes, leaving Porthmadog at 14:30 and arriving in Blaenau Ffestiniog at 15:45.
Note the Ffestiniog Railway doesn't run all year, so if it isn't available the 3B bus runs between Porthmadog and Blaenau Ffestiniog and takes around 30 minutes.
From Blaenau Ffestiniog rejoin the 21st century and travel on to Llandudno on board a regular train, which takes 1 hour 15 minutes, departing at 17.38 and arriving at 18.51. Llandudno is another of Wales' Victorian seaside resorts, fronted by the long sandy stretch of North Shore Beach with its seaside promenade and pier. There's also the quieter West Shore Beach with its peaceful stretch of sand.
Where to stay in Llandudno: Escape Boutique B&B* is a stylish but friendly base in Llandudno. Its nine individually decorated rooms mix Victorian features with vintage furniture and colourful murals, and there's an honesty bar and tasty breakfasts.
Day 6: Llandudno > Chester
Climb to the top of Great Orme, a limestone headland overlooking the town with panoramic views of Anglesey and Snowdonia. It has a Country Park and Nature Reserve, as well as the remains of a prehistoric copper mine. Take a hike to reach the top or get there the easy way on either the historic tramway or the Llandudno Cable Car to the summit.
Then travel back back across the border into England and the city of Chester, departing Llandudno at 13.22 and arriving in Chester at 14.29, with a change at Llandudno Junction. Chester is packed with history, dating back to the Romans who knew the city as Deva Victrix.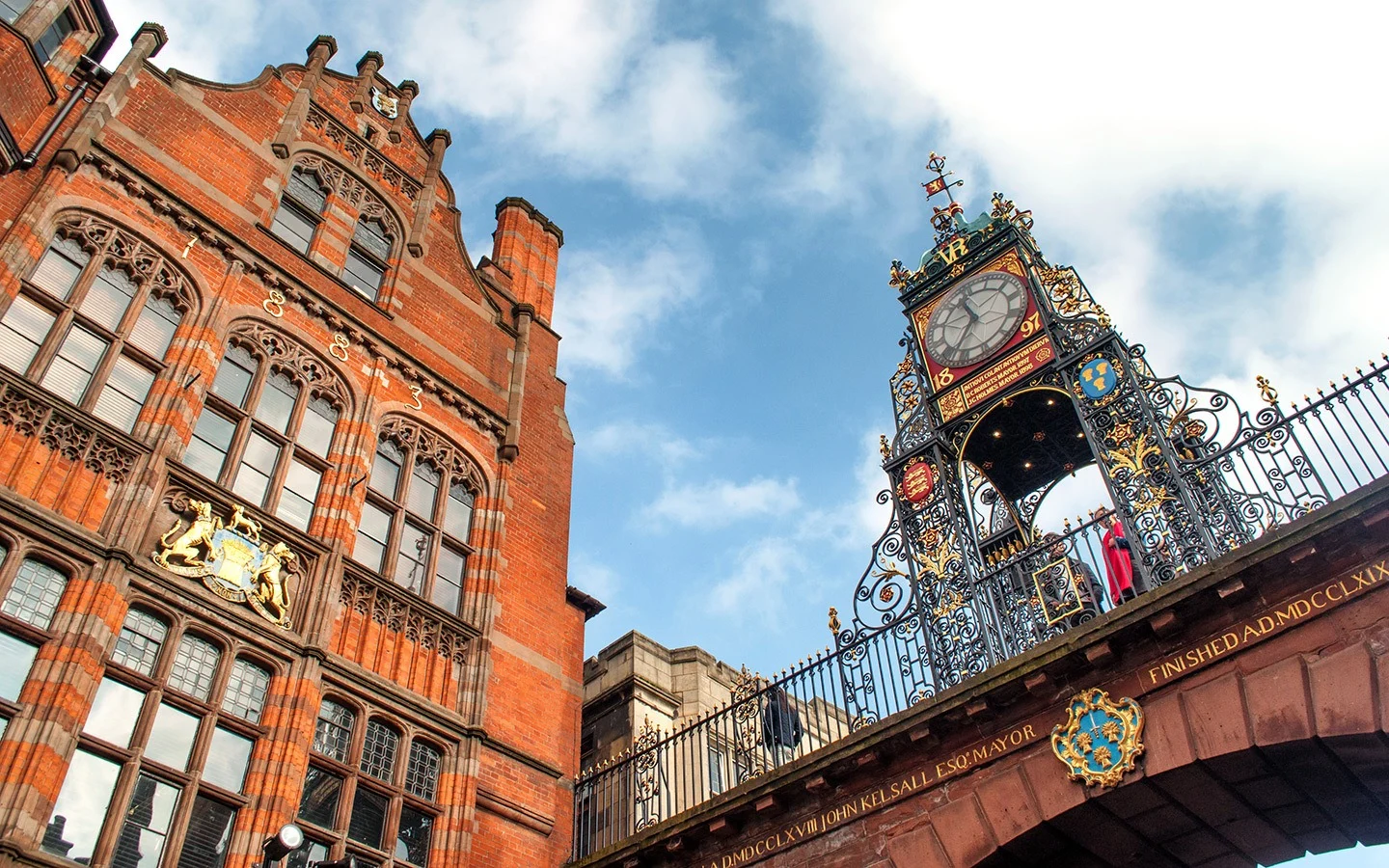 Explore the remnants of Roman Chester with a walk along the two-mile route of the old Roman city walls around the city and visit the ruins of the Roman Amphitheatre and Roman Baths. Admire the Eastgate Clock, built on top of a bridge to celebrate Queen Victoria's diamond jubilee, and shop the double-decker black and white shops of the Rows.
Where to stay in Chester: The smart Grosvenor* is full of old-fashioned glamour, from its doormen in top hats to the lobby's sparkling crystal chandeliers. This five-star hotel is right in the heart of Chester and has a Michelin-starred restaurant and luxurious spa.
Read more: A weekend in Chester: A 48-hour itinerary
Day 7: Chester > Cardiff
Spend the morning seeing more of Chester. Visit Chester's abbey-turned-cathedral and take a tour of the tower for one of the best views of the city. Take to the water on a boat trip along the River Dee or a walk along the Shropshire Union Canal, passing narrowboats and red brick mill buildings. Or meet the locals at Chester Zoo, one of the UK's largest zoos with a focus on conservation.
Finally, finish your Borders and Wales by train trip by travelling south back to Cardiff. The 13.38 train from Chester arrives in Cardiff at 17.00, with a change in Shrewsbury. Along the way the train passes the impressive Pontcysyllte Aqueduct and runs through the Shropshire Hills and Herefordshire countryside. Then if you're flying home, you can reach Cardiff International Airport from the city centre by train or bus in around an hour.
More time?
If you have more time to spare, it's not far from Chester to the cool northern cities of Liverpool (45 minutes) and Manchester (1 hour 10 minutes), both known for their industrial heritage, music scene, nightlife and famous football clubs. Or if you're finishing the trip back in Cardiff, you can catch the train along the south coast of Wales to visit the pretty Pembrokeshire seaside towns of Tenby, Saundersfoot and Manorbier (2–3 hours).
How much does it cost?
When you're planning a Wales rail trip, you can either book individual tickets or get a railpass, which can be a better deal if you're under 28/over 60, want more flexibility or are booking late. Here's how the prices break down for the two different options on this route.
Individual tickets
Ticket prices depend on how early you book and if you're booking a specific train or want to be flexible. There are three main fare categories: Advance, Off-Peak or Anytime. Advance are cheapest and can be booked 8–12 weeks in advance, but are non-transferable so you're tied to a specific train. Off-Peak services are valid on any train outside weekday peak hours. And Anytime are the most expensive but can be bought on the day and used on any train.
Using the cheapest Advance fares, the cost of trains on this route starts at £139 per person:
Cardiff > Shrewsbury: from £17
Shrewsbury > Aberystwyth: from £9
Aberystwyth > Harlech: from £17
Harlech > Llandudno: from £13.40 (plus £40 for the Ffestiniog Railway)
Llandudno > Chester: from £19.90
Chester > Cardiff: from £22.50
You can also save a third on all rail fares with a Railcard*. These cost £30 and there are different versions for 16–25s, 25–30s, Seniors and Disabled People. You can also get a Two Together railcard for two named adults travelling together, or a Friends and Family Railcard for up to four adults and four children. Both UK and overseas residents are eligible.
The railpass option
There are various rail passes available, and which you're eligible for depends on where you live. If you live outside the UK, you can can get a InterRail/Eurail* (InterRail is for European residents and Eurail is for non-European residents) or BritRail pass. They all work in a similar way and cover either a set period of time or a certain number of travel days.
For the Borders and Wales by train itinerary, the best InterRail/Eurail option is the One Country Great Britain pass for 5 travel days within 1 month (€241 adults, €209 youths aged 12–27 or €217 seniors over 60). Or the best BritRail option is the BritRail GB Pass for 8 Consecutive Days (€286 adults, €156 youths aged 16–25 or €244 seniors over 60).
Transport For Wales* also offers its own rail passes for both UK and overseas residents. The best option for this itinerary is the Explore Wales Pass, which gives you unlimited travel by train and bus. The pass costs £99 for adults, £49.50 for children aged 5–15 and there are discounts for Railcard holders. It onlys cover 4 days of travel within 8 days though, so you'd need to book one journey separately (day two is probably the cheapest).
Passholders are recommended to make seat reservations – though it's probably only worth doing for long-distance services or at busy peak times so you're guaranteed to get a seat – which you can do for free at any UK train station up to two hours before departure. Please note the Ffestiniog Railway is privately owned so isn't covered by any rail passes.
How to book
There are a variety of websites where you can book UK train journeys, but most charge a booking fee. To avoid the fee you can either book direct with Transport for Wales* or Raileasy* – you can use international credit cards and either use a mobile ticket on your phone or collect them from a ticket machine or a counter at the station.
Pin it
* This site contains affiliate links, where I get a small commission from purchases at no extra cost to you.