Discover the best things to do in Avignon, the historic city in the South of France which was once the home of the Popes, from boat trips and bridges on the Rhône to historic palaces and wine tastings.
* This site contains affiliate links, where I get a small commission from purchases at no extra cost to you.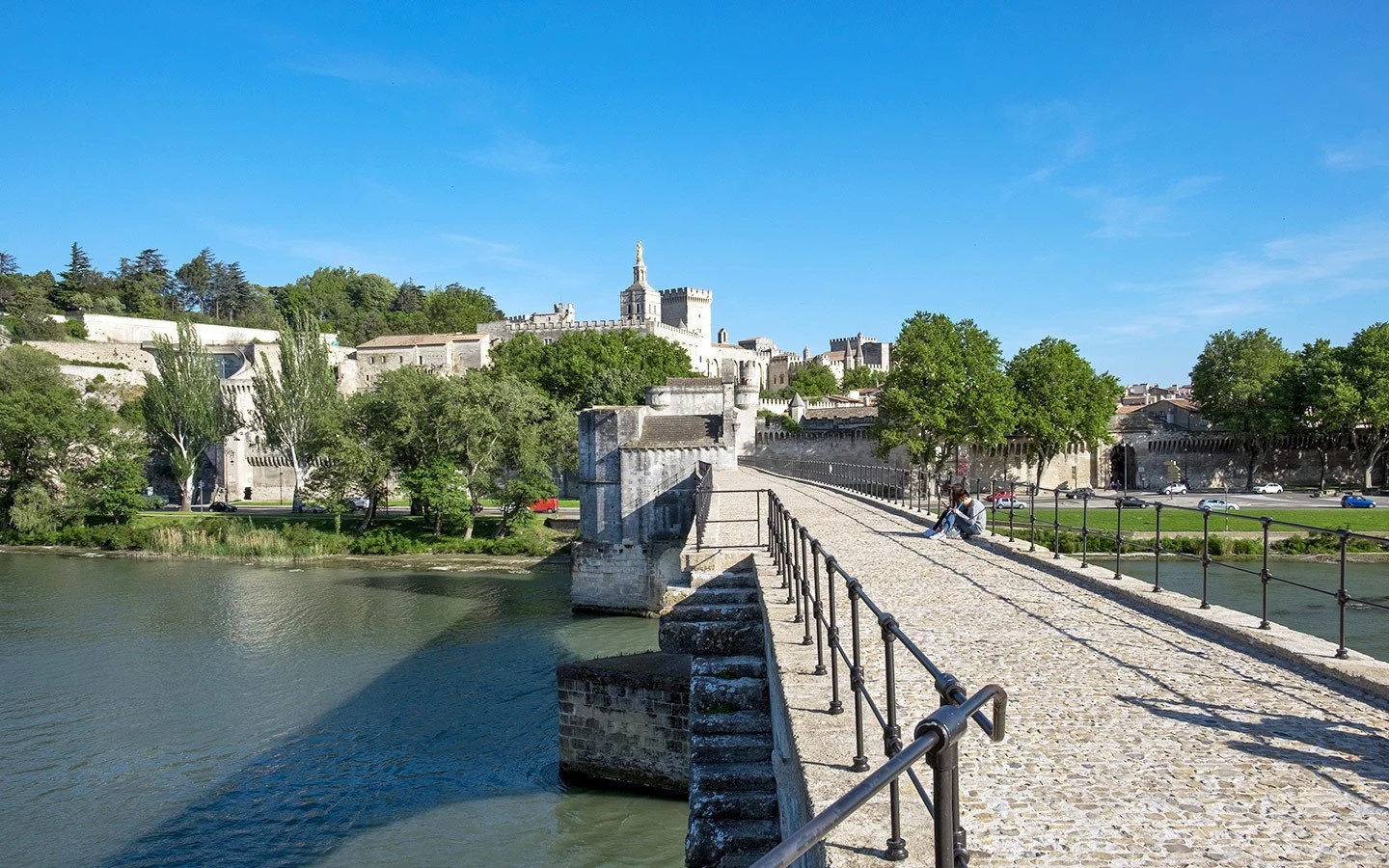 Set on the banks of the Rhône and surrounded by medieval stone ramparts, Avignon is one of Provence's biggest cities. So I was expecting it to be, well, more like a big city. But instead I found a place with a relaxed, small-town feel. It comes with a fascinating history, and its time as home of the Popes means there's some impressive art and architecture.
But Avignon isn't just looking towards to the past – there's a big student population with new bars and restaurants springing up all the time. It's a good place to while away a day or two eating, drinking and sightseeing, not to mention exploring the gorgeous Provençal countryside on its doorstep. So here's my pick of the best things to do in Avignon.
The best things to do in Avignon, France
Dance 'Sur le Pont d'Avignon'
Avignon's most famous landmark is a bridge that doesn't actually go anywhere, and it's all thanks to an old song. The Pont d'Avignon – or the Pont St-Bénezet to give it its proper name – only goes halfway across the river. But the original 11th-century wooden version connected Avignon with nearby Villeneuve-lès-Avignon.
After it was destroyed by flooding, a stone version was built, but even that couldn't withstand the power of the Rhône. It was abandoned in the mid-17th century and all that's left are four of the original 22 arches. But it's become a city landmark thanks to a 15th-century song about dancing 'Sur le Pont d'Avignon' (on the Avignon bridge).
It's a French kids' classic with a catchy tune you'll have stuck in your head for days. If you want to dance on the bridge yourself, entry costs €5, or you can get great views of it from the waterfront path over the river or the hilltop Jardin du Rocher des Doms.
Visit the Palais des Papes
For a small city, Avignon is home to a seriously impressive palace, and it's courtesy of the 14th-century Popes. In 1309, Pope Clement V fled corruption in Rome and set up a new base in Avignon, where the Papacy stayed for the next 68 years.
And they weren't going to rough it while they were there, so they built and decorated a huge medieval Gothic fortress palace, which was completed in less than 20 years. The Palais des Papes you see today covers 15,000 square metres and is an amalgamation of two palaces built by two different popes, known as the Old Palace and New Palace.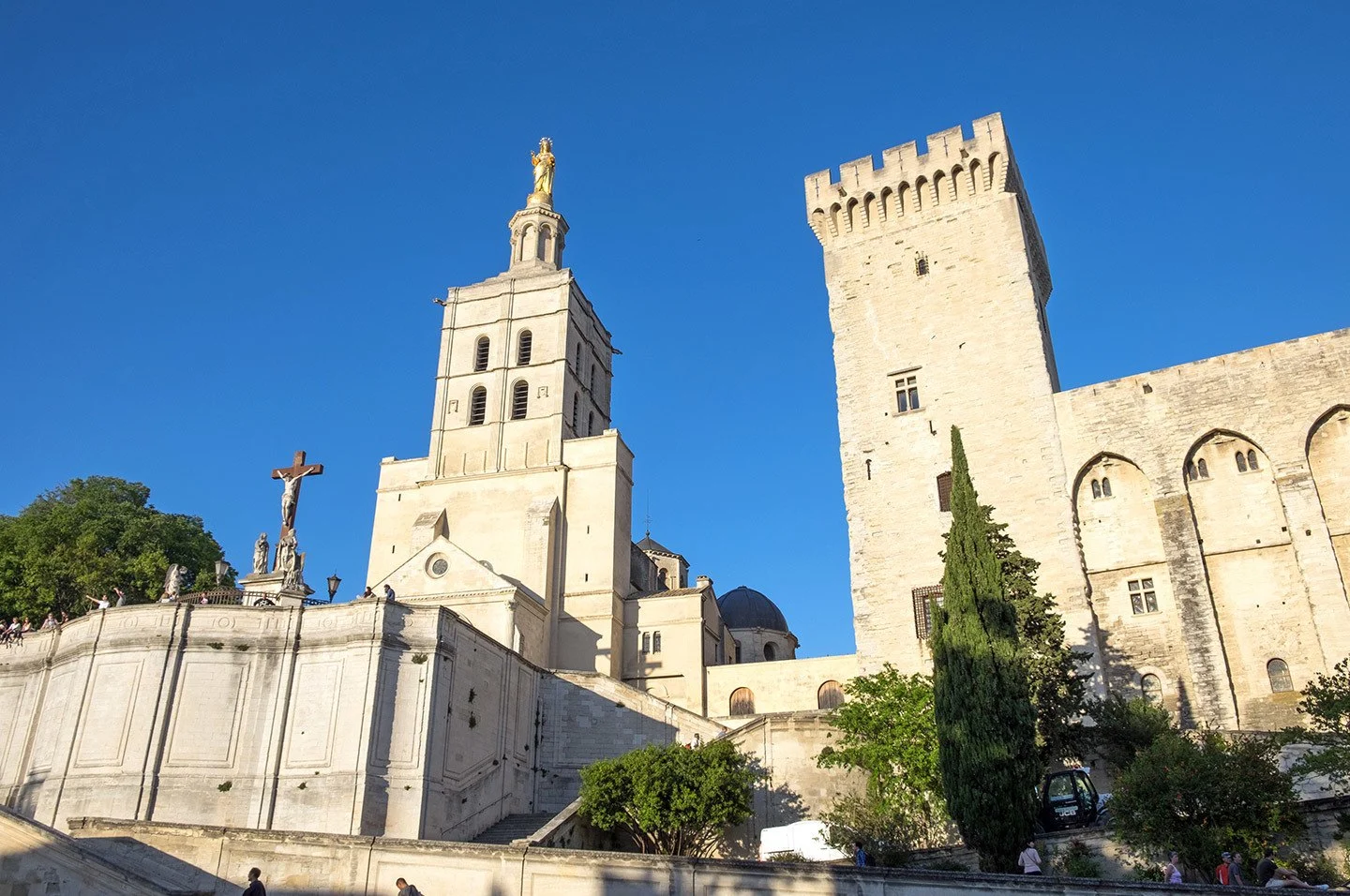 It wasn't used for long though, as the Papacy returned to Rome in 1377, and the palace was later used as a military barracks and prison before becoming a museum. Today it's a UNESCO World Heritage Site and one of the top things to do in Avignon.
From outside the building dominates the old town. Inside it's more sparsely decorated now but still an imposing place, with 25 rooms open to the public. It's also used for events like sound and light shows and as a venue for the annual Festival d'Avignon. And make sure not to miss the rooftop terrace and café for views over Avignon's rooftops.
Get lost inside the ramparts
Avignon's old town is encircled by 4.3km-long stone ramparts, which were built by a 14th-century Pope to protect the city from attacks by mercenaries. Today most of the city sights are conveniently positioned inside the walls, and plenty of pedestrianised areas make it an easy place to wander around and see what you discover.
There are lots of boutique shops tucked away in Avignon's side streets, and prime people-watching opportunities in the city's squares. Grab a glass of wine or a coffee and watch the early evening promenade. Place de l'Horloge is the best-known square and home to the city hall and opera, or there's the Place du Palais near the Palais des Papes.
Admire the artworks in Avignon's museums
One of the cultural legacies of the Popes' time in Avignon is the array of art museums around the city, with five different museums dedicated to different time periods and styles. Best-known is the Musée du Petit Palais is a former archbishop's palace next door to the Palais des Papes, which has an impressive collection of Italian religious art.
The Musée Calvet is a fine arts museum with paintings, drawings and sculptures from the 16th to 20th centuries. The Musée Angladon has works by Picasso, Van Gogh and Degas. The Louis Vouland Museum displays 18th-century porcelain and furniture. And the Lambert Collection is the newest addition, focusing on contemporary modern art.
Take a walk down the Rue des Teinturiers
The cobbled waterside Rue des Teinturiers is a contender for Avignon's prettiest street. It follows the Canal de Vaucluse and was nicknamed 'the street of the waterwheels' as the centre of Avignon's silk spinning and dyeing industry from the 14th to 19th century.
By 1817 there were 23 mills along the Rue des Teinturiers. Most were destroyed during the French Revolution, but you can still see four waterwheeels in action as you walk along the canal. The street runs from the Rue des Lices to Rue Guillaume-Puy, and its old stone houses are now cafés, restaurants and shops, shaded by a row of tall plane trees.
Look out for the chapel and bell tower which are all that's left of what was Avignon's biggest church. There's also the gothic Maison du IV de Chiffre, the city's oldest house from 1493, and the home of the 19th-century insect expert Jean-Henri Fabre at number 14.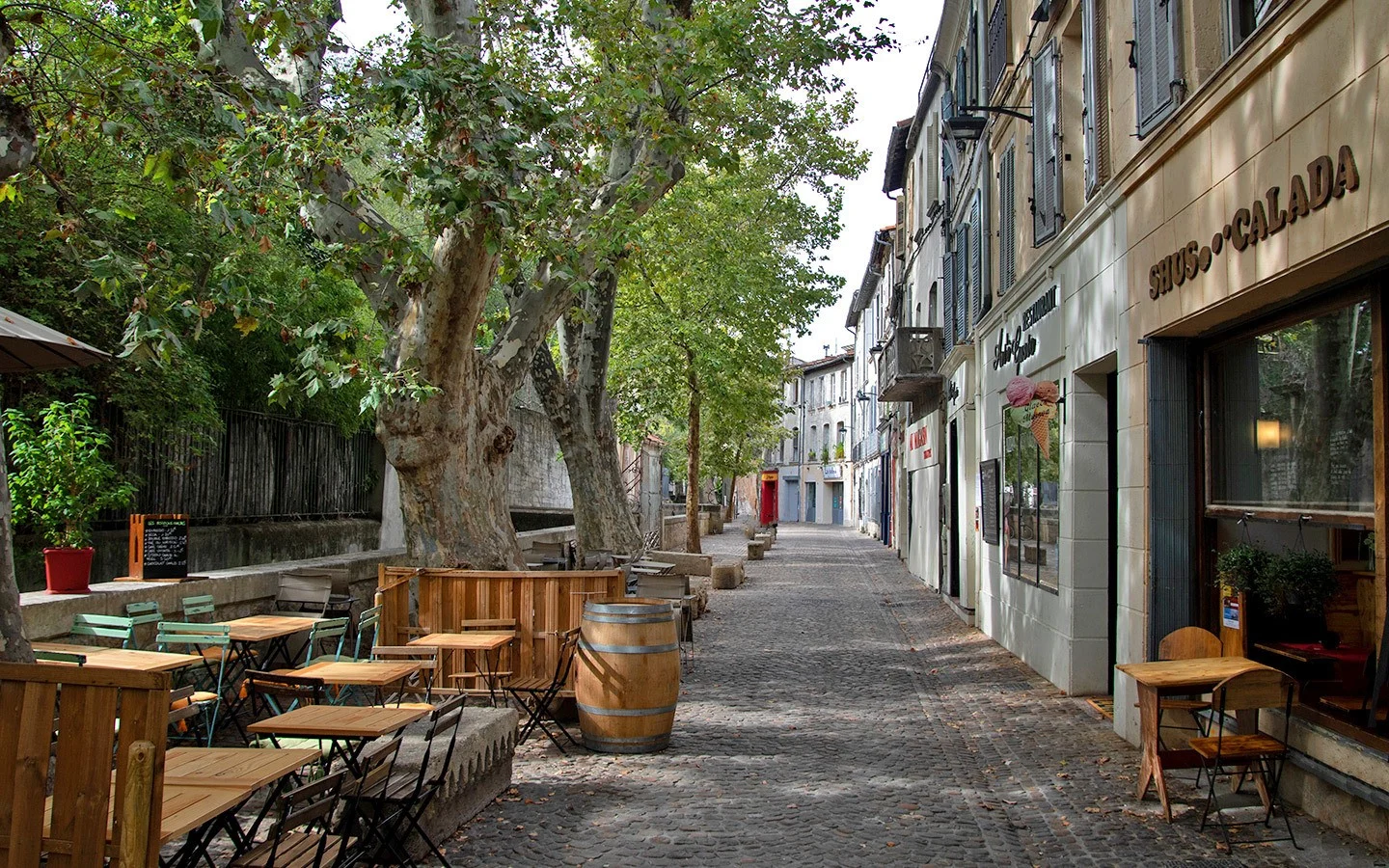 Wine and dine Provençal style
Provence is known for its fresh produce, with local specialities including melons, goats' cheese, truffles, olive oil and nougat. Avignon's also surrounded by famous wine regions Châteauneuf-du-Pape and Gigondas. So you won't go hungry or thirsty.
In summer we ate goats' cheese salads, omelettes with truffles and glasses of rosé. Or in winter you can tuck into warming dishes like bouillabaisse (fish soup), boeuf en daube (beef stew), or the more unusual pieds-paquets (stuffed sheep's stomach).
If you want to stock up on food for dinner or grab some picnic supplies, head to Les Halles food market. They have tons of tasty Provençal produce, including breads, cheeses, charcuterie, fruit and wine. The market is open from 6am–2pm every day except Monday, and if you're there on a Saturday there's a free cookery class by local chefs at 11am.
Set sail on the Rhône
If you want to see Avignon from a different angle – including getting a great view of that famous bridge – you can take a boat trip along the Rhône. The Rhône originates in the Swiss Alps and flows for 813km past the vineyards of the Côte du Rhône and through the cities of Lyon, Avignon and Arles, until it reaches the Mediterranean.
There are a range of different boat trips available, and Avignon's a popular stop on river cruise routes, so you'll often see a few ships docked just outside the city walls. We took an hour-long trip along the Rhône as far as Villeneuve-lès-Avignon and back with Grands Bateaux de Provence, who also offer longer lunch and dinner cruises.
You can also take a short trip on the free ferry to L'île de la Barthelasse. It's located between two branches of the Rhône and is the biggest river island in France. It covers 700 hectares with lots of walking and cycling paths and makes a peaceful escape from the city.
Explore the surrounding area
Although there are plenty of things to do in Avignon to fill a few days, there are also lots of interesting places nearby. South of Avignon are the Roman towns of Arles and Nîmes, both easy to reach by train. You can visit their Roman amphitheatres and monuments, as well as the picturesque streets of Arles which inspired Vincent Van Gogh.
There's also the Pont du Gard, an impressive 275-metre-long Roman aqueduct. Or you can head east to the Luberon* to explore its hilltop villages and red cliffs. And if you're visiting from late June to early August you can see Provence's famous lavender fields*.
The Côte du Rhône wine region is just north of Avignon and is home to some of France's best vineyards. Wine lovers can visit take a half-day tour* from Avignon which visits wine producers in the appellations of Châteauneuf-du-Pape, Gigondas and Seguret.
The details
When to visit Avignon, France
Avignon has a Mediterranean climate, with hot, dry summers and fairly mild winters. The busiest months are June to September, and especially July when the Festival d'Avignon takes place, so book well in advance. Average summer highs range from 26–32°C (79–89ºF) and it can get very hot in July with occasional thunderstorms.
Spring is warm and dry so is a good time for sightseeing, with highs of 20–24°C (67–75ºF). And autumn temperatures are similar, but rainfalls peaks in September and October.
Winter is fairly dry, with average highs of 11ºC (52ºF) and lows around 2ºC (35ºF). But the Rhone Valley is affected by the Mistral – a cold, dry wind from the north or north-west which is most common in winter and can send temperatures plummeting.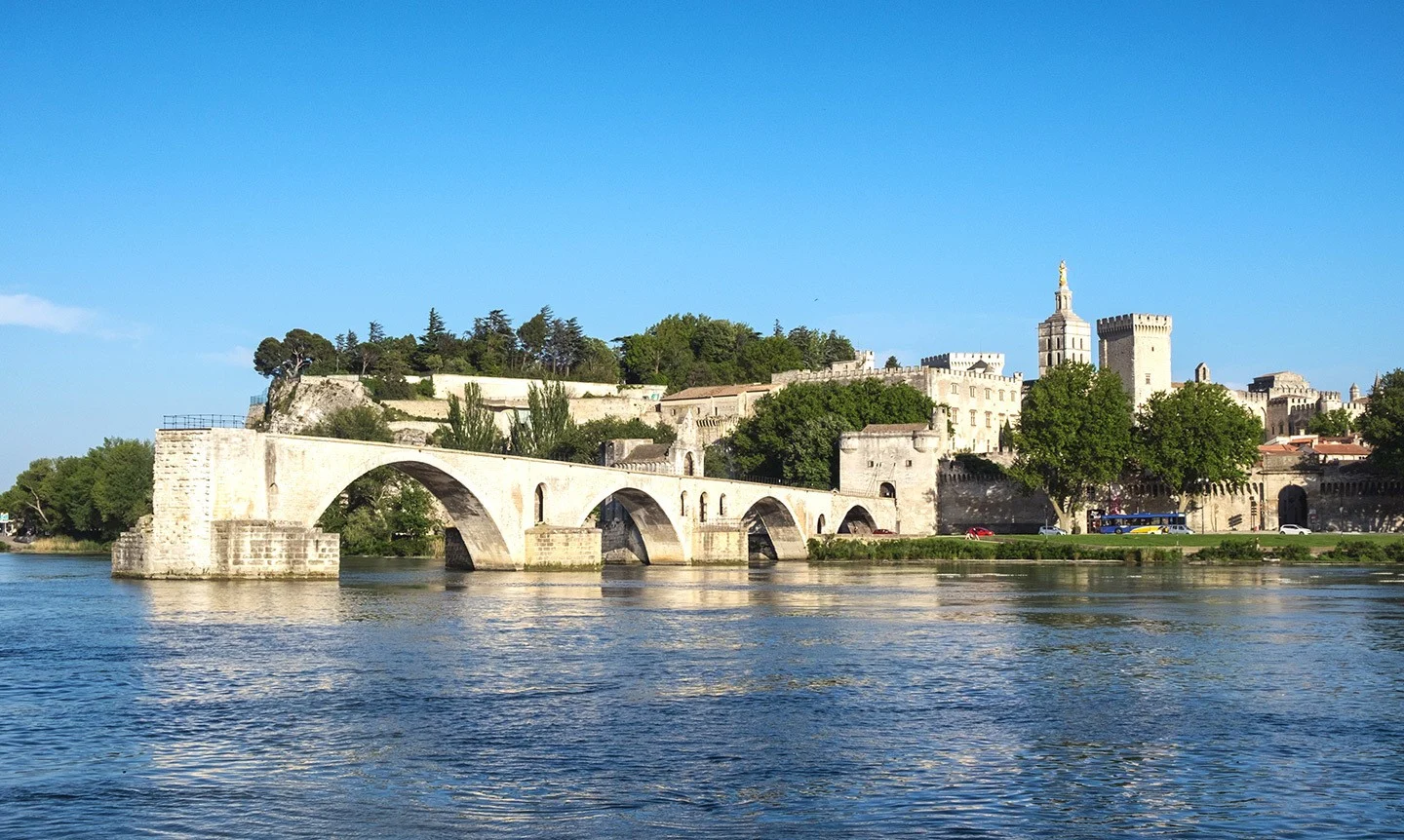 How to get to Avignon
Avignon has two train stations – Avignon Centre and Avignon TGV, which is where the high-speed trains arrive. The TGV station is 4.5km outside of the city, but there are frequent trains between the two which only take around 5 minutes.
Direct trains run from Paris Gare de Lyon to Avignon in just under 3 hours. Or you can easily reach Avignon by train from Lyon (1 hour) and Marseille (1 hour 30 minutes). There was also a direct Eurostar train from London to Avignon in summer, but it was suspended due to the pandemic so you currently have to change in Paris or Lille.
Avignon has a small airport, known as Avignon-Provence, which is around 10km southeast of the city and is connected by the number 13 bus or a 15-minute taxi ride. There are also bigger airports in Lyon, Marseille and Nîmes, which you can reach by train.
Avignon is compact and easy to get around on foot – though there's also the Petit Train, a miniature train which does a 30-minute circuit around the historic centre.
Where to stay in Avignon
La Banasterie* is the oldest B&B in Avignon, located in a historic building that dates back to 1521 and is only a couple of minutes' walk from the Palais des Papes. The six bedrooms are a mix of rooms, suites and an apartment with kitchenette. There's also a terrace, patio and living room for guests to relax in and a continental breakfast is included.
Or the Cloitre Saint Louis* is a tranquil oasis just inside the ramparts. This four-star hotel was originally a seminary for Jesuit priests and has kept its cloisters, courtyard garden and domed chapel. There's also a restaurant and bar, rooftop pool and sun terrace. Choose a room in the old part of the hotel for limestone walls and original features.
Save for later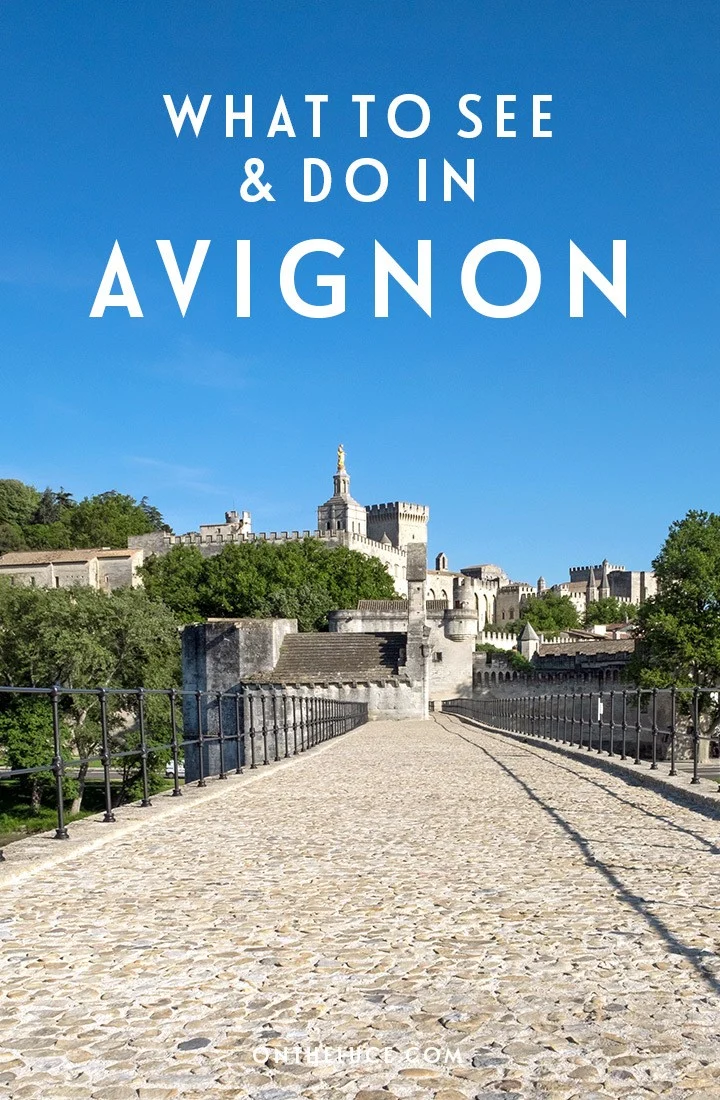 You might also like