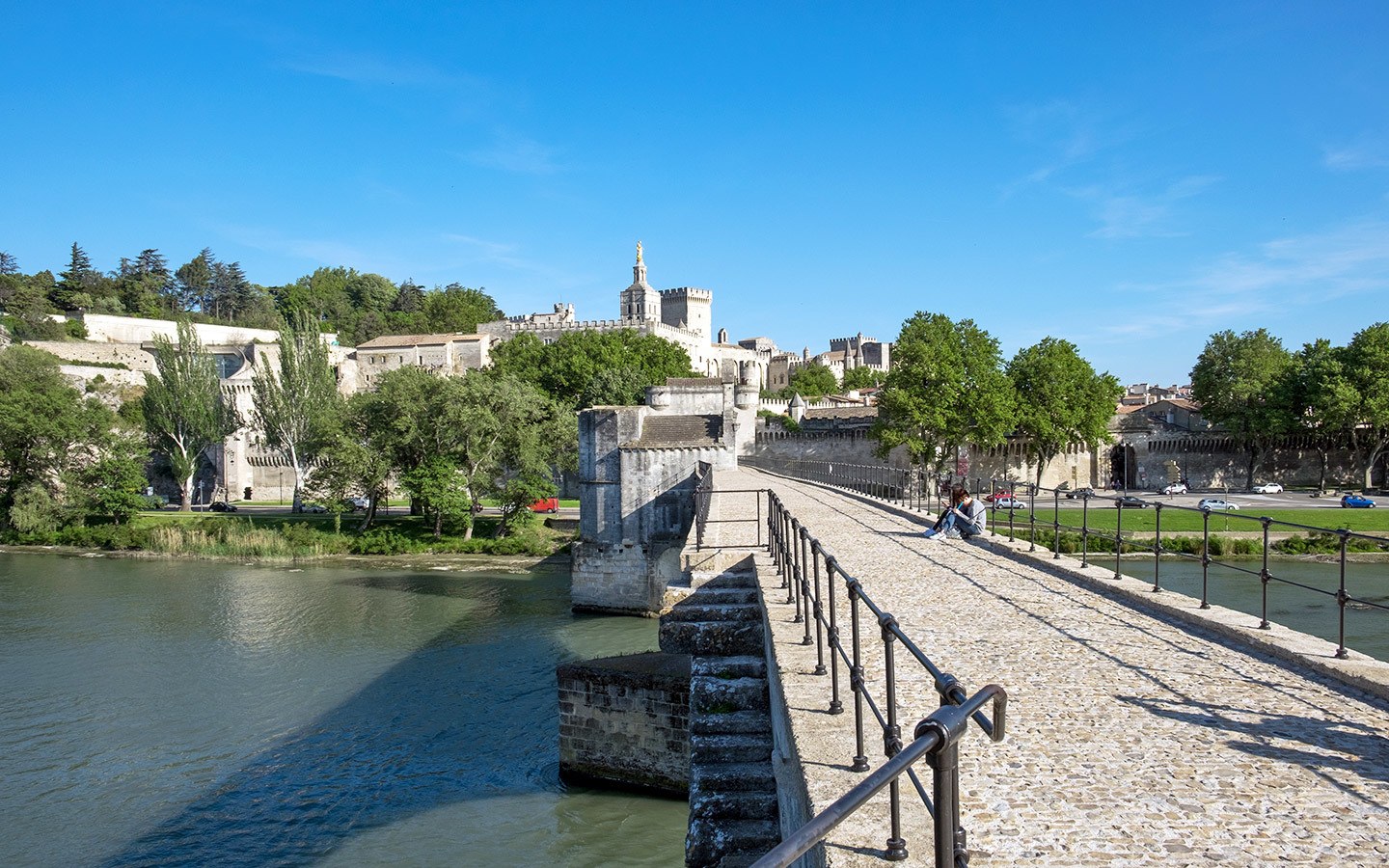 Set on the banks of the Rhône and surrounded by medieval stone ramparts, Avignon is one of Provence's biggest cities. So I was expecting it to be, well, a bit more like a big city. But instead I found a place with a relaxed, small town feel. It comes with a fascinating history, and its time as home of the Popes means there's some impressive art and architecture.
But Avignon isn't just looking towards to the past – there's a big student population and new bars, restaurants and shops springing up all the time. It's a great place to while away a day or two of eating, drinking and sightseeing, not to mention exploring some of the gorgeous Provençal countryside on its doorstep. So here are some of my favourite things to do in Avignon.
Read more: 10 fabulous French weekend break ideas
The best things to do in Avignon
Dance 'Sur le Pont d'Avignon'
Avignon's most famous landmark is a bridge that doesn't actually go anywhere, and it's all thanks to an old song. The Pont St-Bénezet – to give it its proper name – only goes halfway across the river now. But the original 11th-century wooden version connected Avignon with nearby Villeneuve-lès-Avignon. After it was destroyed by flooding, a stone version was built, but even that couldn't withstand the power of the Rhône, and all that's left are four arches.
But it's become a city landmark thanks to a 15th-century song about dancing 'Sur le Pont d'Avignon' (on the Avignon bridge). It's a French kids' classic with a catchy tune you'll have stuck in your head for days. If you want to dance on the bridge yourself, entry costs €5, or you can get great views of it from the waterfront path over the river or from the Jardin du Rocher des Doms.
Visit the Palais des Papes
For a small city, Avignon is home to a whopping great palace, and it's courtesy of the 14th century Popes. In 1309 Pope Clement V fled corruption in Rome and set up a new base in Avignon, where the Papacy stayed for the next 68 years. And they weren't going to rough it while they were there, so splashed out on building and decorating a huge fortress palace. Today the Palace des Papes is a UNESCO World Heritage Site and one of the top things to do in Avignon.
From outside the building dominates the old town. Inside it's more sparsely decorated now but still an imposing place, with 25 rooms open to the public (filled with modern African art while we were there). Don't miss the rooftop terrace and café for views over Avignon's rooftops. And if you're visiting in summer, the whole palace is lit up for a sound and light show.
Wine and dine Provençal style
Provence is known for its fresh produce, with local specialities including melons, goats' cheese, truffles, olive oil and nougat. Avignon's also surrounded by famous wine regions Châteauneuf-du-Pape and Gigondas. So you won't go hungry or thirsty. In summer we ate goats' cheese salads and glasses of rosé. Or in winter you can tuck into warming dishes like bouillabaisse (fish soup), boeuf en daube (beef stew), or the more unusual pieds-paquets (stuffed sheep's stomach).
If you want to stock up on food for dinner or are just grabbing some picnic supplies, head to Les Halles food market. They have tons of tasty Provençal produce, including local breads, cheeses, charcuterie, fruit and wine. The market is open 6am–2pm every day except Monday, and if you're there on a Saturday there's a free cookery class by local chefs at 11am.
Get lost inside the city walls
Avignon's old town is surrounded by 2.5 miles of 14th-century stone walls, with most of the city sights conveniently positioned inside. Plenty of pedestrianised areas make it an easy place to wander around and see what you discover. There are little museums you can visit, like the Musée du Petit Palais which features Italian religious art, Musée Calvet with more recent art and 15th-century ironwork and the Musée Angladon with works by the Impressionists.
There are also lots of boutique shops tucked away in Avignon's side streets, and prime people-watching opportunities in the city's squares. Grab a glass of wine or a coffee in time to watch the early evening promenade. Place de l'Horloge is the best-known square and home to the city hall and opera, or there's the Place du Palais outside the Palace des Papes.
Take a walk down the Rue des Teinturiers
The cobbled waterside Rue des Teinturiers is a contendor for the title of Avignon's prettiest street. It follows the Canal de Vaucluse and was nicknamed 'the street of the waterwheels' as the centre of Avignon's silk spinning and dyeing industry from the 14th to 19th century. By 1817 there were 23 mills along the Rue des Teinturiers. Most were destroyed during the French Revolution, but you can still see four of waterwheeels in action as you walk along the canal.
The street runs from the Rue des Lices to Rue Guillaume-Puy, and its old stone houses are now used for cafés, restaurants and shops, shaded by a row of tall plane trees. Look out for the chapel and bell tower which are all that's left of what was Avignon's biggest church. There's also the gothic Maison du IV de Chiffre, the city's oldest house built in 1493, and the home of the 19th-century insect expert Jean-Henri Fabre at number 14 Rue des Teinturiers.
Set sail on the Rhône
If you want a break from walking and to see Avignon from a different angle – including a great view of that famous bridge – you can take a boat trip along the Rhône river. There are a whole range of different trips available, and Avignon's a popular stop on river cruise routes, so you'll often see a few ships docked just outside the city walls.
We took a quick hour-long spin up the Rhône as far as Villeneuve-lès-Avignon and back, which cost €11 per person. But you can also do lunch and dinner cruises with Grands Bateaux de Provence, or take a day trip up the river as far as Arles, the Roman city which inspired Van Gogh, or to Tarascon, a medieval city with a huge castle. There are also boat trips up to the Châteauneuf-du-Pape wine region which include a few vineyard tastings.
Pin it
This article contains affiliate links, where I get a small commission at no extra cost to you, thanks.