Discover the best things to do in Cassis, a charming Provençal fishing village in the South of France, from hiking and boat trips in the Calanques National Park to delicious seafood and local wines.
* This site contains affiliate links, where I get a small commission from purchases at no extra cost to you.
Just along the coast from Marseille and south of Aix-en-Provence, the village of Cassis is a relaxed spot with plenty of Provençal charm. Around its harbour you'll find colourful fishing boats, pavement cafés, seafood restaurants, blue Mediterranean waters and everything else you could want from a seaside break in the South of France.
But you don't need to go far to be out among miles of stunning unspoilt natural scenery, with the cliffs and beaches of the Calanques National Park on one side of Cassis harbour and Cap Canaille, the tallest coastal cliff in Europe, on the other.
Cassis' location close to Marseille makes it a popular day trip, but there's also more than enough to do to stay a few days – from hikes and boat trips through the calanques to beach days and boutique shopping. So here's my pick of the best things to do in Cassis.
The best things to do in Cassis, France
People watch in the port
The port is the heart of life in Cassis, and has been since the Roman era when it was an important trading post between Europe and North Africa. It's still a working harbour today, though the fishing boats now share space with sailing boats and the port is surrounded by colourful cafés and restaurants with tables spilling out onto the street.
If you get up early there's a small fish market where local fishermen sell the catch of the day – a lot of which ends up served in restaurants around the harbour. Being a touristy spot means restaurant quality varies in the port, but we liked La Poissonnerie Laurent, a fishmonger-come-restaurant with delicious mussels and fresh mackerel.
Cassis is also known for its bouillabaisse, a traditional Provençal fish stew. Chez Gilbert is one of the best places to try it – though it will set you back €55. Or just grab an ice cream or a drink on a café terrace and watch the world go by. Watching the sun set in the harbour is one of the best things to do in Cassis, as Cap Canaille glows orange and red.
Wander through the backstreets
Many of the streets around the centre of Cassis are car-free, so are a great place for a wander. Buildings are painted in pale pastel shades, with colourful wooden shutters, cobbled streets and pots of leafy plants and flowers in typical Provençal style. Even if the port is heaving with visitors it's always quiet if you go just a few streets back.
There are also a couple of places you can find out about Cassis' history. There's the 17th-century town hall with its ornate salon, Grand Siècle staircase and remains of a medieval kitchen underneath a glass floor. And the Musée d'Arts et Traditions Populaires dedicated to Provence's art and culture, with textiles, furniture and crafts on display.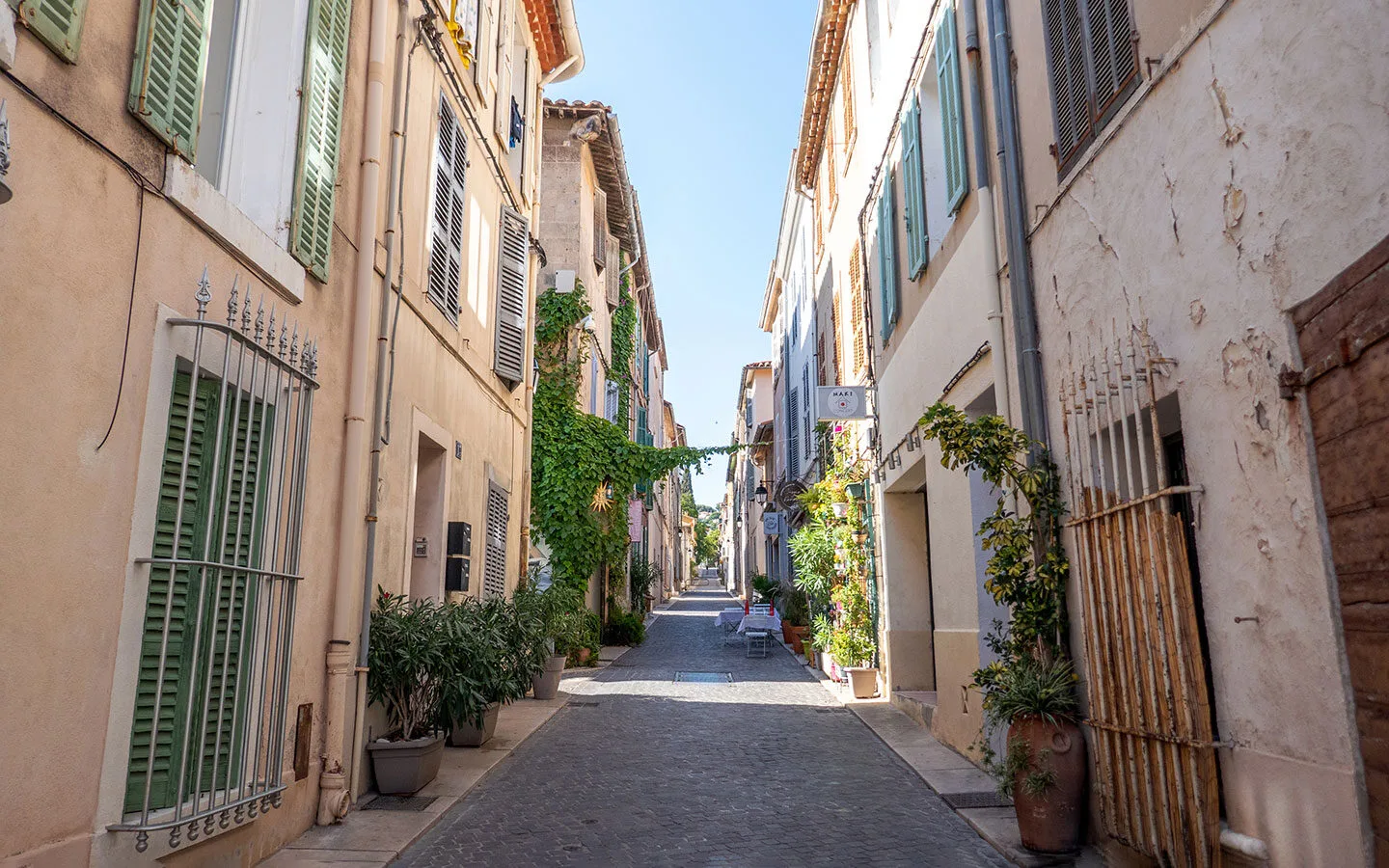 Spend the day on the beach
Cassis is more of a port than a beach town and doesn't have the long stretches of golden sand you might imagine in the South of France. But there are some pebbly Cassis beaches where you can soak up the sun and swim in the clear blue waters.
The Plage de la Grande Mer is the village's largest beach, next to the port in the shadow of the Château de Cassis. Its easy access means it can get busy, but it was our favourite spot for an early morning or sunset dip when it's quieter. There are a couple of beach cafés where you can rent sunbeds and pedalos, and a lifeguard is on duty in summer.
The Plage du Bestouan is a smaller beach a 10-minute walk to the west of Cassis, overlooked by the Mahogany Beach Hotel. The hotel runs the Same Same beach bar-restaurant where you can hire sunbeds. Or you can follow the steps around the corner to a sloping rocky platform where you get a great view of the port and lighthouse.
East of Cassis towards Cap Canaille are the Plage du Corton (10 minutes' walk) and Plage de l'Arène (15 minutes). These two quieter coves are rocky and surrounded by pine trees. The Plage de l'Arène is a long curving beach and the Plage du Corton is smaller, with the remains of an old harbour creating a shallow pool good for young kids.
Or if you're looking for a sandy beach, head into the Calanques National Park. There's a tiny stretch of sand at Port Miou harbour and picturesque sheltered coves at Port Pin and Calanque d'En Vau, which are more challenging to get to (see below).
Hike into the Calanques
Cassis lies on the edge of the Calanques National Park, which covers a 20km stretch of coastline from Cassis to Marseille. A calanque is a steep-sided rocky inlet a bit like a fjord which forms in limestone rocks. The park has 26 of them and the pale rocks combined with pine trees, sandy coves with turquoise waters create a dramatic landscape.
The Calanques National Park has some of the best hiking in the region. You can walk all the way from Cassis to Les Goudes on the outskirts of Marseille, but most people visiting from Cassis stick to the three closest calanques: Port-Miou, Port-Pin and En-Vau.
Though beware if you're visiting between 1 June and 30 September, the park is closed if there is a high fire risk – normally when it's hot and windy – to protect its fragile ecosystem. You can find out the latest fire risk level online.
It's an easy 25-minute walk from the port to reach the first calanque – Port Miou, a sinuously curving harbour lined with hundreds of boats. Just follow the Avenue des Calanques from the Plage du Bestouan until it comes to an end at Port Miou.
From Port Miou you can take the Sentier du Petit Prince route along the peninsula, a 1.6km loop with panels explaining the calanques' history, geology and nature.
Or you can head out further into the park – paths get rocky and uneven so it's a good idea to wear trainers or walking shoes, as well as bringing plenty of water and sunscreen. And make sure to pack swimming kit as the water feels amazing after a hot and sweaty hike. There are a couple of composting toilets in the park but no other facilities.
From Port Miou it's another 20-minute walk on to the next calanque at Port Pin. The path runs through an old quarry before heading uphill, splitting in two with a longer but easier path and a rocky, uneven shorter route. Sheltered Port Pin is a gorgeous narrow cove with clear shallow water and rock platforms good for sunbathing.
Then it's around another 40 minutes on to Calanque d'En Vau, the deepest and most dramatic. The path gets more difficult on this stretch, with towering cliffs where you get a great view down to the beach – and a steep rocky path to scramble down to get to there. In total it takes around four hours to walk to the three calanques and back to Cassis.
Take a boat trip
Visiting the calanques is one of the most popular things to do in Cassis. But if you don't fancy hiking, you can also take a boat trip – it's a good way to see the park when the hiking paths are closed or for people with reduced mobility or young children.
You can choose from tours visiting 3, 5, 8 or 9 calanques. Each of them goes to Port-Miou, Port-Pin and En-Vau, then the longer tours take you further out into the park. Times range from 45 minutes to two hours, and prices from €17–€29 per person.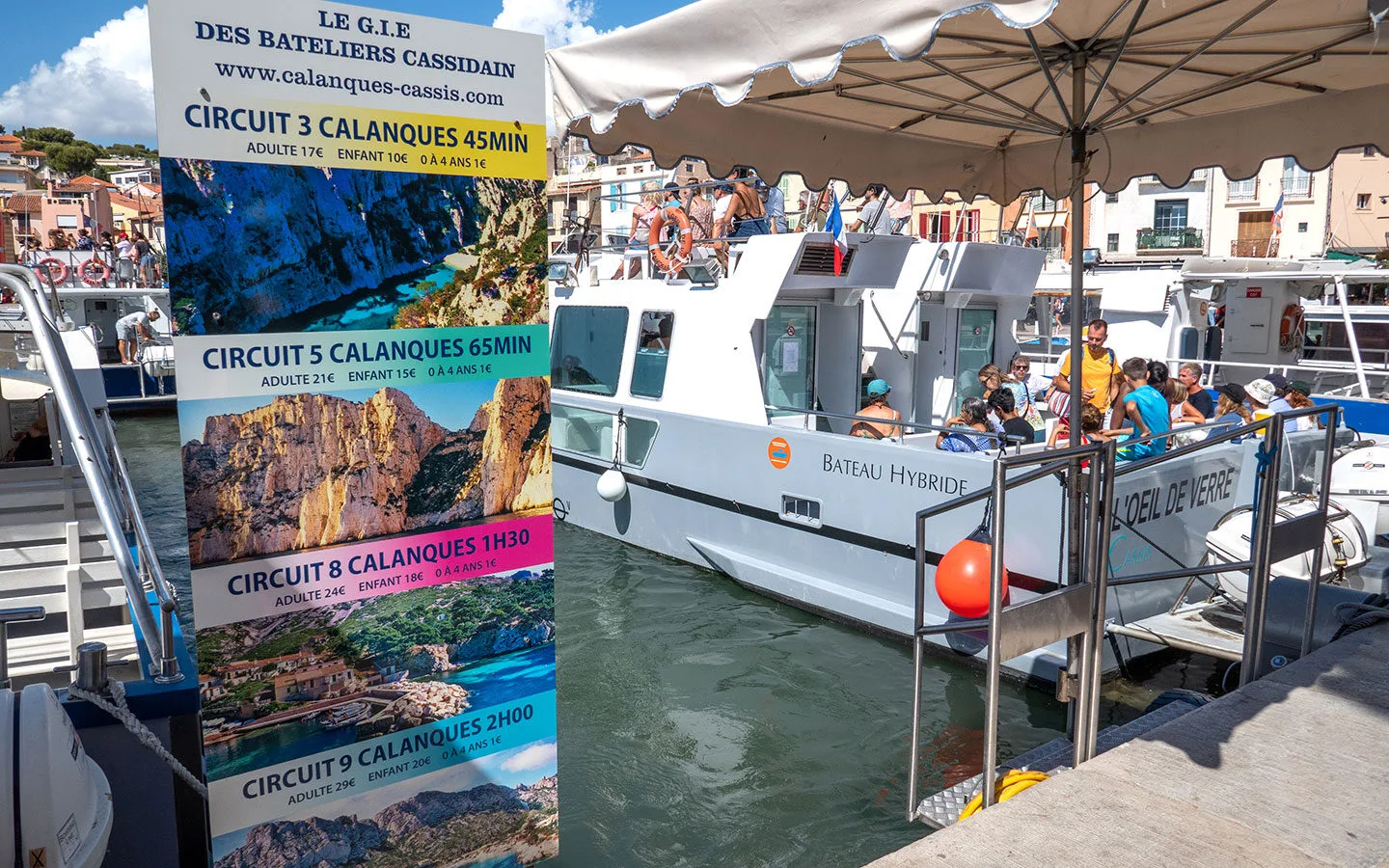 You don't need to book in advance but can just buy tickets from the kisok in the harbour. The timetable changes from month to month, with more departures in summer and for the shorter tours. And the 3 calanques tour is the only one that runs if the weather is bad. Boats are partly open top and there's not much shade so bring a hat and sunscreen.
Although you get to see the calanques from the boats, you don't go that far into each calanque and can't get in the water. For that you'll need something a bit smaller. You can hire a self-drive motorboat for up to eight people through SamBoat* for a full or half-day exploring the calanques independently, with a ladder so you can swim off the boat.
You can also hire a kayak from Lo'Kayak in Cassis and paddle around the bays (though although it's calm in the calanques it can get a bit choppy when you reach the open sea). Or take a guided sea kayaking tour* in a solo or two-person kayak or a stand-up paddleboarding tour*, which takes you to Port-Miou, Port-Pin and En-Vau.
Admire the castle views
The medieval Château de Cassis towers over the harbour from a rocky hilltop. The current castle, originally known as the Castum Carcisis, was built in the 13th century but there has been a fortification on the same site since the Romans.
The castle has been privately owned from the 1890s. And after a six-year refurbishment, it recently opened as an upscale B&B, with a swimming pool and terrace with panoramic views of Cassis and the calanques. Unfortunately with suites ranging from €350–€720 a night it was well out of our budget and there's no access to non-residents.
But you can admire the castle from the port, and it's sometimes illuminated at night. And you can get a taste of the residents' exclusive views by walking up the hill past the castle to a viewpoint marked on maps as the 'Vue panoramique du cap cable au port de Cassis' – it's about 15 minutes' walk from the port via the Chemin des Lombards.
Shop for local produce
There are lots of interesting shops to explore around Cassis, selling woven basket bags and hats, clothing, local wine and soaps. Marseille soap – a traditional variety using at least 72% olive oil – is made in Cassis, as well as fragrant pastel-coloured soaps.
If you want to find out how it's done, the Savonnerie de Cassis artisan soap-makers on the road to the Plage du Corton do a free tour of their mini home factory in the afternoons (though it helps to know some French) and have a shop selling soap and body oils.
Traditional Provençal markets are held in Cassis on Wednesday and Friday mornings, selling fruit and veg, bread, cheese, charcuterie and herbs as well as clothes and homeware. It's a good place to pick up fresh produce for a picnic. There's also the early morning fish market, a night market in the summer and occasional art and flea markets.
Try some local wine
Despite sharing its name with the French blackcurrent liqueur, cassis isn't made in Cassis – it's actually produced in Burgundy. But it is home to the Appellation d'Origine Protégée de Cassis wine-making region, with vineyards spread over the hills around the village.
Provence is best-known for its rosé, but Cassis does things differently and produces over 70% white wines, using mainly Marsanne, Clairette and Ugni Blanc grapes. With citrus, honey and herb flavours they go perfectly with local seafood dishes.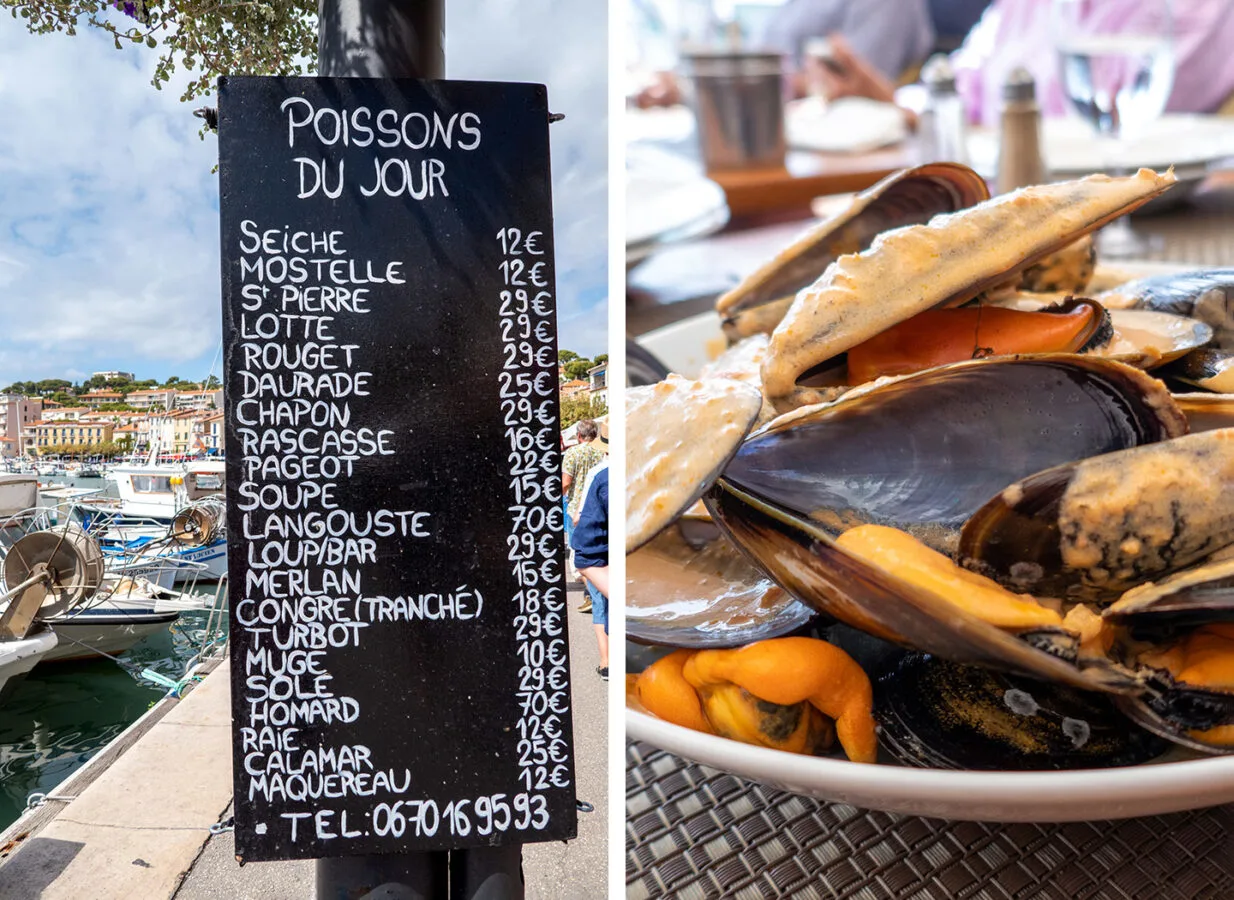 There are 12 wineries in the Cassis Appellation, and many of them are open to visitors for tours and tastings – including the Domaine du Bagnol and Clos Sainte Magdeleine within easy walking distance of the port. You normally need to make reservations to visit, but you can ask the tourist office to call for you if you don't speak French.
You can also celebrate Cassis wine at two annual festivals – the Cassis Fête Son Vin in May and the week-long Les Vendanges Étoilées harvest festival in September.
The details
When to visit Cassis
Cassis has a Mediterranean climate, with hot, dry summers and lots of sun. Average high temperatures in July and August are 27–28ºC (81–82ºF). The town gets very busy in the summer holidays though, especially at weekends, so book well in advance.
If you're planning to hike the Calanques, access is often restricted in the summer because of a high risk of wildfires. So you're better off visiting in spring or autumn, which are cooler with average highs of 20–24°C (67–75ºF) in May/June and September/October.
Rainfall in Cassis is highest in autumn, peaking in October, though there are still only 8 days of rain on average. And winter is fairly mild, with average highs of 11ºC (52ºF) and lows of 5ºC (41ºF), but some hotels and restaurants close after Christmas.
How to get to Cassis
The nearest airport to Cassis is Marseille Provence Airport, 50km away. You can get from there to Cassis by taking a train from Vitrolles Aéroport Marseille-Provence station to Marseille St-Charles in the city centre, which takes 18 minutes.
Direct trains also run from Paris Gare de Lyon to Marseille St-Charles in just over 3 hours, stopping in Avignon and Aix-en-Provence. Then from Marseille it's 25 minutes by train to Cassis. If you want to travel on around the South of France, the line from Marseille carries on to Toulon (35 minutes) where you can change onto services towards Nice.
Cassis train station is 3km north of the port. There is a shuttle bus between the two which takes 20 minutes, but it only runs around once an hour – and doesn't always coincide with train arrival times. Otherwise you can take a taxi or it's a 45-minute walk to the port (though it's a long slog uphill on the way to the station).
Getting around Cassis
The centre of Cassis is small and easy to get around on foot, and you can reach the edge of the calanques in around 20 minutes from the port. There is also the Petit Train, a miniature train which does a 45-minute circuit of the town.
You don't need a car to visit Cassis unless you're planning on exploring more of Provence – and parking is limited and expensive in the village. But if you do have a car, don't miss driving the Corniche des Crêtes, a scenic 15km/nine-mile drive between Cassis and La Ciotat along a narrow, winding coast road with panoramic sea views.
And if you're short on time, there are organised day trips to Cassis available from Marseille* and Aix-en-Provence*, which include time to explore and an optional boat trip.
Where to stay in Cassis
The glamorous Hôtel Les Roches Blanches* is a five-star hotel on the seafront, just past Bestouan beach. This historic mansion has been restored to its 1920s heyday, with Art Deco-style décor and terraced gardens leading down to the sea. Luxurious facilities include infinity and waterfall pools, a Sisley spa, three restaurants and a waterfront bar.
The Clos du Petit Jésus* is a B&B in a tranquil location close to the town centre. There are just two stylishly decorated bedrooms with a small pool, sun terrace and garden. And a tasty continental breakfast is served on the terrace or in your room each morning.
If you prefer self-catering, Le Rooftop* is a two-bedroom apartment with a big terrace overlooking the port. It has an open-plan lounge-diner where you can watch the boats come in, a full kitchen, two bathrooms and two sofa beds so can sleep up to eight.
Save for later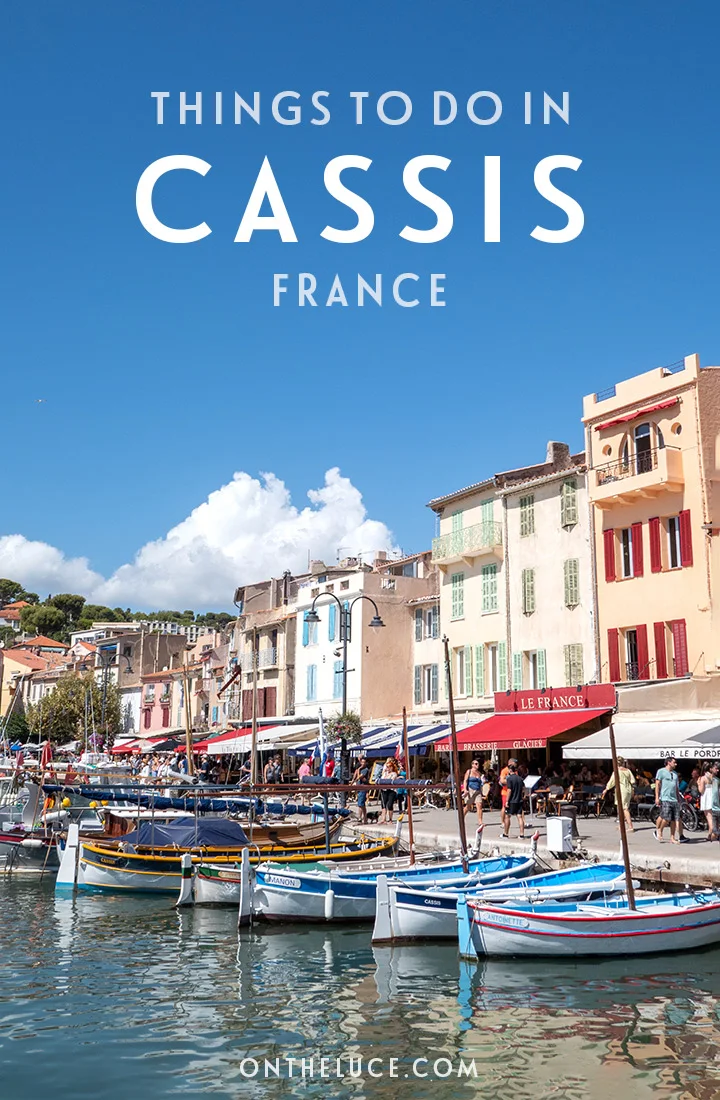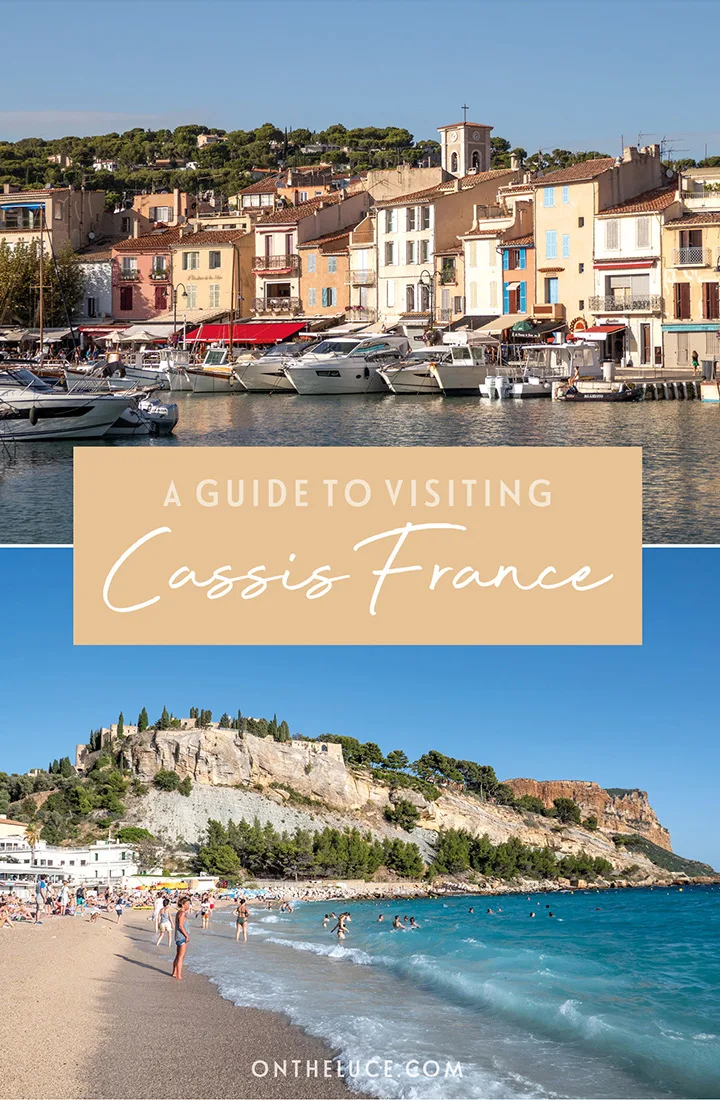 You might also like