Discover the best things to do in Salzburg in winter, from steaming cups of glühwein and sparkling lights at Salzburg Christmas markets to stunning city views and music from Mozart and the Sound of Music.
* This site contains affiliate links, where I get a small commission from purchases at no extra cost to you.
There's something magical about visiting European cities in winter. A dusting of snow, twinkling fairy lights hanging on the trees, crisp frosty nights and the smell of mulled wine and Christmas biscuits make everything seem extra special. And the historic city of Salzburg in Austria is one of the best places to celebrate the festive season.
As well as the fairytale architecture of churches, squares, parks and palaces that make it well worth a visit at any time of year, winter in Salzburg is overflowing with festive sparkle.
The city's famous Christmas markets make it a popular time to visit, so prepare for crowds and book accommodation well in advance. But they're just one of the best things to do in Salzburg in winter, so read on to discover the highlights of the season.
What's the Salzburg winter weather like?
The weather Salzburg in winter is chilly. January is the coldest month of the year, with average temperatures ranging from daytime highs of 3°C (38°F) to night-time lows of -4°C (25°F). And December and February are only a degree or so warmer. The sun rise around 7.30am and sets at 4.15pm in midwinter, So expect short days and frosty nights.
But the city is beautifully lit up at night and there are plenty of places to get warm inside. There are usually around 10 days of precipitation a month, so if you're lucky you'll get snow instead of rain – and if not you don't normally have to go far out of the city to find some.
So what should you wear during a Salzburg winter? As you'll be outside at the Christmas markets, wrap up warm with a coat, scarf, gloves and hat. And several thin layers below are better than one thick one if you'll be alternating between indoors and outdoors.
The best things to do in Salzburg in winter
Shop Salzburg's Christmas markets
Salzburg at Christmas means one thing – Christmas markets. These festive markets have become a European tradition, but Salzburg has some of the most beautiful and atmospheric Christmas markets around. They are a great place to eat, drink and shop your way around.
Think wooden chalets draped with fairy lights selling glass tree decorations, wood carvings, pottery candle-holders, cosy hats and gloves, as well as lots of tasty treats like lebkuchen gingerbread biscuits, roasted chestnuts, glühwein and punch.
Salzburg's Christmas markets normally open in mid-December and close just after Christmas, with a few of the larger ones running on to the start of January. They're open day and night, though tend to be busier at night when people come to admire the lights.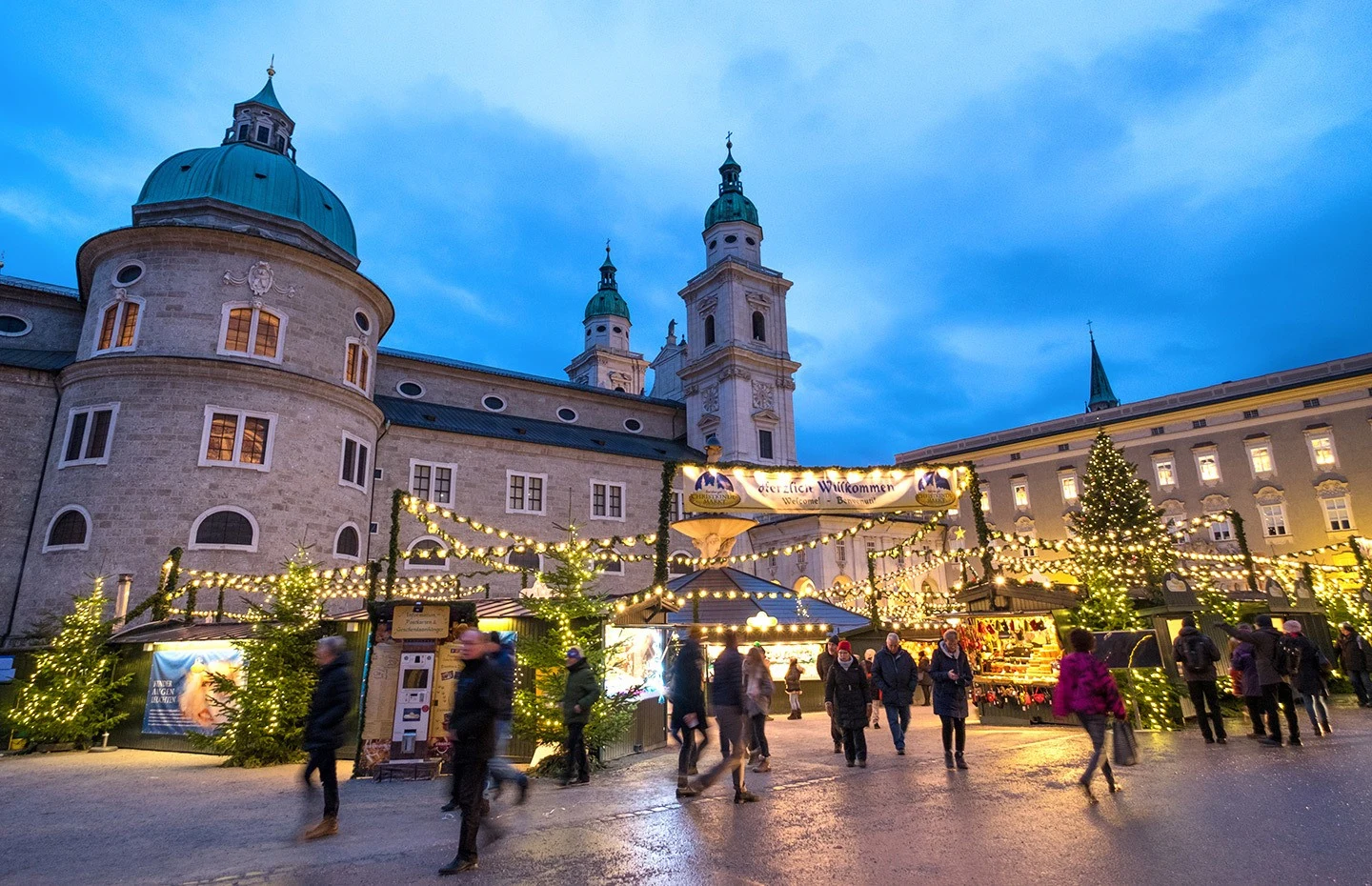 The Christkindlmarkt in Dom Square is Salzburg's best-known and oldest market, with over 100 stalls. But there are lots of smaller markets tucked around the city too. Check out the side streets running off the main shopping street Getreidegasse as well as behind the Mirabell Palace and outside the Hohensalzburg Fortress and Sternbräu brewery.
If you head out of the city centre, Christmas market prices tend to be a bit lower. The Hellbrunn Palace's Christmas market has lots of lovely handcrafted gifts. Or you can take a day trip* out to the villages of St Gilgen, St Wolfgang and Strobl, which are picturesquely set on the shores of Lake Wolfgang and each have their own markets.
At most Christmas markets you can pay a €3–5 deposit for a glühwein mug which you can use while you're there, then either return it and get your money back, or take it home as a souvenir. Each market has a different design so we collected a whole set.
Follow in the footsteps of Mozart
You can't go far in Salzburg without coming across the city's most famous son – Wolfgang Amadeus Mozart (though it turns out Amadeus wasn't actually his real name). Mozart was born in Salzburg in 1756 and lived in the city for 20 years.
There are two different Mozart houses to visit in Salzburg. First is Mozart's Birthplace in an apartment on Getreidegasse, where you can see the rooms he lived and worked in, and even the one he was born in, as well as personal momentos like his letters and his first violin.
Then there's the Mozart Residence on Makartplatz. This is where his family moved to in 1773 and is a lot grander than his birthplace, with eight rooms and a concert hall where young Mozart (and his equally talented sister) did their early performances.
We also called in at Café Tomaselli, which was a regular haunt of Mozart's. They sell coffee, cakes and delicious hot chocolate perfect for warming up on a cold day. Though if you want to be authentic, Mozart's favourite almond milk is on the menu too.
And of course we couldn't leave Salzburg without bringing some Mozart chocolates home. Different versions are for sale all around town, but the original pistachio marzipan balls in dark chocolate come from the tiny Konditorei Fürst shop – you can tell them apart as they have blue and silver wrappers instead of the more common red wrappers.
Enjoy a dinner concert
There are lots of different Mozart concerts in Salzburg, including regular events at the Mirabell Palace* and Hohensalzburg Fortress.* There are also dinner concerts where you can try local dishes while you listen to music. We chose a dinner concert* at the Stiftskulinarium, which is the oldest restaurant in Europe, dating back to 803.
Their ornate Baroque concert hall is lit by candlelight and you're served dishes from Mozart's time. A giant Christmas tree and twinkling lights made it extra beautiful. And between each of the four courses we had a taster of Mozart's music, with a quartet playing extracts from The Marriage of Figaro, Don Giovanni and The Magic Flute.
Explore the Alstadt
Salzburg's Alstadt or historic city centre is a picturesque network of pastel-painted buildings, with charming squares and streets filled with churches, museums, shops, cafés and restaurants that's been listed as a UNESCO World Heritage Site. If you want experience its highlights, you can take a 2.5-hour guided walking tour.*
The Alstadt is even more magical at Christmas when its shops are decorated with swags of pine, baubles and decorations, and the streets are hung with festive lights. You can find all sorts of locally crafted gifts for sale, from cuckoo clocks and traditional Salzburgerland clothing to bottles of warming schnapps and delicious handcrafted chocolates.
Visit locations from the Sound of Music
The Sound of Music is a real British Christmas tradition. A lot of the film's exterior scenes were shot in and around Salzburg (with a little help from Hollywood). If you're a Sound of Music fan, there's a tour* of the locations which takes you around the region. But it's also easy to follow in Julie Andrews' footsteps around Salzburg on your own.
In the Mirabell Gardens you'll find the steps where Maria and the Von Trapp children sang 'Do-Re-Mi'. Schloss Leopoldskron, just outside the city, was the family's house. You can find the pavillion from 'Sixteen going on Seventeen' in the Hellbrunn Palace gardens.
'I Have Confidence in Me' was shot in the Residenzplatz. And the Felsenreitschule concert hall is where the family played their final concert before escaping the Nazis.
Learn the story of Silent Night
The Sound of Music isn't Salzburg's only festive musical link. It's also the city where, 200 years ago, priest Joseph Mohr penned a poem which became one of the world's most famous Christmas carols – Silent Night. His words were put to music by his friend Franz Xaver Gruber and first performed in the nearby village of Oberdorf on Christmas Eve 1818.
Joseph Mohr was born and grew up in Salzburg, and you can see his house at Steingasse 31 as well as the font where he was baptised in Salzburg Cathedral.
After that first performance, the song and its message of peace spread across the world – it's been translated into 300 languages and is on the UNESCO Intangible Cultural Heritage List. You can discover its story on a journey around Silent Night locations in Austria.
Admire beautiful views
Salzburg is surrounded by three hills, so you don't need to go far to get a bird's eye view over the city. The Hohensalzburg Fortress towers over the city and it's an easy ride to the top on the funicular railway. It's almost a whole mini town with a church, houses and shops, and a terrace overlooking Salzburg's rooftops and church domes.
There's also the Kapuzinerberg mountain on the one side of the river and the hilltop Museum of Modern Art on the other. In the city centre there are great views of Dom Square and the Christmas markets from the DomQuartier Museum.
The DomQuartier Museum is actually five small museums grouped together, and includes the lavish stateroom of the archbishops' palace. There's also a panoramic terrace which connects it to Salzburg Cathedral and has views into the cathedral nave.
Discover the city's high-octane side
For something totally different – especially on a rainy day – head just outside central Salzburg to Hangar 7, next to the airport. This unique steel and glass dome is a real contrast to Salzburg's fairytale architecture. It was built to hold a collection of cars and planes amassed by Dietrich Mateschitz, the Austrian entrepreneur who co-owns Red Bull.
There are Formula 1 cars from the Red Bull and Torro Rosso teams and aircraft used by the Flying Bulls aviation team, who take historic planes and helicopters and restore them next-door in Hangar 8. If you love planes it's well worth a visit, not least for its unusual building – and there's a good restaurant and bar overlooking the airport runway too.
The details
How to get to Salzburg
Salzburg's international airport (named after Mozart, naturally) is only 4km outside of the city centre. Buses numbers 2 and 10 run from the airport into the city centre around every 15 minutes, taking 15–20 minutes and costing €2.20 one way for adults.
You can also get a Salzburg Card which covers public transport in the city as well as entry to museums and other attractions. Different versions are available for adults and children, covering 24, 48 or 72 hours, which start from €27 adults/€13.50 children.
Salzburg is also well connected to various destinations around Europe by train – you can reach Munich in 90 minutes, Vienna in 2.5 hours or Paris in eight hours. Salzburg's Hauptbahnhof (main train station) is a 20-minute walk or €10 taxi ride to the old town.
Where to stay in Salzburg
Salzburg at Christmas gets very busy, so make sure to book early if you're visiting for the festive markets, especially at weekends. Mid-range Hotel Villa Carlton* is close to the Mirabell Palace, 10 minutes' walk to central Salzburg. This historic building's 39 cosy rooms have quirky artworks and design touches, and there's a bar area in the foyer.
The luxurious Hotel Goldener Hirsch* dates back over 600 years and is right in the heart of the Old Town on Getreidegasse. Its 70 rooms are spread across three historic buildings and have traditional Austrian style décor, with vintage prints and antique furniture. Service is impeccable and you have a bar and two of Salzburg's top restaurants on site.
Or the Hotel Amadeus* is a 500-year-old hotel next to St Sebastian's Church where Mozart's father is buried. Rooms mix a clean, contemporary style with original features and historic touches, and there are some family-sized apartments. There are two terraces – one overlooking the church cemetery – free tea, coffee and cake, and an honesty bar.
Save for later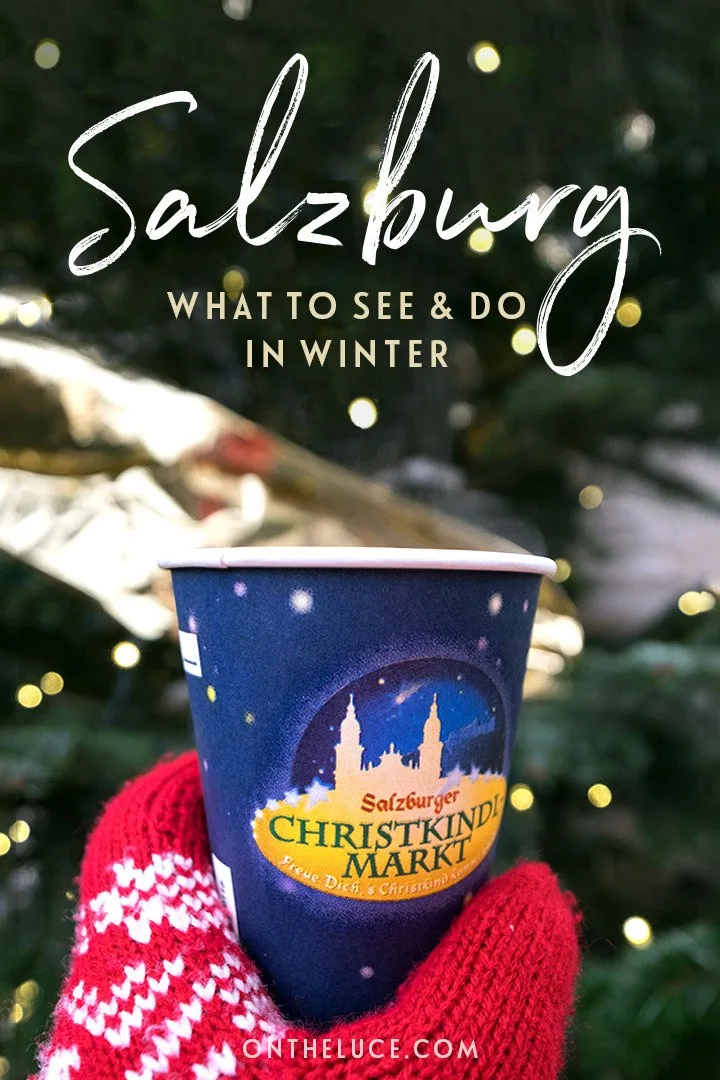 You might also like