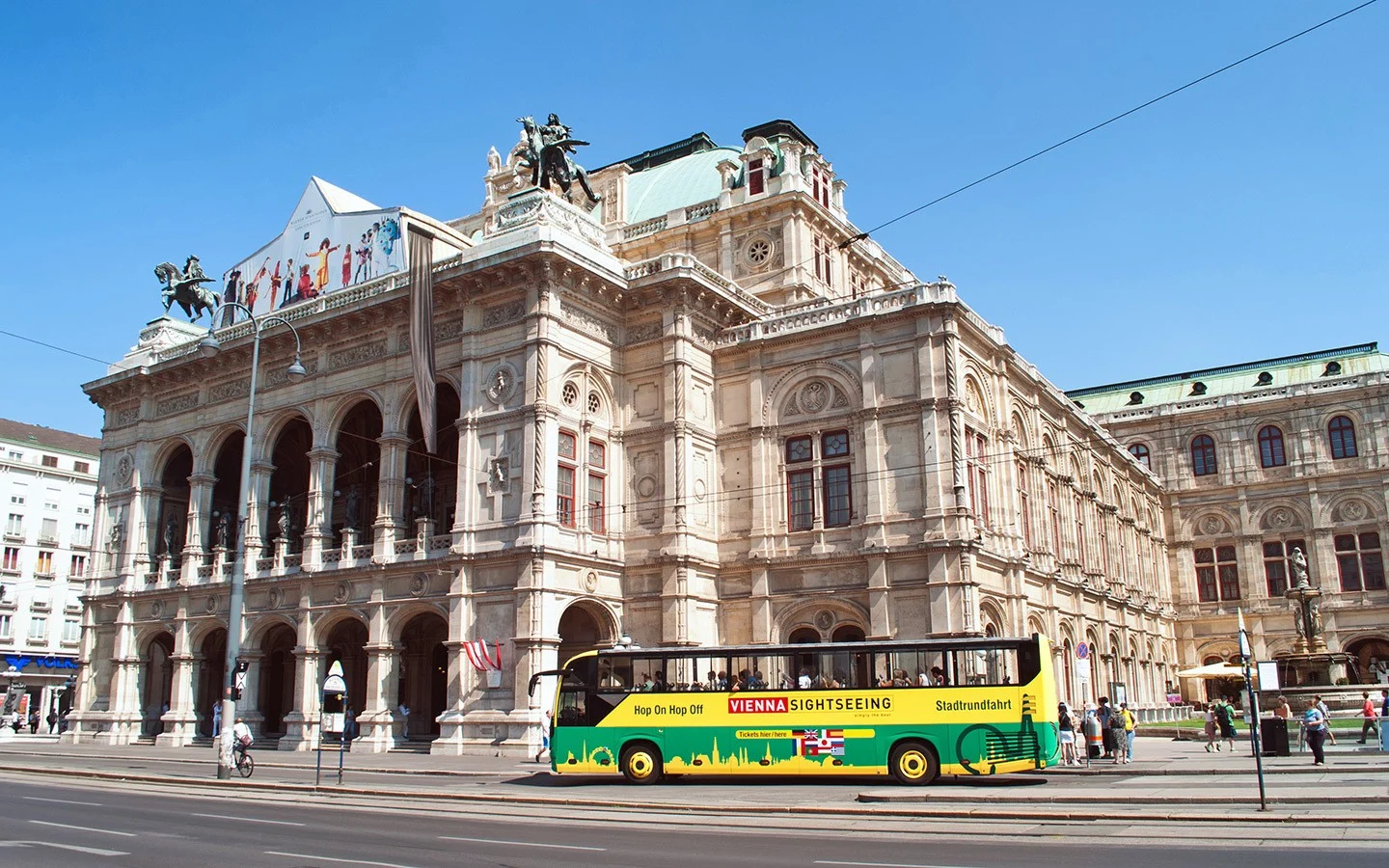 Walking through Vienna is like walking into the pages of a fairytale, as a horse and carriage trots past one ornate palace after another. The Austrian capital is bursting with Imperial history and Baroque architecture, with musical accompaniment from Mozart and Strauss. But there's also a more modern side, with Art Nouveau and modernist art, and the darker side to the city depicted in The Third Man. Like many famous European capitals, the number of visitors can push up prices. But it is possible to spend 3 days in Vienna packed with history, culture and sachertorte without spending big. So here are my top tips for making the most of Vienna on a budget.
Read more: Mozart and markets: Things to do in Salzburg in winter
Things to do in Vienna on a budget
Take a walk around the Ringstrasse, the ring road that runs around the centre of Vienna, past some of the city's most famous buildings. Along the route you can see the Vienna State Opera, Imperial Palace, Parliament and City Hall. You can also take a free guided tour around the City Hall, or Rathaus, every Monday, Wednesday and Friday at 1pm (except on public holidays).
In the winter there is a Christmas market and ice skating rink out in front of the Rathaus. And during July and August there is a free open-air cinema, with a big screen showing opera performances and concerts each night after sunset, as well as food and drink stalls.
It's also free to visit the city's parks, like the Burggarten and Stadtpark. The Schönbrunn Palace gardens are also free, though you have to pay a couple of euros to visit the maze and Gloriette viewing terrace. In summer you can escape the heat by heading down to the Danube. Danube Island has 42km of beaches as well as boat and bike hire, playgrounds and cafés.
If you're planning to visit a lot of city's attractions, it's worth investing in a Vienna Card. They cost €17 for 24 hours, €25 for 48 hours or €29 for 72 hours with free unlimited travel by public transport as well as discounts on 210 museums, sights, shops and restaurants. You can buy the cards at the Tourist Information Centre in Albertinaplatz, at the airport or online.
Money-saving museums and galleries
Vienna has a great selection of museums, but with many entry fees around €15 per person the costs can add up. But there are ways to save – most museums have reduced-price tickets for students and seniors, and discounts with the Vienna Card range from 5% to 50%.
You can also buy joint tickets for various combinations of museums that save on the full entry fees – a combined ticket for the House of Music and Mozarthaus saves you €6, or a combined ticket for the Leopold Museum and Kunsthistorisches Museum saves you €4. There are also various combined passes available for the MuseumsQuartier and the Belvedere.
There are several free museums in Vienna, which are either free at all times – including the money, peace and snow globe museums – or others have free entry on certain days and times. Several Vienna museums are free for under 19s all the time and for everyone else on the first Sunday of the month, including the Wien Museum, Prater Museum and Museum of Military History.
There's reduced price entry at the Museum of Applied Arts (MAK) for €5 on Tuesdays from 6pm–10pm, at the MUMOK museum of modernist art for €8 including a tour on Thursdays from 6pm–9pm, and the House of Music has half-price entry for €6.50 from 8pm–9.30pm every day.
There's also an Art in the Evening programme, where many of Vienna's museums stay open late on certain evenings and some have discounted entry or free events to go with it.
Top city views
One of the best views in the city centre is from the South Tower of St Stephen's Cathedral, 137 metres up. Entry to the cathedral is free but if you want to climb the 343 steps to the top of the tower, it costs €5 for adults or €2 for children aged 6–14 (open daily 9am–5.30pm).
If you prefer your views with a cocktail, try the Sky Bar Restaurant on Kärntnerstraße, a rooftop bar on the top floor of a department store which has a great view of the cathedral. Or there's also the rooftop D-Bar at the luxurious Ritz-Carlton hotel.
Away from the city centre on the northern banks of the Danube is the Danube Tower, or Donauturm, Austria's tallest structure. At the top there is an expensive rotating restaurant, but a cheaper option is the viewing platform which costs €14.50 (€11 for seniors or €9.90 for children aged 6–14). But some of the best free views over Vienna are probably from the hills around the city – you can reach Mount Leopoldsberg and Mount Kahlenberg by bus from the city centre.
Inexpensive entertainment
Vienna's a city of music, but tickets to its famous operas sell out months in advance and can cost over €150. But you can get a bargain if you don't mind standing up for the performance. Standing tickets for the Staatsoper or State Opera House go on sale 80 minutes before the performance and cost €4 (in the parterre on the ground floor) or €3 (in the balcony or gallery higher up).
Standing tickets are only available from a special ticket office on Operngasse. Get there early, be prepared to queue, and you can only buy one ticket per person so if you're in a group you'll all need to line up. You can also get standing tickets for performances at the Volksoper and Burgtheater for a similar price, but you can book these online in advance.
Another popular but pricey attraction is Vienna's Spanish Riding School. Seats for gala performances cost €63–€217, but there are a few options to see the Lipizzaner horses for less. Standing room tickets for performances (which you can book online in advance) cost €25–€37 or you can watch the horses' morning exercise to music from 10am–12pm for €15. Over the summer months the performing horses aren't in Vienna, but there's 'Piber Meets Vienna' show, where young horses from the stud are brought to the school, with tickets from €12–€45.
Budget food and drink
Restaurants in the busy central area of Vienna can be expensive, but you can save on eating out by having your main meal at lunchtime. Many restaurants offer a cheaper mittagsmenü, where you can get a two- or three-course meal from a set menu for under €10.
Other ways to save on food are to eat in the cheaper studenty areas like Neubau or Josefstadt. You can also head to the Naschmarkt which has over 120 market stalls selling food and drink (open Monday–Friday from 6am–7.30pm and Saturday from 6am–5pm). And if you're self-catering, there are also several Spar supermarkets in the city centre.
You can't visit Vienna without coffee and sachertorte in a traditional café. The most famous cafés can be expensive but there's no hurry so you can sit there and watch the world go by. Concert cafés have free music performances, like Café Schwarzenberg (Thursday and Friday 7.30pm–11 pm, Saturday and Sunday 5pm–8.30pm), Café Weimar (Monday–Saturday until 7.30pm and Sunday afternoons) and 1950s-style Café Prückel (Monday, Wednesday and Friday 7pm–10pm).
Low-cost Vienna transport
To get into the city centre from the airport, there are discounts on the City Airport Train and the Airport Lines buses with a Vienna Card. But the cheapest way to each central Vienna is via the S-Bahn train. It costs from €4.10 and takes around 25 minutes from the airport to Wien Mitte station, which has underground connections across the city.
For travel within the city, the Vienna Card gives unlimited free travel on the underground, trams and buses – and each pass also covers one child up to the age of 15 travelling with you. Other options are Weiner Linien travel passes, which cost €8 for 24 hours, €14.10 for 48 hours, €17.10 for 72 hours. There's also a weekly ticket for €17.10 which is valid Monday from Sunday.
Lots of companies in Vienna run boat trips along the Danube. But if you are travelling on to Slovakia from Vienna you can take the boat rather than the bus or train and get you'll a mini cruise included. The Twin City Liner boats take 1 hour 15 minutes to travel between Vienna and Bratislava, with five sailings a day and fares starting from €20 one way.
So those are my tips for seeing Vienna on a budget – do you know of any more Vienna bargains or have any money-saving tips?
Pin it
This article contains affiliate links, where I get a small commission at no extra cost to you, thanks.