Explore Vienna on a budget with this guide to 19 of the best ways to cut your costs in Austria's fairytale city, from discounted attractions and cheap transport to free tours and low-cost entertainment.
* This site contains affiliate links, where I get a small commission from purchases at no extra cost to you.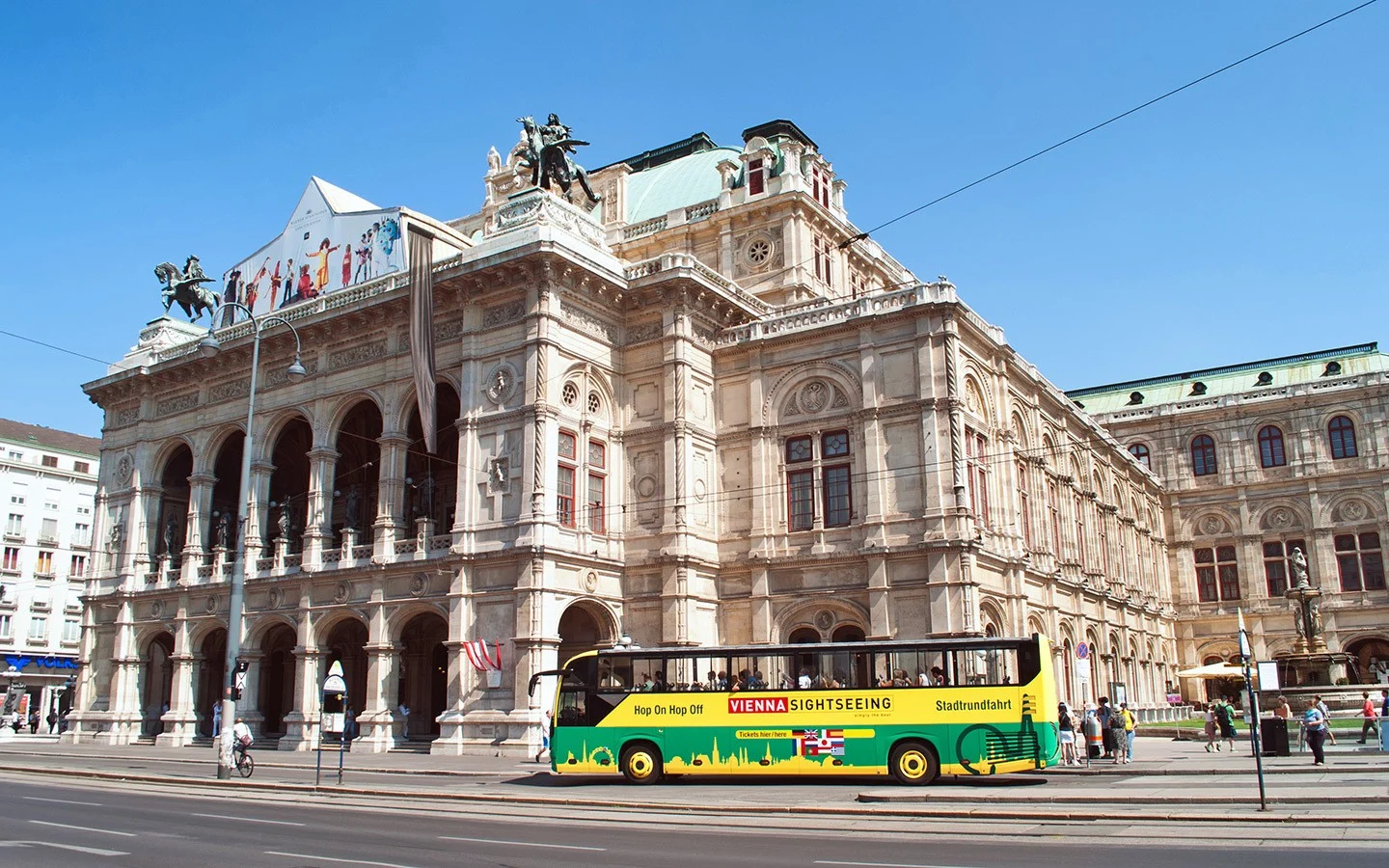 Walking through Vienna is like walking into a fairytale, as a horse and carriage trots past an ornate palace. The Austrian capital is bursting with Imperial history and Baroque architecture, with music from Mozart and Strauss. But there's also a more modern side, with Art Nouveau and modernist art, and the darker side depicted in The Third Man.
Like many famous European capitals, the number of visitors coming to Vienna can push up prices. But it is possible to experience Vienna's history, culture and sachertorte without spending big. So here are my tips for making the most of Vienna on a budget.
Things to do in Vienna on a budget
1. Take a walk around the Ringstrasse
For a sightseeing tour of Vienna on a budget, just follow the Ringstrasse. This ring road which runs around the centre of Vienna passes some of the city's most famous buildings. Along the route you can see the Vienna State Opera, Imperial Palace, Parliament and City Hall. It's an easy way to experience Vienna's most beautiful architecture for free.
2. Join a free walking tour
A free walking tour is the perfect low-budget introduction to Vienna's history and sights. Several different companies offer free tours of Vienna, where you just tip your guide. Good Vienna Tours do a 2.5-hour city highlights tour which departs from Albertinaplatz.
Or Prime Tours have a range of different free tours, including a historical city centre tour, Hitler and 1900s Vienna, street art and Vienna by night tours. Some run daily and others only once or twice a week so check their calendar. And although they're marketed as free tours, it's expected that you'll tip the guide – around €10–€15 is suggested.
3. Visit Schönbrunn Palace gardens
Built in 1743 for Empress Maria Theresa, grand Schönbrunn Palace lies just outside the centre of Vienna. You can explore its lavish staterooms on a guided tour for €29. But if you want to save money, admire the palace from outside and explore its gardens for free.
The Palace Park is normally open from 6.30am until 5.30pm (5pm from November to April). And for a few euros you can also add on a visit to the Gloriette viewing platform, maze, Privy Garden or Orangery (€5 each), which can be booked online.
Vienna also has more beautiful parks which are free to visit, including the Burggarten and Stadtpark. In summer you can escape the heat by heading down to the Danube. Danube Island has 42km of beaches as well as boat hire, water playgrounds and cafés.
4. Take a free guided tour of City Hall
Vienna's Gothic-style City Hall, or Rathaus, is one of the city's most impressive buildings. And you can take a look inside on one of their free guided tours, which take place on Mondays, Wednesdays and Fridays at 1pm (except on meeting days and holidays).
Tours are in German but there are multilingual audio guides in several languages including English which you can borrow. There are only 50 tickets available per tour and you can't reserve them in advance, so it's a good idea to go as early as you can after they open at 8am to pick up a 'counting card' for that day's tour to show you have a place.
5. Save on transport with a Vienna City Card
The Vienna City Card* gives you unlimited free travel by public transport on the city's trams, buses and subway. The standard card costs €17 for 24 hours, €25 for 48 hours or €29 for 72 hours, so the longer you stay the better value it is. There are also more expensive versions of the card which cover travel to the airport and/or a sightseeing bus.
One child up to the age of 15 can travel for free with each Vienna City Card holder. And as well as covering public transport, you also get discounts on a range of museums, sights, tours, shops and restaurants, knocking between 10% and 30% off the full price.
6. Or save on sightseeing with a City Pass
If you're planning to visit a lot of Vienna's museums and attractions, you can save money by buying a Go City Vienna Pass.* This gives you free entry to famous spots including the Schönbrunn Palace, Schönbrunn Zoo, Spanish Riding School, Kunsthistorisches Museum and Hofburg Palace, as well as covering bike and hop-on-hop-off bus tours.
There are a couple of different versions of the pass – an All-Inclusive Pass for 1–6 days (which ranges from €79–£199, with discounts for children aged 12 or under). Or an Explorer Pass where you can pick and mix 2–7 attractions of your choice (€54–€169).
7. Check for combi tickets
If you're only planning on visiting a few attractions, a joint or combi ticket can end up being better value than a city pass. These tickets are available for various different combinations of museums and save you a few euros on the cost of the standard entry fees.
For example, a combined ticket for the Mozarthaus and House of Music costs €20 versus €28 for individual tickets. You can also save €5 on a combi ticket for the Dom Museum and St Stephen's Cathedral, or €8 for the Kunsthistorisches Museum and Imperial Treasury.
There's also various combined tickets available for the different museums in the MuseumsQuartier. And a six-in-one Musicus ticket which includes entry to six apartments in Vienna where the composers Beethoven, Strauss, Schubert and Haydn once lived.
These combi tickets are advertised on the museum websites, so it's worth checking in advance if there are particular places you want to visit. You can buy them at the participating museums, and some can also be booked online in advance.
8. Explore Vienna's museums for free
There are several free museums in Vienna, which are either free at all times or have free entry on certain days and times. Free to visit any time are the Snow Globe Museum, Peace Museum and Circus and Clown Museum (open on Sundays only).
Many of Vienna's museums are free for under 19s all the time and for everyone else on the first Sunday of the month – including the Wien Museum, Hermes Villa, Museum of Military History, Roman Museum, Beethoven Museum and Clock and Watch Museum.
9. Take advantage of late-night discounts
If you're not going to be in Vienna on the first Sunday of the month, other museums offer reduced or free entry on certain evenings. The Kunsthalle Wien is free on Thursday nights from 5pm–9pm. And the Museum of Applied Arts (MAK) has reduced price entry for €7 instead of €15 on Tuesday evenings from 6pm–9pm. The House of Music also has half-price entry for €8 every night from 8pm, with last admittance at 9.30pm.
And on the first Saturday of October (7 October in 2023), museums and galleries around the city stay open until 1am for the Long Night of Museums. For the price of a €15 ticket you can visit multiple venues, which host special exhibitions and events.
10. Look out for free events
Vienna hosts frequent free events, so keep an eye on the calendar when you're planning your trip. In summer there's the hugely popular Donauinselfest free open-air music festival each June on Danube Island. And the free Summer Night Concert by the Wiener Philharmoniker also takes place in the Schönbrunn Palace gardens in June.
You can also see free film screenings in front of the Rathaus during their annual film festival. This takes place between late June and September, with a big screen showing opera performances and concerts each night after sunset, as well as food and drink stalls. And the same area is used for a Christmas market and ice skating rink in winter.
11. Admire the views from St Stephen's Cathedral
For one of the best views over Vienna's rooftops, head to the top of the South Tower at St Stephen's Cathedral, 137 metres up. An All-Inclusive Ticket for the cathedral costs €20, but this includes both towers, the catacombs and the cathedral itself. If you just want to climb to the top of the tower it costs €5.50 (open daily (open daily 9am–5.30pm).
You can also go just inside the cathedral entrance without paying an entry fee. And many of Vienna's other churches are free to visit, including the Baroque Peterskirche and the Minoritenkirche, which featured in the classic 1949 film The Third Man.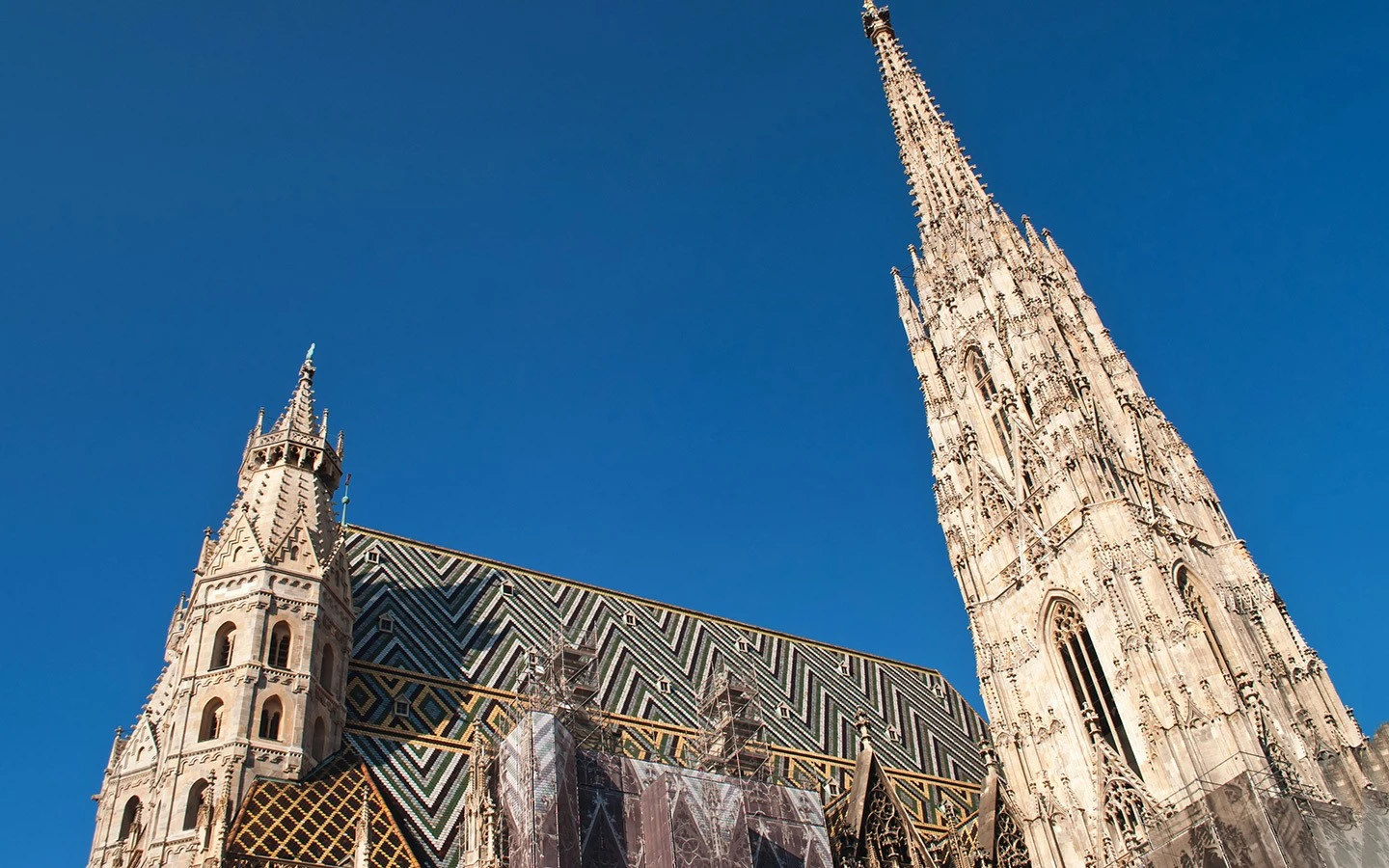 12. Get a standing ticket for the opera
Vienna's a city of music, but tickets to its famous operas can cost up to €250 and often sell out. You can get cheap tickets for under €20 if you book several months in advance. Or otherwise you can bag a last-minute bargain if you don't mind standing up.
Around 400 standing tickets are available for the Staatsoper or State Opera House, which cost €18 (for the best seats in the parterre on the ground floor), €15 (in the gallery) or €13 (on the balcony). Tickets go on sale online or from the main box office at 10am on the day.
Or another batch of tickets are available from a special ticket office on Operngasse, which opens 80 minutes before the performance. But get there early, be prepared to queue, and if you're in a group you all need to line up as you can only buy one ticket per person.
You can also get standing tickets for performances at the Volksoper opera house, which cost from €3–€8 and can be booked online like any other ticket.
13. Or get discounted opera tickets if you're under 27
If you're under 27, you can also save money on opera tickets through the Staatsoper's U27 programme. First you need to register online as a U27 member and have your ID validated. Then you can book special €20 tickets for selected performances. Or pick up any remaining tickets for €20 from the box office half an hour before the performance.
14. Take a tour of the Musikverein
Vienna's Musikverein concert hall is one of Europe's best music venues, home to the renowned Vienna Philharmonic orchestra. Like at the opera you can also book standing tickets for concerts at the Musikverein. Or get an insight into this impressive venue with a guided tour, available in English at 1pm daily (except Sundays) for €10.
15. See the Spanish Riding School for less
Another popular Vienna attraction is the Spanish Riding School. Seats for gala performances start from €60, but there are a few options to see the Lipizzaner horses for less. Again you can get standing tickets, which can be booked online in advance. A standing ticket costs €30 for a standard performance or €21 for the Lipizzaner Specials.
Or the cheapest option is to watch the horses' morning exercise session, which runs from 10am–11am and is set to music. Tickets cost €16 standing or start from €18 for a seat.
16. Shop and eat your way around the Naschmarkt
The Naschmarkt started as a produce market when it opened in 16th century, but is now a whole food and drink experience with over 120 stalls. You can still find fresh fruit, vegetables, meat and fish, but you can also pick up cooked food for a bargain lunch. There's a real mix of cuisines, from traditional Viennese to Turkish, Asian and Middle Eastern.
The market is open daily except Sundays, opening around 6am and closing at 7.30pm on Mondays–Fridays and at 5pm on Saturdays. There's also the weekly flea market to browse on Saturdays, and DJ sets to entertain visitors on weekend evenings.
17. Enjoy cake and music at a concert café
You can't visit Vienna without coffee and sachertorte in a traditional café. The most famous cafés can be expensive but there's no hurry so you can sit there and watch the world go by. And at the city's concert cafés there are free live music performances in the afternoons and evenings, with pianists playing classical, jazz and traditional Austrian music.
Among the cafés which offer regular music performances are the Café Schwarzenberg (Saturdays from 6.30pm and Sundays from 10am), Café Weimar (Fridays, Saturdays and Sundays from 4pm–8pm), Café Sperl (Sundays from 3.30pm) and the vintag 1950s-style Café Prückel (Mondays, Wednesdays and Fridays from 7pm–10pm).
18. Rent a bike to get around
Vienna's a great place to get around by bike, with 1600km of bike paths in and around the city. You can explore Vienna on a budget using the WienMobil scheme, which has 3000 bikes available from 185 rental stations. You need to register in advance and use their app to pick up a bike, then drop if off at another docking station when you've finished.
It only costs €0.60 for up to half an hour's rental so is perfect if you're stopping off in multiple places – there are usually docking stations near the main tourist attractions. And the most you would have to pay in a 24-hour period is capped at €14.90.
19. Take the S-Bahn to the airport
Vienna's international airport is 20km outside the city. Although you get a discount on trains and buses to the airport using the Vienna City Card, the cheapest way to get to the city is using the S-Bahn train. It costs €4.10 and takes around 25 minutes from the airport to Wien Mitte station, where there are subway connections across the city.
Save for later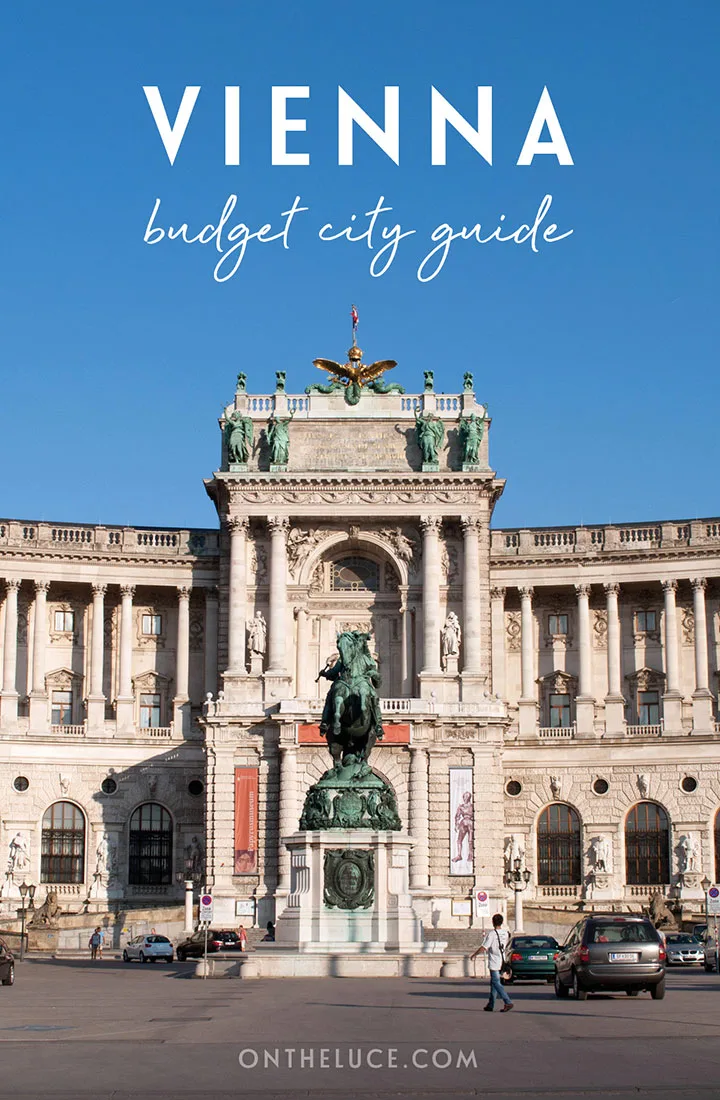 You might also like