Before I went on my first cruise it wasn't hard to find out about the ship, the destinations and practical things like what to pack. But one question that was a lot harder to answer was what's it actually like on a cruise? What do you do on a typical day? If you're a first-time cruiser you have no idea what to expect. So after my latest trip I thought I'd share a day in the life of a cruise, with how I spent 24 hours on board P&O Cruises' ship Britannia. Of course you can do as much or as little as you like on a cruise – be energetic or lazy, sociable or reclusive, do your own thing or get things organised for you. Everyone's version of an ideal day will be different, but this is how one independent traveller-turned-cruiser spent her time.
But first an introduction to my floating home for the week – Britannia. Launched in 2015, she's the flagship of P&O's fleet and Britain's largest cruise ship. She's 330 metres long (if you stood her up she'd be 20 metres taller than London's Shard) and can hold 3647 passengers and 1350 crew. In winter she sails the Caribbean and in summer its the Norwegian fjords, Mediterranean and Canary Islands. Most of P&O Cruises holidays start from Southampton so the majority of passengers are British, and the fact you don't need to fly means they're popular with plane-phobics and attract families and an older crowd (though there are some fly-cruises too). My mum and I boarded Britannia in Madeira to join a trip that visited the Canary Islands and Lisbon before returning to Southampton – and here's how we spent 24 hours on board.
Read more: Canary Islands cruise: A taste of La Palma, Tenerife and Lanzarote
8am: Rise and shine
The best part of a cruise for me is waking up in a new destination. So I'm usually awake early and out on the balcony as we come into port. The Canary Islands use the same time as Spain, which means the sun doesn't rise until after 7am in June. So I got to see more sunrises on board than I have in the last five years (so not a morning person). Being a British ship means Britannia practically runs on tea, so there's a kettle in each cabin. You can get a self-service breakfast in the buffet (Full English, pastries, cereal, fruit, ham and cheese) or get waited on in the dining room. Or you can be lazy like me and take advantage of room service. If you fill in a card the night before and tick off what you'd like and what time and it's delivered to you.
9am: Land ahoy
At some ports you have to get a tender (small boat) to reach shore, but on this trip we could dock everywhere so it was easy to get on and off. Once the local authorities give the go ahead the captain announces that you can disembark. The ship arrived into port around 8am, but we usually held on for a bit to give the people going on shore excursions a chance to get off the ship first as it can get a bit manic. There are full-day or half-day excursions available, or it's easy to go off and do your own thing. You get given an info sheet for each destination with a map and basic details of what there is to see and do. We could walk into town from all of our ports (the Canaries have helpful lines marked on the pavement for the directionally challenged like me to follow) or there are shuttle buses (free in some ports and £4 in other).
3pm: Back on board
After a day exploring we'd head back to the ship, where your cruise card (which also acts as a door key/onboard credit card) is scanned so they know who's back. There is always food available somewhere on board, so we tended not to eat too much while we were on shore and would grab something back on the ship. Another British touch on Britannia was the afternoon tea. There are cakes and sandwiches every afternoon in the buffet (with gluten-free versions available if you ask) or you can get a waiter service version in the dining room. If you're a real afternoon tea fan there's a also special version in the Epicurian restaurant (only available on sea days) which is designed by pastry chef Eric Lanlard who gives the traditional tea an unusual twist with quirky duck and raspberry macaroons and chocolate cannelloni.
3.30pm: Cookery class
One of Britannia's most impressive features is the on-board cookery club. There's at least one two-hour class per day, with 12 workstations up on the 17th floor for views while you cook. It's part of P&O Cruises' Food Heroes collaboration and chefs like James Martin come on board to teach classes. The rest of the time their chefs teach you to make things like bread, pasta or Thai street food. There are also 'demo and dinner' evenings where you're shown how to cook a new menu then get to eat it all. We checked out the chocolate-making workshop with tasty (and gluten-free) chocolate brownies and rich (and slightly boozy) chocolate truffles and honeycomb – and you're given recipe cards so you can make them at home.
5.30pm: Sailway
Depending on which port we were at, we set sail sometime in the late afternoon. The main Lido Deck pool hosts a sailway party with bands and DJs. But I liked the quieter Sun Deck where we could sit with a glass of Prosecco and dip our feet in the pool as we sailed off. P&O does let you bring alcohol on board, so we could buy a bottle of local wine and sit on the balcony too. Then it's time to get ready for dinner. The full 12-day cruise has four black-tie formal nights, though they tend to be on sea days when you've got more time to get ready. Dress code is smart casual on other nights (though if you want to dress to the nines every night then a cruise ship is the one place where no-one will bat an eyelid).
7pm: G&T o'clock
For pre-dinner drinks there are a few bar options, from the outdoor Sunset Bar at the back of the ship to an English pub (quite a surreal feeling seeing people drinking pints and watching the England match somewhere mid-Atlantic!). My favourite bar on board was the Crow's Nest, high up and right at the front of the ship for a Captain's eye view. It's home to The Great British Gin Menu with 20 different gins from around the country – my top choice was Poetic Licence's Northern Dry Gin from Sunderland.
8.30pm: Dinner time
There are 10 places to eat on board, but most people go to one of the main dining rooms where you're served a four-course menu each night. We had a 'Freedom dining' package which means you don't have to eat at a particular time or at the same table every night. You just turn up when you want and can choose whether to have a table by yourself or share with other people. Most of the time we shared and had some good chats (and got lots of cruise tips – so many cruise addicts were on their 10th or more trip). If you fancy a change there are a few speciality restaurants, where you pay a bit extra. We tried out Sindhu, an fine-dining Indian restaurant with a menu designed by another of the Food Heroes, Atul Kochhar. We also liked The Glass House, a wine bar with some unusual wines and tapas-style food.
10pm: Show time
Each night you get a copy of the ship's newsletter with details of all the next day's events, so you can plan what you want to see. Britannia has a big theatre with three shows each night like comedians, West End shows and tribute bands. The 8.30pm performance tends to be busy so we went for the early one before dinner or the late one afterwards. Our cruise had a Strictly Come Dancing theme so there were dance shows and classes around the ship too. There's also a cinema and live music in the bars later on.
11.30pm: And so to bed
There's a club, karaoke and casino on board, but by this point I was usually exhausted so finished the night off with a walk around the top deck. It's almost deserted in the late evenings and looks beautiful all lit up. Then it was back to the cabin, which had been tidied up and the bed turned down by our lovely cabin steward Carol while we were out, and we headed off to bed while the ship sailed on to its next stop.
So what do you think of my day on board – and how would you spend yours?
Pin it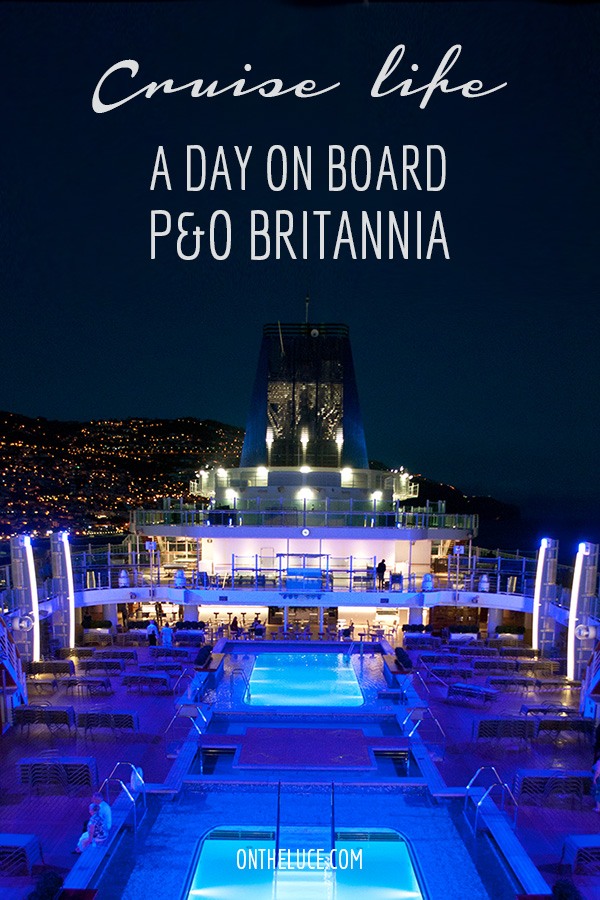 Many thanks to P&O Cruises for hosting us. All views and opinions are, as always, my own. A similar 12-night trip from Southampton costs £999 per person for an inside cabin or £1299 for a balcony cabin.