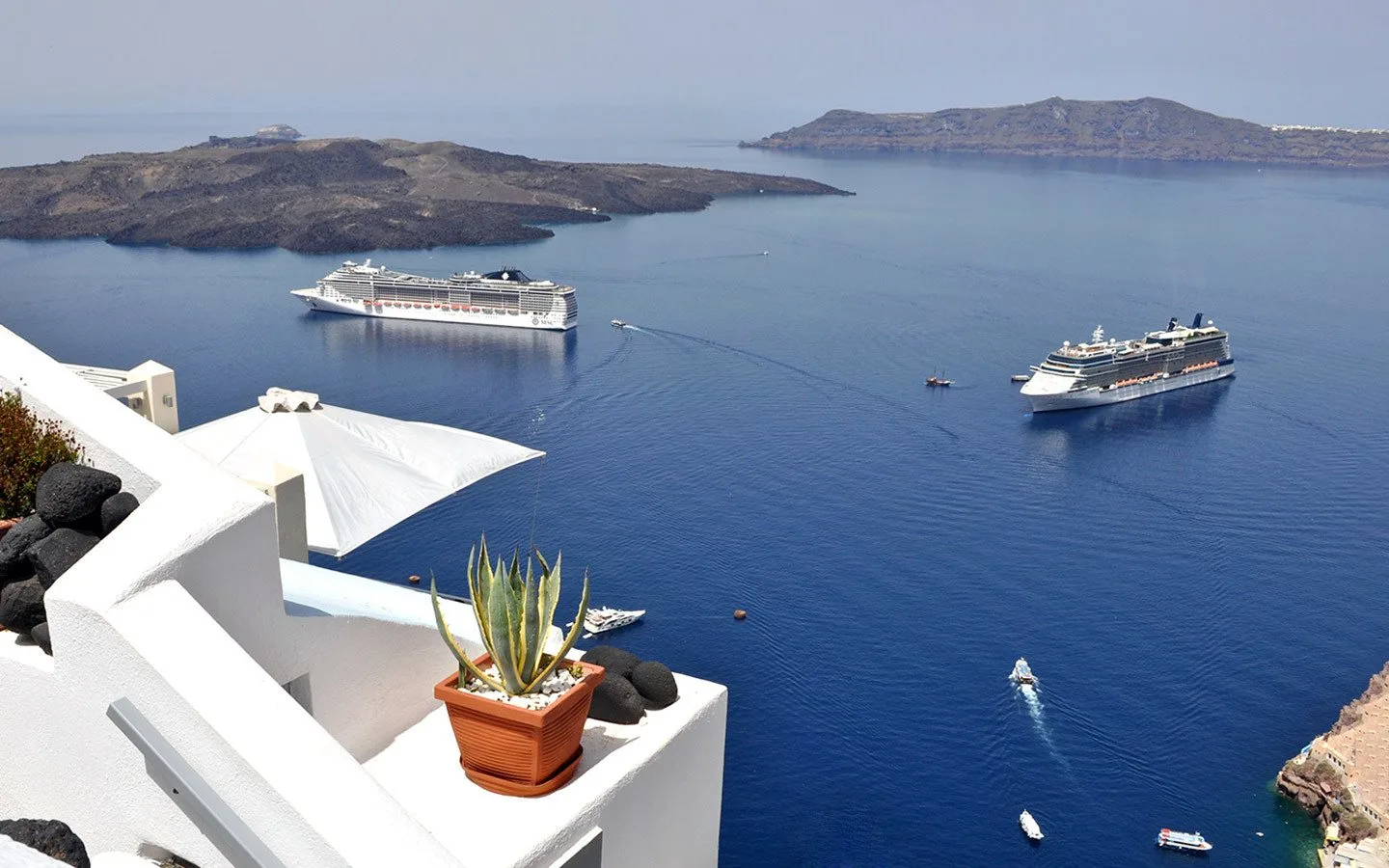 Before my first time cruising, it's fair to say I was a complete cruise novice. Pretty much the only knowledge I had about cruising came from repeat viewings of Titanic (so I was paying particular attention when it came to the evacuation drill). I normally do a lot of research before a trip, but this time I was in the dark – especially so as a documentation malfunction meant the only info I had when I boarded the ship was a piece of paper with our reference number on.
Read more: How to choose the perfect Alaska cruise
It's fair to say I didn't know what to expect, whether that was what I needed to pack, how much to tip, what it was going to be like on board, or even how to embark and disembark. So I thought I'd put together a post for first-time cruise travellers like me, or people who want to find out more about cruising, where I ask all the stupid questions so you don't have to!
Note: my answers are based on trips with Celebrity Cruises and P&O – a lot of the answers apply to other cruise lines too but it's a good idea to double check, and make sure to read your documentation properly. (You don't want to turn up and realise you should've got a Turkish visa and have to spend the week trying to do it online from the patchy ship internet, for example!)
A guide for first-time cruise travellers
Do I just turn up and walk onto the ship?
Er, no. This was the biggest surprise for me – I pictured us just walking up a gangplank, going through a scanner and getting on board. And that's pretty much what happens when you dock en route, but embarkation is a whole different experience, and more like boarding a plane.
When we arrived into Venice airport our bags were labelled and taken off us and we were taken to a huge terminal at the port to check in, get our photos taken, credit cards scanned and our passes issued. With about 2800 passengers it was busy – a flight delay meant we were near the end of the day and waited 40 minutes, but earlier on the wait was longer.
If you're travelling independently you transport your own luggage to the cruise terminal. Once you get on board your bags will be delivered to your room but not until later in the day, so keep your swimsuit in your hand luggage if you want to head straight to the pool.
Will I get lots of new stamps in my passport?
It depends on where you're going but probably not. My first cruise travelled through the Eastern Mediterranean and visited Italy, Croatia, Greece and Turkey. We were classed as transit passengers though so only had to go through passport control when we arrived and when we disembarked in Istanbul at the end of the cruise. So I got stamped into Turkey on the morning I left the ship and then stamped back out later that day at Istanbul airport.
So that's bad news if you want some stamps to fill those spare pages in your passport. But it's an advantage for visiting countries like Russia where visas are more difficult and expensive to get hold of, as cruise passengers can spend up to 72 hours in Russia without a visa.
Do I have to do shore excursions with a big group?
No – if you want you can do everything independently, by either hiring a car or using public transport. It's worth doing your research in advance though as understandably the cruise companies want you to take their excursions so they don't give you a lot of information for independent trips. At some ports we could walk into town, or there are usually taxis available in ports, as well as local shuttle buses to some sites like Olympia and Ephesus.
If you don't want to organise excursions yourself, you can either book with the cruise company or with an external company like Get Your Guide or Viator, who have more choice and are often cheaper. If you do a cruise company excursion you get the bonus of being first off the ship when you dock and are guaranteed it won't leave without you in case of delays. Popular excursions can book up fast though so book early for anything you particularly want to do.
If you do book with the cruise company, there are a wide range of excursions so you won't necessarily be stuck in a massive group – we did an iPod tour at Ephesus so we could wander around the site independently and avoid the worst of the crowds.
What currency is used on the ship? And are there lots of extra costs?
The currency used onboard ship will depend where the cruise company is based – it's usually US dollars, UK pounds or Euros. But you don't need to carry any cash with you as everything on board is charged to your pass, which also acts as your ID card and room key. The total of any extras is normally charged to your credit card at the end of the trip.
The cruise price covers accommodation, food and many activities on board, so you don't have to spend much more if you don't want to. Extras include speciality restaurant dining, excursions, internet, shopping and spa treatments. Basic hot and cold drinks are included in the price of the cruise but you pay extra for fizzy drinks, bottled water and alcohol.
Drinks policies vary by cruise line but some let you buy drinks packages. On Celebrity these started from $49 a day for standard wines and beers – though you have to book it for the whole trip so it depends how much you plan to drink and may work out cheaper to pay as you go. You often can't bring alcohol on board other than a limited amount at the start of the trip – any bought en route is stored until disembarkation (bags are scanned as you get back onboard).
Tipping practices also vary between different cruise lines. Some are all-inclusive or have tips factored into the price so you don't need to worry about tipping. But generally you are expected to tip, with either a daily amount (often around $15) added to your bill or an envelope left in your room where you can leave a tip for your waiter and room steward.
Am I going to put on loads of weight?
If you want to! There's food available on board 24 hours a day, with a mixture from the formal dining room and speciality restaurants to buffets and snack bars. Weirdly having food around all day meant we ate less, as you always know there's more available so you don't need to stock up. The main dining room has three/four-course meals every night, but portions aren't excessive.
Buffets have an array of counters with salads, main dishes (which are often destination themed), pizza and pasta. Not to mention the amazing array of desserts. But there are also lots of healthy options – like fresh fruit, a big salad bar and a stir fry bar where you can pick your own ingredients. The food labelling on board also makes it good for people with food intolerances – Celebrity dining room menus were marked for gluten-free, dairy-free and low-sugar.
There are gyms on board ship and usually a running/walking track on deck, but the sheer size of cruise ships means you can keep active even on sea days. We managed to rack up a good number of steps just walking around and taking the stairs rather than the lifts.
Do I have to eat dinner with the same people every night?
In the old days of cruising you were allocated a specific dinner time and table, with the same waiter and the same people every night – good if you happen to like them, not so much if you don't and can't escape. Now more cruise lines offer flexible dining, where you choose what time you eat and can often choose have a table to yourselves or share with other people.
We went for the flexible option so we could eat any time between 6pm and 9:30pm – so if we were out on shore late we could eat later or if we wanted to go to a show in the evening we could eat before. Or if you're not into formal dining at all then you can avoid the dining room completely and eat dinner in the buffet (or just snack around the ship all day).

Do I need to I pack my ballgown or tuxedo?
Not if you don't want to. You can wear whatever you like by day, then there are usually a couple of formal nights on a seven-night cruise where you can dress up, but how far you go is up to you. The traditional black tie dress code for formal nights has been relaxed on many cruise lines, but that doesn't mean you can't still dress up to the nines if you want to.
Anything goes, and as I don't get to dress up very often I packed a couple of dresses and a pair of heels (the bonus being you don't have too far to walk 'home' at the end of the night!). Other guests were in everything from suits and cocktail dresses to tuxedos and sparkly ballgowns. But again it's all optional, so if you don't want to get involved – like the Aussies we met who were on a nine-week trip so didn't have spare suitcase space to bring a suit – then you don't have to.
Outside formal nights the usual dress code for dinner is 'smart casual'. Bit vague I know, but in this case it translated as a dress or a skirt or trousers with a smart top for women, and a shirt and trousers for men. There are often 'no jeans' and 'no shorts' rules in the dining room in the evenings, but you can wear whatever you like in the buffet.
What is the entertainment like (is it all bingo and ballroom dancing?)
There is always something going on on board. There are all the traditional activities you'd expect – bingo, quizzes and games – if you want them. But there are also all sorts of other things to do, like cookery demonstrations, ship tours, ice-carving, cocktail-making and glass-blowing, to mention just a few. You'll also find themed cruises, like our Strictly Come Dancing themed P&O cruise which included dance classes and performances from the show's professionals.
There's lots of live music too – ranging from DJs to a string duo and jazz band – and two shows a night in the ship's theatre. These shows can include West End-quality singers and dancers, magicians, comedians and Cirque du Soleil-style acrobatic shows. Each night a sheet is left in you room telling you all about what's going on tomorrow so you can plan what to do.
Will I get seasick?
Hopefully not – cruise ships now have sophisticated stabilisers to keep the trip as smooth as possible. I'm really sensitive to motion but really couldn't feel we were moving most of the time. There were a couple of nights when we travelled further and you could feel the engine rumbling and the ship's motion, but it was more of juddering than the horrible swaying feeling.
If you do get rough seas I recommend ginger sweets, acupressure wristbands and Stugeron (Cinnarizine) tablets – and if things are really bad the ship's doctor can give you a special injection. If you're worried about seasickness, it's a good idea to start off with a cruise in a relatively calm area during summer and without a minimum of full days at sea.
Any other tips for a first-time cruise?
Packing-wise, if you've got a lots of electricals then it's a good idea to bring a multi-plug adaptor. The type of plug sockets will vary depending on your cruise line, normally with a mix of US and European types, but there are never very many of them. You also might want to bring your own hairdryer if you've got long hair as the ones provided are a bit feeble.
The air-con on board ship can be chilly, so ladies may want to bring a wrap or cardigan for formal evenings. It's also a good idea to bring a refillable water bottle to reduce plastic waste (and save on the inflated prices of bottled water on board). The ship's tap water is drinkable (though its not very cold) or you can fill up glasses of chilled water in the restaurant.
Read more: Cruise travel: How to minimise your environmental impact
When it comes to disembarking at the end of your cruise, you'll need to label your bags the night before – keeping just a small overnight bag – and they'll be transported off the ship for you. If you are on a cruise line transfer you'll be taken to the airport by then at the latest – not so good if your flight is in the afternoon (as we found in our six hours in Istanbul Airport!).
But as long as you are out of your cabin you can stay on board for a more leisurely breakfast if you arrange your own transfer to the airport. Or even better, if you've got time then you could book a hotel and stay for an extra night or two in your final destination.
So there you go, those are my top questions and answers for first-time cruise travellers – do you have anything else you want to know about cruising?

Pin it
This article contains affiliate links, where I get a small commission at no extra cost to you, thanks.