How to spend a weekend in Rye, East Sussex: Discover the best things to see, do, eat and drink in Rye in a two-day itinerary featuring this historic coastal town's castles, pubs, beaches and wildlife.
* This site contains affiliate links, where I get a small commission from purchases at no extra cost to you.
A hilltop medieval town with a picturesque jumble of cobbled streets and half-timbered buildings, Rye in East Sussex has the charm and beauty to match England's most popular spots. But this Cinque Ports town has managed to escape a huge influx of visitors and keep its unspoilt mix of independent local shops, pubs and restaurants.
Add in historic sights, sandy beaches and even a local winery and you've got a great weekend break. Rye's just an hour from London too, so it makes an easy getaway from the capital. So here's my 2-day Rye itinerary to help you plan the perfect weekend in Rye.
How to spend a weekend in Rye
Friday evening
Check into your accommodation then start your weekend in Rye in the town's most famous spot – Mermaid Street, voted one of Britain's most picturesque streets. Its cobbled streets are lined with crooked half-timbered buildings draped with leaves and flowers. Make a stop at one of the street's quirkiest spots – the 15th-century Mermaid Inn.
The inn was once a favourite with south-coast smugglers The Hawkwood Gang and it still has secret passageways, as well as characterful sloping ceilings, creaking floorboards and mullion windows – and maybe a ghost or two. Grab a drink by the fire in the Giant's Fireplace Bar before a candlelit dinner in the Linen Fold Panelled restaurant.
The restaurant's been awarded 2 AA Rosettes and uses seasonal, local ingredients in a fairly small but interesting menu with dishes like stuffed roasted rabbit and smoked aubergine and tofu parmigiana, along with wines from Sussex and Kent.
Saturday morning
Rye is two miles from the coast today, but back in the 16th century it was one of the Cinque Ports – a series of port towns across Kent, Sussex and Essex who provided ships for the royal fleet. The silting up of the estuary put paid to its seafaring role, but it still has the feel of a coastal town with echoes of its past life as a haunt of sailors and smugglers.
Spend the morning learning about Rye's history, starting at the medieval Ypres Tower – nicknamed the 'Wipers Tower' by locals. The origins of the tower are are a bit of a mystery, but it was probably originally part of the town's 13th-century defensive walls.
It's been a house, prison and mortuary over the years, but is now home to Rye Castle Museum. Inside the museum are exhibits about the tower and town's history, including a smugglers' lamp, medieval weapons and the old jail cells. There's also a recreated medieval herb garden and a rooftop terrace where you can look out over Rye's old harbour.
Call in to the Rye Heritage Centre in a converted 19th century sail loft which has a 1:100 scale model of Victorian Rye with a sound and light show which tells the town's history, as well an old-fashioned penny arcade with retro seaside amusements.
Then carry on to the Church of St Mary – known as the 'cathedral of East Sussex'. Climb to the top of the church tower for a bird's eye view over the rooftops of Rye to the surrounding countryside and the Channel, and maybe even as far as France.
It's a narrow spiraling climb to the top of the tower, but along the way you can see the mechanism of the historic church clock. It was built in 1560, making it the oldest church turret clock still in use. But it's still known as the 'new' clock as it was added 400 years after the church was built, after the original was destroyed by French invaders.
Saturday afternoon
Next head back to Mermaid Street and the Strand to explore some of Rye's independent antique, art and vintage shops. Try The Confit Pot for French pottery and homewares, Halycon Days for upcycled furniture, Rye Pottery for handmade ceramics, Marsha by the Sea for gorgeous seaside-inspired gifts and Crock and Cosy for vintage cookware.
Stop off for a decadent hot chocolate at Knoops, who started in Rye and now have seven stores around the south of England. There are 20 different chocolate bases to choose from – from a 28% cocoa white chocolate to a 100% single origin dark chocolate – as well as extra spices and flavourings, and milkshakes for a sunny day.
Or visit the Cobbles Tea Room in a tiny cobbled side-street just off The Mint for lunch or a traditional English afternoon tea. The tea room has been running for over 60 years in a cosy cottage with a couple of garden tables surrounded by flowers.
Then discover some of Rye's literary links. It starred in the book Mapp and Lucia, which was made into a BBC TV series in 2014. Author E.F. Benson renamed the town Tilling for the book but used a lot of real-life locations from around Rye. If you're a fan you can do a self-guided tour of locations from both the book and its two TV adaptions.
Lamb House in Rye features in the series but was also the home of E.F. Benson in the 1920s. That's not its only literary connection either as Henry James also lived there 30 years earlier. He wrote three of his novels there, including The Wings of the Dove. Today it's run by the National Trust and you can visit the house and gardens.
Stop off at the Rye Waterworks in Tower Street for a pre-dinner drink. This compact micropub has been a water pump house and public toilet but now serves local real ales and ciders. Then finish the day with dinner at The Standard, serving local specialities including Romney Marshes lamb and Winchelsea beef, plus an amazing chocolate brownie.
Sunday morning
The following morning, start the day with a coastal walk in Rye Harbour, guaranteed to blow away any cobwebs. Rye Harbour Nature Reserve is a couple of miles out of town (catch the number 313 bus from Rye train station if you don't have a car).
The Nature Reserve is a conservation area covering 475 hectares with a mix of habitats including wetlands, reed beds, salt marshes, shingle beaches and gravel pits. Its diversity make it great for wildlife and there are over 4300 different plants and animals in the reserve, including 280 species of bird and rare British wildlife like the water vole.
There's a Discovery Centre where you can find out about the reserve and its conservation work. And there are lots of footpaths through the reserve to explore, with three suggested circular walks which cover 2 miles, 4.3 miles or 6 miles.
The longest route takes in ruined Camber Castle, which is part of the reserve. The castle was built for Henry VIII to protect Rye Harbour. But it wasn't in use for long before the estuary silted up and it ended up away from the sea. You can't go inside the castle (except on occasional guided tours) but can take a look around the exterior.
Once you've worked up an appetite, stop for lunch at the William the Conqueror pub in Rye Harbour. It has lots of nautical design touches like decorated oars along the edge of the bar and seaside memorabilia. They serve pub food with a Greek twist, with souvlaki and stifado alongside the burgers and Sunday roasts, with outdoor seating by the river.
Sunday afternoon
Take a post-lunch stroll along golden Camber Sands, a two-mile-long, wide sandy stretch of beach backed with giant sand dunes which could easily pass as the Mediterranean on a sunny day. Its the only dune system in East Sussex and its gorgeous good looks mean its been featured in films and TV series, often passing itself off in desert shots.
Then finish your weekend in Rye by heading four miles east of town to Tillingham vineyard, a farm in 70 acres of Sussex Weald countryside with views of Rye and the Romney Marshes (if you don't have a car it's a 10-minute taxi ride from Rye).
Tillingham specialise in organic, natural wines, with red, white, orange, rosé and sparkling varieties. They run 90-minute guided tours of the vineyard and winery which includes samples of four wines (2pm/4pm Sundays, pre-book in advance online). Or you can just try some of their wines in their tasting room and pick up a bottle or two to take home.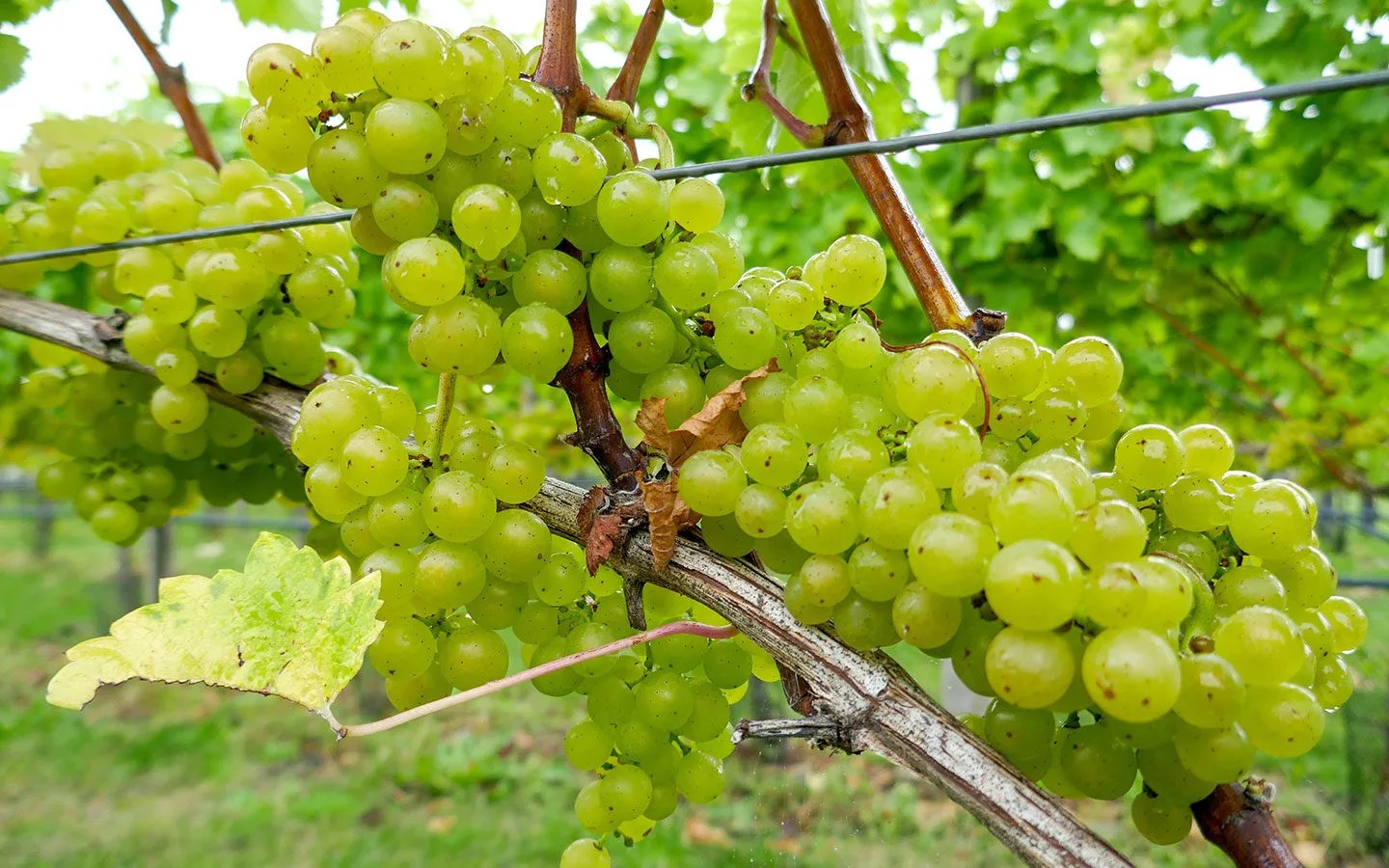 Map of things to do in Rye, East Sussex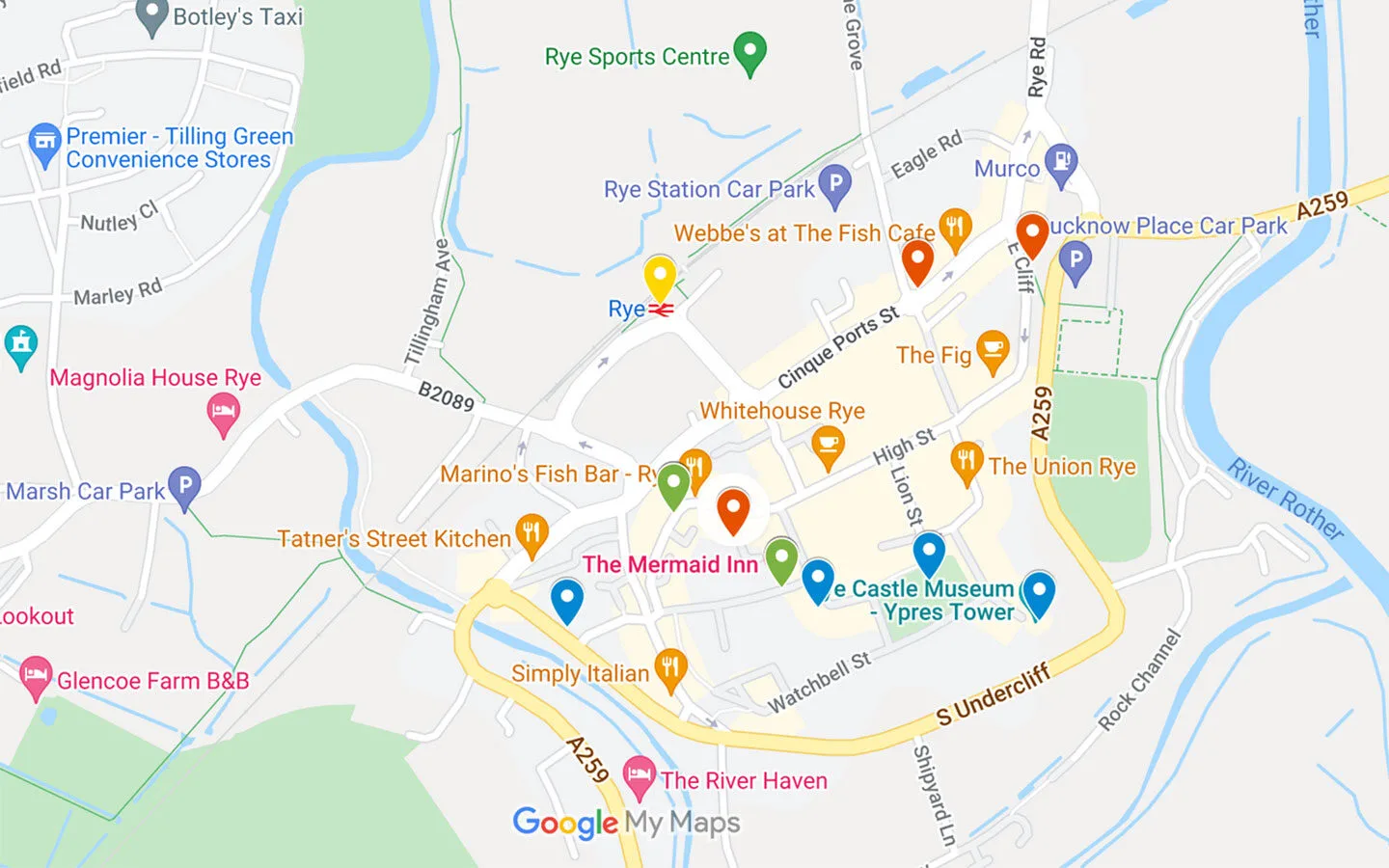 The details
How to get to Rye
Rye is just over an hour by train* from London – take the high speed service from St Pancras station to Ashford International then change onto a local train to Rye. You can also take the train along the coast from Brighton (changing at Eastbourne) or Hastings.
If you're driving, it's 70 miles to Rye from London, which takes around 2 hours 20 minutes. There's overnight car parking at Rye station (TN31 7AB) and the Cattle Market (TN31 7NA) (excluding Wednesday night and Thursday until 5pm when the market is on).
The nearest airport is London Gatwick, which is around 1.5 hours drive away or 2 hours by train (changing trains at Hampden Park in Sussex).
Getting around Rye
Rye is small and easy to get around on foot so you don't need to have a car. Rye Nature Reserve is a 7-minute bus ride or a 45-minute walk from town. Camber Sands is more difficult to reach as you need to backtrack to Rye and catch the 102 bus from there, so if pushed for time it might be best to stay longer at the Nature Reserve instead. And Tillingham vineyard is a 10-minute taxi ride from Rye, which costs £15–18 one way.
Where to stay in Rye
The Standard Inn* is a restored 15th-century pub in the centre of town with five bedrooms named after the Cinque Ports. It's got lots of character, with beamed ceilings and antique furniture. Rooms are decorated in muted creams and greens, and some have fireplaces and rolltop baths. And downstairs there's a cosy bar and restaurant.
If that's not enough history for you, the Tudor Mermaid Inn's* 31 rooms are all different shapes and sizes, some with four-poster beds, wood-panelled walls and even a secret staircase down to the bar. It's a bit like staying on set in a period drama – you can even follow in the footsteps of Elizabeth I with a night in the Elizabethan Bedchamber.
Or if you prefer self-catering, Cadborough Farm's four cottages are set in tranquil countryside just outside Rye. The buildings date from the 1800s and each cottage's layout is different – from the cosy old dairy to the luxuriously renovated Coach House with its private garden (though note the 4-night minimum stay in high season).
Save for later
You might also like