Discover the best things to do in Honfleur, a pretty harbour town on the Normandy coast which was the haunt of Impressionist artists, with a picturesque port, historic churches and tasty local produce.
* This site contains affiliate links, where I get a small commission from purchases at no extra cost to you.
A picturesque harbour tightly packed with sailing boats. Rows of tall, thin, slate-fronted houses and stone salt stores. Waterside restaurants with colourful awnings and tables spilling out onto cobbled streets. Honfleur really is as pretty as a painting – and if you know much about art, then you might well recognise it from a few famous canvases.
It started life as a fishing town, but the beauty of its historic port and Normandy's luminous light made it a magnet for Impressionist painters. They immortalised the town in paintings which hang in galleries around the world – and the town's still an artistic hotspot.
Honfleur is located in Northern France where the River Seine meets the sea, within easy reach of cross-Channel ports. It's a popular day trip destination but it's also worth staying longer to visit the town's museums, galleries and restaurants. So if you're planning to visit this beautiful Normandy town, here's my pick of the things to do in Honfleur.
The best things to do in Honfleur, France
Explore the Vieux Bassin
With its narrow, tall merchants' houses and old stone salt stores, the Vieux Bassin (historic port) is the old heart of Honfleur and its most picture-perfect spot. The current port was built in 1681 when Honfleur was one of France's most important ports, shipping goods out around the world and explorers on expeditions to Canada and Brazil.
The port is still beautifully well preserved, and is a great place to grab a coffee or glass of wine from one of the waterfront cafés and watch the boats come and go (though beware prices are Parisian high). Normandy's famous light means the views change through the day, with the buildings reflected in the water on still days and the blue glow of dusk.
One one side of the harbour are the tall, thin wooden houses of Quai Sainte Catherine, and on the other are the bigger stone houses of Quai Saint-Etienne. This is where you'll also find Saint-Étienne church. It's the oldest in Honfleur and was built in 1369.
Today the church is home to the Musée de la Marine, featuring all things nautical from model ships to engravings and paintings. You can also see the distinctive lieutenancy building guarding the entrance to the port. It was built in the 18th century and housed the town's governor – and now has a vintage carousel outside in the summer.
See the wooden Église Sainte Catherine
Away from the harbour, Honfleur's most famous landmark is the wooden Église Sainte Catherine (St Catherine's Church). It's France's largest wooden church and was built by local shipbuilders in the late 15th century, who used their day-job skills and wood from local forests to create a unique ceiling which looks like two upside-down ships' hulls.
The wooden church was only ever supposed to be a temporary structure after the previous stone church was destroyed in the Hundred Years' War, but over 500 years later it's still standing. The church is free to visit to admire the skilled craftsmanship.
Unusually the bell tower was built separately from the main church – supposedly in case it ever got hit by lightening – and is now used as a museum of religious art, which you can visit as part of the Eugène Boudin Museum (see below).
Admire artworks by Eugène Boudin
Honfleur's artistic fame is thanks to landscape painter Eugène Boudin, who was born in the town in 1824. He was one of the first landscape painters to paint outside en plein air and was famous for his skillfully captured skies and seascapes.
In the 1850s, Boudin befriended 18-year-old Claude Monet. At that time, Monet had been painting charcoal caricatures, but Boudin encouraged him to try landscapes – and the rest is history. Monet fell in love with Honfleur and brought artist friends like Pissarro and Renoir to visit. And as the Impressionist movement took off, Honfleur's fame grew.
A museum in Honfleur's Place Erik Satie tells you more about Boudin's life and work. Paintings and sculptures from the 19th- and 20th-century featuring the town and the area are on display. You can see Boudin's canvases and sketches of Honfleur harbour and the surrounding coast and countryside, as well as works by Monet and Dubourg.
Discover today's artists
Honfleur's art scene isn't just a thing of the past, a community of painters, sculptors and photographers are still drawn to the town today. You'll often see an easel of two set up in the Vieux Bassin, with today's artists capturing almost the same waterside scenes the Impressionists did 200 years before them.
You'll also find art galleries all around Honfleur, with a wide range of artworks on display from contemporary to classic, established to emerging artists. Take your pick from sculptures, textile art and multimedia works as well as paintings and photographs – though it's a good idea to head away from the harbour to find the best, and best value, places.
Visit composer Erik Satie's former home
Another of Honfleur's famous residents has a museum dedicated to him – composer Erik Satie. He was born in Honfleur in 1866 and spent his childhood in a half-timbered house which has been converted into a quirky museum. Rather than the usual exhibits about his life and work, this is a more surreal, interactive experience.
A trail takes you through the building, with an audio guide which plays different pieces of Satie's music depending on which room you're in, designed to take you through his artistic journey. Add in light displays and exhibits like a white self-playing piano and a giant pear with wings and you've got one of the most offbeat things to do in Honfleur.
Eat and drink Normandy style
Normandy has a mix of lush countryside and coastline with plenty of delicious fresh produce. Think seafood like oysters, mussels in cream sauce and Marmite Dieppoise fish stew. And milk from Normandy cows is used in cheeses like Camembert, Pont-l'Evêque and Livarot, as well as in creamy butter and confiture de lait caramel spread.
You can eat Normandy's apples in sweet dishes like Tarte Normande or drink them as cider or pommeau. And as Honfleur forms part of Normandy's Calvados department, don't miss the area's namesake fiery apple liqueur. You can try and buy it along with the pear version at the Compagnie des Calvados de la Cave Honfleuraise.
Honfleur's farmers' market sells cheese, butter, meat, fruit and vegetables on Wednesday and Saturday mornings. And our favourite places to eat were cosy La Tortue for its good set menu deals, Cidrerie Crêperie for mugs of cloudy cider and paper-thin crêpes , and the tiny harbour-view Bistro des Artistes for big potions of local specialities.
Take a walk in the Jardin des Personnalités
Honfleur's narrow streets can get very busy in summer. So if you want to escape the crowds, take a 20-minute walk to the Jardin des Personnalités at the entrance to the harbour. This peaceful park – whose name translates as the 'garden of personalities' – features statues of some of the famous people who were influenced by Honfleur.
As well as Eugène Boudin and Erik Satie, look out for the busts of Monet, poet Charles Baudelaire and Samuel de Champlain who discovered Quebec. The park covers 10 hectares, with walkways, ponds, topiary hedges and grassy areas that make a good spot for a picnic. It's particularly lovely in the summer when the roses are blooming.
Go under or over the Pont de Normandie
The Pont de Normandie is a marvel of engineering, built in 1995 across the Seine estuary between Honfleur and Le Harve. This cable bridge stretches for 2141 metres and was the longest cable bridge in the world when it was built (a title since stolen by the Russky Bridge in Vladivostok), and was built 215 metres high so ships can sail underneath.
To get a close up look at the bridge you can walk or cycle across it – there are four lanes for traffic and two each for cyclists and pedestrians – or take a boat trip underneath it. 90-minute boat trips run from Honfleur harbour up the Seine estuary and along the coast to the bridge, with commentary in multiple languages along the way.
Hit the beach
A day on the beach isn't one of the most obvious things to do in Honfleur, but the sandy Plage du Butin lies just past the Jardin des Personnalités on the edge of Honfleur. There's a children's playground, showers and toilets. But although you get a great view of the Pont de Normandie, you do also have a backdrop of industrial Le Havre.
If you don't mind travelling a bit further, west of Honfleur are the 19th-century seaside resorts of Deauville and Trouville. Their sandy beaches, wooden boardwalks and whitewashed bathing houses were a favourite subject for Boudin and other Impressionists. And they're still a great place to dip your toes in the sea or feast on moules-frites.
The details
When to visit Honfleur
Honfleur has a temperate oceanic climate, which means it doesn't usually get either too hot or cold but can be rainy. July and August are the warmest and sunniest time to visit Honfleur, with the lowest rainfall and average high temperatures around 22°C (72°F).
Spring and autumn in Honfleur are mild, with average highs of 15–19°C (59–66°F). But winter can be chilly, wet and windy, with temperatures ranging from 3–8°C (37–46°F) and some hotels and restaurants are closed. Rainfall peaks from November to January, but pack an umbrella and be prepared for showers at any time of year.
How to get to Honfleur
Honfleur is located on the Normandy coast close to the cross-Channel ports at Le Havre (25km away) and Caen (75km away). You can reach both of them by ferry in about 5.5 hours from Portsmouth. If you don't have a car there are local Nomad buses to Honfleur, which take around 30 minutes from Le Havre or 1 hour from Caen.
There is no train station in Honfleur but you can catch the train* to nearby Trouville-Deauville, which takes around 2 hours 10 minutes by direct train from Paris Gare St-Lazare. From there you can take a local bus to Honfleur in 35 minutes.
There's a small airport in Deauville which has flights from a few destinations around Europe, otherwise you can fly into Paris and travel by train from there. Once you get to Honfleur, the town centre is compact and easy to get around on foot – though many of the paths are cobbled so it's a good idea to avoid high-heeled shoes.
Or if you are limited on time, you can book a small group day tour* from Paris to Honfleur which includes minibus travel, a guided tour and stops in Trouville and Deauville.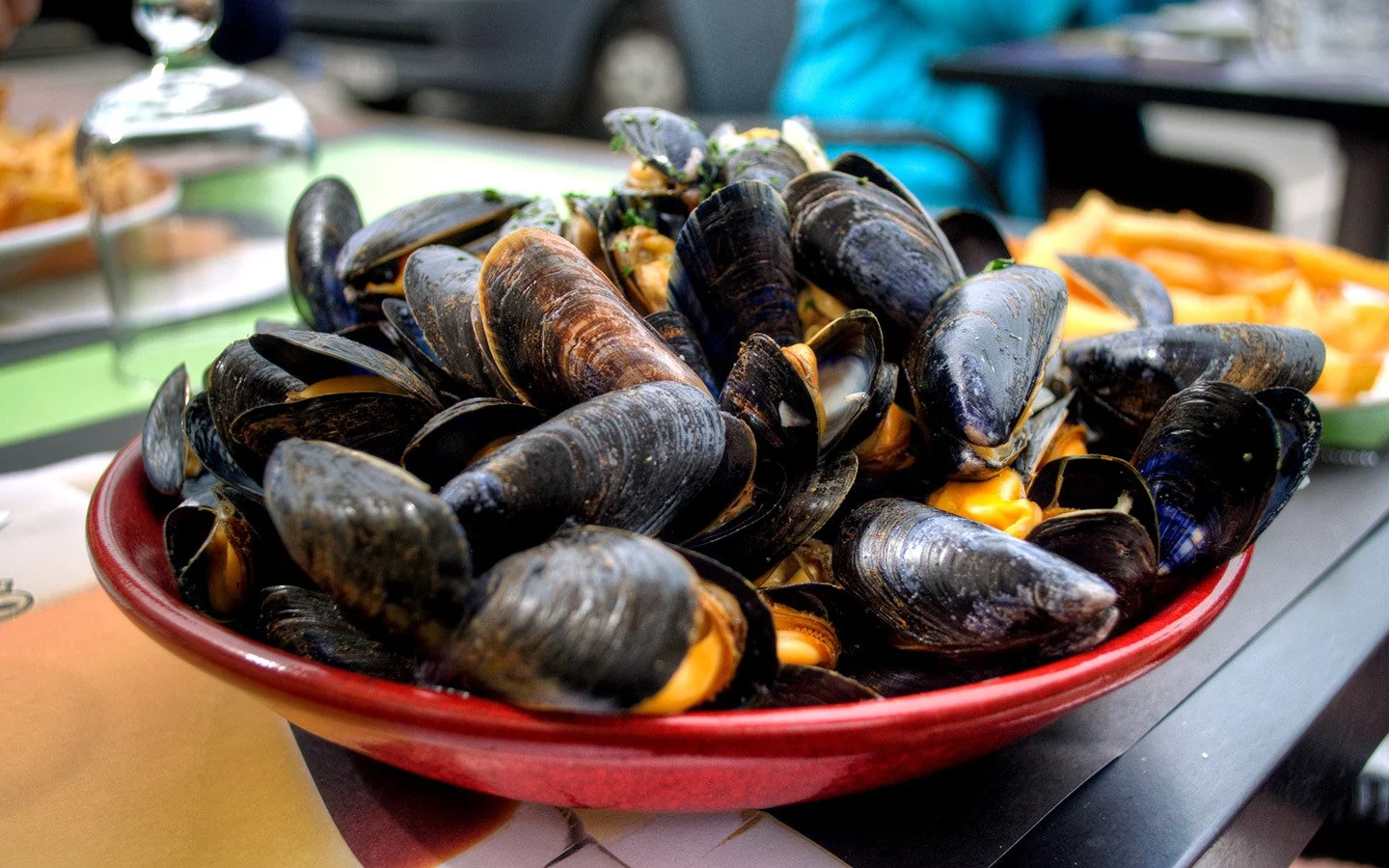 Where to stay in Honfleur
Follow in the footsteps of Boudin and Monet at La Ferme Saint Simeon.* This 17th-century farm started life as a leper colony before becoming a hostel for painters and poets. Monet paid a bargain 40 francs a month, but things are a bit pricier now it's a smart five-star Relais & Châteaux hotel with a spa and two restaurants serving classy Norman fare.
Or La Maison de Lucie* is set in a quiet cobbled street on the edge of the Vieux Bassin. The former home of 18th-century poet Lucie Delarue-Mardrus is now an elegant hotel, with 12 rooms and suites furnished with antiques, some with terrace views over the old town. There's also a hot tub in the vaulted cellars with stained-glass windows.
Save for later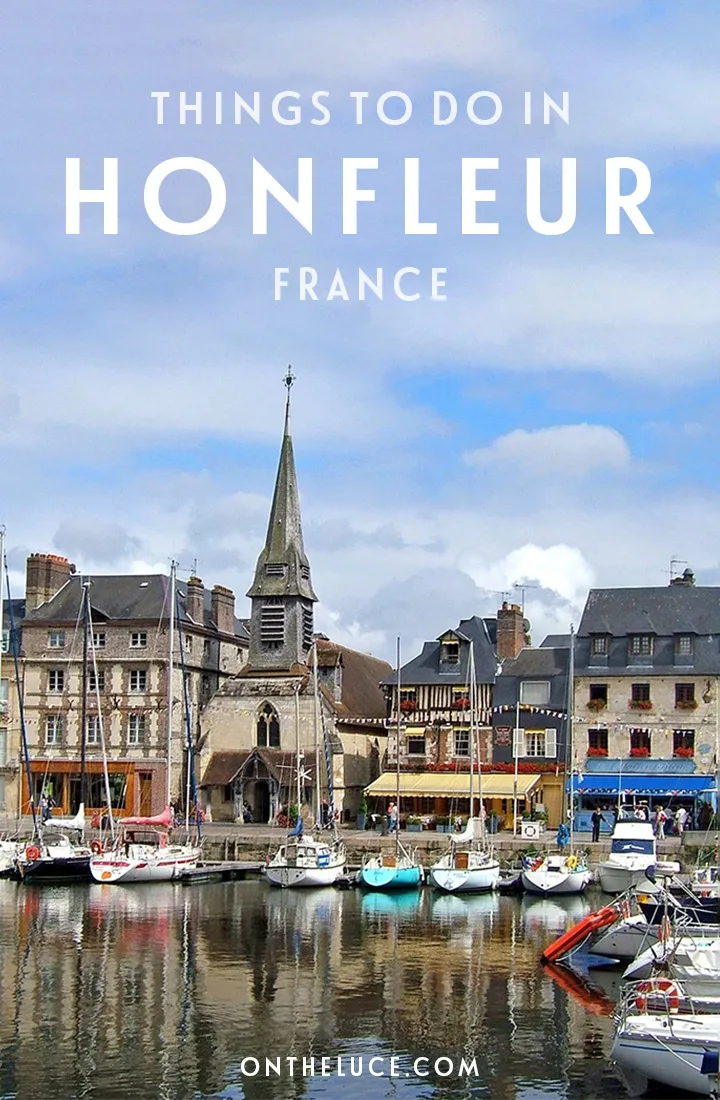 You might also like