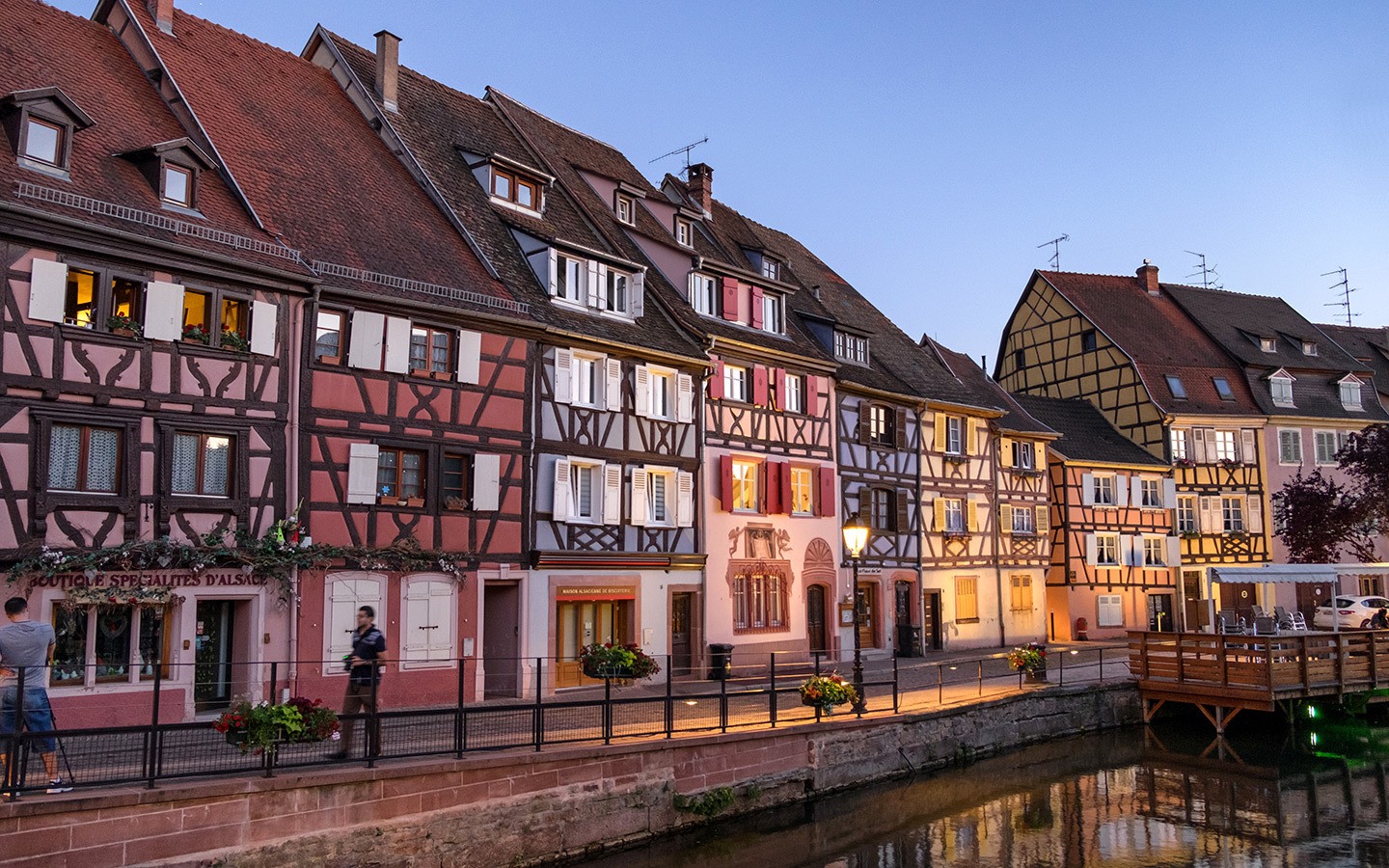 I have a weakness for canalside cities – Annecy, Bruges, Amsterdam, Venice. But one of my all-time favourites is Strasbourg in France's Alsace region, a city overflowing with half-timbered medieval buildings and flower-lined canals. So when I heard that nearby Colmar was supposedly even more colourful, had even prettier buildings, more flowers and more scenic canals, how could I resist a visit? Colmar was apparently the inspiration for the village in the Disney film Beauty and the Beast, and it's not hard to see why.
Read more: 10 fabulous French weekends
Walking the streets of Colmar is like watching those childhood fairy stories come to life. There's a wooden turret just perfect for Rapunzel to let her hair down from, tiny cottages that would make the perfect home for seven dwarfs and a candy-coloured bakery Hansel and Gretel would love to get their teeth into. In real life, Colmar is a small town in the Alsace region of northeast France. This is where France meets Germany and the two cultures come together to create a unique mix – think of it as France with a twist.
The Alsace region has been passed back and forth between France and Germany over the years. Colmar was conquered by the French in 1673 but Germany claimed the whole Alsace region in 1871. It stayed German until after WWI when it was given back to the French, then was temporarily occupied by the Germans during the Second World War. It was the last town in France to be liberated at the end of the war and it's been French ever since, but it's no surprise you can see a German influence on Colmar's architecture.
Colmar doesn't have huge list of must-see museums or attractions – though there is the Unterlinden Museum, with its famous 16th-century Isenheim Alterpiece, the Bartholdi Museum and plenty of churches. But what it does have is scenic spots by the bucket-load. You might need to pack an extra memory card or two – I can't remember the last place where I took quite so many photos. Everywhere you look there are waterside houses painted in pastel shades, wooden shutters, twisting cobbled streets and window boxes overflowing with blooms. It's the perfect place to wander around and see what you come across.
The locals seem justifiably proud of their homes, and everything is neatly painted and maintained. Some are decorated with lamps, clocks and hearts – then there are a few who've have taken it to the extreme by hanging bikes, chairs and who knows what else out front. In Colmar it seems your house is an artwork as well as a place to live. In among the houses are a mix of cute boutique shops selling local produce like chocolate and wine as well as art and antiques. Some of them have ornate wrought-iron signs hanging over the street to show what they sell. Then there are waterside cafés and tucked-away cellar restaurants.
There's barely an ugly building in the centre of Colmar, but things reach peak prettiness in the area near the Quai de Poissoniers nicknamed Petit Venice. Colmar's Little Venice is where you'll find that picture-perfect row of half-timbered houses painted in shades of pink, yellow and sky blue. Some date back to the 14th century – surviving the wars unscathed. This was the old merchants' quarter where tanners, butchers and fishmongers lived. The story goes that different colours were used to display the different types of businesses – so if you were a fisherman your house would be blue, or a butcher would have a red house.
Petit Venice isn't exactly a secret though, so on a sunny afternoon you'll be jostling for elbow room to capture your perfect Instagram shot with hoards of river cruisers and day-trippers from Strasbourg and Paris. For a different view of the canals you can take a boat trip. The canals are pretty shallow in parts (I saw a duck standing on the bottom at one point…), so the tours use special flat-bottomed boats similar to punts which take small groups on a 30-minute tour through Petit Venice and out to a leafy residential area.
A lot of visitors only spend a day in Colmar, but if you have time to spare it's worth staying for at least one night. Strasbourg is only 35 minutes away by train and has a similar feel to Colmar, plus a few more big-city attractions. Colmar's also a great base to explore the Alsation wine route where some of the area's delicious Rieslings are grown, with pretty Eguisheim 7km away by bike. But not least because if you stay overnight then in the early mornings or at dusk you can almost have Petit Venice to yourself. When it's blue hour, with soft street lighting and perfect reflections in the still waters of the canals, the fairytale is real.
The details
Getting there: Colmar is really easy to get to by train either on a rail trip or from nearby airports – it's just 35 minutes from Strasbourg, 45 minutes from Basel, 2 hours from Zürich and 2.5 hours from Paris.
We stayed at: We rented a bright and modern two-bed AirBnB apartment in an old Alsatian house five minutes' walk into the centre of town an (£135 a night for four, including fees). Also recommended was the Hotel le Colombier, right in the middle of Petit Venice with some rooms overlooking the canals.
We ate at: We mixed up eating out and self-catering, picking up supplies of fruit and veg, bread, cheese, meats and wine at Colmar's covered market. Don't miss the bretzels – they're shaped like a pretzel but taste more like a doughnut. If you fancy splashing out, Colmar has 10 Michelin-starred restaurants, with two-star JY's having the most-impressive location right on the canal. Or a bit more low-key is La Soi, who do a great tarte flambée (a kind of thin pizza topped with crème fraîche, bacon lardons and sliced onions).
Pin it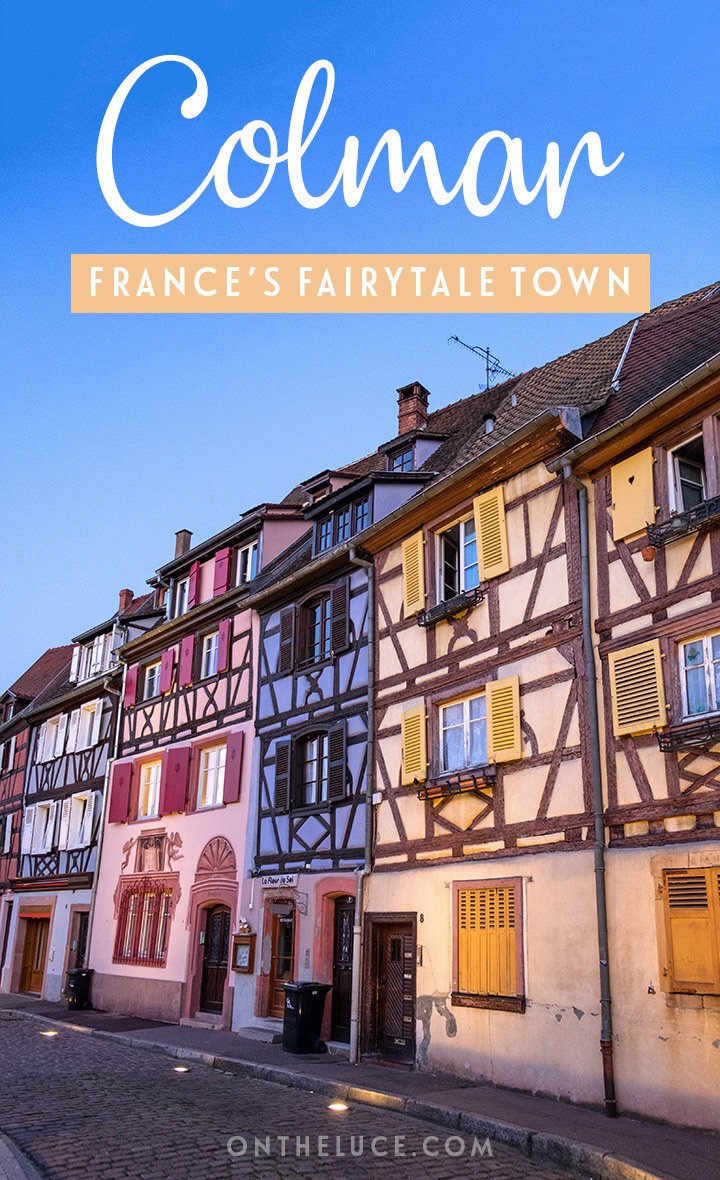 This article contains affiliate links, where I'll get a small commission at no extra cost to you – thanks.