Discover the best things to do in Antibes, the historic walled town on the Côte d'Azur in the South of France, from sandy beaches and superyacht spotting to colourful markets and artists' haunts.
* This site contains affiliate links, where I get a small commission from purchases at no extra cost to you.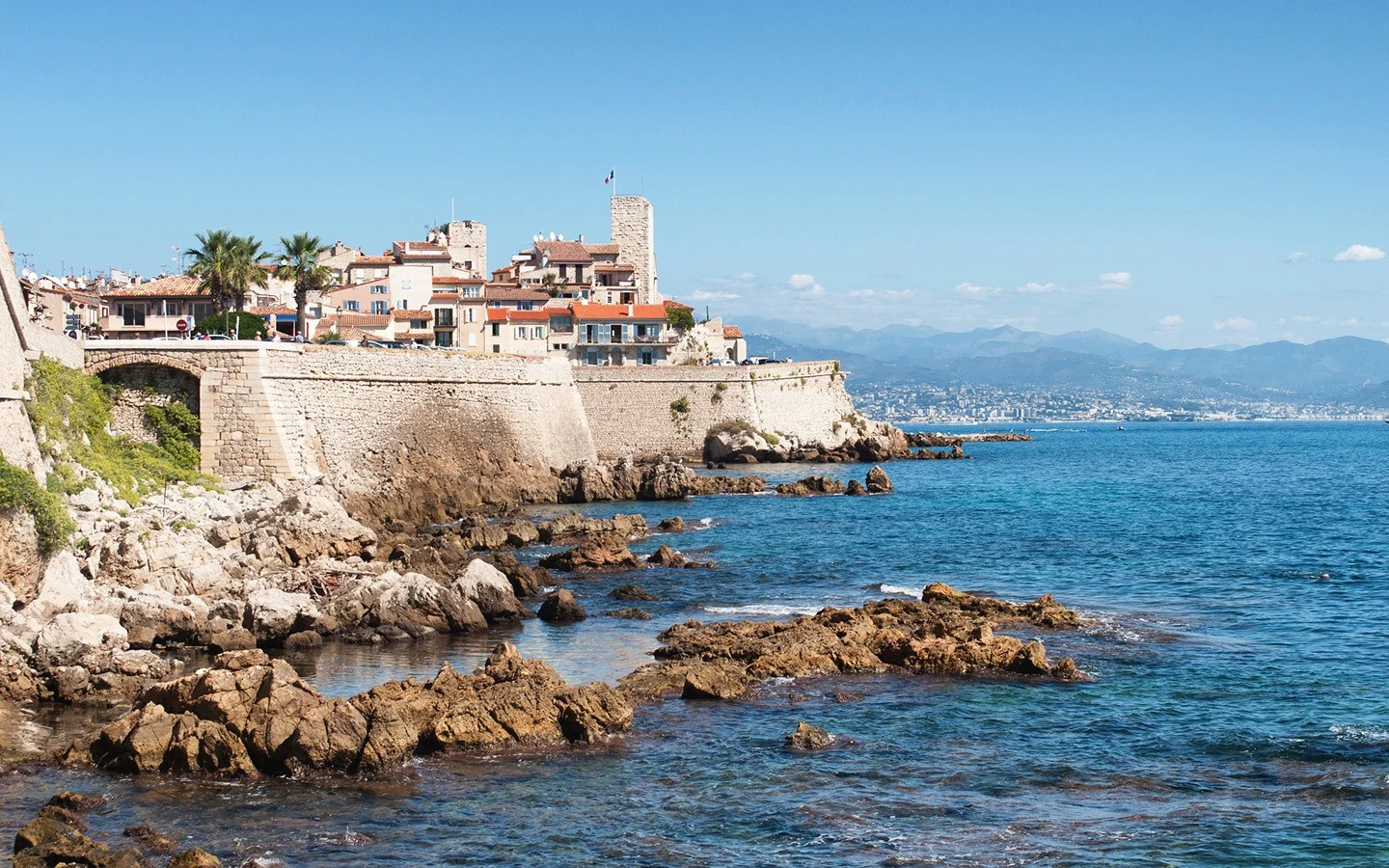 One of the things I love about France is that it keeps surprising me. I thought I knew the Côte d'Azur – the luxurious coastline of millionaires' villas, boutique shops, casinos and luxury yachts in the South of France – but Antibes wasn't what I expected.
Less well-known than glamourous neighbours Nice and Cannes, Antibes is a 16th-century historic walled town, with red-roofed buildings and waves crashing on the ramparts.
The size of the yachts in the harbour show there's plenty of money about, but you don't need a second mortgage to explore this beautiful town. You also get two-for-one when you visit Antibes, as it's just a walk across the headland to the neighbouring Art Deco resort of Juan-les-Pins. So here's my pick of the best things to do in Antibes.
The best things to do in Antibes, France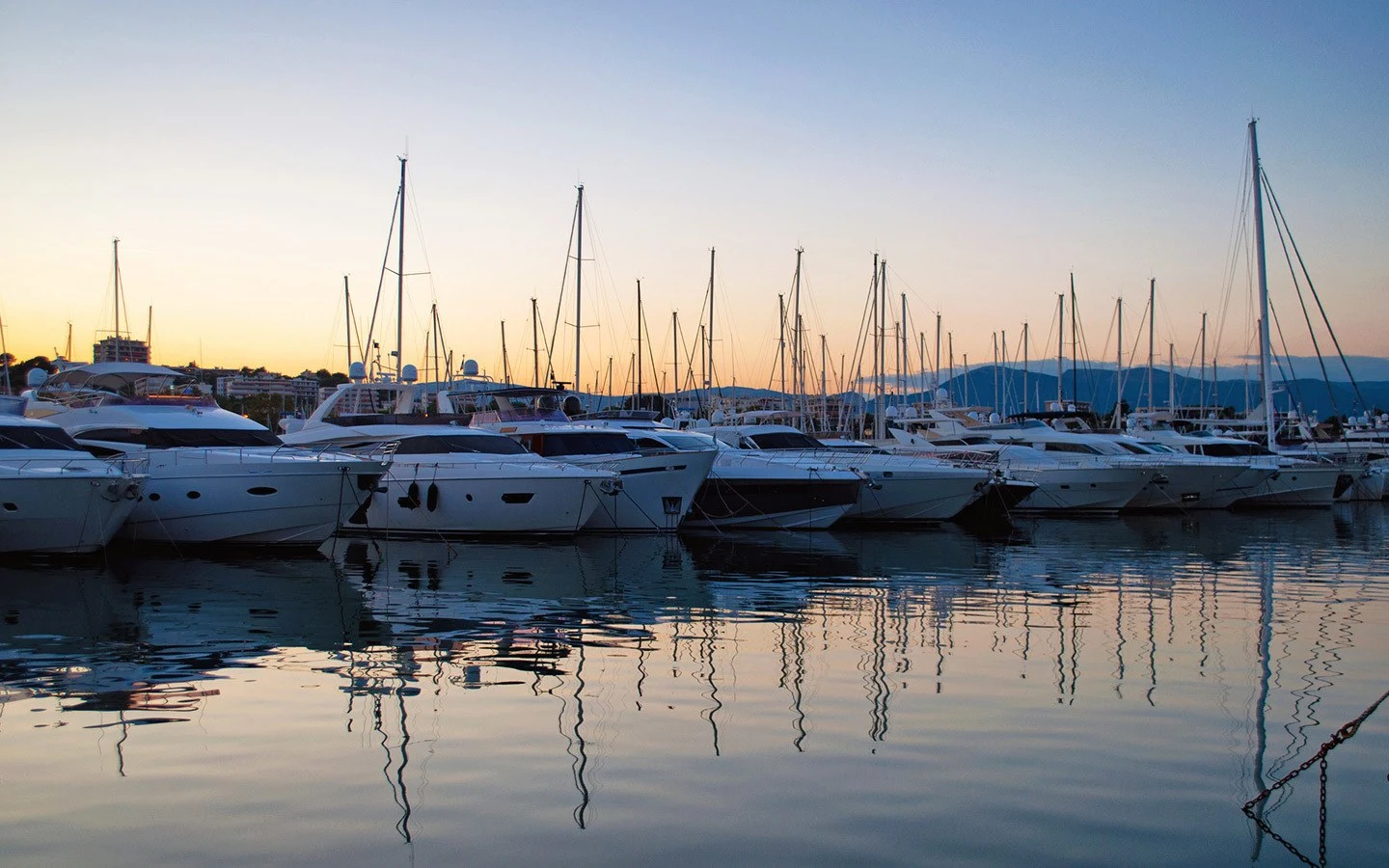 Wander around Antibes' old town
Within the stone ramparts, the old town of Vieil Antibes looks like it hasn't changed much in centuries. It's a maze of narrow cobbled streets, overlooked by pastel buildings with brightly painted shutters. Antibes' old town has pavement cafés and restaurants mixed with shops selling local gifts like white cotton clothing, glassware and dried herbs.
Among the old town streets you'll find the Baroque-style Cathédrale Notre-Dame-de-la-Platea with its rose-pink façade. The Musée Peynet dedicated to a local cartoonist, with his and other cartoonists' works on display. And don't miss the path along the ramparts where you can walk from the harbour to the southern beaches on the water's edge.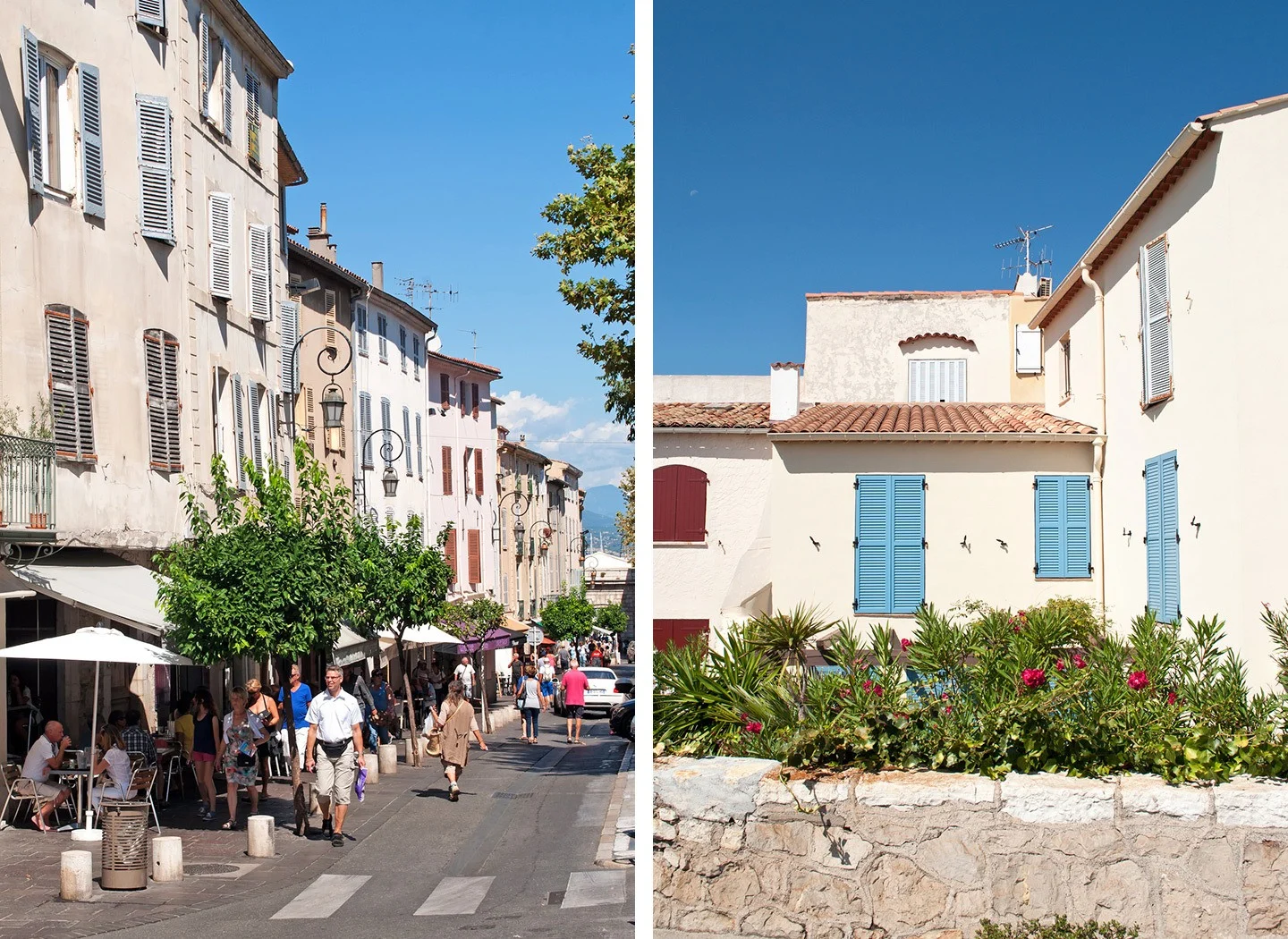 Shop the markets
The Marché Provençal is a traditional French covered market, where traders from all over Provence come to sell their fresh produce. You can find everything from fruit and vegetables to cheeses, olives and charcuterie. It's a riot of colours and delicious smells, though get there early if you want to bag the very best products.
The market takes place from 6am–1pm every day from June to August, and is closed on Mondays for the rest of the year. There's also an afternoon craft market in the same venue featuring local painters, sculptors and ceramicists (open from 3pm on Tuesday–Sunday from mid-June to September and on Friday–Sunday the rest of the year).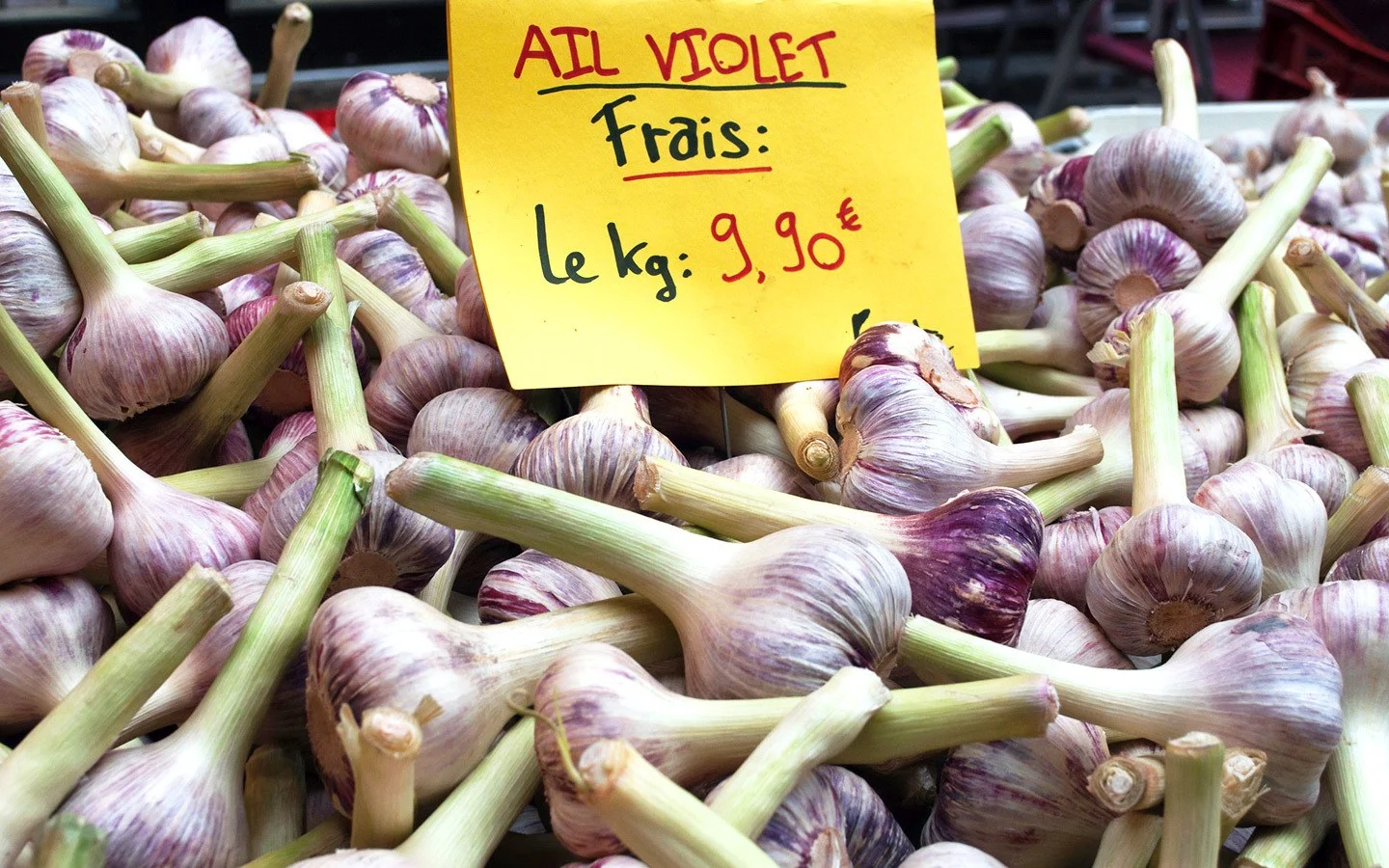 Go fantasy yacht shopping in the harbour
Antibes' Port Vauban is the Mediterranean's largest marina. This natural harbour has been used since the Roman era and is now home to over 1500 boats, with everything from tiny fishing craft to giant superyachts. It's a great place for a stroll along the waterfront.
Between the harbour and nearby Fort Carré is an area known as Billionaires' Quay, with space for 18 superyachts. You'll often see uniformed crew here polishing the railings of the world's most expensive yachts, belonging to an ultra-rich list of oligarchs, sheikhs and royalty. Berths here are in high demand and sell for eye-watering sums of money.
If you want a more affordable taste of the millionaire lifestyle, you can charter a boat for the day from SamBoat* and sail along the Côte d'Azur, around the Cap d'Antibes or out to the Lérins Islands. Boats are available to rent direct from the owners, with everything from small motorboats to yachts available for the day, with or without a skipper.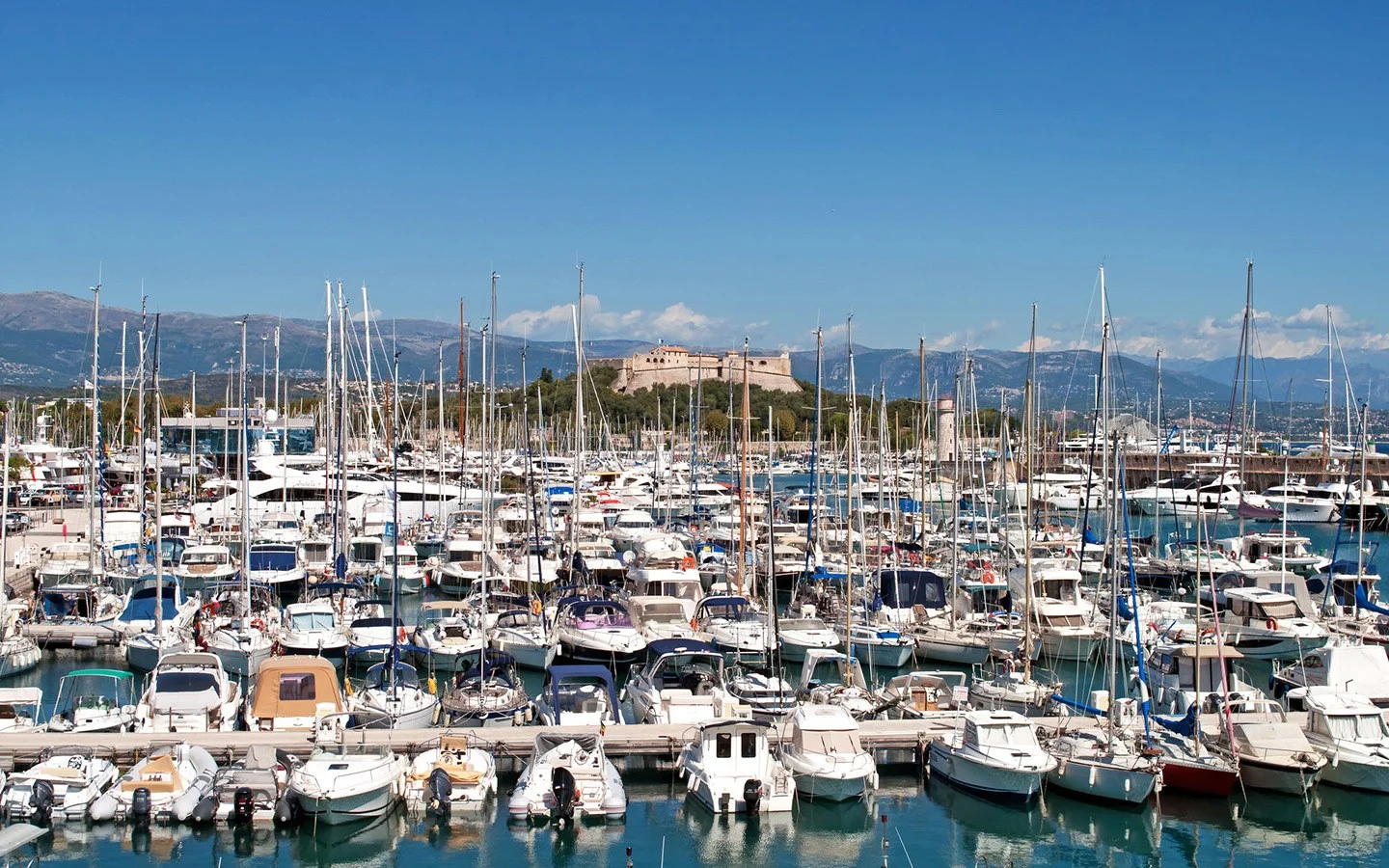 Hit the beach
A day on the beach is one of the most popular things to do in Antibes. And unlike a lot of the pebbly Côte d'Azur, Antibes has golden sand to go with its clear turquoise waters.
The closest beach to the town centre is the Plage de la Gravette, which is accessed though an archway from the port and is overlooked by the ramparts. This sheltered cove is perfect for swimming, or join the locals for a sunset aperitif on the beach.
Just south of town are a couple more sandy stretches – Plage de Ponteil next to Antibes Yacht Club where you can hire boats or kayaks, and Plage de la Salis. Both have shallow water and lifeguards on duty in the summer. Further south again is Plage de la Garoupe with luxury beach clubs in summer where you can hire a lounger with drinks service.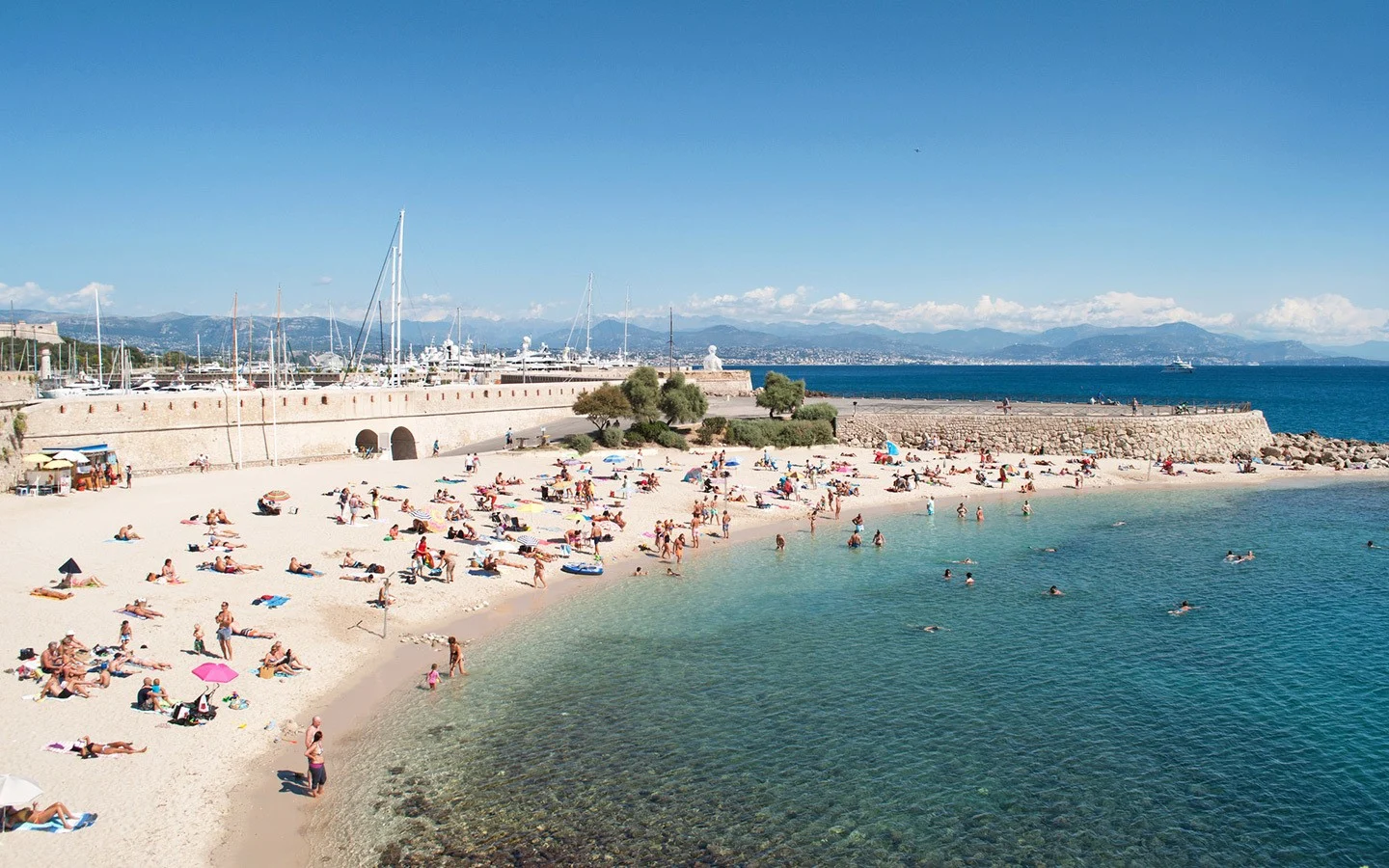 Follow in the footsteps of artists
Antibes has been an inspiration to artists right back to Monet's 1888 painting of the Cap d'Antibes. But one of the town's most famous artistic residents was Pablo Picasso. He was a frequent visitor to Antibes and lived in the seafront Château Grimaldi for six months in 1946. The building was later turned into the Musée Picasso* and is open to visitors.
On display are 245 of Picasso's paintings, drawings and ceramics, some of which were donated by Picasso and others by his second wife Jaqueline. There are also sculptures from contemporary artists on display on the museum's terrace. One of which has now found a permanent home on Saint-Jaume bastion – Nomade by Catalan artist Jaume Plensa.
Nomade is a giant figure made up of different letters which sits on the ramparts looking out to sea. On a sunny day the white letters contrast against the deep blue sky, and at night it's lit up from inside. Or if you're interested in what Antibes' artists are creating today, there are studios in the city walls where you can check out their latest works.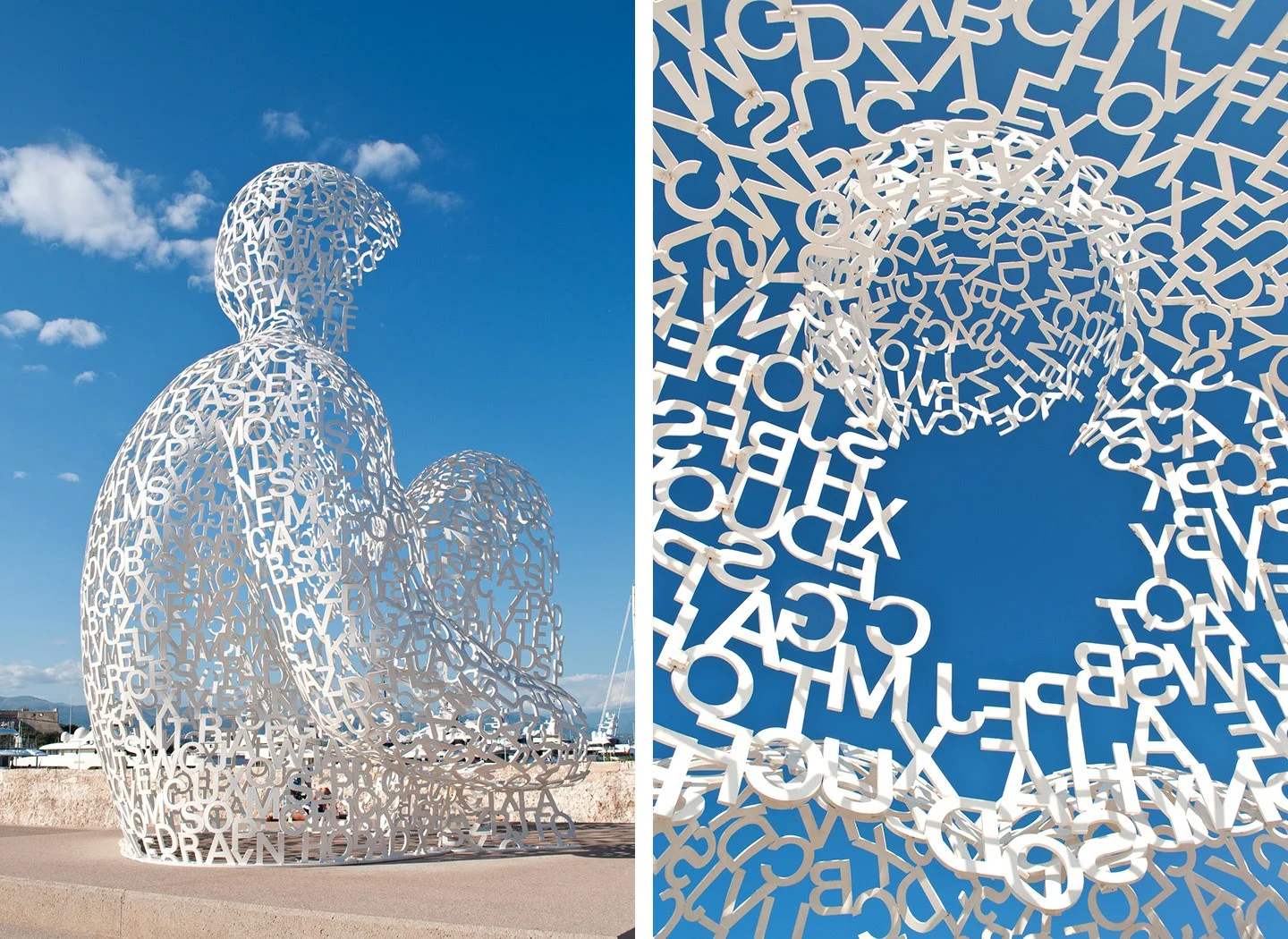 Explore historic Fort Carré
On the Saint Roch peninsula just beyond the marina is hilltop Fort Carré, surrounded by acres of parkland. The fort was built in the 16th century to protect the border between France and the neighbouring county of Nice and saw its share of battles.
Fort Carré means square fort, but it's actually star-shaped after military architect Vauban added extra defensive walls. It's not until you get up close that you can see its four pointed bastions. The fort's claim to fame is that Napoleon was briefly imprisoned there during the French Revolution, but it was also the villain's lair in Bond film Never Say Never Again.
After Nice became part of France, Fort Carré was declassified and used as a sports college for soldiers, who used to abseil down its walls, before opening to visitors. The inside is mostly empty but the 43-metre-high ramparts are a perfect viewpoint, looking over Antibes on one side and towards Nice across the Baie des Anges on the other.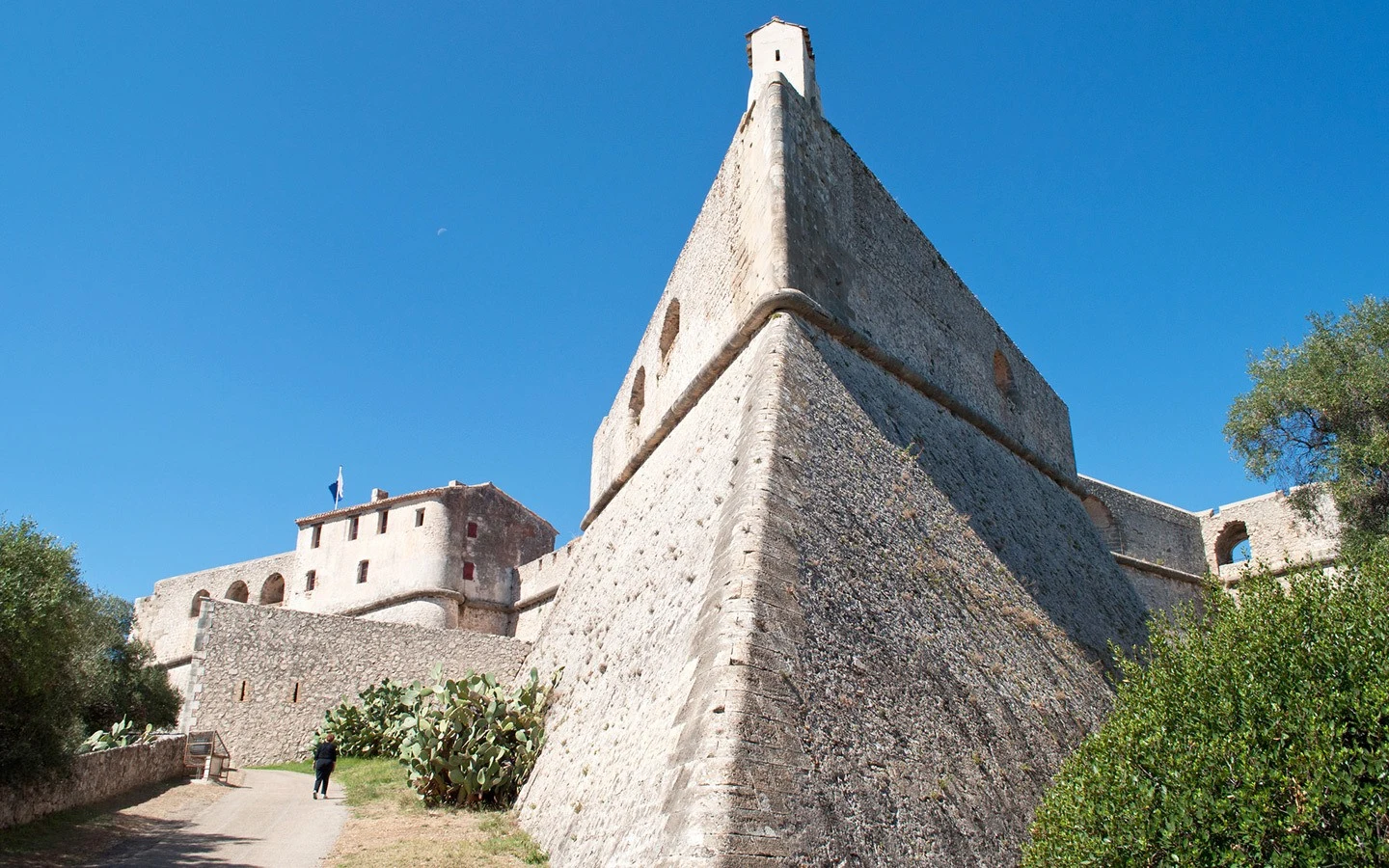 Climb up to the Garoupe Lighthouse
For a panoramic view of Antibes and the Côte d'Azur, take a walk to the Garoupe Lighthouse. Follow the Chemin de Calvaire which starts just after the Plage de la Salis.
The path is a just over a kilometre long and leads up a steep stony path through pine forests before emerging at the top. From the lighthouse you can see Juan-les-Pins and Cannes in one direction, and Nice, Villefranche-sur-Mer and Italy in the other.
The lighthouse is one of the most powerful in France, but isn't open to the public since becoming automated. You can visit the 16th-century chapel of Notre-Dame-de-la-Garoupe though, an old pilgrimage site with picnic benches and a café selling drinks in summer.
Walk around the Cap d'Antibes
Another great walk from Antibes takes you along the coast of the Cap d'Antibes. The cape is known for its exclusive private villas and gardens. But you can get a taste of its wild beauty for free on the 5km walk along the Sentier de Tirepoi coastal path – the name literally means 'hair-pulling' and comes from the east wind that buffers the coastline.
The route starts near the Plage de la Garoupe and follows a narrow track, with steps and handrails as it runs along the rocks. It takes around two hours to complete. And on the way you can get a glimpse of the grand properties on the water's edge.
You also pass the Baie des Milliardaires d'Antibes (Bay of Antibes Billionaires) and Villa Eilenroc. This villa was gifted to Antibes on the condition that its gardens were open to the public, and you can visit them on Wednesday and Saturday from 10am–4pm.
Visit neighbouring Juan-les-Pins
Juan-les-Pins is just a 25-minute walk across the peninsula from Antibes, but has a completely different atmosphere. In its Jazz Age heyday it was visited by F Scott Fitzgerald and Charlie Chaplin. Today Juan-les-Pins has a beach resort feel, with Art Deco hotels, lines of sunbeds on the Grand Plage and a buzzing nightlife of bars, casinos and clubs.
It still welcomes jazz musicians and music fans for the annual Jazz à Juan festival each July, which has been running since 1960. And you can see handprints from some of the stars who've played at the festival along the Boulevard Edouard Baudoin.
The details
When to visit Antibes, France
Antibes has a a Mediterranean climate, with plenty of sunshine. Summers in Antibes are dry and sunny but the coastal breezes help stop it getting too hot, with average high temperatures of 27ºC/81ºF in July and August. The Côte d'Azur is very busy in summer though so book well in advance and be prepared for high prices and packed beaches.
Spring and autumn are good times to visit Antibes, with average highs of 20–24°C (67–75ºF) in May/June and September/October. You might see the occasional shower though, with November being the wettest month. Winter doesn't gets too cold, with average highs of 11ºC (52ºF) and lows of 6ºC (43ºF), but some restaurants and hotels are closed.
How to get to Antibes
The nearest airport to Antibes is Nice-Côte d'Azur Airport, which is 16km away. You can get to Antibes from the airport by bus, train or taxi. The direct Express Bus 250 runs from the airport to Antibes in around 40 minutes and costs €11 one way.
You can also travel to Antibes by train but first you need to take a short tram ride from the airport to Nice-Saint Augustin station. Then you can pick up a TER regional train to Antibes, which takes 10–20 minutes and costs €4 one way.
Direct trains run from Paris Gare de Lyon to the South of France, taking 5 hours 20 minutes to reach Antibes. The train station is in the centre of town and Antibes is compact and easy to walk around, but there are also local buses to Juan-les-Pins and Cap d'Antibes.
Where to stay in Antibes
The Mas Djoliba* hotel is just a few minutes' walk from the beach, set in a quiet residential area. The 13 rooms are spread over three floors, with a mix of singles, doubles and triples, as well as two suites with a sea-view terrace or garden. The hotel is surrounded by beautiful grounds, with an outdoor pool, terrace, petanque court and resident cats.
Or go back in time to the golden days of the Côte d'Azur at the Hôtel Belles Rives* in nearby Juan-les-Pins. This beachfront Art Deco villa hosted F Scott Fitzgerald in the 1920s. It's now a grand hotel with 43 luxurious bedrooms, a Michelin-starred restaurant, jazz bar and private beach and pontoon where you can try out different watersports.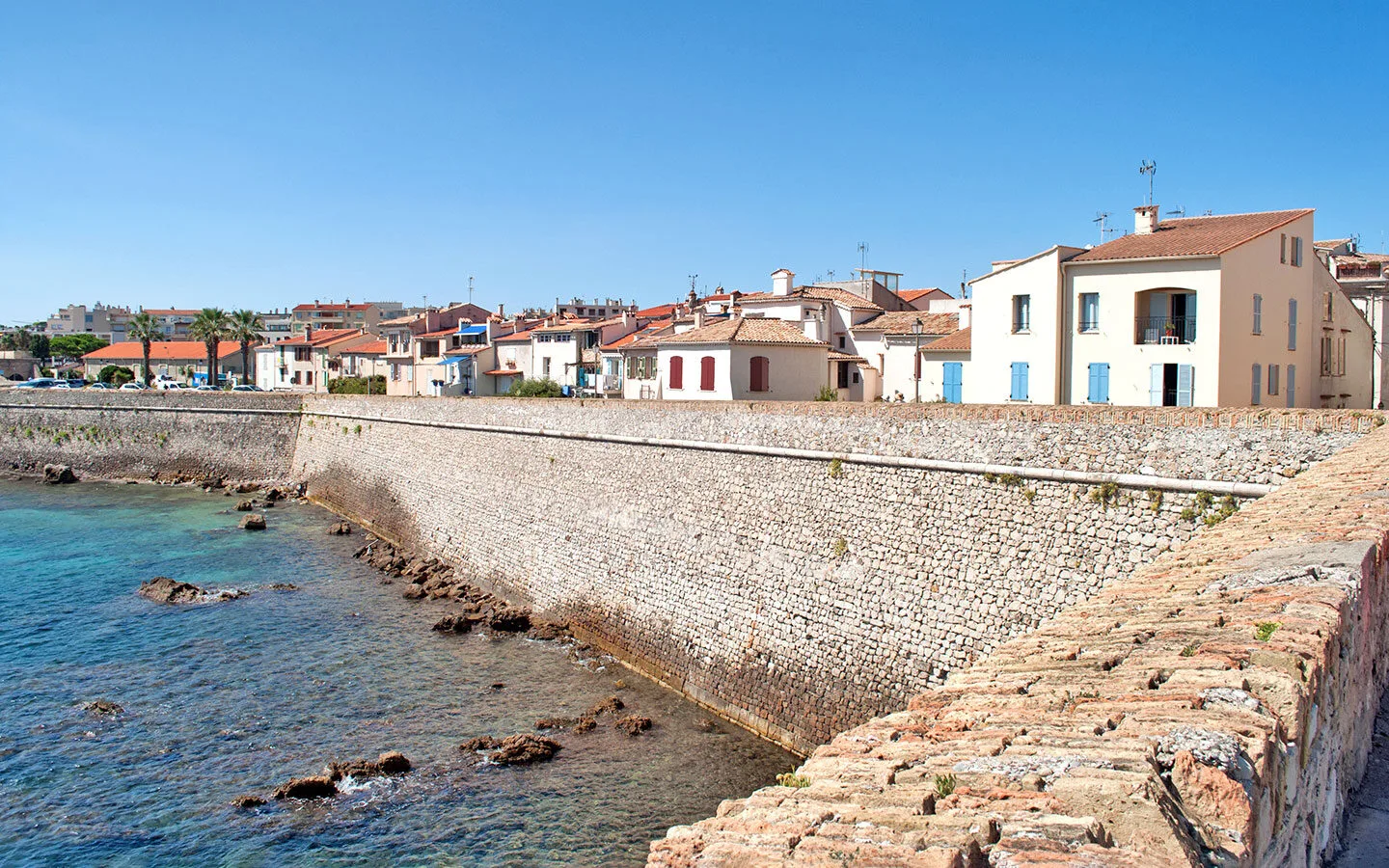 Save for later
You might also like