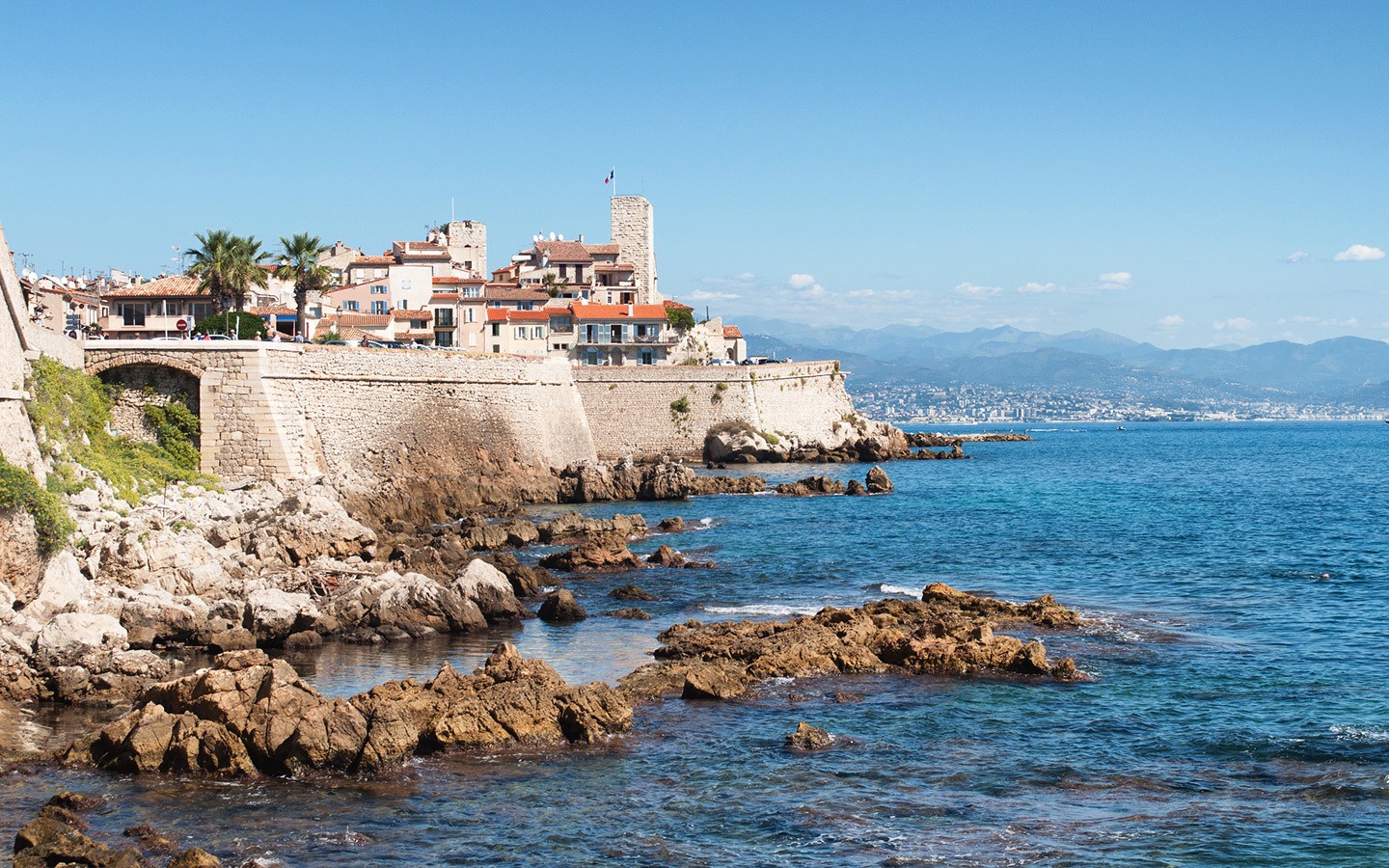 One of the things I love about France (other than the cheese and wine obviously) is that it keeps surprising me. I thought I knew the Côte d'Azur – millionaires' coastal villas, exclusive boutiques, casinos, luxury yachts – but Antibes wasn't what I expected. Instead there was this 16th-century historic walled town, with red-roofed buildings and waves crashing against the ramparts. With sandy beaches on each side and the blue of the Mediterranean it was as pretty as a postcard.
Judging by size of the yachts in the harbour there's plenty of money about, but you don't need a second mortgage to eat, drink or shop this beautiful town in the South of France. You also get two-for-one when you visit Antibes, as it's just a walk across the headland to neighbouring art-deco style beach resort Juan-les-Pins. So here are my favourite things to do in Antibes.
Read more: 10 fabulous French weekend break ideas
The best things to do in Antibes
Wander around Antibes' old town
Within the stone ramparts, the old town of Vieil Antibes looks like it hasn't changed much in centuries. It's a maze of narrow cobbled streets, overlooked by pastel-coloured buildings with brightly painted shutters. Antibes' old town has pavement cafés and restaurants mixed with shops selling local gifts like white cotton clothes, glassware, local artworks and herbs.
Don't miss the Marché Provençal (6am–1pm daily June–September, and every day except Monday the rest of the year), where traders from around Provence bring fresh produce to sell – fruit and vegetables, cheeses, olives and charcuterie. And there's a path along the edge of the ramparts so you can walk from the harbour to the southern beaches along the water's edge.
Go fantasy yacht shopping in the harbour
Packed with 1800 boats, Antibes' Port Vauban is the Mediterranean's largest marina – and with mooring fees of over a million euros it's probably one of the most profitable too. This natural harbour has been used since Roman times, but today it's full of some of the world's most expensive yachts. If you want a taste of the millionaire lifestyle, you can charter one for the day – there's everything from small boats to €6000 a day, 12-person superyachts with crew for hire.
If that sounds a bit pricey, you can take a walk along the edge of the harbour and do a bit of fantasy yacht shopping instead. Between the harbour and nearby Fort Carré there's an area known as Billionaires' Quay. Here you'll see uniformed crew polishing the railings of the superyachts belonging to an ultra-rich list of oligarchs, sheikhs and royalty.
Hit the beach
Antibes is surrounded by beautiful beaches, and unlike a lot of the pebbly Côte d'Azur there's plenty of golden sand with its clear turquoise waters. Closest to town is Plage de la Gravette, accessed though an archway from the port and overlooked by the old town ramparts. The sheltered cove is perfect for swimming, or join the locals for aperitifs on the beach at sunset.
Just south of town are a couple more sandy stretches – Plage de Ponteil, next to the Antibes Yacht Club where you can hire boats or kayaks, and Plage de la Salis. Both have shallow water and lifeguards on duty in the summer. Further south again is Plage de la Garoupe, home to luxury private beach clubs in summer, where you can hire a lounger with drinks service – just don't go boasting about it on social media, as the beach has enforced a selfie ban!
Follow in the footsteps of artists
Antibes has been an inspiration to artists right back to Monet's 1888 painting of the Cap d'Antibes. One of the town's most famous artistic residents was Picasso, who lived in Château Grimaldi for six months in 1946. The building was later turned into the Musée Picasso and shows his paintings, drawings and ceramics along with works from other contemporary artists.
One of the museum's previous exhibits has found a permanent home on Saint-Jaume bastion – Nomade by Catalan artist Jaume Plensa. A giant figure made up of different letters sits on the ramparts looking out to sea. On a sunny day the white letters contrast against the deep blue sky, and at night it's lit up from inside. Or if you're interested in what Antibes' artists are creating today, there are studios in the city walls where you can check out their latest work.
Explore historic Fort Carré
Fort Carré was built in the 16th century to protect the border between France and the neighbouring county of Nice and saw its share of battles. After Nice became part of France it was declassified and used as a sports college for soldiers, who used to abseil down its walls, before opening to visitors. It's claim to fame is that Napoleon was imprisoned there during the French Revolution, but you might recognise it as the villain's lair from Bond film Never Say Never Again.
Fort Carré means square fort, but it's actually star-shaped after military architect Vauban added extra defensive walls. It's not until you get up close (unless you're arriving by helicopter) that you can see the four pointed bastions. The inside is mostly empty but the walls are a perfect vantage point, with Antibes on one side and Nice across the Baie des Anges on the other.
Look out over the Côte d'Azur
For a panoramic view of the Côte d'Azur, head up the Chemin de Calvaire pathway behind Plage de la Salis to the Garoupe Lighthouse. The path is a kilometre long and leads up a stony pathway through pine forests before emerging at the top. In one direction you can see Juan-les-Pins and Cannes, and in the other there's Nice, Villefranche-sur-Mer and Italy.
The lighthouse is one of the most powerful in France, but isn't open to the public since it became automated. You can visit the 16th-century chapel of Notre-Dame-de-la-Garoupe though, an old pilgrimage site surrounded by picnic benches and with a café selling drinks in summer.
Pin it
This article contains affiliate links, where I get a small commission at no extra cost to you, thanks.