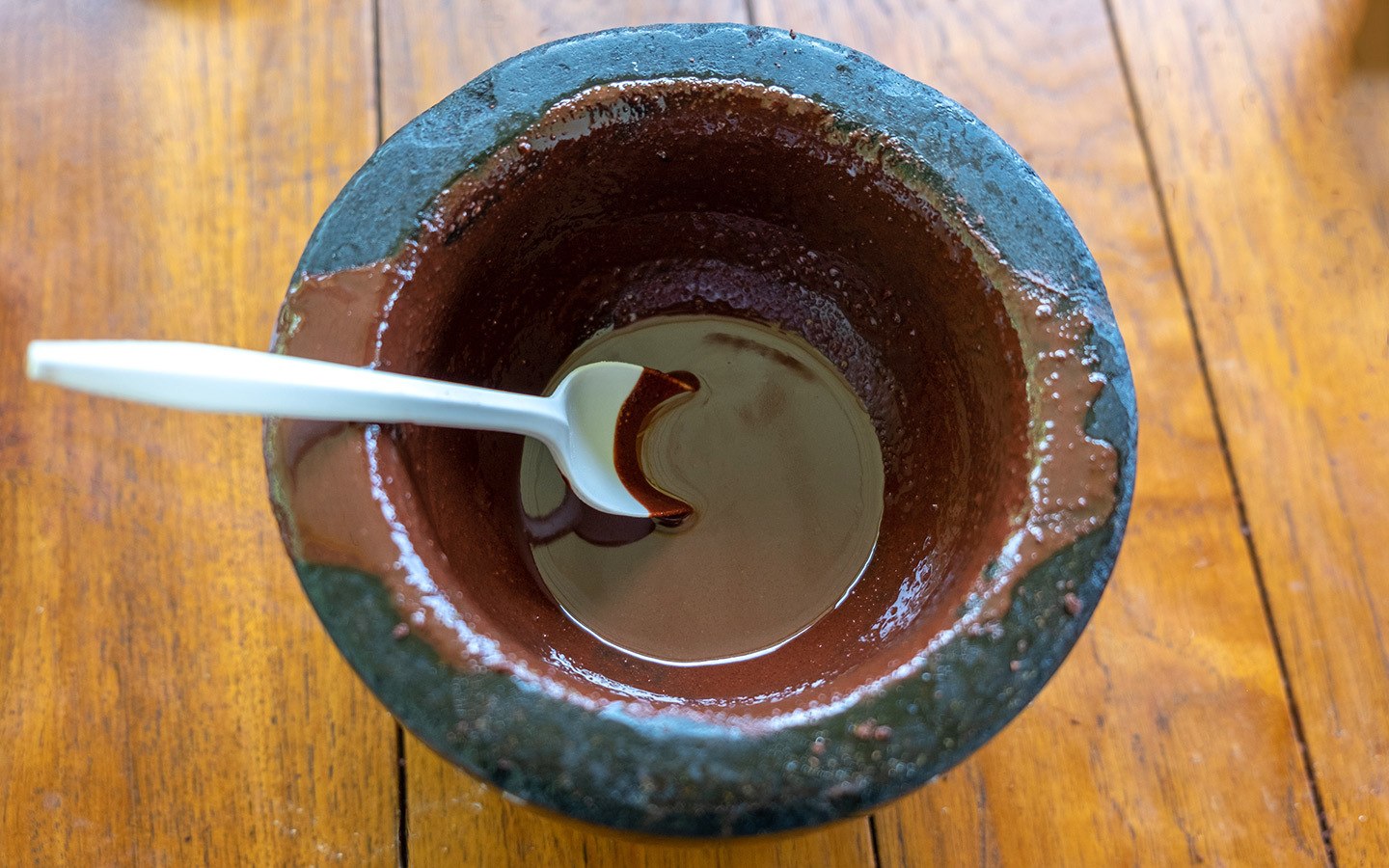 From an offering to the Mayan gods to a $50 billion business, chocolate has taken over the world. This little piece of heaven in a bar has millions of devotees around the world, whether you're more a 90% cocoa or Cadbury's Buttons type of chocolate-lover. Even the scientific name of the cocoa plant means "food of the gods" in Greek. But why do we love chocolate so much? Is it the ratio of fat to sugar, or the feel-good chemicals? Either way there's something about this bean that makes it irresistible. So on my trip to Saint Lucia with Cap Maison I set out to uncover its secrets on a chocolate tour with Hotel Chocolat.
Read more: Food in Saint Lucia: From market to plate
Chocolate in Saint Lucia
Central America might be the ancestral home of chocolate, but the Caribbean also has a long history of chocolate-making. Saint Lucia has the perfect conditions for growing cacao – volcanic soil, plenty of sun and rain – and chocolate's been made on the island since the 1700s. For years Saint Lucia's biggest crop was bananas. But after a collapse in banana trade in the 1990s, local farmers started to turn back to cacao farming. In the past the beans were sent to the US or Europe to be made into chocolate, but today it's also made in Saint Lucia. So you can eat, drink or even have spa treatments with local chocolate.
A chocolate tour with Hotel Chocolat
One of the best places to get a taste of Saint Lucia's chocolate renaissance is the Caribbean base of British chocolate brand Hotel Chocolat. The company called themselves Hotel Chocolat because they thought the taste of a good chocolate could transport you to a new place. But these days they have an actual hotel too. Boucan is set in the hills above Soufrière with a panoramic view of the Pitons – Saint Lucia's most famous landmark. There's chocolate for sale, chocolate on the restaurant menu, and the building's even all chocolatey shades of dark wood. But the hotel's part of a working cocoa plantation too.
The 140-acre hillside Rabot Estate plantation was founded in 1745 and taken over by Hotel Chocolat in 2006. At that time most chocolatiers bought their chocolate in ready made and hardly any would grow their own beans. So it was a pretty unusual step to buy an estate and get involved with all stages of the process. But it has meant they can produce high-end, single-estate chocolate – a bit like single vineyard wines in that you can tell exactly where each bar comes from. And even if you're not staying at Boucan you can do a chocolate-making tour, taking you through the life of a chocolate bar – from tree to bean to bar.
Tree to bean
The first part of our tour took us from the cocoa tree to the dried beans. We started with a walk through the estate, where you can see cocoa pods in all their different stages of life – from tiny green shoots to big red pods ready to pick. The trees need plenty of shade so there are lots of other local plants growing in among them too, like soursop, banana and mango – which are on the menu in the hotel's restaurant. The pods take around six months to grow and the main harvest season is between November and February.
Once the pods are harvested, they're cut open and the cocoa beans are scooped out. Our guide cracked open a pod so we could see the brown beans, covered in a thick, sticky white coating. The beans are pretty bitter at this stage but the coating is sweet if you suck it – they're nicknamed jungle M&Ms. To get the beans ready for roasting, they're fermented in big wooden containers for a week before being left to dry out in Saint Lucia's hot sun. For now they have to be sent to the UK to be roasted and made into chocolate, but Hotel Chocolat are building a factory on the estate so they'll be able to do it all on one site soon.
Our final stop was at the seedling nursery, where you can create your own cocoa tree. Cocoa isn't an easy plant to grow, so instead of growing it from a seed, seedling are grafted. Cuttings are taken from the estate's best plants and these are spliced with hardiest roots. This means you get the tastiest chocolate on the plants which are most likely to thrive, and grafting also means the trees bear fruit a lot quicker. All trees are recorded so if I come back to Saint Lucia one day I can check up on mine. Not all of Hotel Chocolat's cocoa is grown at Rabot Estate, they also work with local farmers who buy their grafted plants and then sell the beans back at a higher cost. That way they can produce more chocolate but keep control of quality.
Bean to bar
The next phase was turning the beans into chocolate using classic traditional techniques. Everyone was given their own workstation, with jars of ingredients and a heated pestle and mortar. There were dried cocoa nibs, cocoa butter and sugar – everything you need to create the perfect chocolate bar. That and a lot of hard work. First up we crushed the cocoa nibs by pounding them in the pestle and mortar. In 30-degree heat and 80% humidity it didn't take a long to build up a sweat. And it's tougher than it looks, as even after 10 minutes of pounding my cocoa powder was still looking more gritty than silky smooth.
Next you add the cocoa butter and sugar to taste and keep on stirring. Our guide Merle kept us supplied with tales from the history of chocolate to distract us from our aching arms. Like the Aztecs who used cacao seeds as currency and mixed chocolate and spices into a bitter drink. And Bristol chocolate-maker Joseph Fry who learnt how to make chocolate mouldable by adding cocoa butter. Then finally we poured our melted chocolate into a mould and left it to set. After a quick tasting of course. The pure, deep flavour takes a bit of getting used to if you're used to sugary mass-produced chocolate. And my only criticism of the tour is that it would've been nice to have some tasting samples to try to see how the experts do it.
Bar to mouth
While we waited for our chocolates to set, we headed to Boucan Restaurant for lunch. The menu is based in 'cacao cuisine', with chocolate in every form – from cacao pulp to roasted nibs and their single-estate chocolate. And if the chocolate cocktails don't knock you out the view of the Pitons will. The idea of a chocolatey main course takes a bit of getting your head around. But cocoa has been used as a savoury ingredient for over 3000 years, versus only 500 years as a sweet ingredient. My Cacao Super Bowl (a salad made with quinoa and cacao-infused yoghurt) was much more spicy and nutty than sweet.
But the restaurant's real star was the dessert menu. I've never seen so many chocolate options – chocolate lava cake, chocolate tart, a nine-course chocolate tasting plate. But I couldn't resist a Magnificent Piton – a meringue recreation of one of the Pitons served in a chocolate soup with bananas, almonds and caramel sauce. It was rich, creamy and smooth. Which is more than you can say for my lovingly hand-crafted chocolate bar. Despite all that hard work and sweat it still came out a bit bitter and grainy. So I guess I better leave the chocolate-making to the experts and concentrate on what I'm best at – eating it.
The details
Chocolate tours at Hotel Chocolat's Rabot Estate are available from Monday to Friday. They take place at 9am on Mondays, Tuesdays and Thursdays, or at 1pm on Wednesdays and Fridays. The Tree-to-Bean Experience and Bean-to-Bar Experience last an hour each (with a half-hour gap in between them). Both parts combined cost $88 per person (or $61 if you're staying at the the Boucan hotel).
Pin it
Big thanks to Cap Maison and Hotel Chocolat for hosting me in Saint Lucia. All views and opinions are, as always, my own.