When it comes to packing for a European city break, I've got my spring/autumn uniform sorted – skinny jeans, light jumpers, boots and a jacket have taken me all the way across the continent. But for some reason, packing for summer is a bit more difficult. In theory it should be easy to throw in a few pairs of shorts and t-shirts like you would do for a beach break. But city breaks usually need a mixture of smart and casual, practical and stylish clothing.
Read more: 10 fabulous French weekend break ideas
Even in the summer, Europe's weather can be unpredictable – I've sweltered in 40-degree Madrid and shivered in showery Slovenia in the same month. Even if you know the weather's going to be sunny, you still need to be prepared for cooler evenings and the odd summer storm.
So packing for a summer city break needs a bit of thought – especially as space is at a premium if you're travelling with carry on luggage only (and let's face it, unless I'm going somewhere for a couple of weeks, I'm not going to fork out the extra cost for checking in a bag). So if you're puzzled about what to pack for a European summer city break, here's my tried and tested carry on packing list for a three-night trip – along with a PDF version to save for later.
European summer city break packing list
Clothes
The key to any carry on packing list is picking one consistent colour palette so everything goes with everything else. Mine is usually navy blue – so I have navy staples and add in some coloured or patterned tops and jewellery to brighten it up. My general rule of thumb for any three-night trip would be to pack two bottoms, three tops and one dress.
So for a summer trip that would be a pair of lightweight trousers (for travel days, cool evenings or to deter mosquitoes), one pair of shorts, a maxi dress (which you can wear during the day or dress up with jewellery at night) and three lightweight tops or shirts to keep me cool and cover my shoulders from the sun. I also pack a cardigan to wear on the plane or in the evenings.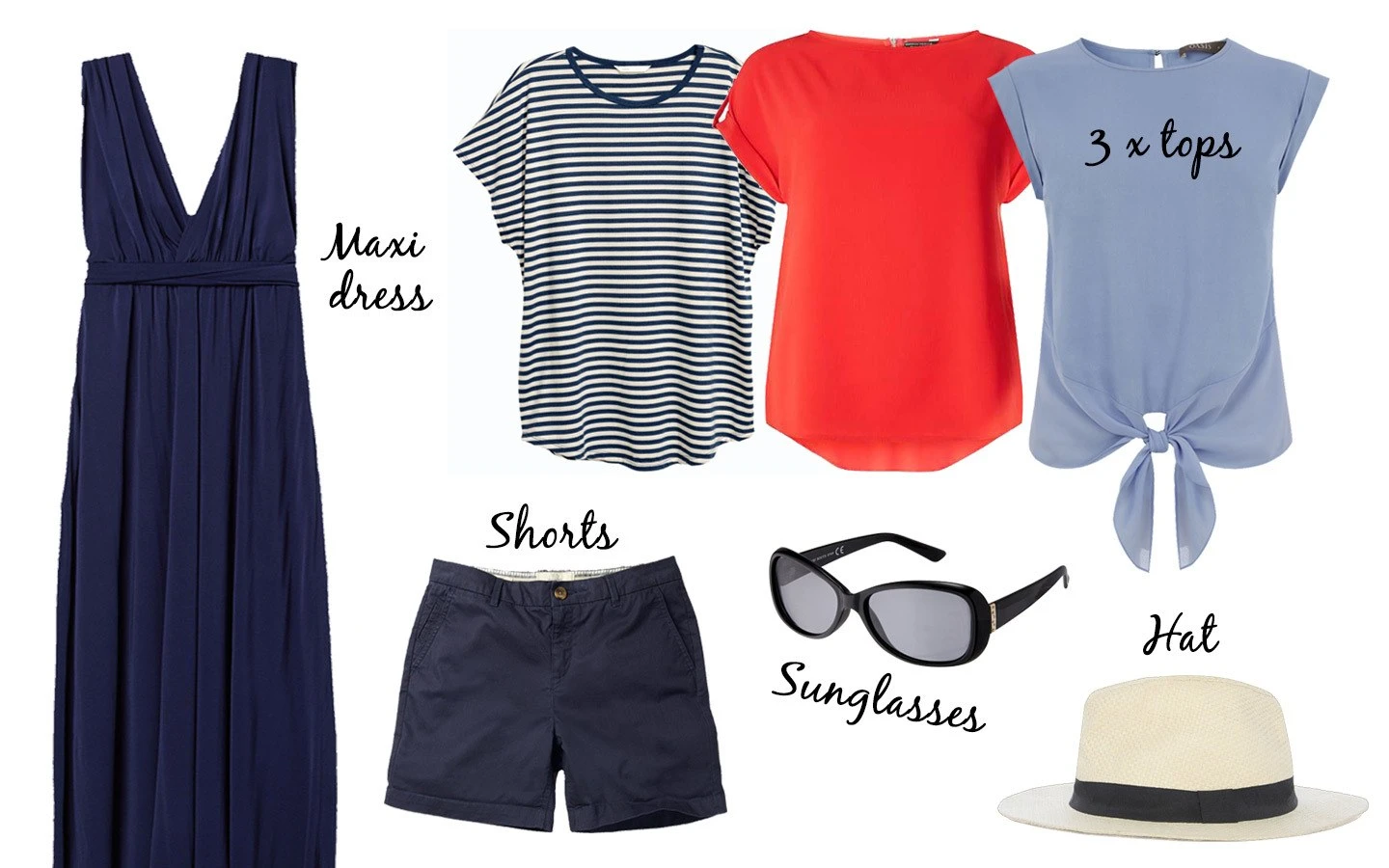 Shoes
Shoes are my packing weakness – it's too easy to shove an extra pair of sandals in my bag 'just in case'. But for a summer city break I've found you only really need two pairs of shoes: trainers and sandals. And comfort is definitely key. I always end up walking miles on city breaks so flip flops and ballet pumps aren't going to cut it. You need something you can wear all day that supports your feet, doesn't rub or give you blisters and is smart enough for nights out.
I usually go for a Converse-style trainers, but I've been caught out in them in the rain a couple of times before and ended up having to walk around with damp feet for the rest of the day. So I now go for the Brooke shoes from UK brand Hotter. They've got leather rather than canvas uppers so they can cope with any showers, but they're also designed to be light and breathable, plus they look smarter than normal trainers so you can wear them out in the evenings.
The first time I wore them was on a travel day when I walked 15,000 steps – not usually a good idea with a new pair of shoes, but I didn't get any rubbing or blisters. Plus the cushioning inside means that you don't get aching feet even after a long day. The shoes are available in four different colours. Hotter also do a range of sandals which would be good for city trips – the Flare (pictured below) looks smart enough to dress up but is really good for walking.
Accessories
If you're out in the sunshine all day, sunglasses and a hat are essential. I've got a tendency to lose both so normally just buy cheap ones (though make sure cheap sunglasses have decent UV protection levels). My current sunglasses are from Boots and my hat is a crushable one from Primark, so you can pack it into your bag without ruining it.
I also bring a sunglasses case as I'm usually taking them on and off all day – a soft case takes up less space if you're not likely to throw stuff on top of them, otherwise a hard case gives more protection. For sightseeing, I bring a small cross-body bag as they're a bit more secure in case of bag-snatchers – and you can see if someone's trying to get into it unlike with a rucksack.
And because you never know what the weather's going to be like in Europe, even in the middle of summer, I always bring a lightweight scarf and an umbrella with me. The scarf comes in useful as an extra layer if the air con's a bit overactive on a plane or train. Or you can use it to cover your neck or shoulders from the sun – and the umbrella can double up as a sunshade too.
Extras
Decent sun protection is a must – it's easy to get burnt if you're going in and out of places and don't realise how much sun you're getting. Look for a 5-star UVA rating as well as the SPF level – I've got the classic pale English skin so don't go below a factor 30. You can usually find 100ml size bottles of sunscreen you can take in your carry on, which are enough for a long weekend. Otherwise if there's a group of us I pick up a bottle at the airport after going through security.
It's also a good idea to bring a refillable water bottle with you so you don't need to buy plastic bottles of water (check out more of my sustainable travel swaps). You can bring the bottle through airport security empty then fill it up before getting on the plane, and a lot of cities have public water fountains where you can fill them up when you're out and about.
Download the summer city break packing list with what to wear day-by-day

Pin it
This post is brought to you in association with Hotter Shoes. It contains affiliate links, where I get a small commission at no extra cost to you, thanks.