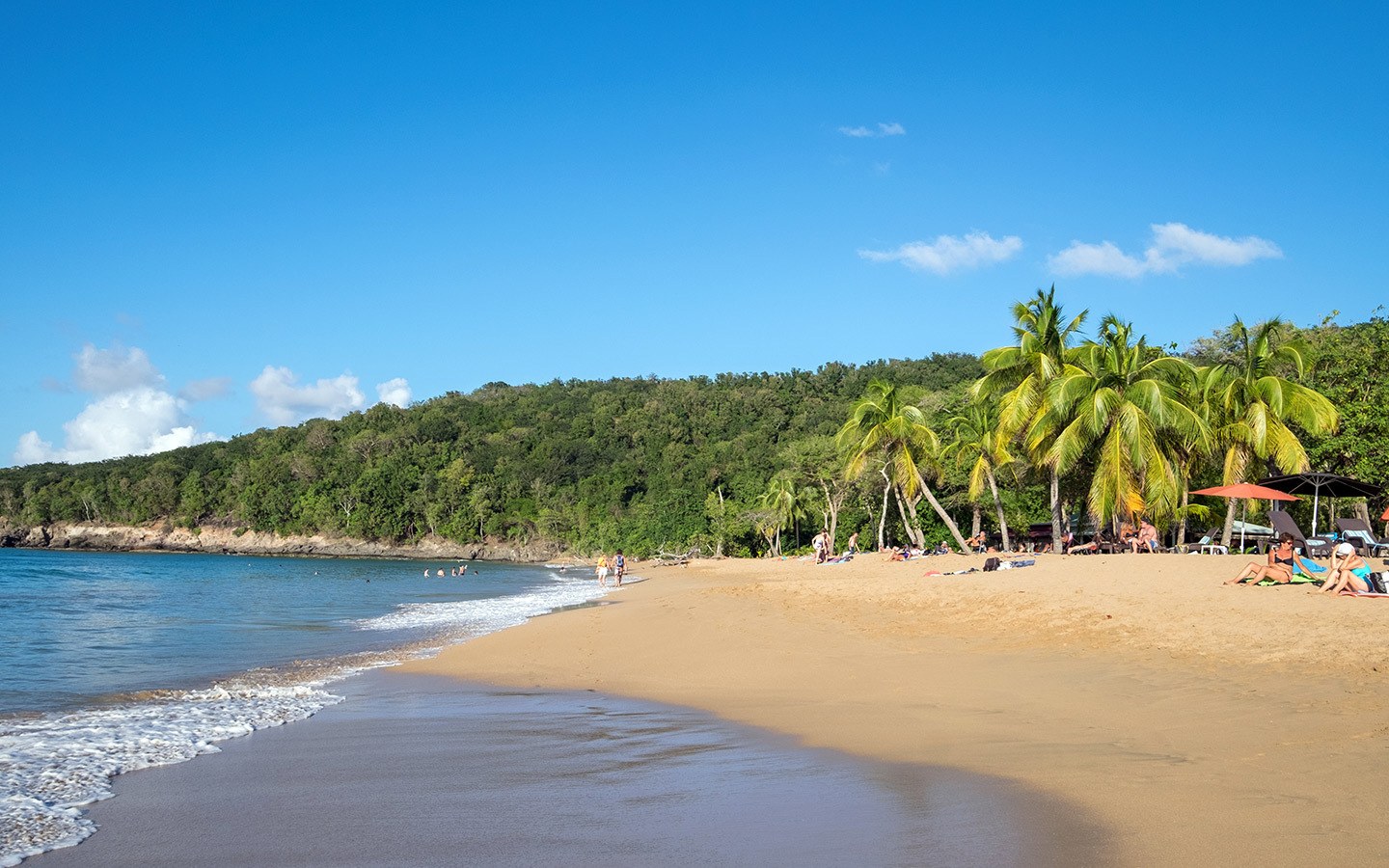 Boulangeries selling fresh croissants next to market stalls selling tropical fruit. Boules players on the beach next to stands selling homemade coconut sorbet. Guadeloupe is a real hybrid – a picture-postcard Caribbean island with a Gallic twist. It's actually an overseas department governed by France, so you'll hear French spoken and spend euros. But there's a spicy side to the island too, with Creole dishes, an annual carnival each spring and plenty of rum.
This France-meets-the-Caribbean feel makes it a real favourite with French visitors (and retirees). But beyond France it's not that well known – though since TV series Death in Paradise used it as a location, the word is starting to get out, and that's how we first discovered it.
Read more: On the Death in Paradise location trail in Guadeloupe
Things to do in Guadeloupe
Along with fellow French neighbour Martinique, Guadeloupe is one of the Lesser Antilles islands in the Eastern Caribbean. It's made up of five islands – the two biggest Grande-Terre and Basse-Terre come together in the middle to make a butterfly shape. We split our time between the two and found each 'wing' had a different feel and landscape, from sandy beaches to jagged peaks.
Even the weather can go from sunshine on one side of the island to tropical downpours on the other. But it's this diversity and unique French-Creole culture that made it such a great place to visit (the sunshine helped too). So if you're planning a Caribbean escape and fancy something a bit different, here's my island guide with all the best things to do in Guadeloupe (other than feast on pastries and ti' punch rum cocktails of course – they're a given).
Grande-Terre
Grande-Terre (which is confusingly smaller than Basse-Terre) is the beachy side of Guadeloupe, with a flatter, drier landscape and plenty of sunshine. It's where you find most of the beach resorts, especially around Le Gosier. There are lots of sheltered bays with calm waters for sailing and swimming, and plenty of white sand perfect for lazing on with a book. So if you're looking for a sunny beach break this is where to come. But head east or north and Grande-Terre is a lot less developed, with small villages, rocky wild coastline and good surfing around Le Moule.
Things to do in Guadeloupe: Grande-Terre
Relax in Sainte-Anne
Sainte-Anne was the base for the first part of our trip and is home to one of the island's most popular beaches, with the classic Caribbean-style palm trees and powdery sand. Grande-Terre's south coast is protected by an offshore reef, so the water here is calm and clear.
A mile out of town, Caravelle Beach is home to a Club Med hotel but the beach is also open to non-residents too. Sainte-Anne has its own smaller beach too, as well as a market running along the waterfront where you can buy crafts, spices, fresh fruit and homemade rum punch made with pineapple, guava or passion fruit – which come with quite a kick.
Soak up the views at Pointe des Châteaux
In the far south-east of Grande-Terre, the Pointe des Châteaux is a peninsula where sandy beaches meet crashing waves and dramatic rocks. The sea currents make it dangerous to swim in, but you can wander along the shore – look out for fossilised shells in the rocks.
Pointe des Châteaux translates as Castle Point, but there's a definite absence of castles. There is a 10-metre high cross on top of a hill though, which takes about 15 minutes to walk to. From the top you can look across Grande- and Basse-Terre and out to neighbouring island La Désirade.
Explore Point-à-Pitre's history
Pointe-à-Pitre is Guadeloupe's largest city – and most people just pass through on their way to or from the airport. It's not the most inviting part of the island, but if you do stop off then there are some pretty French colonial buildings to explore as well as the Cathédrale de St-Pierre et St-Paul, the Place de la Victoire and shopping at the covered market.
Point-à-Pitre's also the home to the modern Mémorial ACTe museum, which opened in 2015 and traces the history of slavery and the slave trade. It's a moving place, set in an incredible steel structure built on the site of an old sugar factory on the waterfront.
Rum tasting at Damoiseau distillery
Or should that be rhum? Guadeloupe's boozy local speciality is rhum agricole, a type of rum which us made with sugar cane juice instead of the usual molasses. You can find out how it's made (including a tasting session of course) on a self-guided tour of the Damoiseau distillery in Le Moule, one of the biggest distilleries on the island.
There's more to see during the cane harvest from February to June, but you can wander around the distillery any time of year and see the estate's historic machinery, including the windmill which was originally used to crush the sugar cane. You can also try and buy their rum, ranging from white to dark golden rum aged in oak barrels, as well as rum punches.
Basse-Terre
Where Grande-Terre is beachy and flat, Basse-Terre is Guadeloupe's dramatic, mountainous side (though the name's another confusing one as it means low land). The peaks of the Parc National de la Guadeloupe fill the centre of the island, and mean a few tropical downpours. But all that rain makes it incredibly lush and green, with thick jungle, giant ferns, waterfalls and plenty of bird and animal life. It's the place to come if you love to hike, with hundreds of miles of paths. And on the coast there's great diving and a mix of golden and black sand beaches.
Things to do in Guadeloupe: Basse-Terre
Drive the Route de la Traversée
Because the centre of Basse-Terre is so mountainous, there's only one road which travels across the middle of the island – but it's a beauty. Route de la Traversée (less poetically also known as the D23) travels west through sugar cane fields before heading upwards into the dense jungle of the National Park. Along the way you can stop off at the Cascade aux Ecrevisses waterfall – an easy 10-minute walk each way from the road – and cool down with a dip.
Or visit the Maison de la Forêt, an info centre and starting point for 190 miles of hiking routes (bring decent hiking boots and waterproofs). And on a clear day there are great views across the park from the top of the Col des Mamelles (aka the Hill of Breasts!).
Climb La Soufrière volcano
At the heart of the National Park is La Soufrière volcano, the Antilles' highest peak. It last erupted in 1976 but there was an earthquake in 2004 and there's still lots going on under the surface (its name doesn't mean 'big sulphur outlet' for nothing, prepare yourself eggy smells).
The walk to the peak at 1467 metres takes about two hours each way – though it's often hidden in clouds so you might not see much. The first part is an easy 30-minute climb through the forest, then it's a rockier 90-minute ascent, with a bit of scrambling at the end. And afterwards you can soothe aching muscles at the Bains Jaunes thermal pool near the car park.
Hike to the Chutes du Carbet
Another of the highlights of the National Park is the Carbet falls – with three waterfalls at different heights (€2.50 entry). The tallest of them is fall number one at 125 metres high, followed by number two at 110m and number three at 20m. The second falls are the easiest to get to and are only around 25 minutes' walk each way along a flat path. The only downside is that a landslide after the 2004 earthquake means you can't get very close up to them.
To reach the other two falls you'll need to be prepared, with hiking boots, wet weather gear and a decent level of fitness as the paths are a lot rockier and steeper. The hike takes around 1 hour 45 minutes each way to reach the first fall and two hours to get to the third.
Walk through the forest canopy
If you want to get right up into the rainforest canopy (and don't mind heights), a network of rope bridges run through the trees at Guadeloupe's zoo, the Parc des Mamelles. A network of hanging walkways runs up to 50 feet above the ground, strung between the trees.
It's a bit wobbly, you're balanced on narrow wooden boards and only two people are allowed on each one at a time, but it's the nearest you'll get to feeling like a monkey! The zoo also has wildlife from the Caribbean and Guyana, with monkeys, raccoons, lizards, turtles and tropical birds, as well as big cats like jaguars and ocelot (entry €14.90 adults, €8.50 children 3–12).
Dive off Pigeon Island
Off the west coast of Basse-Terre, Pigeon Island's waters are part of the National Park known as La Reserve Cousteau. Jacques Cousteau rated it as some of the best diving in the world and helped make it a protected area after filming Le Monde du Silence here in 1955.
The coral reef is home to sea turtles, seahorses, angel and parrot fish – plus a giant underwater statue of Cousteau. There was some damage by Hurricane Maria in 2017, but you can still dive or snorkel on a day trip from Bouillante or Malendure – or hire a kayak and paddle out yourself.
Visit Deshaies and Anse de la Perle beach
Deshaies is just how you'd imagine a Caribbean town to look – colourful buildings, whitewashed church, palm trees and beachside restaurants grilling seafood next to a clear turquoise sea. It's all so perfectly Caribbean that it's used as the main location for filming Death in Paradise.
Whether you're a fan of the show or not, it's one of the best places to visit in Guadeloupe. Don't miss the Botanic Gardens south of town for tropical flowers and sea views. And about 10 minutes north of Deshaies is Anse de la Perle beach, a gorgeous long stretch of golden sand with a couple of beach bars at one end where you can watch the sunset with a cold Carib beer.
And beyond…
If that's not enough, then there are three more islands (or island groups) that make up Guadeloupe – Marie-Galante, Les Saintes and La Désirade. Marie-Galante is the biggest and flattest of the three, with fantastic beaches and a big crop of rum distilleries.
Les Saintes are a group of nine islands six miles off the coast of Basse-Terre. Only two are inhabited, with most visitors heading to Terre-de-Haut for old-school Caribbean charm mixed with buildings which look like they've been transplanted from Brittany. And La Désirade is the least developed – a former leper colony where you can find your own deserted beach.
The details
When to visit Guadeloupe
The most popular time for visiting Guadeloupe is from November to March, when the island's weather is warm, sunny and not too humid. In January we had a few showers but lots of sun and cool mornings and evenings. From July to November it's the rainy season so expect a lot more showers and higher humidity – and it's also hurricane season in the Caribbean. Peak times are based around French school holidays, so you'll find Guadeloupe is a lot more expensive and busier around the Christmas, February, Easter and July/August holidays.
How to get to Guadeloupe
Travelling from Europe, the easiest way to get to Point-à-Pitre airport is via Paris. There's the choice of budget airlines XL Airways, Corsair and Air Caraibes or Air France (which I can't really recommend as they bumped us off our flight and delayed us both ways!). From North America there are direct flights from Atlanta and Miami in the US and Montreal in Canada. You can also get the ferry from neighbouring islands Martinique and Dominica.
How to get around Guadeloupe
There is a bus service around the islands, but timing and frequency can be a bit erratic. So if you want to explore it's easiest to hire a car – there's a mix of big name and local car hire firms at the airport. Roads are generally pretty good though they can be hilly on Basse-Terre. If you want to visit the other islands, ferries run to Les Saintes from Point-à-Pitre and Trois Rivières, to Marie Galante from Point-à-Pitre and Saint François, and to La Désirade from Saint François.
Where to stay in Guadeloupe
Grande-Terre has the largest selection of hotels, with the bigger resorts concentrated around Le Gosier, Sainte-Anne and Saint-François. There are also a mix of B&Bs, gîtes and self-catering villas and apartments spread around both islands. We stayed in a couple of AirBnB places – this apartment by the beach in Sainte-Anne and this gorgeous little cabin in Saint Claude in the hills of Basse Terre. Or check out these hotels in Guadeloupe.
Food and drink in Guadeloupe
Guadeloupe's food is a mix of French and Caribbean influences, with local fish and seafood as well as tropical fruits like banana, pineapple and coconut – fresh from the market or juiced. Local specialities include accras (fish or aubergine fritters with a spicy sauce), bokit (a fried sandwich filled with meat, cheese and a vinegar sauce) and coconut sorbet. And on the French side there are plenty of boulangeries and patisseries, as well as French supermarkets like Carrefour, Casino and Super U, with prices similar to mainland France.
Guadeloupe travel tips
Tourism on the islands is very French-focused, so it's useful to be able to speak and read at least basic French. The currency used on the islands is the euro and there are banks with ATMs in most towns. Credit cards are also accepted in hotels and in larger shops and restaurants. And if you're visiting Guadeloupe from a country within the EU, the island counts as part of France so you can use your mobile minutes and data for no extra roaming cost.
Read more: What does it cost? A week in Guadeloupe in the Caribbean
Pin it
This article contains affiliate links, where I get a small commission at no extra cost to you, thanks.